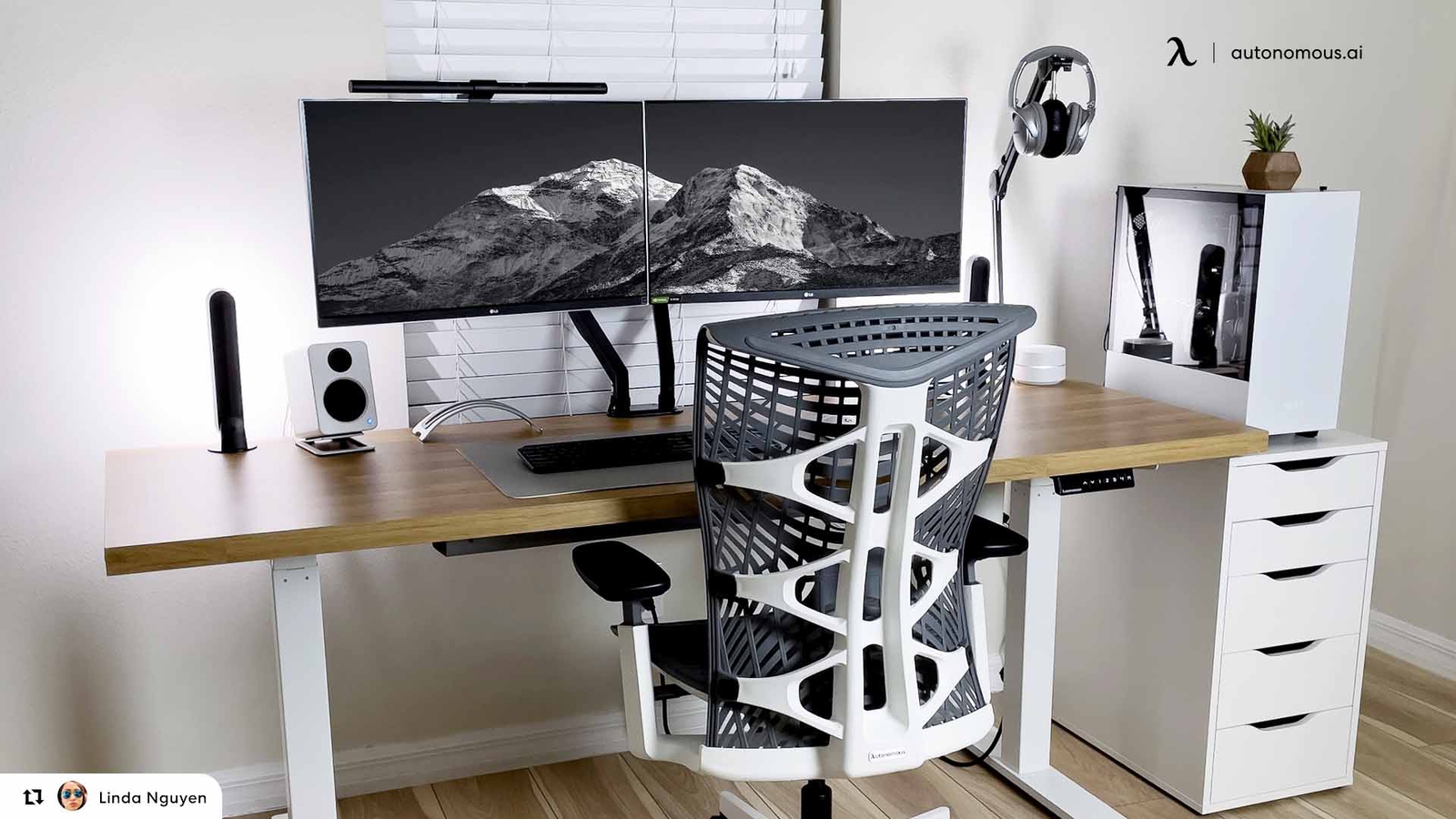 Smart Products
Black And White Gaming Setup Give You The Clean Look

Autonomous
|
Jul 17, 2021
5,013 Views
Every gamer can level up their gameplay when they have a comfortable gaming setup. Starting from the gaming desk to the chair should offer every aspect of comfort and convenience. In addition, it can provide accuracy and speed. Now every gamer can build up their dream gaming setup with indispensable gaming accessories, a robust desk, and an adjustable ergonomic chair.
When you are trying to set up the perfect gaming station for your long-wanted home gaming experience, you should do a certain amount of research before indulging in any purchase; here are some of the black and white gaming setups that can provide you with a great gaming experience.
Autonomous standing gaming desk
The ergonomic standing gaming desk has a 30 inches wide tabletop and 70.5 inches in length. This table provides ample space for any gamer to accommodate all the gears they require during their gameplay. However, they can still keep their things in an organized manner on this standing gaming desk. So enjoy your gaming session with minimum effort and maximum comfort.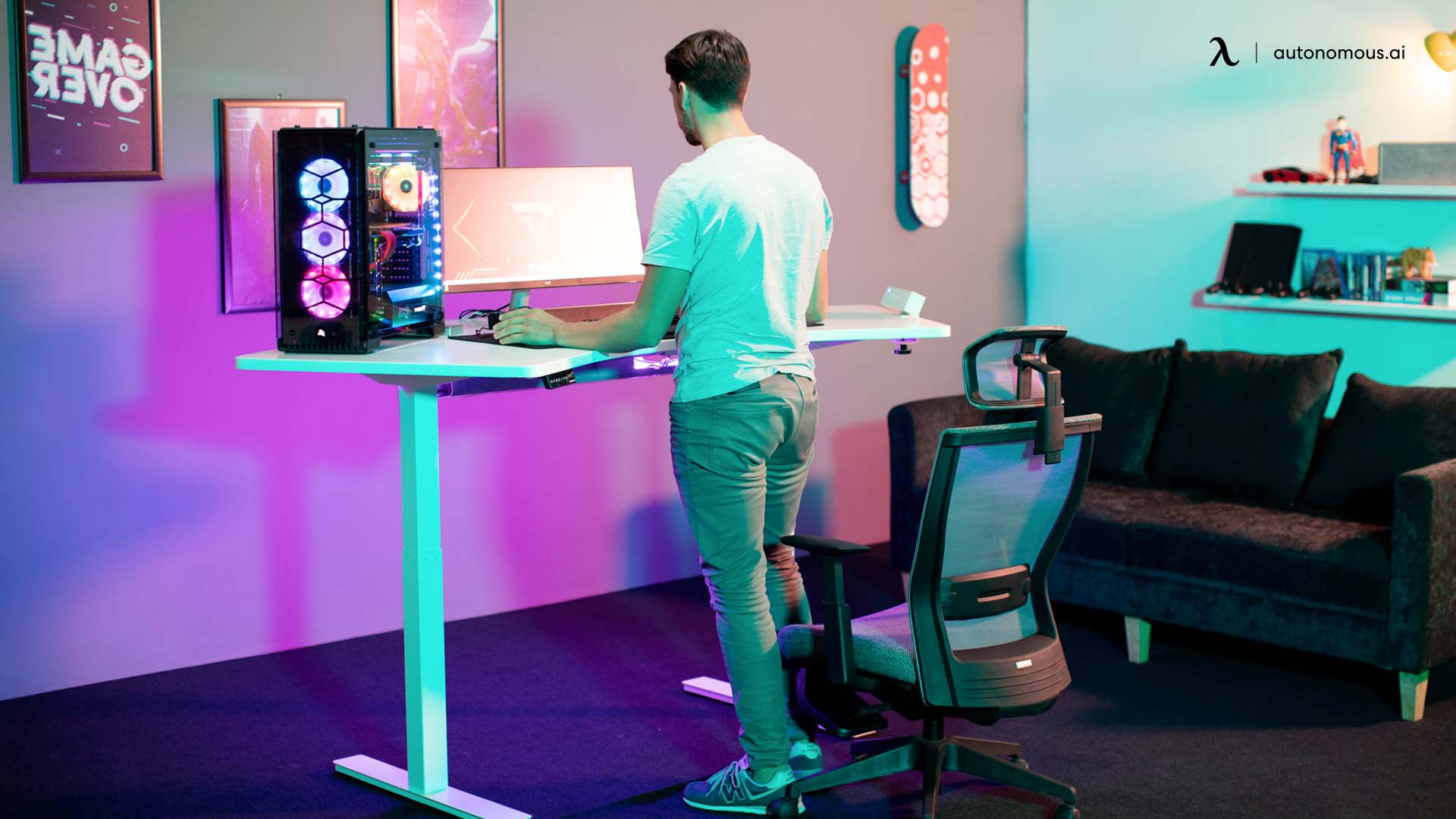 This height adjustable gaming desk is known to provide the user with maximum flexibility. However, gamers tend to spend a lot of time on their desk. Therefore, it can take a toll on their physical health and gaming quality. And when they are using the conventional desk for this prolonged period, it would affect their health without any doubt.
Autonomous has introduced the standing gaming desk that adapts to the user's movement to solve this problem. The height adjustability factor of the desk allows the user to change their position from sitting position to standing with just a touch of a button. Thus, it provides the user with limitless flexibility to focus on their work while boosting their energy.
Speaking about the durability of this gaming desk, they are known to have been built to last for a prolonged period. The industrial-grade steel frame and the sturdy tabletop with the electric motor system efficiently lift to 300 lbs.
This table's advanced noise cancellation technique reduces every kind of noisy distraction while the user is busy on their battleground. With advanced manufacturing techniques and engineering capability, this gaming desk can be said to operate silently. The electric dual-motor system of this desk is perfect to meet every gamer's needs. It operates with a sound level of only 39 DB during the movement.
The best part of this gaming desk is the color. You can opt for this table in either black or white color. This desk is perfect for gamers who are opting for a black and white PC setup.
Autonomous L-shaped gaming desk
During the pandemic situation, most people are taking up gaming as their hobby. It calls for setting up their space for gaming. The L-shaped gaming desk provides the user more space than the traditional desk. When you are gaining, you would require a console, more than two screens, a PC, and many more. The l shaped gaming desk is perfect for every gamer.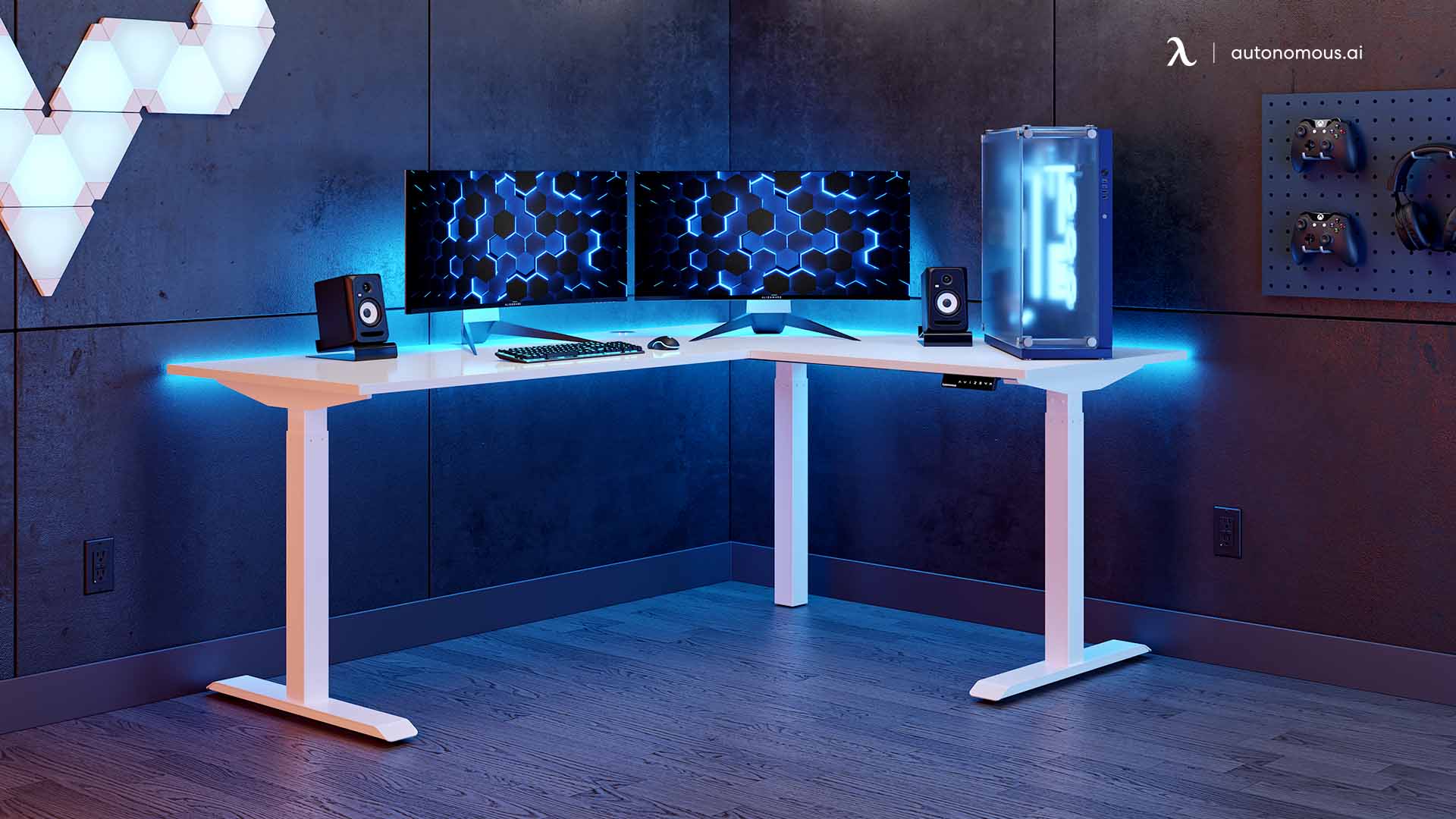 With this l shaped electric standing desk model, Autonomous has outdone itself. One cannot strictly call this desk a standing desk. Instead, it features an electric motor that allows the user to adjust the height of their desk according to their preference. This desk consists of enough space to accommodate 2 to 3 monitors at once. Therefore, one can claim this as one of the best motorized standing desks available in the market. Furthermore, it comes with native cable management support. Therefore, all the struggle to keep your cables is over with this autonomous l shaped gaming desk.
Moreover, this desk is perfect for a black and white gaming setup.
ErgoChair Recline
User friendly is the term that goes best with this chair. One can customize this chair according to their need and preference. With just two intuitive levers, the chair tends to provide support for any posture. You can either keep this chair minimal or add a leg rest and a headrest for full-fledged comfort. During the gaming session, the body needs to move accordingly to make the gaming experience more real. This ergonomic chair makes movement easy.
Not every recline of the chair is created equally. But the ErgoChair Recline responds to the user's body weight while keeping the spine stable during every movement. Therefore, you can move freely and even safely without straining your arm, shoulder, neck, and back. To keep you cool during your heated-up gaming sessions, this chair helps to keep you cool with its breathable mesh back. It is designed for maximum airflow. This chair is suitable for a person who wants to have a black gaming setup.
The adjustable lumbar support of this chair helps to support the natural curvature of the spine. Of course, since everyone differs in their body structure and posture, the adjustability would differ for everyone. But this chair easily adjusts everyone due to its great lumbar support.
Additionally, the top-to-toe comfort facility provided by this chair is what every gamer dreams of. The headrest provides relaxation, and it is great for your spinal health. It is made of the same responsive mesh as that of the backrest. However, the extendable leg rest is made of soft vegan leather. Whenever you want to stretch, you can use it. All you can do is kick it back when you are not using it.
The hardcore gamer set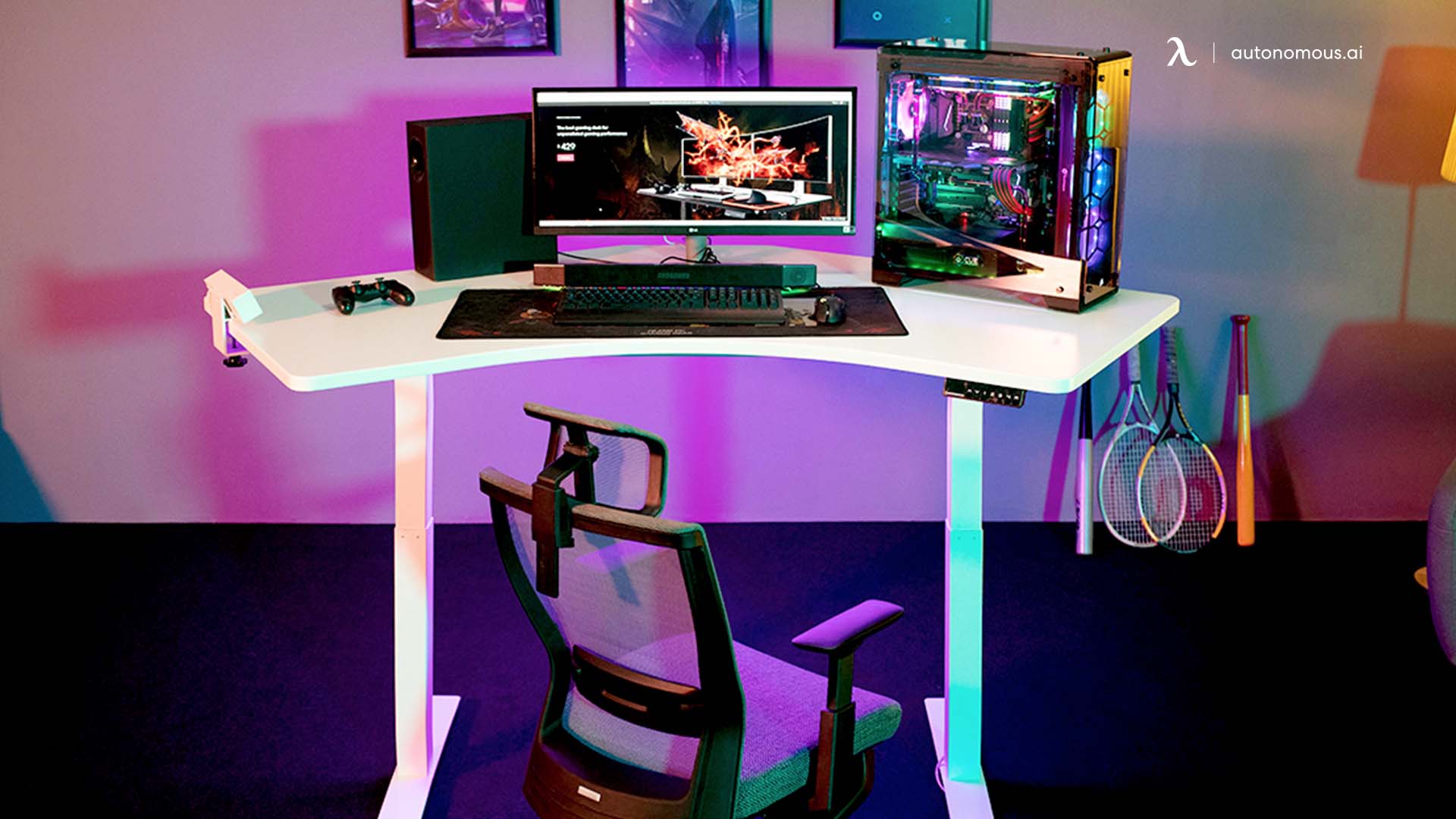 The combination of Myochair with Smart Desk Executive is all that a hardcore gamer would need. This gaming desk features an arch design that pushes you to action while making your experience more immersive. It can hold up to 300 lbs. Therefore, it is a perfect heavy-duty gaming workstation. If anyone is dreaming of a white gaming setup, then this combination would work excellent. The Myochair is built-in memory foam that allows any gamer to create a sweet spot for prolonged gaming sessions. The natural posture of your body gets embraced by the lumbar support of this ergonomic gaming chair.
Conclusion
It can be a messy task to select the most satisfying chair for your prolonged gaming session. However, with this guide, you can make your dream of having a black and white ultimate gaming setup a reality.
Video ads for product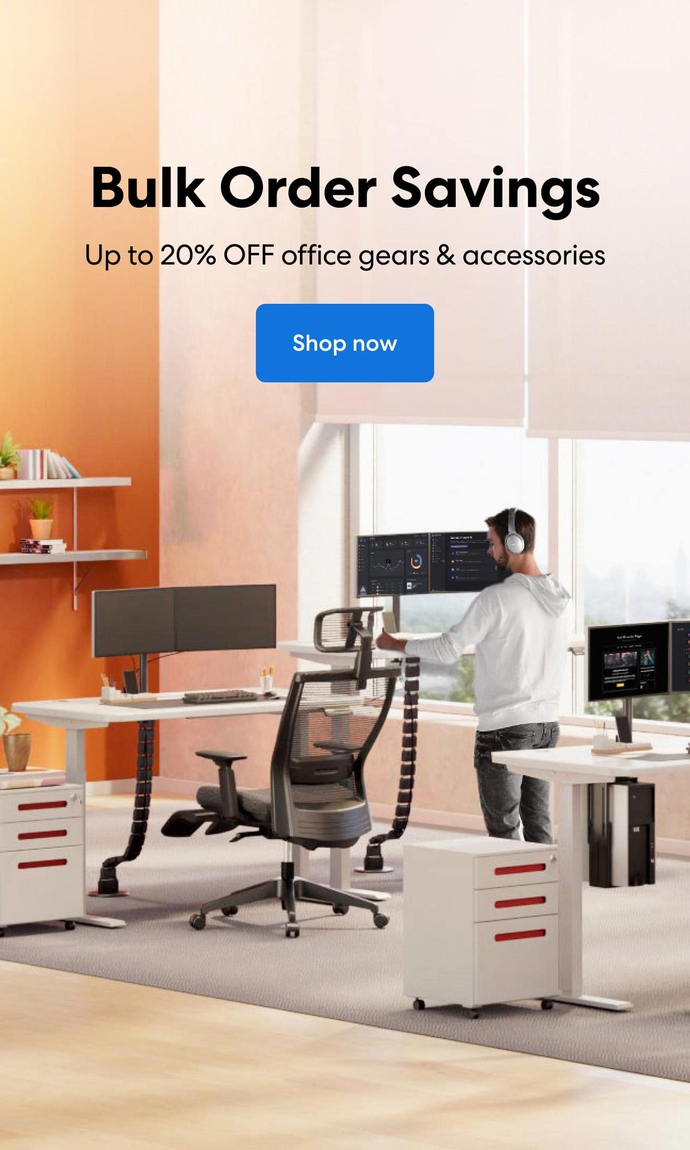 Subcribe newsletter and get $100 OFF.
Receive product updates, special offers, ergo tips, and inspiration form our team.