Workplace Inspiration
Full Guide to Components of an Executive Desk Set

Autonomous
|
Jul 8, 2023
317 Views
Making the right setup for your office will determine your productivity and your workspace's appeal. There are many ways to optimize your office layout, and one of them is buying an executive desk set.  
These sets, in a nutshell, are a group of office accessories and furniture you can buy together for your company. You can personalize them with your company's logo or name, so law firms and other businesses often get them to look more professional or save money from buying each item individually.  
However, if you want to buy executive office desk sets, you need to know where to look for them and what to expect. We are here to help you with that. Dive into this page to learn everything you need to know about the components of executive office furniture sets.  
You can also go to the Autonomous website to read more blog posts and articles related to office furniture and what you can do to improve your productivity. It also offers standing desk accessories and furniture for your workstation, so it's the only store you'll need to visit to look for them.  
What Are the Benefits of Using Executive Desk Sets?
Many people wonder why they should buy an executive desk and credenza set instead of just getting what they need for their workstation, but the truth is that it brings many benefits to the table. The first of them is the professional appearance it gives your workplace.  
Executive desk sets show people you are more organized as a company and that you pay attention to detail. These sets are often made of the same materials for them to look like part of a whole and more appealing space. As we mentioned before, you can put your company's name or logo in all of them.  
They come with many organizational tools, such as pen holders, file holders, paper trays, and other accessories to keep your workspace clutter-free. Others include other things apart from just accessories, so you can look for one with a standing desk or ergonomic desk chair.
Since these accessories keep your office layout free of clutter, they increase your productivity and reduce your distractions. That makes it easier to focus on whether you work at home or in an onsite office. Your priority should always be to work in a comfortable working environment with ergonomic features.  
Whether you buy a modern executive desk set or a vintage one, the main goal of getting it is to improve your efficiency, make your office more professional, and give you durable products. Its customization options are also good for people who like their offices to look different from others.  
If you like to think about the long-term and how to profit from your office layout in the future, buying a desk set is also a good idea. You can sell that set when you don't need it anymore, whether you sell it individually or as a group of ergonomic products with the same design or that share any features.
Key Components of an Executive Desk Set
All executive office desk sets are unique and often share a few products that everyone should have in their office. If you need any additional products apart from the ones all sets have, you should make an office supplies list before looking for them.  
We want to tell you the main items you will find in one of these sets. The first of them is a decent desk pad for writing or using your computer mouse. This product can protect your desk from scratches and spills, which makes your technological gadgets safer.  
Apart from that, you can expect it to have a pen stand, letter opener, and paperweight. These desk sets are often themed or offer specific types of products. Buying a desk set based on vintage offices or made for writing purposes will surely bring you those items.  
You can also find other desk accessories such as business card holders, memo pad holders, clocks, desk lamps, and desk organizers. However, they also have furniture pieces, so you can buy them if you need an ergonomic chair, a credenza hutch, or a standing desk. The more products it includes, the more expensive a set may be, though.
Should I Buy a Desk Set with the Autonomous Bulk Order Program?
The Autonomous Bulk Order Program allows users to buy wholesale office furniture for office employers. Buying products in bulk from Autonomous offers many benefits such as getting a premium warranty or a discount. People mostly get them because it allows them to save money on the price office supplies actually have.  
If you ask us whether you should buy a desk set with this program, the answer would always be yes. All the benefits it offers make the overall investment worth it, especially if you are working on a budget or want to save money for other things.   
It's worth noting that not all the products this company offers are part of the same program. You will need to check which products have the benefits of getting office supplies in  bulk and if the discount is enough. Most items in this wholesale system have a 5% or 7.5% discount. One of them has a 20% one.
Benefits of Buying Products in Bulk from Autonomous
Buying products for your desk setup through the Autonomous Bulk Order Program has many benefits apart from just giving you a discount on the items. The first of them is that its products are always in stock, so you don't need to worry about missing the opportunity to buy a limited edition or something similar.  
Apart from that, Autonomous may offer special deals and promotions only members of the program have. You could even get free gifts. This company offers an assembly service for others within California. In a nutshell, enrolling in the Autonomous Bulk Order Program gives you access to: 
Exclusive discounts 

Assembly service 

Flexible Shipping

Always-in-stock

Premium warranty 

Free gifts
What Are the Best Autonomous Products?
Autonomous offers many of the best ergonomic products you can find online, and we recommend that you get them if you want to boost your productivity and reduce mental health issues such as distress or anxiety. 
We are going to show you a few of the best products available on this company's website. You can get all of them in bulk, so you don't need to get them individually for your office employees. That being said, these are the best Autonomous office items available on its website:   
SmartDesk Lineup
1. Autonomous SmartDesk Core
If you are looking for a home standing desk, you should check the items in the SmartDesk lineup. Although all the products in this series share a few features, all of them have something that makes them unique among the others.  
The first smart desk on this list is the Autonomous SmartDesk Core. You could call this the best desk on this company's website, and it's one of its best-sellers. This product is resistant due to its solid steel frame, works with an electric dual motor, and can lift to 270 lbs with no problem.  
One of the main appeals of this product is that you can easily adjust it due to its four programmable keypad settings. Adjusting the desk's height only takes a few seconds, and it doesn't make much noise. It has a five-year warranty in case you have any problem with the product, but remember that buying it in bulk gives you access to a premium warranty.   
Similar to the other items on the SmartDesk lineup, the Core release is an excellent match with the products in the ErgoChair series, so you should buy them together. 
2. Autonomous SmartDesk Pro
Following up, we have the Autonomous SmartDesk Pro. This product is excellent for executive office furniture sets, but it's a bit more expensive than the Core model. As we mentioned before, these items share several features, so the SmarDesk Pro offers many of the benefits you see in other Autonomous products.  
Although this item also has four programmable settings and works with an upgraded electric dual motor, it has an increased load capacity, as it can lift 310 lbs with ease. Besides that, it's even quieter than the SmartDesk Core. The desk's wood finishes make it look more sophisticated and professional.  
3. Autonomous SmartDesk Corner
Getting to the last product on the Autonomous SmartDesk lineup, we have the SmartDesk Corner. It's difficult to notice the differences between this product and the others on this page, as it offers twice the space. As its name suggests, this is a corner desk, so it's made for you to put more office gadgets on it.  
You should buy this desk for a modern executive desk set if you need to have your work equipment close to you all the time. We recommend that you match this with an ergonomic chair with casters. 
ErgoChair Lineup
1. Autonomous ErgoChair Pro
The ErgoChair Pro is one of the most comfortable chairs you can sit on while working. People even say it feels like sitting on your couch. This is a fully adjustable product, so you can customize its height, seat tilt, backrest, headrest, and armrest. You can recline in any of its five lockable recline positions.  
However, the main feature this product offers is its flexible lumbar support that will support your back regardless of how you sit on the chair. You don't need to worry about your weight when you sit on it, as it can lift 300 lbs.  
2. Autonomous ErgoChair Core
If you are looking forward to buying a more affordable chair that helps you avoid back pain while working, you should think about buying the Autonomous ErgoChair Core. You can adjust this product's height, armrests, seat pan, lumbar support, and recline position in a matter of seconds, which gives it a flexible design.  
However, what makes the ErgoChair Core shine among others is its lumbar support pad that reduces back pain and corrects your posture. Its breathable mesh back makes it more comfortable than others on the market, which makes working a more enjoyable experience regardless of how much you need to be at the office.  
3. Autonomous ErgoChair Plus
The Autonomous ErgoChair Plus takes the lumbar support concept and takes it to a place Autonomous hadn't reached before. Although the other chairs on this lineup successfully support your back all the time, this one takes a step forward from them thanks to its frameless construction and adaptative spinal support.  
In a nutshell, this chair adapts to your spinal cord's natural curvature, which means it can support your back optimally regardless of how you sit. Apart from that, its design supports micro-movements that help you correct your posture and keep you from developing back pain.  
Office Accessories
1. Autonomous Anti-Fatigue Mat
Although its name is self-explanatory, the Autonomous Anti-Fatigue Mat helps you avoid fatigue while working. Using it is simple, as you only need to put it on the floor and stand on it. This mat is tear-resistant and made of vegan leather, so you don't need to worry about damaging the environment by purchasing it.  
We recommend that you buy the Autonomous Anti Fatigue Mat if you want to buy a standing desk for your office. Why? Because it allows you to work while standing all the time you need without getting tired or developing any pain. It has a one-year warranty.  
2. Autonomous Light Bar
The Autonomous Light Bar lets you keep your workspace illuminated and has several settings to make it more dynamic. It has four light temperatures and five brightness levels, so you can change your place's lighting depending on your mood or the vibe you want the office to have.  
3. Autonomous Monitor Arm
Autonomous offers many gadgets and office accessories to its users, and they are the perfect fit for any executive desk set. Buying the Autonomous Monitor Arm is ideal for anyone who works with a computer monitor and wants to move it quickly whenever they want. It also has a cable management feature.  
Bottom Line
Buying an executive desk set may seem expensive at first, but it will help you save a lot of money in the long run. The reason for that is that you will already have all the office supplies you need to work, which means you can use the budget you have left for other things.  
We recommend that you go to the Autonomous website to see all the products available there. Its Bulk Order Program is perfect for offices where many people work, so don't hesitate to enroll in it and enjoy its benefits.
Video ads for product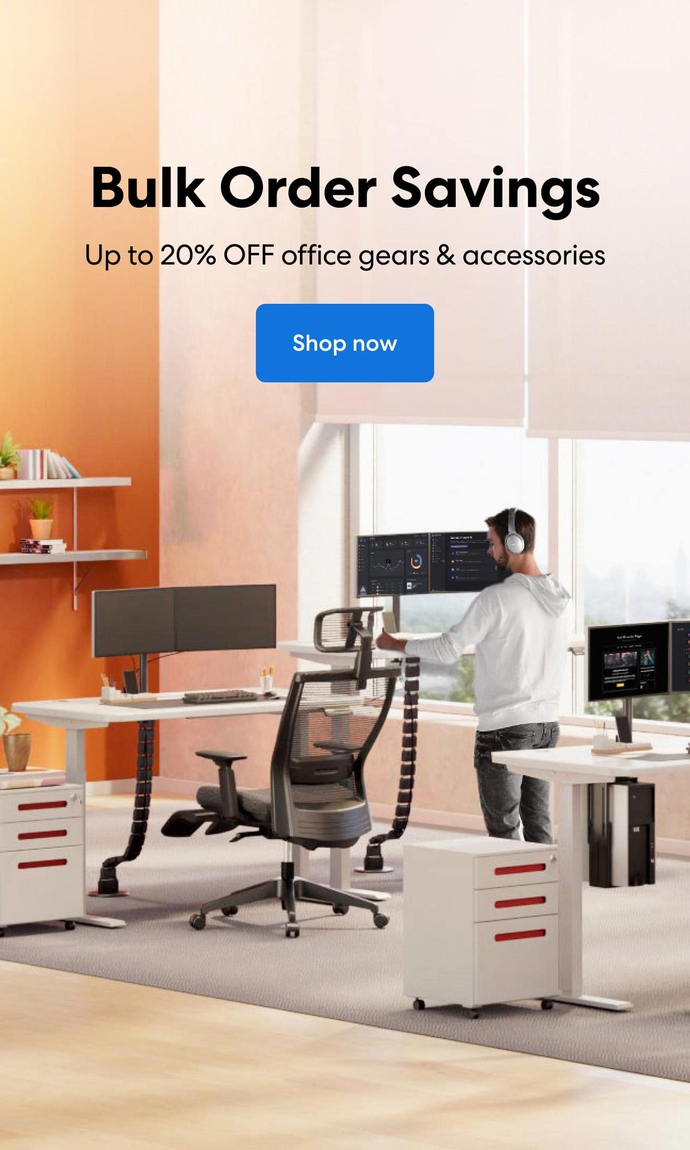 Subcribe newsletter and get $100 OFF.
Receive product updates, special offers, ergo tips, and inspiration form our team.