Setting up a gaming corner is essential, no matter how limited you are with space. A gaming station allows you to experience a better gaming level, improved productivity, and enjoy the gaming to the fullest. And for people who cannot allocate a room to gaming separately, a gaming bedroom setup is the best solution.
A gamer bedroom setup allows you to set up a proper gaming desk in the bedroom; hence you can play and dedicate an entire space to fun activities. Furthermore, it is important to have proper gaming furniture and gaming desk setup, so your back is prevented from pain and physical fatigue while gaming – a common cause of health issues in gamers.
This article will cover the basic gamer bedroom furniture and essentials to make a laptop gaming setup right in your bedroom.
Gamer Bedroom Ideas Setup
Whether you opt for a PC gaming setup to have your battles or try to make a laptop set up to work, using the corner space for a bedroom pc setup is the right idea. And with the proper gaming equipment and tools, you can make your entire gaming setup work for the best. Here are some equipment and ideas you need to try to set up a bedroom gaming setup.
Consider The Size Of Your Bedroom
When creating a video game room, the size is most important because the positioning must be precise. Even though there isn't a set rule for room size, a few factors to keep in mind.
The setup should not be excessively large or small. There will be some vacant area if it is too large. However, if it is too small, the room would be too cramped, making you feel uneasy.
Also, make room for friends or family members who want to come over and play video games with you.
Choosing The Right Location
It might be hard to pick a place when you don't have an entire room dedicated to your gaming setup. Especially in a bedroom, the space limitation is high. In such cases it is ideal to set up a gaming station at the corner. Using a corner desk to create an ultra-wide desk setup will allow you to make the most of the minimum square footage.
Gaming Chair
Because you'll be spending a lot of time in your ergonomic gaming chair, it's critical to pick one that fits your specs and meets your comfort needs. Of course, it's tempting to save money by getting a cheaper desk chair for your gaming setup, but sacrificing comfort is never a good idea – investing in a higher-cost, high-quality gaming chair is an investment in the overall comfort and quality of your gaming setup.
RGB Gaming Setup
The RGB lighting is a great way to make your gaming bedroom setup unique and mesmerizing. While it's simple to buy a variety of various RGB goods, creating something genuinely amazing takes a little more finesse. For example, an RGB gaming desk combines the three colors red, green, and blue to create a combination of hundreds of hues. This factor adds a unique touch to most gaming stations, making gaming a lot more fun than being immersed in the virtual team.
Soundproofing
The sound effects in the game help create a positive mood in the gaming bedroom and elevate the players' spirits. Unfortunately, it's usually quite noisy there. If the players wear headphones to block out the sounds, they may occasionally scream in fury or joy.
To muffle these noises, you'll need to soundproof the entire room. The purpose of implementing soundproofing is to improve the sound quality inside the room. But, again, you have the option of hiring an expert or doing it yourself to install soundproofing.
This is especially important if you share the room and need to create a distraction-free gaming setup right in the room without disturbing others and yourself.
Set Up A Small Cubicle
When it comes to gaming bedroom setup solutions, size does matter. For example, if your game station is merely a cubicle, you can put two comfy reclining chairs in front of the PC.
Connect the monitor's speakers to the wall on both sides. If you want to be close to your PC games, put them next to your seats, so they're easy to access.
All White Gaming Room
White is a graceful color, and many gamers opt for a white gaming setup for many reasons. Especially if you are creating a setup right in your room, using a white setup is a good way to separate your gaming station from the entire room. Consider buying a white ergonomic desk, get a white chair and even use the white accessories, and the entire look will be too graceful.
Small Lighting Setup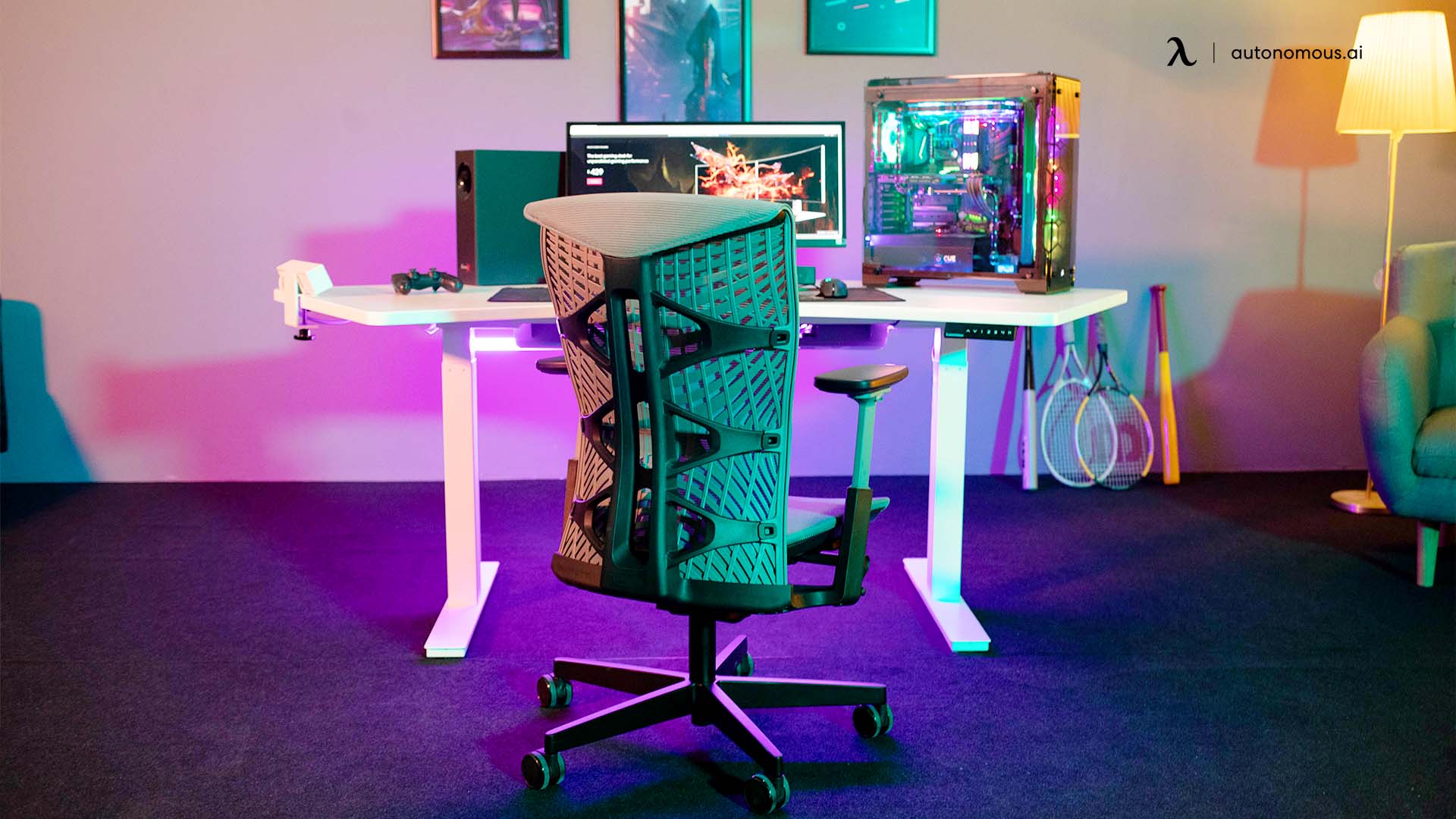 It's difficult to provide enough background illumination in a small area so that the lights from the computers don't damage your eyes. You can install the spotlights and set them on the ceiling if you have a small gaming room. During gaming, the dark hue of the gaming equipment and the furnishings will provide suitable illumination.
Glow In The Dark Theme
Gamers know how they don't know what separates a day from night, and this is why they would love to game during those late hours and have some fun. Glow in the dark theme in their gaming bedroom is one of a kind. If you're searching for a fun way to decorate your gaming area, consider using glow-in-the-dark paint. The glow in the dark decoration's light will not irritate the eyes. To improve the ambient illumination, select a set of colored glow-in-the-dark Tetris.
Use Your Bed
A gaming setup in a bedroom can be very comfortable. If you have a large bedroom, you may mount a gaming projector on the wall, so you can play while lying in bed. Install a spotlight on the ceiling to improve the gaming environment's ambient lighting. This gaming setup is also a fun way to bond with your friends while gaming.
Mount It On A Wall
The last gaming bedrooms idea on the list. Do you have any empty wall space where you could hang home-entertainment equipment, game consoles, and game storage?
Utilize the area by repurposing wood planks. Then, turn the planks into suitable storage for gaming equipment. After that, I set up a television.
To begin, drill enough and decent-sized holes for the cables. Baskets can also be used to fill storage drawers and racks. These are useful for keeping all of your video games, DVDs, game consoles, and home theater systems organized.
Get exclusive rewards
for your first Autonomous blog subscription.

WRITTEN BYAutonomous
We build office products to help you work smarter.
Coming at You Live from Autonomous' Social Media!
Please fill the information below.
Thank you!