Workplace Inspiration
DIY Small Wood Corner Desk Ideas for Your Home Office

Lily Parker
|
Sep 1, 2023
637 Views
Some people have little space available at home, but that doesn't mean they have to be uncomfortable while working. In fact, there are tons of small wood corner desk ideas you can consider if you want to have a cozy, sophisticated, and functional workspace without having to use such a wide space at home.
Studies suggest that the more comfortable you are in your work area, the more productive and happier you'll be while working on your usual duties. Plus, having a tidy and ergonomic workspace can also bring you several life benefits, such as less stress, reduced risk of injuries, and even more efficiency.
What does your desk have to do with all of this?
It's simple: your desk is the main object of your home office, and it defines whether the space is comfortable or not. Even if you don't have that much space available at home, you can still build a natural wood corner desk tailored to your needs and your available work area.
Some people dream of including an L-shaped standing desk at their home office, but if that's not possible at the moment, then a small solid wood corner desk may do the trick.
Let's explore together some of the best ideas for a DIY L-shaped desk and the different ways you can build one from scratch!
Small Wood Corner Desk: 10 DIY Projects You'll Love
1. Small Rustic Corner Desk with Cabinets
Many of us have documents, peripherals, and accessories, among other things, that we need to keep near ourselves while working. Having little space available in your home office doesn't mean you don't have to be able to store all the things you need, and this desk can be an excellent option for that purpose.
Not only is it compact, but it also includes six cabinets you can use to store all the essentials you need to complete your daily responsibilities. It's a relatively easy small wood corner table project you can complete in a few days!
2. Bamboo Corner Desk
Here's another good option for those who prefer something more discrete. You can easily utilize this desk as a work area if you don't need much except a laptop. It includes a single cabinet so that you can store anything essential for your work near you at all times while leaving some room for comfort and decoration.
This is a small modern wooden desk, which means it won't take you that long to complete if you take the project seriously. Actually, it's one of the easiest options for those who are not very fond of woodwork.
3. Custom Wooden Corner Desk
If you want a small wood corner table with a more "unique" look, then this desk will definitely work for you. You can customize this desk as much as you want, add more compartments in the above area, or expand the space if necessary. It depends on the space you have available.
This is another simple project you will likely be able to complete in a single day. The result will be a functional and comfortable work space where you can spend your workday totally relaxed!
4. Modern Wooden Corner Desk
Here we have a modern wooden desk for laptop users. It has an interesting layout and is compact enough to be included in any room, be it your living room or perhaps your bedroom. It has some storage space for you to keep books, documents, or decorations if you want.
This small solid wood corner desk can be an excellent choice for those who want their home office to blend with the rest of the room. It can certainly work as another piece of decoration whenever you are not working!
5. Mid-Century Small Wooden L-Shaped Desk
While the woodwork on this one is a bit more complex, the results are definitely worth it. It has a bit more space than some of the other options, but it's still compact enough for you to place it in most rooms. Remember that you can adjust the measures based on your current needs.
This L-shaped wood desk is an excellent option for desktop computer users, as it grants them enough space for them to place their peripherals and a bit more room for accessories and other things they may need to be comfortable in their workspace. It can also work as a wooden gaming desk with a bit of creativity!
6. Simple Wooden Corner Desk
Here we have another option that doesn't require too much effort to build, but that can still work without problems. This desk can be easily adjusted to your current space needs and is also appropriate for both desktop computer and laptop users.
While it is quite compact and may not leave enough room for other accessories, it still does its job and may be able to serve you as your main work surface for a long time.
7. Small Rustic Corner Desk
This next option has a more "intricate" layout, but it's still great and can do its job perfectly. You can adjust it to your needs as much as you can, but it can definitely be an excellent choice for those with little space available and that also need to store files, books, and other documents for their work.
It leaves enough space for desktop users to place their CPUs, screen, and peripherals while also allowing laptop users to work with their laptops without problems.
Remember to Take Good Care of the Small Wood Corner Desk!
Wood furniture is quite vulnerable to wood mold, which is why it is important to take good care of your desk and learn good habits so that it can serve its purpose for a long time.
The wood corner desk ideas we've presented in the article are good choices for all types of users. You can easily do these projects yourself or have someone build it for you. Whatever your decision is, you'll be taking a great step towards creating a more comfortable home office.
Video ads for product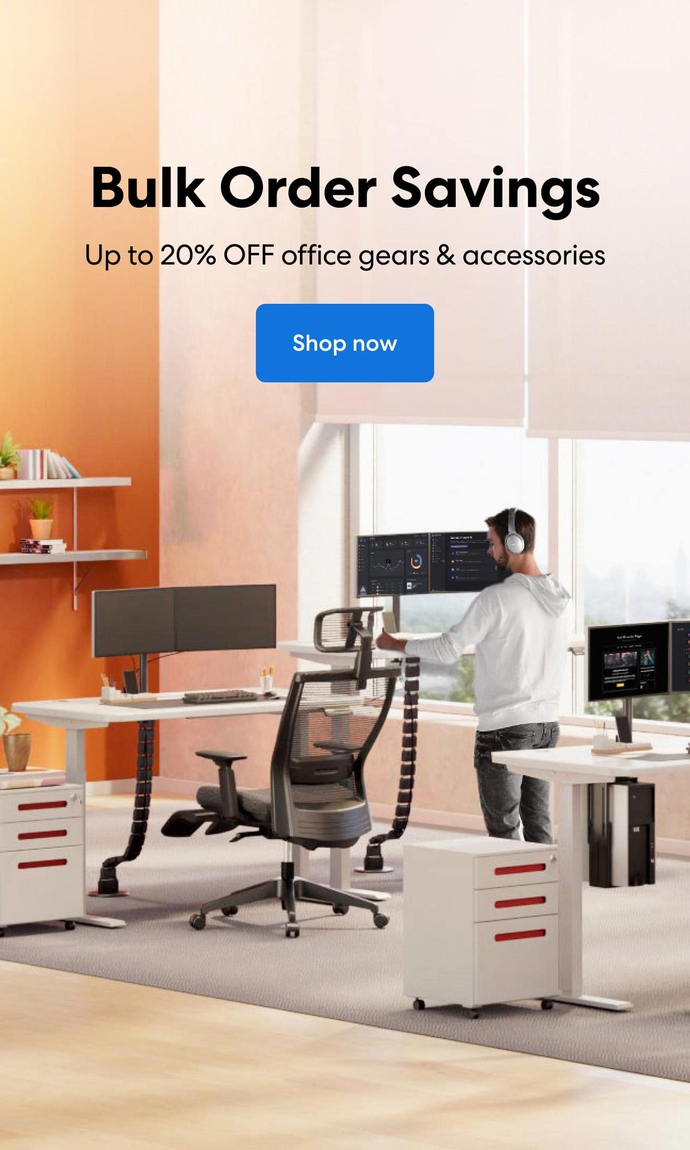 Subcribe newsletter and get $100 OFF.
Receive product updates, special offers, ergo tips, and inspiration form our team.