Smart Products
8 DIY L-Shaped Desk Plans You Can Start Today
2,908 Views
If pre-built office furniture doesn't appeal to you, you may be interested in the prospect of a DIY L-shaped desk. This is especially true if you have corner space that you want to capitalize on. 
Going the DIY route for anything requires a great amount of creativity. Even if you have all the skills in the world, without a clear picture of what you are building towards, the finished product is likely not going to become all it can be. 
That's one of the reasons that you are here today. Maybe seeing some L-shaped desk ideas is enough to give you the inspiration you need to build your own. 
Just in case you don't need to have the skillset, remember that there is nothing wrong with hiring a professional to bring your vision to life. 
DIY purists may take issue with that since they may say that you did not necessarily complete the build thing on your own. However, others would say that not purchasing a pre-built model is enough for it to count as a DIY job. 
Ultimately, nobody can decide how you feel about this but you. However, if you can't complete the DIY L-shaped computer desk with your own two hands, then outsourcing is certainly a recommended course of action. 
On the matter of rebuilt units, why would you even concern yourself with how to build an L-shaped desk when you could simply buy one? 
Much of it has to do with the measure of control that you get by choosing to do so. 
Certainly, the designs on the market are often very well done, and the people who are creating them know what excellent craftsmanship looks like. 
However, it takes away from the kind of fine-grain control that you can get in putting your standing desk frame together. 
Speaking of standing desks, that may be your reason for doing your build on your own. Perhaps the kind of DIY L-shaped computer desk design that catches your eye is only available in a seated style though it looks good. 
So, you could then choose to go the DIY standing desk route, since you could make it an adjustable sit-stand desk contributing to a more healthy seating option.  
Even if you're not necessarily trying to do something that other builds yield, you may just like the idea of building your own L-shaped standing desk. 
Some people feel that way, and there is absolutely nothing wrong with that. 
If your creative juices are flowing, then why not take advantage of it? Hopefully, as you read, the information you're going to be getting is more than enough to support you effectively. 
8 Interesting DIY L-Shaped Desk Plans
1. Autonomous L-Shaped Standing Desk Frame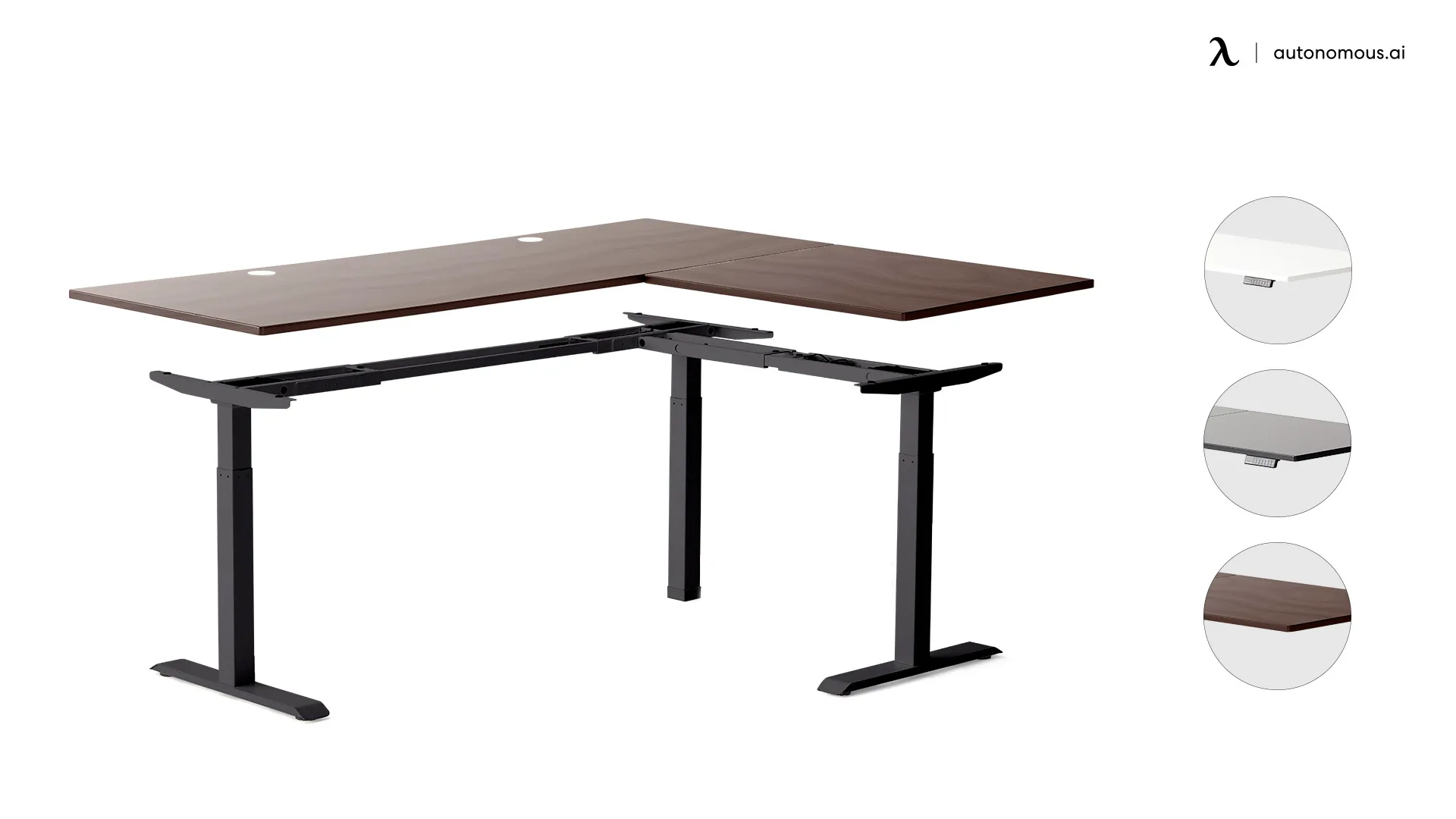 First, Autonomous is incredibly popular because of its prebuilt style that you can purchase and take advantage of the quality and professionalism that the manufacturer is known for. 
After all, you're dealing with one of the premier creators and suppliers of ergonomic office creations that can yield the best home and office equipment money can buy. 
Even with this reputation, Autonomous knows that its top tier creations may not necessarily appeal to the DIY audience like other they would another set of buyers 
Therefore, the decision was to appeal to such individuals so they could partially capitalize on the creative side of things. 
With that said, it's time for you to familiarize yourself with the Autonomous standing desk frame. 
Purchasing the standing desk kit allows you to go as crazy as you'd like to with just about any tabletop that you'd like to affix atop your frame purchase. 
If you want, you can purchase the 40-inch frame, which is more suited for those who want a smaller form factor for their office spaces. After all, some people don't necessarily have the space needed for bigger designs. 
On the flip side, those who want a bigger design can take advantage of the 73-inch build, which you can take advantage of for the larger form factor. 
Of course, your focus here is the DIY L-shaped computer desk design that allows you to enjoy greater corner real estate.
One of the biggest problems with standard designs is that when you put your traditional desk alongside the coroner, you lose your desktop real estate when you think about the area that you place against the wall. 
An L-shaped desk plan allows you to cheat the system in a sense by wrapping itself around your designated corner and allowing you to end up with a more spacious tabletop for you to take advantage of. 
Note that this is an adjustable frame, and it's based on an electric motor that is incredibly smooth yet able to handle high weight capacities without struggling to ascend or descend, regardless of the tabletop you have chosen. 
The frame of the DIY L-shaped desk is made of high-quality steel, which translates to incredible durability that's going to be with you for a long time to come. 
Not only are your adjustments very easy to deal with, but you also get a programmable keypad allowing you to get back to the heights that you like the most, without having to figure out where things were the last time. 
Note that Autonomous provides a five-year warranty for your frame purchase, provided that you have not done anything to intentionally or carelessly cause damage to the frame. Should you meet the criteria, redress is available for manufacturing faults. 
2. Mounted Corner Desk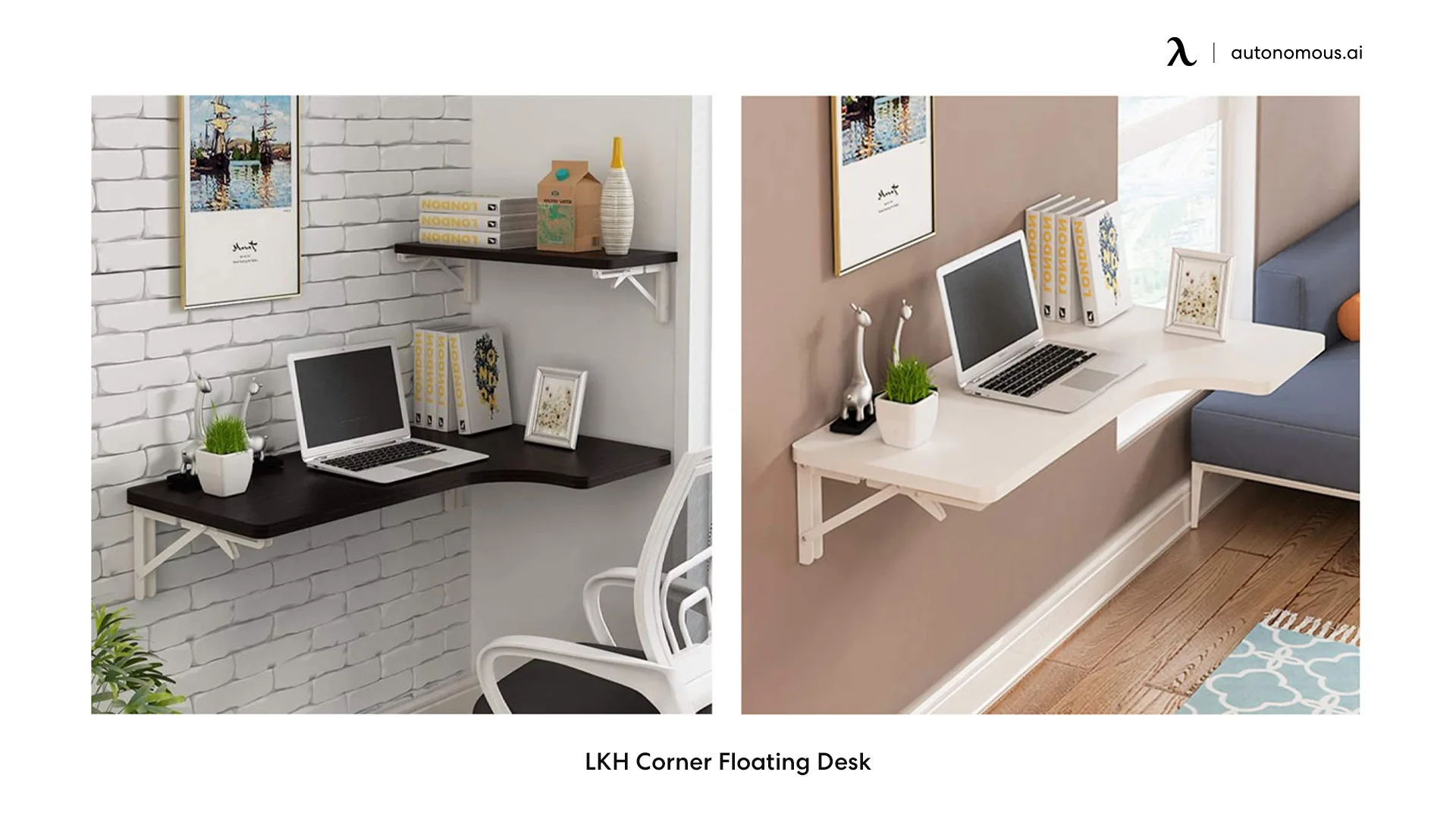 Not every DIY L-shaped desk needs to have legs. That sounds like a bit of a weird thing to say considering that desks typically consist of a tabletop sitting above either static or adjustable legs. 
However, the idea of a mounted or floating desk is quite a common occurrence, especially for people who want to save a bit more space.
Since it's a DIY L-shaped desk plan, you can take things a step further and make it a folding design. 
Therefore, when you are not using it, you can simply fold it vertically and reclaim the space that you are using. 
Of course, this may not necessarily be a feasible choice if you have certain office equipment sitting on the tabletop, such as your desktop computer. 
Nevertheless, it's quite an interesting DIY idea concept and you can even choose to make it a standing or sitting desk. 
Should you want to enhance the challenge even more, maybe you can have built-in sliding grooves that allow you to vertically adjust your floating desk up and down. 
That way, you can lock it in place at high or low positions and make it an adjustable standing desk. 
3. Standard Desk Combination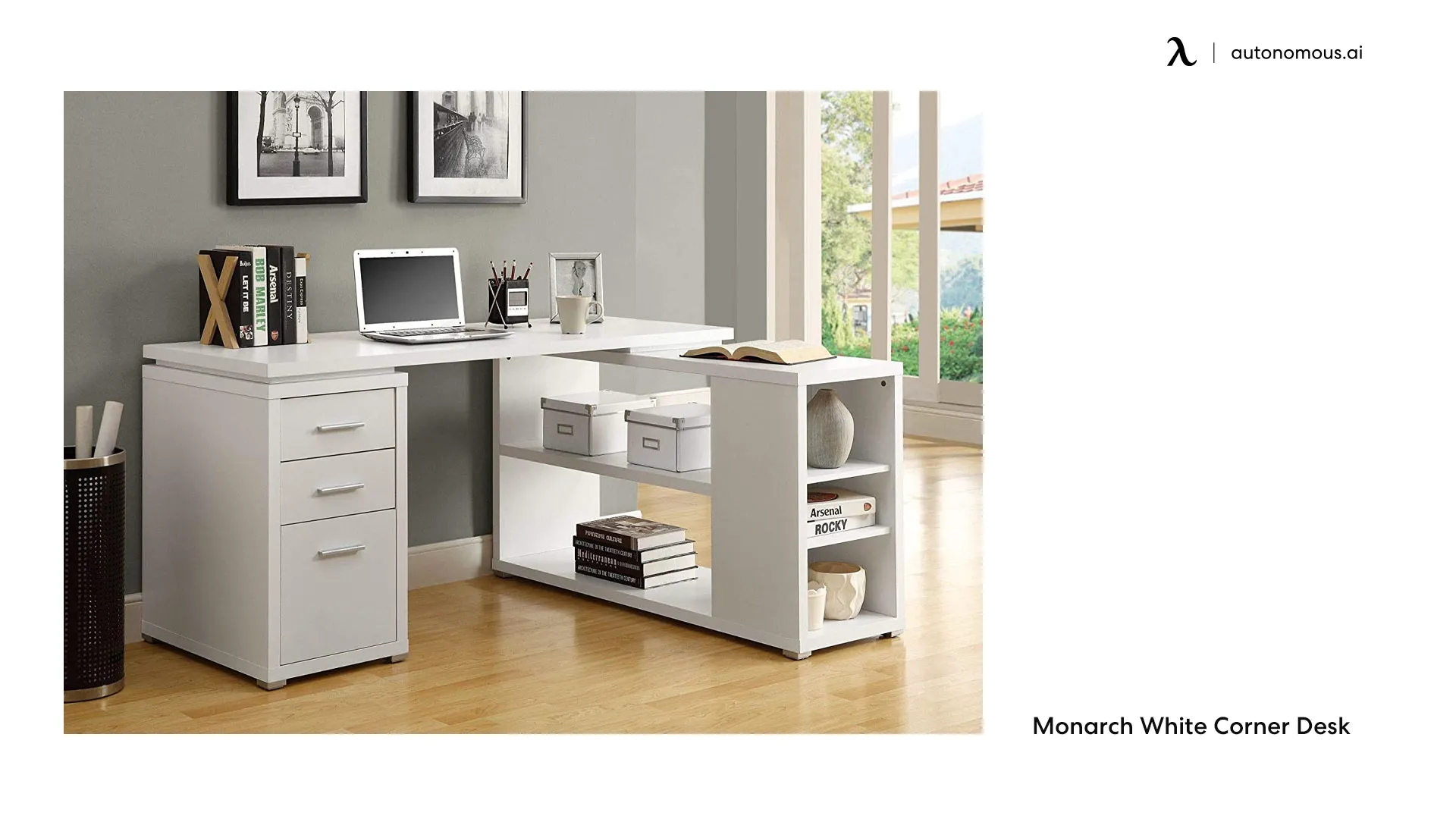 The level of challenge here is very low, especially considering that what you are building is not what you would typically classify as an L-shaped desk. 
Instead, what you're doing is combining two separate traditional rectangular shaped desks into an L-shape. 
It's up to you whether you want to create an "L" that has a long and short side or whether you want to create one that has equal sizes where both pieces of the "L" are concerned. 
Another decision you must make is whether you want to affix both sides together or if you want to leave them independent even though you're physically putting them together to get an L shape. 
There are not too many use cases for this kind of design. Perhaps if you plan to separate the tabletops in the future, then this can be a good way to go back on your choice to create a DIY L-shaped desk. 
Apart from that, this L-shaped desk idea is more of just something randomly interesting that you may want to consider. 
4. Large L-Shaped Lab Desk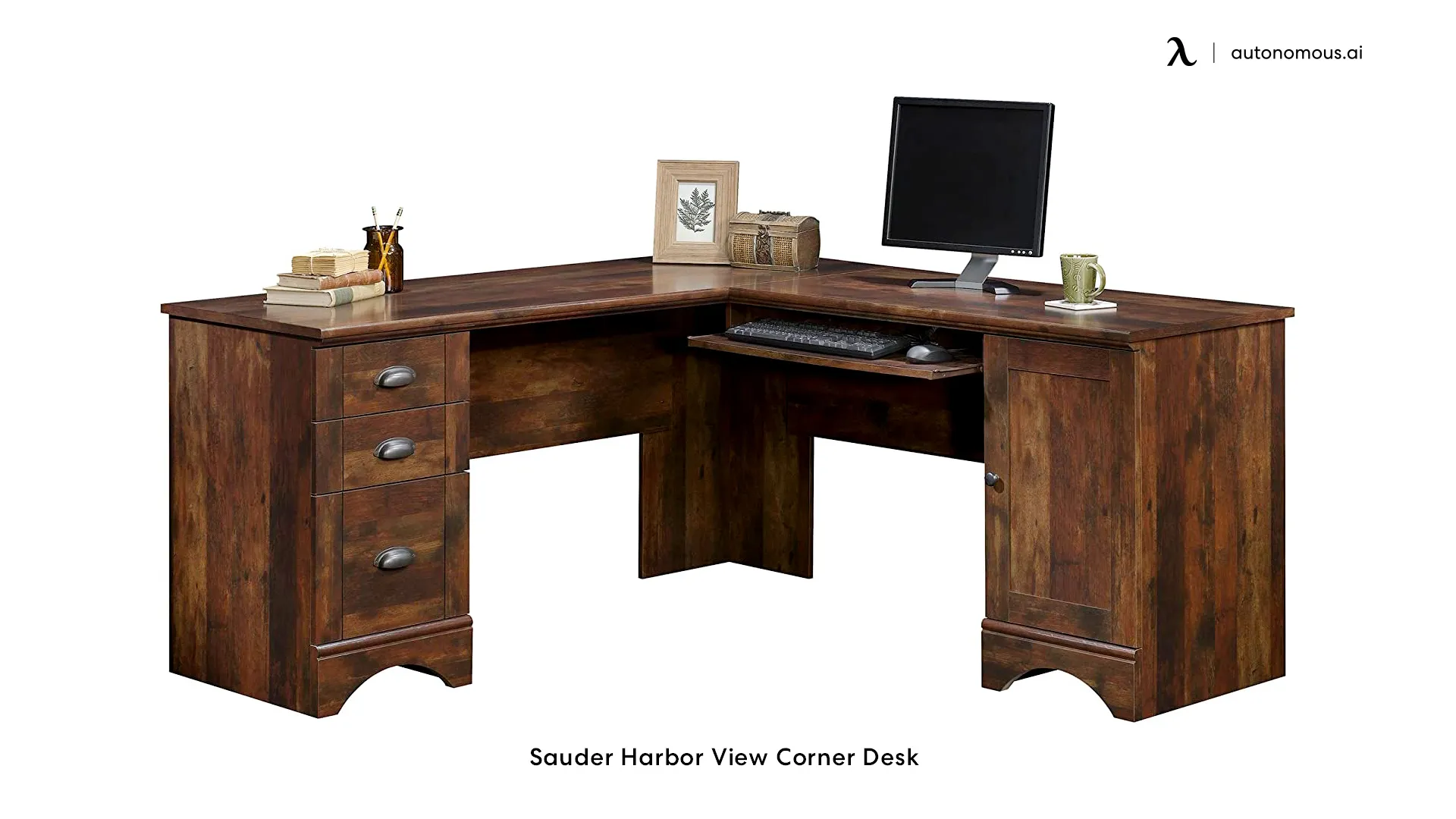 Again, what you're getting here is a special use case that appeals to a certain set of people. As mentioned before, L-shaped units tend to give you a bit more surface area than your traditional desk, since you technically get a double tabletop combination. 
However, certain contexts, such as a lab, can benefit quite a bit from longer designs that are meant to accommodate a lot of equipment on the tabletop. 
Alternatively, you may have several different people that are going to be using the DIY L-shaped desk, meaning that you want things to run along two different walls, consuming way more space than your typical L-shaped standing desk. 
For example, it may run against the entirety of two walls instead of consuming a part of the available space. 
You want to think about what you are using for legs if it's not a floating desk and the kind of tabletop that you want to choose here. 
After all, you're going to be accommodating a lot of office supplies and the last thing you want is for your build to fall apart. 
5. Corner Dresser Desk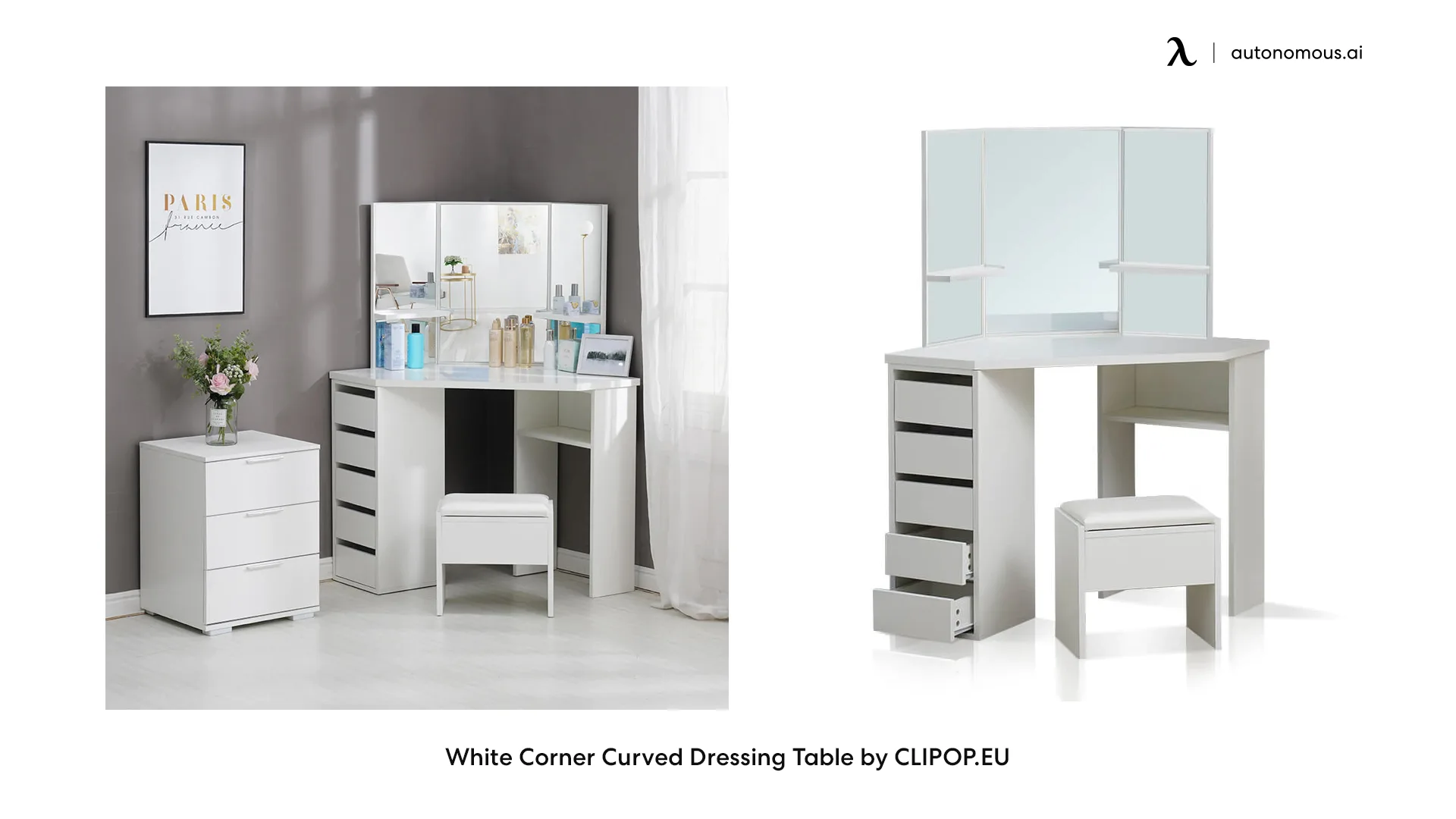 What you're going to be building here is exactly what you imagine a corner dresser desk looking like. The biggest benefit here is the form factor. 
Even those who are interested in an L-shaped design don't often have a lot of space to work with.  
That means you need to be efficient in equipment placement, and it also means that being able to have adequate storage for accessories and other potential needs is probably non-negotiable. 
The corner dresser desk is meant to take care of both potential concerns as you create your DIY L-shaped desk. 
So, while there may not necessarily be too much foot space, both ends of the frame are characterized by several drawers arranged vertically that you can use for storage purposes. 
That way, even with the space limitations, you still manage to maintain a neat minimalist desktop setup.
6. U-Shaped Combination Desk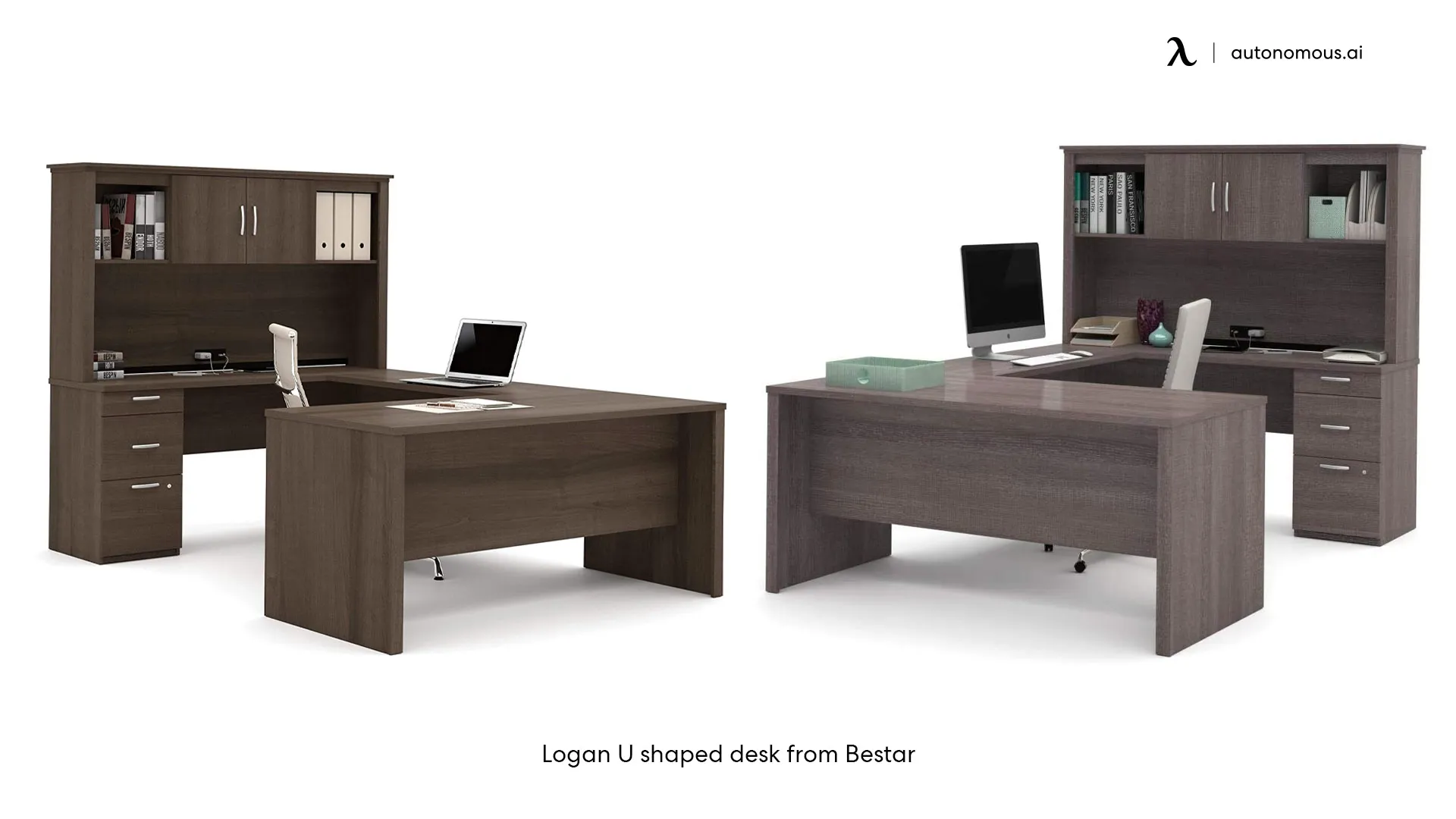 You may be wondering how something that sounds like this even made it on this list. The answer is that the U shape is a combination of two DIY L-shaped desks. 
These tend to be considered when you have multiple persons which may necessitate multiple workstations. 
This eliminates the need to contemplate where each person is going to sit and how the desk layout is going to go. 
With two persons in a single space, you need to be as efficient as possible where spacing is concerned. 
Opting for the U shape allows you to get through the planning phase relatively easily. 
While you can build the whole thing as one big U-shaped desk, it can get a little clunky and difficult to do so.  
Therefore, the recommendation here is to build two separate L shaped desks that create a seamless "U" from their placement. 
7. Pipe Corner Desk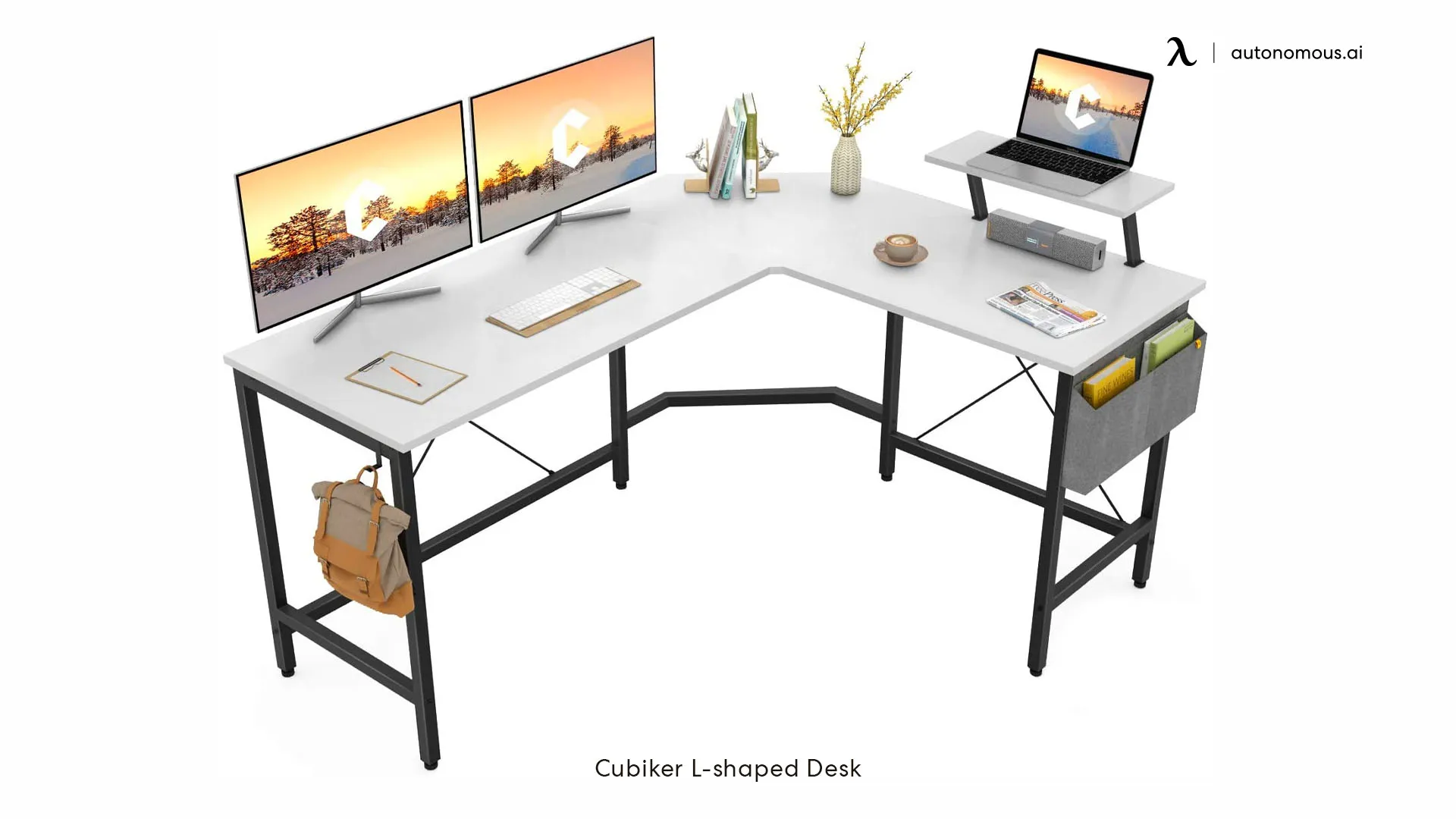 You don't necessarily have to go for the traditional frame materials that you are probably used to seeing people use. 
It would be surprising to you to see what the DIY community has done in frame design. For example, there are those who have opted for concrete for stability. 
Others have done away with their traditional desk legs entirely and have managed to build height-adjustable replacements from a series of materials. 
As strange as it may seem, the use of pipe happens to be quite popular with these creations. Once you know the durable versions to use, you can join the pipe community and create quite the interesting-looking DIY L-shaped desk frame. 
8. L-Shaped Shelf Desk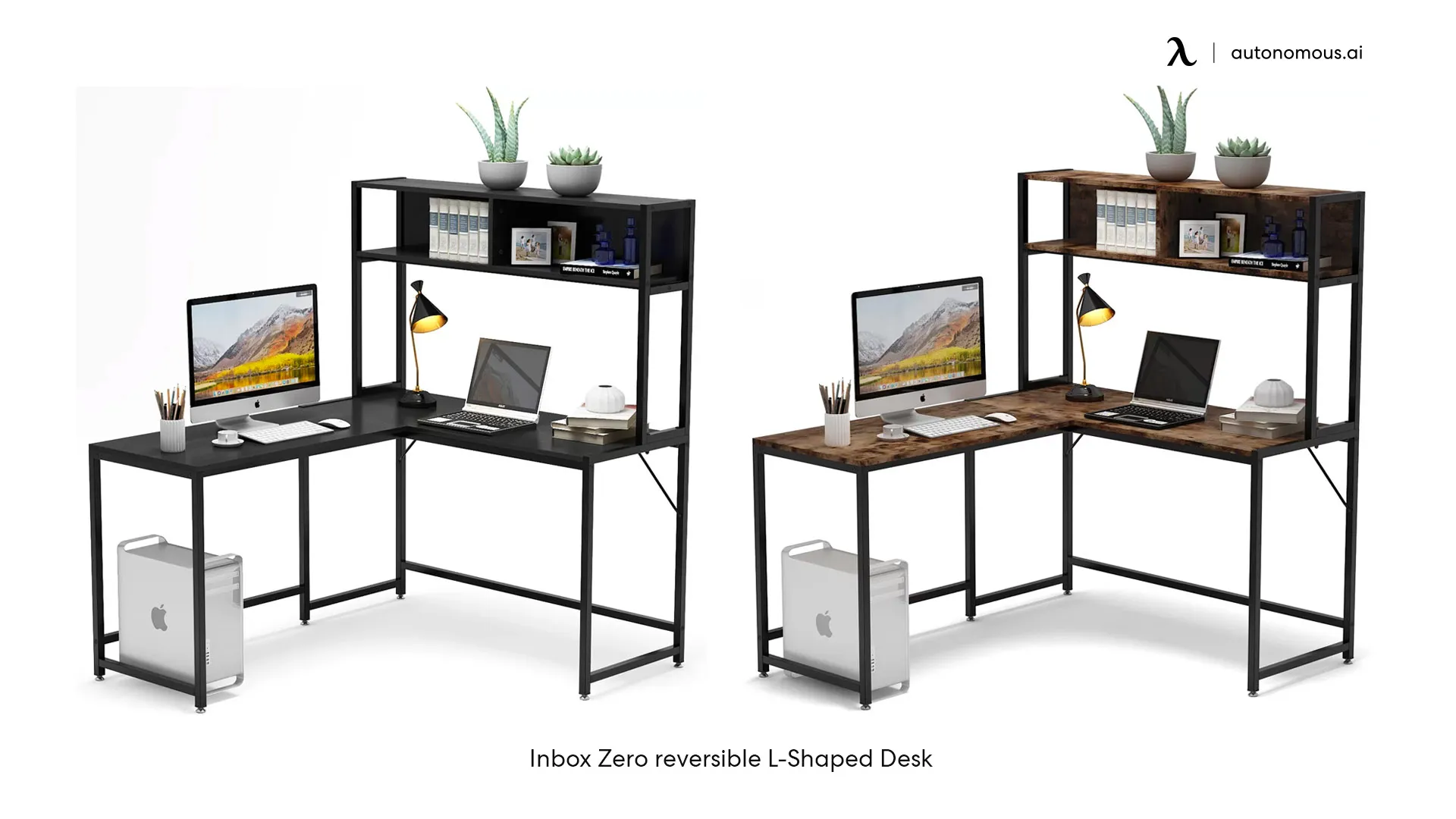 The dresser built earlier spoke about having a series of desks for storage. As an alternative, you may prefer to have shelves in your workspace. 
If so, then why not use your design to achieve this? The amazing thing about this DIY L-shaped desk is that you have multiple ways of reaching such an objective. 
First, instead of having standard legs, you can have 3D designs that feature a series of shelves.
Alternatively, your shelves can be completely independent of your desk, being mounted above it for convenience. 
Final Remarks
How confident do you now feel about your corner desk build? Maybe the inspiration that you needed for L shaped desk ideas was non-existent and it didn't allow you to get past a creative block. 
As indicated before, there are several different reasons that you may have decided to take matters into your own hands, and there is absolutely nothing wrong with that. 
Hopefully, you feel as if your time spent reading was well spent, and that you feel inspired to go after the course of action that you believe in.
Subcribe newsletter and get $100 OFF.
Receive product updates, special offers, ergo tips, and inspiration form our team.
WRITTEN BYAutonomous
We build office products to help you work smarter.