Smart Products
10 Best Adjustable Desk Legs of 2023 (Reviews)
9,267 Views
There has been ample debate on the benefits of a standing desk with adjustable table feets. While researchers have varying viewpoints, there are no major harmful effects. 
People buy standing desk frames for two main reasons: they generally already have a desktop and want to turn it into a computer workstation, or their prior treadmill desk broke, and they need to replace it. Custom-built wooden plywood sheets are still a common choice for standing workstations. This article will show you the five finest standing desk frames with adjustable table feet available this year.
We focused on the structural frame, supplier warranty, load-bearing capacity, adjustable table legs, and analysis to ensure that we provide the best standing desk frames that will last. On the other hand, these standing desks may not all be pricey. For sensible buyers, we have offered value and budget choices.
Please keep reading about our top picks, the therapeutic benefits of desktop computers, and the important things to consider when buying a standing desk frame.
What is an Office Standing Desk?
An office standing desk takes care of your overall health as you move from inactivity to active. As you change positions between sitting and standing, your body has movements. As your body changes positions, muscles loosen up and take new positions, increasing blood flow. Medical research shows the benefits ranging from improved metabolism, reduced aches and pains, and more.
There are three main types of office standing desks based on how the height is adjusted.  While the initial models had legs that had to be adjusted with screws/nuts and bolts, the revised version has a cranking shaft just as you crank open a garage door or a storage unit.
The latest in the series is standing desks with electric standing desk frames. Electric motors power these.  Working smoothly and efficiently, they raise the desk's height or lower it, thus making the legs adjustable. Some even have a pre-programmable feature, offering you four pre-adjustable heights for your convenience.
Don't miss our review of powerful motorized standing desk legs. 
Give Best Adjustable Desk Legs of 2022
While you have many choices, it is best to go with sturdy frames and smooth operating mechanisms apart from good customer service.
Our top recommendations for the finest standing desk legs are listed below. We have only included structures with a warranty of at least two or three years to ensure that your framework lasts a long time. Continue reading to learn more about each standing desk base. Here is our list of the five best standing desk frames for 2022.
1. SmartDesk Core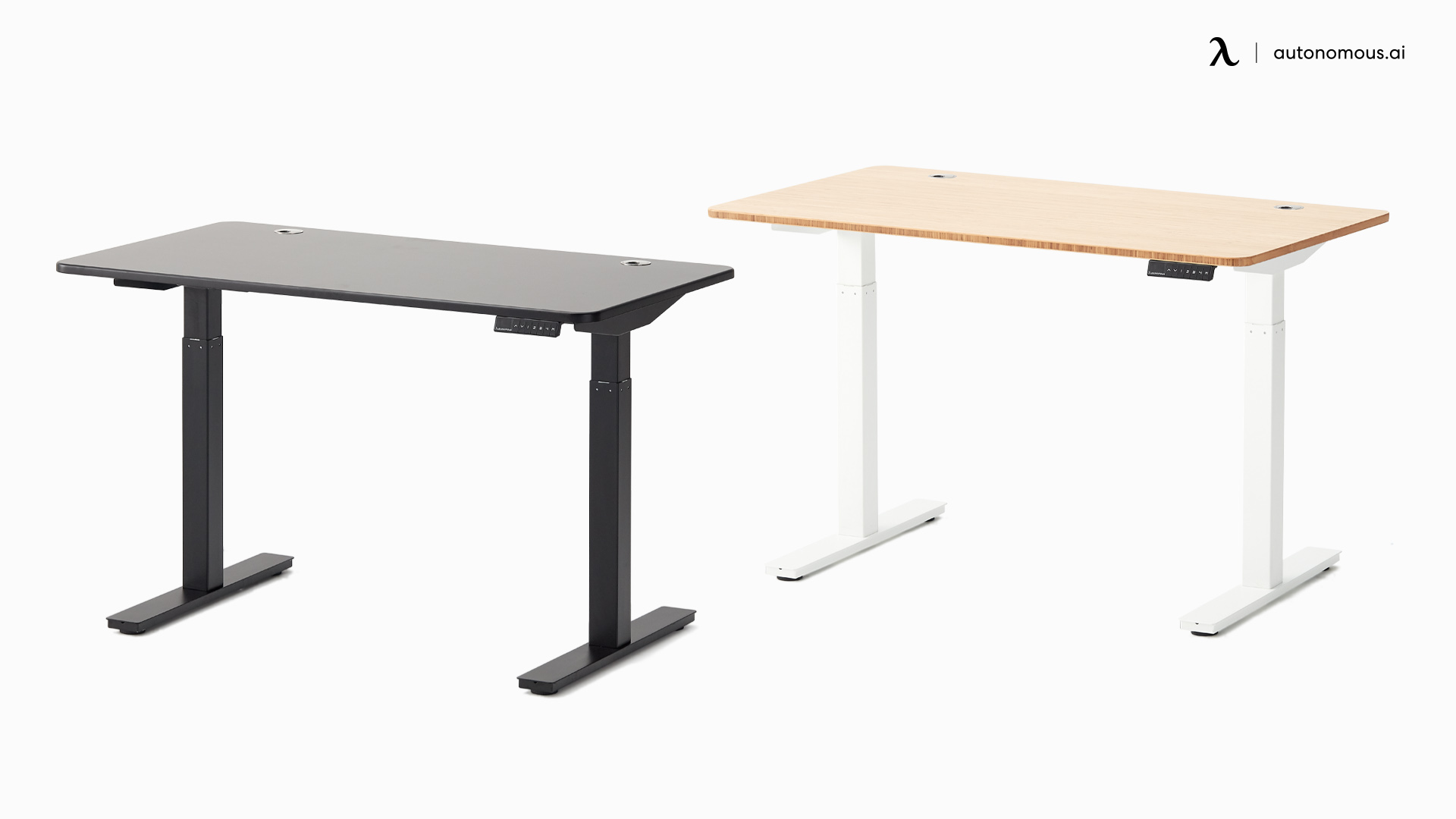 A work desk that understands your need to move fast and yet give you a smooth operation is the SmartDesk Core. Specially designed, it offers you high comfort. Unlike many in the market, it has been designed with dual electric motors, which have only a single electric motor. Dual motors give you a smooth movement as they are synchronized for easier movement on either side of the table. As you press the button, you can raise the desk height between a low of 29.4 inches to a high of 48 inches. Feel free to pre-program up to four settings for your comfort. No need to clear the desk as you raise it or lower it. Just ensure that there are no breakables.
Making it a prime choice, the SmartDesk Core is available in a range of six different colors to choose from. You can opt for the regular size tabletop (53" W x 29" D x 1" H) or an XL size (70.5" Wx 30" D x 1"H). The sturdy solid steel frames support a maximum weight of 265 pounds.
With a SmartDesk Core, you are assured of a smooth movement, every time, any time.
2. SmartDesk Pro
This elegantly designed ergonomic electric standing desk, the SmartDesk Pro, is your desk for all matters. Huddle around the desk as you review a document or have an impromptu meeting with your colleagues. Else raise it to stand and work for your good health.
The sturdy solid steel frames host adjustable table legs that work hard so that you can keep standing for your well-being.  Raise the height from 26.2 inches to 52 inches with four programmable settings at a speed of 2.3 inches per second. The latest version has upgraded dual electric motors that work at a low hum with 40 dB noise levels.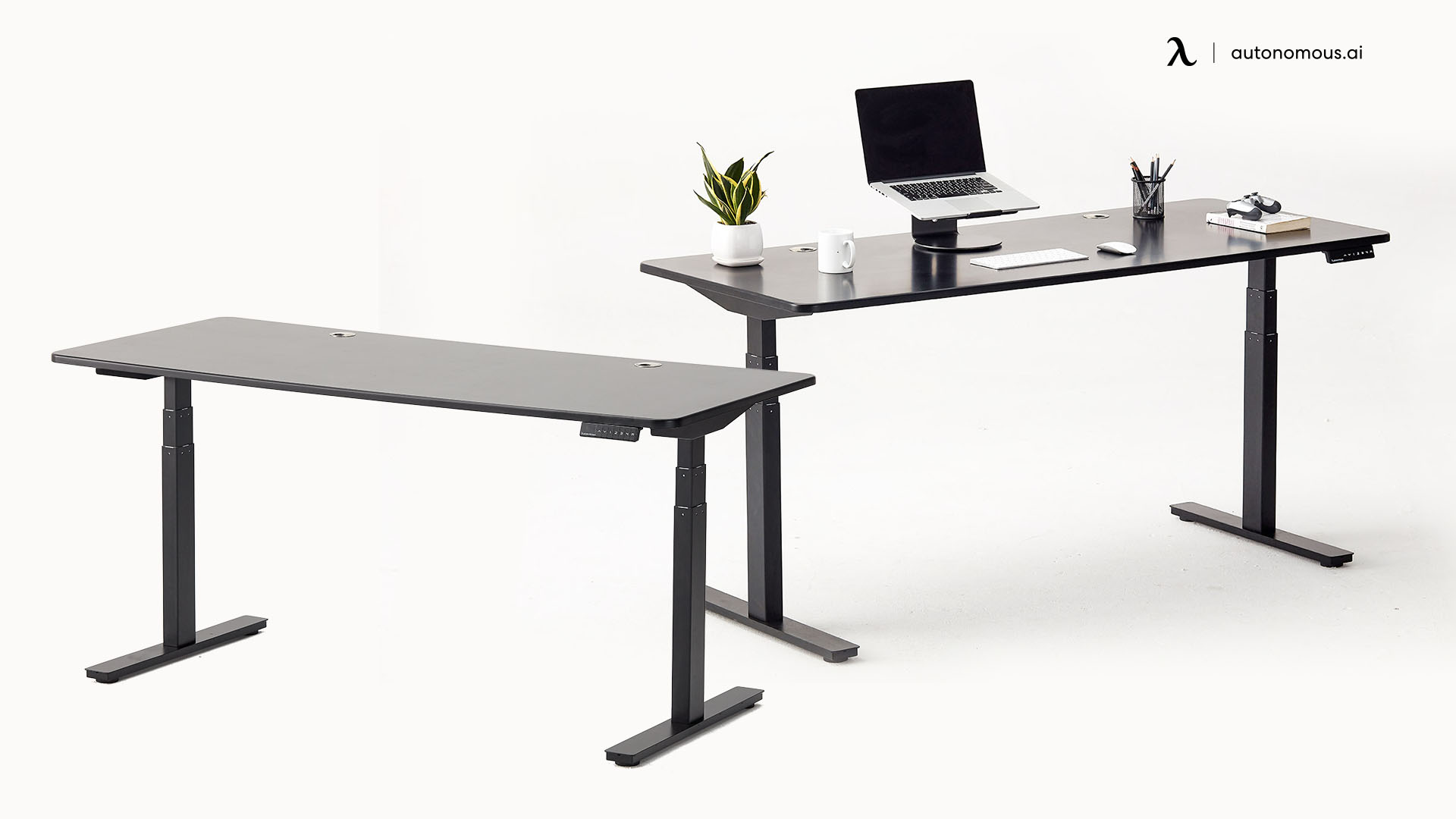 The SmartDesk Pro beats most standing desks as its frames take on a payload of three hundred and ten pounds. This desk is designed in six different colors, offering you a choice. Awesome, isn't it?
With a seven-year warranty on offer, it makes an ideal pick!
3. SmartDesk Frame
Offering you a choice of three different frames, the SmartDesk Frame is powered by silent electric motors that are work power horses. If you are left wondering how to make standing desk legs, don't be worried. These motors raise the sturdy and solid steel leg frames at an amazing speed of 2.3 inches per second. Yes, you heard it right; it is per second.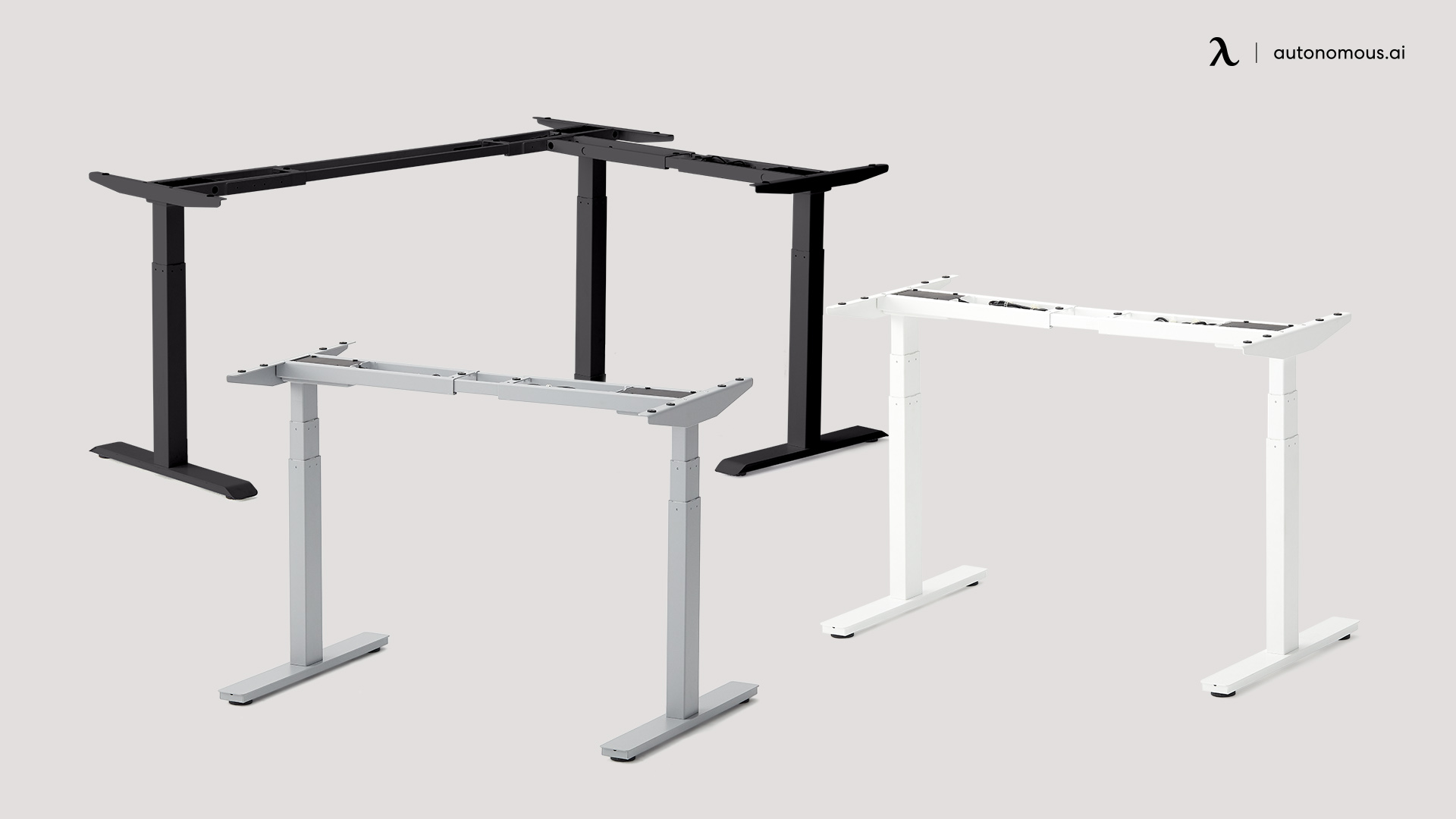 As you select the required weight capacity, you can choose from a range of desktops in regular or XL size.  If you are looking for an L-shaped standing desk frame, your search ends here. 
The best part is that the SmartDesk Frame can turn your existing desktop into a smart table by installing this easy-to-use frame. Don't forget that you can pay over some time to fit your budget.  You can see our review on how to install the diy adjustable desk legs.
4. Action Club Metal Office Leg Set
The sleek and strong table leg set is Action Club 28 inches, which is the maximum height it offers. They are provided with built-in levelers for your ease that you can adjust for even height across the four legs. The only con is that the maximum height offered by these standing desk bases, is twenty-eight inches.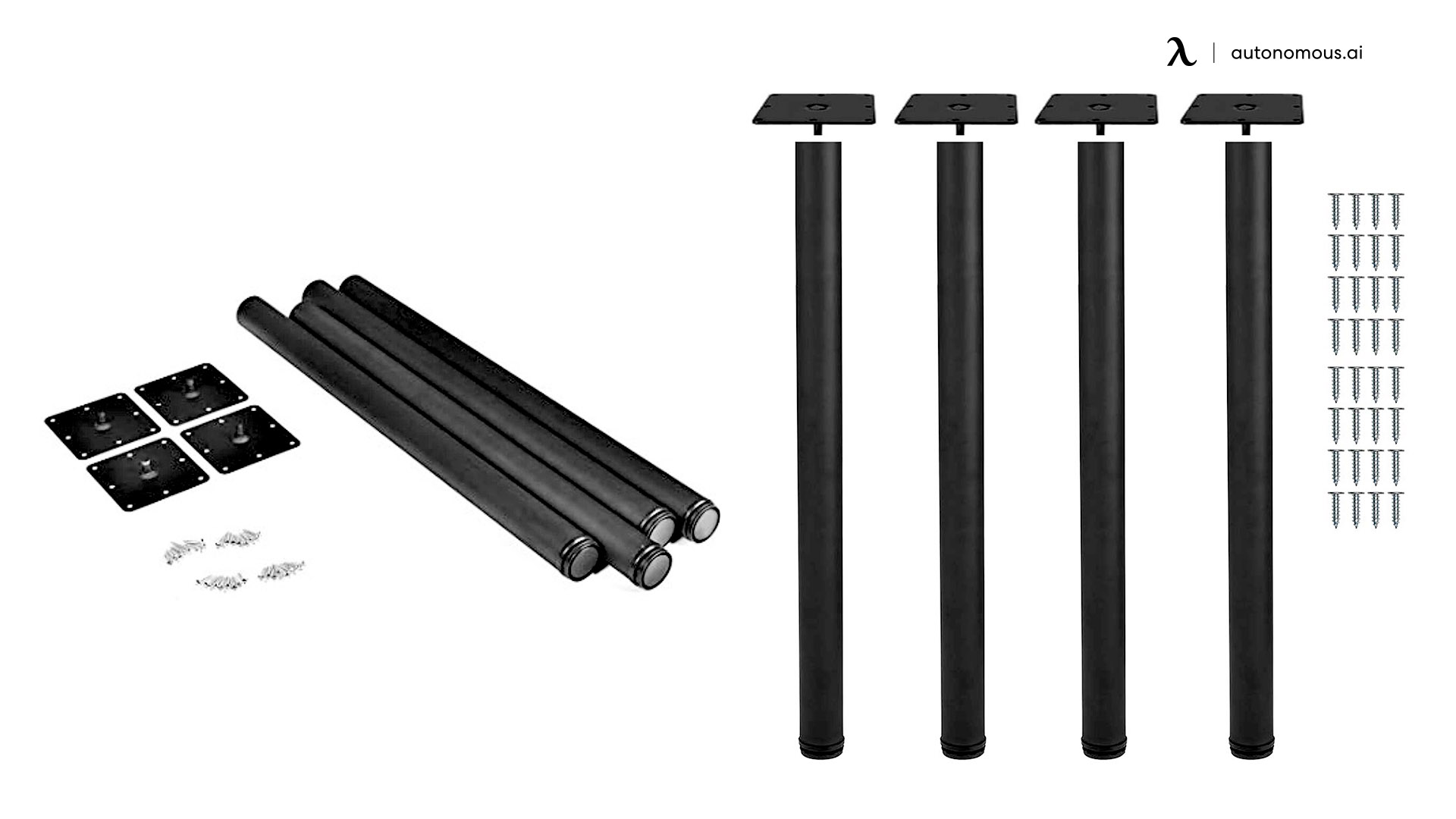 The legs are quite sturdy as they can take a weight of two hundred twenty pounds. Installation is easy, and you do not need any heavy machinery or tools. These heavy-duty table legs are available at economical prices.
5. Jarvis Standing Desk
The Jarvis standing desk frames are being offered by the retailer, Fully.  Operating this standing desk is easy with an up or a down arrow button. You can set it up for four different programmable heights. The desk moves at 1.3 inches per second with noise levels of 60 dB. This may not be very pleasant for a few folks when they are trying to concentrate at work.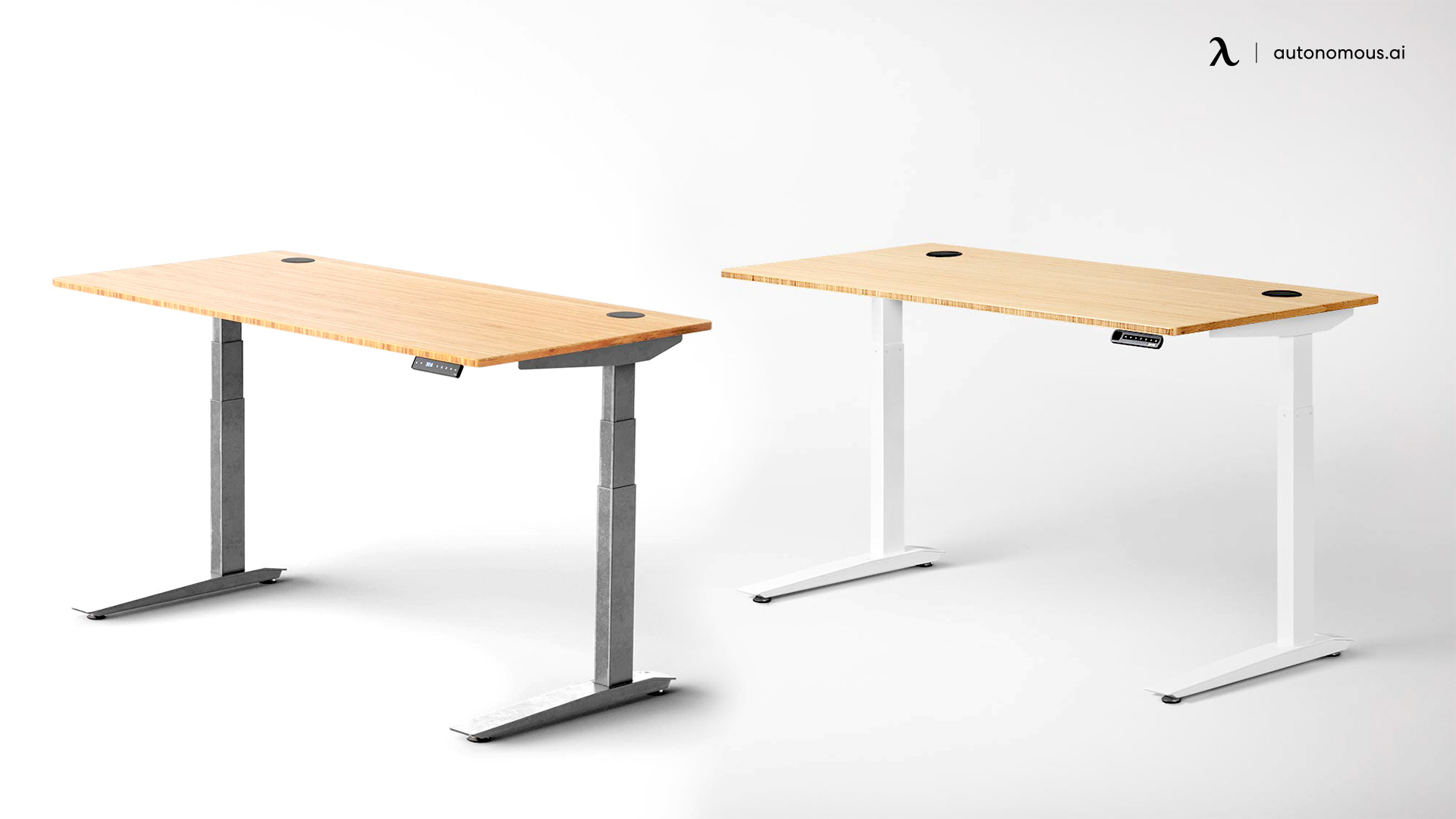 The standing desk frames can be adjusted between 26.5″ and 45.75", without the top height. The fifteen-years warranty offered on the frame, moving parts, and electronics, is a viable option. The electric motors that power it are available in many versions.  You can choose between desktop sizes and colors. It carries a payload of three hundred fifty pounds.
6. AiTerminal Electrical Standing Desk Frame with Dual Motors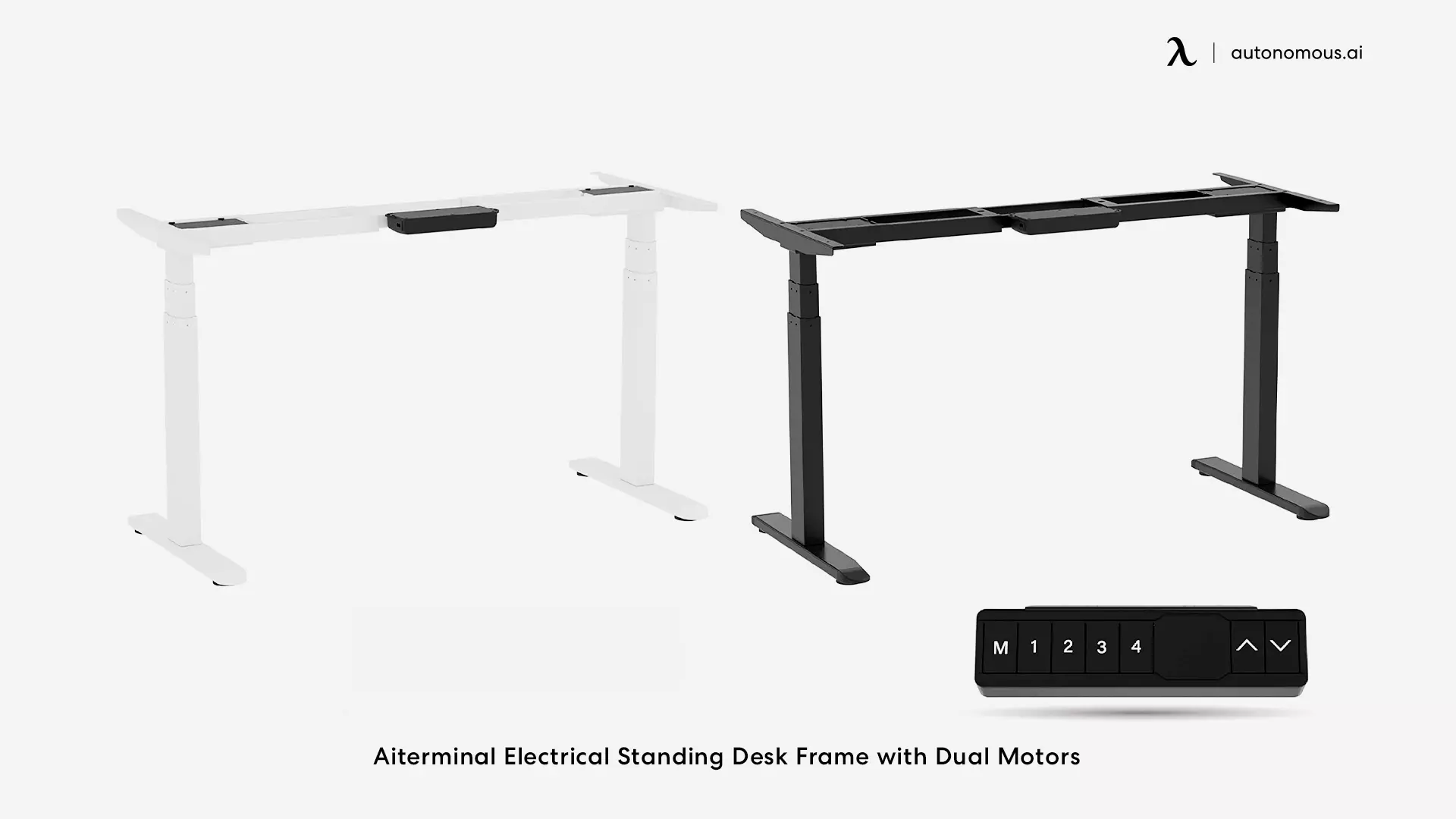 These heavy-duty adjustable table legs hold no exception to the brand's reputation for durable and long-lasting sit/stand workstations. The frame comes in two different colors: black and white. The desk leg height may be adjusted from 42.5 inches to 70.5 inches, which is rather lengthy and ideal for countertops up to 90 inches. The control system, which is powered by two lifting engines, allows users to modify the elevation of the frame within 25.5 and 50.5 inches. At 1.5 inches per second, the two motors offer a quick and silent lifting procedure. There are essentially four height settings that may be saved.
7. Progressive Automations Twin Motor Standing Workstation Frame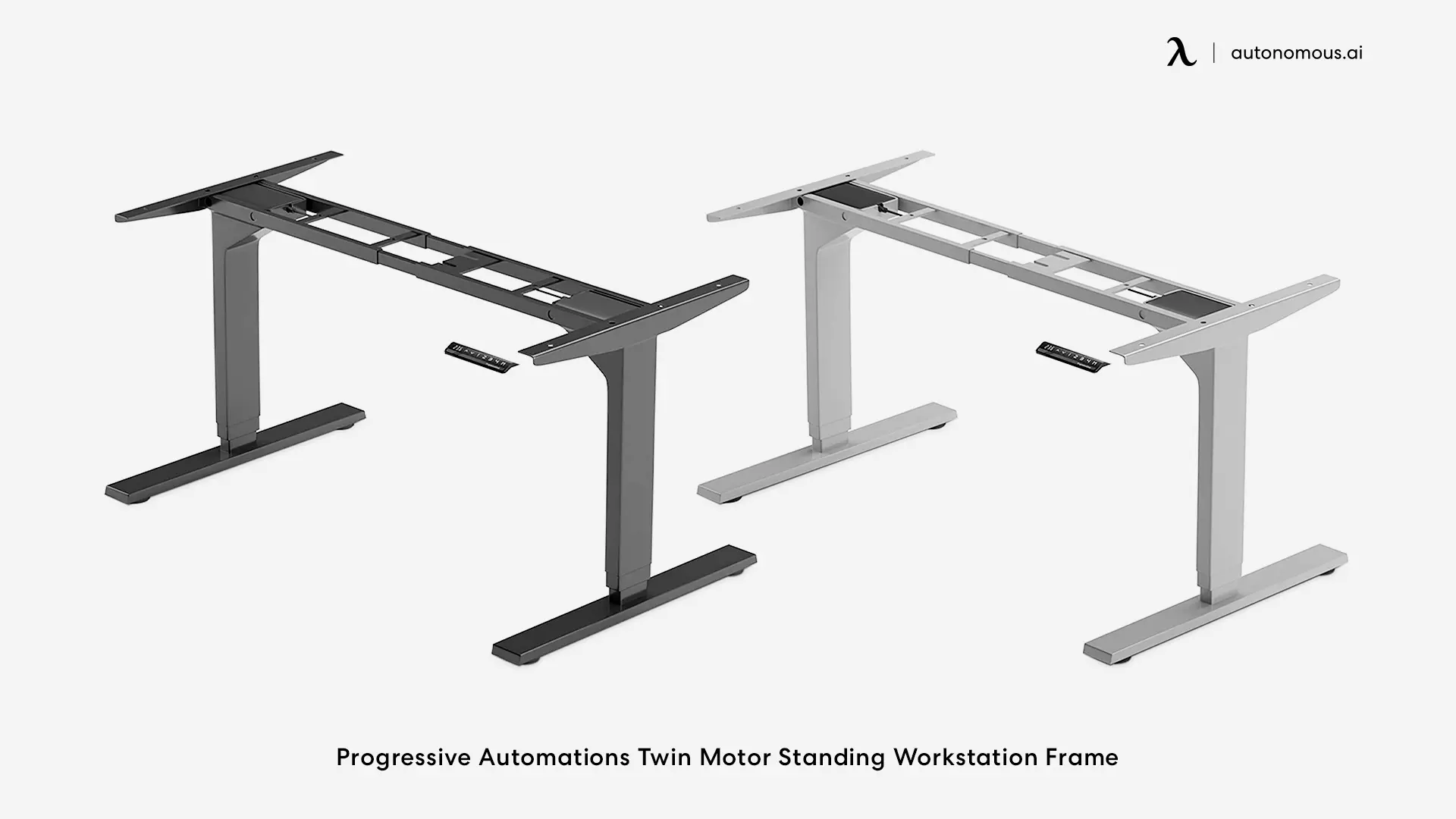 This frame comes with automatic desk legs and is durable. It has an extremely sturdy construction backed by an industry-leading guarantee. The frame comes in three colors: black, gray, or white, and that might be customized to be higher than 70 inches in length. This brand's frames are noted for their durability. Another strong example constructed of industrial-grade metal is this structure. It has a peak lifting capability of 280 pounds, which is among the highest in the marketplace. It is similar to the Mount-It! standing desk collection.
8. Electrical Standing Desk Structure VwinDesk VJ201-S3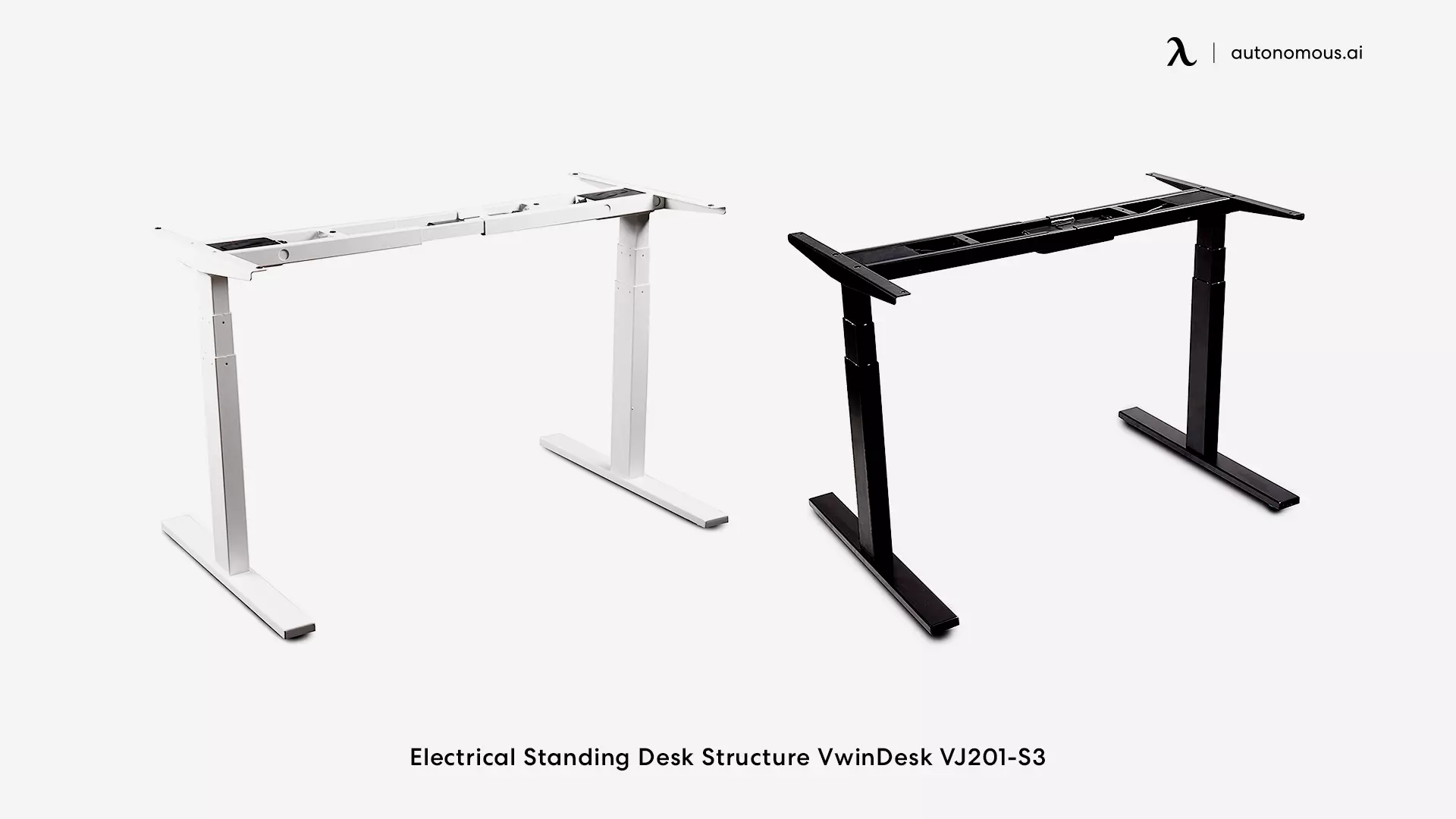 To begin with, the desk's height standard is customizable. The length may be adjusted from 43 to 71 inches, while you can adjust the elevation from 24 to 50 inches. Four different memory height settings allow users to remember their preferred heights. Two strong motors drive the adjustable height operation, ensuring a smooth and unobtrusive experience. The frame is rising at a rate of about 2 inches per second. Like our other two options, the frame's construction comprises industrial-grade metal. However, while less expensive, it has an extremely high maximum weight of 300 pounds, making it an outstanding value option.
9. The HaiaOjia Twin Motor Electric Standing Desk Frame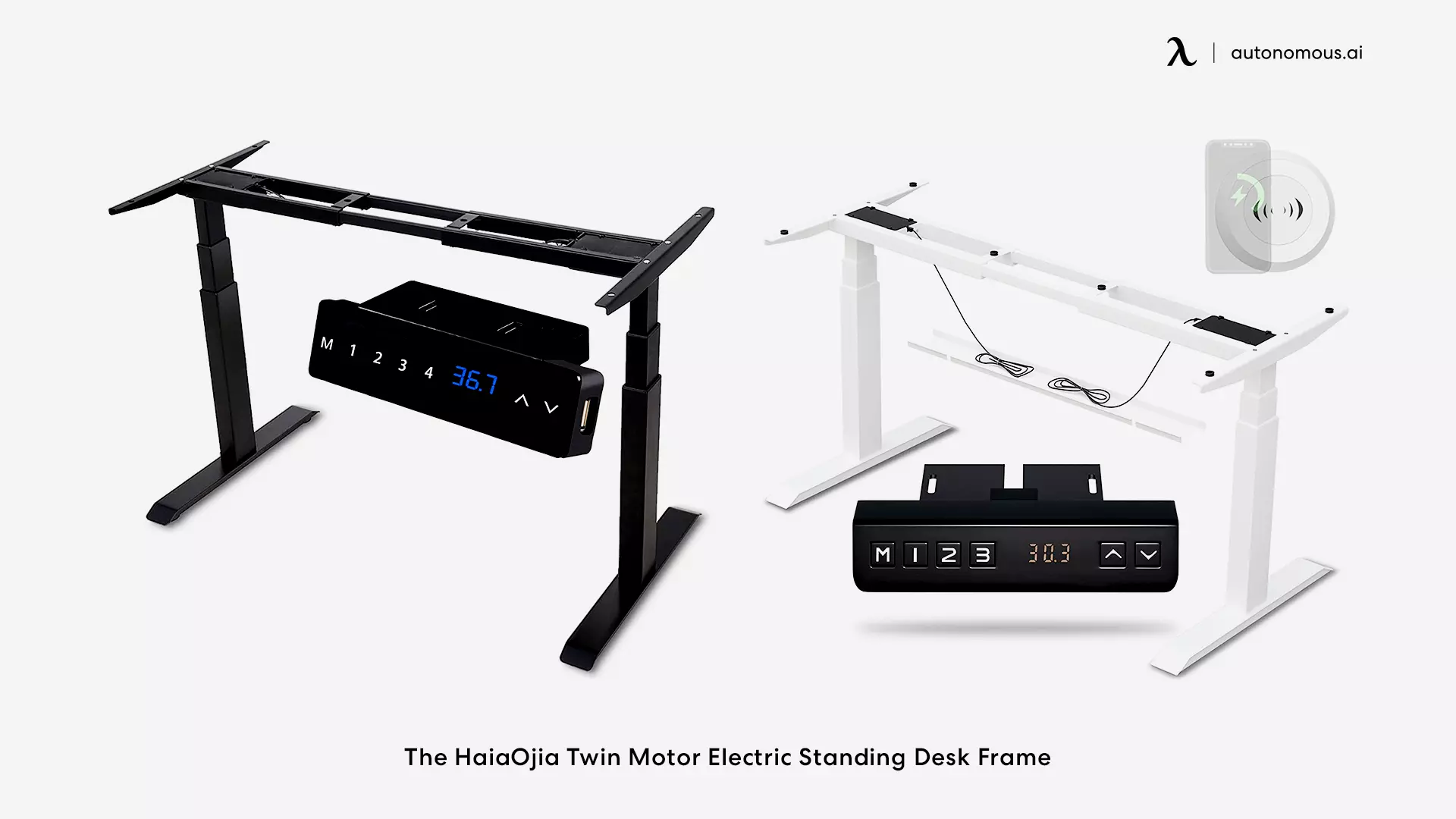 It is designed to fit desktops with typical desk heights greater than 90 inches in length and 45 inches broad. You may adjust its size to fit different computer sizes. You may adjust the frame from 27.2 to 45.3 inches high and 24.5 to 70.2 inches long by utilizing the LED display. Thanks to strong twin engines, the frame silently rises at 1.57 inches every second. This is another massive frame in terms of strength. It has a peak lifting capability of 280 pounds and is structural steel. An automatic safety feature instructs the frame to shut down if the carrying limit is reached.
10. VwinDesk VJ301 Standing Workstation Frame with Triple Motors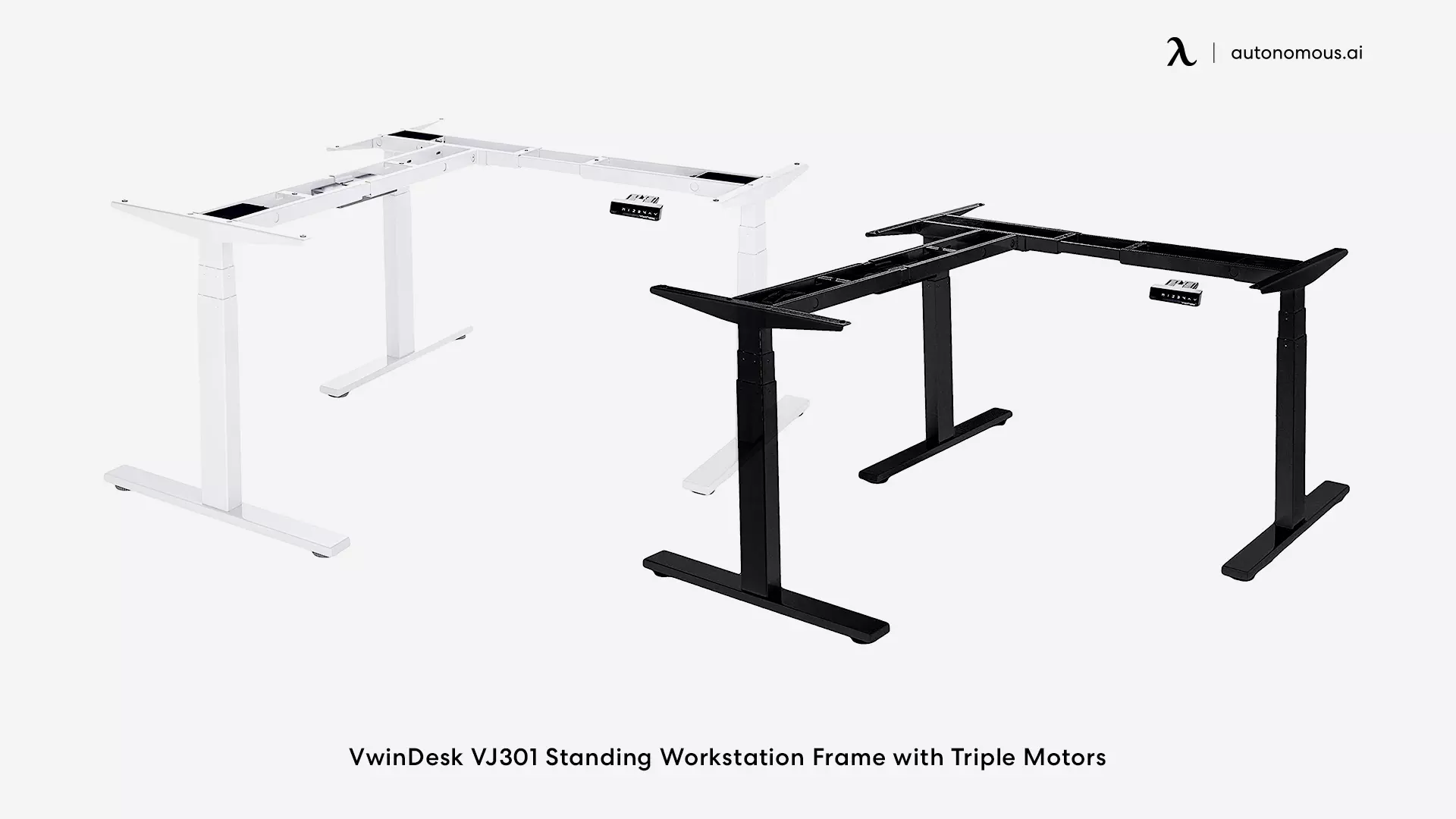 This L-shaped computer desk frame might suit you since you're seeking one. This computer desk frame is ideal for L-shaped workstations and boasts one of the industry's best lifting capabilities. This structure's size is customizable, much as other frames. As per the desk height calculator, it can be adjusted from 43 to 71 inches, whereas you can adjust the elevation from 23.7 to 49.3 inches. The structure can accommodate desks up to 90 inches in length.
What to Look for When Purchasing a Standing Desk

There are various elements to consider while shopping for a height-adjustable structure to get one that matches your needs.
The size might be one of the biggest critical considerations. Most sit-stand frames are customizable in lengths to fit different table top sizes. A framework that you can adjust to 72 inches long, for instance, can fit a surface that is ninety inches in length. On both sides, the most feature enables a 10-inch table overhang. Pick a good frame that fits your desktop perfectly.

The number of lifting engines determines how quickly a standing table raises and how much load it can support. Single motors can lift 176 pounds, are rather noisy, and ascend at around 1 inch per second.

The lift force of a frame indicates how much weight it can support. Select a structure that can elevate your computer and the office equipment you intend to install on it. The frame's total weight is a reliable measure of its strength.

Select a structure that can elevate your desktop and the office equipment you intend to install on it. The frame's total weight is a reliable measure of its strength.

Many individuals overlook the need for a monitor mount. It's an important device for keeping postural stability at your workstation. Experts recommend mounting your display at least two or three inches above your keyboard to preserve appropriate posture. If you are concerned about your posture, get a computer stand, whether a single, double, or triple display stand.

The majority of electric rising desk frames cost around $200 to $600. You should not spend more than a premium product for anything other than a premium product. The greater the price, the greater the frame's guarantee and the structure's load-bearing capacity. To put it another way, you get out what you invest on.
Whenever you purchase a desk frame, do not forget to check out autonomous offers, especially for the Autonomous Employee Purchase Program (EPP), a great discount initiative for employees who have started to work from home. Moreover, they also offer EPP for Developers/Programmers, which is a discount, especially for their programmers.
Similarly, the Autonomous also offers EPP for government officials, teachers, and students. These discounts help you purchase your favorite products without worrying about your budget. The prices of all products become reasonable.
Summary
Our final verdict goes to the SmartDesk Pro and the SmartDesk Core as they offer you the best standing desk bases and range of height. The noise levels are a mere hum compared to the others in the market. You will love it as you use it. You just can't miss it!
Subcribe newsletter and get $100 OFF.
Receive product updates, special offers, ergo tips, and inspiration form our team.
WRITTEN BYAutonomous
We build office products to help you work smarter.