Gaming Setup
25 Ergonomic Gaming Chairs 2023 - Best Ratings, Comfort, and Style!

Autonomous
|
Feb 8, 2023
1,272 Views
Ergonomic chairs for gaming have become increasingly popular in recent years as more and more gamers recognize the importance of maintaining good posture and comfort while playing video games. 
These chairs can provide maximum support to the back, neck, and shoulders, which can help prevent injury and muscle strain. They also have various adjustments and features that allow users to customize their seating position for optimal comfort and support. 
Furthermore, an ergonomic gaming chair is a must-have for any serious gamer, as it can help to reduce the risk of injury, increase comfort, and improve overall gaming performance. 
In this article, we will take a closer look at the benefits of ergonomic gaming chairs and the top 25 ergonomic gaming chairs available on the market. Whether you're a professional gamer or just looking for a more comfortable gaming setup, this article will undoubtedly have something for you. 
The 25 Best Ergonomic Chairs for Gaming in 2023
When it comes to ergonomic gaming chairs, the options can be overwhelming. We've compiled a list of the top 25 ergonomic gaming chairs to make your search easier while considering design, adjustability, and comfort factors. 
1. Autonomous ErgoChair Pro
This Autonomous model is the perfect choice for anyone looking to buy an ergonomic chair. Fully adjustable and completely supportive, this stool features an adjustable height, headrest, armrest, backrest, and seat tilt for ultimate comfort. 
With a smooth recline, five lockable positions, adjustable lumbar support for all seated positions, and a woven mesh back for excellent airflow, it fully supports up to 300 lbs.
2. Autonomous ErgoChair Plus
Unleash your maximum gaming potential with the best ergonomic chair for gaming, which can adjust to your specific posture. This chair allows you to find and maintain your perfect posture, whether reclining, stretching to the side, or twisting around, thanks to responsive webbing thicker in critical areas like the lumbar region.
3. Autonomous ErgoChair Core
This Autonomous unit is the best ergonomic gaming chair for those looking for a comfortable, adjustable, and supportive seat. The gaming furniture has a contoured foam seat for maximum comfort, a ventilated mesh back, and a lumbar support pad that adapts to your body weight and stabilizes your spine.
Furthermore, it has an adjustable height, armrests, lumbar support, seat pan, back recline, and a one-year warranty. 
4. Autonomous ErgoChair Recline
The Autonomous reclining ergonomic chair is the ultimate way to enjoy playing video games in extended sessions. It includes an adjustable headrest and leg rest for whole-body relaxation. Furthermore, the stool is also height, armrest, lumbar support, and recline adjustable, making it the best ergonomic chair for gaming and working.
5. Autonomous AvoChair
AvoChair is a contemporary and ergonomic office chair that combines form and function. It has a natural-inspired, clean, basic, and flowing style to promote health while playing video games. 
This best ergonomic chair for gaming supports proper posture with its airy elastomeric mesh back that offers exceptional spinal support and comfort. Furthermore, its design aims to eliminate sharp edges, resulting in a gentle waterfall-style roll-off at the front and soft ellipsoid arm pads.
6. Skyline Decor Gaming X10 Chair with Flip-up Arms
Skyline's ergonomic desk chair, developed for dedicated gamers, will enhance your gaming experience. This high-back racing-type chair offers extensive cushioning and support to keep you comfortable during lengthy gaming sessions, with features such as a wing-like backrest, cushioned arms, and a tilt lock system. 
7. EUREKA ERGONOMIC Gaming GX5 Series Chair
The Eureka gaming desk elevates your gaming setup by providing a secure and pleasant atmosphere for your life and work. Enjoy an unmatched sitting experience with the high-density foam, which provides faultless comfort and excellent posture support. 
8. BOULIES VER. 2022 Master Chair
This Boulies chair provides maximum comfort and support for any user. It gives the ideal combination of support and comfort, with a full-length reclinable backrest, integrated lumbar support adjustment, and more. Moreover, its strong and comfortable foam seat can support up to 300 pounds and has a two-year warranty. 
9. Techni Mobili Gaming High Back Chair
The Techni TS-F44 model is ideal for individuals who want to work and play comfortably. This ergonomic office chair has a 150-degree reclining back, a detachable headrest pillow, and lumbar cushions for further comfort. 
Moreover, the height-adjustable memory foam seat and adjustable armrests allow you to find the ideal position. At the same time, the nylon base with non-marking wheels makes it easy to move around. 
10. Trio Supply House Gaming Leather-look Office Chair
Trio's racing-style office chair puts you in control of your work and pleasure. This unit is designed for comfort during extended usage periods, with a wide and extra-tall backrest, an integrated headrest, and a thick, comprehensive, and extra-deep seat. Additionally, the chair has a black five-star base with casters, a swivel seat, and a tilt function for simple movement. 
11. Vertagear SL5000 Gaming Chair
The Vertagear SL5000 will enhance your gaming experience and comes with a configurable and synchronizable RGB LED kit with 16.8 million colors. It has a velvety, dual-layer Ultra Premium High Resilience foam for long-lasting comfort. Also, this stool has neck and lumbar support padding to help you maintain a good gaming posture. 
12. Vertagear SL4000 Gaming Chair
This Vertagear SL4000 unit is an ergonomic chair for gaming designed to support the neck and back health and provide a more comfortable gaming experience. Experience long-lasting comfort with the dual-layer high resilience ultra-premium foam design, and maintain a healthy gaming posture with this chair's removable neck and lumbar support pads.  
13. EUREKA ERGONOMIC Breathable Ergonomic GE300 Gaming Chair
The Eureka Ergonomic gaming chair provides optimal comfort and health support when gaming. Thanks to its human-curve design, it has five support places for your head, back, hips, and hands. It also has completely adjustable lumbar support to keep your spine healthy. 
14. Skyline Decor Gaming X30 Chair with Slide-out Footrest
This racing gaming chair provides optimum comfort and increased playing performance. It's ideal for individuals who wish to play for hours because it has an extended footrest, adjustable lumbar support, and a reclining back. Moreover, the headrest and lumbar pillows are adjustable and removable, and the pivot arms provide upper-body pressure relief. 
15. Techni Mobili Home and Office Chair
The Techni Mobili Racing Style Home & Office Chair is designed to replicate an ergonomic style and is crafted with high-quality PU material and segment padding that offers durable lumbar support. It also features a tilt mechanism with tension control and pneumatic seat height adjustment for added customization.
16. EUREKA ERGONOMIC Python II Gaming Office Chair
This ergonomic office chair is a very comfortable and adjustable stool. It can be modified to accommodate your unique body form thanks to 4D adjustable armrests, a height-adjustable seat, dynamic lumbar support, and adjustable tilt tension. 
17. Techni Mobili Office-PC TS-92 Gaming Chair
Techni Mobili's high-back chair contains high-quality PU with curved section memory foam cushioning for comfort and durability. It has adjustable neck and lumbar support pillows, 2D padded armrests, and pneumatic seat height adjustments. Additionally, the chair has a robust nylon base with non-marking casters and can support up to 250 pounds. 
18. Karnox Gray Slate Gaming Chair
The Karnox gaming chair is the perfect choice for anyone looking for a high-performance stool. With its luxe gray design spliced with rich PU leather, this ergonomic PC gaming chair offers a sharp look and peak performance.
It comes with a head and lumbar pillow, adjustable height, seat tilt, 4D armrest, and 90°-155° reclining backrest, high-density mold shaping foam, and a class four gas piston. 
19. Logicfox Office Ergonomic Chair with an Adjustable Cushion Tilt
The adjustable office chair supports and encourages good posture in persons of various sizes and weights up to 330 pounds. You can modify the seat angle, seat sliding, lower-back chasing function, and more with its 12 adjustment points. Additionally, the chair is comfortable for eight hours of work and more. 
20. Skyline Decor Gaming X40 Chair with Slide-Out Footrest
This luxuriously padded, reclining gaming chair with massager offers the ultimate gaming experience, and its stunning contrast of black and gray upholstery will complement any decor. With the attached three-foot USB cord, the removable lumbar cushion supports and soothes your lower back, allowing you to continue gaming without difficulty. 
21. Vertagear Special Edition Gaming Chair
Upgrade your gaming setup with the Special Edition Vertagear RGB chair, which includes a 16.8 million color RGB LED kit that can be customized and synchronized. With the NXZT CAM upgrade kit, you can customize your stool to match your setup, including new colors, audio interactions, game modes, and mood settings. 
22. KERDOM Ergonomic Office Primy Chair with Adjustable Lumbar Support
KERDOM's ergonomic office chair can suit your spine, emphasizing lumbar support to reduce strain or pain on the lumbar discs. It allows you to easily find a comfortable and supportive posture and tailor your lumbar comfort experience to your specific needs. 
23. EUREKA ERGONOMIC Home Office Typhon Gaming Desk with a Breathable Mesh
The Typhon gaming chair has an amazing design and comfort for gaming. It sets the standard for esports with its sporty racing-inspired design, and its dual backrests are flexible and self-adaptive, providing full neck, back, and lumbar support. Moreover, the chair also has a smart lumbar support system for maximum comfort and support of your lower back. 
24. Skyline Decor Gaming X20 Chair
Get ready for game day with the best ergonomic gaming chair on the market. This racing-inspired chair can deliver the best gaming experience possible, with adjustable lumbar support and a reclining back for maximum comfort. 
Moreover, the pivot arms adjust to relieve pressure on the upper body, and you can remove the headrest pillow and lumbar pillow for extra support. 
25. Techni Mobili Racer Style High Back PC Gaming Chair
The Techni Mobili TS-5100 is a fashionable, ergonomic office chair ideal for gaming or computer work. This unit can provide the ultimate luxury with a reclining back that can adjust up to 150 degrees. Furthermore, the seat includes a removable headrest pillow and lumbar cushion for extra comfort.
4 Main Benefits of Using an Ergonomic Chair for Gaming
Prolonged gaming sessions can take a toll on your body, but using an ergonomic chair designed specifically for playing games can mitigate these negative effects and offer a host of benefits for your health and comfort. Here's how an ergonomic PC gaming chair can help you maintain optimal health while playing: 
Improved posture and spinal alignment
Ergonomic gaming chairs can promote good posture and spinal alignment, which can help to reduce the risk of injury and muscle strain. The chair's backrest, seat pan, and armrests can support the body's natural alignment and reduce the pressure on the lower back and shoulders. 
Reduced risk of injury
These chairs can also reduce the risk of injury by providing proper support to the back, neck, and shoulders. Its backrest and lumbar support can help to reduce the pressure on the lower back and prevent muscle strains. Moreover, the stool's armrests can also help to reduce the pressure on the shoulders and prevent repetitive stress injuries.
Enhanced comfort and reduced fatigue
Comfortable gaming chairs provide enhanced convenience and reduced fatigue. The chair's cushions and padding reduce pressure on the body and support the lower back, neck, and shoulders. 
Its adjustability also allows users to customize the chair to their body, which can help to reduce pressure points and improve comfort. 
Increased productivity and focus
The best ergonomic gaming chair can also help to increase productivity and focus by providing proper support to the body. When the body is properly supported, it can reduce the distractions caused by discomfort and fatigue, allowing you to focus on the task at hand. 
Please note that some of the benefits may vary based on the quality and design of the chair you choose. Thus, it's essential to do proper research and select a chair that suits your needs best. 
Final Thoughts
When selecting an ergonomic chair for gaming, it's essential to consider your needs and budget. The chairs we've highlighted in this article are among the top options in the market, but there are many other ergonomic gaming chairs available. Ultimately, the right ergonomic gaming chair is the one that provides the right balance of support, comfort, and adjustability for you.
Video ads for product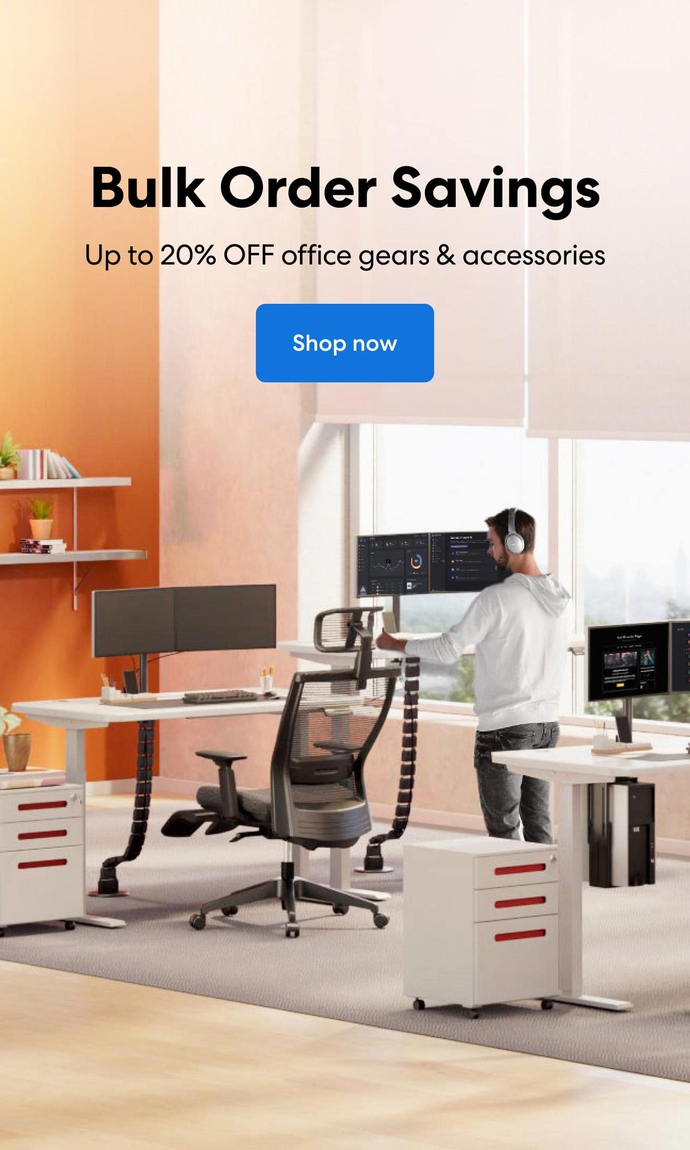 Subcribe newsletter and get $100 OFF.
Receive product updates, special offers, ergo tips, and inspiration form our team.