Smart Products
Examining the Characteristics of Modern Adjustable Chairs

Alex Rivera
|
Nov 12, 2023
891 Views
Adjustable chairs are the "it" item in modern office furniture. These chairs are meant to provide a more comfortable seating option for workers, particularly those sitting in front of a computer all day. With so many different models available, though, it can be hard to decipher what a truly good adjustable chair should feature. 
If you're in the market for a new adjustable computer chair, you'll want to read this before you make a purchase. We'll explore the different elements an office adjustable chair typically features to decide which of them provides tangible benefits. That way, it'll be easier for you to find the best ergonomic chair that fits your needs.     
Importance of Ergonomic Design in Modern Adjustable Chairs
The design of the chair is going to directly impact how comfortable it can be, but it's also going to dictate the amount of support that the chair will provide. One of the biggest issues with poorly made "ergonomic" chairs is that they feature a futuristic backrest design. 
Usually, this design is made to look like a metallic exoskeleton. Just because a chair is designed like that doesn't mean that the backrest is, in fact, providing the right type of support. 
One of the first things you can do to help spot the difference is to figure out how much pressure the structure on the back of the chair puts on the part you'll be sitting up against. When there's not a lot of pressure being applied, you can quickly tell that the design on the back is just for show. 
Proper ergonomic design provides support, and that's why it's typically going to apply more pressure to the chair itself. You need to be able to feel that support when you sit properly in the chair or even as you lean back, pressing up against the backrest. 
When you're sitting in a chair that does feature a practical ergonomic design, you'll be getting the benefits that an adjustable ergonomic chair should provide. 
What tangible benefits can a true ergonomic adjustable desk chair with wheels bring to the table? The extra support is meant to ensure that people sitting in that chair feel less strain, particularly on their back when sitting down. That means you should feel at least less back pain after going through your regular working hours. 
Some of the added features that many of these chairs offer, such as adjustable head and armrests, should help relieve pressure on other parts of the body. Often, people don't realize that the main advantage of having a good office chair may not be immediate comfort. The main benefit that these chairs provide is helping people avoid long-term pain.
Features & Characteristics of Adjustable Chairs
We've mentioned a couple of these features already, but it's also important to talk about the role that each of these parts can play. Adjustable armrests, for example, are meant to help people of different heights feel comfortable in the same chair. They're typically a fixture found in height-adjustable chairs, which have the same purpose.
Even some chairs with an impressive ergonomic design don't feature adjustable headrests. If you're looking for the top chairs for scoliosis patients, you may want to limit your search to chairs that do have this feature. When a person is able to put their head in a comfortable position, the spine aligns correctly, bringing many of the benefits we've discussed.
As mentioned, even some decent chairs can lack one or two critical features. Before making the decision to buy a particular ergonomic chair, it could be a good idea to list the features that are more important to you. That way, it will be easier to pinpoint the options that will match your needs.
5 Best Adjustable Chairs for Offices
Now that we've looked over some of the main features that these chairs offer, it's the perfect time to explore tangible options you could add to your office space. All of these models come from the best chair brands on the market. You can bet that each of them is decent in its own right. 
1. Autonomous ErgoChair Pro
This is a chair with ergonomic features that still manages to keep some sense of a traditional design. We liked this because it means you can put it in many different types of offices and it wouldn't look out of place. The futuristic look that some of these seating options with ergonomic features have won't look great in a traditional office. 
This model's lower back support is an element that many people will be thankful for. Plus, the seat features a cushioned mesh fabric finish. We haven't talked a lot about the seats on these chairs. However, when they're too thin, that can be uncomfortable after a while, even if the backrest provides amazing support. 
People who like to recline in their chairs while keeping their spine aligned correctly will enjoy this option. It reclines easily without putting too much height on it and can lock in place in 5 different positions. 
This chair does feature an adjustable headrest; as mentioned, it's an asset that can help many people remain comfortable even after sitting in the chair for a long time. 
Also, it's a thinner, lighter chair, making it great for people who need to move around from place to place while remaining seated. The fact that it is thinner may not make it the best big and tall office chair out there. It can hold up to 300 pounds but may not be wide enough for some people.       
Ultimately, the price tag on this chair reflects what it brings to the table. It's usually priced at a bit under 500 dollars. This is an option that's in a decent price range and that will provide good support for people who use it.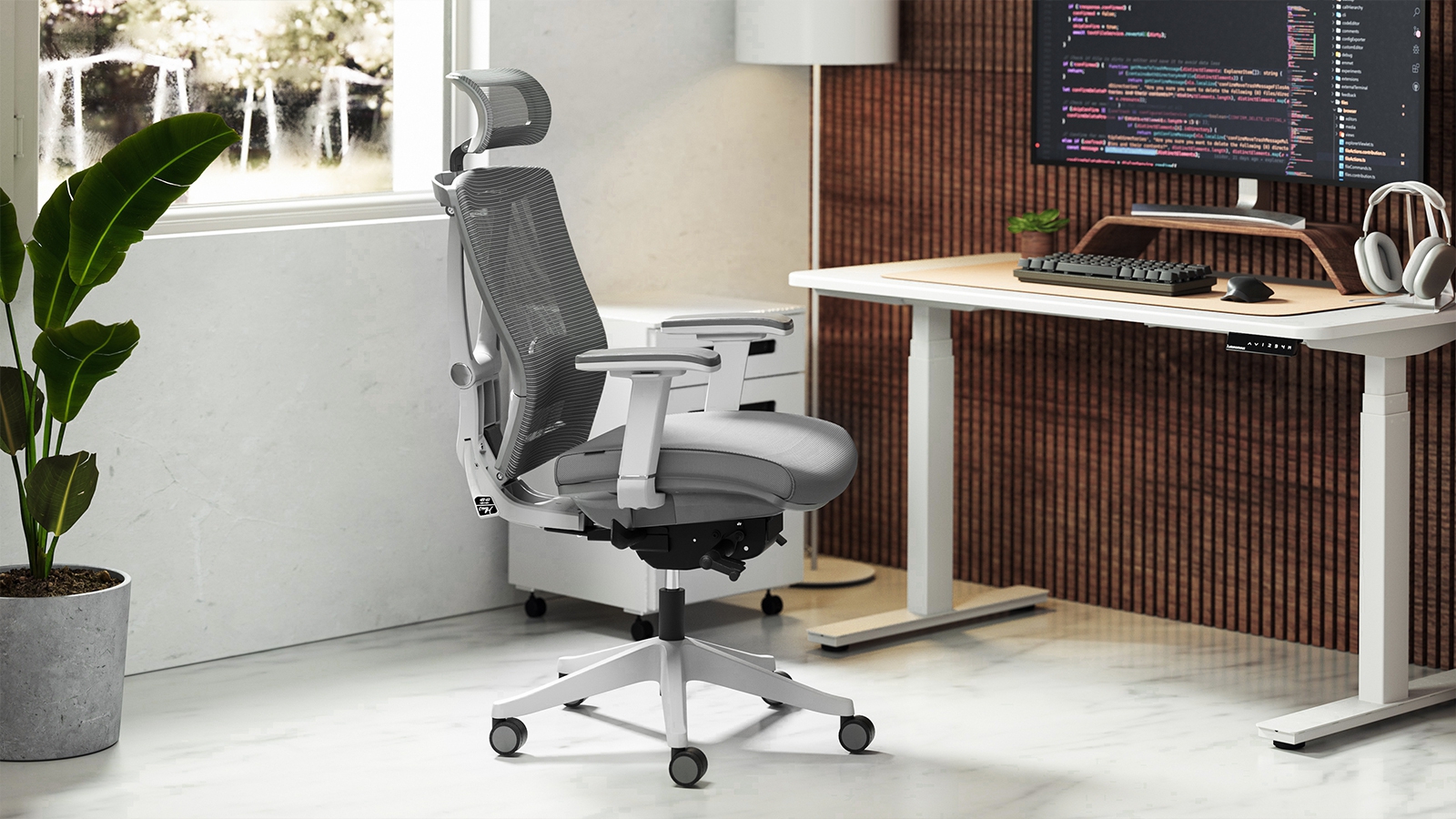 Pros

Cons

It has an ergonomic design with a traditional twist that can look good in any office.
It's a thinner, lighter chair that may not be great for people of all sizes.
The extra back support feature will be appreciated by many.
2. Herman Miller Sayl Chair
If you're looking for a model that you can customize to feature all the elements you need in an ergonomic chair, this can be the right one for you. Unfortunately, because of the fact that it is fully customizable, it's hard to provide an accurate review. 
In one of the versions of the chair that's available, though, you'll find that it can be much wider than the Autonomous option. 
This wider backrest option can be a better fit for the big and tall crowd. You get many of the same ergonomic features on the backrest that we saw in the previous model. It's a design with a simple frame that provides support for key points. 
However, the lower back support on this option can be uncomfortable for some people since the chair pushes you forward due to its backrest design.      
You have a chance to choose the fabric that the seat is made from. Regardless of the fabric, the seat itself is not as thick as the one found in the Autonomous option. We're a bit worried that this chair won't be as comfortable to use on a long workday. Also, you could make the chair even less comfortable if you're not willing to pay extra for the adjustable elements.
Since everything on this chair is customizable, it can be hard to get a good read on the item's actual price. You can find a version that costs around 600 dollars, which makes it one of the most cost-effective options sold by this brand. Unfortunately, that model doesn't have all the premium features we've been discussing.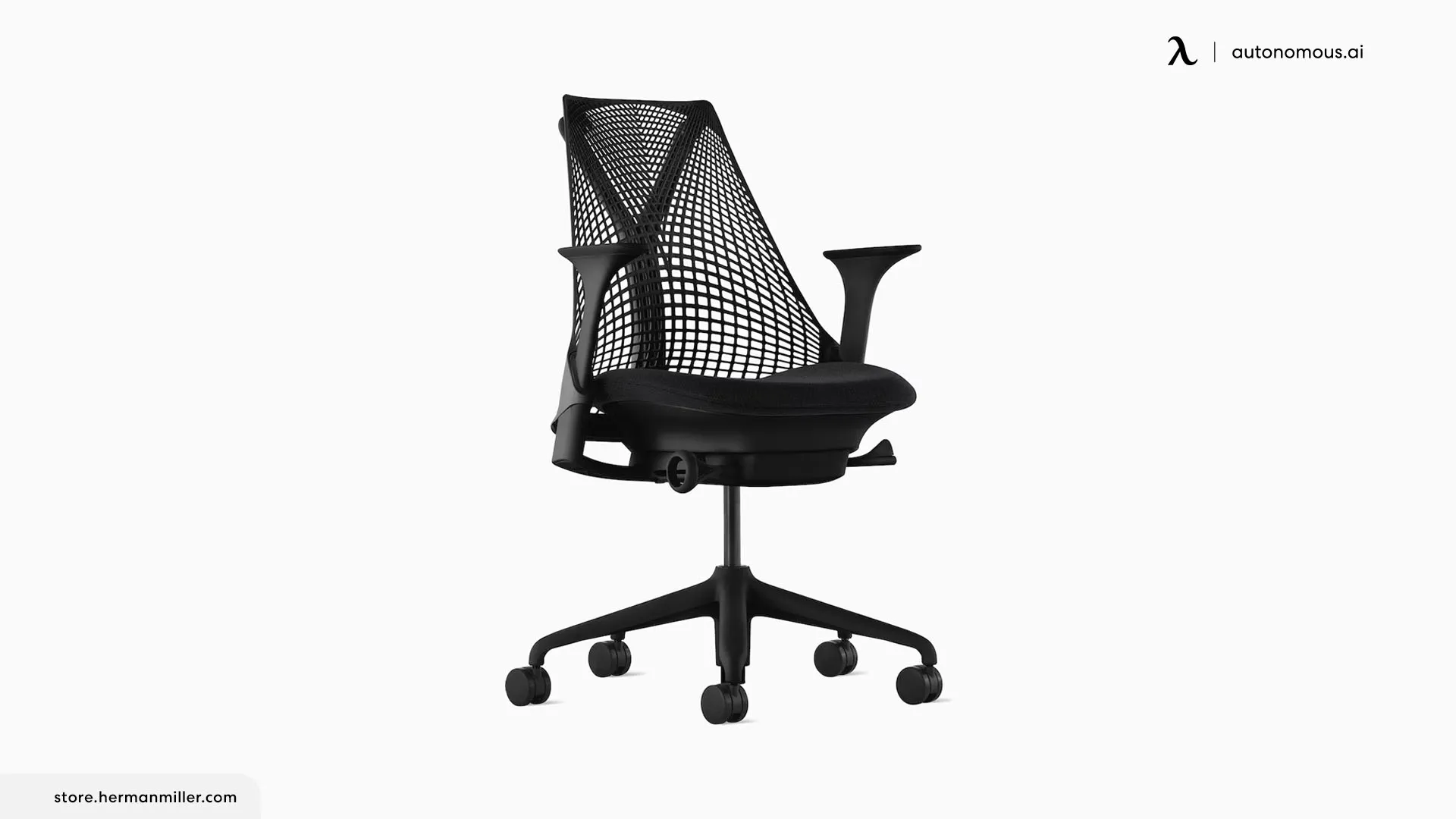 | Pros | Cons |
| --- | --- |
| The wider frame may make this chair more accessible for everyone. | The more you customize the chair, the less budget-friendly it becomes. |
| You can customize the chair to feature all sorts of adjustable elements. | This backrest design is not something that will make everyone comfortable. |
3. Branch Ergonomic Chair
We can't say that this is the best office chair under $200 dollars because it's priced a bit over that rate. It is, though, the "budget option" on the list. The backrest design, again, isn't too futuristic like we might see with other ergonomic chairs. That's good because it makes this a chair that won't look out of place in virtually any office space. 
What worries us a bit more is the fact that it's even slimmer than the Autonomous option. In fact, it can only handle up to 275 pounds pushing down on it. That seems like plenty of weight, but the big and tall crowd can really end up struggling with these types of chairs. At the very least, they won't necessarily benefit from its ergonomic features. 
The lower backrest on this model is the element that people who sit in their chairs for hours will appreciate the most. This extra support on the lower back area can be adjusted to fit the person who's sitting in the chair. Out of all of the "ergonomic" features that this model offers, the lower back support may be the best. 
This chair is priced at 330 dollars. It's one of those models that can be a great option for companies wanting to order many chairs to furnish an entire office space. If you're just going to buy one chair for your home office, it may be a good idea to look for a more "complete" alternative.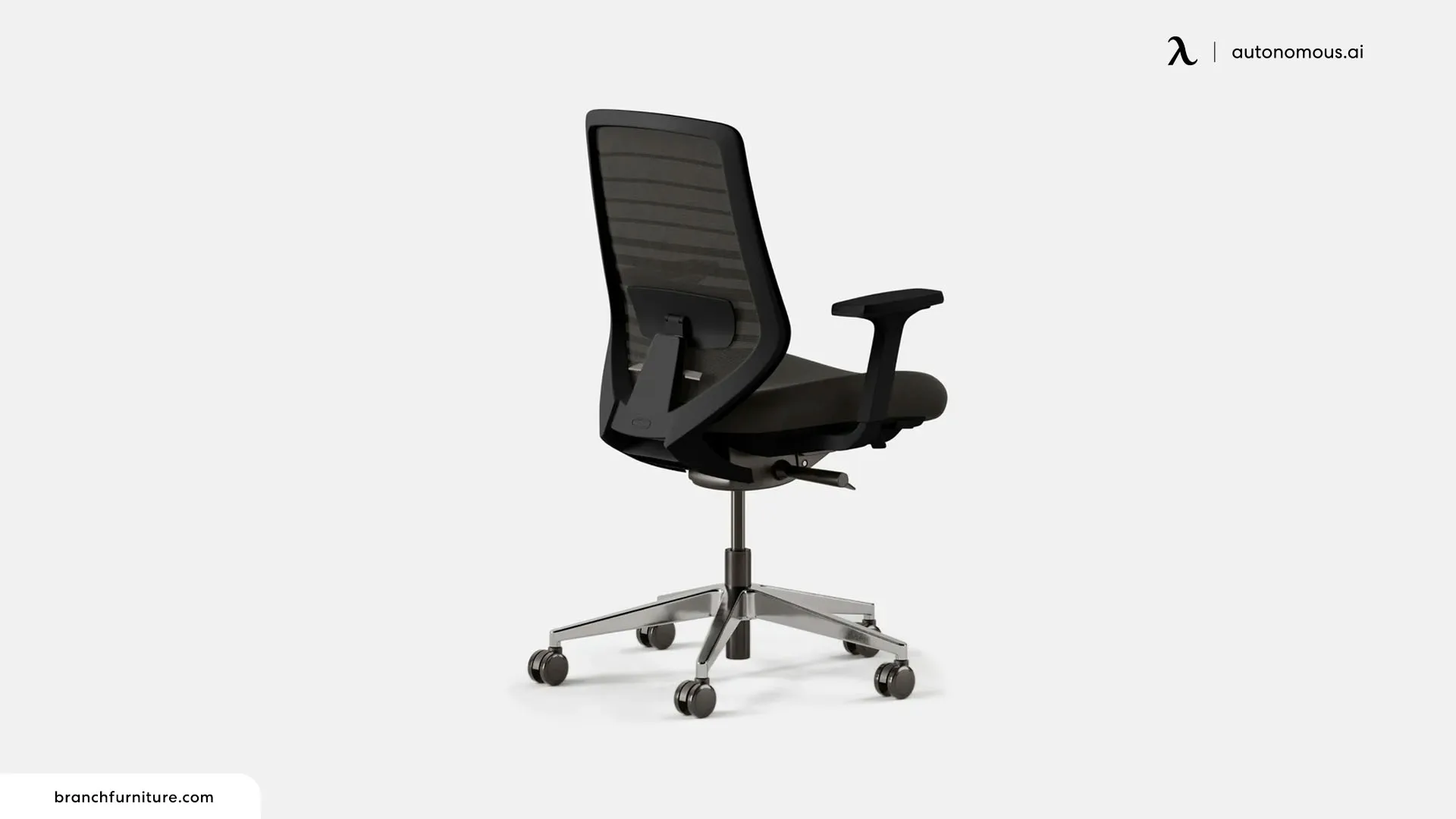 Pros

Cons

It's the lowest-priced chair on the list.
It's another chair that's thin and handles even less weight.
It also features adjustable support in the lower back area.
4. Steelcase Leap
If you had never looked into office chair brands or explored options of desk chairs with no wheels or with them, you'd still look at this chair and feel you'd seen this option before. It may be the padded backrest that contrasts completely with what we've seen so far on this list. 
Whatever it is, there's a sense of traditionalism with this design. In fact, other than the adjustable armrests, its modern ergonomic features don't necessarily stand out. The backrest will remain in position even as you lean back but don't expect it to lean back too far. 
What we see with this option is that the design is meant to sell a sense of familiarity. Many people will sit in this chair for the first time and feel like they've been in a chair like this at some point in their lives. That sense of familiarity can easily lead to a purchase, even if this model doesn't seem to have much to offer from the outside looking in. 
Maybe saying that the chair doesn't have much to offer is a bit harsh. From our perspective, though, it's hard to justify its price, particularly when you compare it to some of the other options on the list.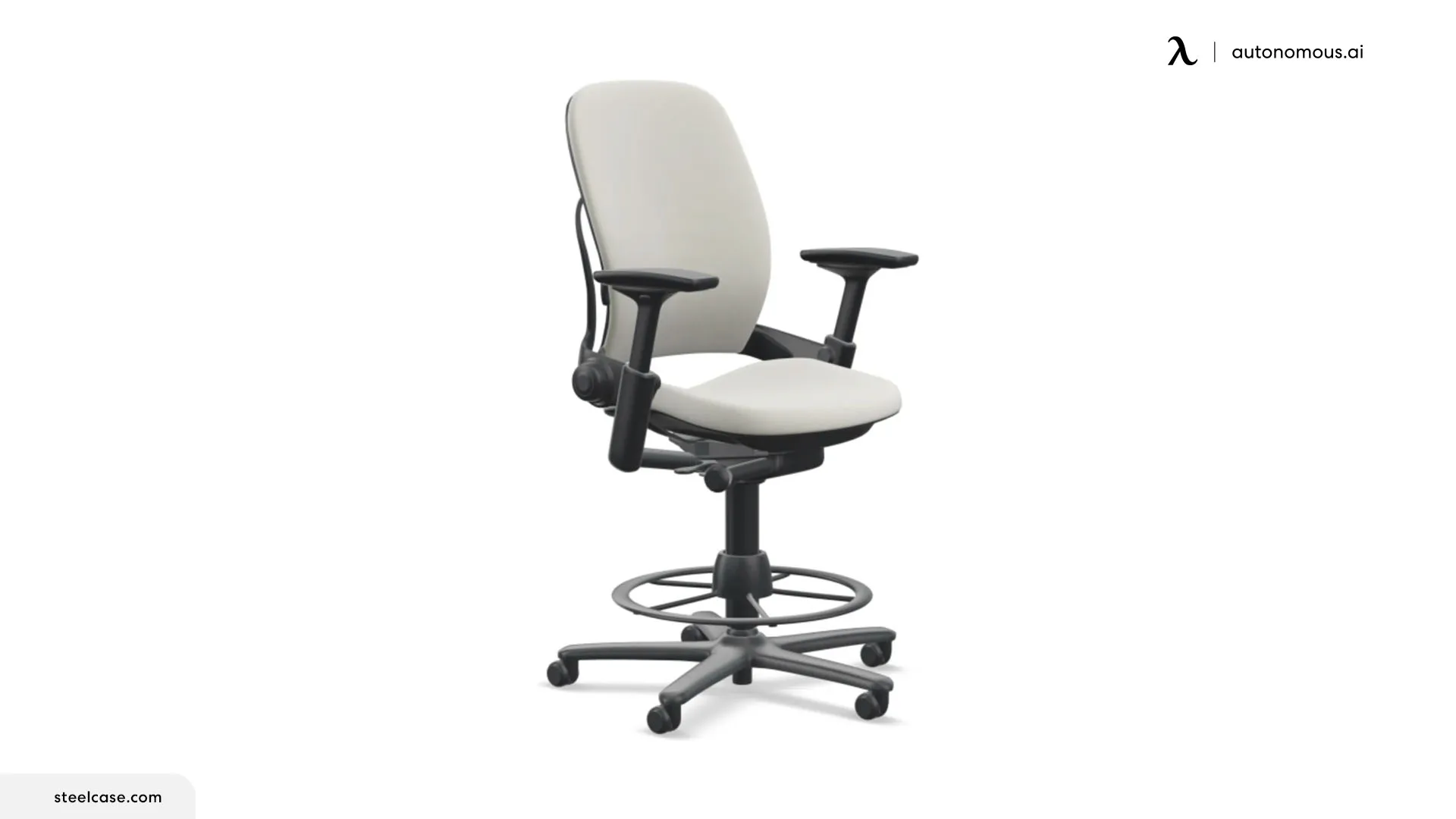 Steelcase Leap Office Chair
Pros

Cons

It's a traditional style chair that can look good in many office spaces.
It doesn't offer a ton of upside or "wow" elements for its price tag.
The adjustable armrests allow more people to find their perfect seated position.
5. Haworth Zody Office Chair
The final option on the list leans way more into the modern ergonomic style of desk chairs. You can take a look at the backrest and realize that in another era, this would've almost been considered one of those office saddle chairs because you can't even see the backrest.  
This is not a chair that you're going to sit in, sink into, and feel comfy at all. That's not necessarily a knock on the chair. As mentioned, the modern ergonomic design trends are headed in this direction.   
What we see as the major issue is that this chair may feel too stiff and hard for some people. It does make up for its lack of comfort with the padded seat area, but that still may not be enough for some people. 
Essentially, it's one of these chairs that may help people with back issues who need to remain properly seated with their back straight at all times.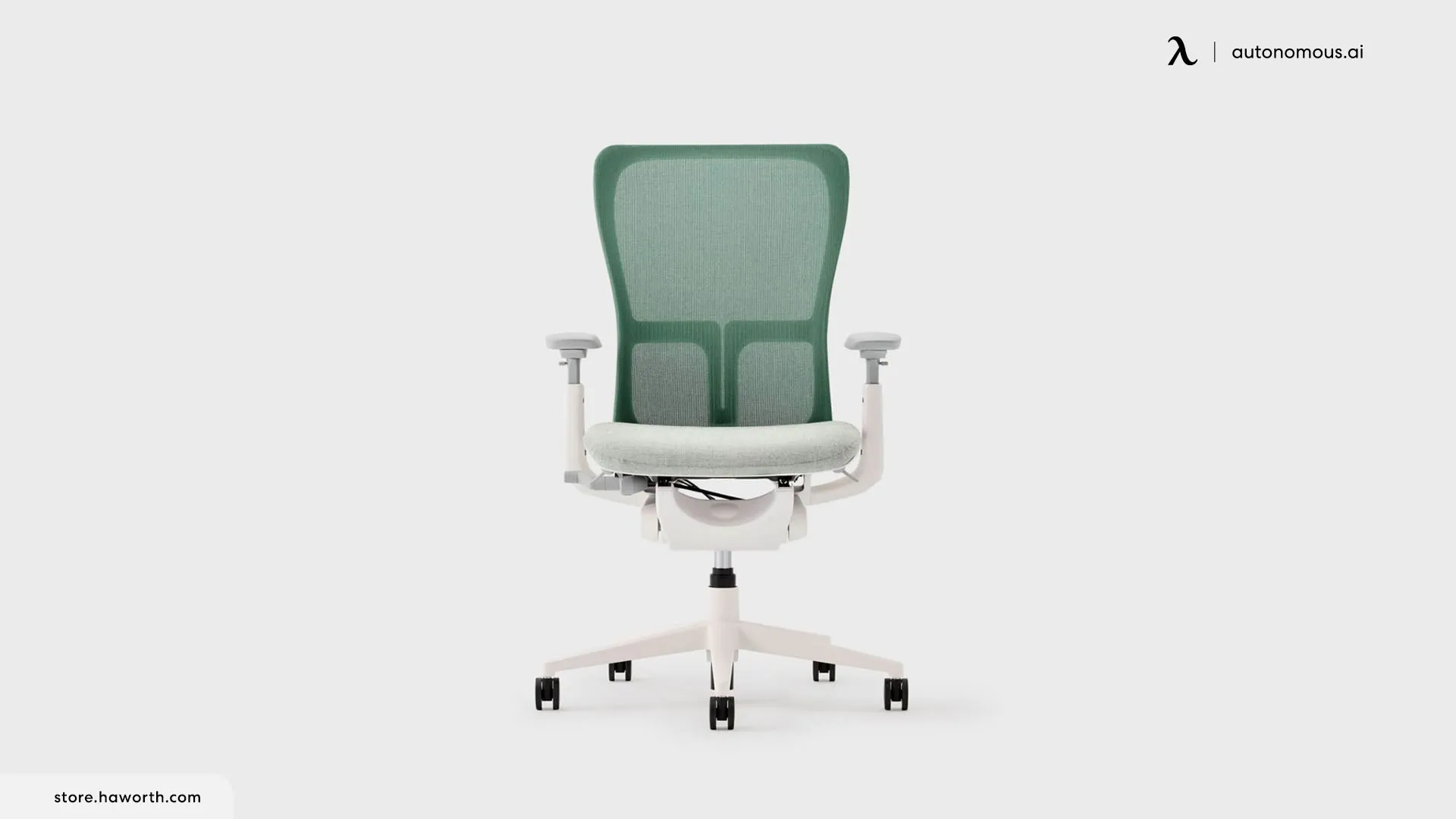 | Pros | Cons |
| --- | --- |
| The chair features an ergonomic design that's meant to keep the person's back in the right position at all times. | This backrest can be way too hard for some people. |
| Its seat cushion is much more comfortable than what you may find with other options. | The price tag is not necessarily budget-friendly. |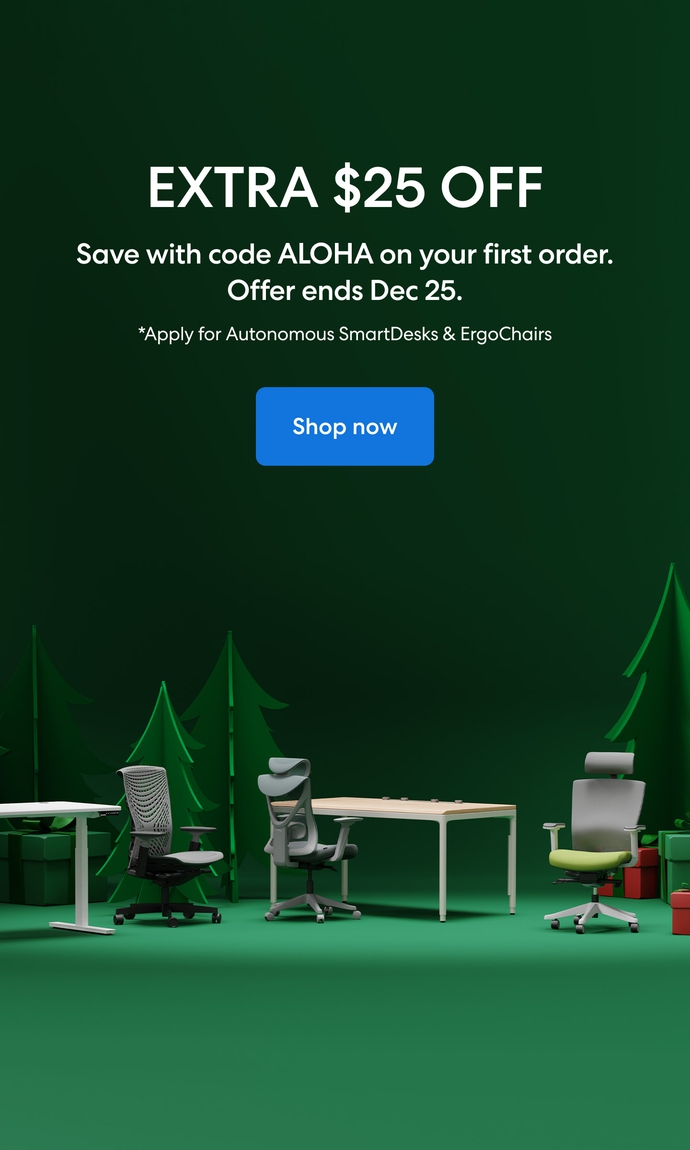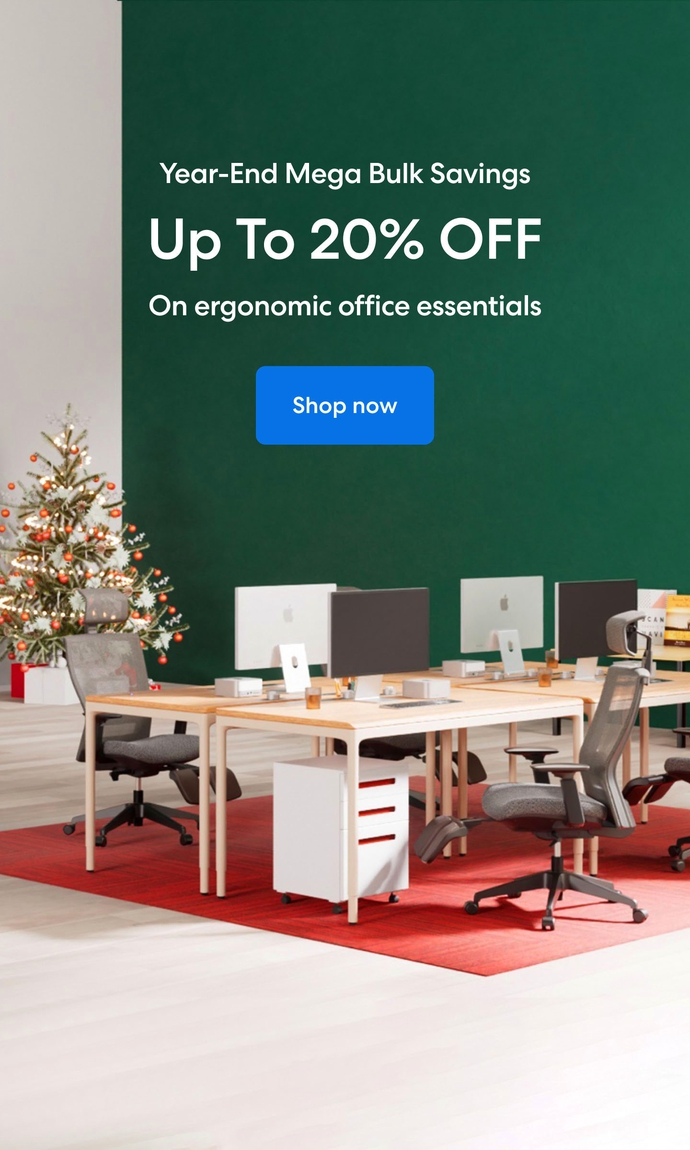 Subcribe newsletter and get $100 OFF.
Receive product updates, special offers, ergo tips, and inspiration form our team.