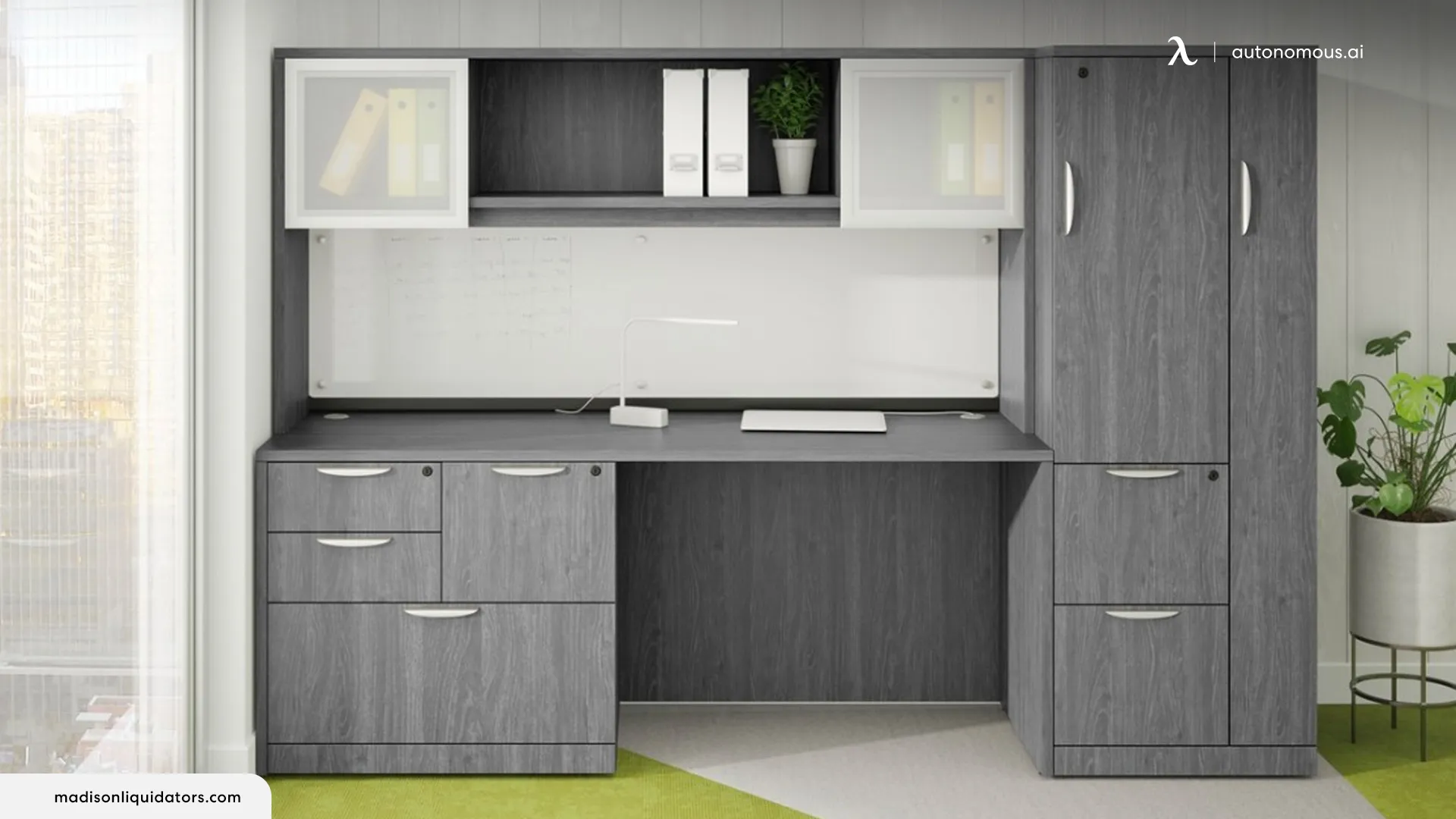 Smart Products
Credenza Desks: Classic and Functional Style for Your Workspace

Ryan Tanaka
|
Sep 20, 2023
1,771 Views
The term "credenza" might sound foreign to the ordinary household. Is it a desk? A console table? Or a cabinet?
It's nice to have something as classic and reliable as a credenza in a world where technology is always developing. The credenza has been stylish and functional for centuries, from its beginnings in Renaissance Italy to its many uses in modern interiors.
Therefore, we're here to enlighten you by revealing every detail of the classic office credenza desk.
What Is a Credenza Desk?
A credenza, often called an office credenza desk, is a long, flat piece of furniture with additional storage space. While credenzas may be found in a wide variety of colors and styles, most of them contain drawers and cabinets that are spacious enough to store not only books but also the office essentials you'll inevitably need. You can expand storage space by installing more cabinets or partitions.
The Latin root of the word credenza is credo, which means "trust" or "belief." The practice of having staff taste food and drink before it was served to a king, known as credenza, dates back to the 16th century. Both the space and the piece of furniture used for storing food during these tastings came to be known as credenzas.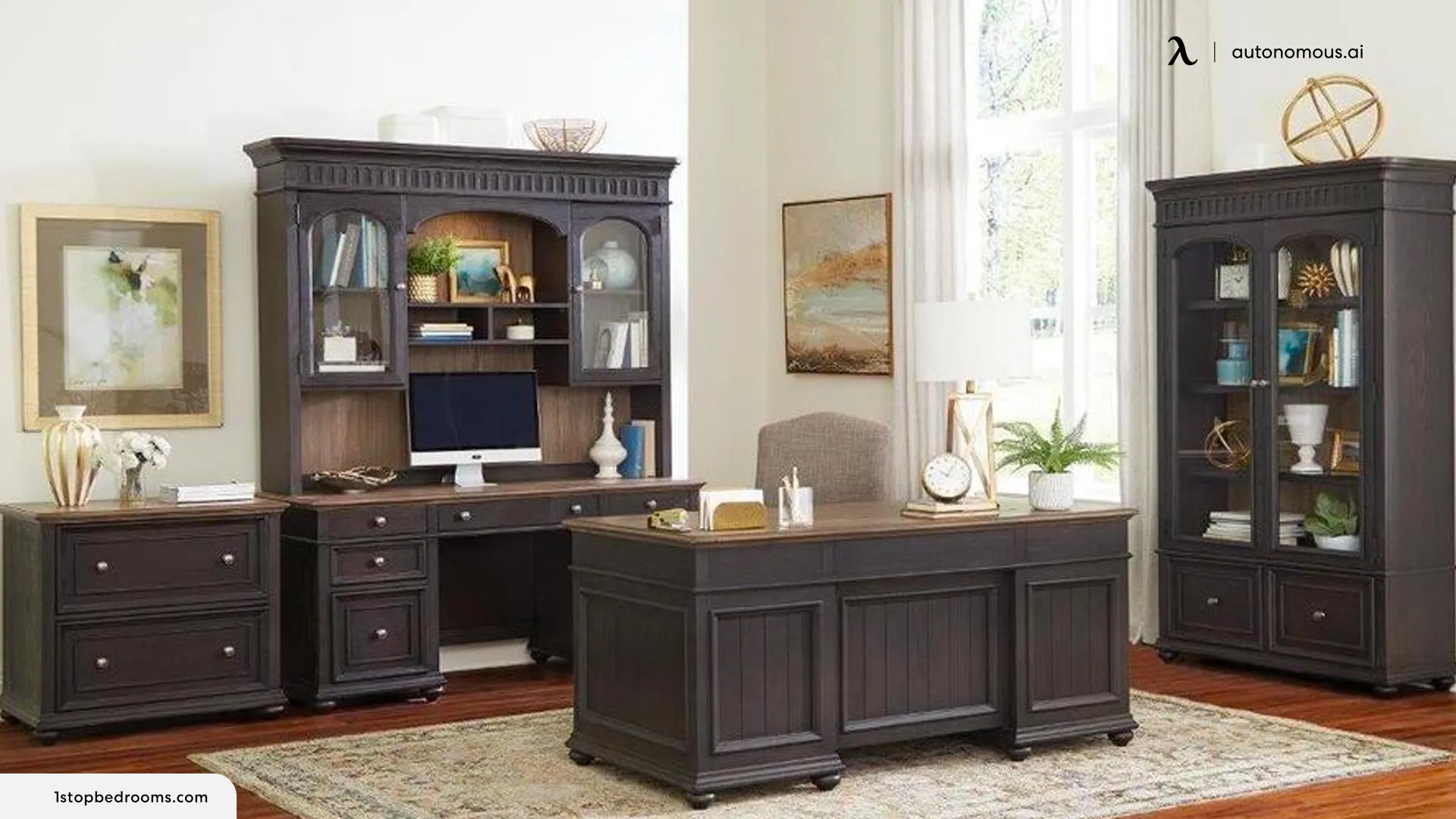 Type of Office Credenza Desks
Office credenza desks come in two main varieties: those designed to serve as desks and those designed primarily for storage.
Office Credenza
Office desk and credenza set with file drawers and a work surface is commonly known as an office credenza. These are convenient places to sit and work because of their extra file storage and pull-out mouse pad, and they are a favorite in both cubicles and home offices. This modern L-shaped desk can be found in various dimensions, designs, and constructions.
Credenza as Storage
The storage space provided by a credenza can be used in various settings. Instead of file drawers, this credenza style will feature several shelves and cabinets for stowing away assorted office items. A storage L-shaped office desk with a credenza may be present in an office, although it is more likely to be kept off to the side and used for its primary function, storing items.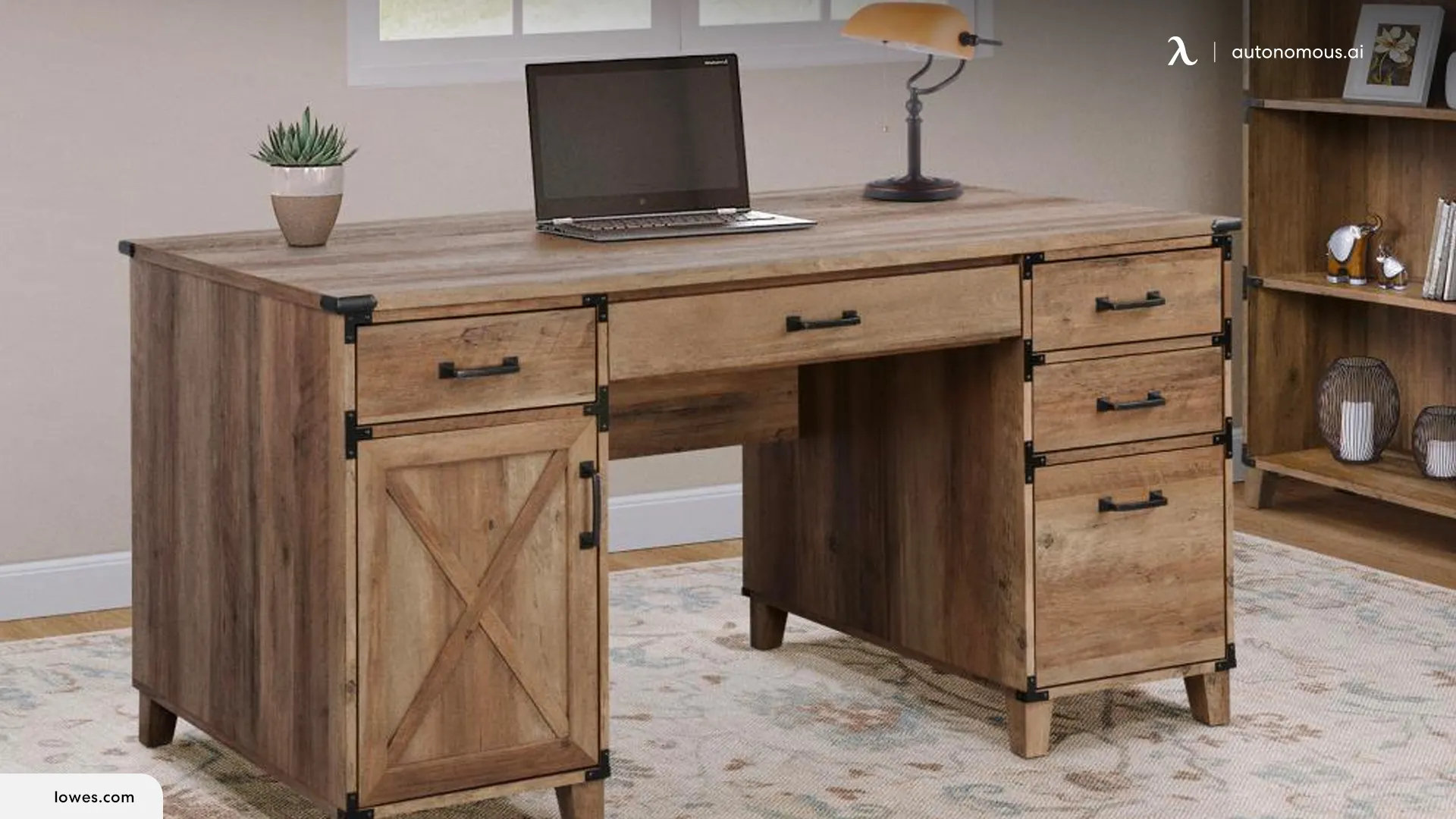 Credenza Desk Characteristics in the Workplace
When choosing an office credenza desk, keep in mind the following features:
Long, table-like top: The shape of a credenza is flexible; it can be square, rectangular, or long and narrow. It's crucial that the desk has a proper desktop, as opposed to a file pedestal or other credenza-style workspace that is far smaller.
File drawers: The primary function of an office credenza desk is to provide additional file storage; thus, naturally, one of its most prominent features is a set of file drawers. Typically, this is open on one side so that you can see the file folders stored inside, but some small desks with drawers may have doors that slide over them to keep documents covered and out of sight.
Other cabinets: The storage compartments on a home office desk and credenza set vary by design. While some desks may only have enough space for one or two huge rows of file folders, others may include multiple smaller cabinets for storing various office supplies.
Optional hutch: Separate hutch units may be available for some office credenza desk models. Attaching one of these to the top of your credenza is a great way to gain extra space for your printer, papers, and other necessities.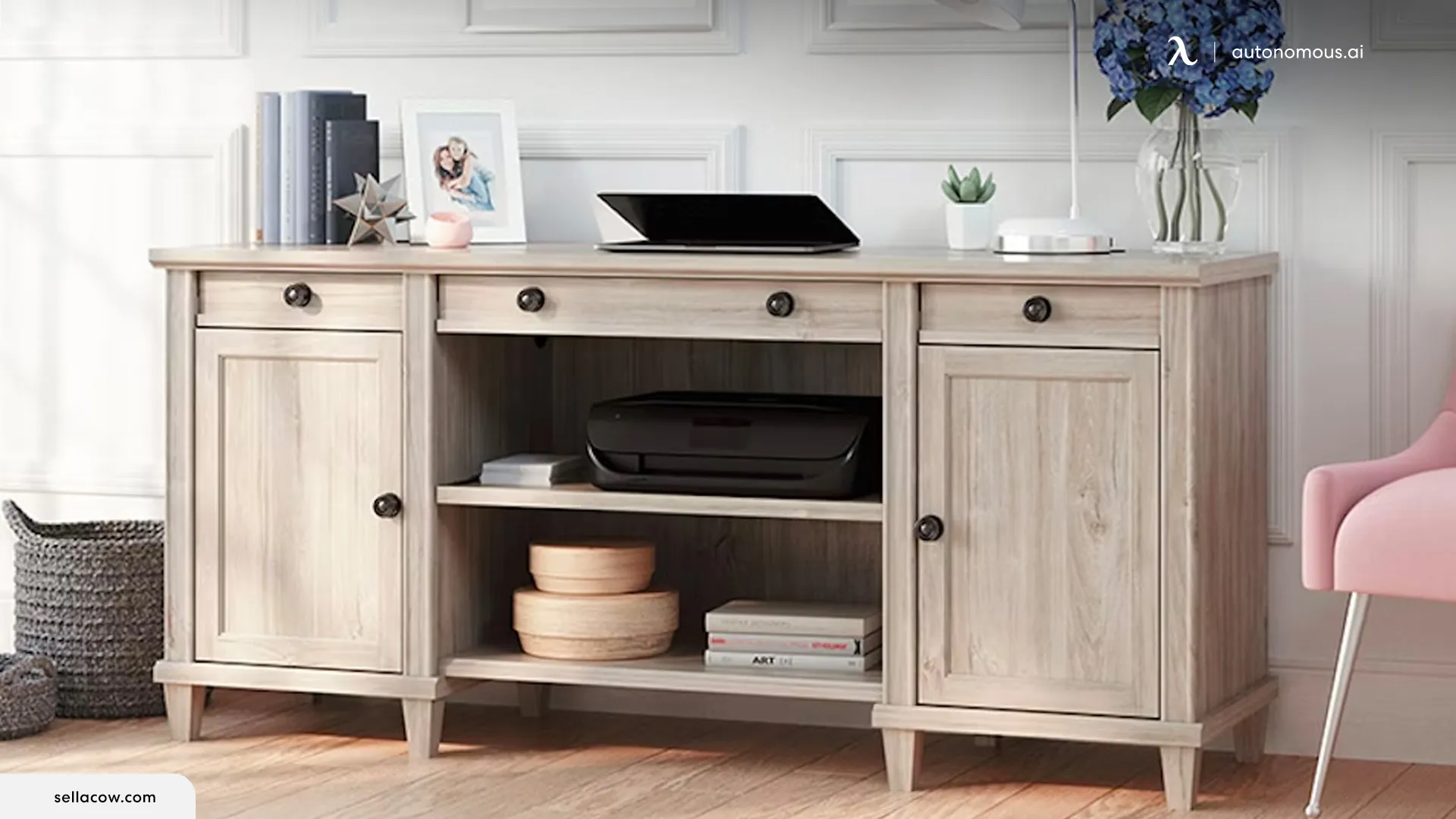 Uses of Office Credenza Desk
Any modern home office would benefit from storage that may be put to many use. You can use your home/office furniture for various purposes and store, organize, and safeguard your data in this way.
Credenzas serve various purposes in the workplace, including storage, information display, and organization; therefore, you will find them in conference rooms, executive offices, and storage rooms. A credenza is the best desk for home offices to keep documents and supplies in order.
This desk provides a flat work surface and probably includes cupboards, shelves, drawers, and filing space. People who need more space to spread out their paperwork will find this extra space incredibly useful.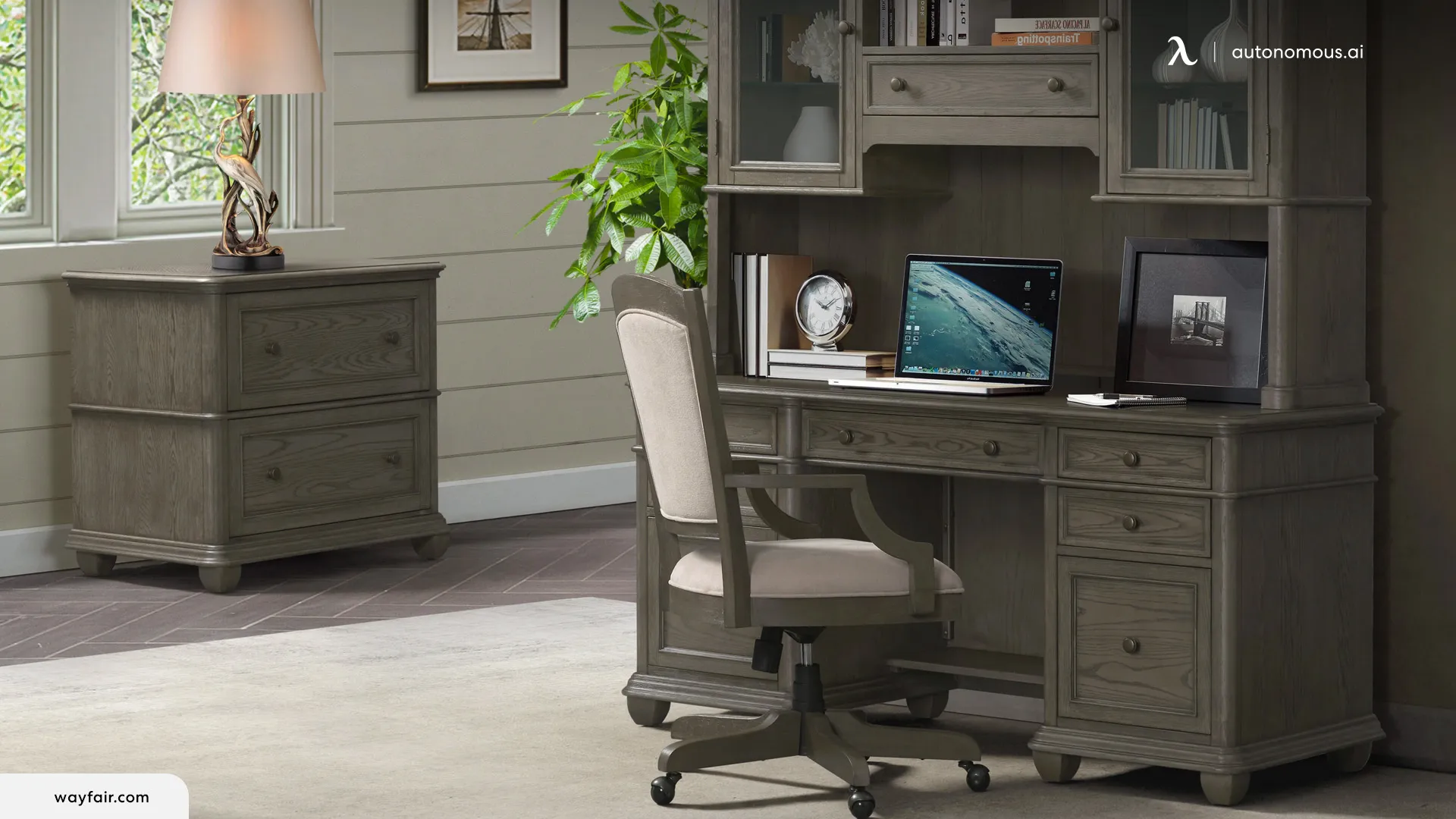 Frequently Asked Questions (FAQs)
What is the difference between a desk and a credenza?
A desk is a table designed for use with a chair; it need not have drawers or shelves to merit the name. Simply put, it's a flat surface supported by legs.
In contrast, a credenza is a computer desk with drawers or doors that slide open and closed. A credenza's principal use is as a storage unit; thus, there isn't much space for seating or desk accessories.
What is the difference between a credenza and an executive desk?
A credenza is a smaller desk that serves a different purpose than an executive desk. The first is a supplementary room or storage container, and the second is to be used as a large office desk and credenza set.
An executive desk is a large, L-shaped wood desk with plenty of space for working and storing paperwork. These huge workstations can be purchased in L or U-shaped sections to provide even more flat workspaces.
A credenza, on the other hand, is a cabinet with a worktop that can be used for storage. Most office desk and credenza sets feature a broad, flat top for displaying items and numerous shelves, drawers, and cabinets below.
How much room do you need between a desk and a credenza?
To easily access the filing cabinets, at least 33 to 36 inches of space should be between the desk and the credenza, file cabinets, or the back wall. Clearance on both sides of the desk of at least 48 inches is required for seats to be placed across it.
Ending Note
If you're looking for a stylish storage solution, a showpiece for your decor, or just a bit of history to add to your home, you should absolutely get an office credenza desk for yourself.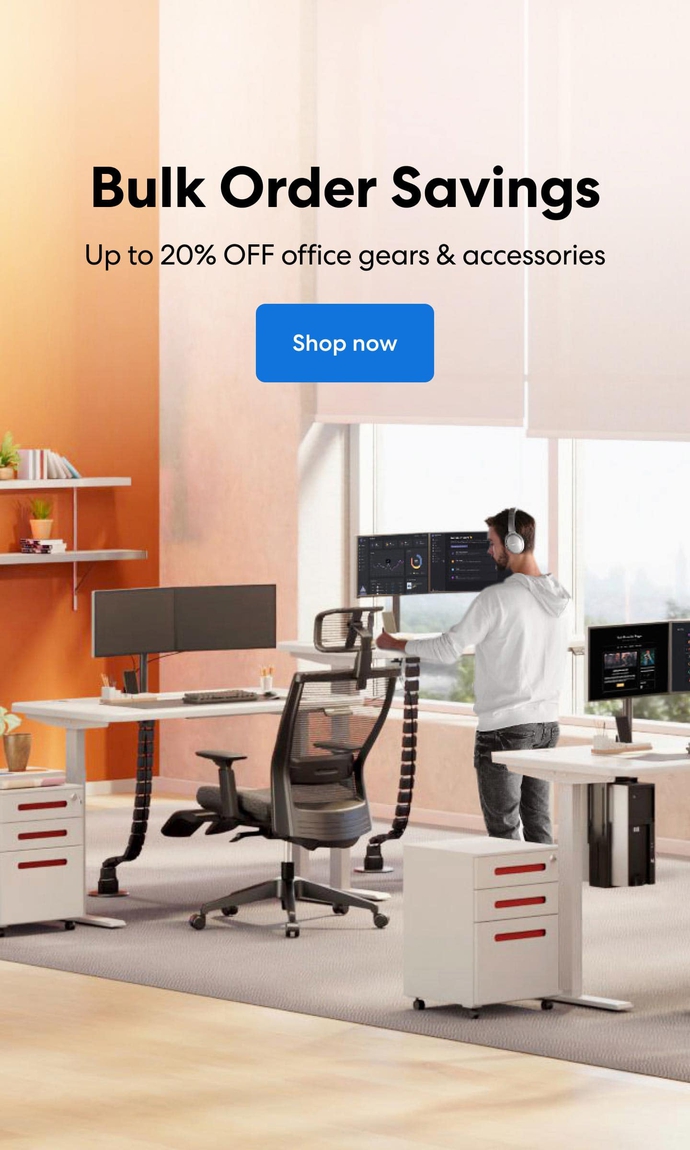 Subcribe newsletter and get $100 OFF.
Receive product updates, special offers, ergo tips, and inspiration form our team.