Work Wellness
Ergonomic Backrest Support - The Most Comfortable Backrests in 2023

Alex Rivera
|
Sep 6, 2023
1,368 Views
Back pain affects around 84% of adults and can severely impair quality of life.
Having a supportive backrest is essential for maintaining correct posture and spinal health. A backrest support, whether on a chair, vehicle seat, or even a bed, may make a huge difference in alleviating back pain and suffering.
Therefore, we have explored the best backrest supports and how to choose them below.
Top 10 Functional and Useful BackRest Supports
1. ErgoFoam Lumbar Support Pillow
If you suffer from back pain, go no further than the ErgoFoam lumbar support pillow.
Its ergonomic construction allows you to sit up straight while enjoying high comfort. Ergonomics that are set up correctly have been shown to lessen back and neck pain and increase blood flow.
This breathable mesh wicks away sweat, keeping you cool and dry compared to other cushions that make you sweat.
Lastly, the ErgoFoam is also designed to accommodate the curve of your spine so that you can be in the best sitting position for lower back pain.
Features
Durable construction.
Mesh material allows airflow.
Ergonomic form.
Memory foam with body-molding properties, like ErgoFoam.
Strongly advised by US Chiropractors.
10-year warranty.
2. Logicfox Lumbar Support Pillow: For Office Chair and Car Support
When you're sitting, the Logicfox ergonomic lumbar backrest support pillow can help you relax your lower back and avoid bad posture like slouching or hunching. This lumbar cushion has adjustable pieces to provide a custom fit for your back.
The high-quality, skin-friendly fabric was chosen for this that can be cleaned and dried quickly. The lumbar pillow pocket's robust hidden zipper is sleek and aesthetically beautiful.
Features
Detachable cover and a discrete zipper.
Shaped like a rectangle, best to support your lower back.
High-density memory foam.
Useful in a wide variety of contexts.
2 years guarantee.
3. Mount-It! ErgoActive Memory Foam Seat
You can sit on this Mount-It! memory foam cushion for as long as you like, and it won't lose its form. This orthopedic backrest support for the chair will give your lower back the support it needs regardless of your height or weight.
Put it to use wherever you like! It won't move around, thanks to the rubberized base. You can use it for your office chair, car seat, desk chair with no wheels, bed, etc, for an optimized seating experience.
Highlights
Decompress the sacrum, coccyx, and hips.
Provide the best possible comfort- memory foam molds to your shape.
The cover can easily be removed and washed.
Durable memory foam.
10 years warranty.
4. ErgoFoam Orthopedic Donut Pillow for Tailbone Pain
Try out this specially designed orthopedic backrest support pillow for optimal relaxation - ErgoFoam gives velvety support where you need it most. In contrast, other orthopedic donut pillows may be excessively hard and worsen your pain. We guarantee that the ErgoFoam donut cushion will be the most comfortable you've ever sat on.
Features
Discreet Style.
Chiropractors in the US strongly advise it.
Guaranteed forever.
Covered in a breathable mesh.
5. Samsonite Ergonomic Lumbar Support Pillow
Samsonite backrest support contoured shape molds to your spine, relieving pressure and tension on your lower back when you spend long periods of time sitting, making it one of the best office chairs for back pain.
It's cheap, can be moved around with a single strap, and has several advantages, including portability, lightweight, and the ability to be installed in various places.
Features
Made with durable memory foam.
Multiple ergonomic gains.
Highly portable.
Easily removable and washable cover.
Affordable.
Multipurpose.
6. Cushion Lab Extra Dense Lumbar Pillow
An orthopedic specialist developed the idea for the Cushion Lab Extra-Dense Lumbar Pillow. As it molds to the shape of your lower back, this backrest support for the chair relieves back pain. Anyone who spends a lot of time sitting, such as truck drivers, office employees, and students, can benefit from using the pillow. The deep, patented memory foam provides a lot of cushioning. It's easy to remove and clean the pillow's cover. The pillow's adjustable straps and tough polyester cover ensure it stays in position wherever you use it.
Features
Fits a wide variety of chairs.
It helps with spinal alignment.
The cover is washable and has good airflow.
Straps can be adjusted for a customized fit.
7. Desk Jockey Neck Pillow
Desk Jockey's excellent neck pillow has a concave shape that conforms to the base of your neck and shoulders. Due to the strap's length, it may be adjusted to fit the back of virtually any leather office chair. We love this backrest pillow with neck support as it's compatible with almost all chairs.
Features
Includes a lengthy strap.
Removable and washable cover.
Features a convenient storage bag for when it's not in use.
Guaranteed for 2 years.
8. Purple Back Cushion
You can't go wrong with a Purple product if you require instant comfort. This backrest support pillow features the company's exclusive Grid, which works to disperse pressure evenly throughout the surface. Attach the Grid to your favorite office chair with the included strap and relax in its unbelievable softness. When combined with the double seat cushion of the same brand, you will want to stay on your heavy-duty office chair the whole day.
Features
The design ensures optimal ventilation.
Adaptable, springy stuff.
Belt with a movable buckle.
Fabric can be easily cleaned.
Unique design and shape
9. Chill-o Lumbar and Neck Support Pillow Roll
Another great accessory for standard office chairs is the Chill-o Neck cushion, which features an adjustable strap for maximum comfort. Because of its cylindrical shape, this cushion can be used as a neck or high back backrest support pillow.
Due to its standard form, it can serve various purposes beyond that of a neck pillow, including as a back support or a thigh massager.
The Chill-out has an adjustable and detachable strap that keeps the pillow in place so it doesn't continuously fall off your ergonomic chair.
Features
Highly convenient buckle strap.
Memory foam stuffed with cooling gel.
Extremely flexible layout.
The cover can be removed and washed in the machine.
Features a carabiner clip for easy carrying.
10. Snug Lumbar Support Pillow
Tuck this slim pillow under your lower back if you're experiencing severe lower back pain. The soft memory foam construction comforts you in all the right places. Its slim profile makes it an ideal body pillow for placing between the legs and under the hips.
Features
The pillow can be used for the head, neck, or entire body.
Attractive design.
Fabric can be easily cleaned in a washing machine.
Features to Look For in a Good Backrest Support Pillow
Memory Foam
The first thing to consider is memory foam construction; it is widely used to provide the ideal balance of softness and firmness in lumbar support pillows.
Removable, Machine-washable Cover
If your lumbar support cushion is up to the task, you'll always want to use it. Unfortunately, that also means it will be covered in dust, crumbs, sweat, and other remnants of daily life. You'll want a cover that can be removed and washed in the washing machine when it gets too dirty to use.
Dimensions and Modularity
Your lumbar support pillow won't stay in place or be effective if it's too big or tiny for your body. Look for backrest support pillows with straps that may be tightened to keep them in position according to your chair dimensions.
Conclusion
A solid backrest support is an investment that will pay you in your daily life. Prioritize your lumbar health by selecting the best ergonomic backrest supports that encourage a good posture wherever possible.
Video ads for product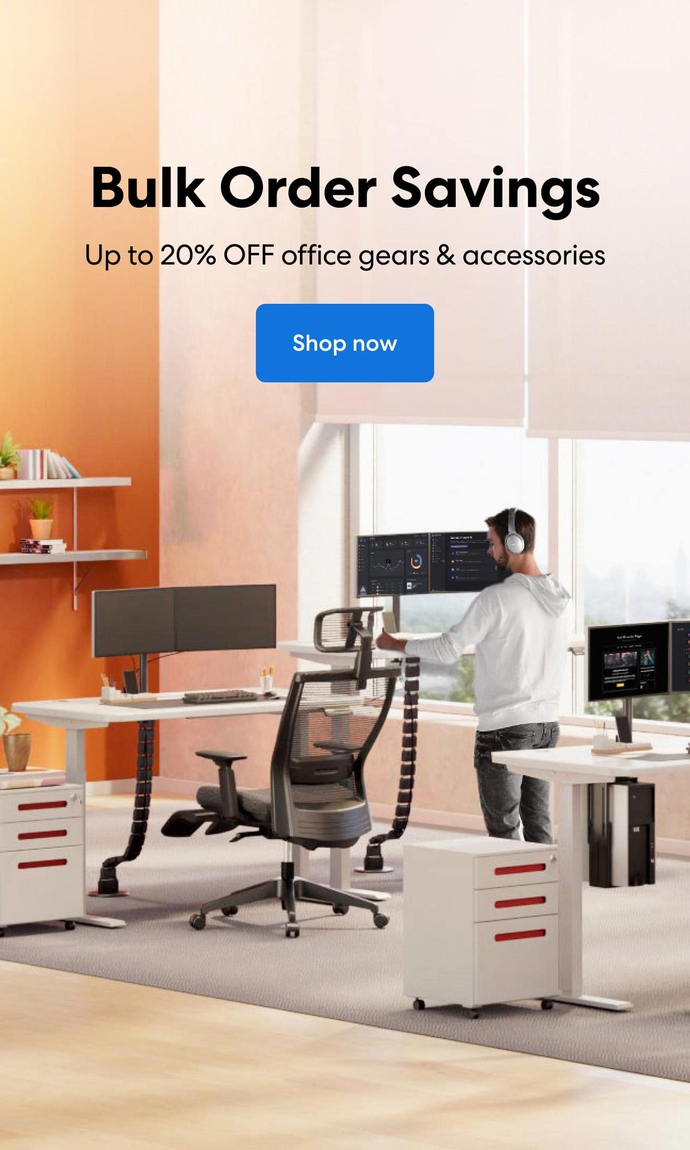 Subcribe newsletter and get $100 OFF.
Receive product updates, special offers, ergo tips, and inspiration form our team.