Workplace Inspiration
Garden Room Ideas: Outdoor Trends for 2023 That You Can Try

Lily Parker
|
Sep 2, 2023
1,110 Views
These days, it is very easy to transform your entire property with just a few great garden room ideas. There are so many styles of houses to choose from when considering outdoor garden rooms that you can make your house as unique as you want. 
While many people appreciate the value of having a garden house on their property, choosing the right type can be difficult. The trick is to find a way to balance aesthetics and functionality. 
When budget is also an issue, the need to find cheap prefab homes only further complicates the selection process. However, a universal solution to all these problems is to find a supplier that can provide the perfect garden room ideas for 2023. 
Autonomous is well-known for providing high-quality prefab ADUs that cater to a wide range of activities. Whether you want an extra room to sleep in or you want to create the perfect workstation at home, get your hands on one of Autonomous' perfect prefab ADUs. 
What Can You Use a Garden Room For?
There is no limit to the garden house ideas that you can apply to your modular guest house. You already have a main house to live in, so feel free to go wild when choosing what to do with your garden house. 
This is the perfect opportunity to add a special twist to your garden room ideas that will make your property stand out from the crowd. As long as you invest in high-quality materials and use the latest building technologies, you can create the perfect ADU that can be used all year round.
One of the most common uses of a garden room is using it as a guest house. However, these days, as more and more people realize the value of remote working, many garden room ideas are centered around building a home office.
You can also create a space that caters to your hobbies or special talents. That means building a garden room for your music, dancing, or art studio. This is the best place to escape when you need to work on the things that make you happy. 
Some garden room ideas are a lot simpler than designing a complete studio. There are times when all you need is a quiet place to go to whenever you need to recharge your batteries after some busy days at work. In that case, all you might need is to throw in a sleeping cot and have the perfect place to get a nap. 
In the end, a garden room is simply like any other room in your house, so you can use it for whatever purpose you want. Some ideas may require a lot more specialized construction and design than others. However, if you visit Autonomous, you will find some prefab ADUs that are the perfect starting point for any garden room ideas you may have.
5 Reasons to Consider a Garden Room
Most garden room ideas are devised as a solution to five common issues homeowners usually face. Consider the following five reasons for building a garden room: 
A Guest House
An indoor garden room can make the perfect guest house just by adding a few pieces of appropriate furniture items. One of the problems many people face is not having a good place for their guests to sleep whenever they visit. This can be a big problem when families visit on holidays, such as Thanksgiving Day. 
Letting your visitors sleep on the couch may be ok if the visit is only one or two days, but what about when they are planning to stay for a week or more? A more permanent and comfortable arrangement will need to be made, and using a garden room as a guest house might be the perfect solution.
An Alternative to an Extension
One of the great things about the garden house ideas in this article is that they are very easy to implement. This makes building a garden room a lot simpler than redesigning and extending one of the wings on your house. 
Such complex modifications can be quite expensive, not to mention that you will risk damaging your valuable house if anything goes wrong. It is far easier to simply pick a spot in your yard where you can set up your prefab ADU in no time at all. 
Adds Value to Your Property
Real estate is one of the most valuable investments you can make in 2023. As a property owner, you are protected from depreciation and you can rest assured that whenever you choose to sell, you will make a good profit. 
Imagine being able to increase the value of your property even further by simply building an indoor garden room. While it may be a significant investment in the beginning, your garden room will more than make up for its costs whenever you decide to sell your property. This type of value addition is something all homeowners need to consider doing.
All-year Round Garden Enjoyment
Have you often been frustrated by not being able to go outside to enjoy your garden during those long and cold winter months? If you implement the right garden house ideas, you can change all of that. You can enjoy many cozy and satisfying days looking over your wonderful garden. 
The healing properties of spending some time enjoying the beauty and serenity of nature have been well documented. With a garden room, you can have access to all these benefits any time you feel the need for a pick-me-up.
Perfect Escape
Outdoor garden rooms often provide the perfect escape when you are feeling overwhelmed by all the activities around you. People who live in busy cities often feel very stressed out because they cannot find a quiet place for themselves. A garden room can be your solution to that problem.
10 Inspiring Ideas for Garden Rooms
Finding the right garden room ideas for your ADU is easier than you think. At Autonomous, you can choose between three awesome ADUs that are the perfect starting points to implement any ideas you might have.
If you are ready to build your garden room but need a little bit of inspiration, how about these 10 great ideas? 
1. Music Studio
Finding a garden room design to convert an ordinary backyard shed into a prefab studio outfitted for making music might seem a bit complex, but it's definitely worth it in the end. The main thing you have to worry about when creating a backyard music studio is acoustics. 
All the walls of the studio need to be built with special materials that do not absorb, distort, or echo the sound in any way. In addition to that, you will also need proper sound insulation so that you can enjoy your music without worrying about disturbing your neighbors.
2. Home Office
The recent Covid-19 pandemic left many lasting impressions on our day-to-day lives. One area that has undergone a lot of change is the need to commute to work every day. Many people are seeing the value of working from home, which is where garden house ideas regarding home offices come into play. 
You can create functional home office pods using the ADUs available at Autonomous and never need to drive to work every day ever again. The added time with your family and the convenience of not suffering through traffic every morning makes investing in a home office worth it. 
3. Sleep Pod
Of all the garden room ideas in this article, one of the easiest to implement is building a sleep pod where you can get a nap whenever you need to. Thanks to the prefab ADUs at Autonomous, you can get a ready-made pod that comes with all the furniture and accessories needed in a modern sleep pod. If you find yourself regularly failing to get the right time and place to rest, this garden room idea may be a great option for you.
4. Arts and Crafts
The beauty of having an indoor garden room is that there is no limit to what you can use it for. If you have a hobby that you are fond of and that improves your happiness and well-being, why not create a more permanent and perfectly furnished place to enjoy it? 
A garden room can be easily converted into, for example, an arts and crafts room. The room often allows for plenty of natural light and beautiful views of your garden, which will help to inspire your art and allow you to feel relaxed.
5. Dance Studio
If you love dancing, outdoor garden rooms can make the perfect dance studios. The privacy and seclusion will help you enjoy your favorite activity without being disturbed, or disturbing anyone else. 
However, if you intend on converting your garden office pod into a dance studio, there are a few things to consider, such as the type of floors. Hardwood floors are usually the best option. 
6. Man Cave
With the right garden room design, you can convert your ordinary ADU into the best man cave ever. Whenever you feel the need to step back from the hustle and bustle of family and work life, a man cave will be the perfect place to hang out with your friends. 
7. Game Room
Video games have advanced a lot in the last few years, and many people now consider themselves to be serious gamers. If you are such a person, then the best garden room ideas for you to consider would be related to building a game room. It is very easy and will provide you with the perfect place to focus on your gaming.
8. Kids Play Area
If you have some young kids around, why not consider garden house ideas involving building a children's play area? This will convert your affordable backyard ADU into a safe place for the kids and help you keep an eye on them while they play. 
9. Home Gym
Having an outdoor gym is one of the best ways to stay fit without ever having to leave the house. With just a few additions to your garden room and investment in the proper gym equipment, you will have access to your very own home gym in no time at all.
10.  Rental Unit
Those looking for more profitable garden room ideas should consider converting their ADU into a rental unit. In such a tough economy, having an extra stream of passive income is something you cannot afford to miss out on. It is very simple to add a bed and other bits of essential furniture to your ADU and create the perfect rental unit. 
Build Autonomous ADUs for Your Garden Rooms in 2023
If you are looking for the best prefab ADUs that would make great outdoor garden rooms, get your hands on a prebuilt ADU from Autonomous. You can choose between WorkPod, StudioPod, and WorkPod Lite. 
Whether you are looking for a home office, game room, sleep pod, or prefab backyard studio, these ADUs will be the perfect starting point for your garden room ideas. They are made of high-quality materials and if you choose either the WorkPod or StudioPod, it can come with whatever type of furniture to suit your needs. Let's take a deeper look at them!
Autonomous WorkPod
Dimension
8'6''W x  11'9''L x 11'H
Ceiling height
6'10'' to 9'4''
Window material
Wooden frame, 5/16" tempered glass
Door material
Anodized aluminum frame,  5/16" tempered glass
Material
Siding: bitumen, housewrap, vinyl silding
Roof: bitumen, housewrap, shingles roof
Floor: plywood
Balcony: composite wood
Include
Optional: SmartDesk Connect, ErgoChair Pro+, Dual Monitor Arm, Cable Tray, Steel Cabinet, Anti-Fatigue Mat. Always included: Electrical Cabinet & Bookshelf
Floorspace
98 square feet
Capacity
2.9 tons
Autonomous StudioPod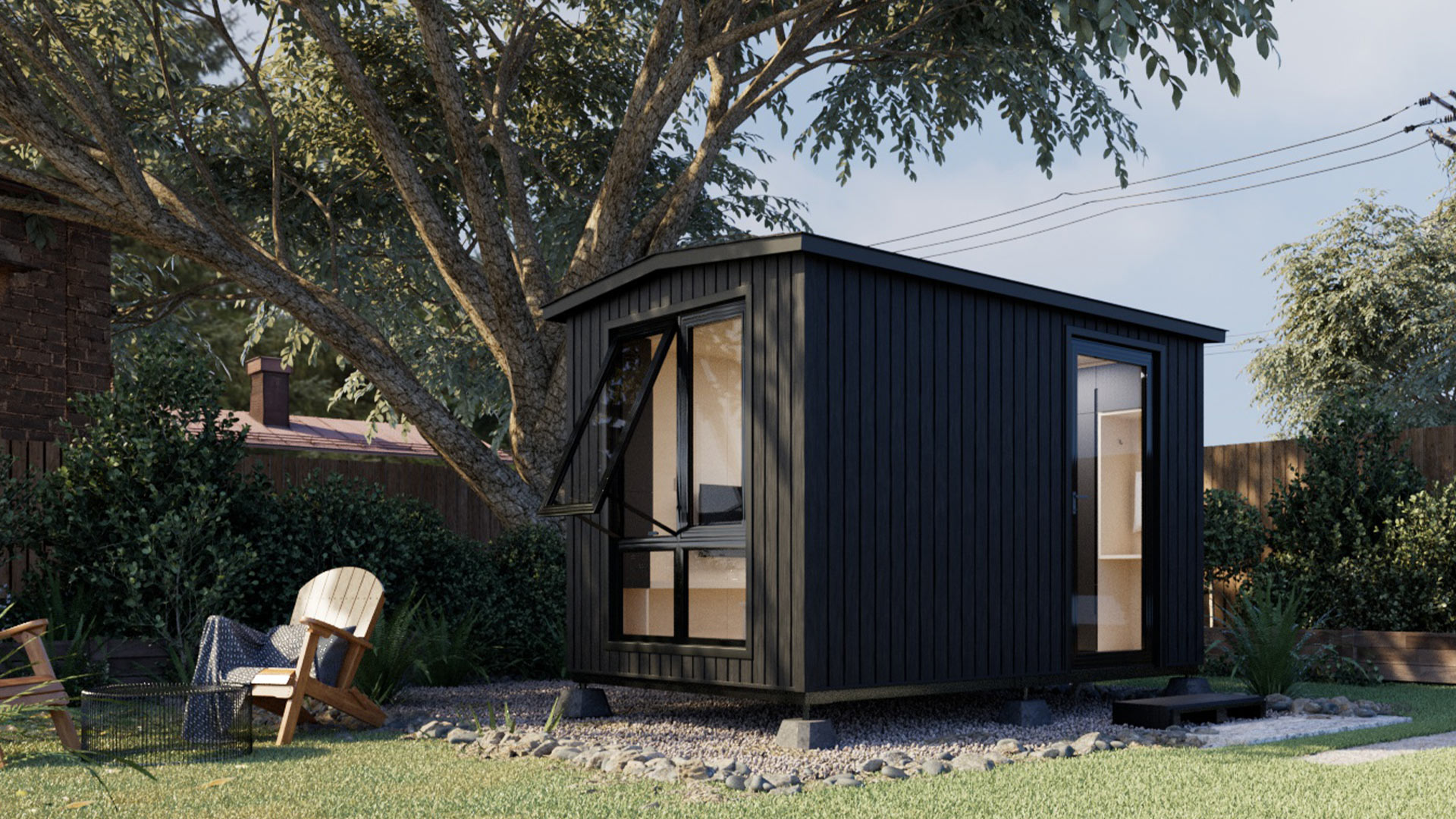 Dimension
8'4"W x 12'6"L x 9'10"H
Floorspace
105 square feet
Ceiling height
7'3"
Weight capacity
2.9 tons
Pedestal
18"W x 43"L x 7"
Window & door material
Powder-coated aluminum,  5/16" tempered glass
Material
Siding: plywood 1/2", steel frame, honeycomb paper, plywood 3/8", bitume, housewrap, vinyl siding
Roof: roof shingles
Floor: plywood
Pedestal: steel frame & wood plastic composite
Electrical devices
RCB, Wall outlet, Ceiling light switch, Ceiling light, Ventilator switch, Ventilator, Ethernet wall port, 66ft power cable with 2 connectors
Include
Optional: Cabinet, Desk, Small & Big Bookshelf, TV Shelf, Foldable Sofa Table, Convertible Sofa Bed. Always included: Electrical Cabinet
Power input
Maximum voltage : 110V AC (US standard)
Maximum current : 25A
Maximum power dissipation : 2750W
Autonomous WorkPod Lite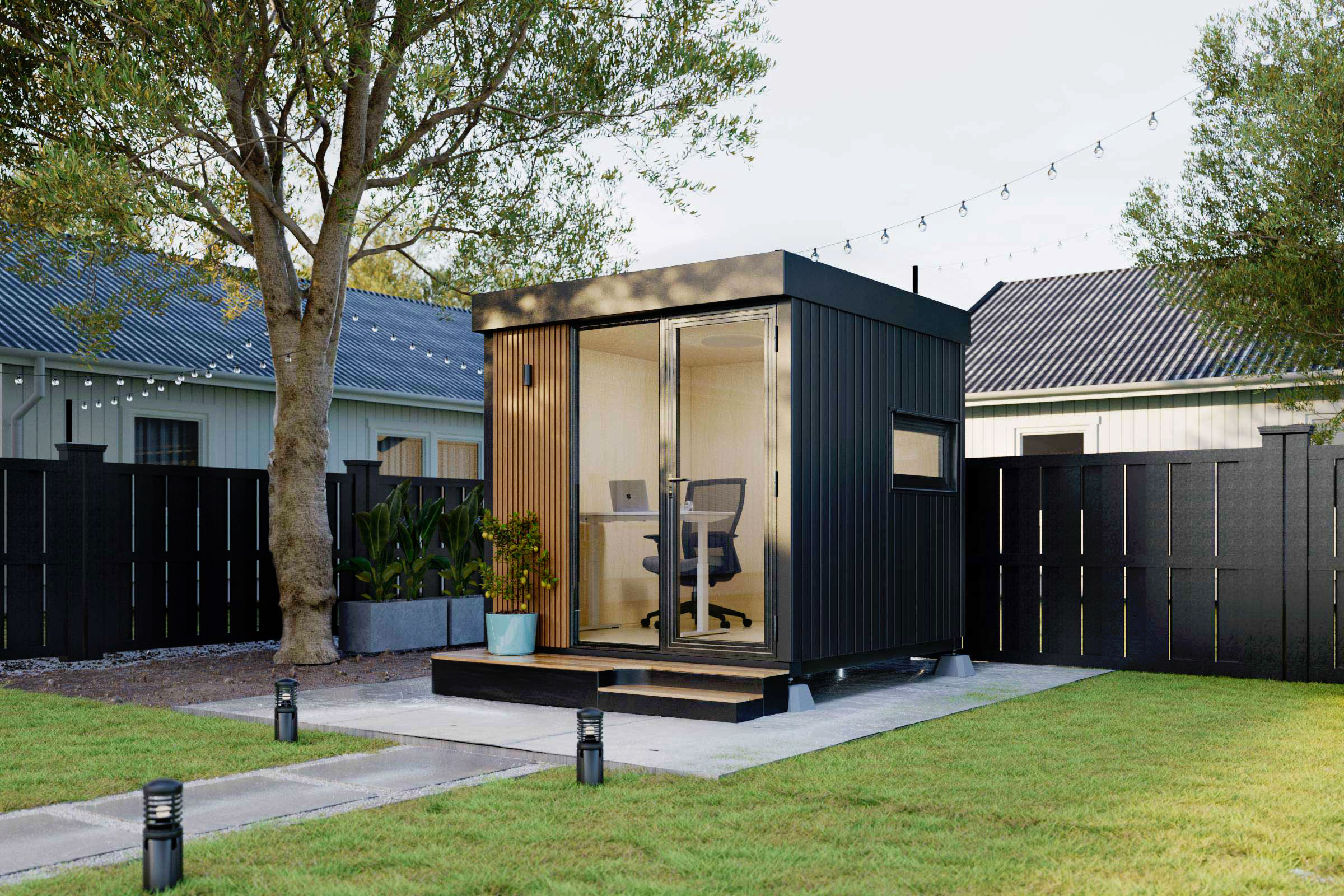 Dimension
8.7"W x 8.12"L x 9.3"H
Material
Window and door: powder-coated aluminum, 5/16-inch tempered glass
Siding: plywood 1/2-inch, steel frame, honeycomb paper, plywood 3/8-inch, bitume, housewrap, vinyl siding
Roof: metal roofing
Floor: plywood
Balcony and Pedestal: steel frame and wood plastic composite
Pedestal
24"W x 103"L x 9"H
Electrical devices
RCB, Wall outlet, Ceiling light switch, Ceiling light, Wall light, Ethernet wall port, 66ft power cable with 2 connectors
Weight capacity
2.3 tons (including Pod body)
Floorspace
80 square feet
Ceiling height
7.3-inch
Never has garden room design been as easy as it is at Autonomous. The website offers you all the help you need when choosing the right furniture to go with your pod. This means, with just a few clicks of the mouse, you can design the ultimate garden room and have it delivered to your doorstep. 
Built using the latest in construction methods, each of these ADUs is small enough to avoid the need for a permit in most localities, while still having enough space to accommodate your garden house ideas. If you are ready to increase the value of your property by adding a useful structure, get an indoor garden room from Autonomous today.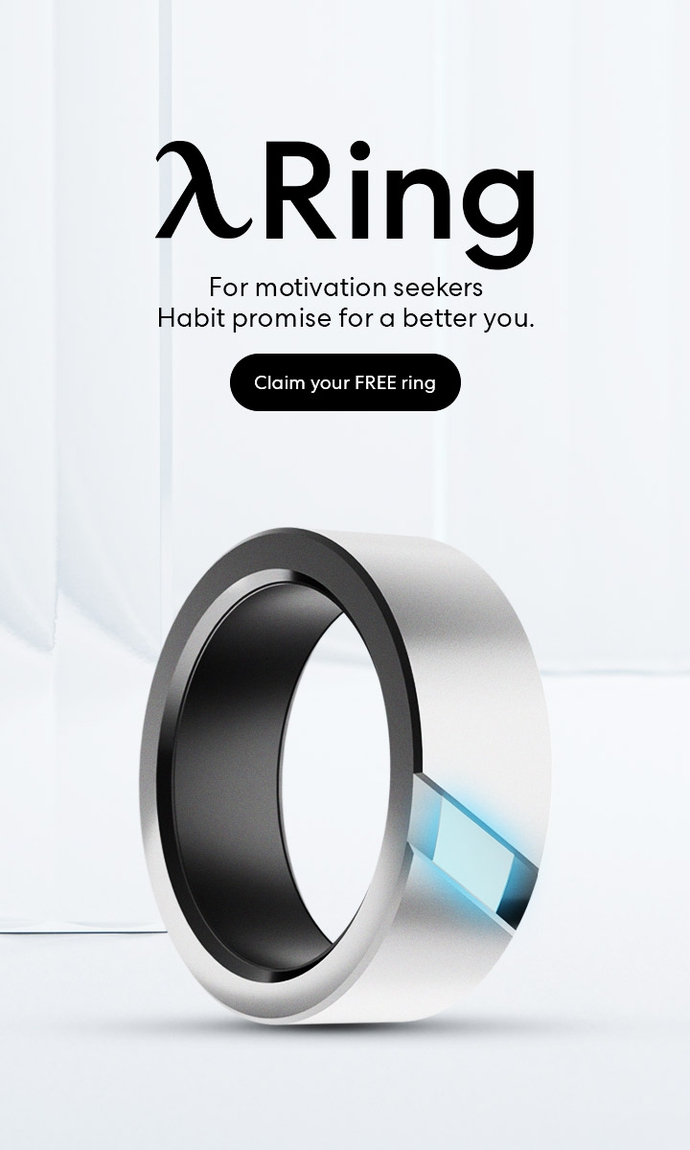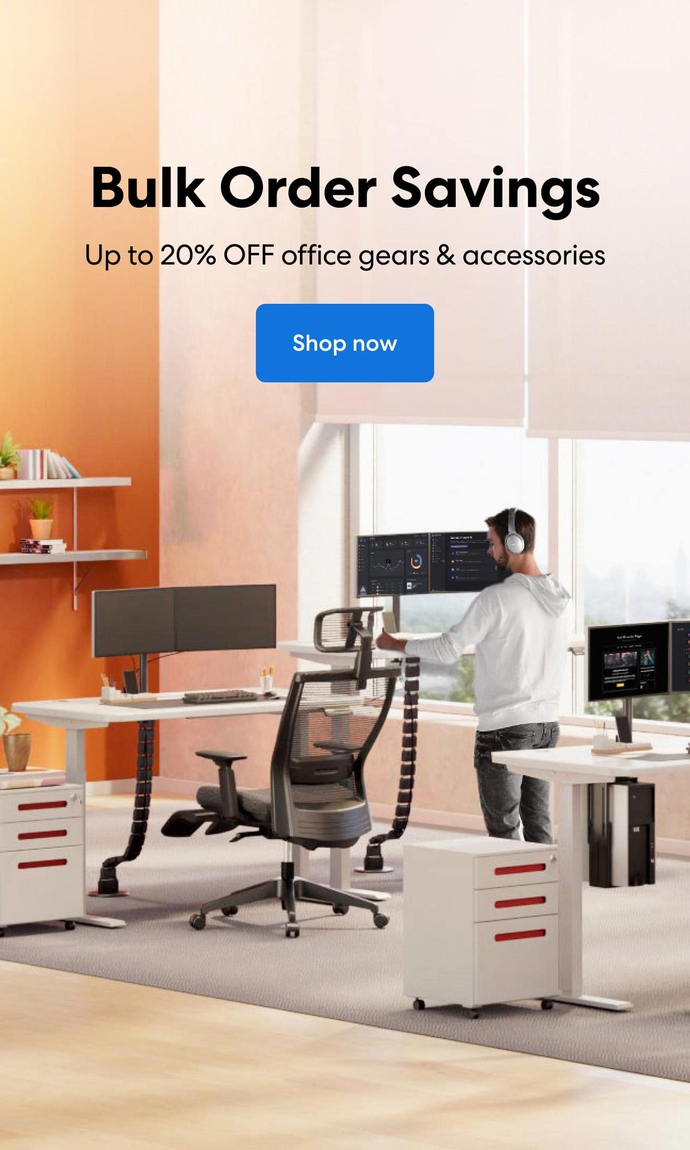 Subcribe newsletter and get $100 OFF.
Receive product updates, special offers, ergo tips, and inspiration form our team.