Workplace Inspiration
Gender-Neutral Home Office Inspiration: Designs for All

Autonomous
|
Aug 15, 2023
824 Views
There are many home office inspiration ideas, but finding the best ones for a gender-neutral workspace might take a while. In this article, you'll learn how to make the process easier. 
Some Design Principles and Ideas for Home Office Inspiration
On many occasions, you'll have to make different quick calculations before leaving home. You could spend some time wondering whether you'll be able to be your authentic self or have to put on a show to please everyone else. 
It could also happen to someone you know and love - this is much more common than you think. The reality for LGTBQ+ people is that they might have to hide, which could make them feel uncomfortable in their workspace. 
However, things are changing. Nowadays, you have more options than ever to ensure your workstation reflects your personality, style, interests, and preferences. 
If you want to create an inclusive space for everyone, you must remember different principles. 
Firstly, get rid of everything you don't need and that doesn't fit the aesthetic. It's time to say goodbye to that old-fashioned couch and rusty table and welcome new pieces of furniture. 
When looking for inspiration for a home office, you might also want to go for a gender-neutral option if you're sharing it with someone else. Generally speaking, the primary principle to remember (besides throwing away everything you don't need) is the Chinese yin and yang philosophy. 
Home office design ideas often incorporate the yin and yang philosophy because you must combine two energies. Oftentimes, you can define them as masculine and feminine, and everyone has both of them, they just show them in different ways. 
Now that you understand the two principles of designing a gender-neutral space, you might wonder where you can get some work-from-home office ideas. 
Online, you'll find many options, but you'll have to choose the most suitable ones for your surroundings. Here are some alternatives you shouldn't miss out on since they'll be convenient regardless of the style you want to go for: 
1. Choose a Neutral Color Palette
Instead of going for traditionally masculine or feminine colors, you can choose a neutral color palette that evokes a different energy for your home office design ideas.
You could, for example, pick soft pastels and combine them with some dark colors to give the room some mysterious vibes. Alternatively, you can choose a more relaxing option to help you focus while working. 
Neutral prints and art for your walls will also complement the color palette very well, so make sure you incorporate it when designing your workstation.
2. Pick Classic Materials
Metal, terrazzo, limestone, and ivory are some materials that can exude both yin and yang energy, depending on how you combine them. There are many other options, and you can choose what you want based on your budget. 
Nothing is set in stone when it comes to designing your workspace, so you can go crazy with home office inspiration options. Go on Pinterest and check out as many material combinations as you want, list your favorites, and start picking what you'll use for your workspace.
3. Minimalism Is Key
Some people think that being a minimalist means throwing all your stuff away and living like a monk, but that's not the case, especially if you check out different home office organization ideas - you'll notice that many of them follow this style but that the spaces still have various items. 
The primary principle of minimalism is getting rid of what you don't need (or what doesn't spark joy, according to Marie Kondo). Therefore, go through all your furniture and office supplies - you'll probably find stuff you didn't even know you had. Throw it away! 
Your workspace can look much better if it has fewer items, and it'll also help you stay focused while going through your to-dos. Therefore, take some time to get rid of all the clutter.
4. Go for Timeless Alternatives
There are many beautiful modern home office alternatives, but if you want a gender-neutral space, you should add some timeless furniture pieces and decorations to your surroundings. 
When designing your home office setup, make sure you add something that makes it look more elegant. The key to achieving this is to get items and furniture that stand the test of time, for example, some beautiful artwork to decorate your walls or a unique coffee table.
5. Colors Are Your Friends
Many workers are afraid of using some colors when decorating their surroundings because they fear they'll ruin the gender-neutral vibes. However, it's the opposite - if you know how to correctly combine your home office organization ideas, items and decor, you'll improve how your surroundings look. 
You can start with a neutral and soft-colored base and add different accents. If you get tired of them, repaint your walls! There are no rules. Instead, focus on having fun and getting results you love.
6. Enjoy Your Time Selecting Art
An essential part of going through different home office inspiration options is to spend time with people you love. Instead of doing everything alone, you can enjoy the process even more and include them. 
A fun option could be having a friend or two with you while you're selecting the art for your walls. If you'll have a roommate or someone to share your workspace with, they should be part of the process. 
Art and other decor pieces will help you give the room some personality because what you choose reflects your personal style and preferences. Plus, if you purchase the items with someone else, you'll have a special memory to cherish forever.
Home Office Essentials That Are Suitable for Everyone
Finding the right furniture pieces is essential if you want to guarantee you have a neutral home office inspiration. You'll need beautiful pieces that also last a long time, so you must choose your items accordingly. 
At Autonomous, you'll find top-notch furniture options with appealing designs, convenient prices, and fantastic features. If you want a gender-neutral space, here are some options you won't want to miss: 
1. Autonomous SmartDesk Core
If you're putting together a home office, you need a perfect adjustable desk because it's where you'll place all your items, devices, and office supplies. 
When you don't have an ideal desk, you might get distracted because you don't know where half of your things are. 
Autonomous' SmartDesk Core could be the best addition to your home office furniture because it benefits well-being and all-day productivity. 
The table can lift up to 270 lbs with no problem, it has a quiet electric dual motor and a solid two-stage frame to support all your stuff.
Furthermore, since it has a modern design that's available in different colors, it's very versatile. You can incorporate various desk accessories to make it look even better.
The SmartDesk Core has four different programmable settings for you to adjust depending on your needs. Finally, since it includes a five-year warranty, you can contact the brand in case you have any questions or problems.
Top dimension
Small Top: 43"L x 24"W x 1"H
Classic Top: 53"L x 29"W x 1"H
XL Top: 70.5"L x 30"W x 1"H
Frame dimension
27.5"W x 40" - 73"L
Height range
With top: 29.4" - 48"
Without top: 28.4" - 47"
Materials
Top: Warp-proof, MDF wood, natural Bamboo
Frame: SPCC steel
Colors
Top: White, Black, Walnut, White Oak, Bamboo
Frame: White, Black, Grey
Weight capacity
265 lbs
Warranty
5 years for frame
1 year for top
2. Autonomous SmartDesk Pro
Locating the best items might be a hassle if you're going through some small home office ideas because not everything may fit the available space. 
However, the most essential part of the process is making sure you're picking the best alternatives in the long run. Otherwise, you might have to replace them and spend even more money.
With so many home office inspiration options available, it's imperative that you spend some time figuring out which are high-quality items. Autonomous makes things easier because it offers the SmartDesk Pro, which is one of the best tables you'll find on the market. 
It has more power and range because its design benefits the people who do more. The SmartDesk Pro can stand more weight than its sibling, the SmartDesk Core, being able to lift up to 310 libs with ease. 
At the same time, its warranty is longer too - you get up to seven years to contact customer support. The table also has a more powerful, silent motor, so you'll be able to switch its height without being noisy. 
Lastly, since its finishes are classic, the desk will look fantastic in any workspace. It can match your surroundings regardless of the style you pick.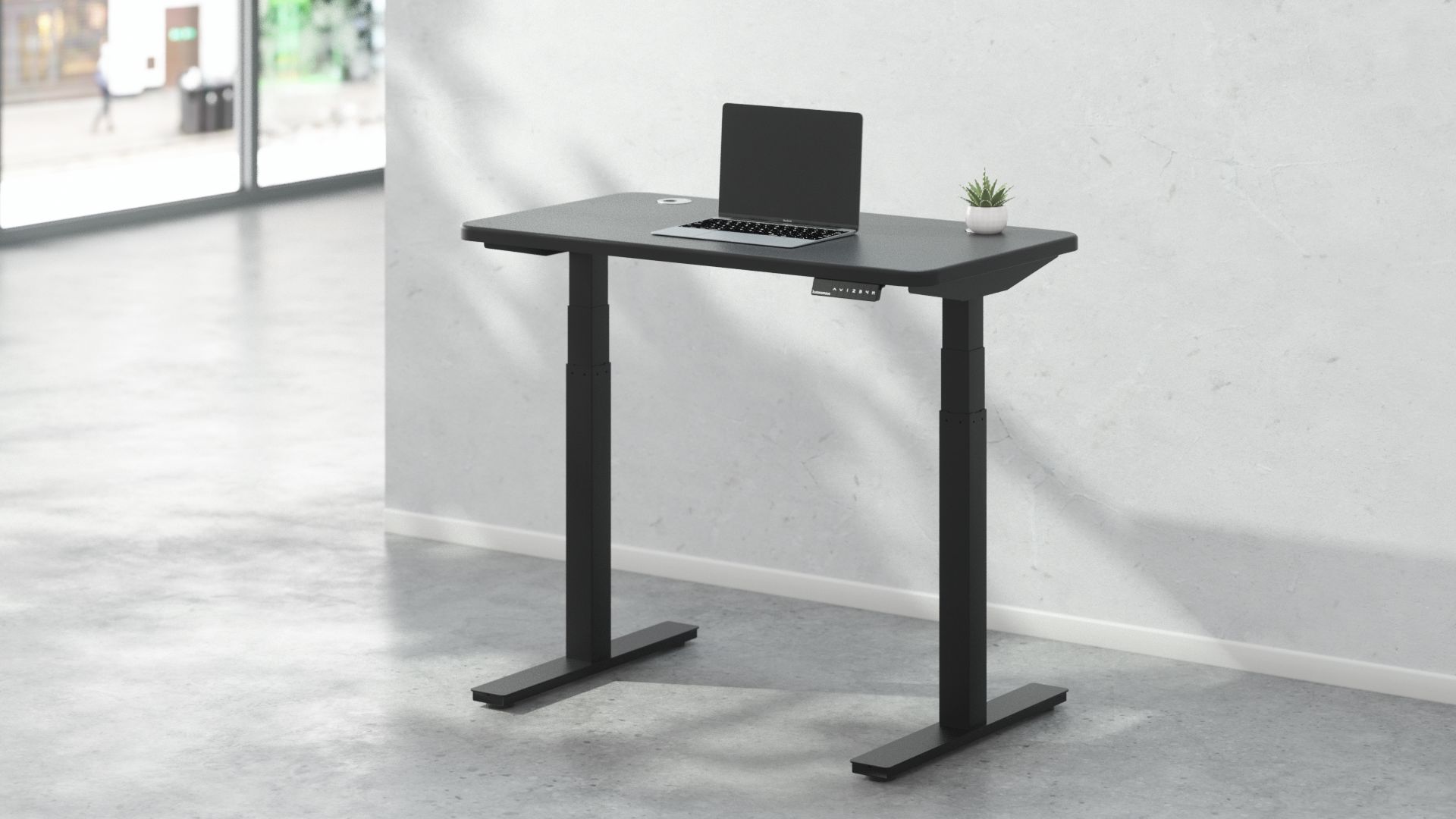 Top dimension
Small Top: 43"L x 24"W x 1"H
Classic Top: 53"L x 29"W x 1"H
XL Top: 70.5"L x 30"W x 1"H
Frame dimension
27.5"W x 40" - 73"L
Height range
With top: 29.4" - 48"
Without top: 28.4" - 47"
Materials
Top: Warp-proof, MDF wood, natural Bamboo
Frame: SPCC steel
Colors
Top: White, Black, Walnut, White Oak, Bamboo
Frame: White, Black, Grey
Weight capacity
310 lbs
Warranty
5 years for frame
1 year for top
3. Autonomous ErgoChair Pro
You need a desk to work without getting distracted, but your home office inspiration also requires an ergonomic chair for you to prevent back pain, tension, and other similar health problems. 
Many people underestimate the importance of having the best chair when they go through different work-from-home office ideas, and they might choose the cheapest option or sit on the couch while they're working. 
If you do that for a long time, you'll most likely start experiencing back, neck, and leg tension. You'll also risk developing chronic issues, which might cause you to feel a lot of pain and discomfort. 
Instead of risking your health, you could get Autonomous ErgoChair Pro. It's comfortable, breathable, versatile, beautiful, and adjustable.
You can change the position of the chair's head and seat tilt, headrest, armrest, and backrest. In addition, it supports up to 300 lbs, so it's a fantastic alternative for big and tall workers. 
The chair reclines smoothly, and you can lock it in five different positions depending on what feels most comfortable. Finally, all the materials Autonomous uses for it are earth-friendly, so getting this furniture piece means you won't be harming the environment.
Dimensions
29"L x 29"W x 46" - 50"H
Seat height
18" - 20"
Materials
Polyester fabric with molded foam interior and durable nylon plastic frame; PU handrest pads
Colors
Cool Gray, Evergreen, All Black
Red Apple, Black & White, Baby Blue
Weight capacity
300 lbs
Warranty
2 years
4. Autonomous ErgoChair Plus
Another top-notch option by Autonomous is the ErgoChair Plus, which could be convenient for you if you want something that benefits movement in your home office design ideas. 
Unlike the ErgoChair Pro, the ErgoChair Plus draws inspiration from movement and dynamism. Therefore, it's the ideal alternative for people who want to do more.
The materials on this chair are environmentally friendly and last a long time since it primarily has TPE and breathable mesh. Moreover, it stands up to 300 lbs, so it'll be able to support your weight with no problems.
 With its spinal support and adjustable features, you'll quickly notice that you're very comfortable while working. The chair promotes natural mobility, so you can move around your office every few minutes and be more productive during your work hours.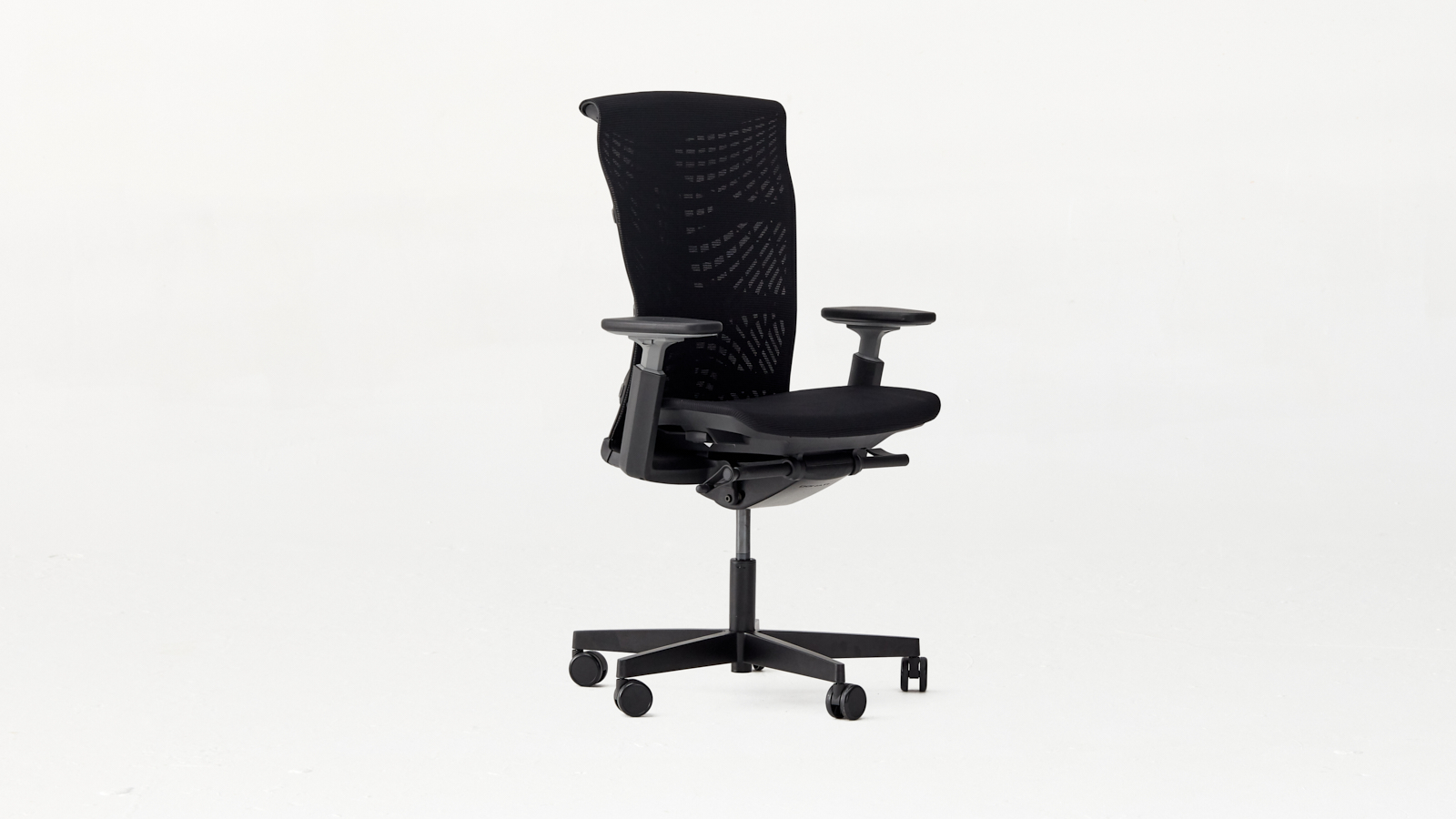 Dimensions
28"L x 28"W x 40" - 44"H
Seat height
17" - 21"
Materials
Naked TPE version: 100% TPE upholstery with ABS plastic frame.
Mesh version: 100% TPE and polyester fabric upholstery with ABS plastic frame.
Colors
Black Frame, Naked Black TPE
Black Frame, Naked Grey TPE
White Frame, Naked Grey TPE
Grey TPE with Blue Mesh
Grey TPE with Grey Mesh
Black TPE with Black Mesh
Weight capacity
300 lbs
Warranty
5 years
5. The Office Oasis Magnetic Desk Organizer
Many home office inspiration ideas focus on the furniture you'll add, but items such as unique desk organizers are also essential because they help you keep your surroundings tidy.
In this case, The Office Oasis offers a top-notch, affordable, and convenient alternative - a magnetic desk organizer. You can customize it depending on your needs and use it to store different office supplies, such as pens, notepads, or even your phone. 
Since the organizer is made of highly durable plastic, it'll last a long time before you have to replace it. Lastly, it's available in different colors, so you can choose the one that fits your office space design.
The Office Oasis Magnetic Desk Organizer
Dimensions
13.5"L x 3.25"W x 3.75"H
Colors
Natural/ Brown/ Black
Materials
Bamboo base with N52 NiCuCi magnets
ABS plastic organizing compartments
Non-Slip Silicone Feet
Include
2 Tall tray
1 Short tray
1 Phone stand
1 Medium tray
1 Post-it holder
1 Magnetic Grid
Warranty
Lifetime
6. Autonomous Filing Cabinet
A filing cabinet is as essential as other home office organization ideas and options to guarantee your surroundings are clutter-free. The option by Autonomous is high-quality, durable, and convenient.
Although it's not the cheapest alternative on the market, it's one of the best options because it has three drawers, an anti-rush finish, and a solid steel frame. Therefore, it'll always look fantastic and it'll last a long time.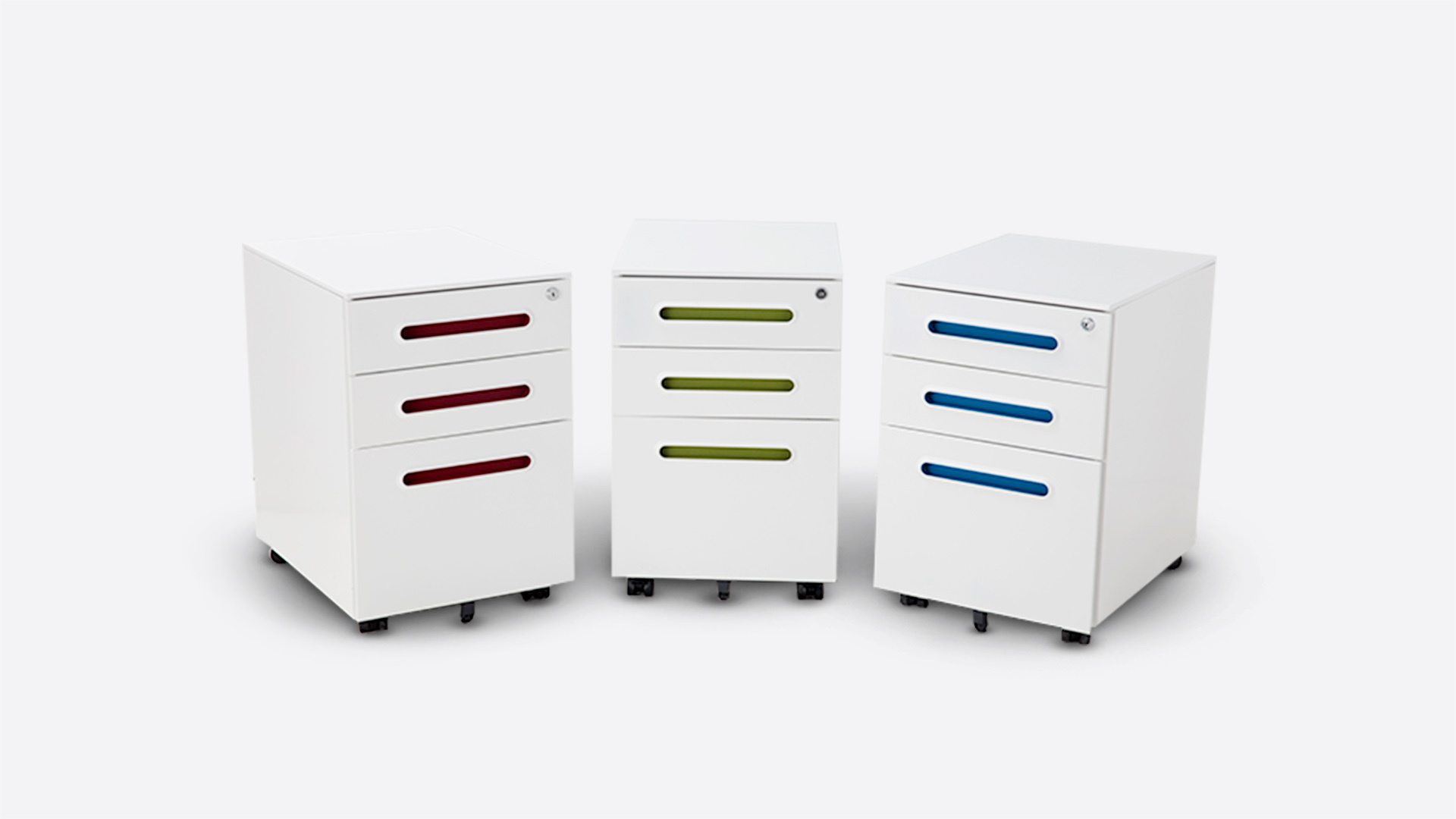 | | |
| --- | --- |
| Dimensions | 15.6"L x 19.7"W x 23.5"H x 46 lbs |
| Colors | Red apple, Evergreen, Cool gray, Baby blue |
| Materials | Steel plate |
| Weight capacity | 275 lbs |
| Warranty | 1 year |
7. Autonomous Monitor Arm
The last item on this list is the brand's monitor arm, which is essential if you have more than one screen or want to adjust yours to ensure it's on eye level. 
You can rotate the arm however you want, and it has a 20" vertical range, duo and single options, and a weight capacity of 26 lbs. Overall, it's one of the best alternatives to keep your screen steady and adjust it to fit your needs.
| | |
| --- | --- |
| Dimensions | 18"L x 19"H |
| Colors | Black |
| Materials | Aluminium |
| Weight capacity | 26 lbs |
| Item weight | 6 lbs |
| Warranty | 2 years |
Final Thoughts
Putting together a gender-neutral workspace can be very fun if you know the principles to follow and find the perfect furniture pieces. At Autonomous, you'll get some of the best options, so it's time for you to choose your favorite ones!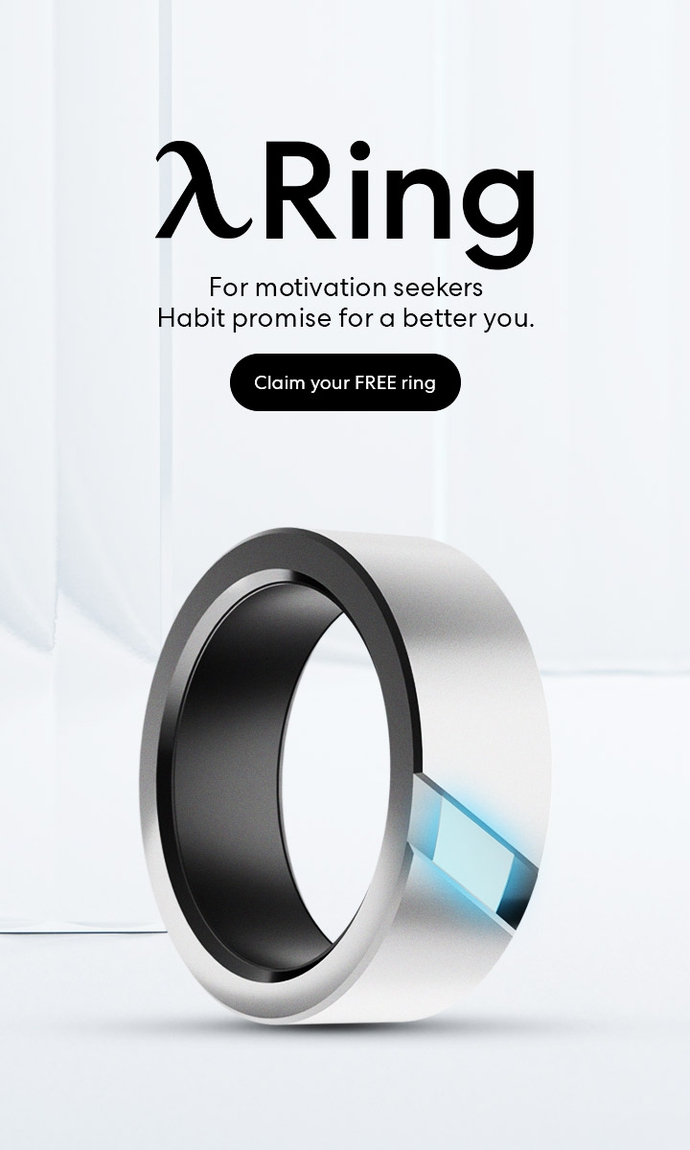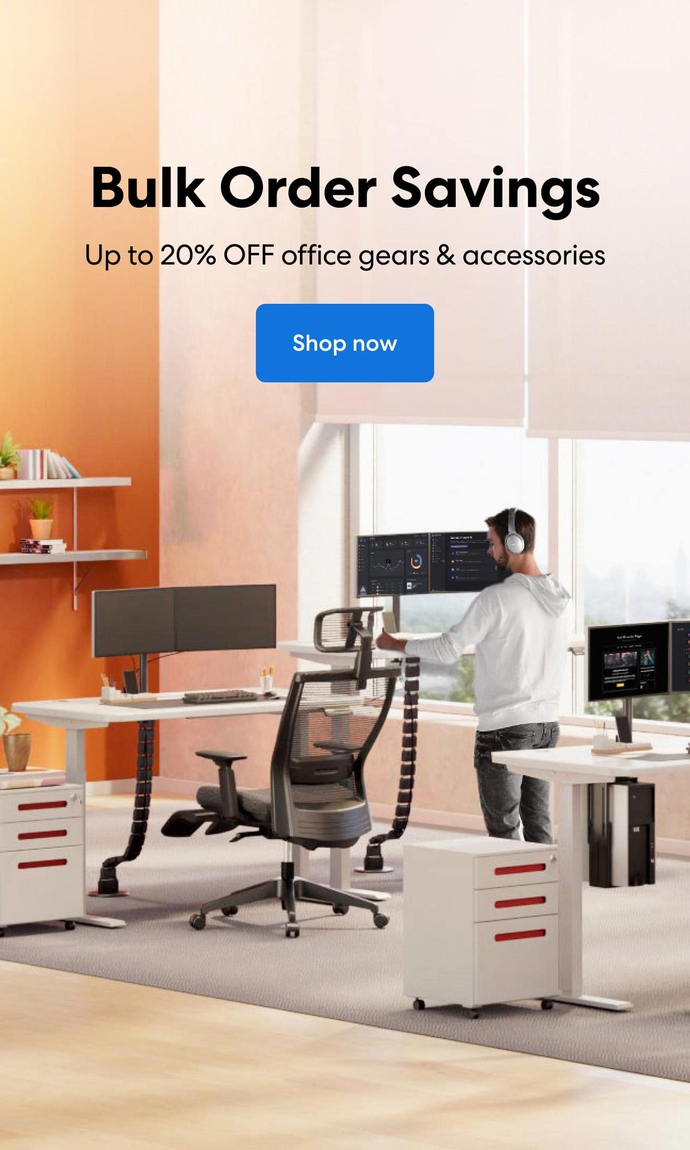 Subcribe newsletter and get $100 OFF.
Receive product updates, special offers, ergo tips, and inspiration form our team.