Smart Products
A Detailed Guide for Monitor Arm Installation
3,422 Views
Are you frustrated with hurting your neck and shoulder to view your computer while slumped on over to your workstation? Don't worry. It's much easier to fix than you might think: add an extendable display arm! Once it concerns locating the right arm for us, there seems to be a plethora of info to wade throughout, but still, this guide will help you make the monitor arm installation process as simple as possible.
Installing your desktop computer frees up workspaces, gives your workplace a smoother finish, and allows you to fit your offices into a relatively small space. You may also modify visual levels and have a much more unique experience with rotation or pivoting mounts, which might significantly alleviate neck and eye fatigue from glaring at your display the whole day. Keep reading to know how to mount a computer monitor.
Install Monitor Arm With These Easy Steps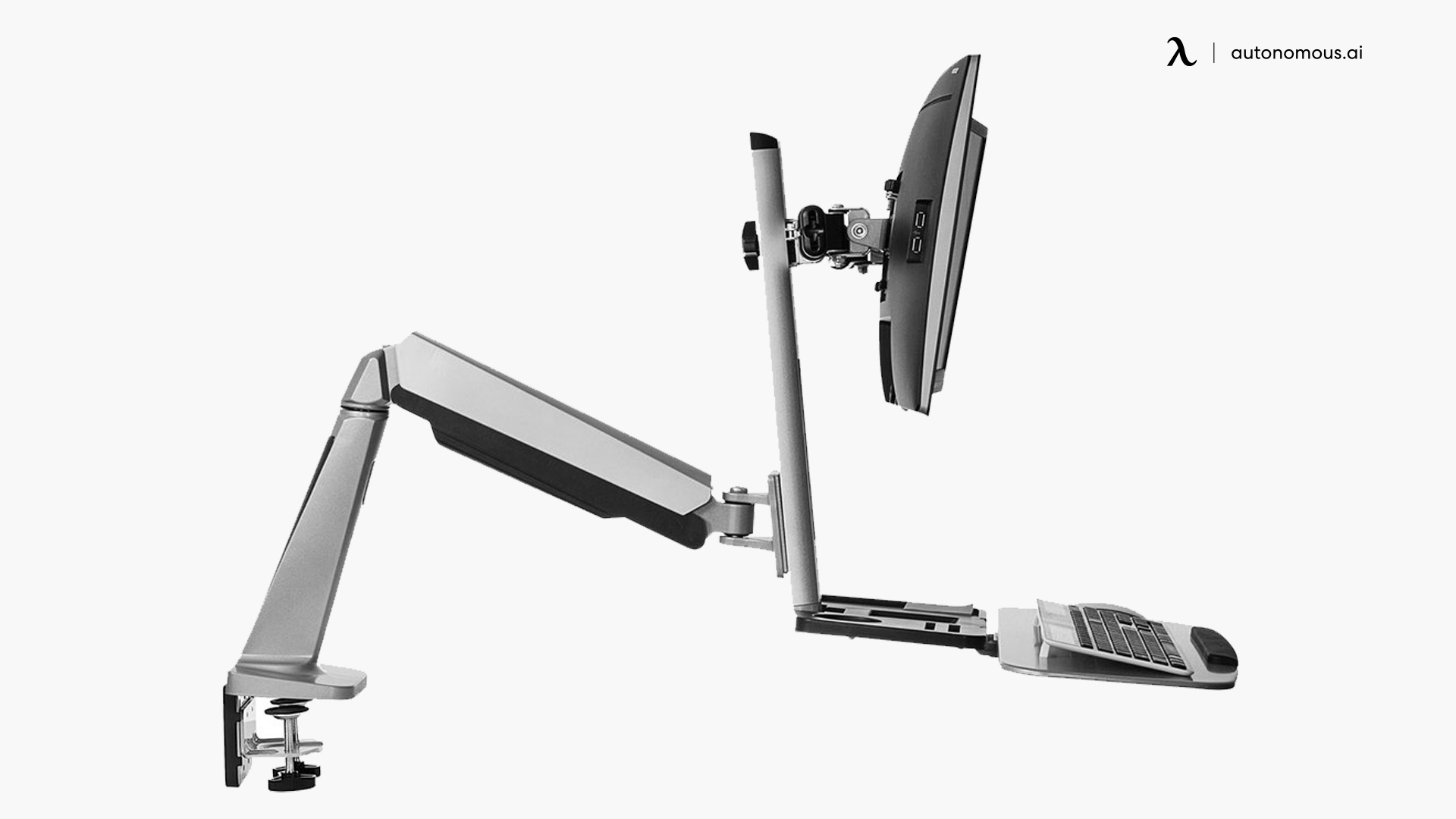 Regarding your display, you get a variety of attachment alternatives that might alter its usage and monitor arm installation process. Your display must be VESA compliant in addition to using those penultimate monitor arms. The excellent thing is that most current monitors support VESA. Look for installation drilled into the backside of your monitor, generally in its steel structure, to see how this can be attached.
How to install monitor arm that has a clamp style: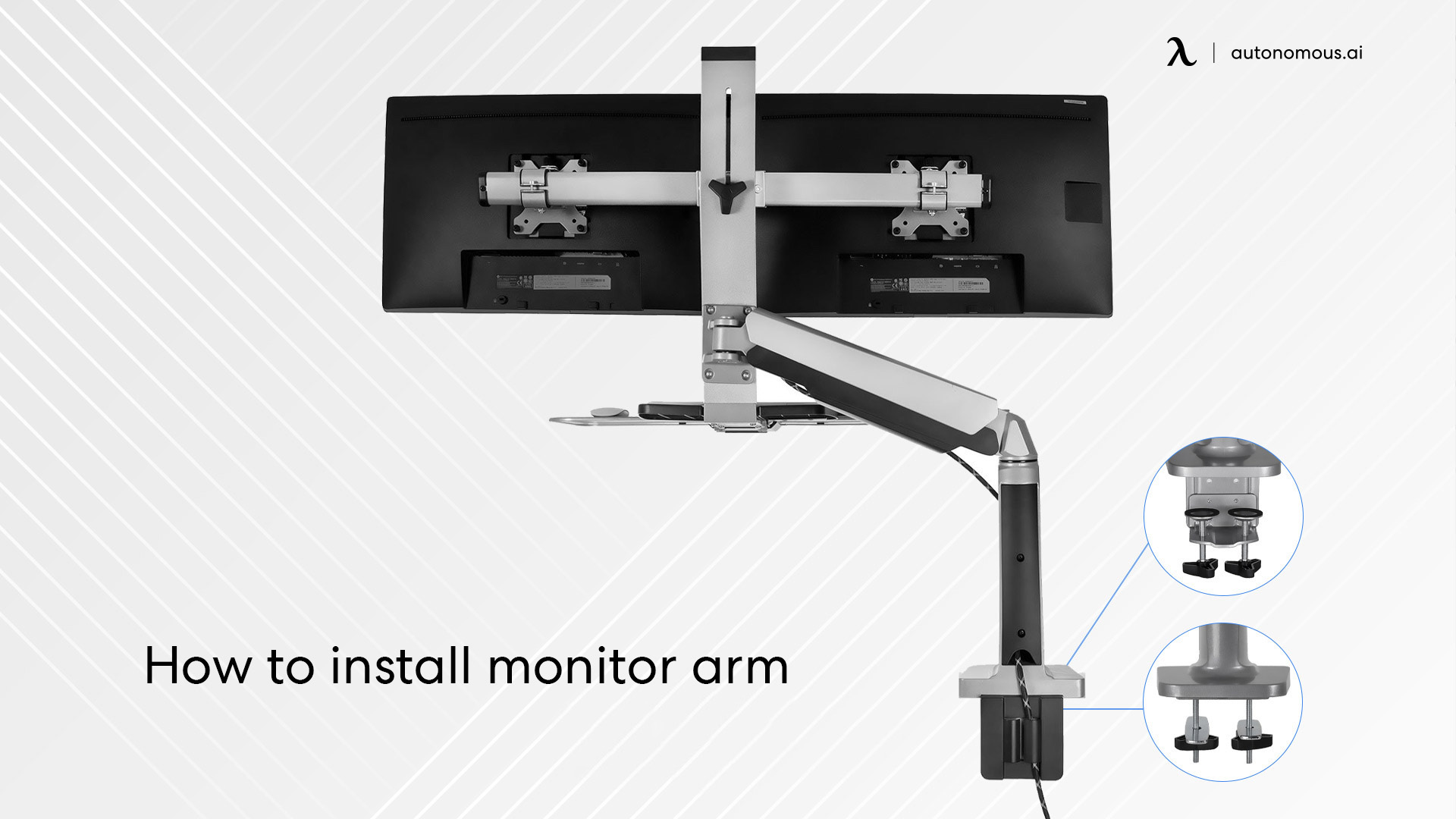 Connect the clip to the connecting arm's underside. Ensure that all of the screws are properly aligned and secured.

Using the provided screws, secure the clamping to the frame.

Turn the knob the other way around to relax the lock. Move the knob counterclockwise to strengthen the clamping and place the mount in the desired area. Tighten the clasp until it is secure, but don't overdo it. Buckling your desk too tightly can result in harm.

Connect your display to the back mounting bracket with the nuts and spacers. Ensure that the structure's pointer is pointing up.

It would be best to slide the screen panel onto the attachment arm. If you are looking for how to fit two monitors on a small desk, repeat the process for either monitor.

Compress the hydraulic lift sleeve to the right tension to achieve the perfect angle. The piston arm is responsible for ensuring that your monitor is relatively balanced. The device could eventually increase your display if that is too light. The tripod may descend if your display becomes too hefty. Out of the box, the piston is configured at reduced strength. The tension adjustment screw is located at the arm's junction. Press the arm and remove the screw to adjust.
Putting a Through-the-Desk monitor arm setup in place: Plenty of the stages are similar to those included in the clamping mounting setup. The key change is that the hex nut design connection replaces the clamp as a desk clamp works basically as a monitor stand riser with adjustable height.
In the underside of the installation arm, bolt in the tripod mounts to support the screw suspension. The anchoring screw could protrude from the surface.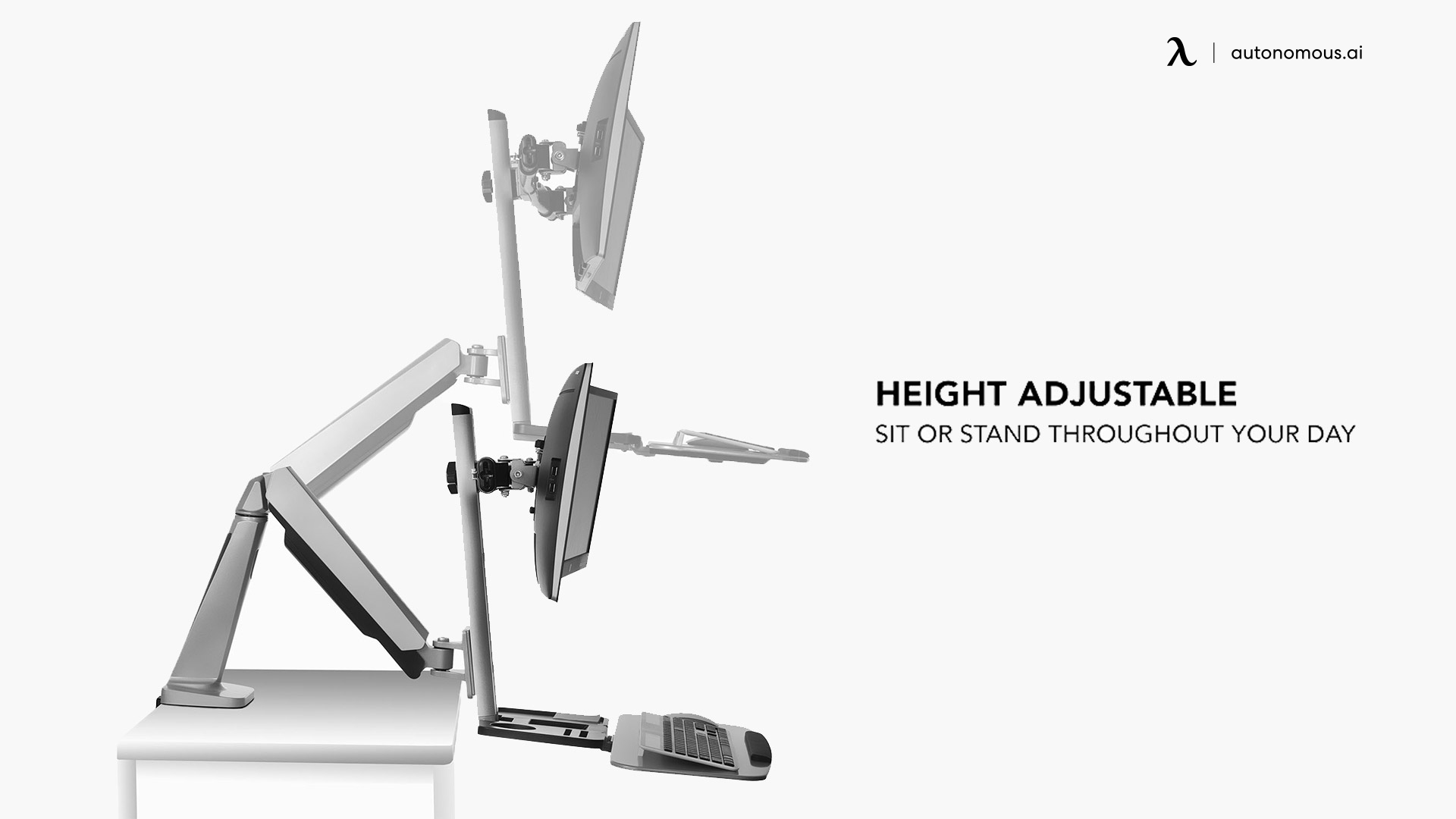 In the monitor arm installation, you need to attach the polyurethane padding to the mounting with tape. It adds padding and sturdiness to your tabletop while also preventing damages.
You're set to go if you already have an opening in your desk, such as the wiring holes seen on many modern office furniture. If your workstation doesn't have a screw or want your mounting to be in various positions, you will also have to cut a hole in it with a drill press significantly wider in diameter than just the fastener.
Through using a gasket and wrench, clamp into the holes. Apply pressure on the screws until the attachment is tight. There shouldn't be any swaying.
After that, put your display on the mounting bracket, move on the installing the arm, and readjust the compression in the gaseous piston.
After installation, you may now carefully attach a monitor to the stand. You must also adjust the viewing angle and the height of your monitor arm to determine the best position for a computer screen. The form factor is beneficial to your general overall wellness, and it can help you avoid discomfort after a prolonged day on the computers. Luckily, with a computer mounted on the wall, changing improvements on the go is effortless.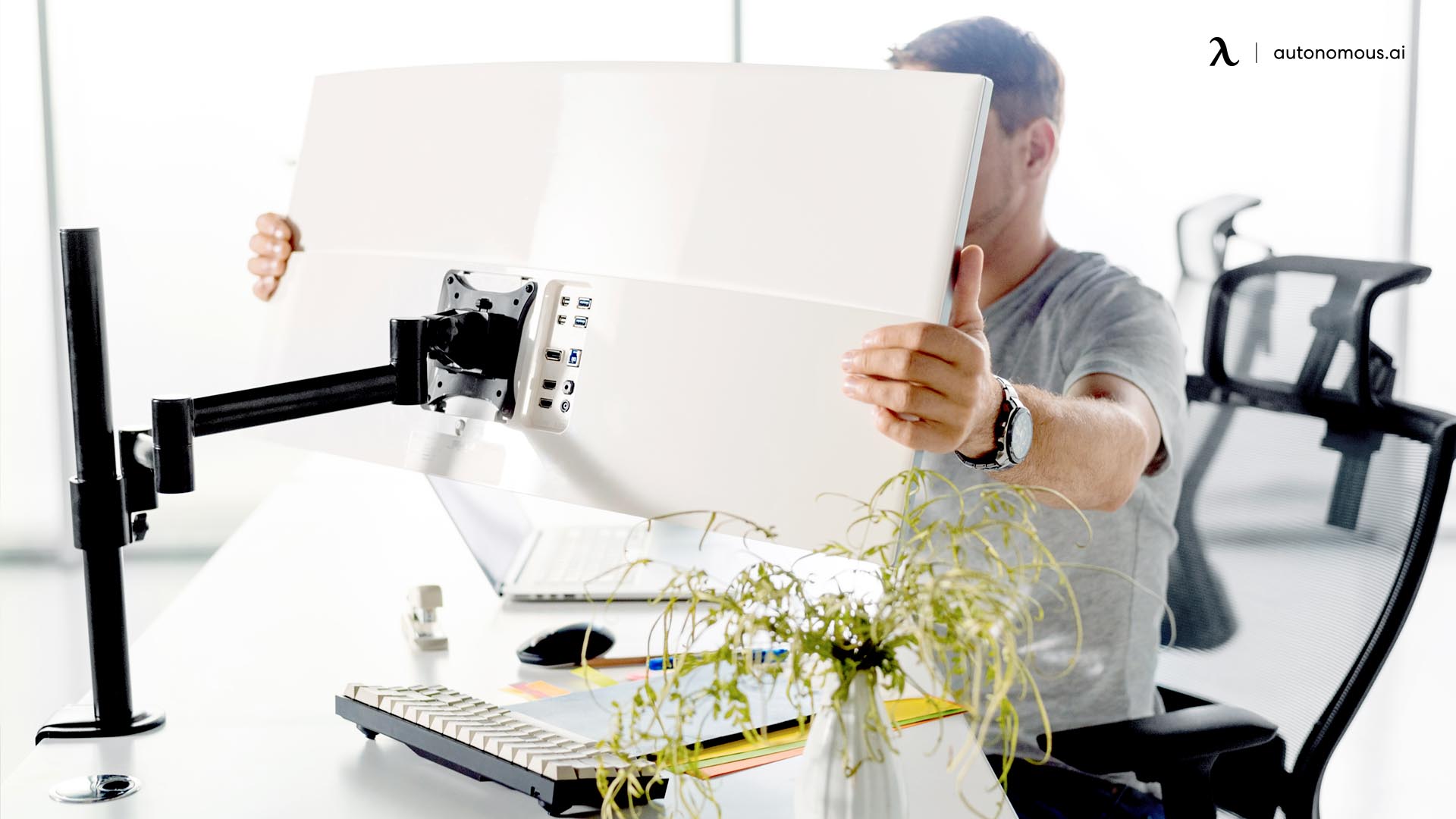 Alter your seating and stance in addition to your display and monitor arm installation. Your feet may lie back on the floor, and your hips should equal it. It might also necessitate the purchase of a footstool. Position your armrests so that you really can keep your forearms over them while keeping your shoulder flexible and relaxed. Your hands also shouldn't strike the desktop, and your keypad should be somewhat beneath elbow level.
Arranging a monitor attachment may be daunting, but it is way simpler and uncomplicated than you might imagine. Installing your display on the arm can strengthen your aesthetics and increase the efficiency of your job. Furthermore, people who wonder how to fit two monitors on a small desk can also utilize monitor arms correctly.
The Best Kind of Mounts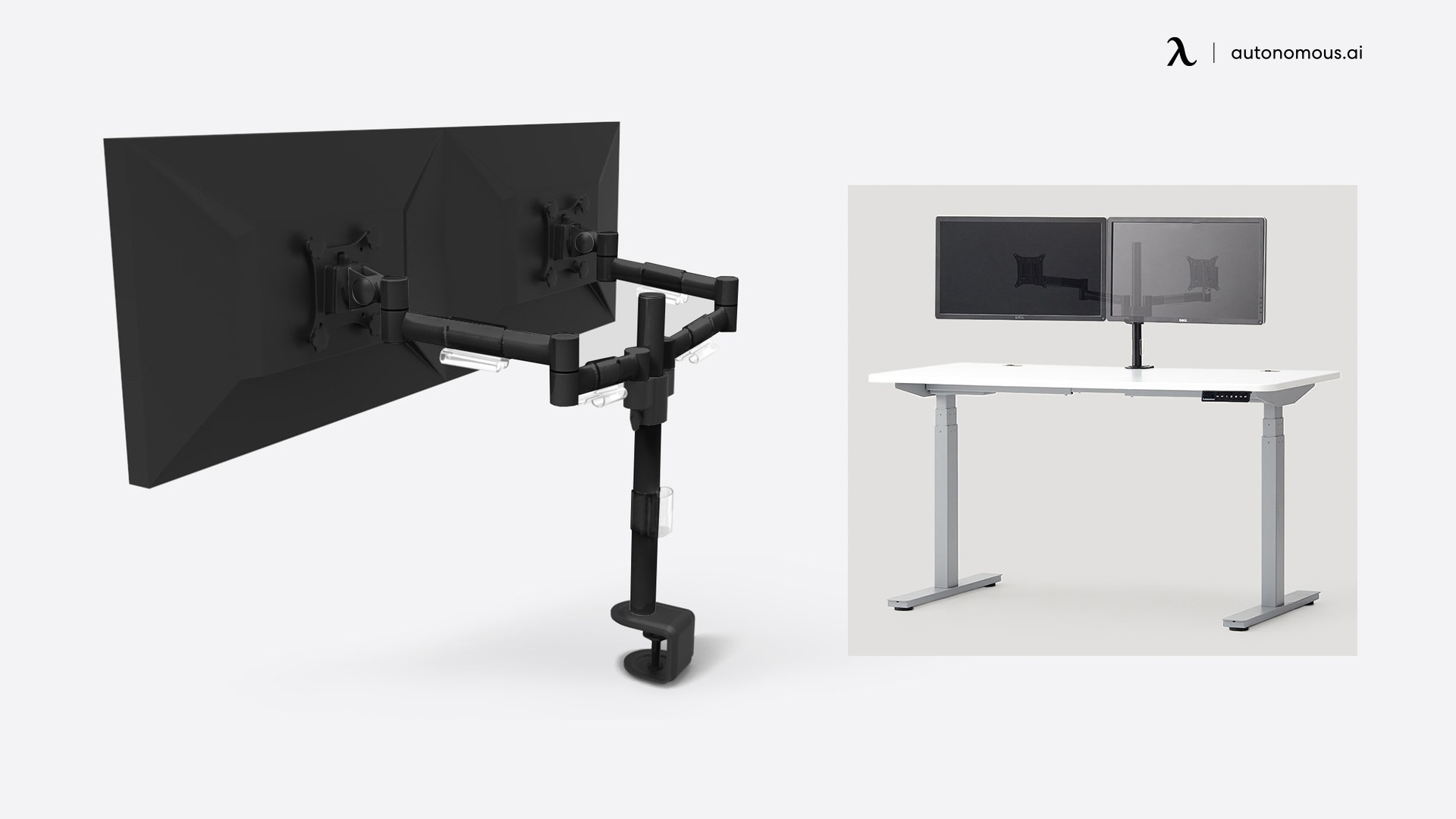 Unlike a laptop desk setup, most monitors already come with stands, but they are not as ergonomically correct as they should be. As a result, visual and postural possibilities are limited, with a few exemptions for finest and gaming-branded copies. It's simple to optimize your workstation by upgrading it with a specialized stand, notably if you have many displays.
Self-supporting mounts are essentially a substitute for a typical display mount or support; they hook to your computer at the front and set on your workstation's bottom like a typical display mount. However, upgrading your base with a second one might allow you a great deal of flexibility, such as a lot more heights (preferably, the center of the monitor should be a little below your line of sight), rotating and panning, and even flipping the monitor into a hemisphere configuration.
Moreover, a wall mount is another option for those who want their computer screen to be visible from any location. These mounts are a common pick for people who seek unfettered workspaces and a pleasant and productive work environment. However, these require a lot of preliminaries due to a limited ergonomic configuration, any need for a dedicated space on a wall (with a stud), and the absence of adequate space for most companies and renting buildings.
Subcribe newsletter and get $100 OFF.
Receive product updates, special offers, ergo tips, and inspiration form our team.
WRITTEN BYAutonomous
We build office products to help you work smarter.