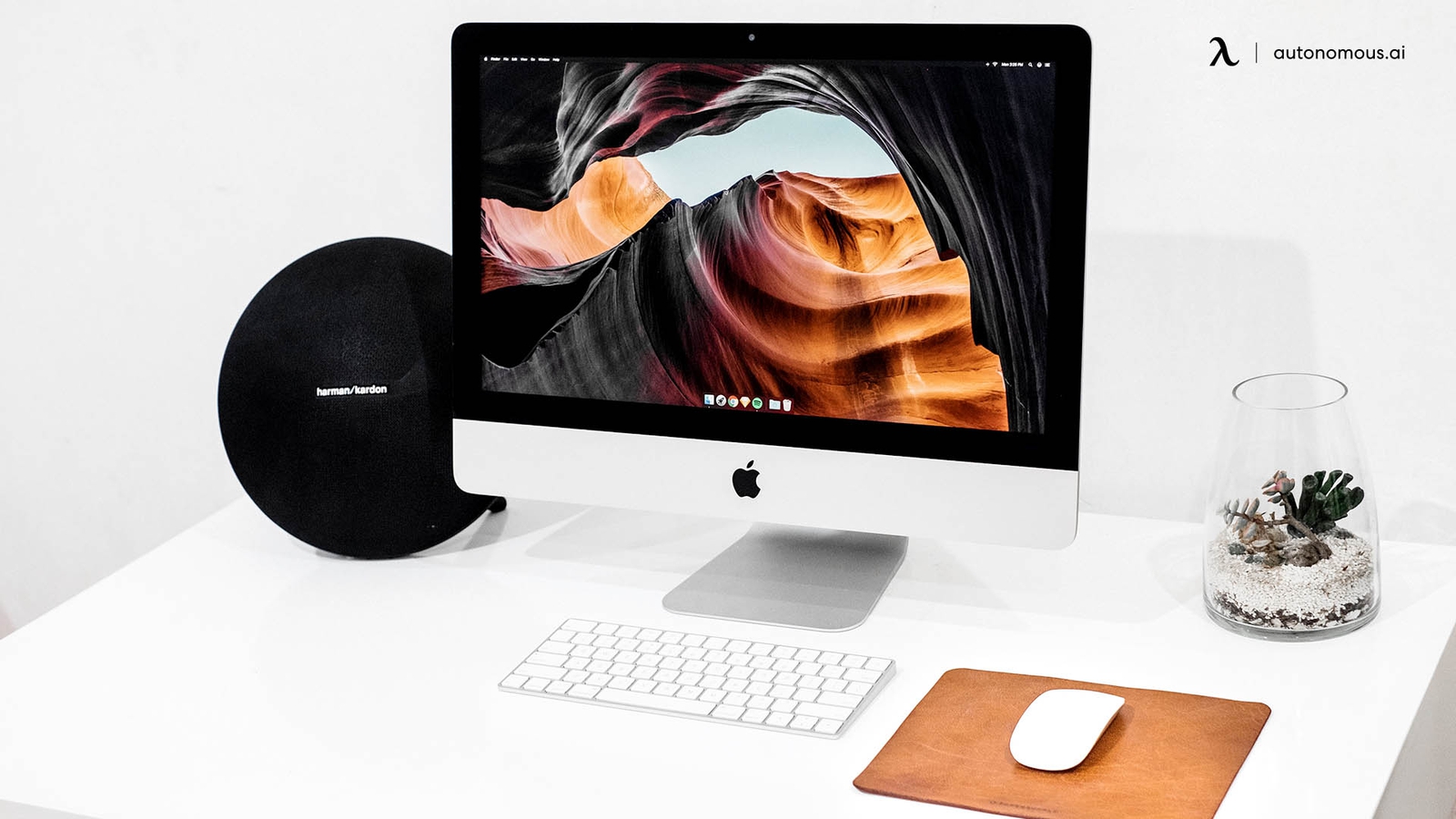 Workplace Inspiration
The Ideal Minimalist Laptop Desk Setup for a Home Office

Autonomous
|
Feb 19, 2021
6,697 Views
The way a laptop desk setup is arranged is generally up to the person using the space. Some people believe in clearing their desks every day, as it contributes to a fresh mindset to take on the next day's challenges. 
The minimalist principle walks along this line. A desk setup with a laptop and monitor can be just as efficient as one that uses a system unit. Furthermore, the laptop can enhance the aesthetic appeal, as opposed to reducing it. An ergonomic desk setup for a laptop is essential, but so is a neat one that is conducive to your productivity through creating a better mental and physical environment. 
So, what do you have to gain from reading this today? Well, the information below should not only teach you quite a bit about the minimalist laptop desk setup idea, but it should also help you to implement it for your laptop desk setup. Without any further ado, it's time to jump into the good stuff! 
Pros and Cons the Minimalist Desk Setup
Pros of the Minimalist Desk Setup
The first item on the agenda deals with the advantages of adopting the minimalist way. What is it going to do for you? Is it even worth your time? Some benefits that should answer these questions for you are: 
There is less to distract you since the clutter typically present with many office desks is a non-issue. You may not realize it, but numerous items on a disorganized desk mess with your attention span. 

Think about the feeling you get when you tidy your room and make your bed. That pleasant feeling can sweep over you at the office when your desk is well put together. 

The free space translates to greater freedom in choosing the order of your work. Sometimes, you randomly work on things based on the files on your desk. With that worry gone, the power is in your hands to work as efficiently as possible. 

You may find that the increased efficiency that

desk setup for minimalist workspace creates translates to other areas of your life, making you more organized and comfortable.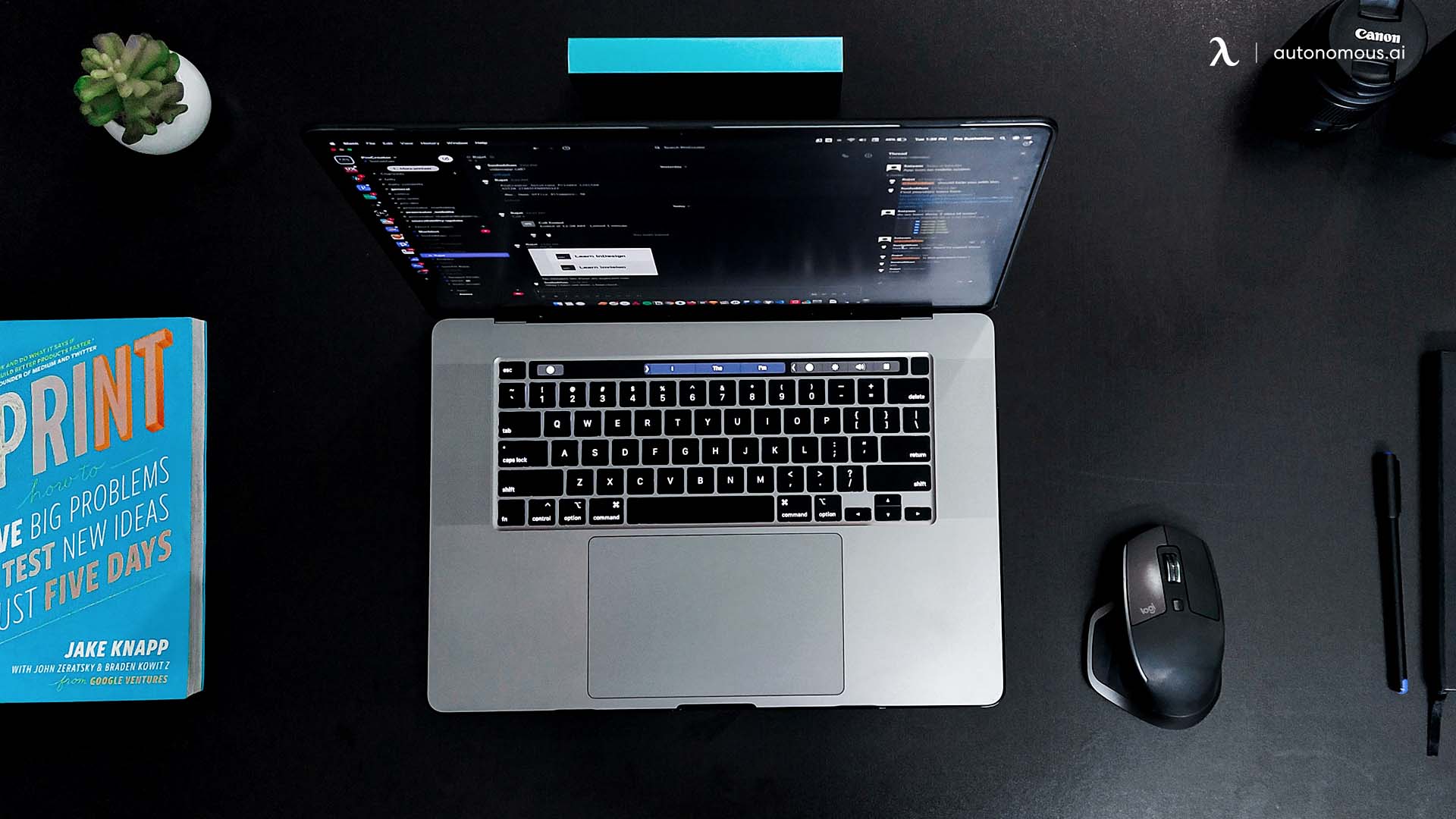 Cons of the Minimalist Desk Setup
Adopting this technique seems like the perfect thing to do for any office worker. So, what disadvantages could it possibly have? There aren't much, but you still want to consider the following: 
If arranging your desk this way isn't the norm, it may be a difficult process to break yourself into it.

Decluttering your desk and getting it to adopt the desired aesthetic is the easy part. For a new person, maintaining that look as you use the desk is where the problem lies. Whatever techniques that work in breaking your habits should be applied here.

Expect some inconvenience in using accessories that aren't readily available on your desk. Under normal circumstances, many of those items would be within your grasp in a pinch. That advantage gets removed, so wrapping your head around reaching for things that are no longer tabletop elements can take some getting used to.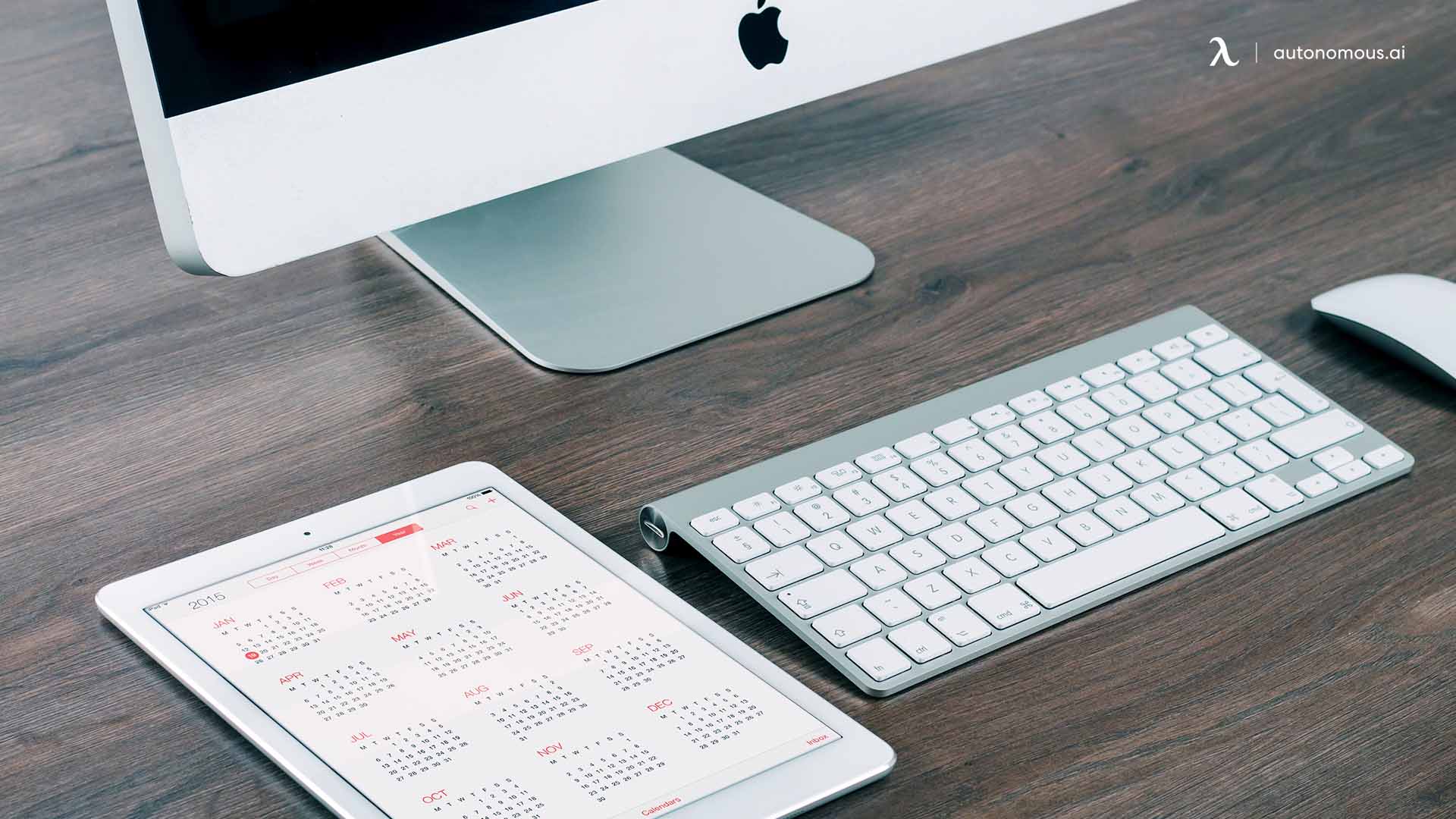 The Minimalist Laptop Desk Setup Elements
Now it's time to familiarize yourself with the various elements of the minimalist laptop desk setup. The information above spoke to the general principle, which includes full desktop PC's. However, the information below uses a tunnel focus on a minimalistic arrangement with a laptop at its center. Even if you are putting a gaming laptop desk setup together, the information here should work for you too.
Consider this almost a desk setup full guide if you aim to join the ranks of many minimalists before you. 
1. Office Standing Desk
It's a good idea to start by getting the obvious piece of the puzzle out of the way. The aim here is to familiarize you with a laptop desk setup, after all. How could you have a desk setup guide with no desk? 
A standard standing desk is not going to do the trick for you. Even if you have the comfortable ergonomic chair discussed below, the body does not benefit from being seated for long hours. Instead, you could be shortening your lifespan, introducing the potential for chronic conditions, creating more physical pain in your life, etc. 
What you need is a standing desk in your office space. If your work area is in your home, you need only locate an efficient office desk that also serves as the perfect home standing desk like SmartDesk 2.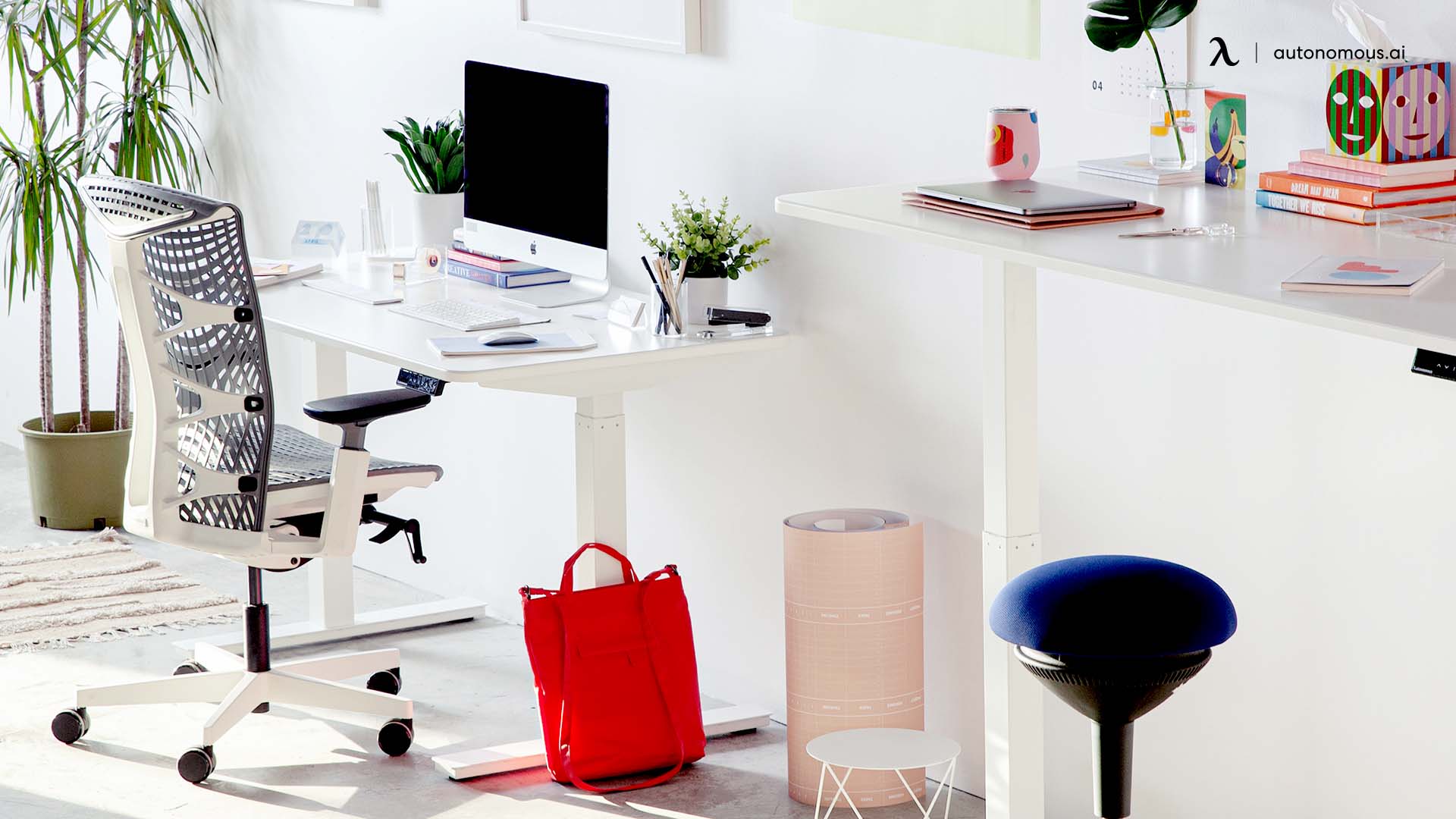 Though sitting for long hours is a problem, you also don't want to be standing the whole day. The best standing desks are adjustable, which means you can use them at both seated and standing positions. The best way to go about proceeding through your workday is by implementing a sit-stand routine. 
Now, what are you going to be placing on the desk? Ideally, the only equipment that should be within view consists of the items highlighted below. Of course, your laptop must be there as well. If not, how are you going to use it all? 
If it doesn't impact the neat aesthetic and the amount of space you have too much, you can get away with placing a couple of speakers on your desk. If you do, ensure that they have the right form factor and that the color scheme does not conflict with the rest of your items. A small plant in a reasonably sized flowerpot is also acceptable. 
2. Ergonomic Office Chair
You're not going to be doing any sitting at that beautiful adjustable standing desk if you don't buy an ergonomic chair like ErgoChair 2. You could try to take financial shortcuts by using a regular office chair, but your body is not going to be very happy about it. Unfortunately, there is no easy way for you to find out about that unhappiness.
Therefore, it's in your best interest to take the right course of action from the beginning and get yourself a proper ergonomic chair. The only part of the chair design that matters to maintaining the minimalist laptop desk setup is it's color scheme and space requirements. 
Never forget that this whole idea comes from a look. It has several functional advantages discussed above, but you can't get there unless things are visually aligned. Generally, you want to select a color scheme and stick with it.
For example, you may choose to go with white. If so, your standing desk is likely to have a white top. A white monitor, keyboard, and mouse also go well here. As far as keyboard stands and mouse pads go, it's OK to use a gray or black one. Your office chair does not need to be white to complete the set. While it can be, other colors such as gray or black are subtle too.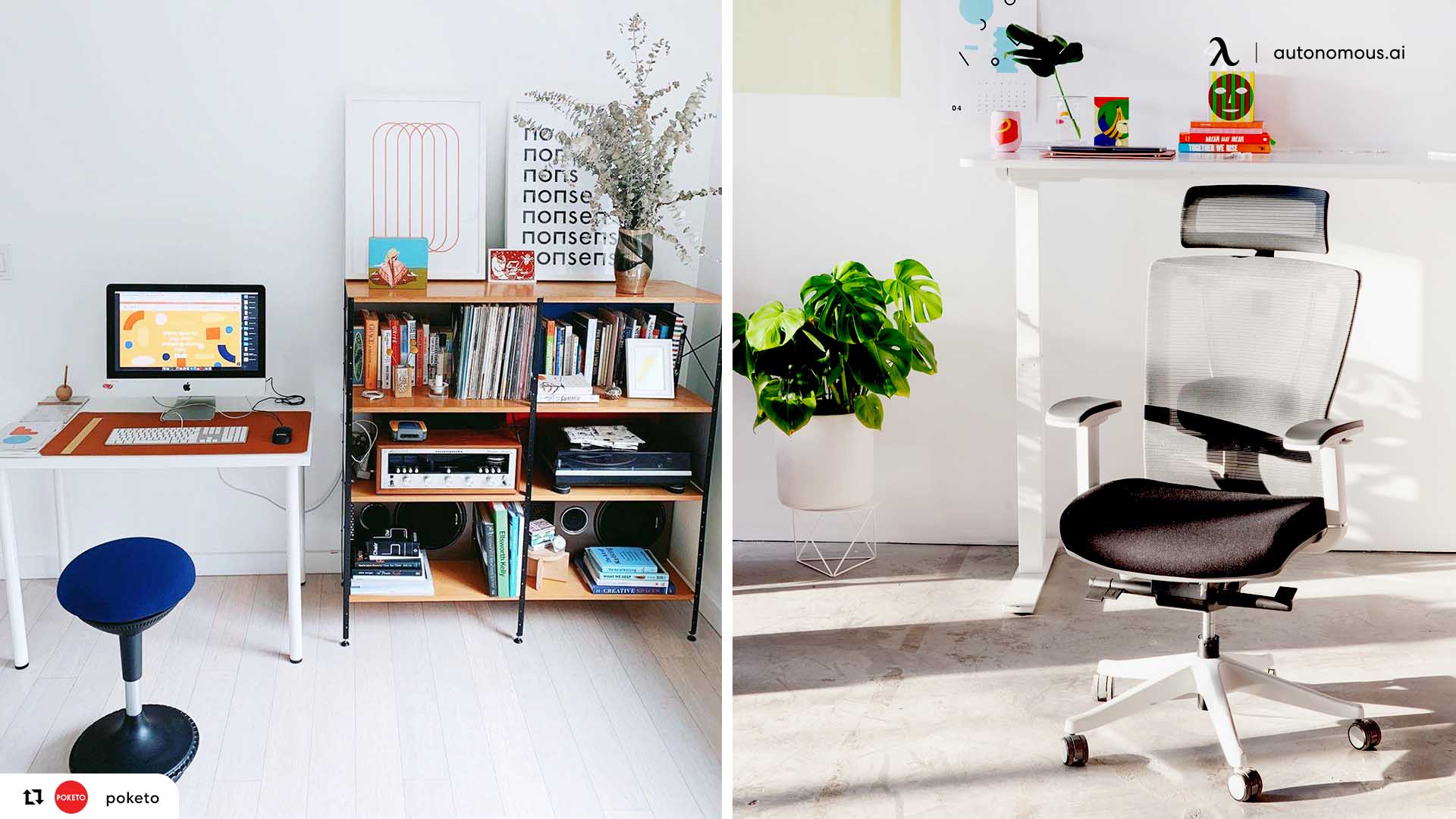 What you don't want is a yellow office chair, for example. Such a color would be hard to find anyways, but it's one of the clearest examples that can give you an idea of an undesirable outcome.
You also want to be thinking of your space as you are making these decisions. Is the chair that you choose going to look too big? Does it fit well with the standing desk you have chosen? If not, can you adjust it enough for it to be both completable and efficient? 
Adjustability is just as crucial to your ergonomic chair as it is to your standing desk. While it has no bearing on the minimalist layout, it does spell either happy days or doom for your body. Lumbar support is not negotiable, for example. Your spine takes a beating from compression when you sit, and proper lumbar support is the only way to mitigate that problem. 
3. Monitor
Do you need a monitor when a laptop is already on your desk? The answer there would have to be a no. Does a monitor enhance the laptop experience, making your workflow more efficient and superior in every way? The answer there would have to be a yes. 
Laptops are made to be self-contained systems. Therefore, if you are called to deliver a presentation at some university or other, it can work independently. That doesn't mean it should have to, though. Some persons who have a minimalist laptop desk setup don't include any monitors in the equation. 
It contributes to minimizing the number of items on the desk, but it's not mandatory for you to go about things that way. It's always better to extend your visual range and operational work capacity by having an additional monitor or two present.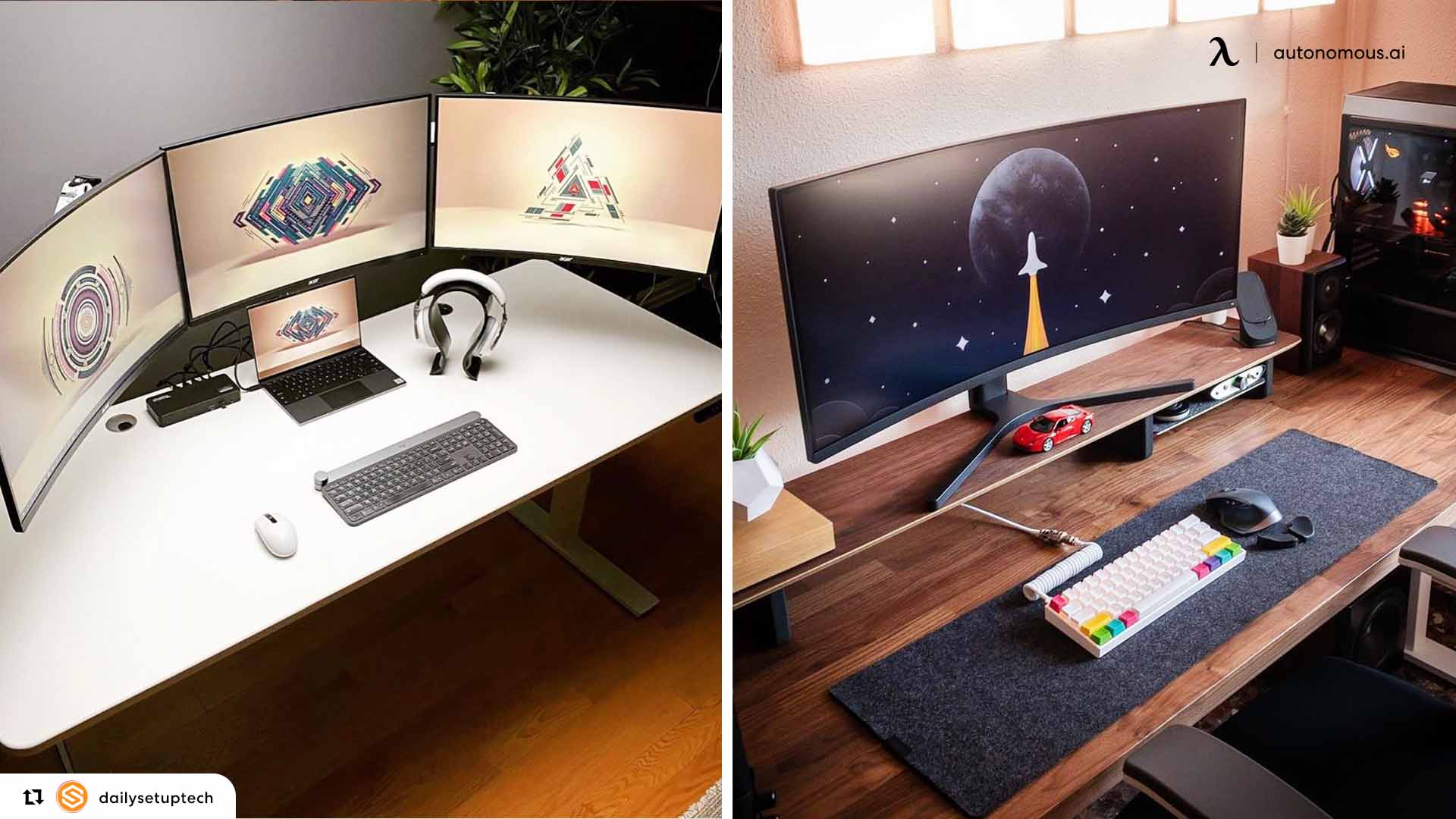 Your concerns should be on how many monitors you use, their sizes, color scheme, and what you plan to do about their cables. 
Try to size your monitors by finding the optimal cross between your visual needs and the size of the standing desk you have chosen. If two 27-inch monitors seem like a drop in the bucket to your large desktop real estate, then feel free to grab two. Note that you can create the illusion of space with multiple monitors by using a monitor arm. There is more on that option below. 
4. Monitor Arm
At this point, you may be very anxious to know how the monitor arm comes into the equation. It's nothing more than a bracket that extends upwards and suspends your monitors in the air.
The arms attached to the screens are movable, which means you get the advantage of flexible positioning. They also rotate, so persons who work better with a vertical screen in the mix can take advantage of that feature.
Note that going vertical reduces the horizontal space that each monitor consumes, which is a great contributor to your minimalist desk setup. If you find that two horizontal screens are too much, consider making one or both vertical. Suddenly, things look and feel a lot neater.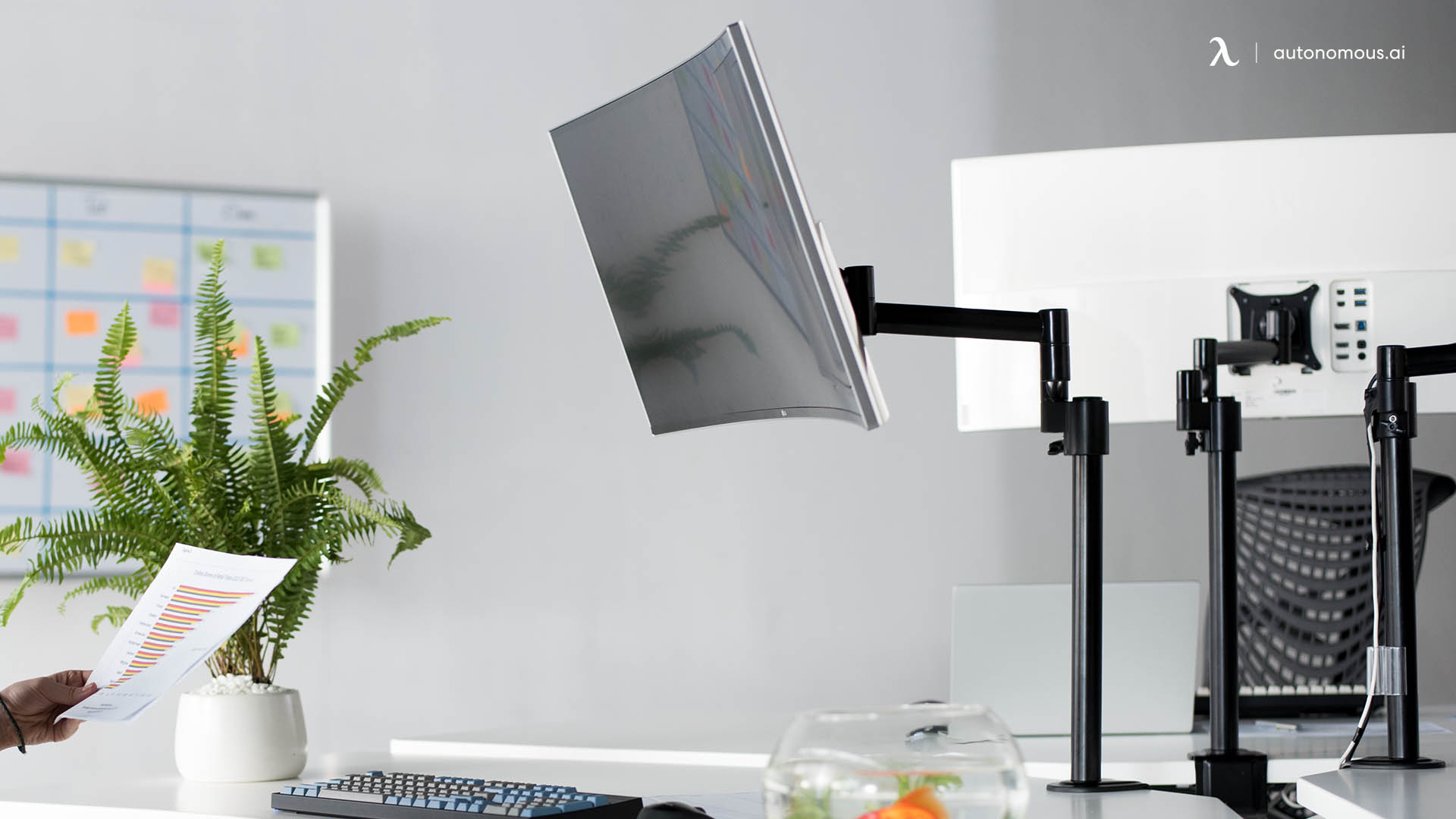 5. Keyboard and Mouse
Unless you're from an era of peripheral technology that humanity has not discovered yet, you are going to need an ergonomic keyboard and mouse to operate just about any computer system. A laptop is a special case because of the self-contained nature alluded to above. That means there is a built-in keyboard present and a mouse pad to go along with it.
Both elements work very well; however, most people would agree that the freedom of a traditional keyboard and mouse makes for a much more efficient work experience. Some persons on the more extreme side of the minimalist principle would not be too keen on getting an external keyboard and mouse. To them, these items are not needed and fall under the category of accessories that need not be present on the desktop.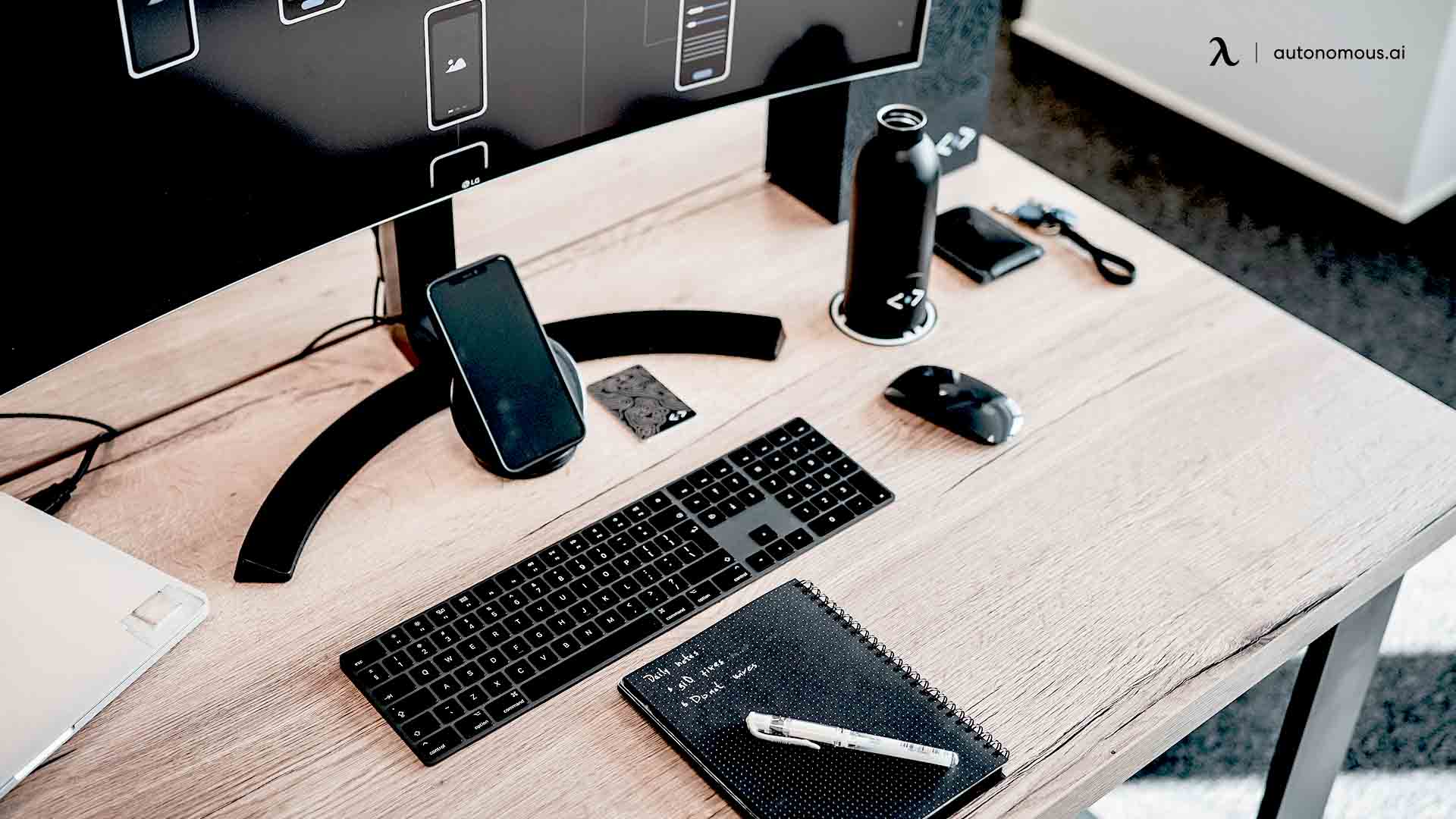 However, the items don't make a difference, and it's improbable that these two peripherals are going to disturb your aesthetic in any substantial way. All you need to do is pay attention to form factor and color.
You may want to consider getting a short mechanical keyboard that does away with the numeric keypad. All standard keyboard buttons to the scroll keys' right are repeats, which makes them technically unnecessary. 
Ensure that the mouse you select is modest, as a huge professional gaming mouse may be a bit too loud for the look you're going for. 
6. LED Desk Lamp
The final element of your desk setup, unless you decide to run with the idea of having a couple of speakers and a plant on your desk, is an LED desk lamp. Ergonomics is a principle that's broader than most people realize. Unfortunately, many office workers and content creators narrow it down to chairs, desks, and sometimes peripherals.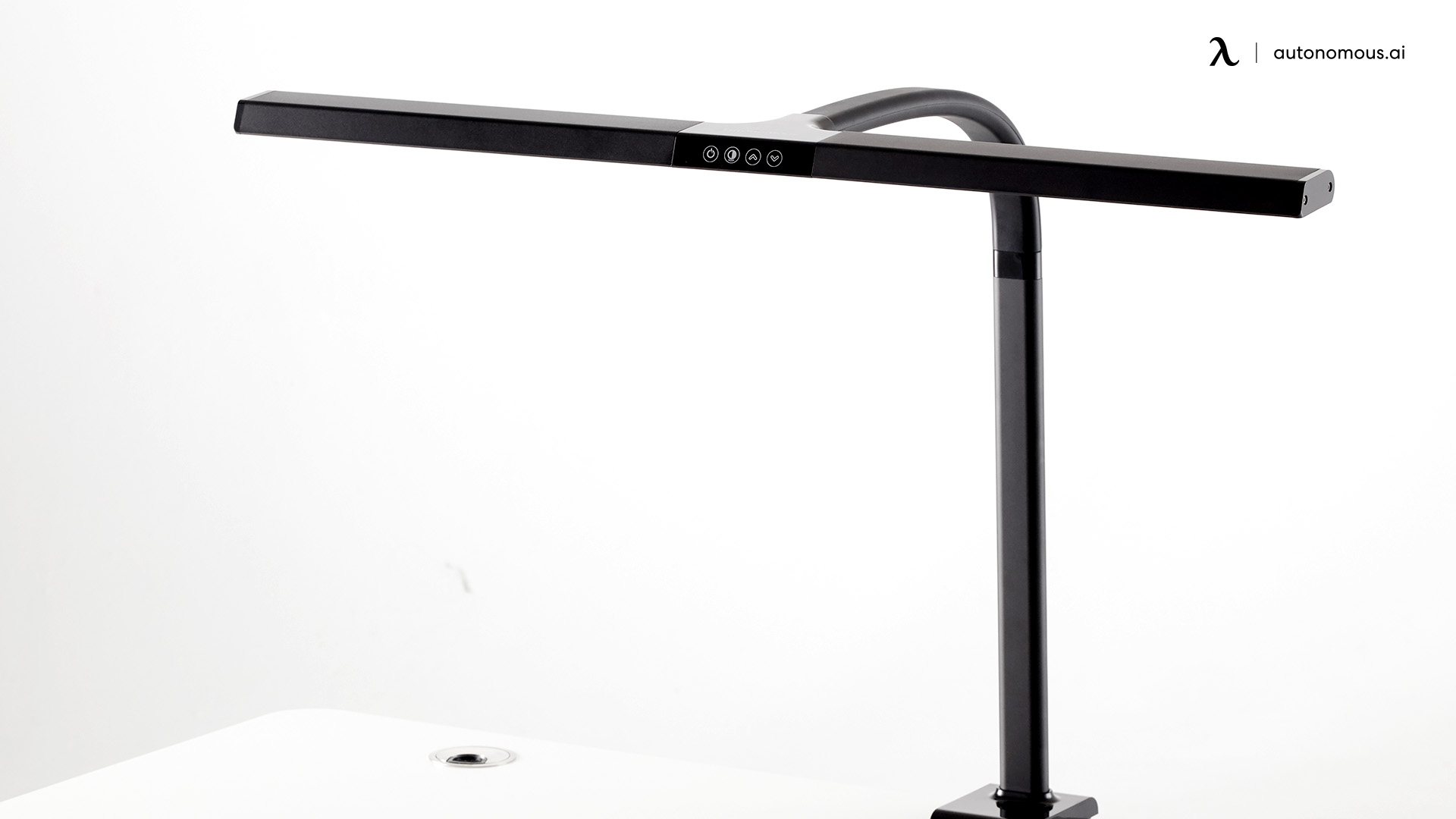 Doing so detracts from the general definition that speaks to the fit between office workers, the equipment they use, and the environment they work in. That definition is supposed to encompass all aspects of the said comfort and fit, including lighting.
Vision is crucial in the office context, and the lighting present can enhance or degrade it. Additionally, improper lighting ergonomics can create unnecessary eye strain, which can have temporary or permanent negative implications on your eyes.
An adjustable LED desk lamp allows you to modify its intensity, so you can use it to balance things with a natural light source. It also gives you more control over potentially using an indirect lighting strategy to minimize the glare you must deal with.
Video ads for product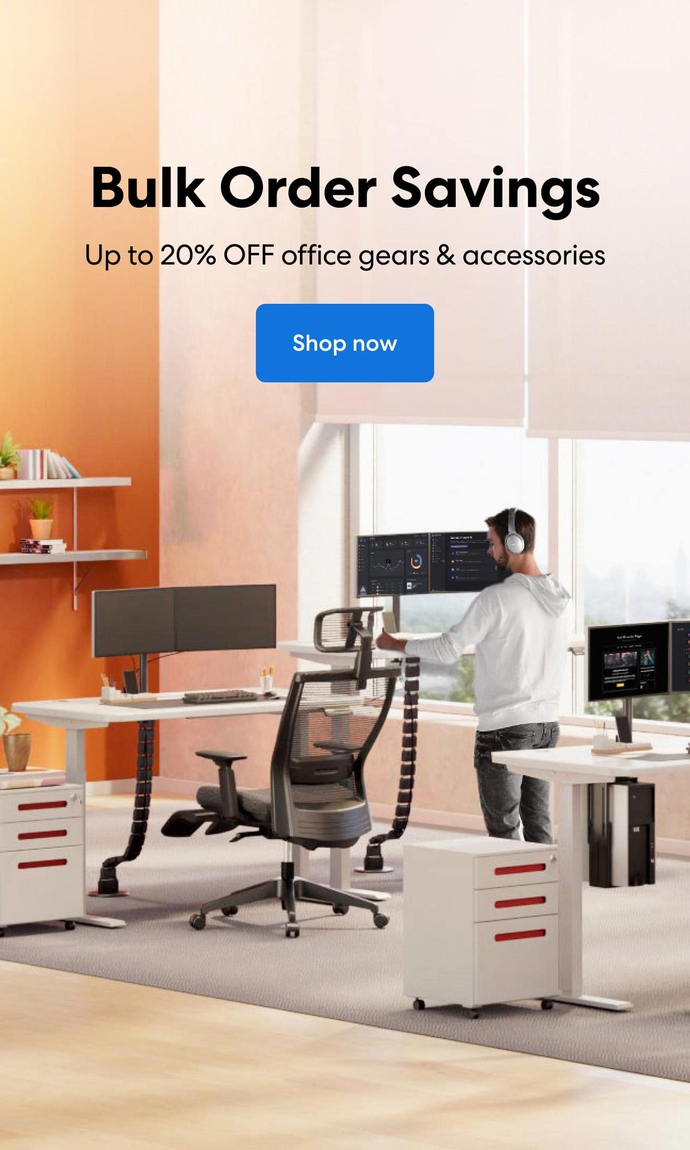 Subcribe newsletter and get $100 OFF.
Receive product updates, special offers, ergo tips, and inspiration form our team.