In 2023, tiny prefab homes are one of the most popular alternatives to traditional houses, mainly because you don't have to build them from scratch. Additionally, they're much easier to clean and repair than regular houses. However, this raises the question of whether these houses will stand the passing of time or not, which can be extremely worrying to those who expect to live there for quite some time. 
However, contrary to popular belief, you have nothing to worry about, as prefab homes can be as long-lasting as a regular house. It doesn't matter if you plan on living in a prefab home for one or 10 years, as the right ones are meant to last for decades before purchasing a new one. 
Still, we know this can be a huge concern for several people who plan on buying one of these pods, so the following article will go into more detail about how and why these houses can be the perfect home for you. 
Average Lifespan of Tiny Prefab Homes
A crucial thing you must be aware of is that no matter what type of tiny prefab homes you have, you will experience some wear and tear over the years. All buildings are impacted by their inhabitants' constant presence, and it can get worse if those who live there have kids or pets, but the real question is whether prefab tiny houses deteriorate faster than regular homes. 
The answer is no, not always.
Although "durability" isn't a word that's commonly thought of when speaking about prefab tiny houses, some of these structures are as durable as regular houses. They can survive for many decades as long as it is properly built and has a solid structure.
However, there are certain aspects that you should consider when wondering how much your small prefab home will last, such as: 
The frequency in which you plan to move. This must be considered because each time you move your prefab home, the whole process takes a toll on it and might damage some structural aspects of the house.
The manufacturing and material of the house. It comes as no surprise that if you get a prefab house from a reliable provider who uses high-quality materials, it will last you for much more than making one yourself.
Overall quality. You can, by all means, build a tiny modular home yourself. Still, the knowledge and expertise of the manufacturer will be crucial in determining whether the house will last for a long time or not, so please make sure to hire professionals to do this work if you don't have enough experience in the field.
Age and number of inhabitants. Tiny prefab homes aren't usually made for hosting a huge family with kids and pets. You might find one of those out there, but please be careful and don't surpass the number of people who can comfortably live in your home, as this will make it deteriorate much faster. Moreover, children won't be as careful as adults when using the house, so they can also cause it to get damaged sooner than expected.
Climate. It goes without saying that the weather affects all houses, and tiny modular homes aren't an exception. If you live in a place where things such as rainstorms, tornados, hail, and snow are common, it is likely for your house to get damaged much faster than if you lived in other areas.
Nonetheless, it is crucial to remember that although tiny homes can get damaged like regular houses, their repairs are much more affordable. If you wanted to change the flooring of your prefab ADU, you would save a considerable amount of money compared to changing the flooring of your entire house. 
What Features Does a Tiny Prefab Home Need for Durability?
The truth is that not all tiny prefab homes for sale will be as long-lasting as others, so you must be aware of the most important features your brand-new ADU must have for it to become your dream house for the years to come. Some of these features include: 
First, your home must be made with screws of the highest possible quality, and you must avoid staples as much as possible. This will ensure the materials of your home won't fall apart as quickly because staples have a reputation for wearing out much faster than screws.

You must also only use insulation and paint labeled as toxin-free. This requisite is crucial for those who live in the house to be 100% safe, as some of these materials can contain toxins that humans can inhale and get long-term illnesses from.

A warranty that protects you against material or manufacturing flaws. There's no such thing as a perfect company, as even the largest enterprises can make mistakes, so you must purchase a 

home office pod from a company that offers a reasonable warranty in case your tiny home gets to you with manufacturing defects.

Finally, the last aspect you must check before purchasing a prefabricated tiny home is whether it comes with a weather-resistant house covering or not. This is important for fighting back against the consequences of harsh weather we previously discussed, which will prevent you from having to make repairs sooner than expected. 
You could also be interested in whether the manufacturer uses energy-saving and green materials to create the houses, as it is always important to take care of our environment and support those companies that do so.
Can Climate Affect the Lifespan of a Prefab Home?
The short answer is yes; extreme weather can damage your sleeping pod and make it last less than expected. Therefore, if you happen to live in an area where harsh weather is expected, you must watch out for the integrity of your house's exterior, as some elements, such as the wheels, roofs, and axles, are more prone to getting damaged in certain climates. 
Moreover, if you don't know whether your area's climate can be considered extreme or not, read the following list of crucial climatic factors that can affect your mobile house: 
Hurricanes. Several states in America are prone to experiencing hurricanes during some time of the year, and we all know how catastrophic their consequences are. This forces homeowners to take precautions if they don't want to spend thousands of dollars on repairs.
Tornadoes. Just like hurricanes, tornadoes can cause entire communities to end up destroyed and uncommunicated from the rest of the country. Therefore, those who live in areas prone to tornadoes must take extra safety measures to prevent their tiny homes from getting damaged.
Flooding and landslides. Dealing with water damage can be a huge hassle, especially if you don't do it right away, as it can create mold and destroy the house's entire foundations. Moreover, you must be careful where you place your tiny house, as landslides can be fatal if you happen to be near one.
Extreme cold. Even if the weather in your area doesn't change too much, if it's too cold, it can freeze up water in the tubes and creases of your home, making them rust and rot. Moreover, snow and hail can highly damage a house's foundation, especially if you use salt to clean up afterward. 
Quick Tips for Making a Prefab Home Last Longer
One of the main reasons people choose prefabricated tiny homes on wheels over those built on strong foundations is their mobility, which gives you a greater sense of independence regarding where you want to live. However, you must be aware that these houses require extra care, so read the following tips on how to make sure your house lasts you for a lifetime. 
1. Be Mindful of How Often You Move
Moving your house around can be tempting, especially if you're a self-proclaimed "digital nomad" who loves traveling and wants to see the world. However, doing this can be extremely dangerous to your house, making it more vulnerable to getting damaged because of jolts and uneven roads. 
Still, this doesn't mean you shouldn't move whenever you want. Just make sure to do at least a yearly check on your house, especially its insulation systems, piping, and water tanks, as this will help you identify and fix any issues that might affect the durability of your home. 
Moreover, please remember that if you try to relocate less often, your prefab backyard studio will experience less damage. We recommend keeping it in the same location for at least six months straight, as this will lessen the possibility of your screws and nails detaching from the structure.
2. Choose High-quality Materials and Manufacturers
We can't stress enough how crucial it is to choose a house with the proper materials that will last for as long as you want. Prefab houses come in all shapes and sizes, so you will find some made of wood, metal, recycled materials, or a mix of all of them. Therefore, check the prefab additions of your house before purchasing it, get to know more about the company, read online reviews, and do anything in your power to make sure you get a sturdy structure to live in.
3. Stay Away from Harsh Weather
It might be difficult for some people to avoid harsh climate conditions all the time, but if you can, please do so. It will allow you to explore states you've probably never been in! However, if this isn't possible for you, at least take the necessary precautions to prevent the weather from damaging your prefab guest house. Some precautions include proper insulation systems, weather-resistant covering, and other protective measures. 
Moreover, after the harsh weather has passed, such as a hailstorm, extreme winds, or snow, you must conduct a thorough roof inspection to find all possible leaks and fix them as soon as possible.
4. Check the House's Piping
It is common for people to forget about doing routine checks on several parts of their homes, but you should avoid making this mistake if you want to save yourself some money on costly repairs. 
Therefore, our best advice is to check for leaks in all vulnerable areas, including your toilet, shower, faucets, plumbing, insulating systems, and water tanks, at least every six or 12 months.
Additionally, please don't procrastinate fixing the problems you find, even if they seem minor, as they can quickly grow into larger problems that will be much more expensive to fix. 
Most Long-lasting Prefab Homes You'll Love
Autonomous StudioPod
The Autonomous StudioPod is one of our most popular prefab studios for sale because it eliminates the need to make constant home repairs and renovations. You only have to install it in your backyard for it to be able to be used as a living, working, or relaxing space. 
Moreover, you don't have to worry about making any extra electrical installments in your small prefab home, as it includes all the HVAC and other connections you may need to be 100% comfortable in it. It also features three lighting choices to fit your mood, whether you're working, gaming, or relaxing.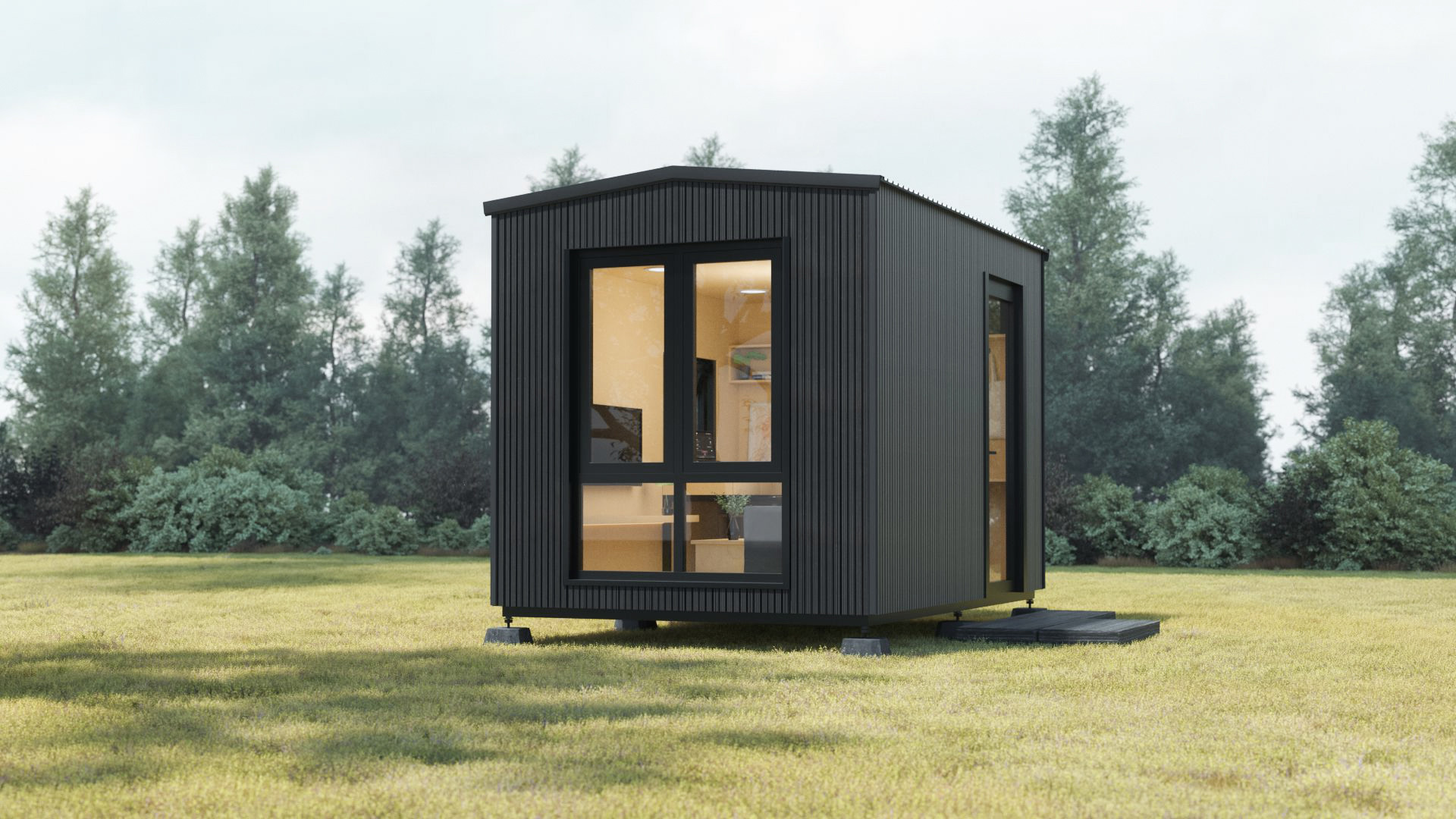 Dimension
8'4"W x 12'6"L x 9'10"H
Floorspace
105 square feet
Ceiling height
7'3"
Weight capacity
2.9 tons
Pedestal
18"W x 43"L x 7"
Window & door material
Powder-coated aluminum,  5/16" tempered glass
Material
Siding: plywood 1/2", steel frame, honeycomb paper, plywood 3/8", bitume, housewrap, vinyl siding
Roof: roof shingles
Floor: plywood
Pedestal: steel frame & wood plastic composite
Electrical devices
RCB, Wall outlet, Ceiling light switch, Ceiling light, Ventilator switch, Ventilator, Ethernet wall port, 66ft power cable with 2 connectors
Include
Optional: Cabinet, Desk, Small & Big Bookshelf, TV Shelf, Foldable Sofa Table, Convertible Sofa Bed. Always included: Electrical Cabinet
Power input
Maximum voltage : 110V AC (US standard)
Maximum current : 25A
Maximum power dissipation : 2750W
Autonomous WorkPod
Now, the next small prefab home we'll recommend is the Autonomous WorkPod, specially designed with home office workers in mind. It features wonderful glass doors that go from the ceiling to the floor and provide enough natural light during working hours. Moreover, this home office pod is entirely soundproof, so external noises won't distract you. 
Having a WorkPod is a great way of creating an office away from your home without dealing with the hassle of commuting to work every day.
Dimension
8'6''W x  11'9''L x 11'H
Ceiling height
6'10'' to 9'4''
Window material
Wooden frame, 5/16" tempered glass
Door material
Anodized aluminum frame,  5/16" tempered glass
Material
Siding: bitumen, housewrap, vinyl silding
Roof: bitumen, housewrap, shingles roof
Floor: plywood
Balcony: composite wood
Include
Optional: SmartDesk Connect, ErgoChair Pro+, Dual Monitor Arm, Cable Tray, Steel Cabinet, Anti-Fatigue Mat. Always included: Electrical Cabinet & Bookshelf
Floorspace
98 square feet
Capacity
2.9 tons
Autonomous WorkPod Lite
The WorkPod Lite from Autonomous may be compact in design but this mighty multipurpose prefab studio shed has the full flexibility to accommodate any space that life calls for. This tiny prefab home is all-weather proof, sound insulated, and pre-wired for instant plug+play power. Looking to make a little extra income? WorkPod Lite is the perfect blank canvas to create and style a private guest bedroom you can list on airbnb, or a private office/hotdesk freelancers and nomads can book by the hour. For fitness gurus, MiniPod is great as a fully functional home gym or yoga studio. Or for families with kids, separate their playroom from the rest of the home and enjoy a little peace and quiet. MiniPod is whatever you need it to be.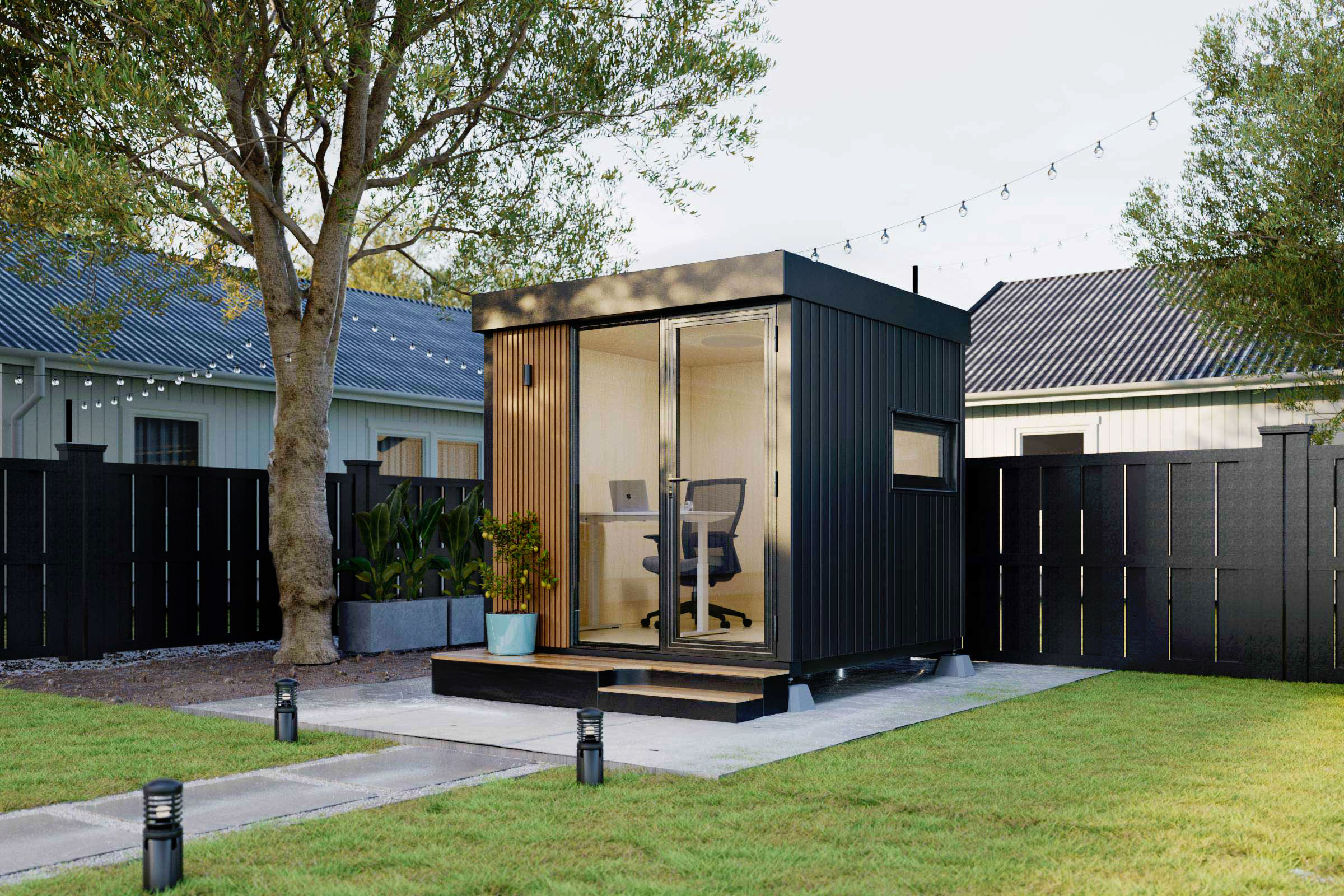 Dimension
8.7"W x 8.12"L x 9.3"H
Material
Window and door: powder-coated aluminum, 5/16-inch tempered glass
Siding: plywood 1/2-inch, steel frame, honeycomb paper, plywood 3/8-inch, bitume, housewrap, vinyl siding
Roof: metal roofing
Floor: plywood
Balcony and Pedestal: steel frame and wood plastic composite
Pedestal
24"W x 103"L x 9"H
Electrical devices
RCB, Wall outlet, Ceiling light switch, Ceiling light, Wall light, Ethernet wall port, 66ft power cable with 2 connectors
Weight capacity
2.3 tons (including Pod body)
Floorspace
80 square feet
Ceiling height
7.3-inch
Bottom Line
Our conclusion is that if you're interested in getting prefab homes in California or other states, it can be a fantastic cost-saving idea, as most of them are created to last for a long time, even after some wear and tear. This makes them much easier and more affordable to maintain than a conventional home, especially when we consider utility bills, which will be significantly lower. 
Moreover, you can check out our wide collection of prefab accessory dwelling units in our catalog.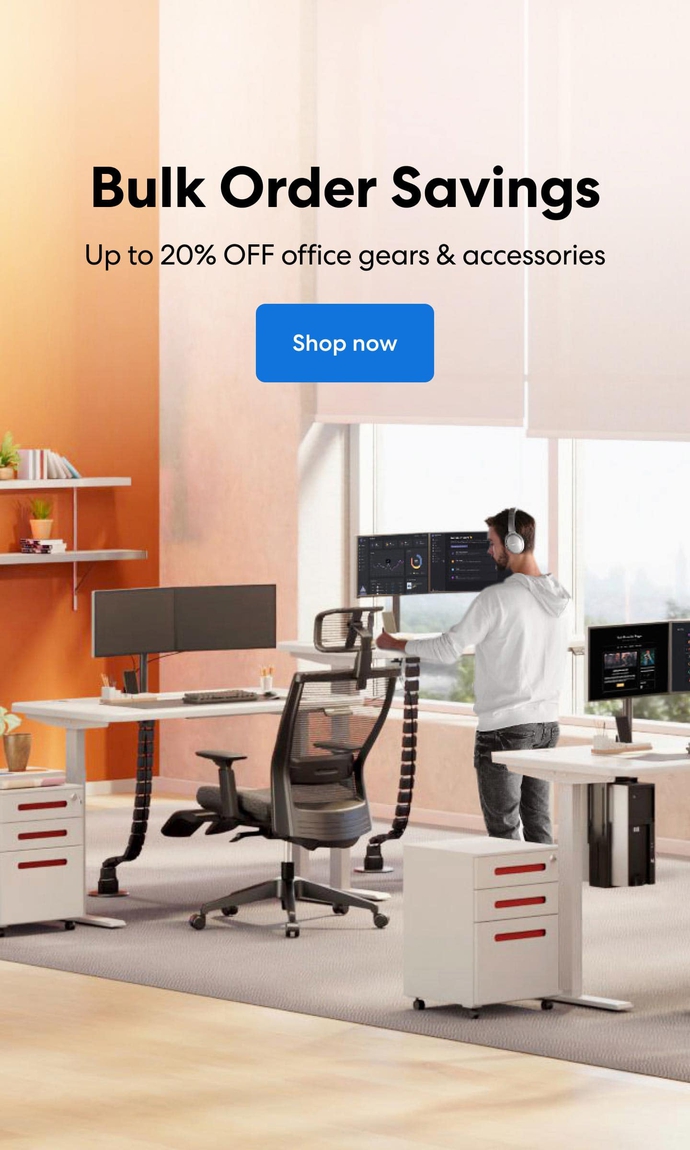 Subcribe newsletter and get $100 OFF.
Receive product updates, special offers, ergo tips, and inspiration form our team.