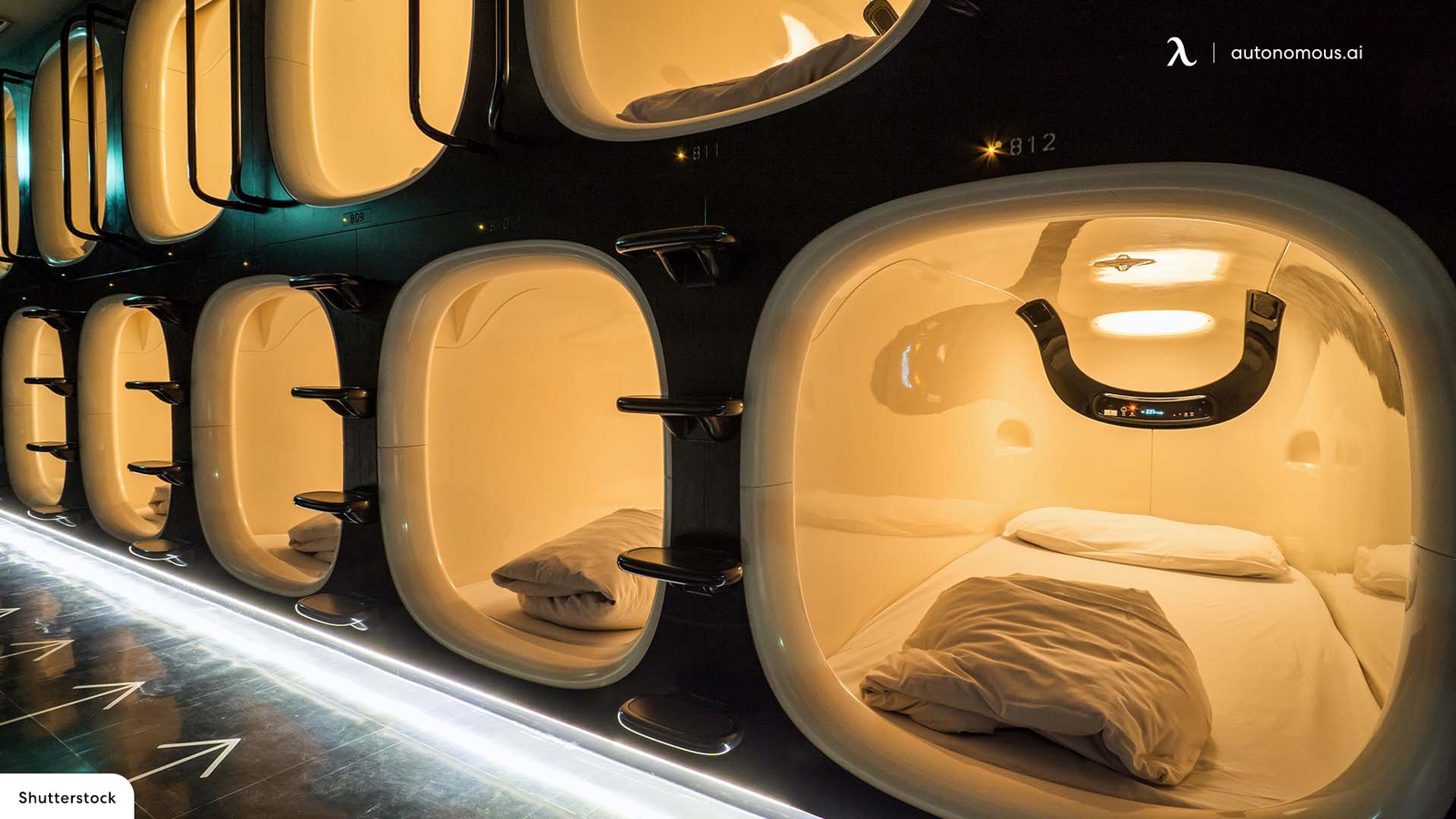 Smart Products
What Is a Soundproof Sleeping Pod? Does It Actually Work?

Autonomous
|
Dec 29, 2021
11,235 Views
A soundproof sleeping pod for home or office could be exactly what you need to ensure that your sleeping schedule stays on track. While sleep should be a relatively easy activity, there are so many unfortunate things that get in the way of letting nature take its course.
Some people go through quite a bit just to get some quiet time and to zone out all the distractions to go to bed. So, it's not very surprising that some people have opted to find themselves dedicated spaces to get some quality shuteye. 
If this sounds like you, you may find that a soundproof sleeping pod is exactly what you need. Are you familiar with that concept? Sleeping pods for home use are not new by any stretch of the imagination, but they're also not the most popular things in the world. 
Walk up to random people and ask if they've ever used a personal privacy pod before. If no one has a clue what you're talking about, that would not be surprising.  
So, why not learn what you can about a soundproof sleeping box while you are here? It's time to dive into the meat of the matter! 
What Is a Soundproof Sleeping Pod or Capsule?
A soundproof sleep shed may sound like something you've seen in a movie, and if that's the way you thought about it, you are not too far off the mark. Indeed, numerous cinematic productions have made use of pod-like devices for either more restful sleep or hypersleep. 
You're way more likely to see this kind of thing in space films. Now, while real-life home pod options are nothing quite as futuristic, there is a base concept that's quite relatable. 
The pod is a small, enclosed structure typically designed to promote better sleep. Of course, controlling sound is a big part of the equation, but there are also other environmental modifications such as temperature, light, and air quality, all of which contribute to a more restful sleep. 
Below, you get to explore four choices that should be at the top of your radar if this idea is something that interests you.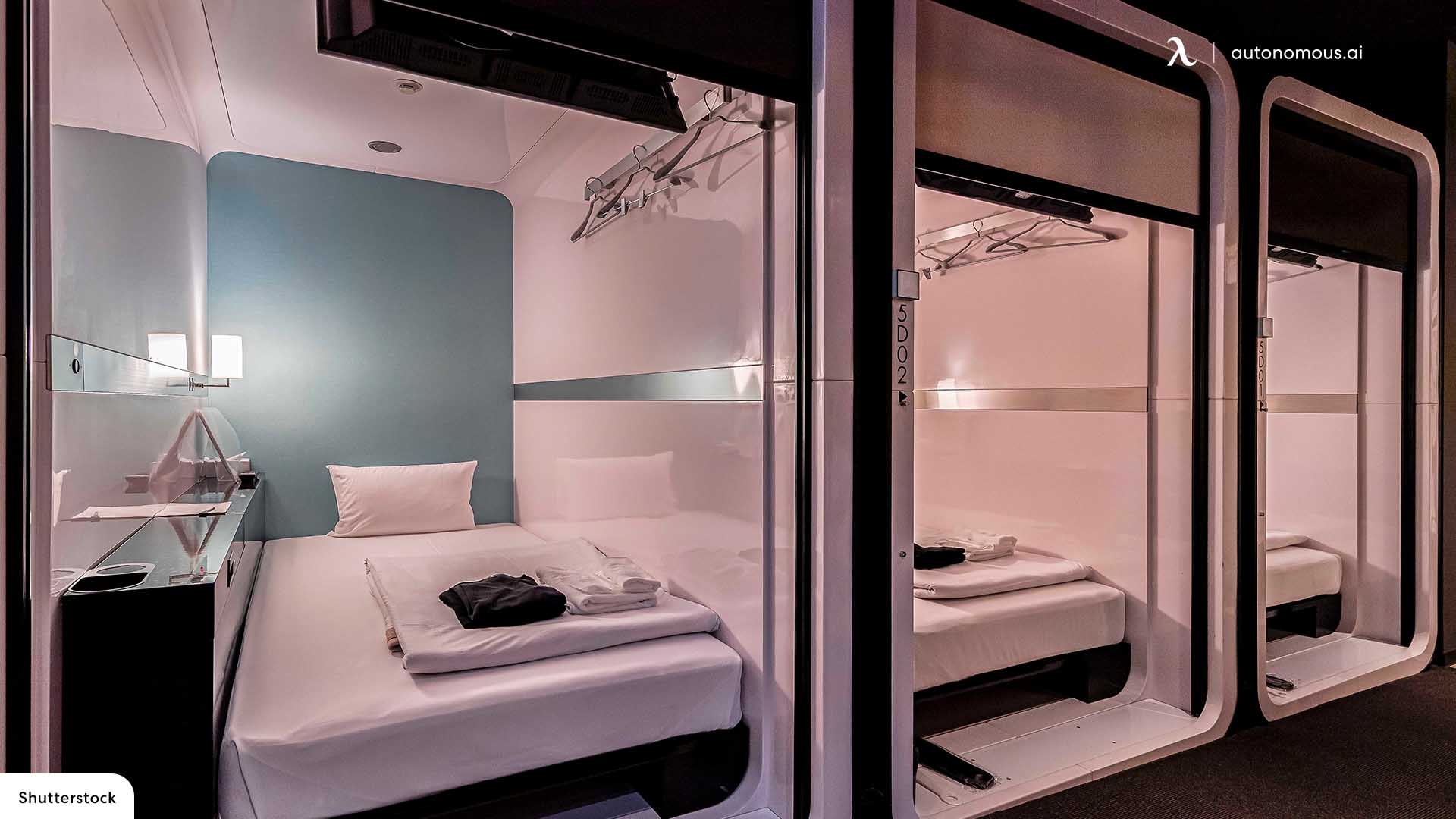 Does a Sleeping Pod Work?
Depending on how you look at things, you could almost interpret this as a rhetorical question. After all, investing in a prefab office shed is all about being able to get better sleep. Imagine spending the required money to acquire something, only to have it not work. 
How disappointed would you be? The short answer is yes, a soundproof sleeping box does work, so there's no need for you to be hesitant about getting your hands on one because of doubts. 
Science has long proven that people get the best sleep when all the "stars" align. Even without every condition being optimal, most people manage to fall asleep easily enough. So, what do you think the outcome would be when resting in a garden office pod where all of those proverbial stars are properly aligned? 
Naturally, the sleeping experience would be even better than the norm. So, now you know that these units are worth it. The question is, at what point should you be looking to get your hands on one? That's where this journey takes you next! 
When Should You Have a Sleeping Pod?
So, what circumstances make it obvious that it may be time for you to get your hands on a soundproof sleeping box? Having trouble sleeping is one of the more obvious ones, but that's not necessarily always an indicator. It has a lot more to do with the reason behind your lack of sleep period.
For example, if you are an insomniac because of medical reasons, then a soundproof sleep shed may not be enough to help you get things back on track. However, along with your medication, your doctor may recommend attempting to put yourself in an environment that's more conducive to restful sleep. 
In that case, your sleeping pods for home is your best bet, since it can optimize your immediate surroundings beyond normal levels. 
Depending on the soundproof sleep shed you buy, there may also be another context in which it could be useful. What if you want the sleeping pod to double as an office space? A big enough and well-built structure can accommodate this too. 
Therefore, if you find yourself unable to work effectively at home because of the relaxed feeling or the distractions available, you may want to consider a soundproof sleeping pod in your backyard or whatever external area gives you the space you need. 
Now, you have all the information you need to understand what a soundproof sleep shed is as well as the context in which it works best. So, how about looking at a few solid choices that should supercharge your slumber?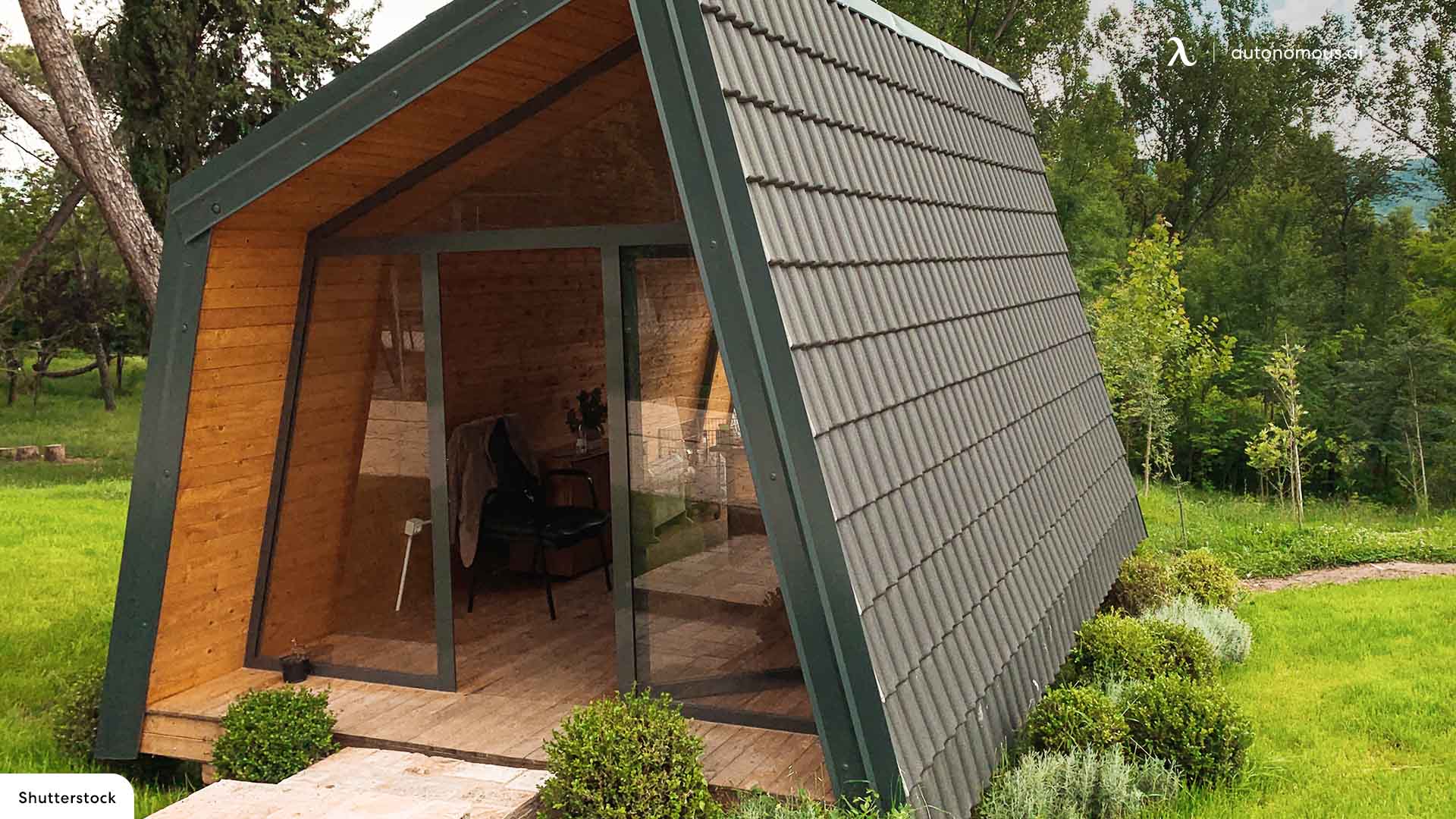 1. Autonomous ADUs
This is what you call saving the best for last. The Autonomous WorkPod is a step in the right direction for this kind of revolutionary design. Who would have thought that one day you would be looking for a special separate structure just to get some sleep in? 
Welcome the Autonomous WorkPod to your fold. It's an outside unit constructed in either your garden or backyard space. Choose somewhere that seems most conducive to your sleep needs and reach out to Autonomous to make your purchase. 
Once you do, installation is completely covered, as the team journeys to your location and assembles everything on the spot. The soundproof and visually pleasing design is nothing short of immaculate, as it's a lot like getting a miniature home just for your sleeping needs.
You have excellent control over the temperature, lighting, and sound, with a Bluetooth speaker system being included for that relaxing music you may desire. Note that necessities, such as electricity are also handled. 
Dimension
8'6''W x  11'9''L x 11'H
Ceiling height
6'10'' to 9'4''
Window material
Wooden frame, 5/16" tempered glass
Door material
Anodized aluminum frame,  5/16" tempered glass
Material
Siding: bitumen, housewrap, vinyl silding
Roof: bitumen, housewrap, shingles roof
Floor: plywood
Balcony: composite wood
Include
Optional: SmartDesk Connect, ErgoChair Pro+, Dual Monitor Arm, Cable Tray, Steel Cabinet, Anti-Fatigue Mat. Always included: Electrical Cabinet & Bookshelf
Floorspace
98 square feet
Capacity
2.9 tons
If you want it to double as an office space, it can. You could even take it a step further and get the work pod variation that is bundled with outstanding office furniture from the Autonomous SmartDesk and ErgoChair lines. What more could you ask for in a soundproof sleeping pod?
A modern prefab studio shed that can be built in a matter of hours or days in your backyard. You may live, work, play, and create in your dream backyard studio pod. A desk, a closet, shelves, an electrical cabinet, a coffee table, a TV stand, and even a sofa sleeper are all included in the fully equipped package.
This stand-alone apartment is of the finest caliber, with seven layers of walls that serve as insulation, soundproofing, and weatherproofing. As soon as your StudioPod is fully linked to a power source, you can move in.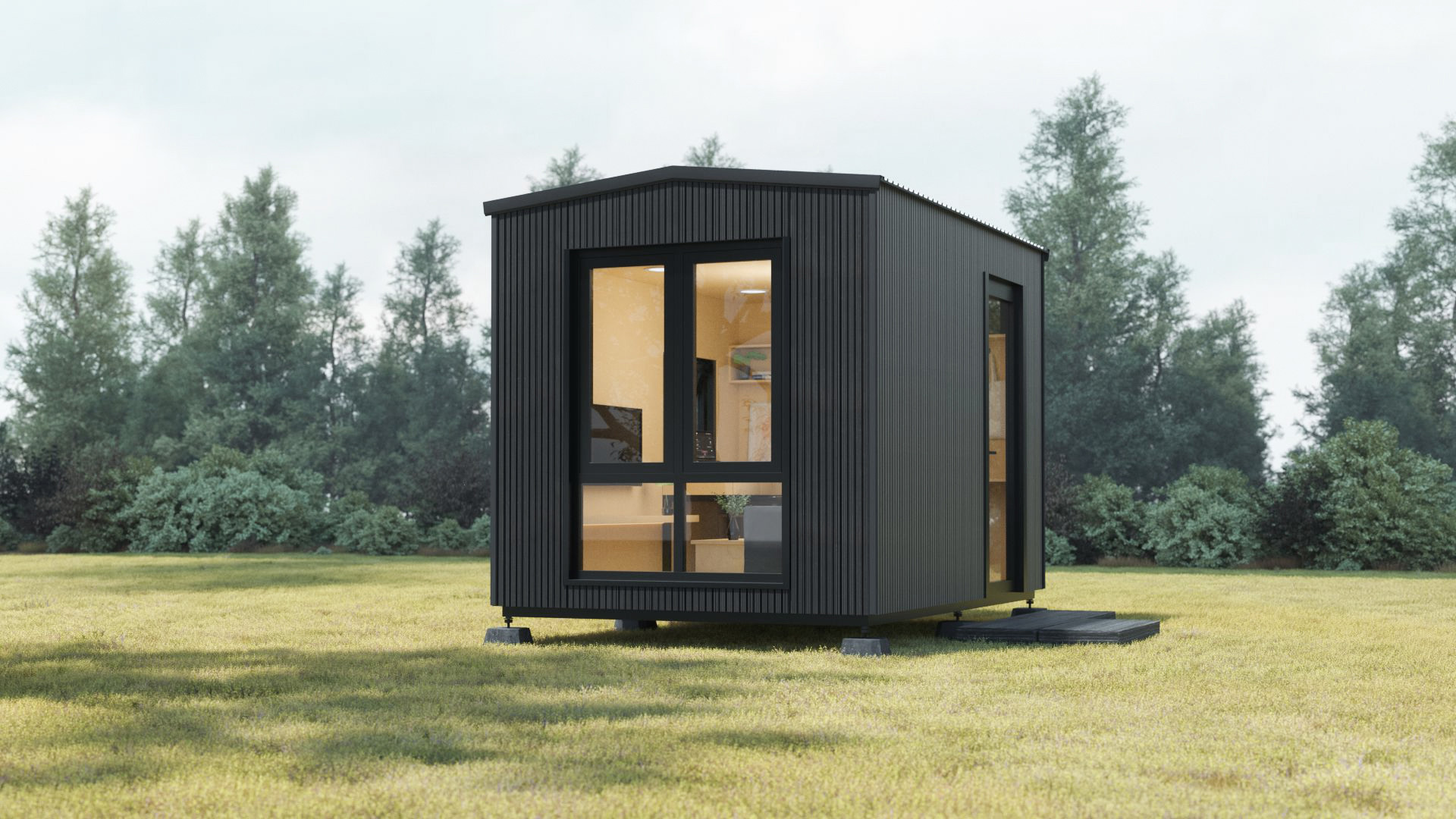 Dimension
8'4"W x 12'6"L x 9'10"H
Floorspace
105 square feet
Ceiling height
7'3"
Weight capacity
2.9 tons
Pedestal
18"W x 43"L x 7"
Window & door material
Powder-coated aluminum,  5/16" tempered glass
Material
Siding: plywood 1/2", steel frame, honeycomb paper, plywood 3/8", bitume, housewrap, vinyl siding
Roof: roof shingles
Floor: plywood
Pedestal: steel frame & wood plastic composite
Electrical devices
RCB, Wall outlet, Ceiling light switch, Ceiling light, Ventilator switch, Ventilator, Ethernet wall port, 66ft power cable with 2 connectors
Include
Optional: Cabinet, Desk, Small & Big Bookshelf, TV Shelf, Foldable Sofa Table, Convertible Sofa Bed. Always included: Electrical Cabinet
Power input
Maximum voltage : 110V AC (US standard)
Maximum current : 25A
Maximum power dissipation : 2750W
Tight on space? No worries. WorkPod Lite from Autonomous has everything you're looking for in a dream outdoor office pod, presented in one convenient prefab package. The compact freestanding studio is all-weather proof to protect you from the elements while you work, and sound insulated to help you knuckle down and focus. Delete the noise and close the door on distractions.
Pre-wired with 2 universal wall sockets, ceiling light, and light switch, WorkPod Lite is one the best fuss-free outdoor office pod solutions that allows you to easily separate work life from home life. Set up your ultimate at home workstation and power up your devices whenever you need to get some serious work done. And when it's time to clock-off, switch off the lights and step outside.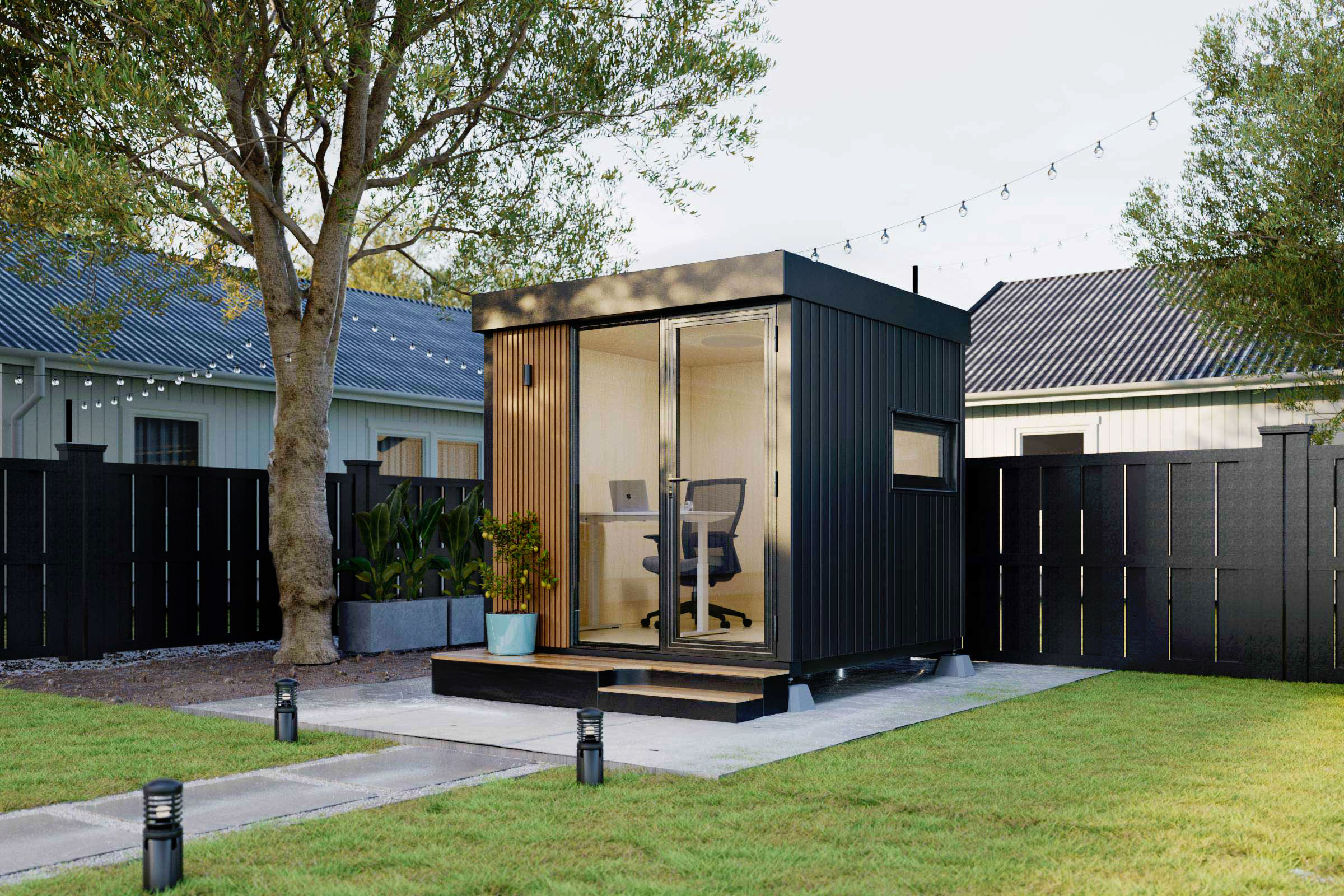 Dimension
8.7 W x 8.12 L x 9.3 H inches
Material
Window and door: powder-coated aluminum, 5/16-inch tempered glass
Siding: plywood 1/2-inch, steel frame, honeycomb paper, plywood 3/8-inch, bitume, housewrap, vinyl siding
Roof: metal roofing
Floor: plywood
Balcony and Pedestal: steel frame and wood plastic composite
Pedestal
24 W x 103 L x 9 H inches
Electrical devices
RCB, Wall outlet, Ceiling light switch, Ceiling light, Wall light, Ethernet wall port, 66ft power cable with 2 connectors
Weight capacity
2.3 tons (including Pod body)
Floorspace
80 square feet
Ceiling height
7.3-inch
2. Framery Pod
Though a soundproof sleeping pod may not be the most common thing in the world, the Framery Pod is among those that would be more well known amongst the small community who has already developed an interest and may probably also be taking advantage of the benefits. 
You're going to find that this one makes a great place for your slumber and it's also an excellent office privacy pod. That's because the manufacturer offers you three different sizes to choose from. So, if you're only interested in getting some shuteye, then you can choose the most optimal size for that application. 
Alternatively, if you need a comfortable and quiet space to get through your meetings or a full-blown office space, you can choose one of the more appropriate sizes that are more convenient to those applications. Based on your choice, you're going to be able to fit whatever furniture it is that you need in the structure. 
As far as the aesthetic goes, you are getting a very modern-looking home sleeping shed here. Additionally, thanks to the use of neutral shades instead of bright and highly specific colors, this pod is going to fit into whatever aesthetic you may have at home.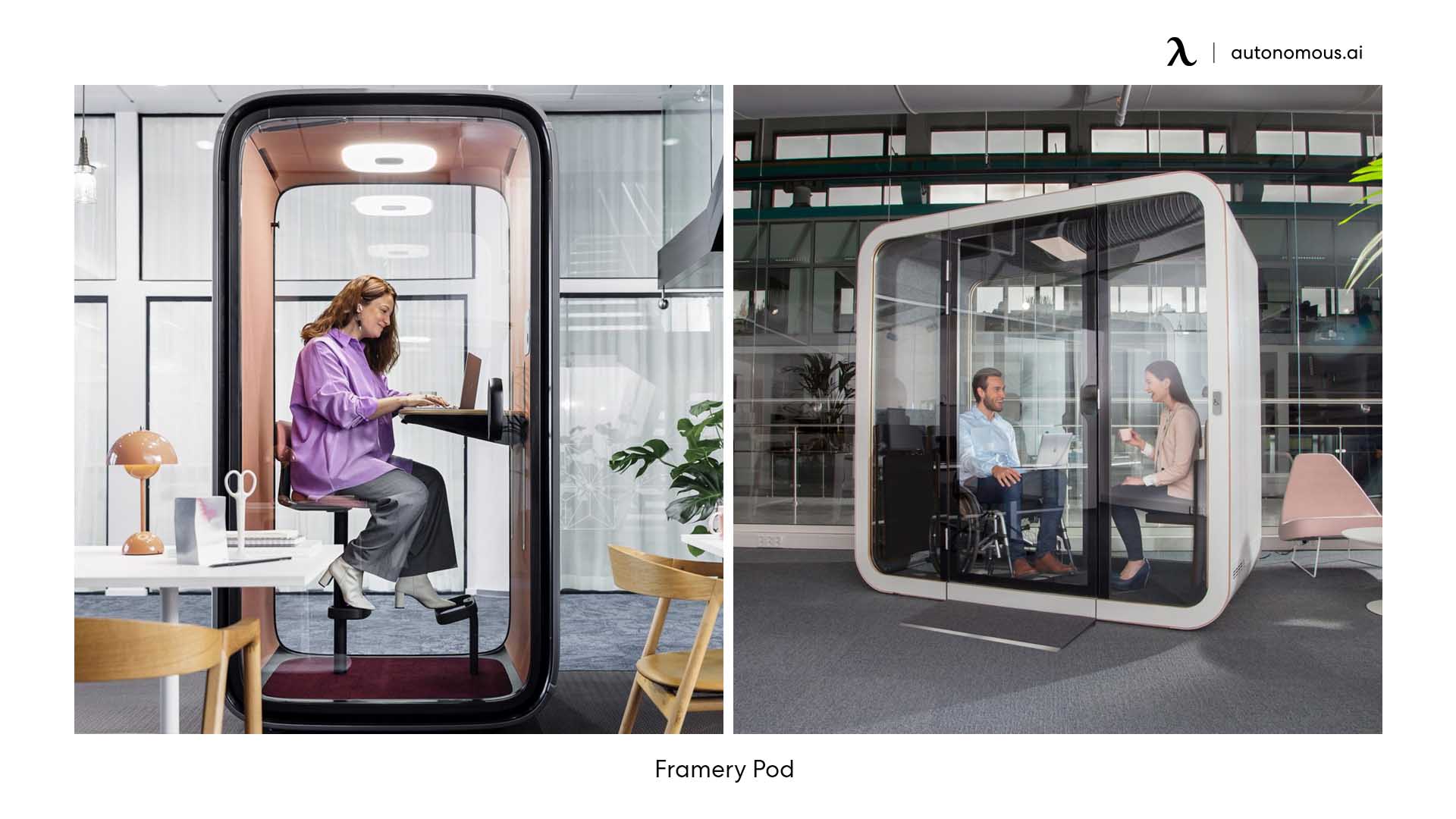 Note that this unit can be placed either internally or externally. So, if you have a big enough room in your house, you could put it inside. However, you may find that outside is a better place since looking out the pod wouldn't have you staring at the very distractions you are trying to avoid. Also, you don't consume any of your internal space by putting it outside. 
The design is well sealed, so don't worry about any sound seeping in. What kind of list would this be if that were in the case, especially since you came here to find out about soundproof sleeping pods? 
If there were one downside to going the Framery Pod route, it would be the fact that the panels are not designed to keep light out so well. As you know, home sleeping sheds are meant to control various elements of the environment including light. 
Unfortunately, for all its merits, the Framery Pod doesn't do that so well. However, you may be able to work around that little problem by angling yourself away from the light's focus when you want to sleep. 
3. SlumberPod Privacy Pod
Why not throw this one in here for the little ones? All the other pods covered are specifically designed for adults, so why not talk about one that was meant for children? Unfortunately, even in the developing stage of life, it's possible to experience trouble sleeping for one of many reasons. 
Sometimes, the environment is just not comforting or quiet enough to allow for restful sleep. In that case, you may find that the child needs a soundproof sleeping pod for a better experience. The SlumberPod Privacy Pod is nothing short of a breeze to set up. 
Additionally, it's small and inexpensive enough for you to easily place and save money purchasing, respectively. Its size makes it conducive to transportation, so you can always set up a space tailored to your little one's need to get some sleep in.
Remember that children are in a highly curious phase of their lives, so being able to block out distractions is a highly welcome addition to the fold. With this unit in your arsenal, whatever sleeping troubles there were should be a thing of the past.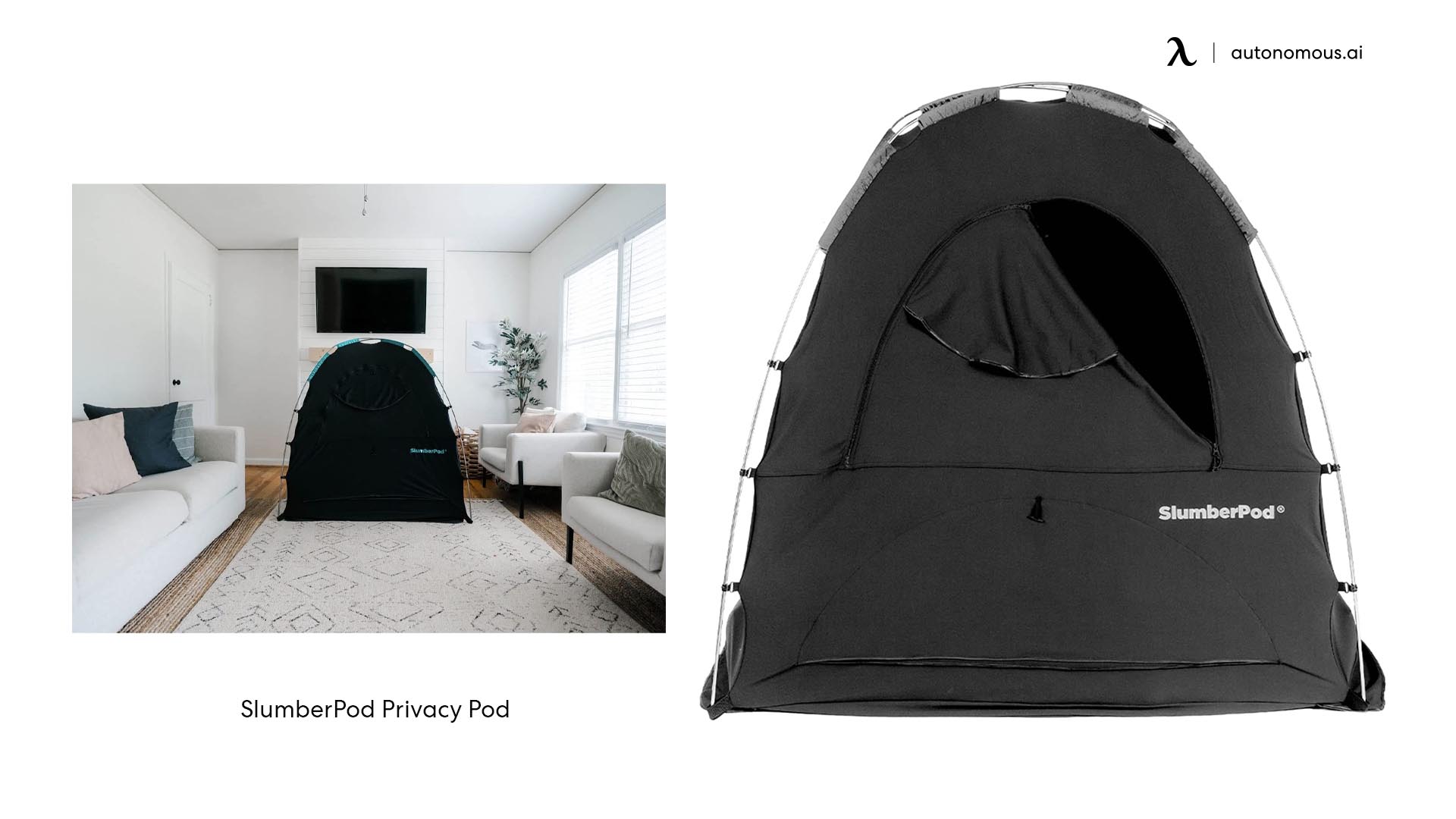 Of course, this design is targeted at very young children who are probably in the toddler phase. With that said, provided that the bed you have chosen is small enough, it should be able to fit right inside. 
The best advice is for you to get an idea of the size of the SlumberPod unit before you purchase it. You wouldn't want a mismatch with the bed, effectively negating the functionality that you purchased the unit for.  
Don't be surprised if your child wants to stay in the pod all the time when sleep is on the agenda. 
Note that while it is a soundproof design, the sound reduction is not as potent as the other models reviewed here. Additionally, it's not the most durable unit in the world, so you must take extra care of it if you want to stick around for any time at all. 
4. The Tranquility Pod
Why not get something important out of the way from the get-go? If you prefer the kind of design that doubles as an office space, this is not the one for you. What you're getting here is a soundproof sleeping box that is only optimized for rest. 
The manufacturer continues to make improvements as time goes on as it attempts to boost relaxation levels, reduce stress, and provide the best quality of sleep possible. It can be a bit of an adjustment to use, especially since being inside is likely to be a new experience for you. 
Nevertheless, you're going to get used to it with time, and you're also going to appreciate the incredible soundproof design that allows pretty much nothing through. Additionally, there is support for light control, temperature control, and even to put on some relaxing music to get you in the right frame of mind to sleep.
As you can imagine, this is an inside soundproof sleeping pod, and it does create a bit of a challenge for those who may be tight on space. There is no doubt that it's on the bulky side of the spectrum.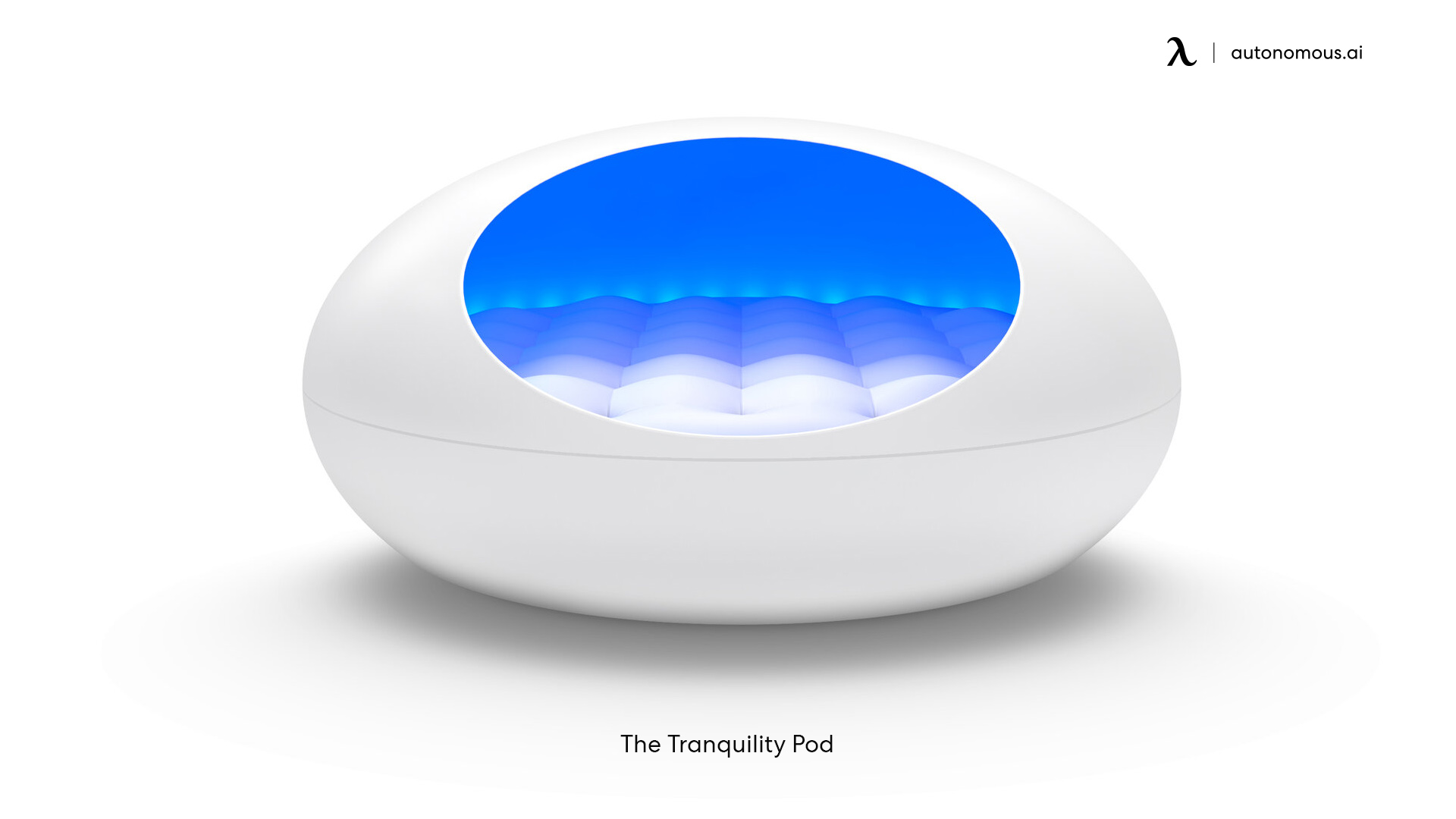 Additionally, it's not the cheapest unit in the world. So, if you are on a budget and looking for something to accommodate it, you may want to start looking elsewhere. 
It does its job incredibly well, particularly because it was never designed for multi-purpose use. It was all about sleep from the get-go, which means anyone who wants it for that reason should be pleasantly surprised. 
Final Remarks
That's about all there is to say as far a soundproof office pod and soundproof sleeping pod is concerned. As you can see, when well designed, these units double as both a place to sleep and as a place to work. It may seem like a strange buy at first, but once you start to reap the benefits, you are likely going to be way more receptive to the possibilities.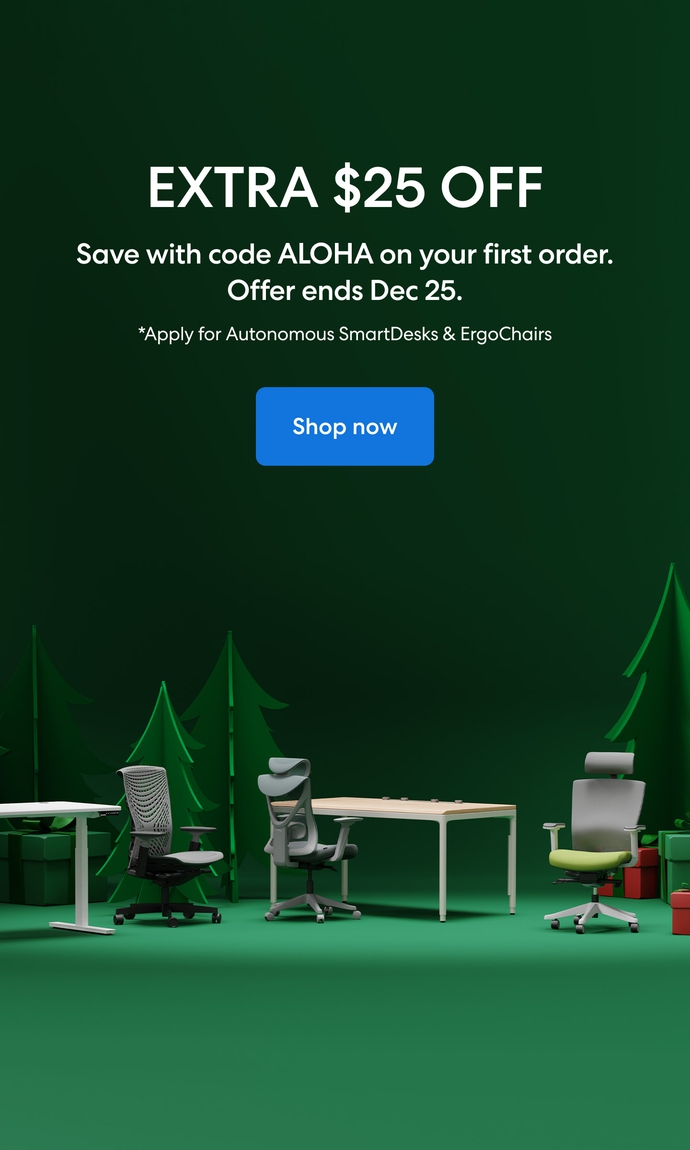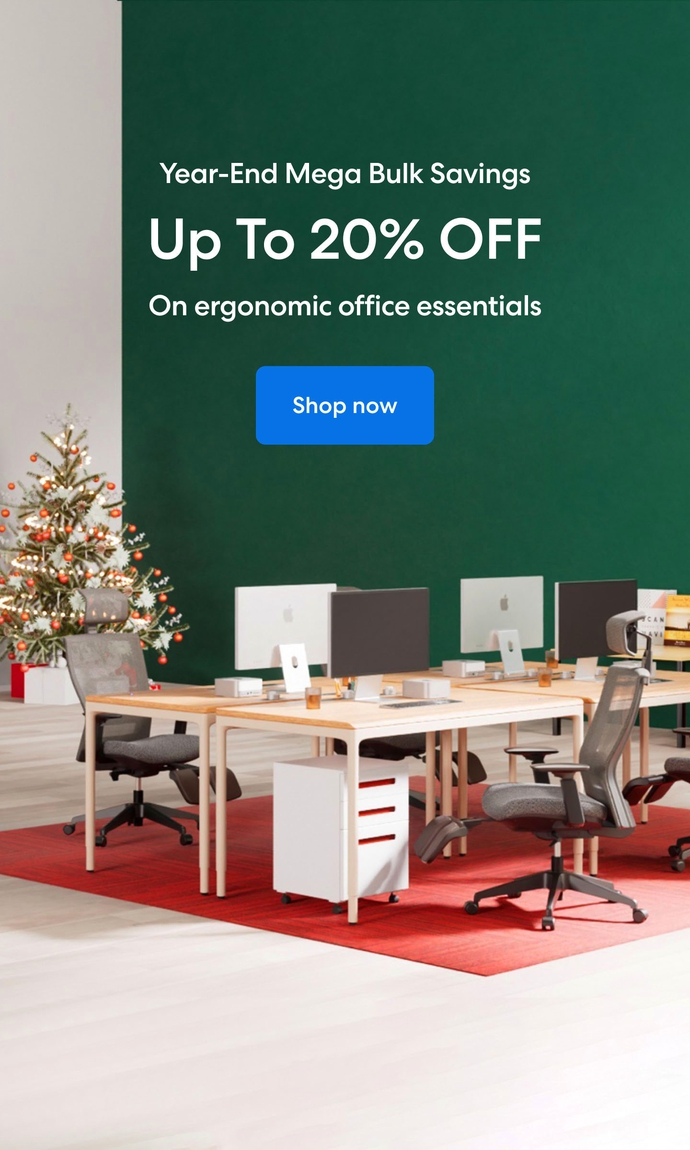 Subcribe newsletter and get $100 OFF.
Receive product updates, special offers, ergo tips, and inspiration form our team.