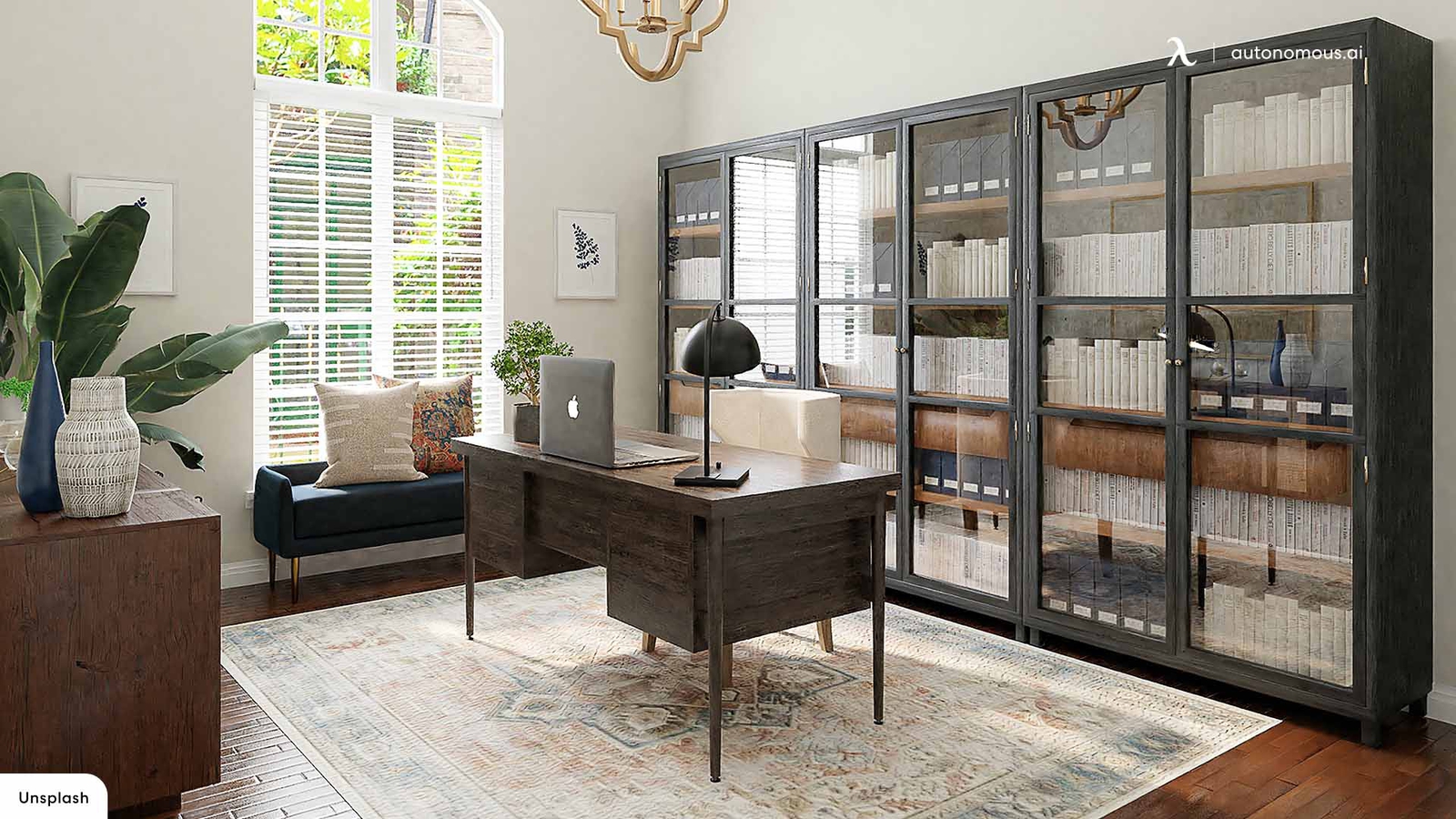 Workplace Inspiration
How to Soundproof Your Home Office: Effective Guides

Autonomous
|
Jan 6, 2022
4,460 Views
Many factors influence the work efficiency and productivity of employees. From finding the right chair to discovering the best work monitor, having a proper desk setup, to getting the right amount of silence, everything plays a vital role in keeping an employee productive and motivated. And we all have had our fair share of chaos while working from home.
The struggle to find a quiet corner to pick up an important meeting call has made us all think about ways to the soundproof home office. And especially for remote workers, who have only their homes to rely on for efficiency, home office noise reduction becomes even more important.
How to Soundproof a Home Office?
Whether your motivation behind office soundproofing ideas is to escape from the cries of kids or tune out the nearby construction noises, there are many noise-cancelling home office solutions that you can try. In this article, we will cover some easy and effective soundproofing office space ideas that work for everyone.
The Right Materials
You hear clear creek sounds when walking on a wooden floor; a carpeted floor, on the other hand, can dampen your late-night snack cravings in the kitchen. Tiles make knock noise with heels; marble floors aren't too loud with the shoes.
There are many materials used in the construction and design of our homes, and each one has a different set of properties. When creating or setting up your productive home office, opt for carpeting to other dampening materials that absorb the maximum noise. Thick curtains also help with noise reduction.
Use A Door Sweep
People use door sweep for multiple reasons. Most importantly, it blocks the air conditioner air and prevents it from escaping. But little did we know door sweeps also work as an effective way to control noise transmission. This is because of the additional dampening effect and coverage of the opening underneath the door.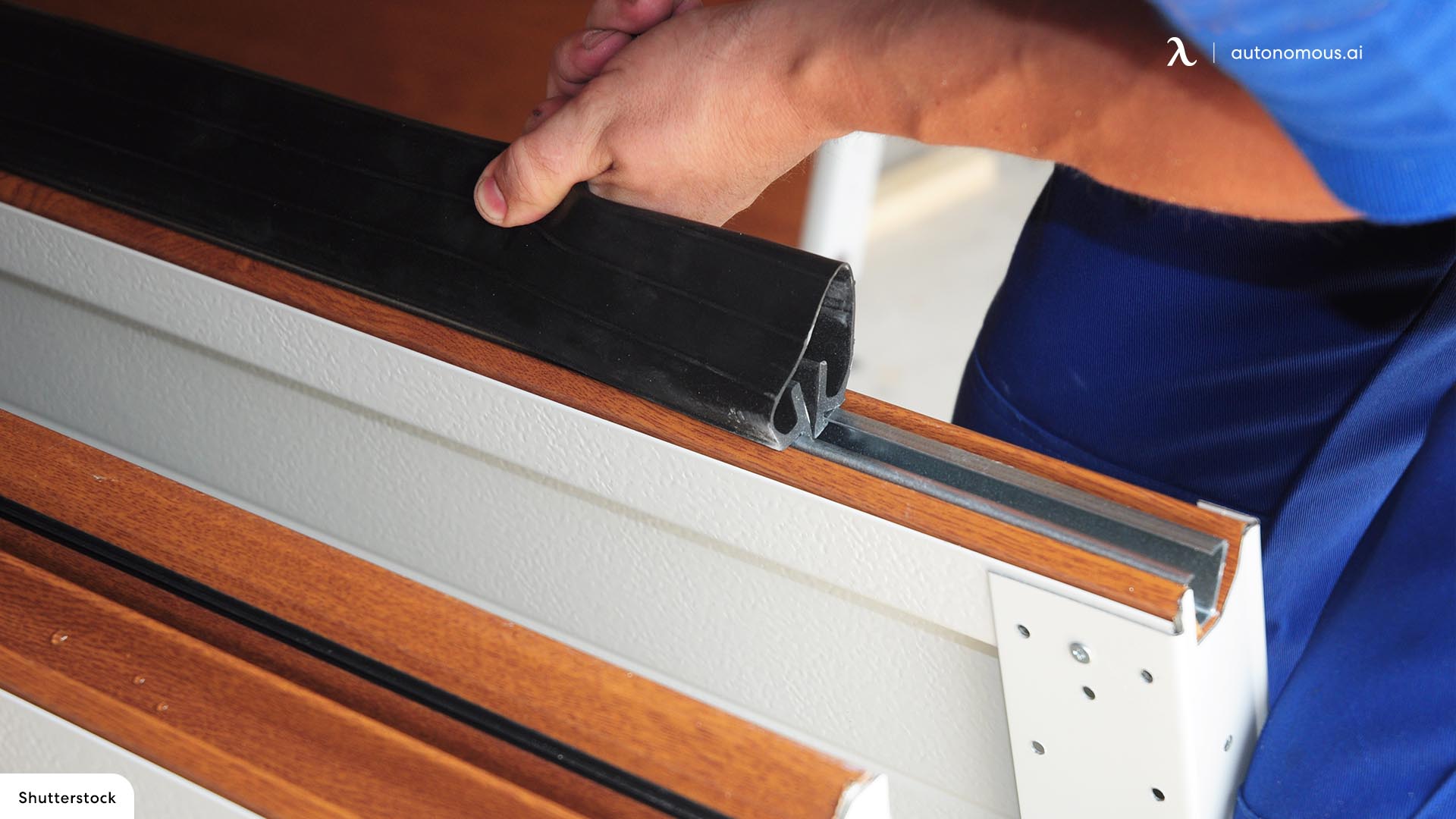 Use a Solid Door
Solids are opaque; hence they also reduce noise to a certain degree. The hollow doors commonly found in homes aren't very good at blocking the noise so that you might feel and hear everything happening outside and vice versa. Opting for a solid door could soundproof home offices to a huge degree if you have a hollow door.
Check for Any Leaks
Air leaks can also be why you hear the traffic noise so clearly. These air leaks can be extremely annoying if you live nearby a densely trafficked area. Make sure your room doesn't have any tiny opening or broken space around the window. Using a bit of cement to seal the gaps can block the noise.
Use a Rug
It not only makes you look sophisticated, but it also helps to soundproof your home office. Adding dense materials to your workplaces, such as carpets, plush furniture, wall art, or even acoustic panels, helps block noise from intruding from the rest of your house.
There are many stylish sound-blocking office dividers to choose from, and they aren't just suitable for open-plan offices. Placing these against the walls helps to minimize noise from adjacent rooms.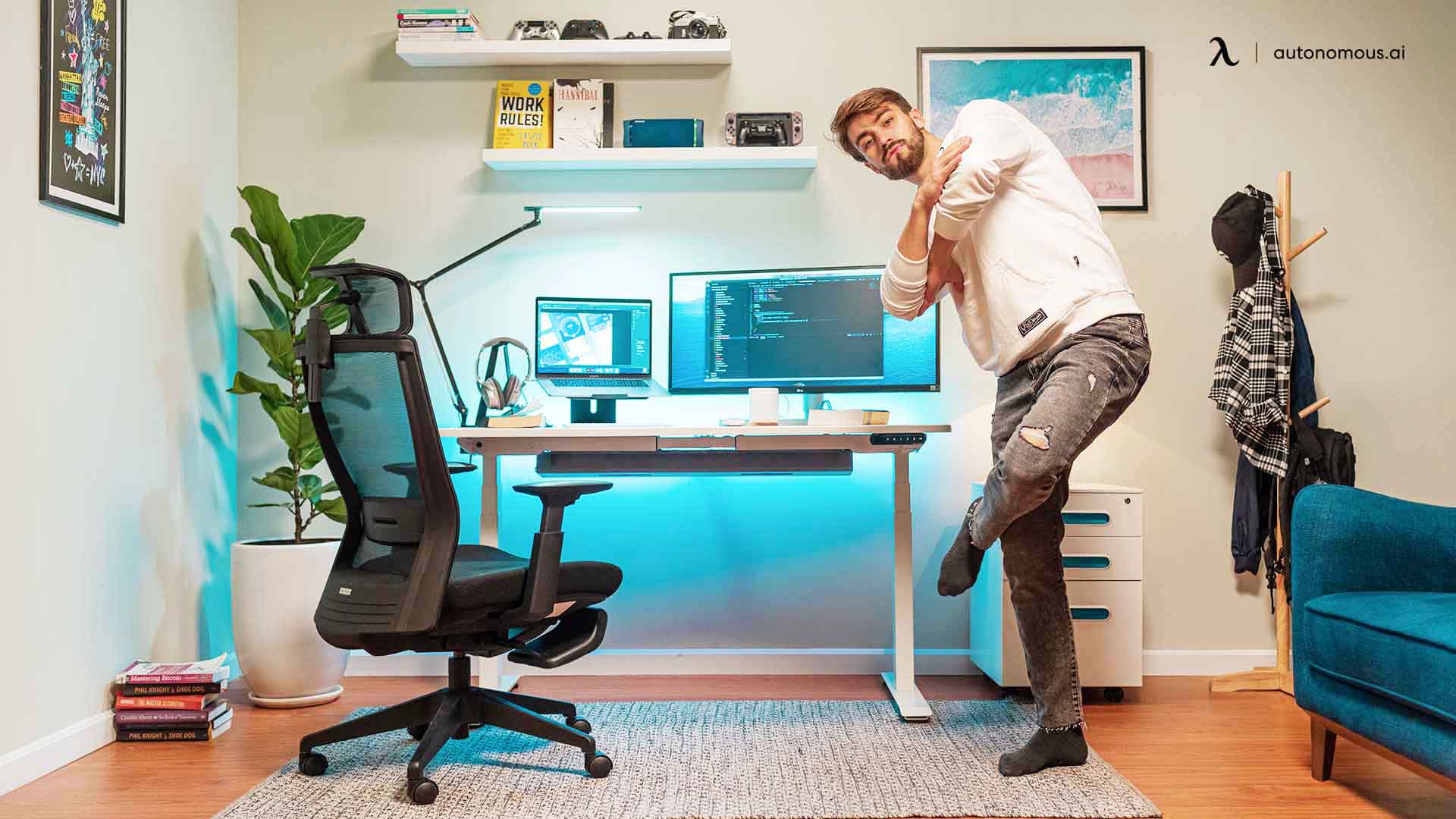 Soundproof the Air Vents
Pretty sure you've never considered soundproofing the air vents. Unless substantial noise emanates from the vent itself, soundproofing the air vents in any room is usually disregarded.
The air vent is usually the largest hole in any room, aside from the doors and windows. The most notable distinction between the air vent and the doors and windows is that the air vent is open, whereas the others are closed.
Use wall Hangings
Wall hangings aren't just for show purposes, but they do much more. Soft wall hangings can graciously absorb the loud noises and provide you with the quiet you need to work efficiently.
Noise Cancelling Headphones
If your office exterior cannot be soundproofed for the right quiet level, you can control the noise near you. Noise-canceling headphones are an important accessory for office workers as they tune out the noise from the surroundings. You can buy any high-quality noise-canceling headphones and work while tuning out the surrounding noise.
Soundproof the Ceiling
The noisy people upstairs can be a real pain for people who live in flats and apartments. Although you can request for people not to create too much disturbance, not everyone will understand the critical level of work you do.
If the noise comes from above, attach furring strips to your ceiling. This is going to be a large job because you'll have to tape, sand, and paint your ceiling afterward. But once done, it can save you from many types of noise.
Soundproof Paint
This might be new for most of you, but soundproof paint does exist, and it is known to reduce noise levels by 30%. The soundproof paint works with the help of microspheres that trap the noise and help with soundproofing. This can be a great way to control noise, especially if you are in the building phase of your home office setup.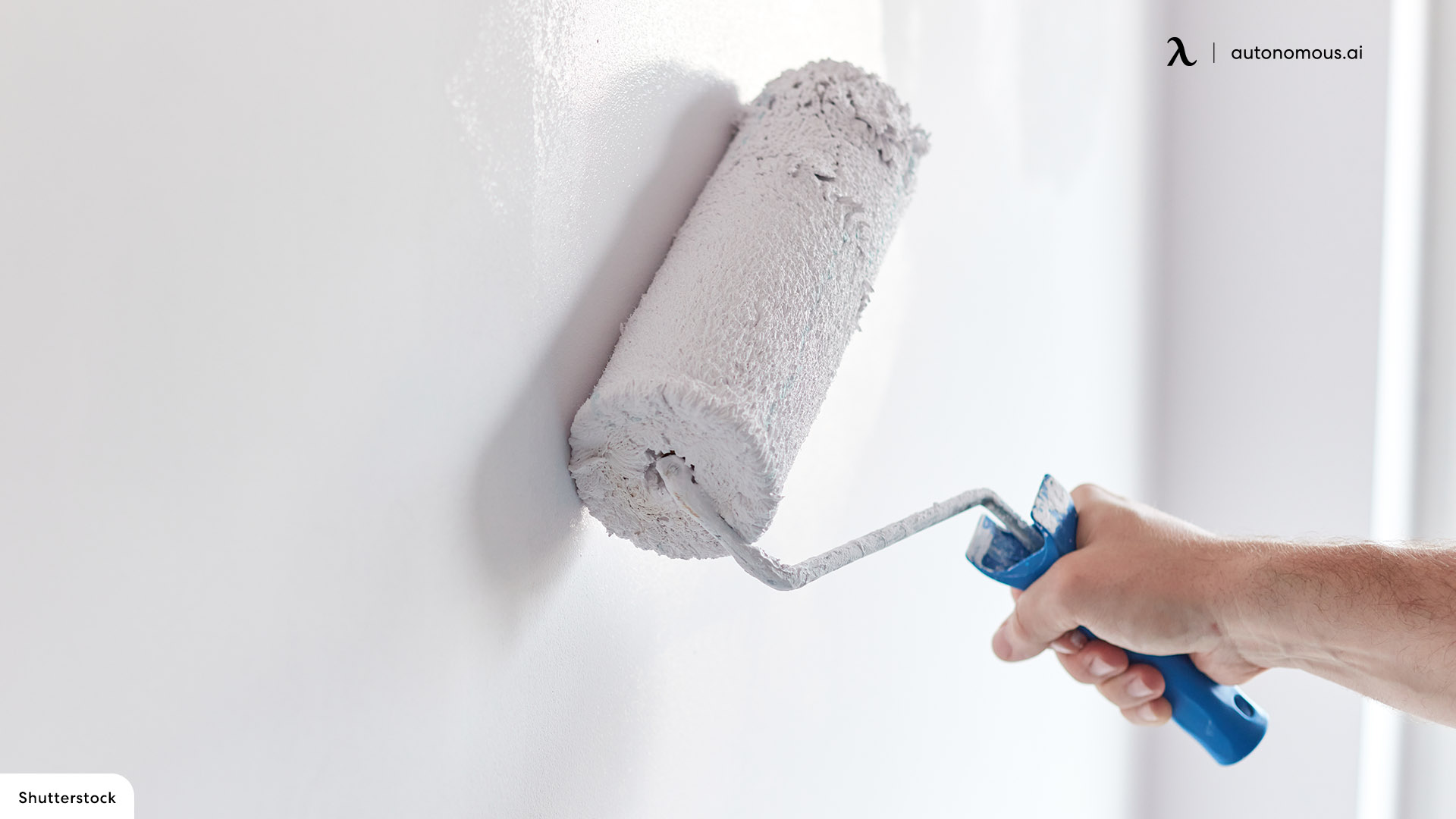 How to Use an Office Pod for Noise Reduction
Office pods offer many benefits, and many workplaces are repeatedly using office pods to reduce the noise in the workplace. These work pods are also inexpensive to create partitions in your office, especially when you have an open office layout. Here are some ways an office pod can work for your work setup.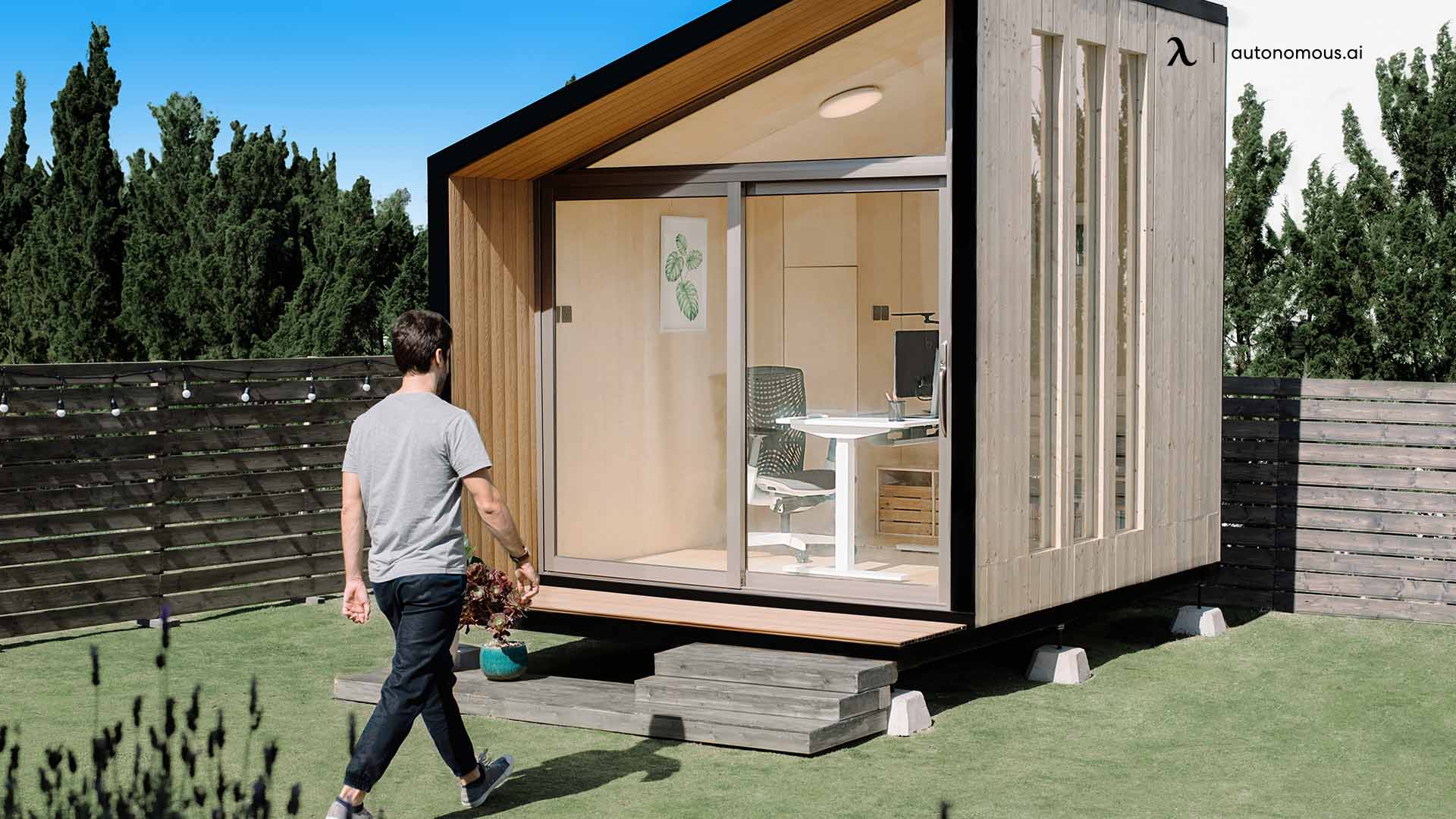 Private Office
Not all of us are lucky enough to have spare rooms which we could convert to home offices. And if you don't have an area where you can work quietly, then a wood pod is an effective solution. An office pod, also known as a work pod, is a quiet portable room with all the space for your office setup. You can place a soundproof pod even in the busiest center of the home and focus solely on work.
Outdoor Space
Outdoor and open-air offices have many benefits. As suggested by many studies, the proximity to nature makes us all happier and productive. And if you are lucky enough to have a backyard space, then, by all means, create an outdoor office. You can also get a backyard office pod or special outdoor office pods with all the facilities needed to work remotely.
Autonomous StudioPod
The StudioPod is a brand-new multipurpose space from Autonomous that can be installed in your backyard. Whether you want a backyard studio for business or gaming, a prefab studio for working out, or a studio shed for the kids to play in, you can pretty much use this prefab shed for anything you can think of. The modern shed from StudioPod also has all the furniture and storage space you could possibly need, and it is totally furnished. You'll be ready for anything with a wardrobe, a workstation, a bookshelf, a TV stand, a coffee table, and a sofa bed that can be converted.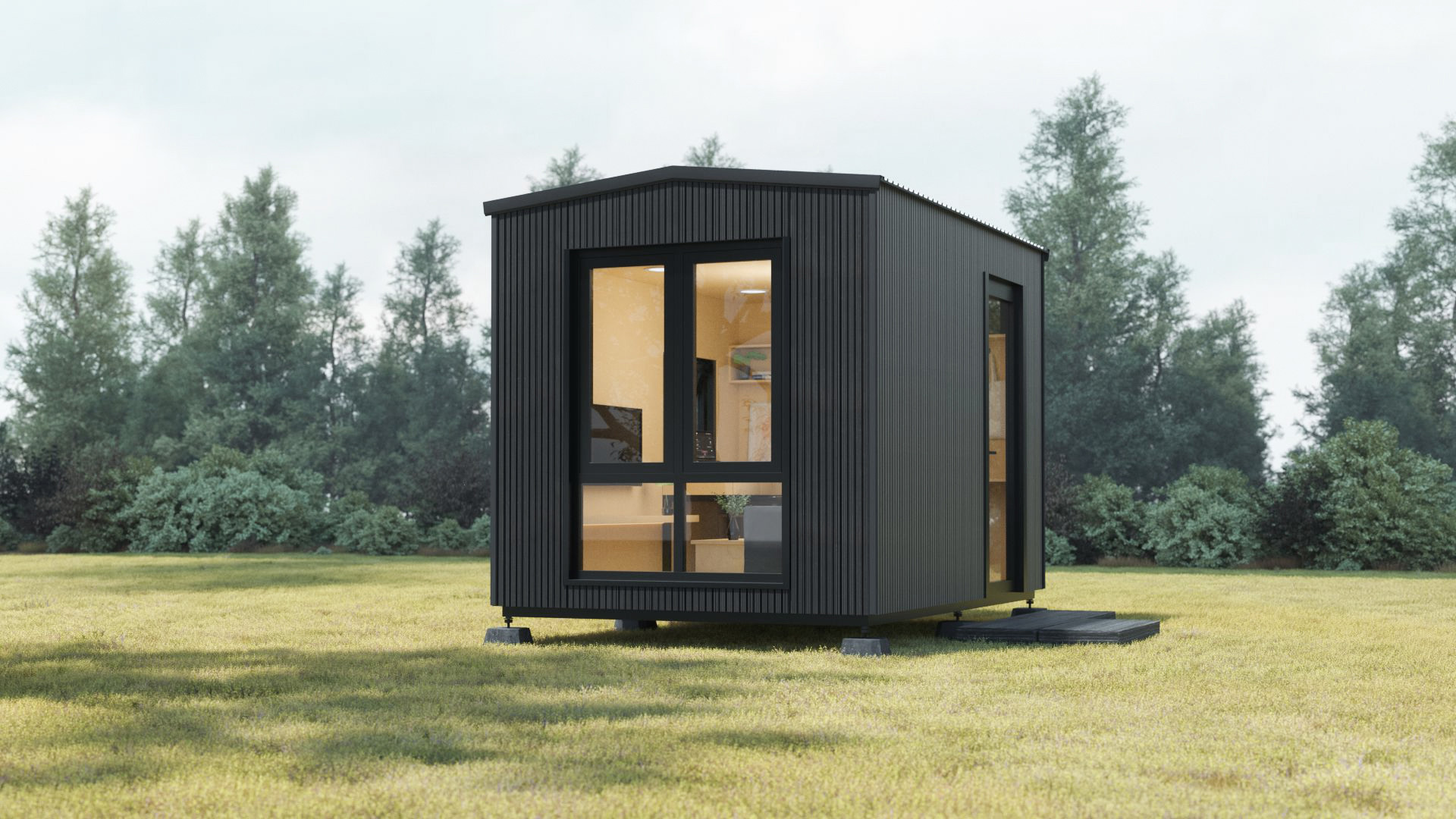 Dimension
8'4"W x 12'6"L x 9'10"H
Floorspace
105 square feet
Ceiling height
7'3"
Weight capacity
2.9 tons
Pedestal
18"W x 43"L x 7"
Window & door material
Powder-coated aluminum,  5/16" tempered glass
Material
Siding: plywood 1/2", steel frame, honeycomb paper, plywood 3/8", bitume, housewrap, vinyl siding
Roof: roof shingles
Floor: plywood
Pedestal: steel frame & wood plastic composite
Electrical devices
RCB, Wall outlet, Ceiling light switch, Ceiling light, Ventilator switch, Ventilator, Ethernet wall port, 66ft power cable with 2 connectors
Include
Optional: Cabinet, Desk, Small & Big Bookshelf, TV Shelf, Foldable Sofa Table, Convertible Sofa Bed. Always included: Electrical Cabinet
Power input
Maximum voltage : 110V AC (US standard)
Maximum current : 25A
Maximum power dissipation : 2750W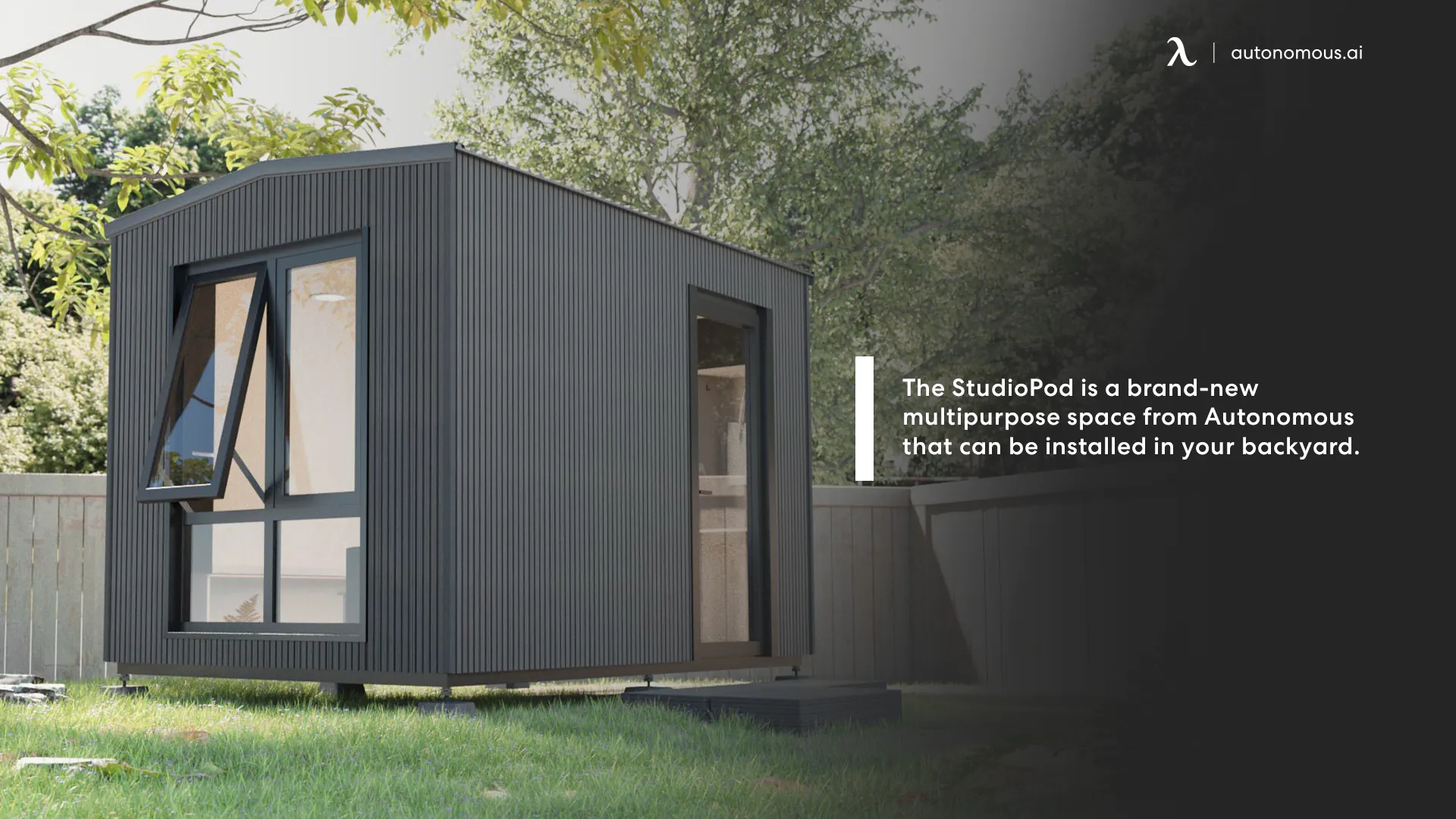 Dimension
8'6''W x  11'9''L x 11'H
Ceiling height
6'10'' to 9'4''
Window material
Wooden frame, 5/16" tempered glass
Door material
Anodized aluminum frame,  5/16" tempered glass
Material
Siding: bitumen, housewrap, vinyl silding
Roof: bitumen, housewrap, shingles roof
Floor: plywood
Balcony: composite wood
Include
Optional: SmartDesk Connect, ErgoChair Pro+, Dual Monitor Arm, Cable Tray, Steel Cabinet, Anti-Fatigue Mat. Always included: Electrical Cabinet & Bookshelf
Floorspace
98 square feet
Capacity
2.9 tons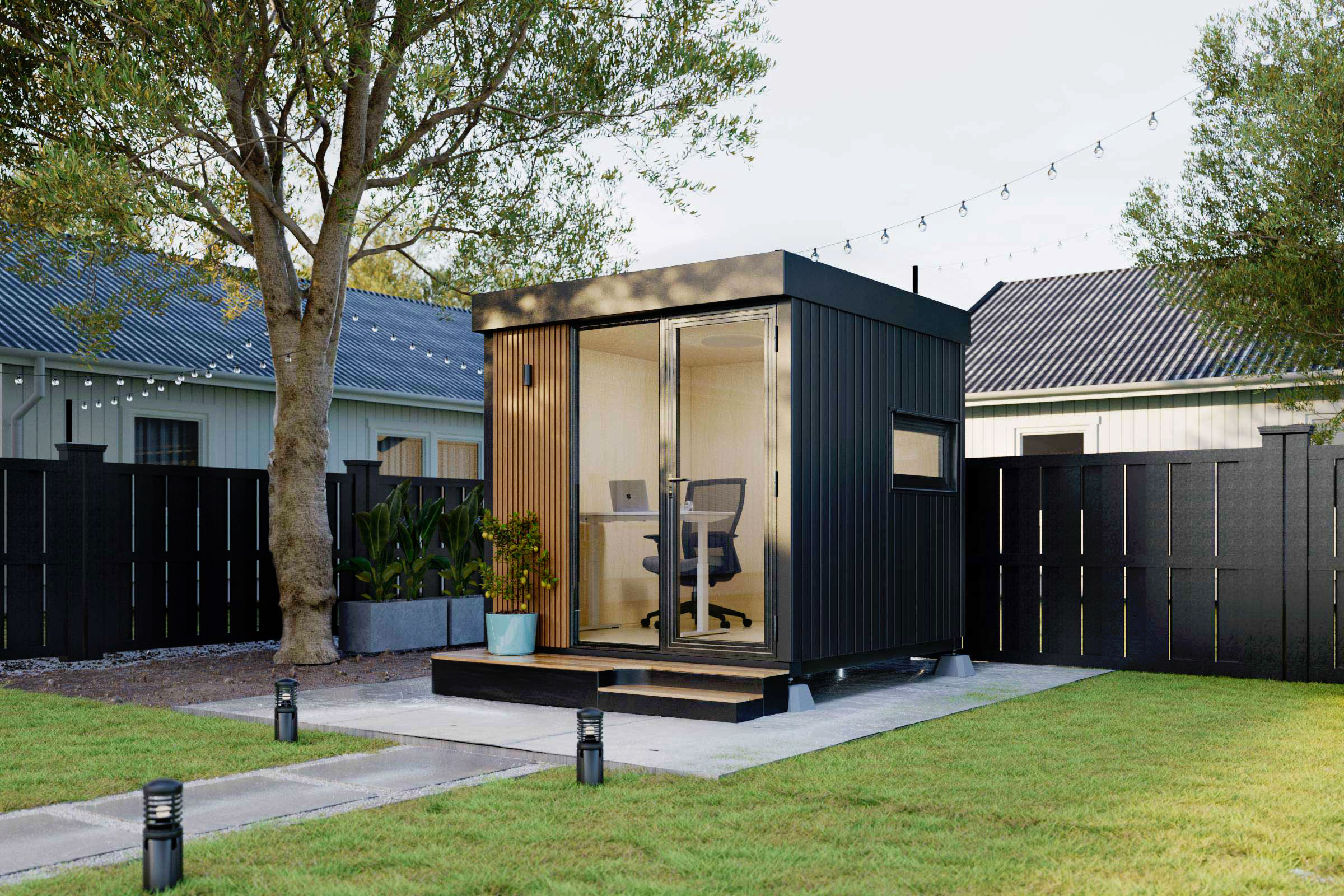 Dimension
8.7 W x 8.12 L x 9.3 H inches
Material
Window and door: powder-coated aluminum, 5/16-inch tempered glass
Siding: plywood 1/2-inch, steel frame, honeycomb paper, plywood 3/8-inch, bitume, housewrap, vinyl siding
Roof: metal roofing
Floor: plywood
Balcony and Pedestal: steel frame and wood plastic composite
Pedestal
24 W x 103 L x 9 H inches
Electrical devices
RCB, Wall outlet, Ceiling light switch, Ceiling light, Wall light, Ethernet wall port, 66ft power cable with 2 connectors
Weight capacity
2.3 tons (including Pod body)
Floorspace
80 square feet
Ceiling height
7.3-inch
Conclusion
If you aren't up for buying an office pod for outdoor use, then a backyard office shed could also be a great alternative.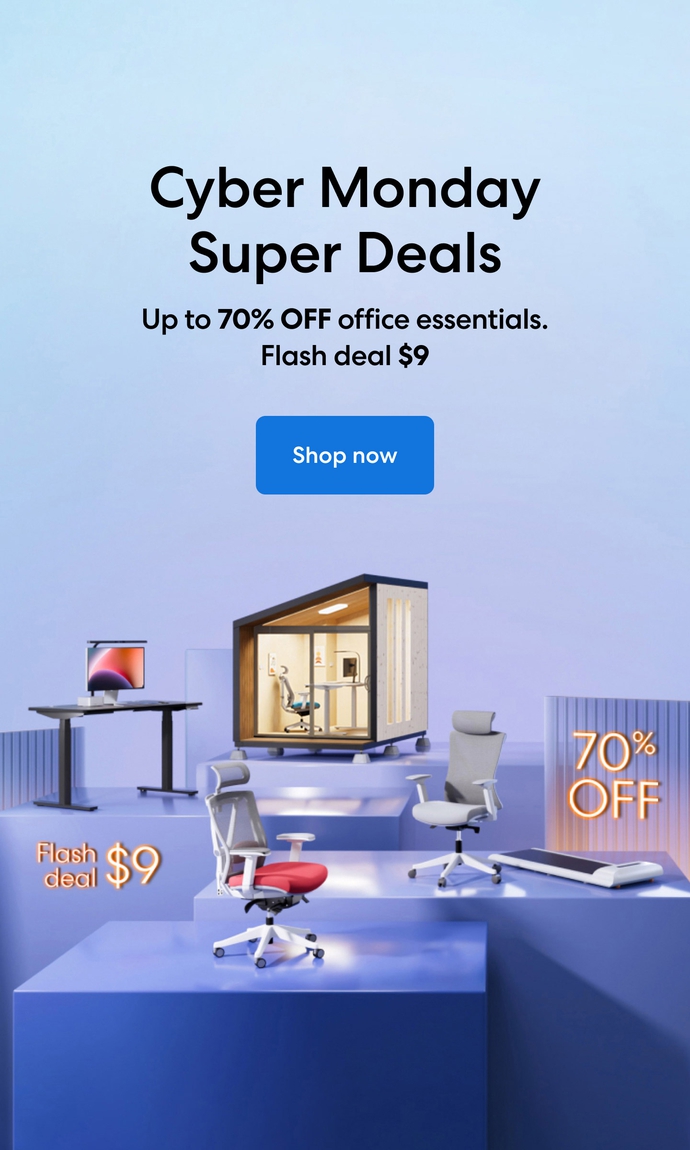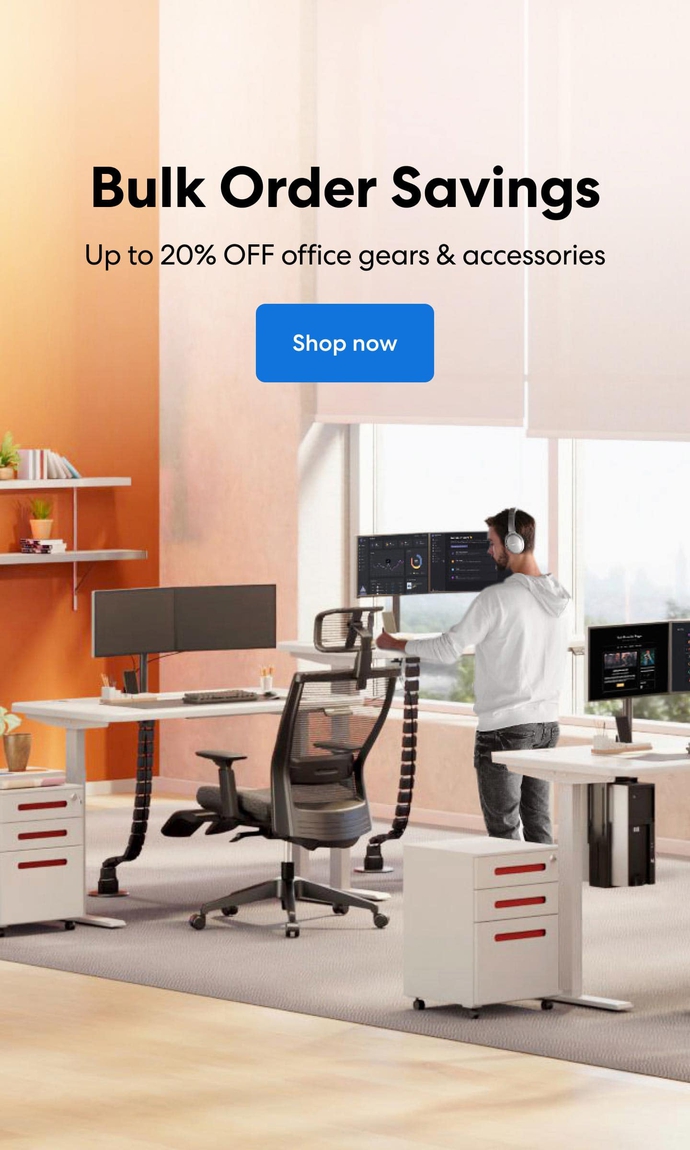 Subcribe newsletter and get $100 OFF.
Receive product updates, special offers, ergo tips, and inspiration form our team.