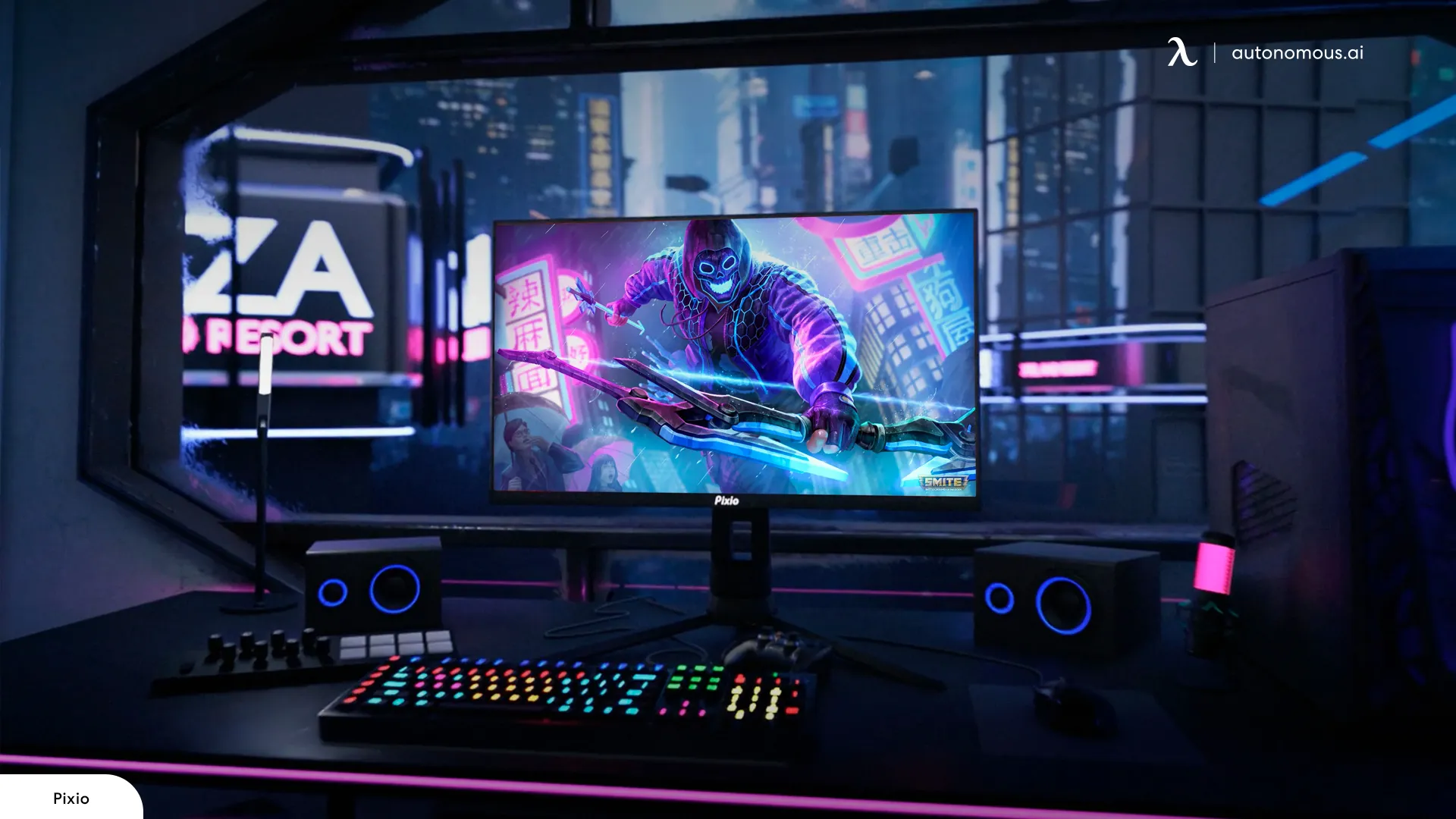 Gaming Setup
Japanese Gaming Setup Ideas: Infusing Tradition and Innovation

Autonomous
|
Jul 9, 2023
825 Views
Japanese love technology and innovation, but apart from that, there is one more thing that they do not compromise on – culture and traditions. In a typical Japanese-style gaming setup, you would always notice a single color or theme followed by remarkable lighting and atmosphere.
You can start building your room by selecting the right type of gaming chair that follows the theme you have selected for your room. Make sure to select a mesh fabric chair as it's more reliable and convenient. The next step is to buy a perfect gaming desk to place your monitor and console or PC. For that purpose, we highly recommend buying a corner gaming desk that provides extra space in case you want to go for a dual monitor setup.
To create a Japanese-themed gaming setup, you can use one of the following ideas to build your own unique setup infused with Japanese traditions.
Anime-Themed Gaming Setup
If you think about Japanese TV and entertainment, anime is the first thing that will come to your mind. Anime's an important part of Japanese culture, and that is the main reason why you would find anime-themed accessories at every online store with Japanese products.
There are two ways to decorate your gaming setup with anime characters
Use a single anime character and build your whole room around it.

Pick multiple characters from a single anime universe and build your room based on its environment.
Some of the popular anime characters or universes you can use are Dragon Ball Z, Death Note, Naruto, Dragon Quest, and Attack on Titan. Paste the posters of these anime characters on the walls of the room and use the same colors for your accessories. On the leftover walls, you can use anime neon signs to improve the lighting even more.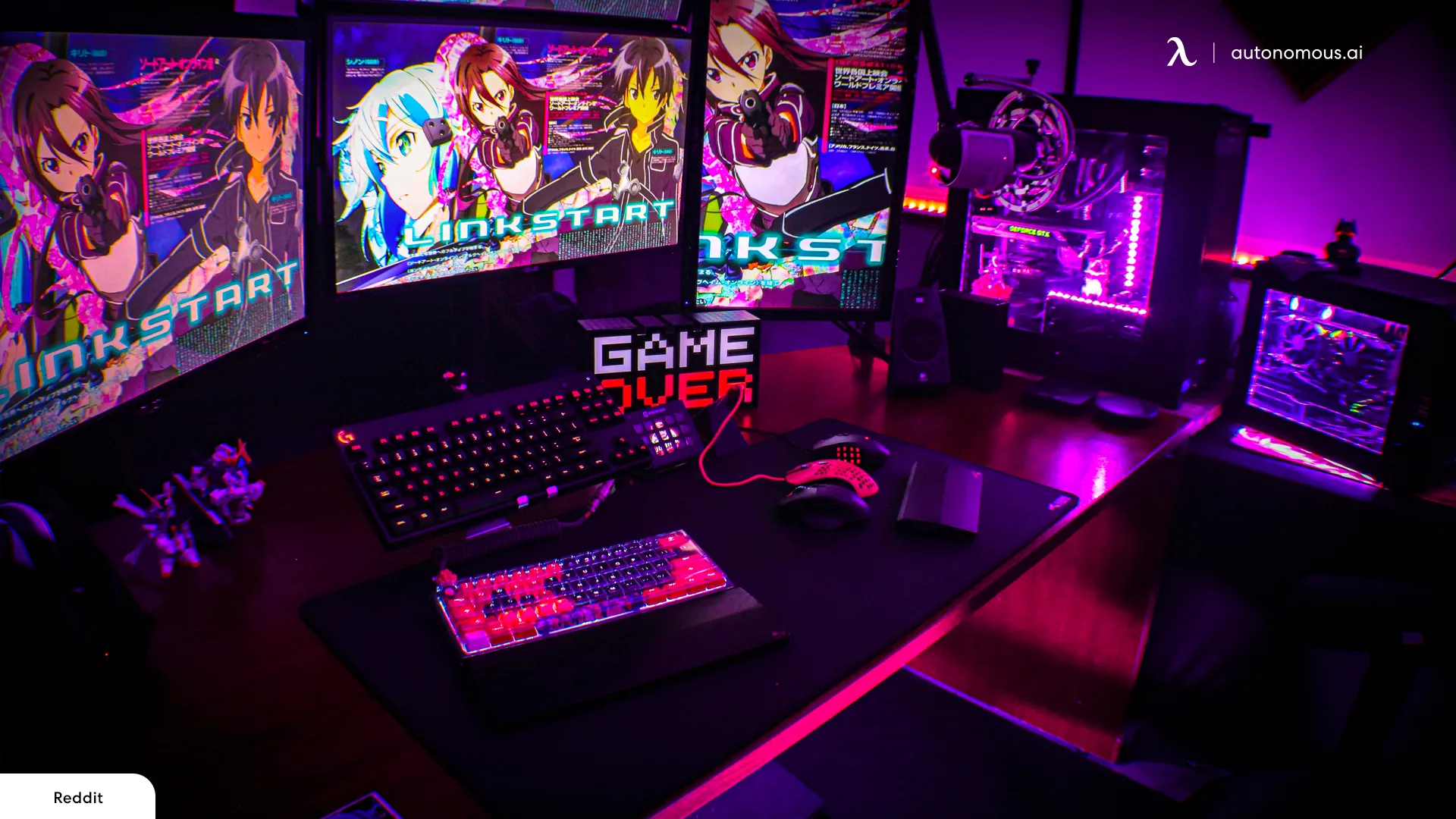 Character Wall Gaming Room Setup
Similar to Anime-themed gaming setup, character wall setup also requires you to pick your favorite gaming characters and paste their posters on the wall instead of painting them with theme colors. This style makes the room look much more colorful.
An upside of using this style of a gaming setup is that the collector's edition of most games comes with physical character figures. You can use these figures to decorate the interior of your room. Many accessories, such as desk mats, come with gaming characters printed on them.
Dark Room Gaming Setup
Most gamers prefer a darker room with neon lights. The only thing you need to take care of in this kind of setup is matching the tone of the walls with ambient lighting. You can begin by painting all of your room walls with black or other dark shades. Once you are done with it, use focused lighting to make your gaming desk and monitor visible.
Moreover, keep in mind that your gaming equipment and other accessories must be light-colored as it would be difficult for you to spot them in a dark environment. At last, place your collectibles under the spotlights to create the perfect ambiance.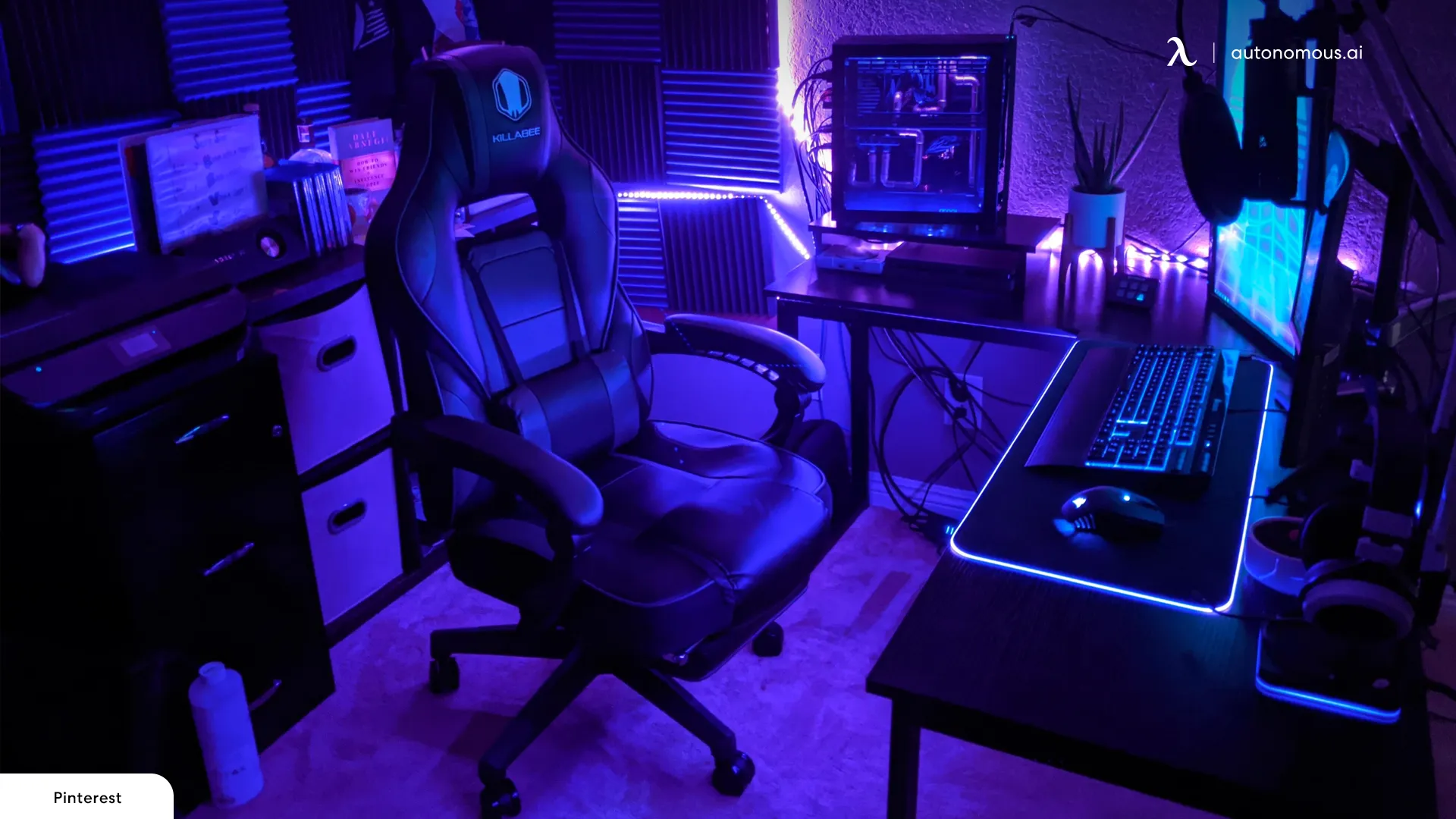 Minimalistic Gaming Room Setup
The minimalist Japanese gaming setup is for the ones who don't want anything too gimmicky. To create such a setup, all you need to do is to select one or two colors of the theme and put the neon light behind your monitor, on the keyboard, and corners of your room.
Feel free to showcase your collectibles on a separate shelf near the gaming desk for a Japanese touch. We highly recommend using neon night lights for the ambient lighting.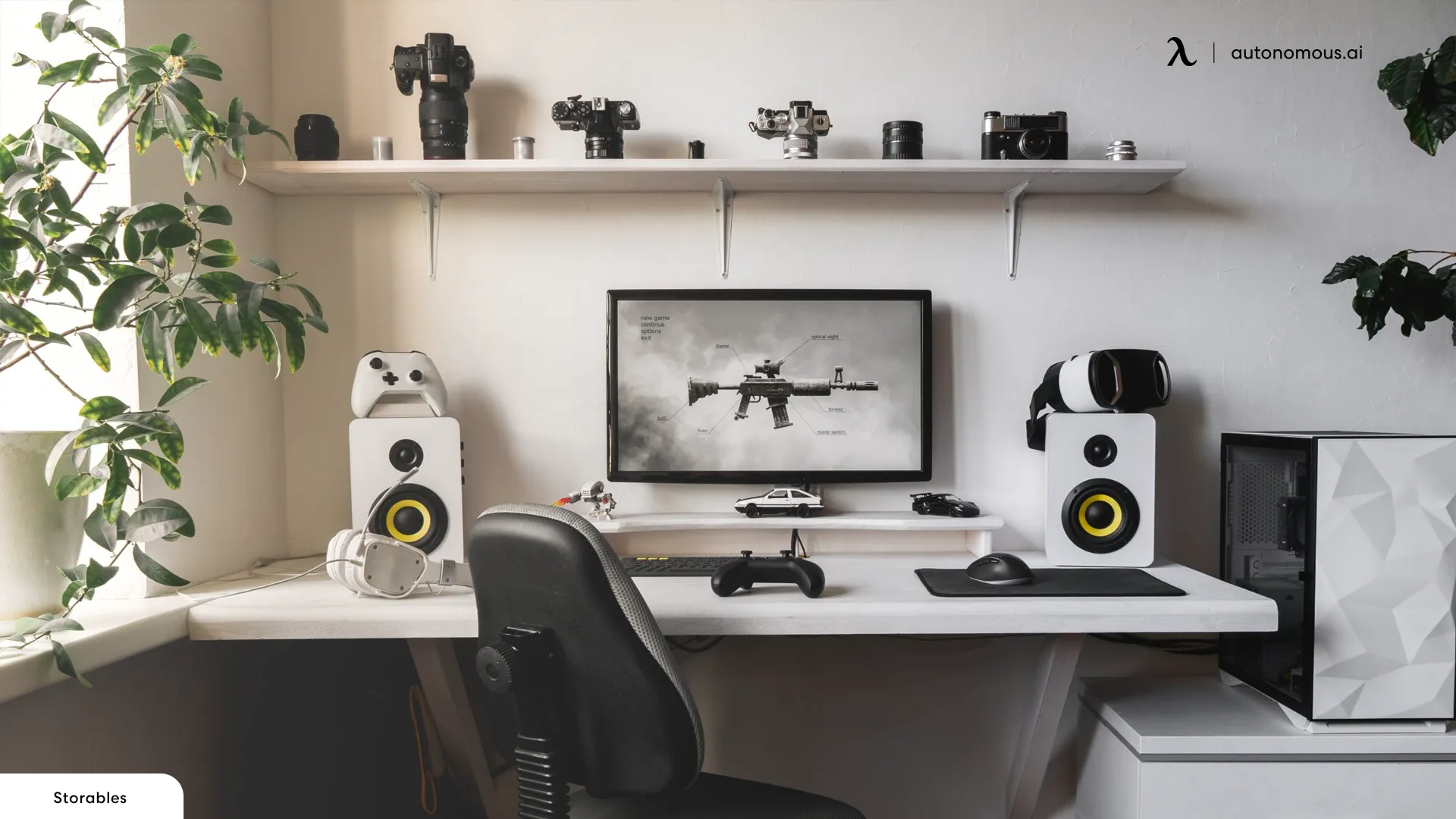 Rainbow Theme Gaming Setup
For the ones looking for vibrant colors all over the room, a rainbow theme would be an ideal choice. Many LED strip sellers provide LEDs that contain multiple colors displaying on different segments of the strips at the same time. These LED strips can be used to create a colorful environment in your Japanese gaming setup that would instantly catch the attention of every hardcore gamer.
However, in such setups, make sure to use black or white desks and other accessories so that the contrast between the colors remains perfectly balanced.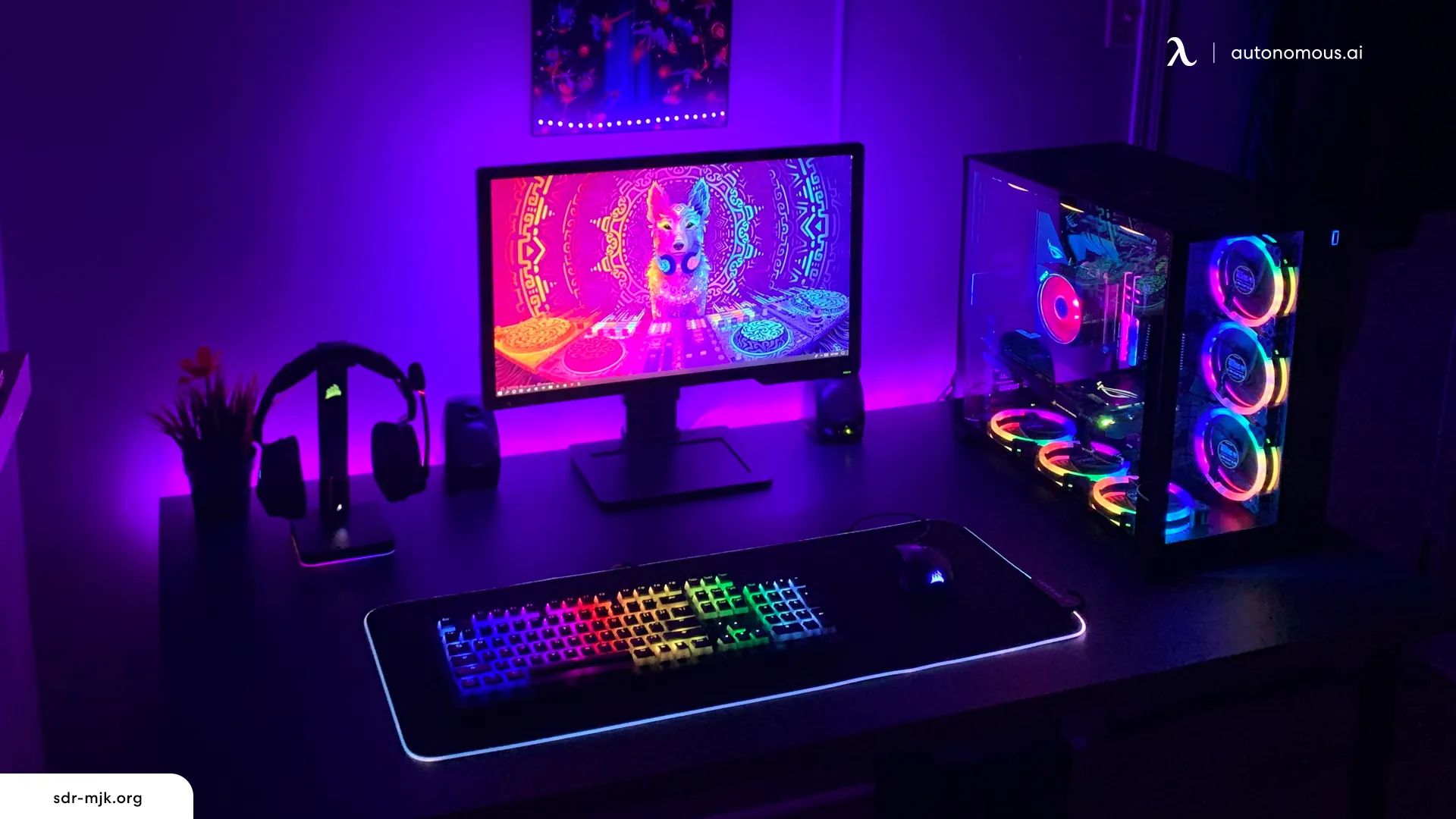 Nintendo Theme Gaming Setup
Nintendo Switch Theme has become quite popular in recent years. The neon blue and neon red combination looks absolutely stunning for a modern Japanese gaming setup. The color combination is not only ideal for console-setup but also for a modern-day pro gaming PC. Use the RGB Spec Lux PC strip lights kit to match the internal lighting of your pc with the overall theme. For other consoles, such as PS5, you can buy cosmic red and starlight blue PS5 faceplates, as they are the closest colors to the Nintendo Switch.
Kawai Shiba Gaming Setup
Kawai Shiba is the Japanese dog breed that almost every local Japanese love for its cuteness. Nowadays, the love for it has reached a level where people are designing their Japanese gaming setups based on it. To apply the theme to your gaming room, paint the walls with brown color and place all the collectibles that resemble Kawai Shiba. Keep in mind that you can only use three colors – sky blue, brown, and white – for proper implementation of the theme.
The Pink Theme for Gamer Girls
Gamer girls love to build their Japanese gaming setup based on a pink theme. For pink-themed setups, you need to make sure that everything you pick for your gaming room is pink. A good combination of dark and light-shaded pink would be ideal for a Barbie theme or pink princess theme implementation. You can even buy a pink keyboard and mouse and EUREKA ERGONOMIC L60 Computer Desk in pink for the perfect match.
Get your gaming setup now and enjoy the great experience immersed with Japanese culture.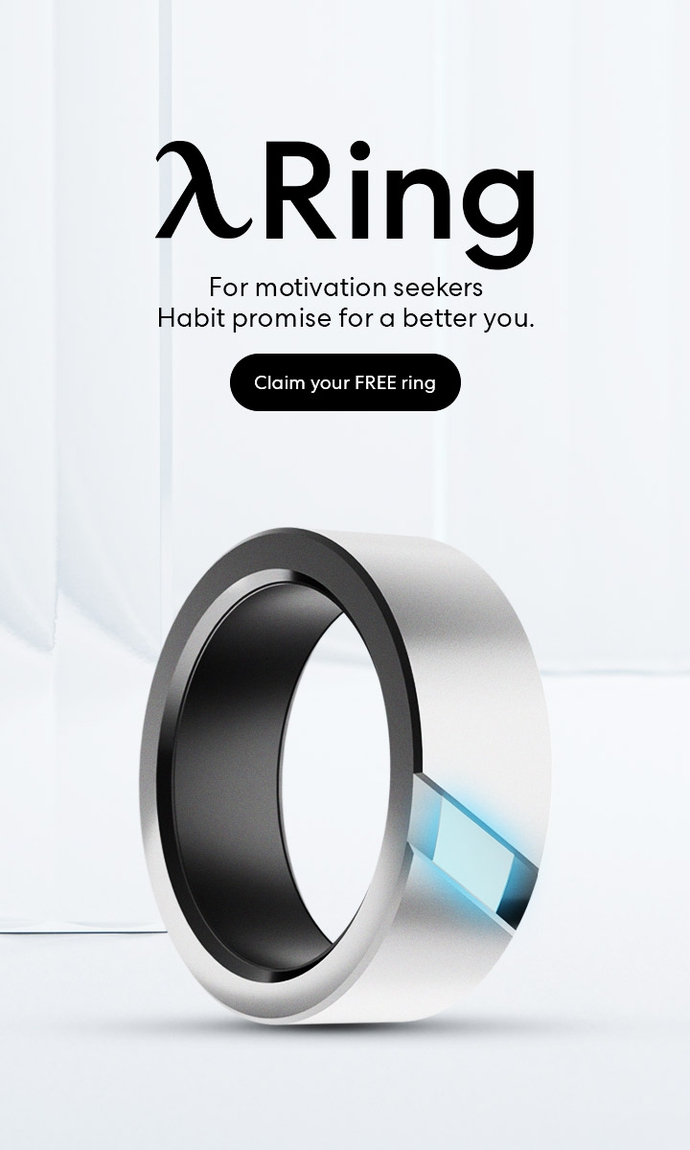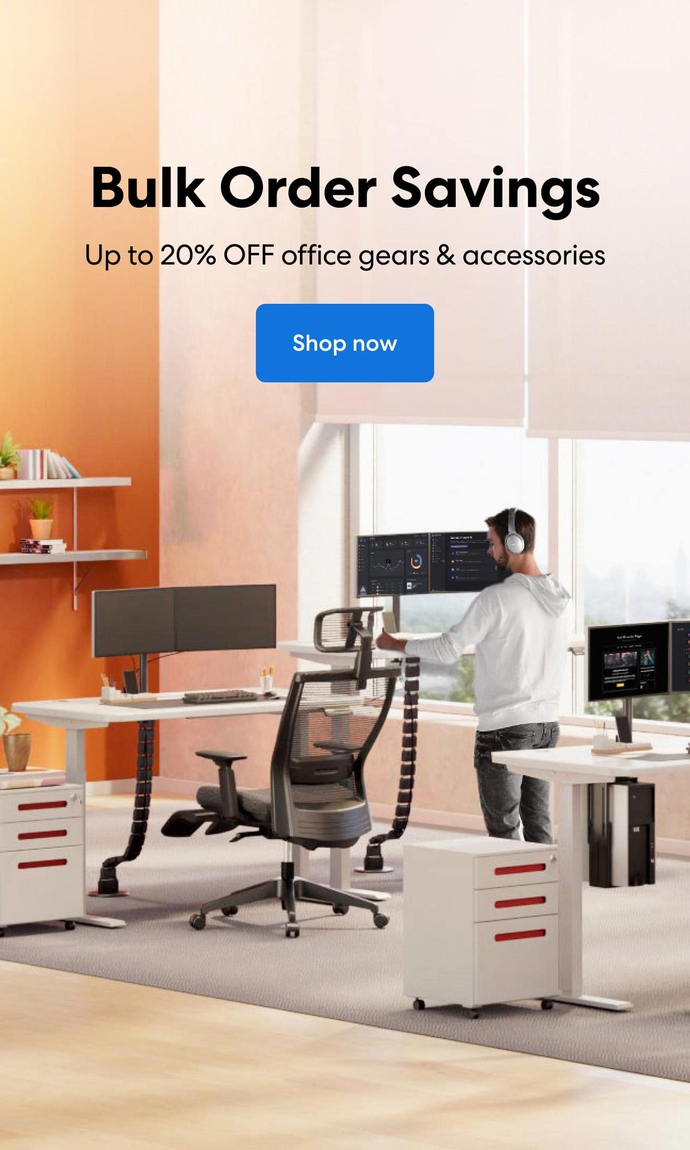 Subcribe newsletter and get $100 OFF.
Receive product updates, special offers, ergo tips, and inspiration form our team.