With Black Friday and Cyber Monday rolling around very soon, now is the time to start planning your shopping. Whether you work in a traditional office or are part of the growing number of remote workers, having a great office desk is important for your productivity. There are so many great benefits of a Black Friday L-shaped desk, so get to know some of the best models you can look out for.
Top 3 Black Friday L-shaped Desks for Sit-Stand Workstation
Now that you know what makes L-shaped desks and standing desks a great pick, it's time to plan for your Black Friday corner desk. Here are great choices; be sure to watch out for the upcoming sales.
1. The SmartDesk Corner from Autonomous
This is one of the top picks for your Black Friday L-shaped standing desk. It combines the convenience of an L-shaped corner desk with all the health advantages of a standing desk. You get the perfect combination of style and function. Moving the desk between different height levels happens in seamless silence, thanks to a robust triple motor system. Autonomous L-shaped standing desk can carry a weight of up to 33 lbs. The desk is available in four different color options—white top with white frame, black top with black frame, and a walnut top with either a black or a white frame. The desk is easy to assemble and is shipped free in the USA. You can trial the desk for 30-days, and a 5-year warranty also covers it.
The Autonomous SmartDesk Corner is a height-adjustable electric standing desk and one of our favorite L-shaped desk Black Friday deals. This desk comes in white, black, and gray color and offers two frame options black and white. The SmartDesk Corner offers twice the space, has a whisper-quiet triple motor operation, and is constructed with a solid steel frame. It offers height adjustability from 29 to 48 inches, 4 programmable settings, and a built-in cable management tray. Despite its reliable features, the smart desk corner offers a 5-year warranty.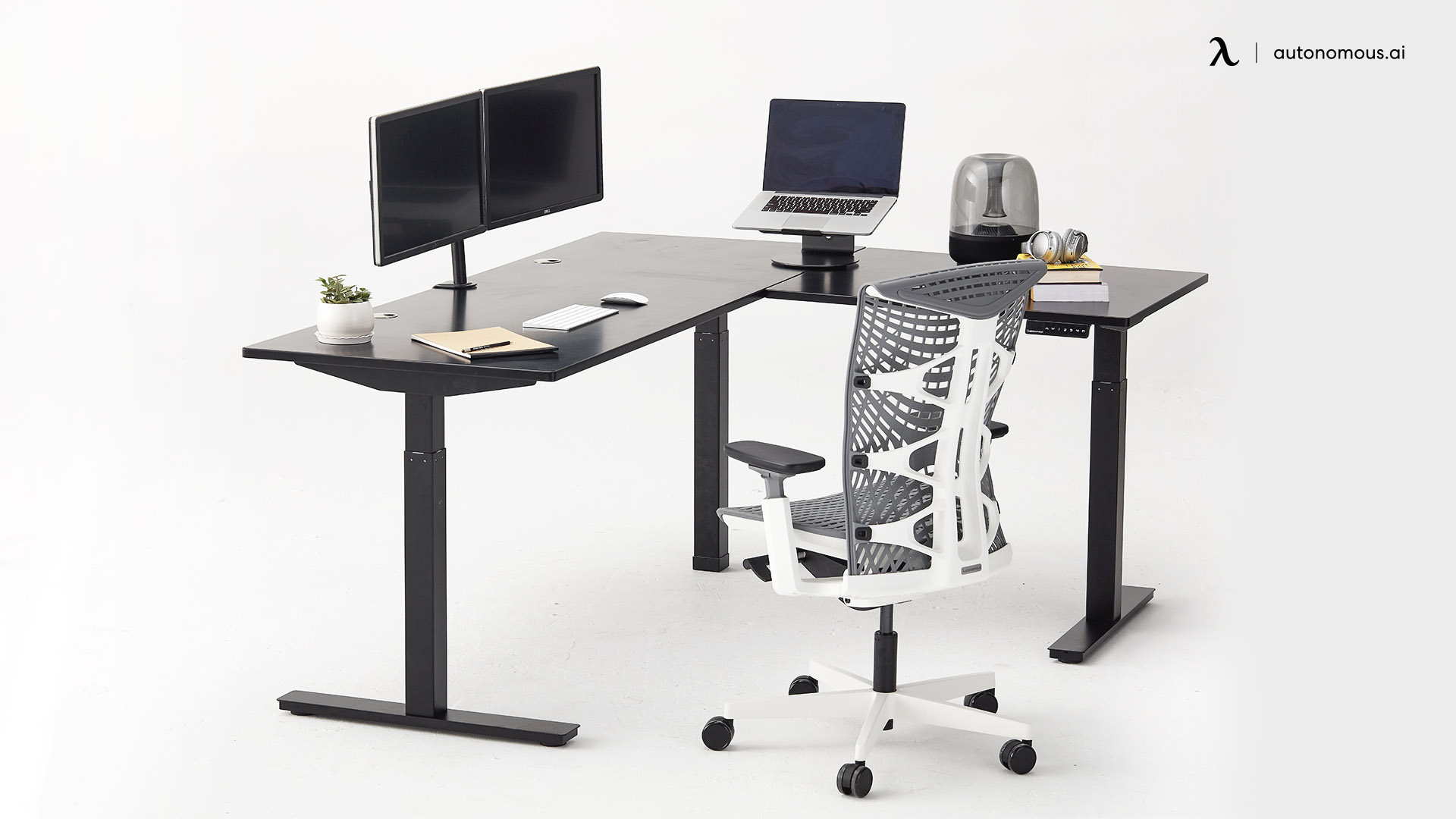 2. MOJODESK 3 LEG CORNER-CARBON FIBER
L-Shape Electric Adjustable Height Desk features an expansive design built on a robust commercial-grade 3-leg frame with three motors, ensuring a lifting capacity of up to 450 pounds.
The MojoDesk 3-Leg Corner Desk is the epitome of a customizable adjustable-height corner desk, large enough to accommodate all your workspace essentials while exuding a tailored style that elevates your productivity.
Unlike its counterparts, it boasts the capability to accommodate up to four monitors, and offers the convenience of connecting a monitor arm in the corner, thanks to a generous 32 inches of center depth. Furthermore, our standard programmable hand control with four presets and a user-friendly LED display ensures effortless height adjustments.
Our L-shaped desktops are available in four different sizes, and you have the flexibility to configure them with either symmetrical or asymmetrical sides, allowing you to tailor the desk to your unique space and preferences. Plus, we're delighted to offer free shipping on all orders.
Experience the pinnacle of workspace flexibility and style with our L-Shape Electric Adjustable Height Desk.
3. L-Shaped UPLIFT Standing Desk
L-Shaped UPLIFT Standing Desk, the ultimate solution for those seeking ample desk space. This unique L-shape design creates a perfect corner desk, spacious enough to accommodate all your workspace essentials while ensuring a customized aesthetic that reflects your personal style.
What makes your future L-shaped corner desk truly exceptional is its upgrade to the industry-leading and award-winning UPLIFT V2 Frame. This frame design, celebrated by Wirecutter as the "Best Standing Desk" overall in their comprehensive review, provides the same outstanding performance and quality that our 2-leg desk is known for.
Whether you opt for the UPLIFT V2 Frame or the UPLIFT V2-Commercial Frame, rest assured you are investing in the most advanced sit-stand desk available. Upgrade your workspace with the L-Shaped UPLIFT Standing Desk and experience the pinnacle of ergonomic design and functionality.
Top 5 Black Friday L-shaped Computer Desks
Other Great Alternative Office Standing Desk Deals
If you are looking at other desk options for this coming sale season besides a Black Friday L-shaped standing desk, there are plenty of great choices. Having a comfortable desk that you like can make your remote, work-from-home, or traditional office work so much better. Here are some other great desk options to consider, depending on your requirements and the field of your work.
FAQs
1. What Are the Benefits of an L-shaped Desk?
There are so many different desk shapes, styles, and types. You can have a conventional rectangular one, a round table, a standing desk, or even an L-desk Black Friday one. When you are deciding on a desk, one of the biggest factors is how much space you have available. No one enjoys having a cluttered workspace, so the more room you can have for your desk, the better. You also have to think about what you want to use the desk for, your office style, and how ergonomic the desk option is. 
You might want to save up for a Cyber Monday L-shaped desk for a few reasons. An L-shaped desk is a uniquely shaped desk. It can give you more space to work on while taking up less space in your office. When you have a corner space available, a regular rectangular desk might not fit well, but a Cyber Monday L-shaped desk could fit like a glove. One last reason to consider an L-desk Black Friday deal is that you get two distinct surfaces on one desk to separate your work. 
You know the pros of buying a Black Friday corner desk, but it is also worth looking at some possible cons. An L-desk Black Friday sale might be a bit clumsy to fit in some spaces. You might need to rearrange the rest of the office. 
2. Why Should You Consider a Standing Desk?
Standing desks, such as a Black Friday L-shaped desk, are much more than a novelty item—they are a great lifestyle choice. More and more office workers adopt them to offset the negative repercussions that having a primarily sedentary lifestyle can bring. If your job requires you to sit at a computer for most of the day, it's easy to become very inactive and develop neck and back pain. Many people also spend much of their evenings on the couch, which only adds to the problem. 
There are many great perks to owning a standing desk. Your Black Friday L-shaped desk allows you to sit or stand depending on how you feel and whether you want to get some movement and exercise in. This can do wonders for your health, mood, and posture. You can move your Cyber Monday L-shaped desk between different heights with the push of a button. 
3. How Can You Make the Most of Your Standing Desk?
There are many ways to maximize your Black Friday L-shaped desk. It starts with getting to know the different settings and options available. You also need to understand the benefits of the standing desk option.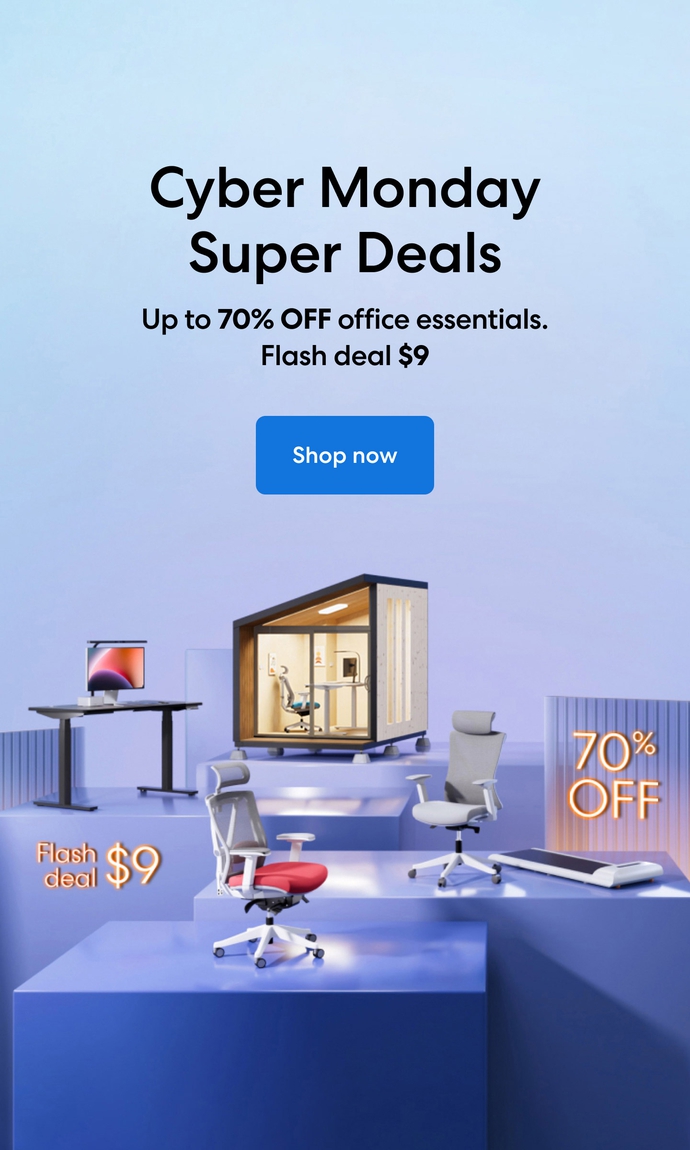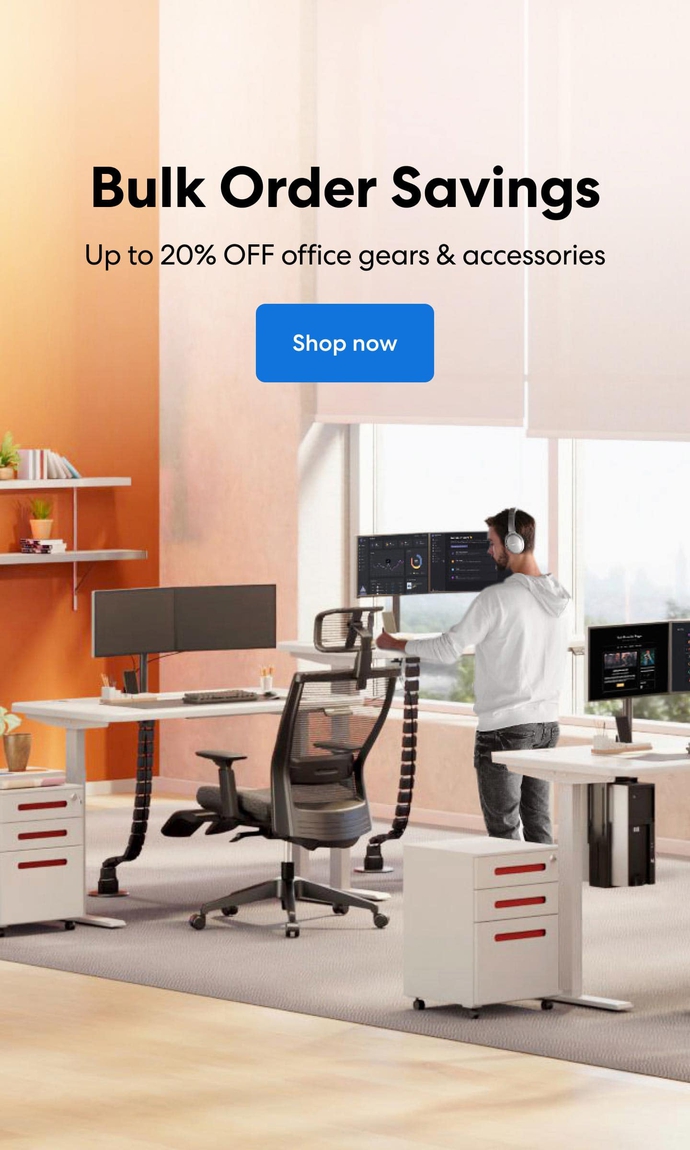 Subcribe newsletter and get $100 OFF.
Receive product updates, special offers, ergo tips, and inspiration form our team.