Smart Products
A Complete Longevity Guide: Maintaining the Pristine Beauty of White Desks

Laura Turner
|
Sep 26, 2023
1,433 Views
White desks are well-liked in the workspace for being functional. However, these white office desks also offer an aesthetic statement that provides a sense of minimalism and elegance to any home or office setting. 
Maintaining white desks' high-quality appearance requires some extra attention and care, but the effort is worthwhile. We're diving into some top tips for keeping your white computer desks in tip-top shape. This will make sure that your office desk remains as beautiful as the day you first bought it.
Whether you're looking to preserve the condition of a white oak desk, a white office desk, a white computer desk, or a white desk with drawers, these tops will empower you to make them as good as new. 
Why Should You Pick a White Desk?
Many people might think that a white desk is just a piece of furniture that can be challenging to keep clean most of the time. However, this isn't the case. A white office desk is a canvas for creativity and is used to promote the idea of tranquility and cleanliness. 
That's because a white desk blends in well with an array of décor styles. Whether the white desk is included in a contemporary or minimalistic office setting, it allows for versatile design choices.
Pros and Cons of Using a White Office Desk
There are many pros associated with using white desks. These include: 
White desks provide versatile design options because they can easily complement various color palettes and interior designs
Additionally, a white office desk offers enhanced light reflection because the color white is known to reflect light, which makes spaces appear more open and bright.
A white computer desk offers an elegant and timeless aesthetic because it brings a sense of sophistication into any space.
Although white computer desks offer great benefits, these pieces of furniture also come with some cons. These include: 
White oak desks are susceptible to wear because discoloration and scratches are more visible with this color desk.
Furthermore, white office desks are more prone to stains because these spills show more prominently, which requires consistent upkeep.
White computer desks require regular cleaning to maintain their appearance.
Why Are White Desks Prone to Wear?
A white office desk provides many advantages, but people still tend to stray away from including one in their workspace because it's prone to wear. That's because these white desks are susceptible to discoloration, stains, and wear because of their light hue.
Some of the most common culprits of white desk discoloration include ink marks, coffee spills, and general dust that's accumulated over time. Frequent use also leads to fading and scratches. 
Tips to Clean and Maintain White Desks
Even though a white desk is prone to stains and discoloration, it's an excellent addition to any office space. 
Maintaining its condition can be tricky, but we've put together some top tips to help you easily keep your white desks in the best shape possible. 
Avoid Direct Sunlight
You can cause fading and discoloration to your white office desk by exposing it to prolonged, direct sunlight. Instead, choose to position your desk away from any direct sunlight. You can also use window treatments to filter UV rays.
Regular Dusting
Dust accumulation can cause your white desk to wear. That's why you should regularly use a soft feather duster or microfiber cloth to dust your desk. This will prevent any dirt build-up, which is often the culprit for scratches. 
Dealing with Any Stains
We all spill things on our office desks. The most important thing is cleaning up any spills immediately after. By doing this, you prevent any stains from setting. 
Take a clean cloth and blot the spill gently. You want to start from the outer edges and then move inwards. It's also important to avoid rubbing the spill because this can spread the stain. 
Use Gentle Cleaning Solutions
You want to avoid using any harsh cleaning products because this can damage your desk's finish. Instead, mix a mild detergent with some water for everyday cleaning.
You can then wipe down the desk's surface with this gentle cleaning solution and a soft cloth. Harsh and abrasive chemicals should be avoided at all costs.
Marker and Ink Removal
It's not uncommon for ink or marker stains on your white desk. Although it can be stressful, there is a way for you to get these stains out easily and without damaging your white desk's surface. 
Take a clean cloth with a small amount of rubbing alcohol and gently blot the stain. Remember not to rub it, as this will spread the stain. 
You also want to test a small (and hidden) area of your white desk first to ensure that the rubbing alcohol doesn't damage the finish. 
Don't Forget About Drawer Care
Clean your white standing desk with drawers periodically. You also want to avoid overloading these drawers, as the excess weight can damage your drawer mechanisms. 
Use Desk Mats
You can prevent scratches by adding a soft piece of fabric or protective desk mat underneath office items like paper stacks or laptops.
Add Coasters
Along with using desk mats, you should also think about adding coasters to your desk setup. This will prevent any liquid spills from landing on your white desk's surface.
Regular Routine Maintenance
You want to create a cleaning routine and stick with it. This will prevent any grime or dirt from building up. It's important to remember that a few minutes of care done consistently can save you from the hassle of having to do a deep cleaner later on. 
Desk Accessories
Desk decorations for work are great for any white desk setup. You can invest in pen holders and cable organizers to help prevent any clutter. These accessories also reduce any debris build-up, which stops scratches from forming on your desk's surface.
The Top 10 Best White Office Desks for Longevity
There are a range of white office desk options that meet your functional needs while also standing the test of time. All of these desks have unique features and charm, but they have one thing in common: they'll stand the test of time. 
Whether you're searching for a blend of modern technology, storage solutions, ergonomic features, or a minimalist desk, these white desks have got what you need. 
Before you select your perfect white desk for your workspace, you want to consider your needs, the features that work with your daily tasks, and the overall design of your workspace. 
Whatever desk you decide on, you want to invest in quality. This will ensure that your office space remains functional and stylish for many working years to come. 
Here are some of the white office desks for longevity for you to choose from: 
1. Autonomous SmartDesk Core
If you're looking for a versatile stand-up desk that prioritizes comfort and ergonomics, the Autonomous SmartDesk Core is the right choice for you. It allows you to easily switch between standing and sitting positions because of its adjustable height feature.
This reduces strain while promoting better posture. Autonomous SmartDesk Core's design is the perfect fit for various office setups, while its robust construction ensures long-term durability.
2. Autonomous SmartDesk Pro
Autonomous SmartDesk Pro is a high-quality home standing desk that's specifically designed for home productivity. Its advanced features and sturdy construction let workers enjoy great ergonomics when working in standing and sitting positions.
The desk's smooth white surface also makes it a great aesthetic addition to any workspace. Various work needs are catered for because of its spacious surface area and electric height adjustment. This results in enhanced aesthetics and functionality.
3. IKEA MICKE Desk
This IKEA MICKE Desk is best known for its sleek design and practicality. It's constructed as a compact size and offers a clean white finish. This makes it a versatile option for a wide array of spaces.
You're also provided with an integrated cable management system, which keeps your cords organized. Both functionality and aesthetics are offered in this way. Finally, the MICKE Desk is equipped with a durable build to make sure you're investing in a reliable workspace companion.
4. Sauder Cottage Road Desk
If you're searching for a white desk that offers a charming blend of contemporary and classic design, you should look no further than the Sauder Cottage Road Desk. It's designed with louvered door panels and a white finish, which provides a cottage-inspired appearance.
With a spacious tabletop and ample storage space, this white desk is equipped to maintain a timeless appeal while accommodating your work needs.
5. Tvilum Walker 2-Drawer Desk
The Tvilum Walker 2-Drawer Desk is one of the best white desks with drawer features on the market. Its design offers a balance between functionality and simplicity, while its white finish and clean lines make it an option for any office space.
When you purchase this white desk, you get two drawers for convenient storage space. That means no more loose papers and documents all over your workspace. The neutral design and sturdy construction make sure that this desk remains in tip-top shape for years to come.
6. Autonomous SmartDesk Corner
If you're looking to maximize your corner spaces, the Autonomous SmartDesk Pro is the right option for you. This white smart desk is designed to optimize space while still offering the benefits of a standing desk. The corner standing desk is equipped with a white finish that is elegant and makes any workspace look organized and clutter-free.
7. Nexera Tangent Desk
The Nexera Tangent Desk is a great option if you're a fan of white oak desks. This piece of furniture is designed to offer a touch of nature to your office environment. Its warm oak finish and minimalist design help create an inviting and unique atmosphere. You're also guaranteed durability with this desk, so you can cherish it for years to come.
8. Skyline Décor Home Office Writing Computer Desk
These white desks with drawer facilities from Skyline are tailored to those who need a dedicated space for writing tasks. It features a white surface and minimalist construction, which makes it a perfect desk for focused work. With its compact design and clean lines, it's an exceptional addition to any home office.
9. Bertolini 1 Door 1 Drawer Computer Desk
This Bertolini combines white desks with drawer facilities and white computer desks to give you the best of both worlds. The integrated door and drawer offer storage space, while the white finish creates a modern look. It makes it the best desk for those who want a clutter-free office without sacrificing on style.
10. Kowo K302 Glass Standing Desk (with Wireless Charger)
The Kowo K302 is a well-liked standing desk for its fusion of a white finish and glass. It's equipped with a wireless charging feature, which is catered specifically for modern tech-savvy individuals. The white elements uphold a clean aesthetic, while the glass offers a touch of sophistication to any workspace.
What to Consider Before Picking a White Desk?
Before choosing a white standing desk, you want to consider some vital factors. These are: 
Functionality and usage
Ergonomics and comfort
Workspace and layout
Style and aesthetic
Storage needs
Budget
Durability
Longevity and quality
Installation and assembly 
Wrapping It Up
White computer desks are no longer just functional pieces of furniture. When pristine condition is maintained, these white desks become design statements that hold the power to transform your workspace. 
By following the maintenance and cleaning tips outlined in this comprehensive guide, you can guarantee that your white desks with drawer facilities remain durable and stunning. 
Although it can be more of a hassle to maintain white office desks than a black alternative, you gain many benefits from including a white desk in your workspace. 
However, a little consistency in your cleaning efforts will ensure your white office furniture remains in tip-top shape.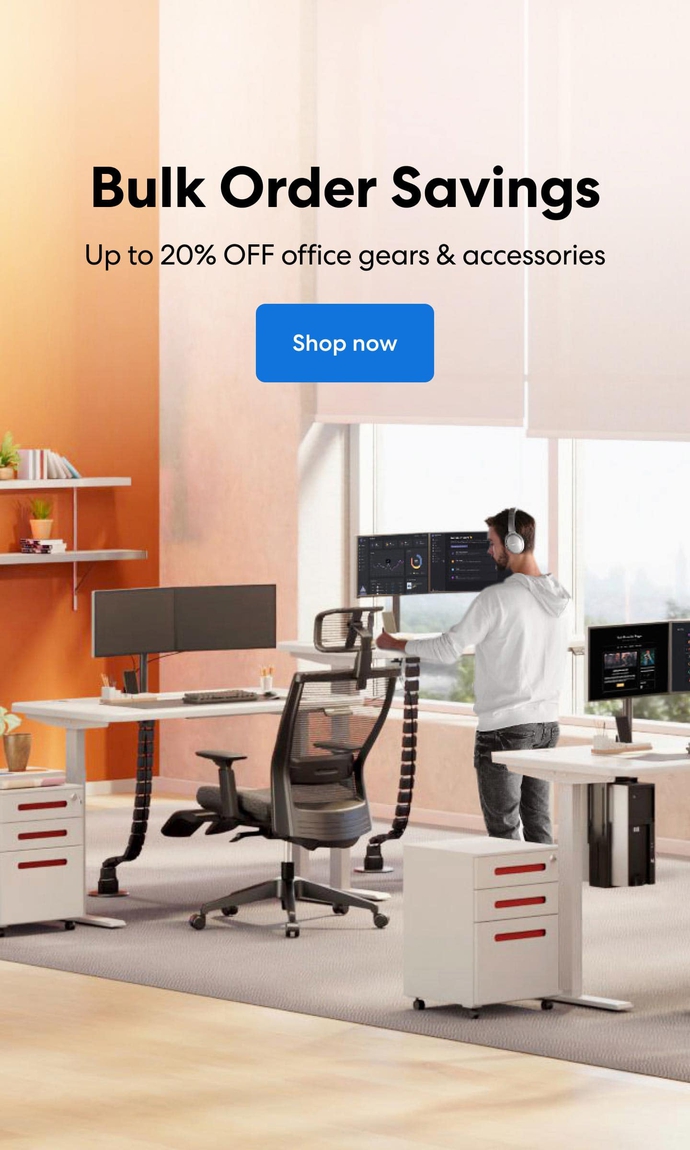 Subcribe newsletter and get $100 OFF.
Receive product updates, special offers, ergo tips, and inspiration form our team.