Latest Updates
Upgrade Workspace with Black Friday L-Shaped Desk Deals

Autonomous
|
Nov 1, 2023
720 Views
Sure, a comfortable office chair might be the most important thing for your office setup, but the right office desk is no less. With the correct selection of ergonomic office desks, your workplace can be more productive and comfortable and help you maintain a mess-free desk setup. Further, with the improvisation in the way in which offices work, many modern office setup ideas are aimed at productivity and better health, too. An adjustable height L-shaped desk is one of those changes in the workplace that has transformed everything for the better.
There are numerous health benefits of a standing desk in an office setup, and with the Black Friday L-shaped desk sales approaching close, you are definitely in luck to purchase the top-of-the-line L-shaped desk deals without having to break the bank. If you are also planning to purchase an L-shaped gaming desk this Black Friday, then this article is the complete guide you need.
Best L-Shaped Desk Black Friday Deals
Black Friday discount L-shaped desks are one of the wise purchases you can make this Black Friday for your office. Considering the benefits a height-adjustable L-shaped desk offers for your workspace, you must choose the right option without worrying about the price tag. And that is only possible if you are getting a good deal on a product. Below are our favorite Black Friday-shaped desk deals you must check out this year.
1. Autonomous SmartDesk Corner
Autonomous goes huge when it comes to Black Friday sales, and this expensive, top-quality desk is no exception. The Autonomous SmartDesk Corner offers twice the working space with half of the footprint. It is operated with the help of whisper quiet triple motor, and the solid steel frame provides the desk with a 400-pound weight capacity. With a 5-year warranty, you can score an affordable deal for Black Friday because, on other days, the high price of this desk is fully justified.
2. Flexispot E5 Standing Desk
When it comes to giving competition to a fully ergonomic brand like Autonomous, the Flexispot scores a spot. Their E5 height adjustable desk is phenomenal and has a compact design, a pair of powerful electric motors, and pre-programmed height settings. For Black Friday, it comes at a great deal of price. The upgraded touch keypad makes the desk easy to control, so even new users can get a hold of it in a few days.
3. Orndorff L-Shaped Desk
Do you prefer working with someone from your team to chat with you and help you throughout the report? If yes, then this Orndorff L-shaped desk is something you must check out. Without complicating the workspace too much and also giving enough privacy to both of the users, the desk is made for two people working together. It has plenty of storage options on both sides, so each person has their storage. It has a wide surface for your monitor and other accessories, too.
4. Menchaca L-shaped Desk
This desk is a terrific addition to any workspace or home office since it combines a fashionable appearance with utility. With this attractive item, you may improve your office without breaking the bank. The wooden surface combined with the metal frame adds durability and design to the desk. You will love how well it suits the majority of workspaces without ruining the aesthetics.
5. Bush L-shaped Desk
Bush is a popular name in the line of high-quality and versatile L-shaped desks. Though their desks aren't suitable for compact spaces or elaborate and high-class settings, their products live up to the job. In this fixed-height desk, you are to choose from 3 different height settings. For a more comfortable work experience, the desk comes with a built-in cable management system that keeps the wire mess at bay.
6. Insignia Adjustable Desk
Another minimalist height adjustable desk on our list, the logo is ergonomic for all the right reasons. It has memory height features that allow you to record and set the desk at different height levels. You can add up to four different heights, hence making the desk useful for 4 individuals at once. The design is compact and doesn't take up a lot of space. This desk is perfect for a tiny bedroom office setup.
7. Brodan L-Shaped Desk
This Black Friday L-shaped desk is fantastic for anyone who needs more desk space and has a spare corner in the room, which they thought wasn't spacious enough for anything. Able to fit in the tiniest of spaces, the desk is indeed a space saver. The desktop has built-in power, and the electric motor-controlled legs perform fantastically. The height adjustability is smooth with just a touch of a button, and you will find yourself mesmerized by the wooden table top paired with a strong and sturdy metal frame.
How to Choose the Perfect L-Shaped Desk?
Putting your body through a lot of trouble and strain by sitting all day is a common practice. While one cannot imagine standing up and working at the same time, the era of standing desks has not only made this concept a reality but easy, too. With the right standing desk, you can do wonders for your health and work performance at the same time. Below are some factors to consider when choosing the right small L-shaped desk for your office.
Height Range
What's the point of an adjustable desk if it doesn't meet your needs? A standing desk must cover the height ranges of the user both while sitting and standing. The height setting should be as such: your neck is not tilted upwards nor downwards when looking at the screen.
Warranty
Good desks from good brands don't come without a warranty because a product like a standing desk involves technicality and engineering embedded into its design. Make sure your desk has at least a year's warranty so you can contact the relevant brand in case of any issues.
Desk Dimensions
Most L-shaped desks offer the same length on either side of the corner; hence, they are not exactly the shape of an L, but some of the high-end options have one end longer than the other and also offer the option of reversibility. You can easily modify the left or right arm to decide which one should be the longer side, hence making these desks more versatile for a variety of workplaces.
Desk Surface Material
For a work desk, some features like durability, scratch resistant, heat resistant, and smoothness are very crucial. This is why most of the desks are made with MDF lumber tabletop, as this material covers all those mentioned above and several more factors. Other standing desk table top options include wood, glass, or aluminum.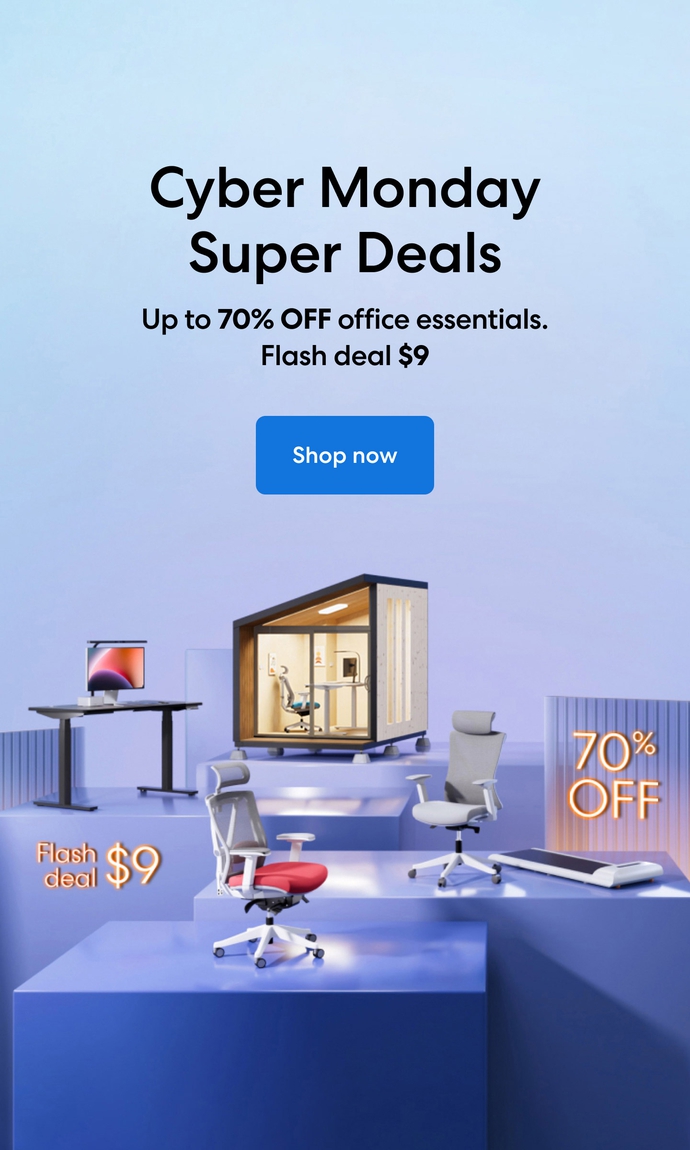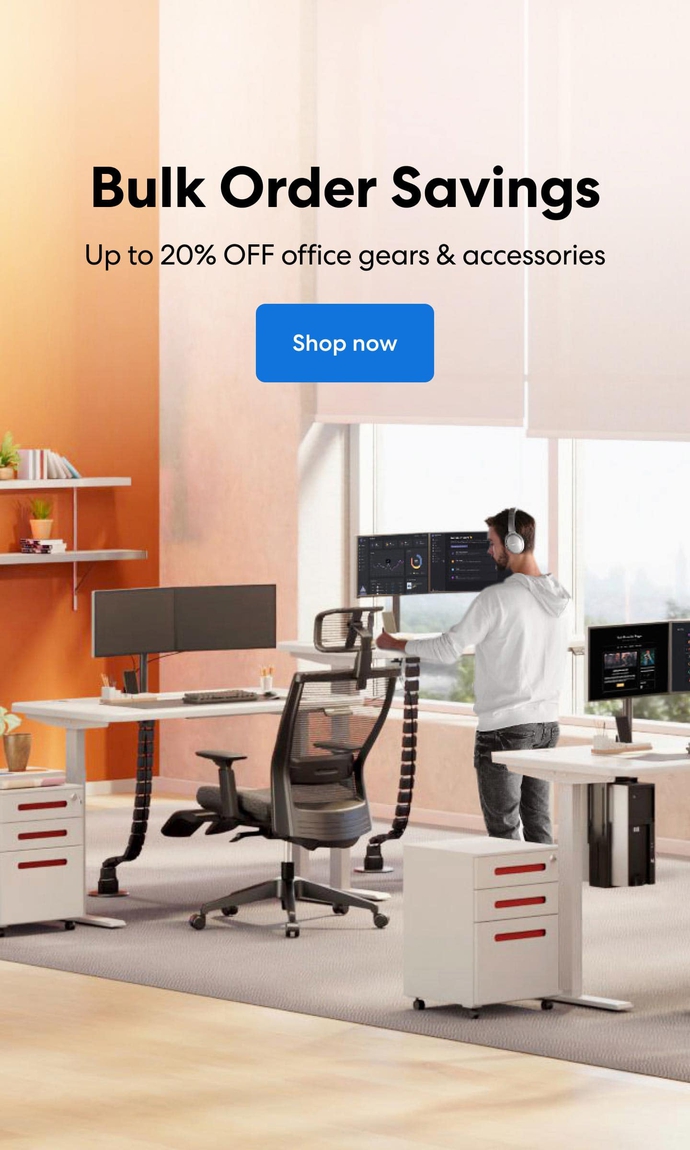 Subcribe newsletter and get $100 OFF.
Receive product updates, special offers, ergo tips, and inspiration form our team.