Smart Products
Best Quality Cheap Gaming Desks for Gamers on Budget
973 Views
An affordable or a cheap gaming desk isn't hard to obtain, but one with a robust, lasting frame, lots of desk space, and a few advanced features to make the deal is somewhat harder to achieve. There's a huge selection of gamer-friendly worktops available, but sorting through anyone that doesn't offer better value for money or lack many of the elements that one would expect to encounter on a gamer's desk can take a long time - especially if you're also looking for a gaming armchair.
That's why we've finished the legwork for you by gathering this list of the best known for its affordability, gaming desks on the market right now, as well as providing all the best deals from all around the internet. With increasing numbers of people working these days remotely, there never has been a superior time to get a new desktop setup. Gaming desk sale prices can give you above-average capabilities for a low cost.
List of the Best Quality Desks for Gaming
1. SmartDesk Core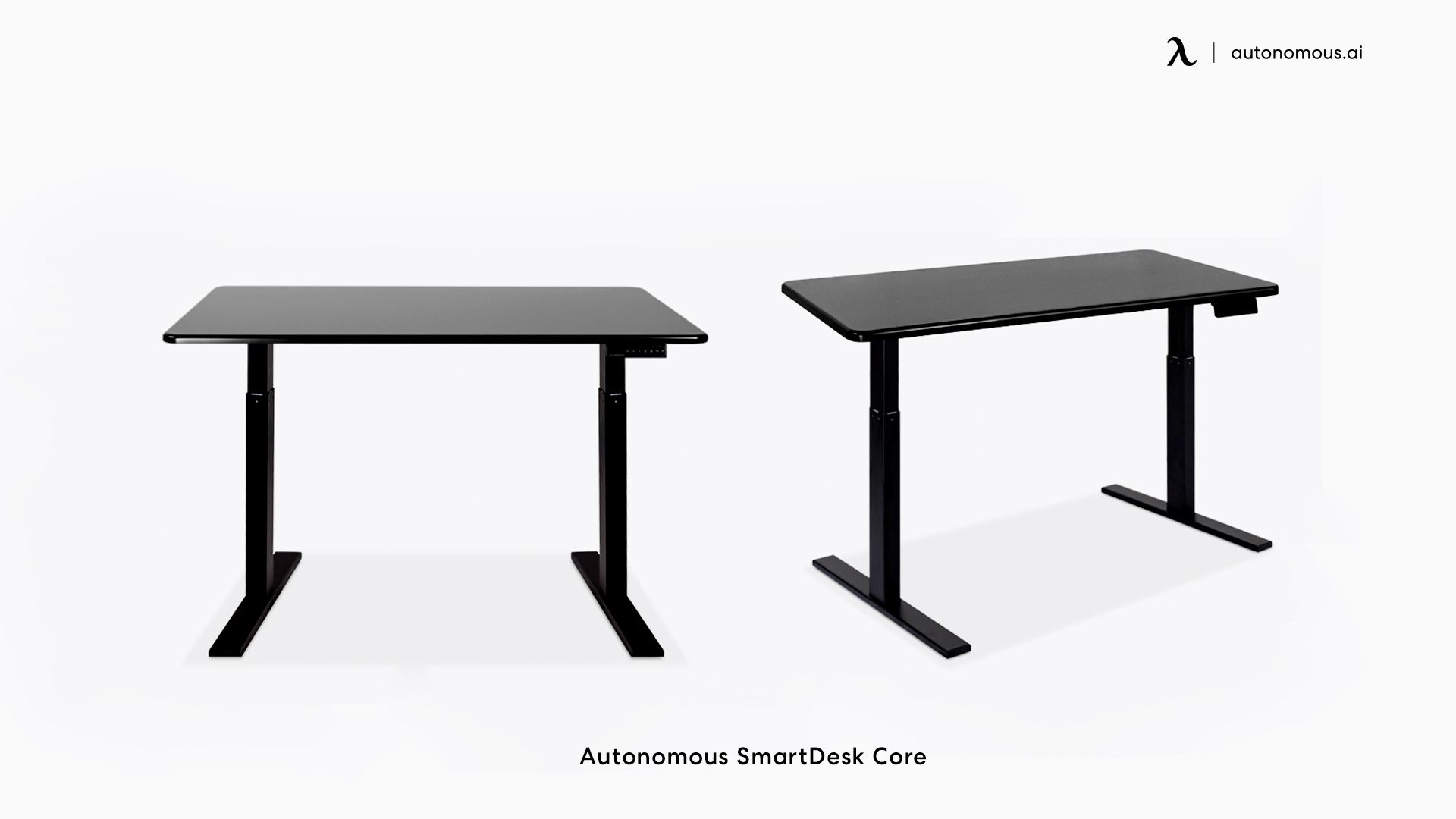 One of our most favorite best cheap desks for gaming is the SmartDesk Core by Autonomous. Such a desk is ideal for those who prefer to stay seated or stand. It is an improvement of the widely praised SmartDesk 2, ensuring that you will have a comfortable working experience. Sitting for long periods can be harmful, whether you're playing video games or attending remote meetings. Sitting up in a comfortable stance minimizes exhaustion and allows you to stay cheery and energized. You can customize this cheap gaming desk to fit your relaxation or commercial activities thanks to various customization options. As a result, both professionals and enthusiastic gamers will indeed be pleased.
2. Compact Gaming Desk by Benzara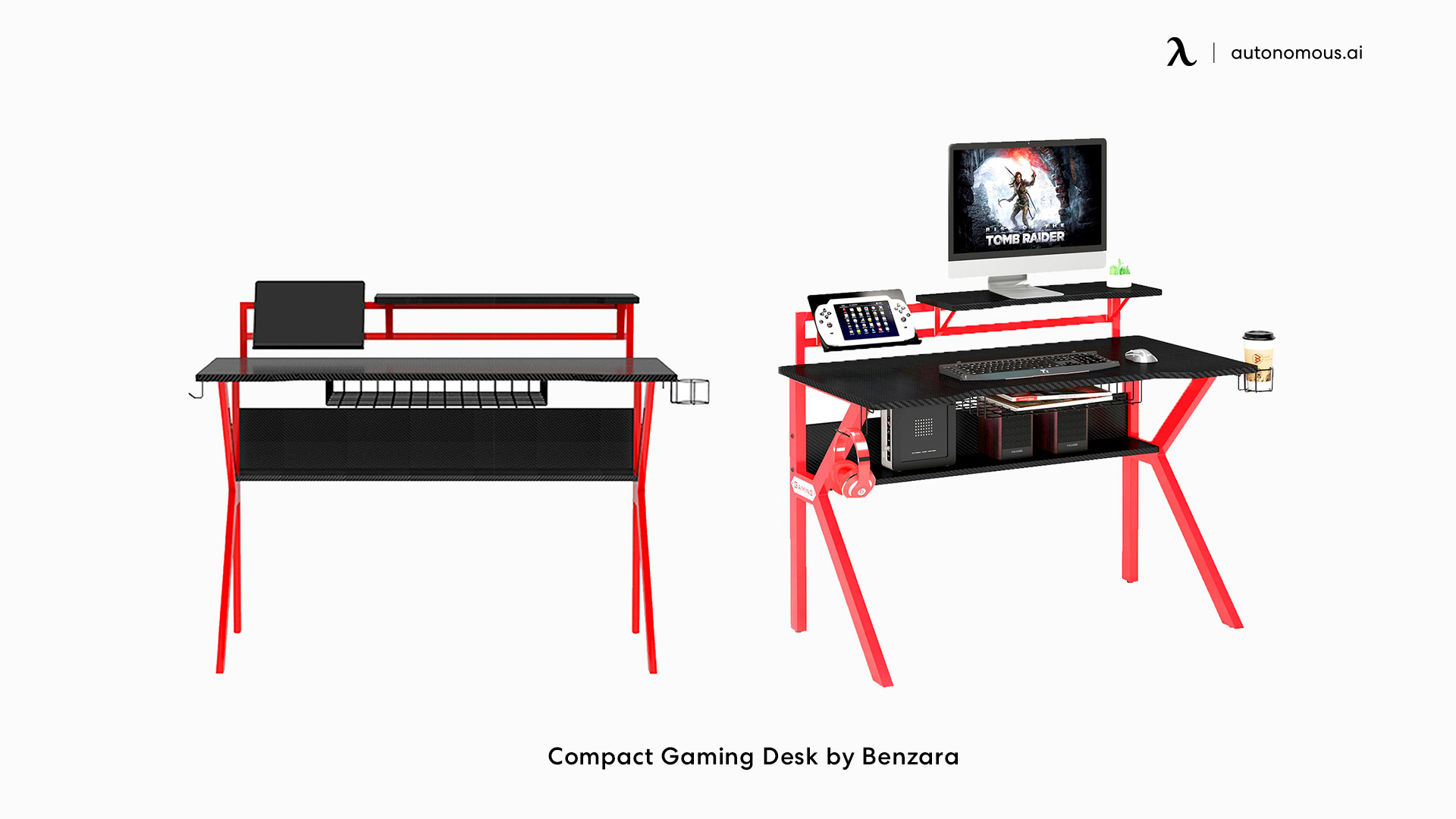 This desktop has a classic unpretentious appearance with a white shade. It is a compact gaming desk for everyone. The desk is suitable for use in a workplace and a family apartment room, study, or children's room. It's the perfect spot for a desktop, pc, or stacks of paperwork and novels. It is braced on both edges by 2 L-shaped limbs. It has a desktop with a sleek 46" width. It has a desk with a modern white finish everywhere throughout. In addition, the elegant desk is ideal for completing your home's design, plus it is a good cheap gaming desk.
3. Compact Desk by Happen 2 Minute Assembly
You won't require any tools to assemble this desk. It's as easy as it sounds. You will have to follow the instructions, and you will do it. It's the ideal blend of functionality, sturdiness, and ease of use. This no tools standing desk features a superior varnished wood lamination finishing with ergonomic functionalities and can be installed in under two minutes with no hardware. It can also be used as a home office desk for your households.
4. G-TRACING Gaming Desk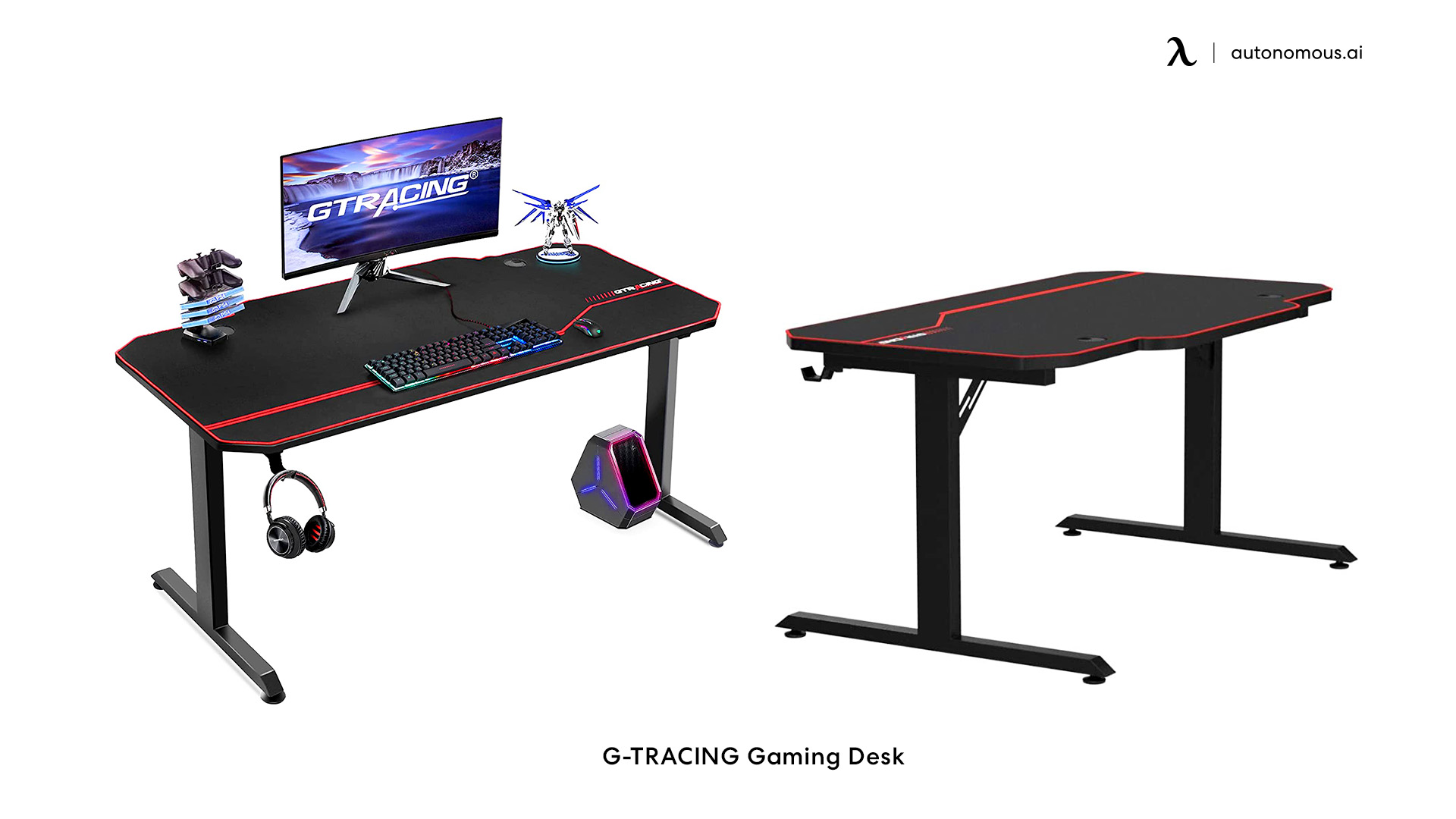 Without a doubt, the G-T Racer desktop is the best cheap gaming desk. The truth is, it's a virtual football field on just a gaming workstation. It is the greatest option if you want a fuss-proof, enjoyable gaming performance with plenty of room for your forearms, legs, refreshments, and gadgets. With less than $250, you will have everything you'd anticipate from a high-end gameplay table: a large workspace, a movable monitor, and a contemporary look.
5. Mr. IRON-STONE L-Shaped Workstation
This cheap gaming desk is for someone who seeks a cheap gaming setup at affordable prices. The only desk here on the chart that's suitable for a residence, a vacation house, a workplace, or a strange photo on your firm's site that your supervisor failed to assign to the appropriate owner adequately. In all honesty, this desktop is stunning. Thanks to its L-shape, it fits nicely in the corner of a room, and the hardwood finish looks very much like a true workstation than a gaming workstation. You can study and work on that all day, then play it after the day is done. As a result, it's like receiving two workstations in one.
6. Eureka Ergonomic Z-1-S Gamer Desktop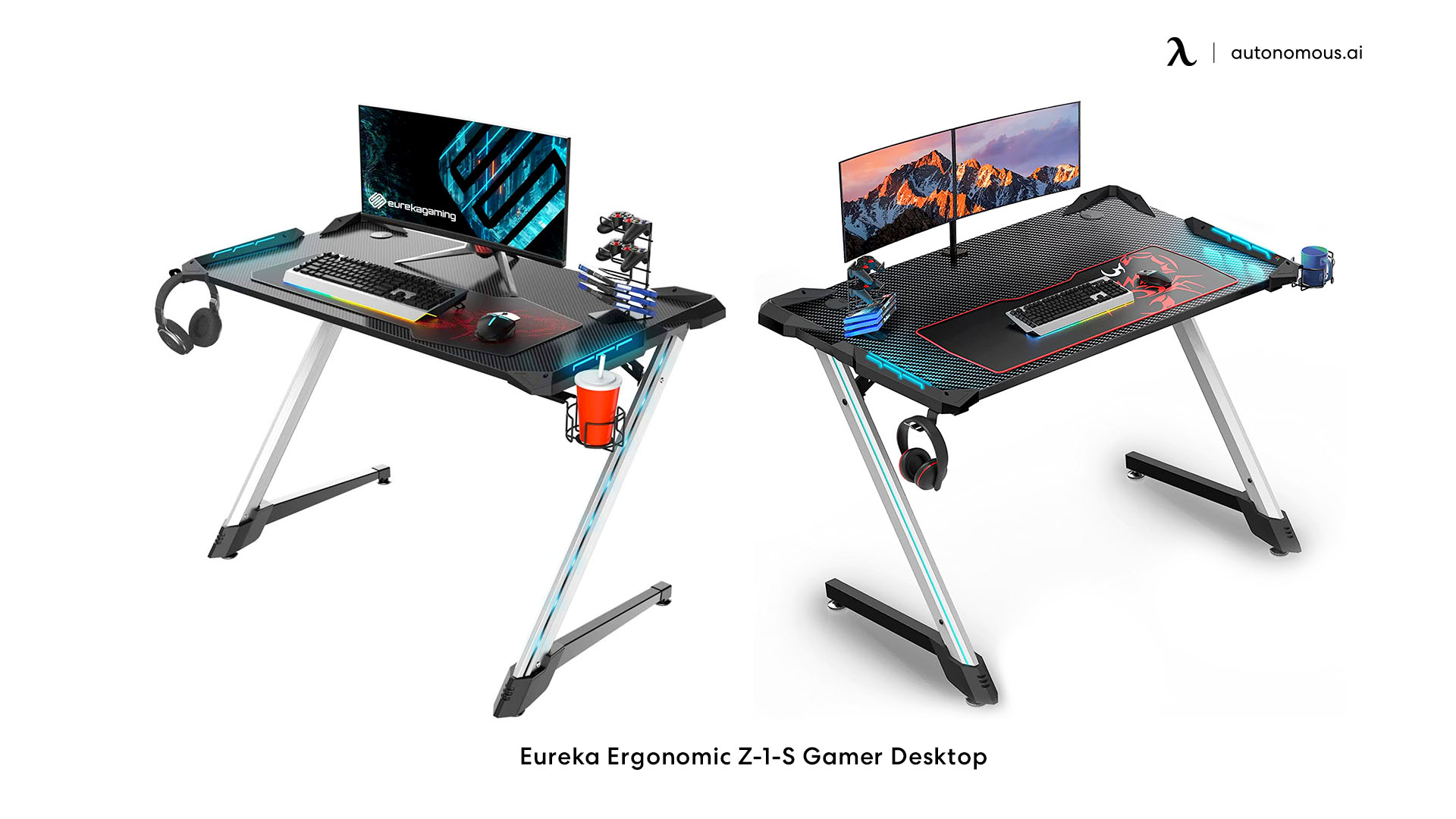 A gaming desk must be made sturdy for longevity and resist the mass of gaming gadgets. With the use of composite materials in creating this esports PC workstation, it takes care of something like this. Plus, this is a cheap gaming computer desk that is affordable for anyone. Upon first impression, the vast surface area and specific mounts for your bigger screen, keypad, joystick, and other gaming devices will capture your curiosity.
7. Original Gaming Table at Atlantic Games
Only several top gaming furniture desks can compete with these characteristics. The top is composed of carbon fiber lamination, and the legs are steel. This cheap gaming desk's stiffness and longevity are unparalleled thanks to these qualities. The monitor stand can support a monitor of approximately 30". The rounded outlines, particularly the table's elegance, are another detail that we considered both sleek and vital.
8. Walker Edison Contemporary Corner Desk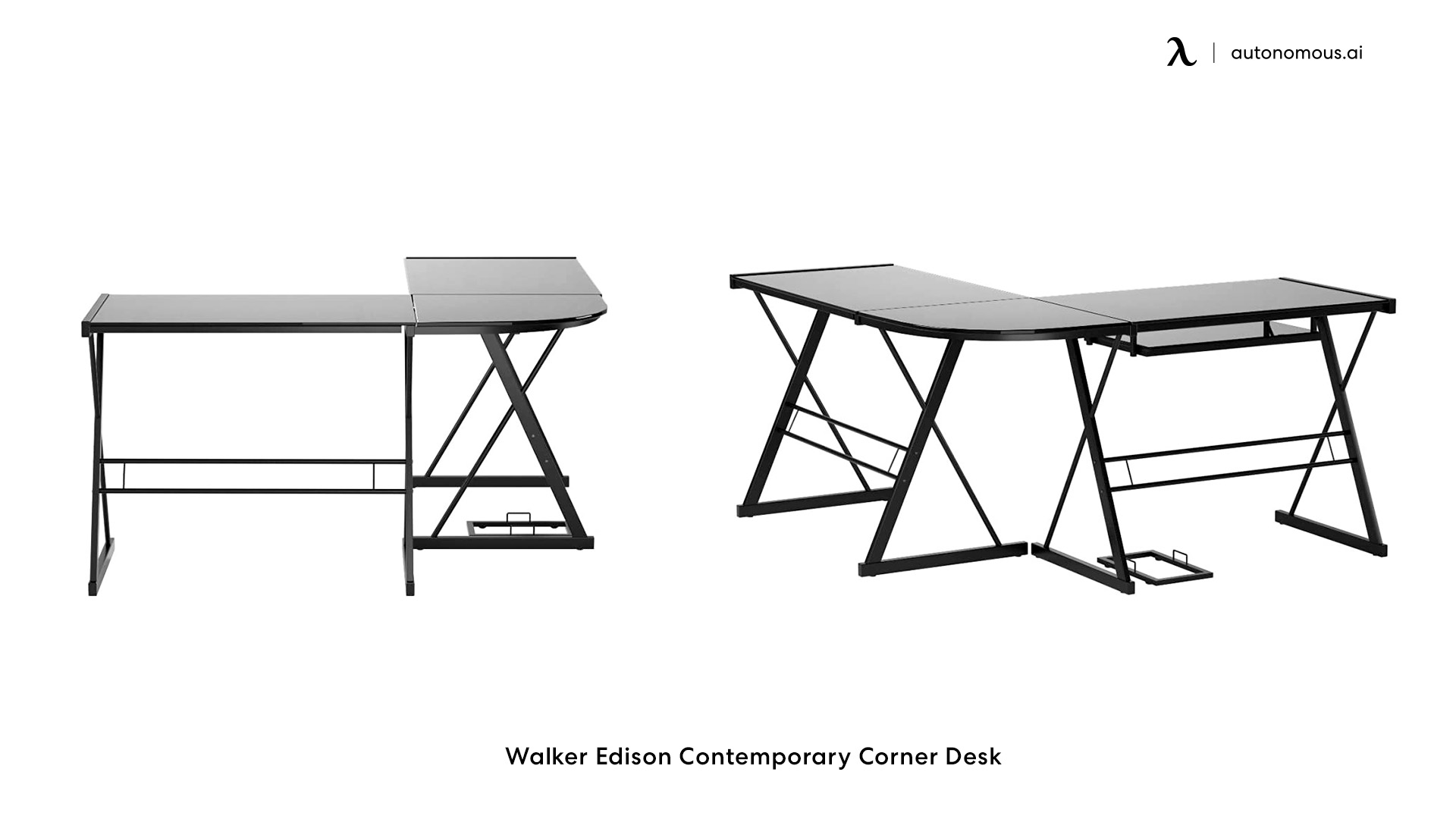 Most of the time, the edges of your house are unused, but with the trendy corner table, you can turn those unused angles into a workspace. The three-piece corner desk combines elegance with ruggedness. It is constructed of glossy and beveled tempered safety glass carefully fastened to powder-coated steel frames. It features a mounting bracket that slides in and out and maybe put on either side. This technology lets users play their best games or multitask in a more relaxed neutral grip.
Q & A
Question: How much does the gaming desk cost?
Answer: A good gaming desk should always cost you around $150 to $250. Sometimes, people may even go overboard with their high-end desks but try to select one on sale or costs relatively low.
Question: What desk should I get for gaming?
Answer: The greatest gaming desktop is a well-designed one, has adequate seating, is comfortable, and promotes good alignment. It would help if you got your hands on the one which fills in every requirement a human being may want. Select a desk that has been manufactured to be ergonomically correct and aligns with your bodily posture.
Question: Should I put my PC on the floor?
Answer: If you decide to put your PC on the ground, keep in mind that it needs to be dusted daily. It varies on how dust-full your surface is, and you should examine this every few weeks or more. To minimize dust accumulation, keep wiping around the casing.
Keep up with Autonomous news
Stay informed, stay inspired with our new blogs.
WRITTEN BYAutonomous
We build office products to help you work smarter.