Smart Products
Should You Use A Desk Shelf? Type Of Desk Shelf Is Right For You
1,988 Views
The lack of versatility of a wall-mounted desk is not for everyone. A desk with few drawers is commonly used in small spaces where a desk with many drawers would make the space appear cluttered. Regardless of how large a room is, shelf desks, desk shelves, or whatever other name you want to give them are an excellent alternative for minimalist decor.
It would be interesting to have a wall-mounted desk shelf rather than a desk with storage underneath. Adding a tall shelf bookcase above the desk or elsewhere in the room will provide you with all the storage you need. The floating table desk type is versatile and can be used almost anywhere.
The Use of The Desk Shelf
A bamboo shelf desk setup uses vertical space for what purpose? The vertical space on your table can allow you to efficiently utilize the space by allowing you to store more items such as laptop docks, laptops, pens, folders, and other things you require on your table shelf. The average household does not have a table six feet or 1.8 meters long. Many of you would appreciate a desk shelf for your table, so we are sure some of you would welcome one.
Organizes monitor cables and laptop docks while providing extra space for them

You can add a touch of flair to your desk setup if you match the tabletop with the shelf.

Providing a place for all your keyboard and mouse cables to be concealed

Gives your desk setup a dimension of verticality

The ergonomics of your setup are improved since the monitor is placed at a higher angle - although this benefit is negligible if you are using a monitor arm. 
Type of Desk Shelf for You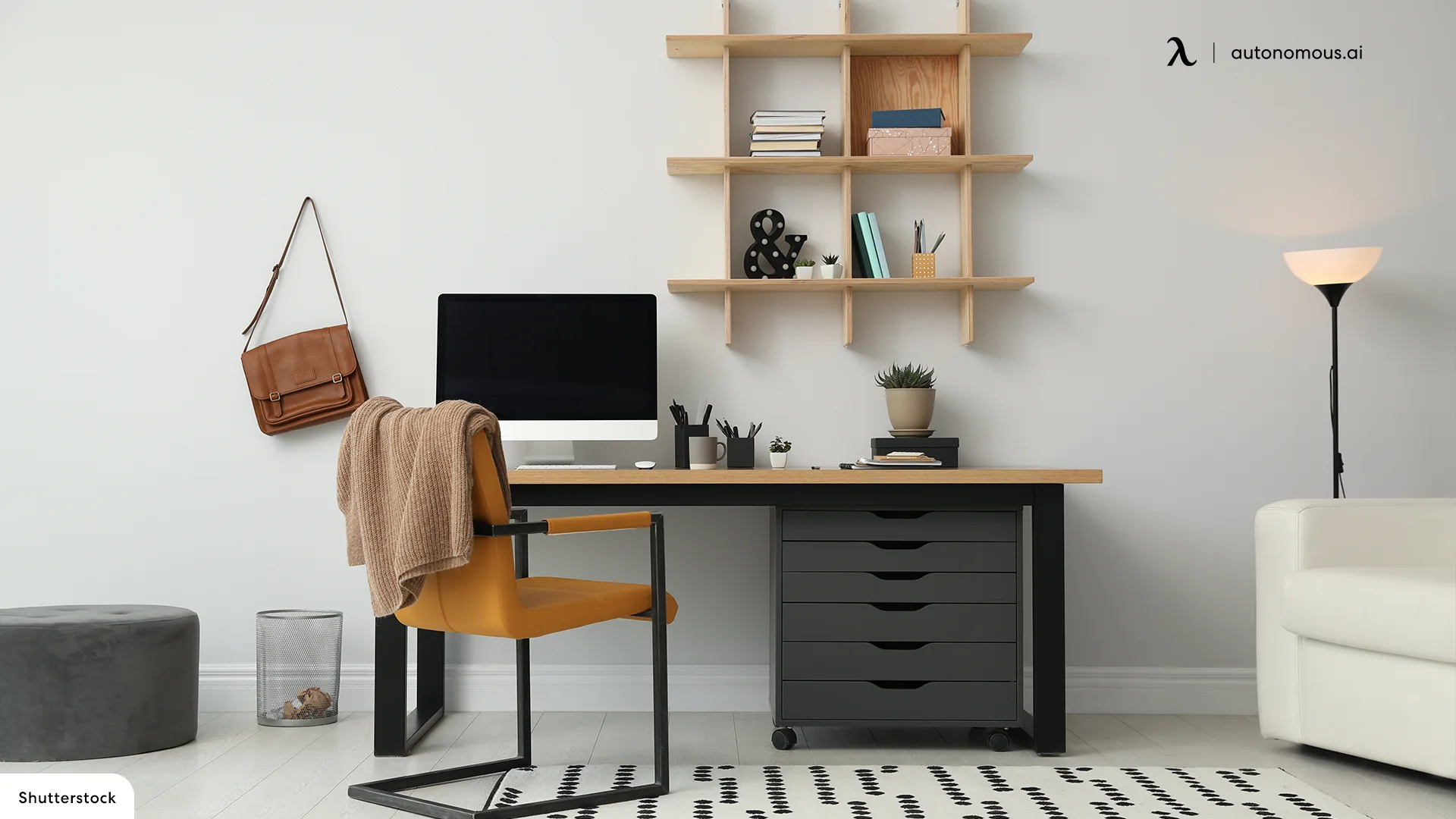 At what height should a shelf be placed above a desk? Several factors should be considered: What are you doing at this desk shelf? How high is it? What is the height of your office chair? What is your height, specifically, how tall is your torso compared with your legs? Do you have any books on your desk? How often do you grab the items on the shelf, how much does it weigh, and what are they?
We have found that the best way to design around this issue is to imagine yourself sitting at a similar desk and accessing a shelf simultaneously. You should now close your eyes, reach out for the item you need, and measure how high your hand is above the desktop. By understanding how your body interacts with an activity, you can design the best products. Consider other people's relative measurements as well.
It fits rooms of all shapes and sizes
Small corners can easily be turned into workspaces or home offices. You can use a shelf attached to the wall as a desk shelf by simply attaching it at the required height. Whatever size you choose, a corner desk will always be useful. 
Made for multipurpose rooms
The desk shelf is an ideal solution for those who prefer to have their computer in the bedroom than to devote a separate room. Desks of this type are simple and sleek with a more casual look than others.
It fits a window set up just perfectly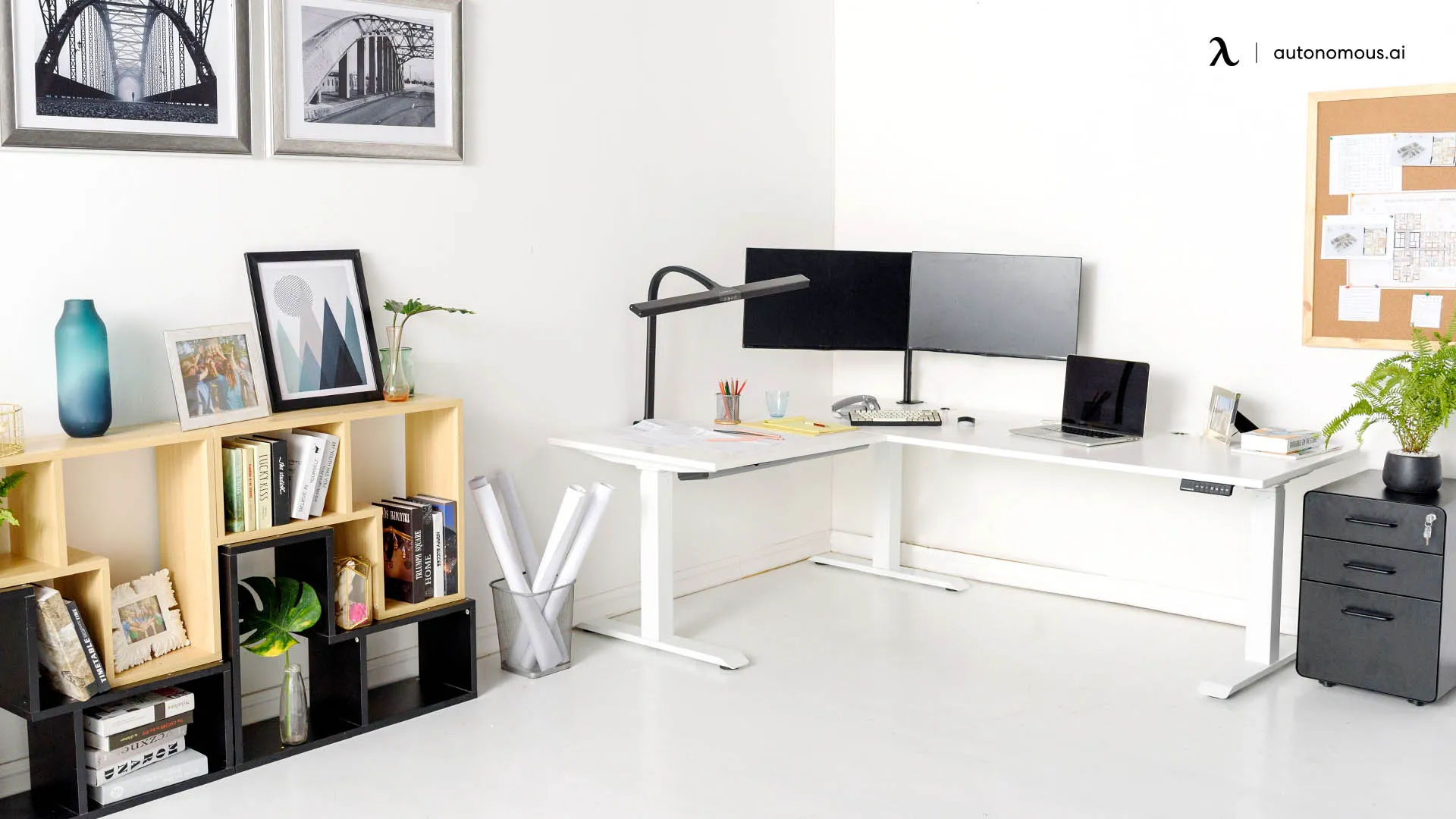 To make sure you receive plenty of natural light while working, you should place the standing desk chair near a window. Your desk shelf can be mounted onto the window frame if you decide that's the best option for you.
Made for the minimalist worker
A shelf desk is a stylish option for contemporary space designs with minimalist touches. You can buy a standing desk online and have it mounted on a wall without other furniture such as shelves or cabinets makes the impact stronger.
Doubling up on storage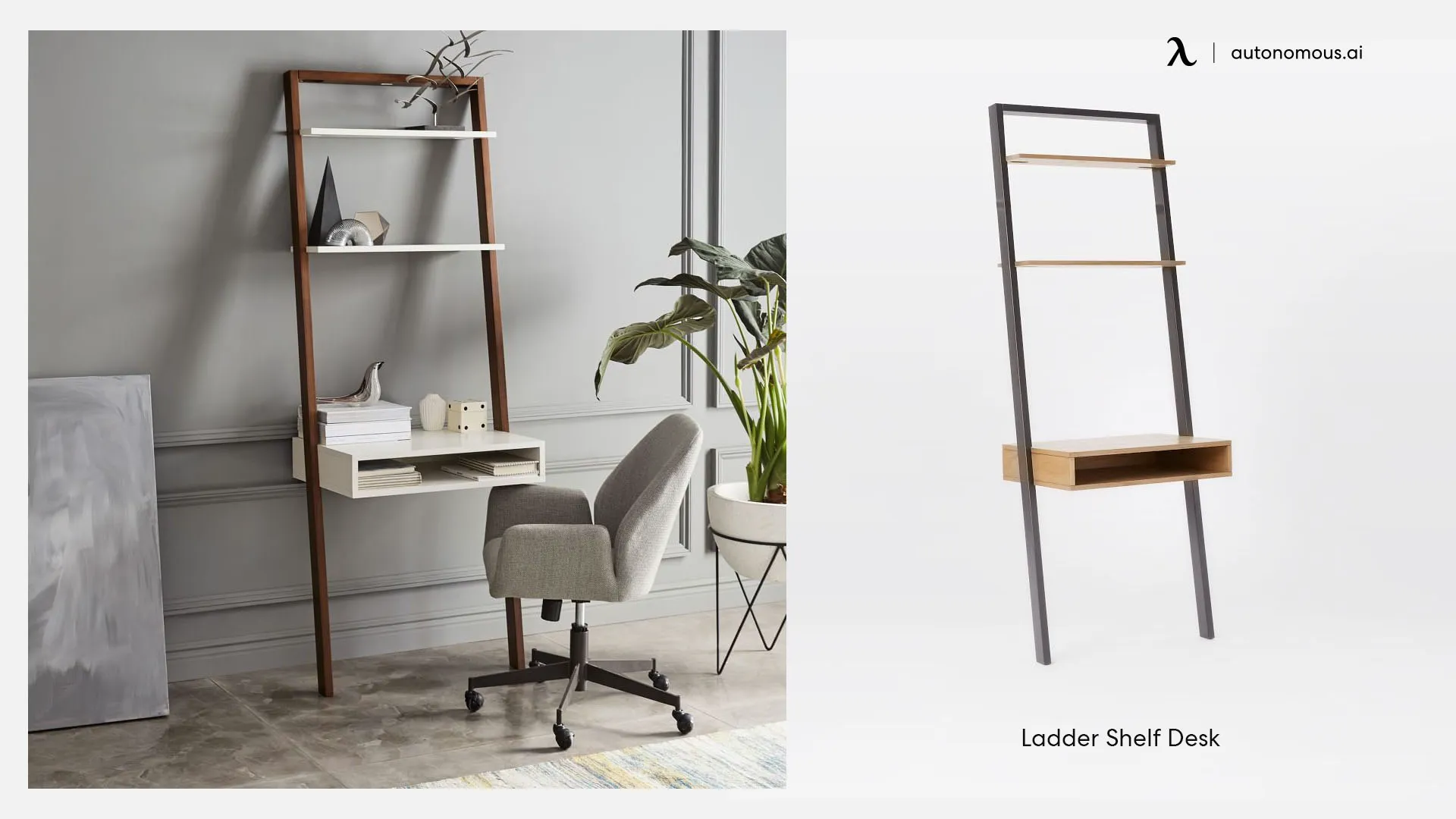 Here's an interesting idea: there's a storage unit on one wall, and the top continues as a bamboo sit-stand desk on the second wall. It's a combination of two pieces that serve different functions. The bamboo standing desk is divided into two and serves two different functions.
In the case of desk shelfs that are shelves, one interesting idea would be to make them part of a shelving unit where storage and display are also included, either in the workspace or for the entire room.
Introducing Autonomous EPP
EPP for Gamer/Streamer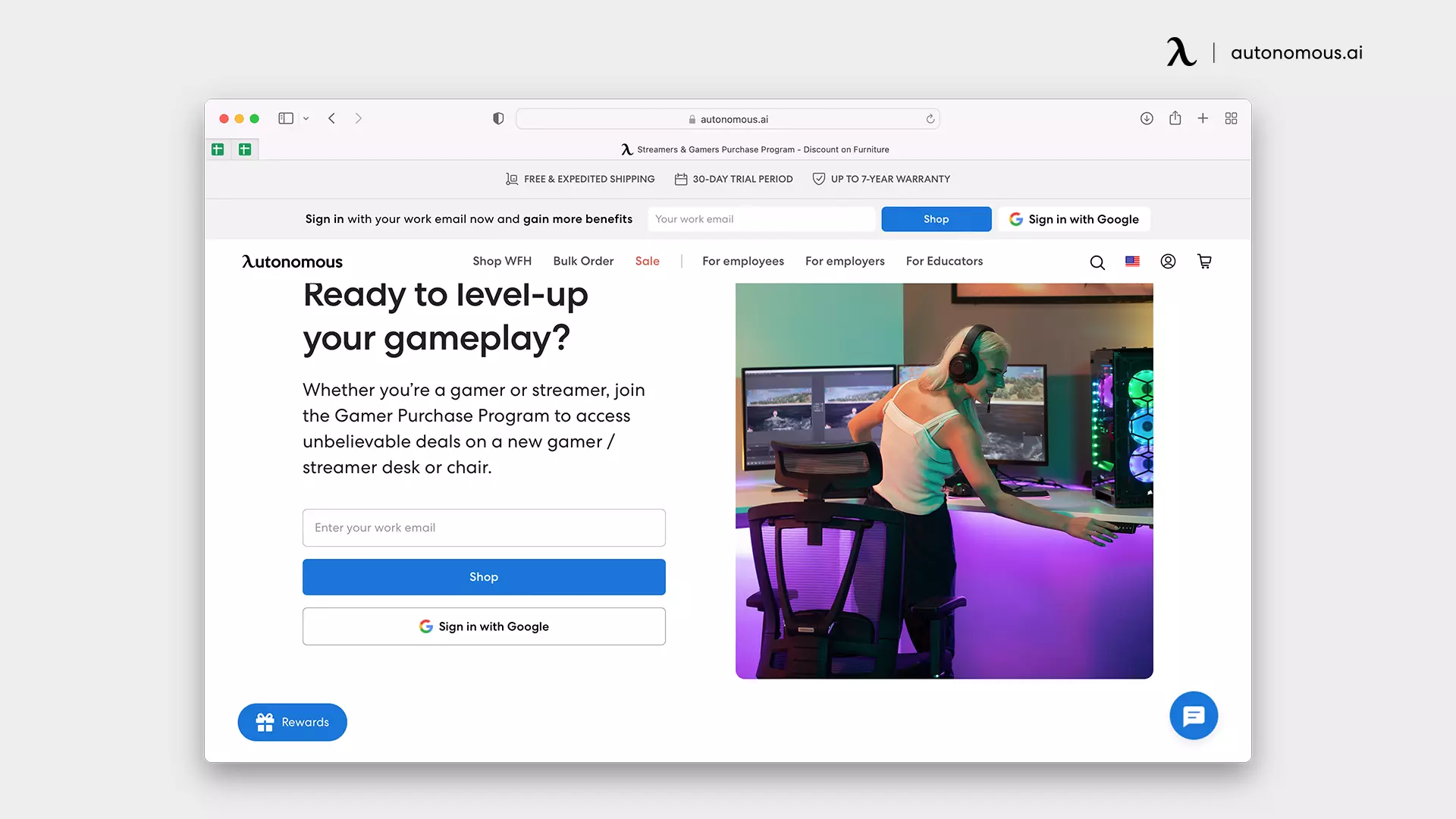 Gaming and streaming desks and chairs come with amazing discounts when joining the gamer purchase program. Gamerspecial offers discounts, games, and accessories to its customers and discounts, bonuses, and bonuses across the store.
Employee Purchase Program

With the new employee purchase program, employees can purchase items for themselves and their families. The SmartDesk and ErgoChair best value ergonomic chair collections are complemented by a wide variety of accessories. Employees can take advantage of new products and promotional deals and save money with the Autonomous' employee purchase program.
EPP for Developer/ Programmer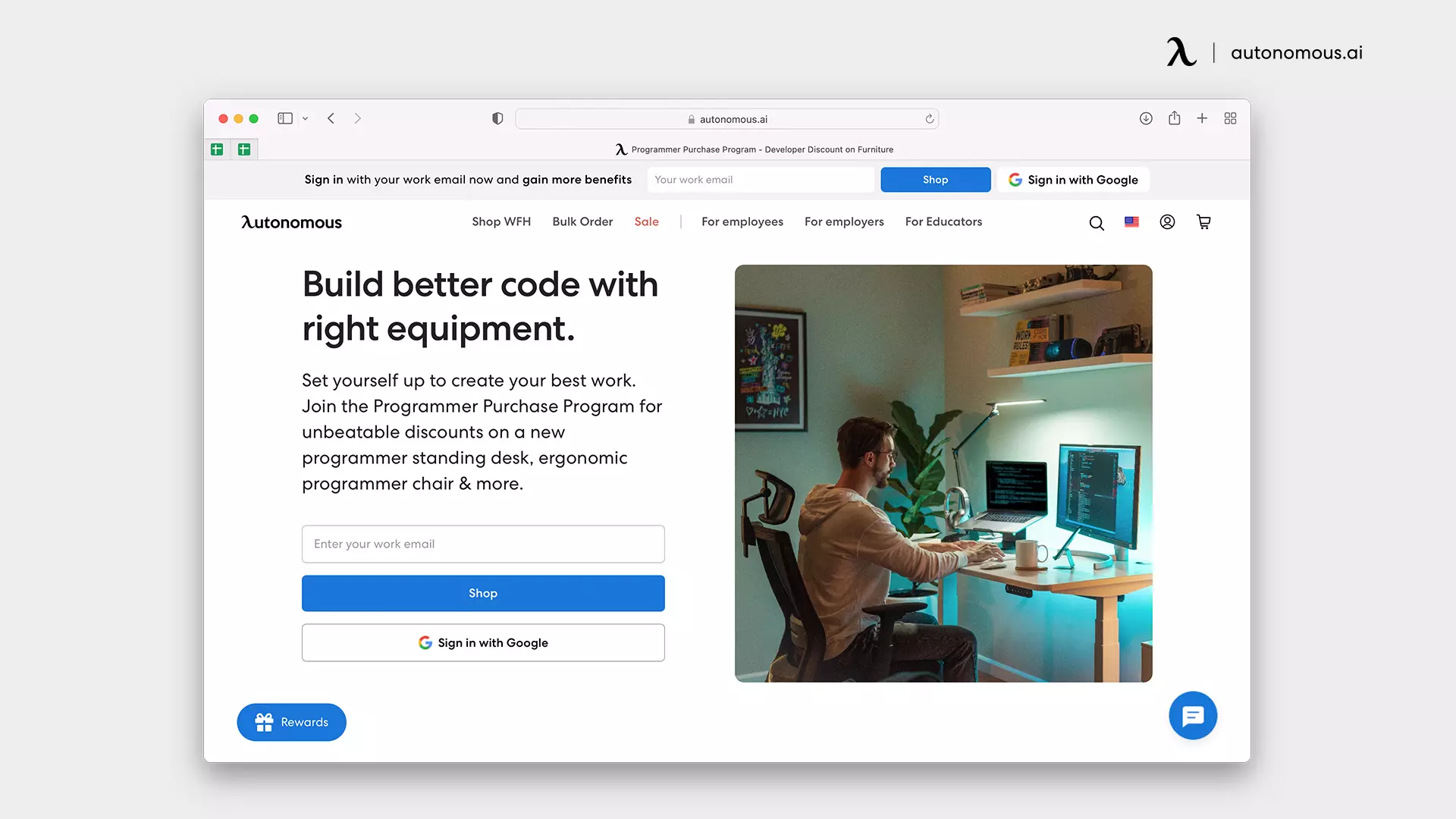 Coding can be comfortably done with the right equipment. Typically, programmers are offered discounts on ergonomic chairs with footrests and standing desks. Businesses and large groups may also receive discounts on these items.
EPP for Government
We've handpicked several products that can be used immediately to support better workflows. So you don't need to search for products anymore. In addition, we offer significant discounts if your company participates in our employee purchase programs so that you can stay within your budget.
EPP for Educator/ Teacher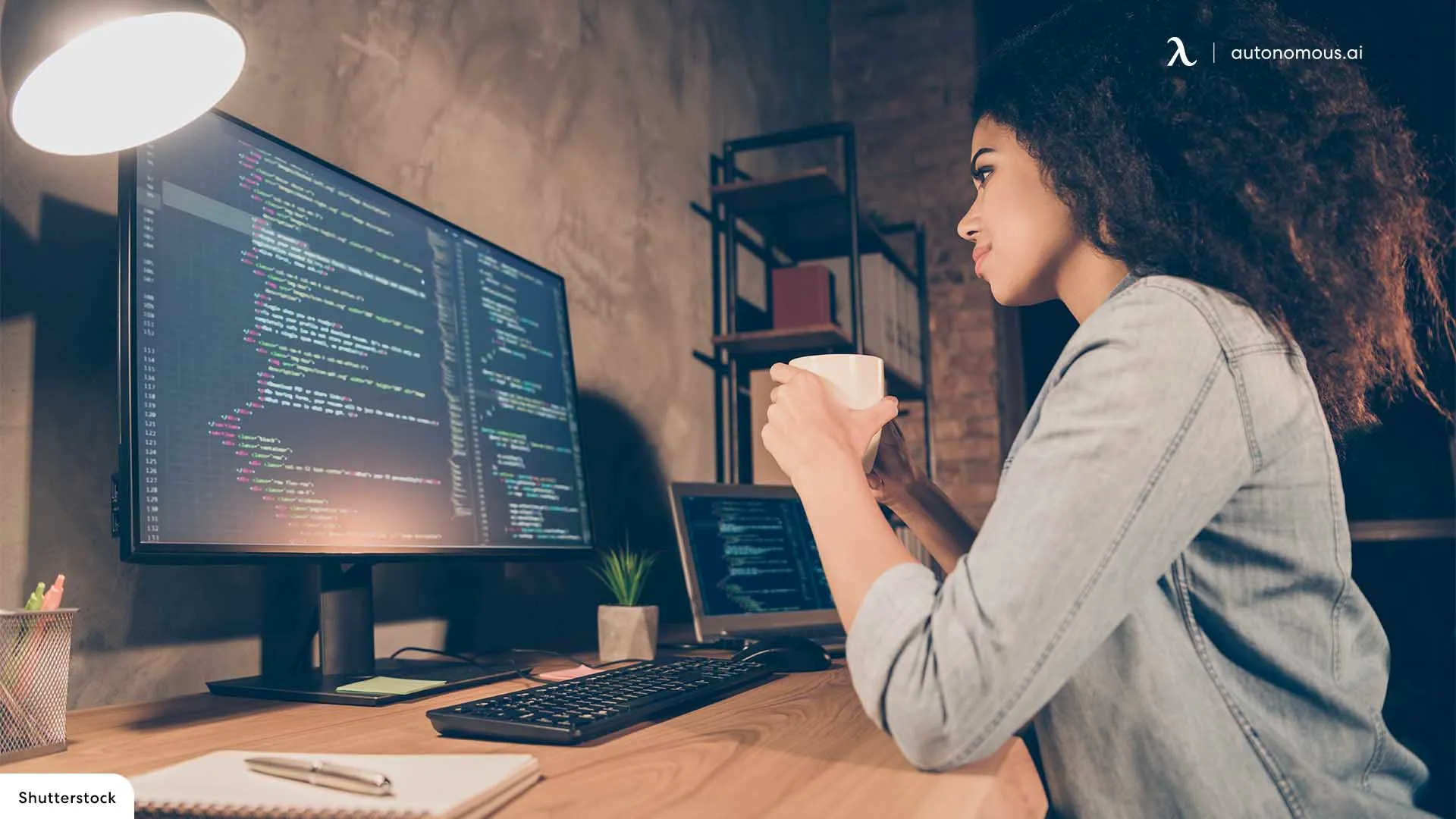 Would you like more efficient assignment grading and assignment planning? Take advantage of our promotional offers. You'll find the products you want at affordable prices. An ergonomic workstation might interest a colleague. Be sure to let them know about employee autonomy! Our Autonomous employee purchase program offers an opportunity to earn as much as $1500 by referring customers.
Student Discounts
Bulk purchases can also save you money and discounts on many of the products immediately offered. Do you know about this? Whenever you successfully refer a student, you can receive $1500.
Subcribe newsletter and get $100 OFF.
Receive product updates, special offers, ergo tips, and inspiration form our team.
WRITTEN BYAutonomous
We build office products to help you work smarter.