Smart Products
Simplify Your Office Life with Multifunctional Furniture

Autonomous
|
Jun 21, 2023
341 Views
It's a no-brainer that acknowledging your employees and rewarding them for their hard work increases productivity. However, recent studies suggest the need for changing office environments as a major factor in the success of an organization. Offices are now investing in multifunctional furniture instead of traditional cubicles to reduce costs and introduce new ways for employee interactions. 
In this article, we will explore what multifunctional furniture is and its benefits. We will also go over the top four options from Autonomous that can simplify your office life. 
Let's get started! 
What Is Multifunctional Furniture?
Multifunctional furniture refers to furniture pieces that have multiple uses. Designed to maximize functionality and efficiency, these types of furniture have clever mechanisms to transform or adapt their form and function based on your needs. 
Versatility and adaptability are at the core of multifunctional furniture. They not only address the challenges of limited space but also cater to an individual's changing needs.
Some examples of multi-function furniture include sofa beds that can transform into sleeping surfaces, coffee tables with built-in storage compartments, or desks that you can adjust for standing or sitting positions. 
These furniture pieces often feature hidden compartments, foldable or extendable elements, or convertible designs that allow them to serve multiple purposes without compromising on style or aesthetics.
What Is The Use of Multifunctional Furniture?
With real estate prices increasing every day, the need to maximize space utilization has led to a growing demand for multifunctional office furniture. These types of furniture offer numerous advantages, including the following: 
Utilizes Space Efficiently
In small living spaces such as apartments, studios, or offices, multi-function furniture is essential. It allows users to make the most out of the available space by providing multiple functionalities within a single piece. 
The corner standing desk, for example, helps minimize clutter and creates a more open and spacious environment.
It Can Adapt to Different Activities
Multifunctional furniture offers versatility, allowing users to transform or reconfigure it to suit different activities. A sofa bed can convert into a bed to sleep on when you have guests staying over. 
Helps Declutter the Space
Some multifunctional furniture comes with integrated storage options, such as drawers, shelves, or hidden compartments. It can help declutter the space and keep belongings organized and easily accessible. 
It Is Great for Home Office Setups
As remote and flexible work arrangements become more common, multifunctional office furniture can help create efficient work setups at home. 
A table with built-in storage, adjustable desk height, and integrated cable management systems offer functionality and ergonomics while blending seamlessly with the overall decor of the room.
What Are The Benefits of Multifunctional Furniture?
Multifunctional furniture offers several benefits that make it a popular choice for many individuals and households. Here are some key advantages of using this type of furniture: 
It Utilizes Space Efficiently
One of the primary benefits of multi-function furniture is its ability to optimize space utilization. By incorporating multiple functions within a single piece, it allows you to do more with less and create a more open and spacious environment. 
Multi-purpose Room Furniture Helps Save Money
Designed to be versatile and adaptable, multifunctional furniture offers flexibility, allowing you to transform or reconfigure it to suit your needs. 
You can save money by investing in multi-purpose room furniture rather than buying separate pieces for different functions. 
Convenience
This type of furniture combines practicality and convenience. A coffee table with built-in storage compartments offers a place to set drinks while also providing space for organizing books or remote controls. 
It enhances convenience and streamlines your living or working space. 
The Furniture Maximizes Storage Capacity
Many multifunctional furniture pieces incorporate storage features, such as hidden compartments, shelves, or drawers. These storage solutions are especially valuable in small spaces where maximizing storage capacity is crucial.
What Are Some of The Ways That Furniture Can Be Multi-purpose?
Manufacturers can design and adapt furniture in various ways to serve multiple purposes. Here are some common ways manufacturers can make multi-purpose room furniture: 
Focus on Convertible Designs
Manufacturers can focus on convertible designs that can transform or change their form to serve different functions. An example of multi-purpose room furniture is the sofa bed that you can convert into a sleeping surface by folding out or unfolding a hidden mattress. 
Incorporate Storage Solutions
Manufacturers can make furniture multi-purpose by incorporating hidden storage compartments or built-in shelving. 
Some examples of multi-purpose room furniture include benches with removable tops that reveal storage space inside, beds with drawers underneath for additional storage, and side tables with integrated shelves or cabinets.
Design Modular or Expandable Furniture
Ensuring that an item of furniture is modular can serve multiple purposes. You can rearrange or combine them in different configurations to suit changing needs. 
Some examples of multi-purpose room furniture include modular sofas, shelving systems, and desks that you can expand or rearrange based on the space requirements or desired functions. 
Work on Folding or Collapsible Designs
Working on foldable or collapsible designs is a practical solution for saving space. Folding chairs, tables, and desks are examples of furniture that you can conveniently store away when not needed, helping you free up floor space for other activities.
Integrate It with Technology and Connectivity
With the rise of smart homes and digital lifestyles, manufacturers are now designing furniture with integrated technology and connectivity features. There are multifunctional desks with built-in charging ports, wireless charging pads, or USB ports that provide convenient power access. 
Offer Flexible Seating Options
Furniture that you can easily reconfigure to accommodate different seating arrangements is another way to achieve multi-purpose functionality. 
You can rearrange modular seating systems, bean bags, or floor cushions to create seating for individuals and groups or transform them into a cozy lounging area. 
Is an Autonomous Standing Desk a Multifunctional Furniture?
Autonomous standing desks are a great example of multifunctional office furniture. These desks not only provide a workspace for tasks that require sitting, but they can also switch to a standing position for improved ergonomics and health benefits. 
By offering adjustable height settings, programmable memory presets, and sturdy construction, Autonomous standing desks cater to different user preferences and promote a more dynamic and comfortable work environment. 
The multifunctionality of Autonomous standing desks lies in their ability to serve as both traditional sitting desks and standing workstations. Users can easily transition between sitting and standing positions throughout the day, promoting better posture, reducing sedentary behavior, and improving overall well-being. 
Whether it's focusing on a task while seated or collaborating with colleagues while standing, employees can customize their work experience based on their needs. 
Autonomous standing desks also come with additional features that further enhance their multifunctionality. Some of these include the following: 
Anti-collision sensors that prevent injuries or damage when the desk is moving.

Built-in cable management systems to keep cords organized and tidy

Advanced features like integrated technology or connectivity options for easy controls.
Exploring The Top 4 Autonomous Multifunctional Desks
Whether you're looking for an adjustable standing desk or a home office desk, our list of the top four multifunctional furniture options from Autonomous has something for everyone. 
Autonomous SmartDesk Core
Are you looking to enhance your workspace and improve productivity? The Autonomous SmartDesk Core offers impressive core features that combine strength, versatility, and innovation. 
Crafted with a solid steel frame, the SmartDesk Core is durable and reliable. Its electric dual motor system allows for silent height adjustments (between 29.4" to 48") and can easily support up to 270 lbs. in weight. 
Unlike a manual standing desk, the SmartDesk Core embraces multifunctionality by taking customization to a whole new level. With its programmable keypad settings, you can save up to four custom heights, allowing you to switch between your preferred ergonomic positions throughout the day. 
The SmartDesk Core has a remarkable lifting capability that moves 1.1" per second with a maximum load. You can now experience uninterrupted workflow as you seamlessly shift between sitting and standing positions. 
It has undergone rigorous testing and certifications by leading global authorities such as UL, BIFMA, and EMC, ensuring that it meets the highest strength and security standards. 
The Autonomous SmartDesk Core is more than just a desk. It is a multifunctional furniture piece that effortlessly adapts to your unique needs and enhances your work environment. 
Autonomous SmartDesk Pro
If you don't have budget constraints, you may want to consider the Autonomous SmartDesk Pro for your office. It is a step above the Core variant and caters to the diverse needs of modern professionals. 
The SmartDesk Pro redefines versatility with its impressive height-adjustable range between 26.2" and 52". Whether you're working, creating, or collaborating, this desk effortlessly adapts to your preferred sitting or standing positions. 
With four programmable settings, you can save your ideal positions and transition to them with a click of a button. The seamless transitions maximize productivity and comfort.
Equipped with an upgraded electric dual motor, this desk boasts improved lifting power, and with its solid standing desk legs, it can support up to 310 lbs. in weight. It can easily accommodate multiple monitors, heavy equipment, or a tech-packed workstation. 
The SmartDesk Pro operates quietly at just 40 dB, allowing you to work in peace without any distractions. Its minimal wobble, even at its maximum height of 52", guarantees a stable platform for your work. 
In addition to its exceptional functionality, the SmartDesk Pro offers a touch of elegance with its natural wood top and polished finish. This combination of style and substance adds a sophisticated touch to any workspace. 
The Autonomous SmartDesk Pro is the perfect combination of style, functionality, and adaptability, allowing you to transform your workspace into a haven of productivity and inspiration. 
Autonomous SmartDesk Corner
Corners in the workplace are often the most underutilized spaces. However, with the Autonomous SmartDesk Corner, you can now change that. 
Featuring two modular segments, this corner desk offers twice the amount of space compared to regular desks. Its unique design allows it to fit into any corner, optimizing the space efficiently and providing ample room for your creativity to thrive. 
While most electric standing desks operate on a single or dual motor, the SmartDesk Corner boasts three powerful motors. It ensures superior performance and smooth adjustments while remaining quiet.
With its solid steel legs, this multifunctional furniture can effortlessly support up to 400 lbs., allowing you to keep gadgets, monitors, and other heavy equipment on the desk without any worries. 
The SmartDesk Corner offers exceptional height adjustability (between 29.4" and 48"). This enables users to find their perfect ergonomic positions. You can save up to four of your preferred height settings using the programmable keypad. 
With a solid standing desk frame made from steel, you can rest assured that the desk won't wobble even at maximum height. As an added bonus, every SmartDesk Corner includes a complimentary cable tray, ensuring a clean and organized workspace. 
Autonomous SmartDesk Connect
If you're looking for multifunctional furniture for small spaces, consider investing in the Autonomous SmartDesk Connect. It revolutionizes desk control with its user-friendly app that is compatible with Android and iOS devices. 
Using the app, employees can connect and control their desks with a few taps, adjusting the height and settings to match their preferences. 
With a built-in anti-collision feature, it uses a sensor to detect obstructions above and below the desk. The SmartDesk Connect automatically stops the motor to prevent potential injuries or damage if it detects an object or a person. 
Equipped with an upgraded electric dual motor, this smart desk can support up to 310 lbs. You can place heavy equipment or multiple monitors on your table without any worries. 
The desk's whisper-quiet motors only emit 40 dB of noise, allowing for smooth and quiet transitions. This ensures a distraction-free work environment, enhancing your concentration and productivity. 
With an adjustable height between 26.2" and 52", the SmartDesk Connect caters to a wide range of body types and personal preferences. Its solid steel frame offers durability and longevity, helping offices save a lot of money in the long run. 
The SmartDesk Connect is truly a multifunctional furniture piece for your office, helping improve employee productivity, enhance the work experience, and ensure optimal health. 
Final Thoughts
A standing desk benefits not only the employees but also the organization as a whole. Investing in any of the above four options from Autonomous can help utilize office space efficiently, improve employee communication, and enhance productivity.
Video ads for product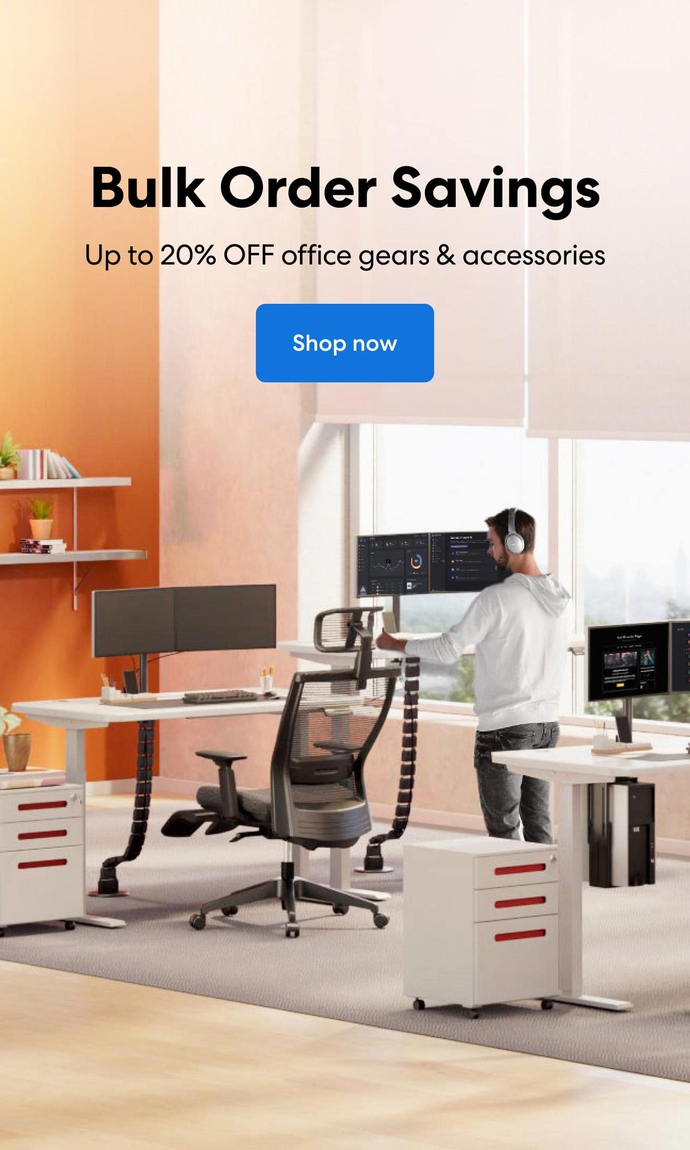 Subcribe newsletter and get $100 OFF.
Receive product updates, special offers, ergo tips, and inspiration form our team.