Smart Products
Standing Desk for Short People: How to Choose the Right One
15,746 Views
When you're working at home, you need the right tools to be comfortable. Most people want to stay productive, which often means standing throughout the day while still working. If you're petite, you may wish to have a standing desk for short people. We're going to find out what you should consider and give you various options to focus on.
How to sit correctly with a standing desk for short people
1. Things to Consider
If you're short, you know how challenging it is to live in the world of tall people. It might be harder to buy clothing or reach things from the top shelves. While these are all issues you might face, you also have to consider a small adjustable-height desk that ensures you're sitting ergonomically correct.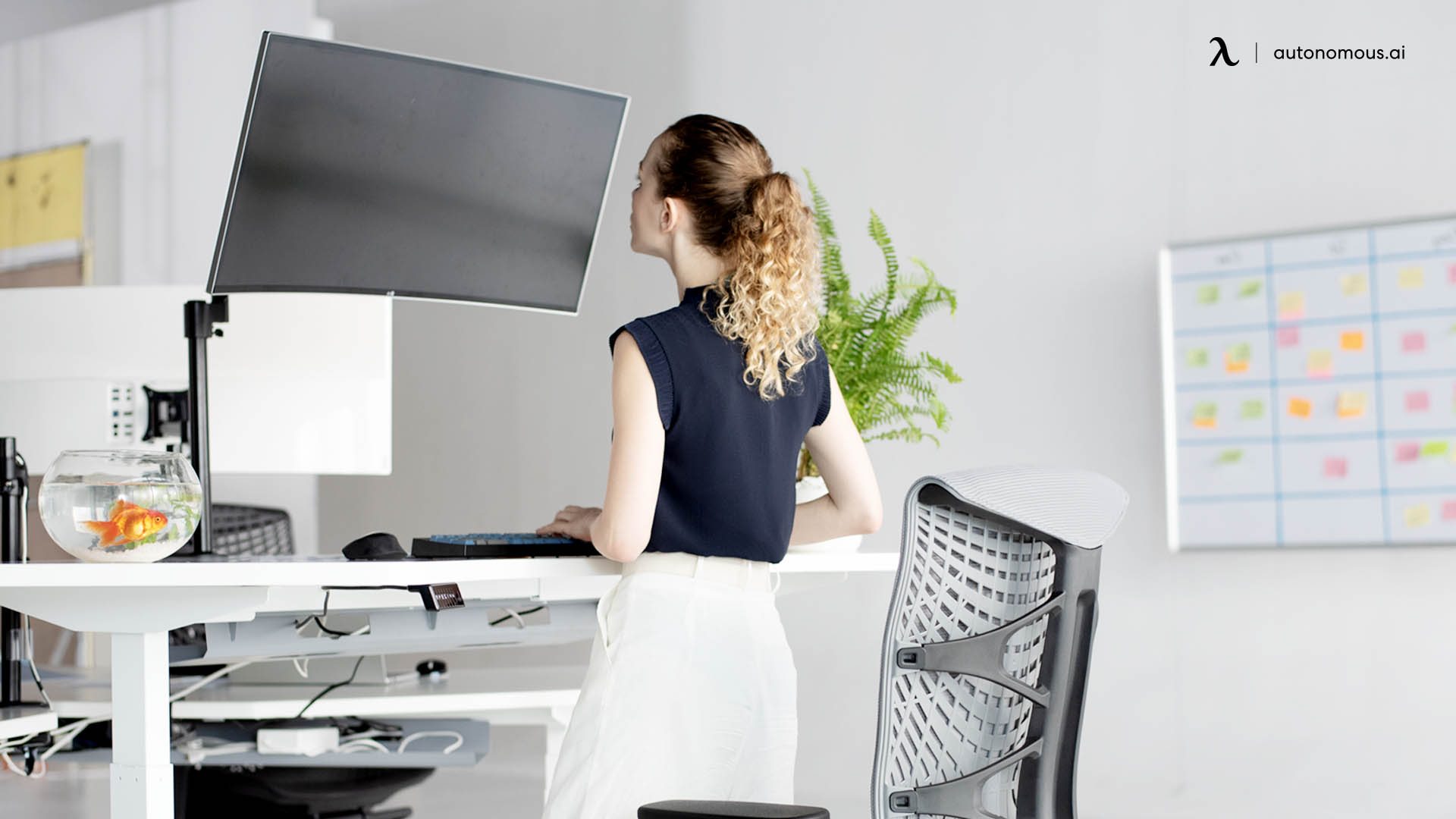 2. Pay Close Attention to Height and Distance
A standing desk for short people should help you keep your eyes at the top third area of your computer screen. Make sure you're looking right in front of you. If you look up, it is going to stress the neck and back and might even cause eyestrain.
When you're sitting (in an ergonomic chair), you should ensure that the eyes are about 30 inches away from the screen. Typically, the monitor is about 43 inches from the floor, and your chair seat is 16 inches from the floor. This can change based on various factors, so it's a good idea to sit down with the back straight and adjust the chair first. Then, change the height of your small standing desk.
A sit-stand desk for petite people allows you to stand up and continue working. However, you must stand up straight before you adjust it for the first time. The eyes should still be 30 inches away from the screen or more. Typically, the monitor sits 57 inches from the bottom of it to the floor, with the keyboard being about 39 inches from the floor. Of course, this isn't set in stone, and you may need to adjust things differently for your small adjustable-height desk.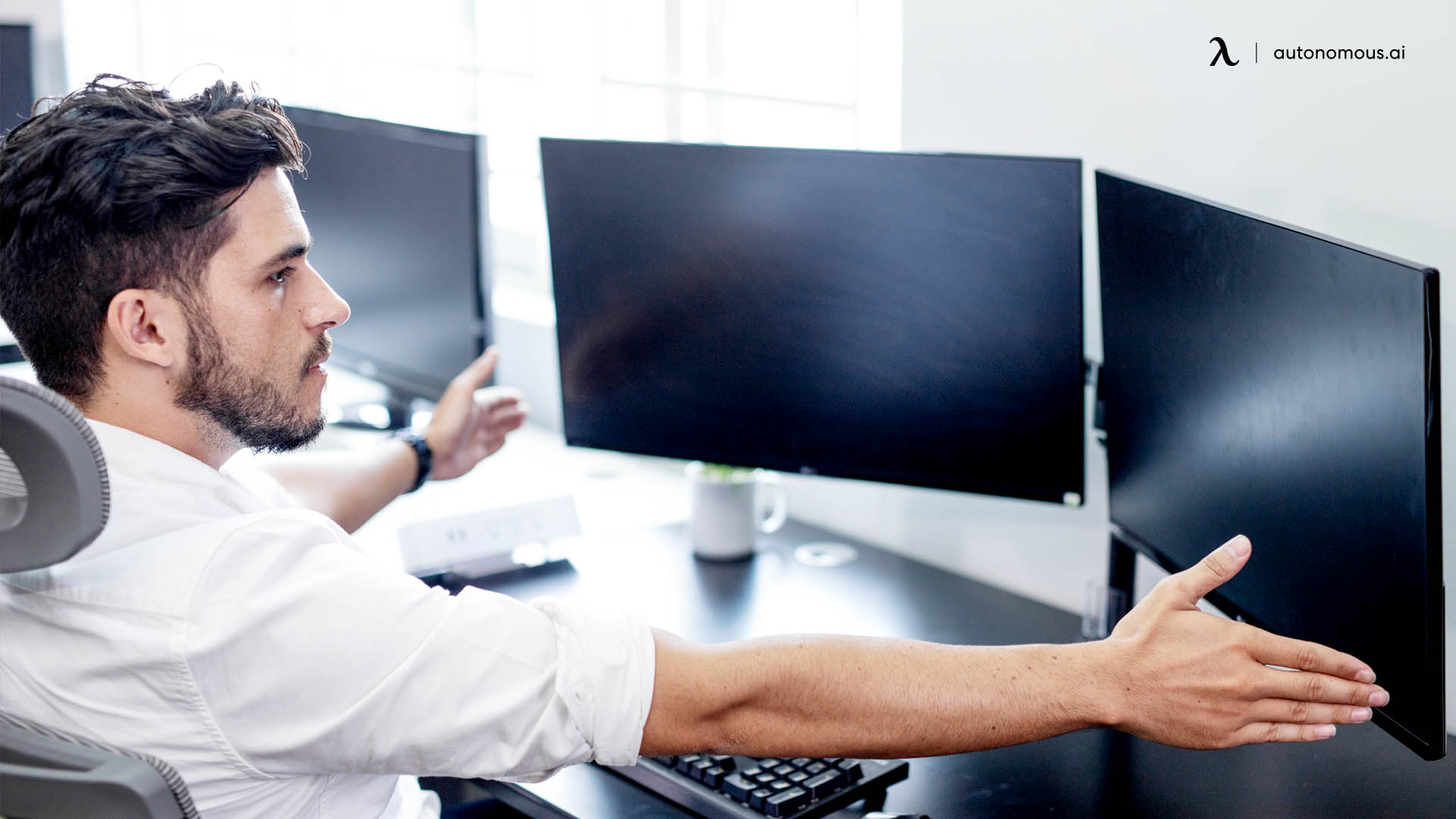 3. Keyboard Position
Once you get a standing desk for short people, you have to consider the keyboard's positioning. Relax your arms so that they are dangling at your sides. Bend the elbows until they are in a 90-degree position and rest the wrists. Now, can you lightly touch the appropriate keys? If not, adjust your small adjustable-height desk until you can, both while sitting and standing.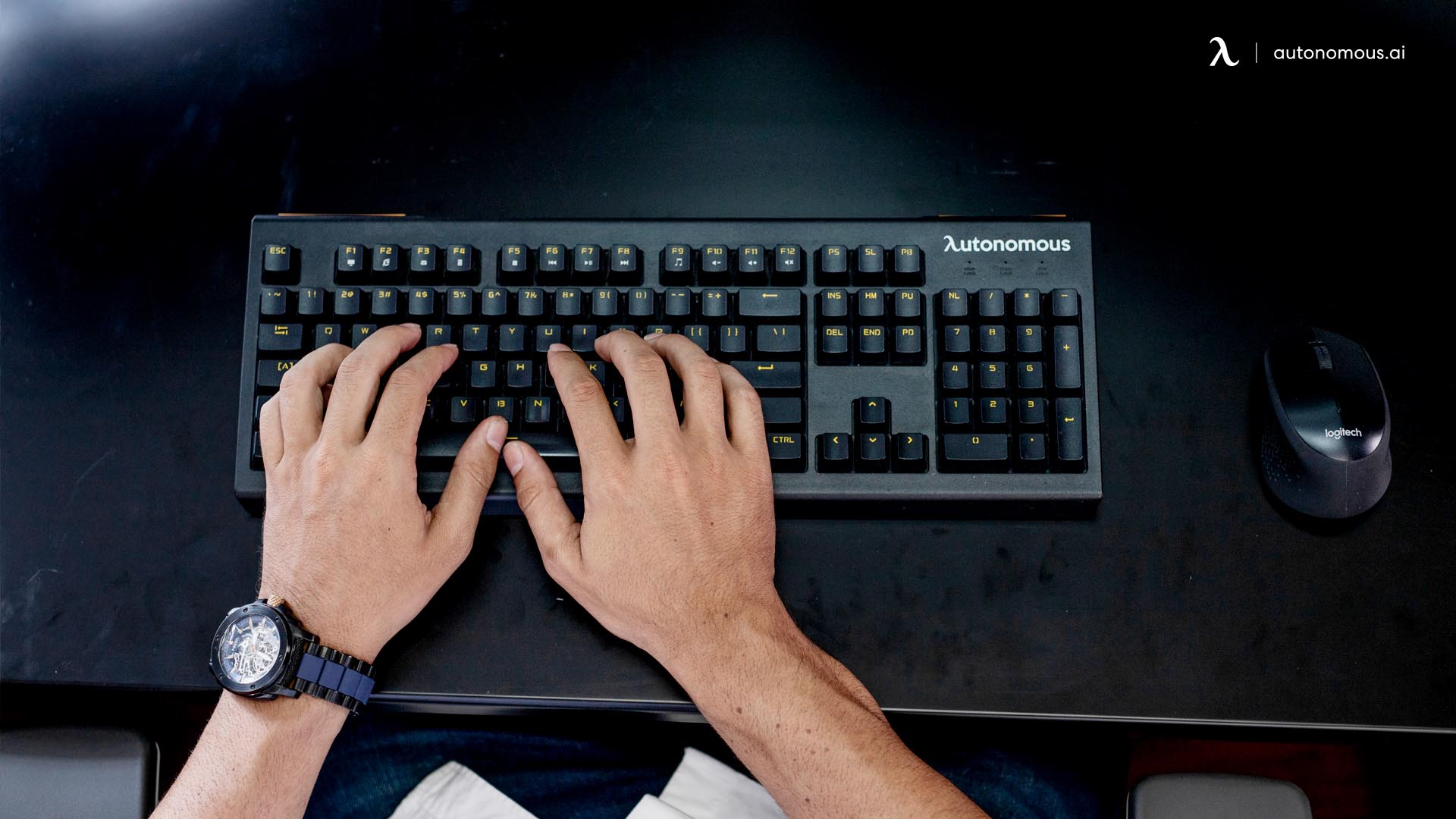 4. Sit Correctly
Most people focus on the standing desk for short people instead of the chair. However, both items work together to ensure that you're sitting correctly while at the desk. This helps to create the perfect working environment for shorter people.
When you sit down, the thighs and knees should be parallel to the floor with the knees at a 90-degree angle. The feet should be resting on the floor. Typically, the issue is that people raise their chairs higher to ensure that the keyboard and screen are in the right position. With a sit-stand desk for petite people, you can lift and lower the small standing desk itself and keep your chair in the correct area for your legs to be comfortable.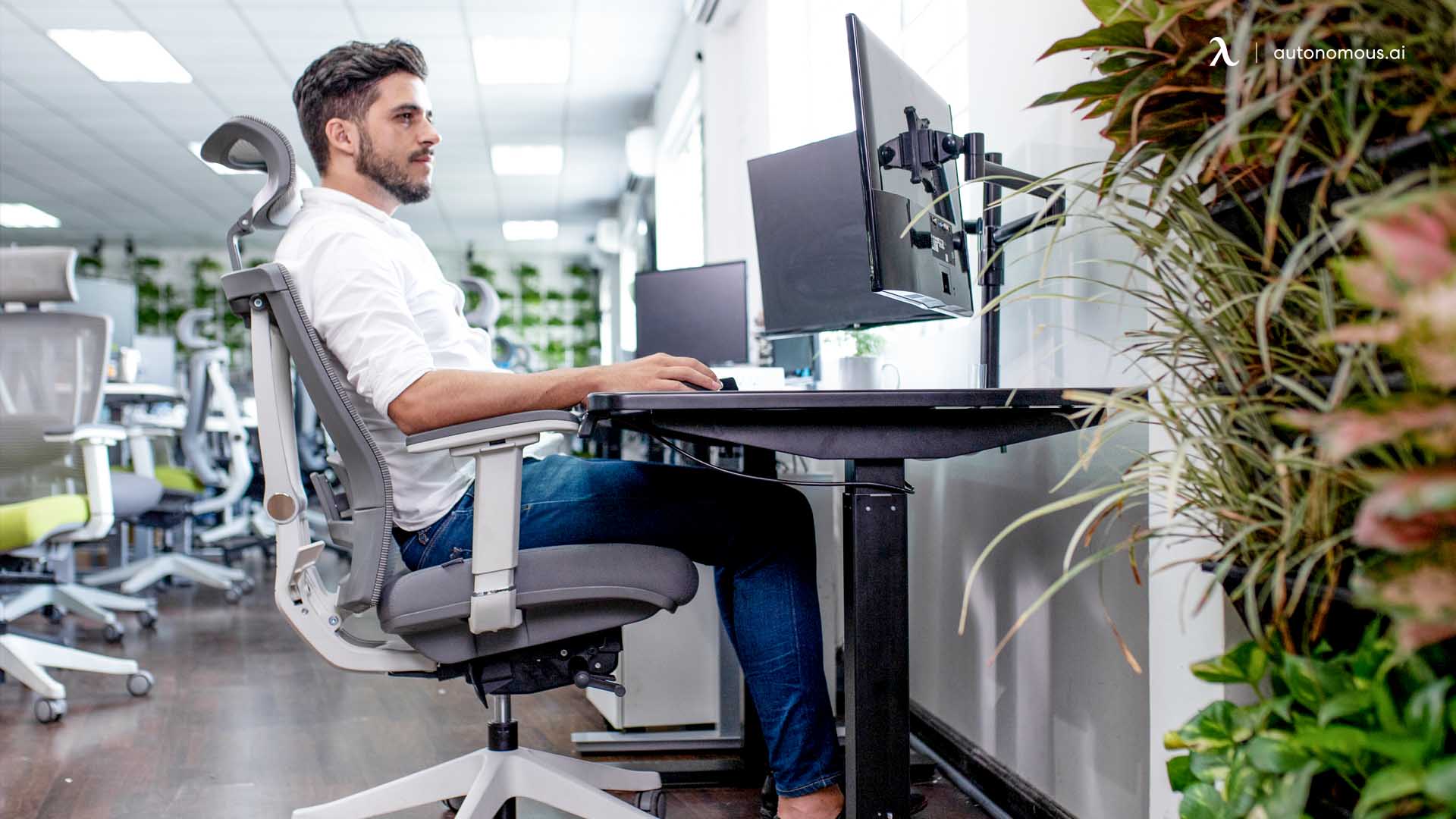 5. Don't Reach too Far
As you're shopping for the right standing desk for short people, it's important to determine what you use most often. If you usually reach for office supplies or documents, make sure they're stored close to you. That way, you're not going so far. Such repetitive motions can be challenging for the back.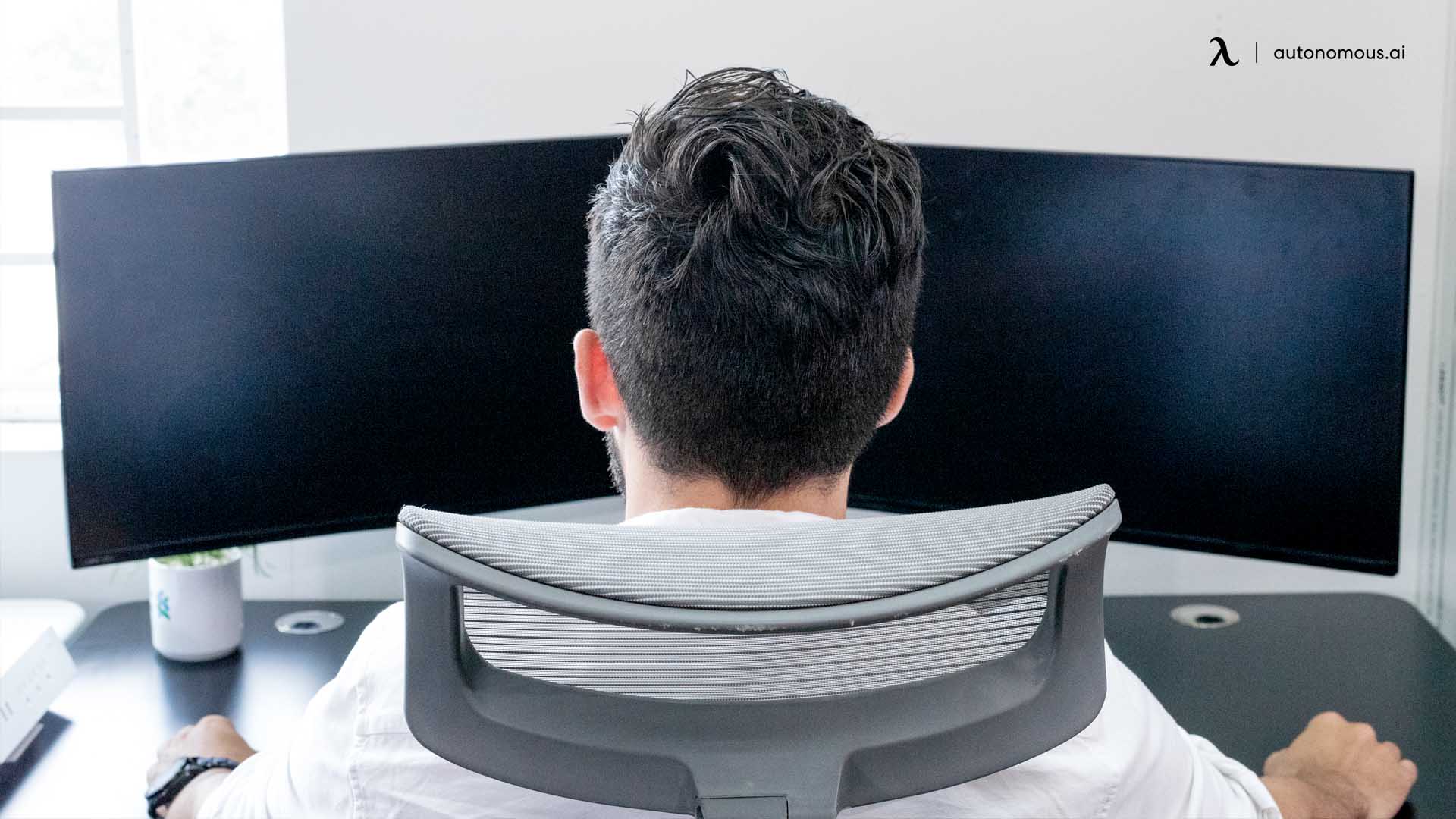 Best Standing Desk for Petite People
Now that you've learned the right positioning for the items you require to work, it's important to find the right sit-stand desk for petite people. We're going to talk about five different options to help you decide which is most suitable for you.
1. SmartDesk Core (Home Office) from Autonomous
Autonomous is synonymous with quality, and the SmartDesk Core (Home Office) is an excellent small adjustable-height desk. It features a durable steel frame, but the dual-lift motor is robust enough to handle up to 300 pounds of weight. With it, you can raise the desk up quickly and smoothly.
This standing desk for short people goes as low as 28 inches and up to 47 inches tall. The noise level is only 45 decibels, so it's almost whisper-quiet. Plus, you can raise it up at 2.3 inches per second, making it fast and steady.
The rounded tabletop edges make it safe to use around children. Plus, you can put the display system on either side of the desk to prevent it from getting bumped or hit. With many color options and combinations, you're sure to find something that meets your needs.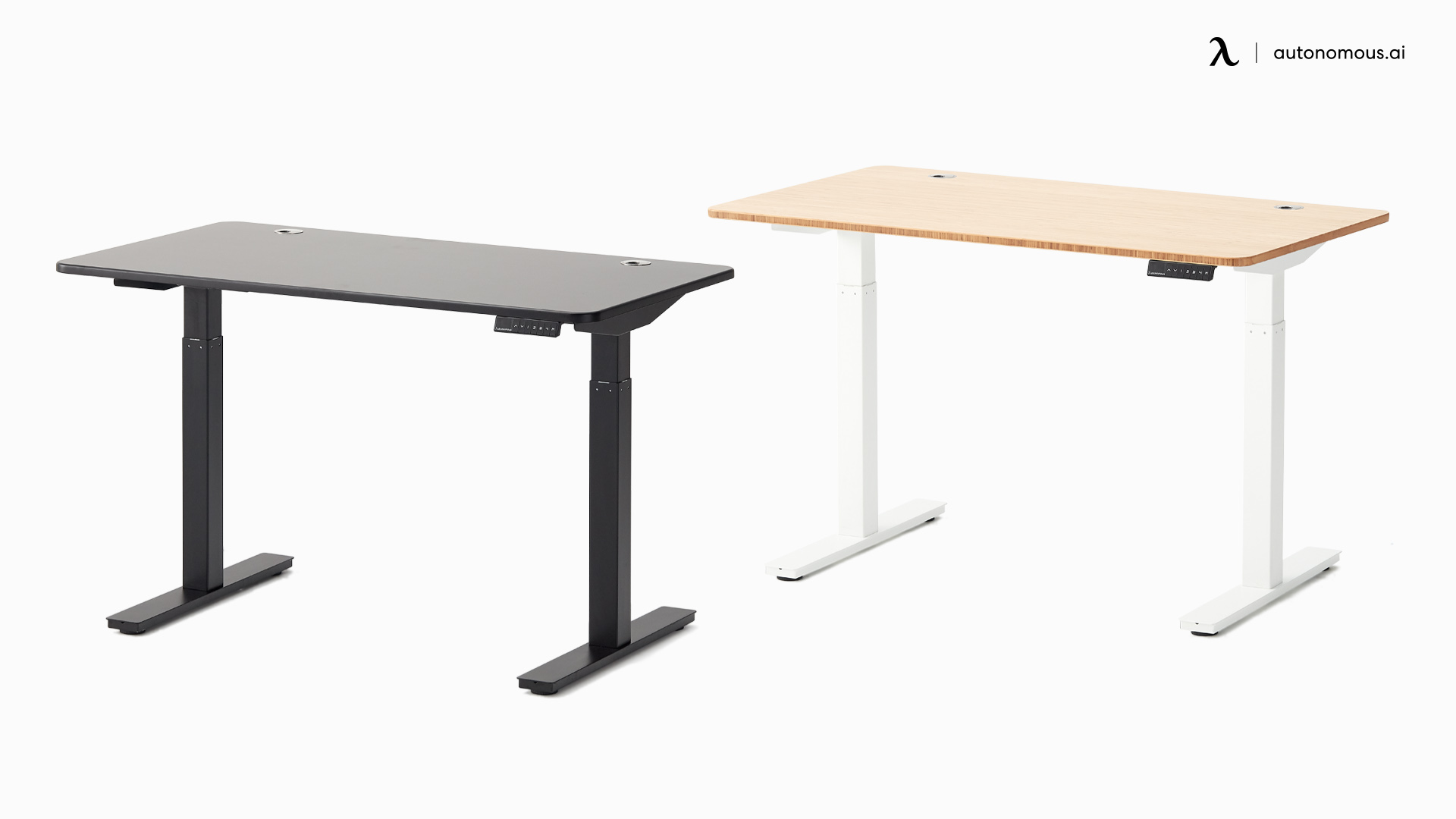 2. SmartDesk Frame (DIY Kit) from Autonomous
Short people need a small standing desk, but they may already have a tabletop they want to use. In this case, Autonomous has you covered with its SmartDesk Frame (DIY Kit). You can create the perfect workstation and have a sit-stand desk for petite people, as well. We like that the frame is durable and made of steel. Plus, it still features the motorized system that makes it easy to raise and lower to your needs.
You can choose from black, gray, and white. It's also possible to change the frame design. The Home Office version is quite stout, but the Premium is similar and a little more durable. There's also the L-shaped design, which is quite popular when you want to put the small standing desk in a corner.
With this option, the height range is a little more varied. It lowers to 25.4 inches and goes as tall as 51 inches. We also like that it can be as wide as 73 inches or as narrow as 40 inches long. Of course, you still get the 300-pound lifting capacity and lifting speeds of 2.3 inches each second. Raise and lower your small adjustable-height desk faster with this option.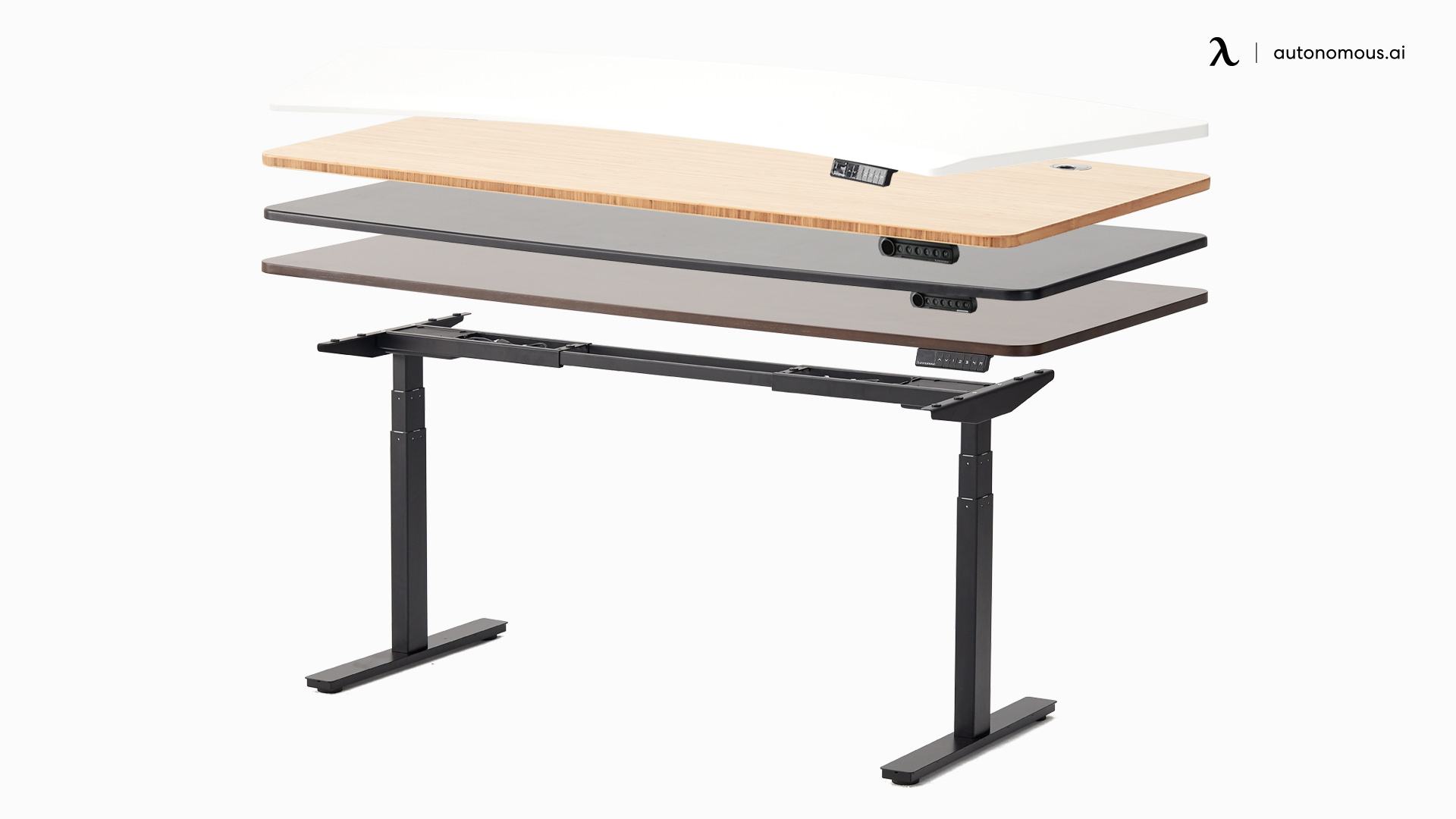 3. Seville Classics Airlift Pro
Many people like the Seville Classics models because its products are smart and designed well. If you want a standing desk for short people, the Airlift Pro could be the best choice. It goes down as far as 25.6 inches, which is better than average. Most small adjustable-height desk products only go as low as 28 or 30 inches.
Since it goes a bit lower, it works well for shorter people, whether they're standing or sitting. The wooden top is 54 inches long and 28 inches wide. Therefore, you can easily hold all of your items. However, it only bears 264 pounds, and while this might be enough, it's not as much as other brands.
We do like the single-piece surface because there's no 'groove' to catch the dust and debris from working. The height adjustment options are to the right as with most standing desks.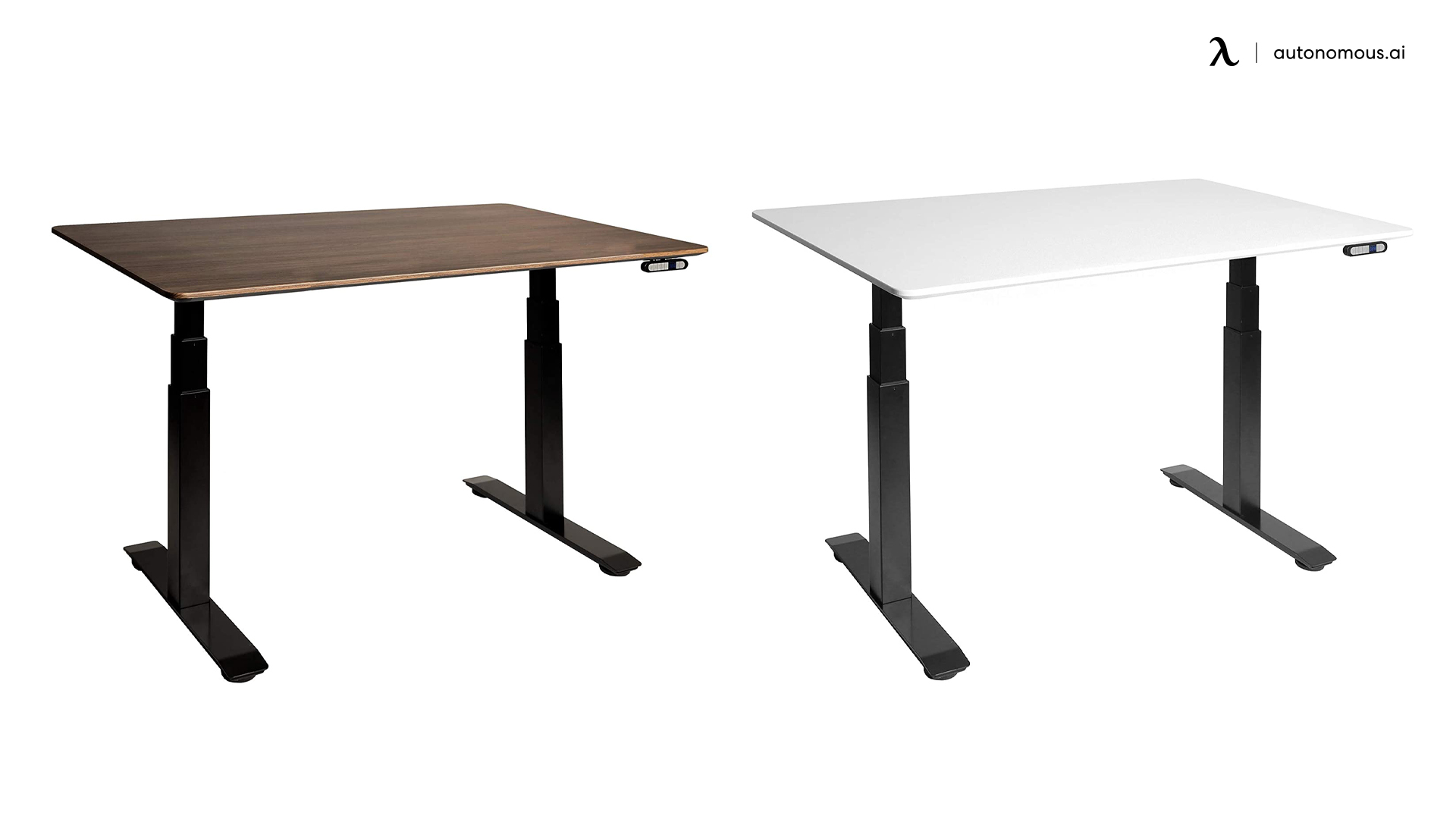 4. Vari Electric Standing Desk 60
If you're interested in a sit-stand desk for petite people, the one from Vari could be another great choice. It's a premium styling at an affordable price. The brand is quite popular because it creates many different options.
While the surface is made to look like wood, it's engineered. This is often better because you don't have to worry about sanding and staining it over time. Plus, it isn't likely to dent, get scratched, or hold markings because of the laminated top.
The lowest height option is 25.5 inches, which is one of the reasons it meets our expectations for a small adjustable-height desk. However, it also raises to 50.5 inches tall, making it suitable for almost anyone. If you often have a tall person using your desk, too, it is going to work for every user.
The weight capacity is just 200 pounds, so it's not as high as some of the others on the market. Still, it offers four programmable presets so that you can push a button and raise/lower the desk to your specifications. With the LED digits, you can easily see what you're doing, even if it's dim in the office.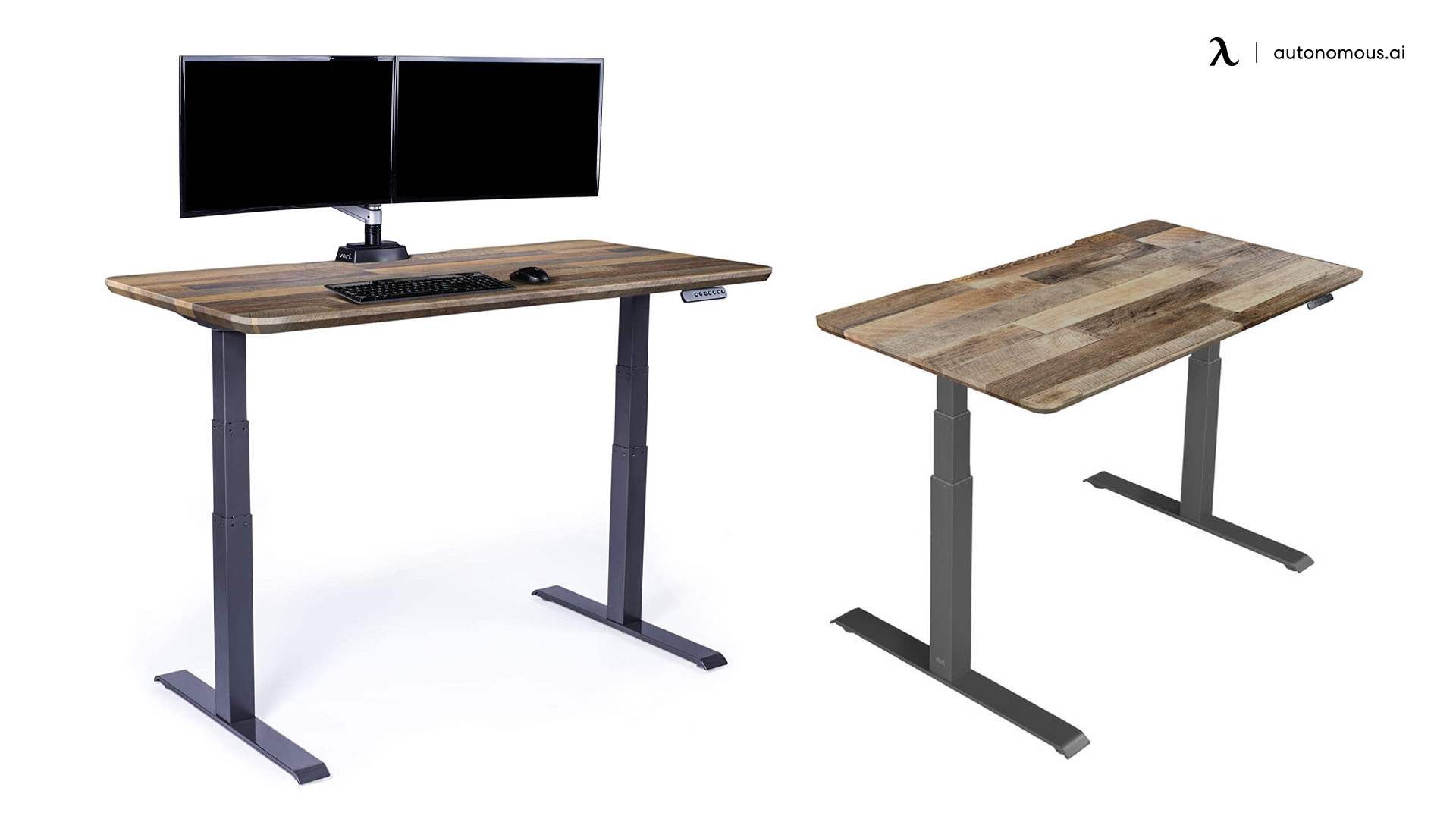 5. ErgoMax Adjustable Workstation (Frame Only)
Short people often have to deal with various issues to find what works for them. Sometimes, the less-than-average lowering to 25 inches isn't enough. The ErgoMax is just the frame, which is similar to the SmartDesk DIY Kit from Autonomous. It lowers to 24.8 inches, making it ideal for those who are petite.
Still, it can be raised to 55 inches tall, so you can share it with others who might be taller than you. If you have no one else in the home that requires a workstation, that's okay. You don't have to lift it to the highest height available.
The frame is completely made of steel, so it's durable and sturdy enough for whatever you put on it. Remember, you require your own tabletop, but the frame holds 225 pounds, so it's going to be strong enough to raise that and all of your equipment.
This option only offers three presets, but it does include the LED display feature. Plus, it is only 60 inches long, but it doesn't adjust to different heights. As a small standing desk, this one might be the best choice for you.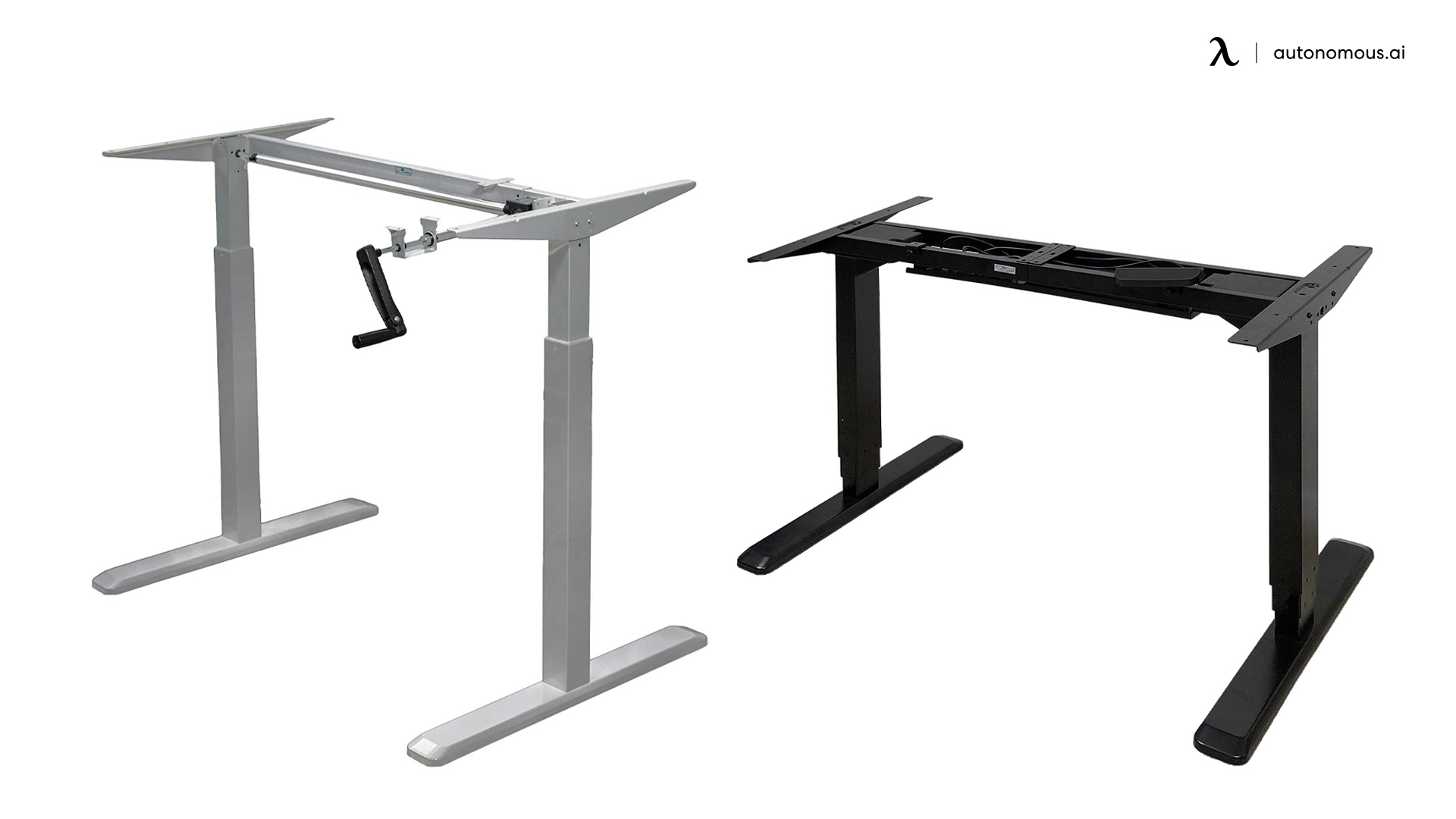 Pros and Cons of a Standing Desk for Short People
Standing Desk for Short People
Adjust it to meet your specific requirements
Sit without raising the chair too high
Stand and continue working and being productive
Reduce back pain and neck strain
Slightly more expensive than traditional desks
Requires placement next to an outlet
Might be a challenge to assemble yourself
Even with those minor disadvantages, you're sure to find that a small standing desk makes life much easier and is worth the extra price you pay.
Why You Need an Adjustable-Height Desk
Some desks stay at a fixed height, but this makes it harder for short or tall people to use. Plus, you can only sit at the workstation and can't raise it so that you can continue working while standing.
It's harder to get the ergonomics right for both the desk and chair without an adjustable-height desk. Therefore, it's our recommendation to choose options that can change heights with ease. This also means choosing an electric standing desk. You don't want to be hand-cranking it for minutes at a time whenever you want to change positions.
Typically, people find it easier to press a button and lift their desks faster without so much effort.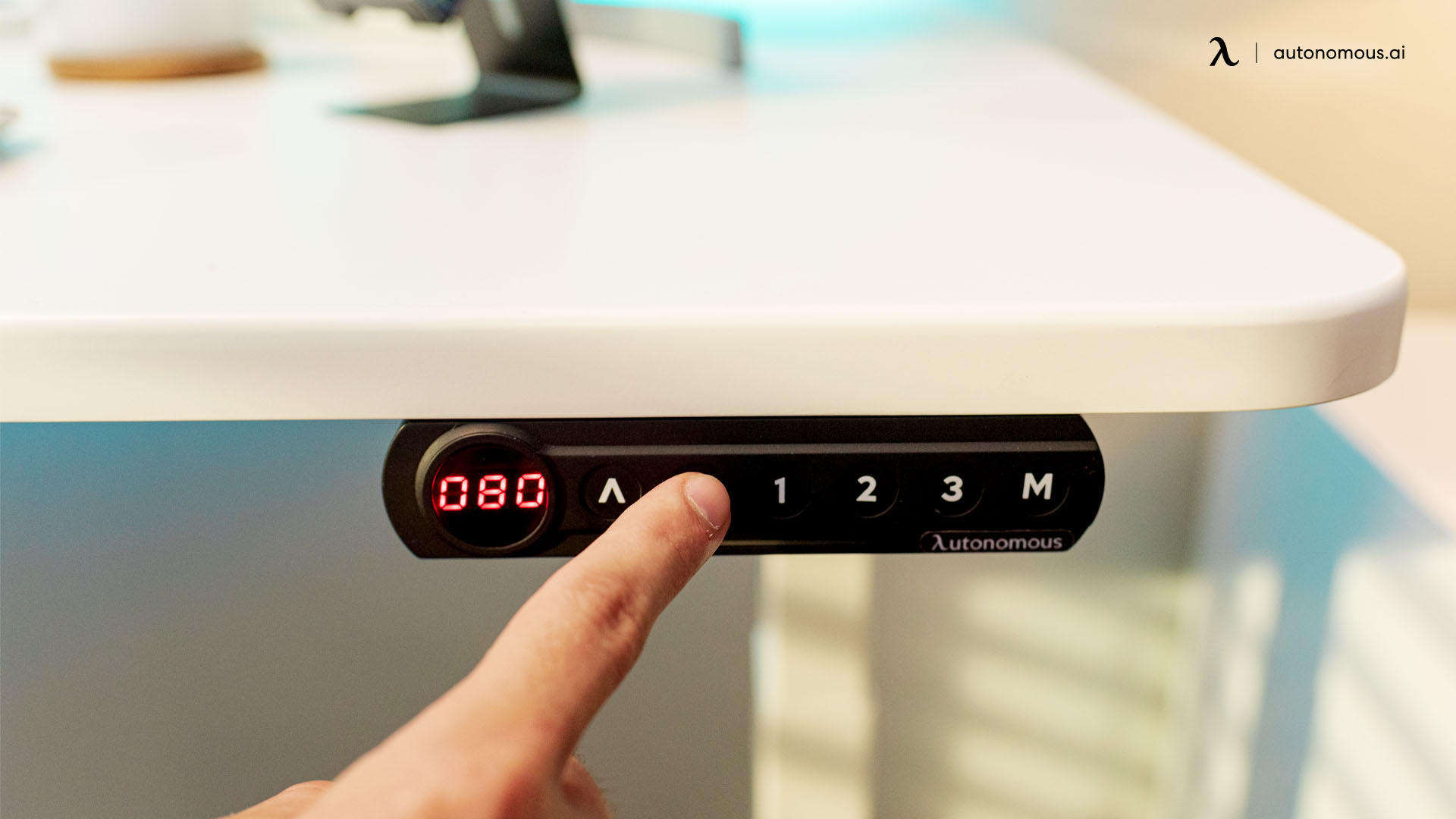 Why You Shouldn't Use Converters
You've probably seen the standing desk converters, which are units that sit on top of your regular desk. When you want to, you can raise it to lift everything on the converter so that you can stand. However, this rarely makes things ergonomically correct and might be even more problematic for short people.
While they're less expensive than a full standing desk, it's often best to spend a little more now for something you can use for many years to come.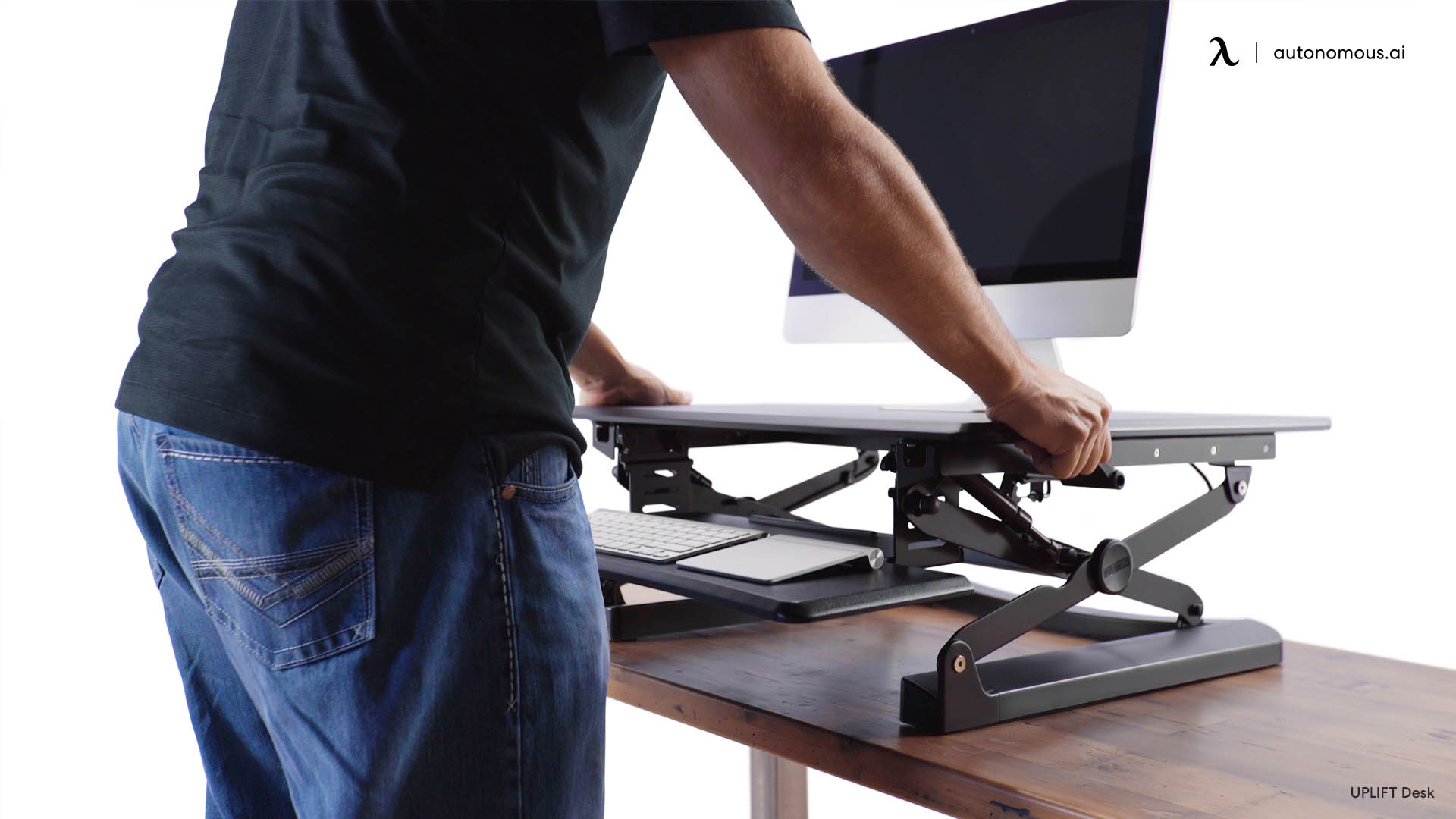 Conclusion
As you can see, there are countless standing desks on the market, and Autonomous has various styles. We've covered two from the company that is the best and have low height ranges. Still, you may decide on a different model, as there are plenty. Don't forget to look at the office chairs with ergonomic benefits so that you can ensure that your spine is in alignment while you're sitting.
It's also essential that you stand up straight and adjust the height of the small standing desk, so you've got good posture.
When it comes to a sit-stand desk for petite people, we like the SmartDesk 2 Home Office and the DIY Kit from Autonomous. You're going to stand and sit like a pro without hurting your body just to earn a living. Of course, you should choose something that fits your budget and needs. Standing while working ensures that you have fewer pains and aches, more productivity, and reduce soreness in the back, hips, and neck.
Subcribe newsletter and get $100 OFF.
Receive product updates, special offers, ergo tips, and inspiration form our team.
WRITTEN BYAutonomous
We build office products to help you work smarter.