Smart Products
The 15 Best Desks for Students Study From Home
2,278 Views
An ergonomic desk for students should be a priority for all individuals who are studying whether they are in college, high school, or elementary school.
A good desk is vital for effective remote learning space in the hybrid learning model. Desks help to improve focus, organization, overall health, and even sleep patterns.
The use of desks should be encouraged from a young age, and parents should consider kids standing desk options.
What makes a study desk comfortable to use? What characteristics should you be on the lookout for? In this article, we discuss the top 15 preferred best study desks for staying comfortable, safe, and productive.
1. Autonomous SmartDesk Corner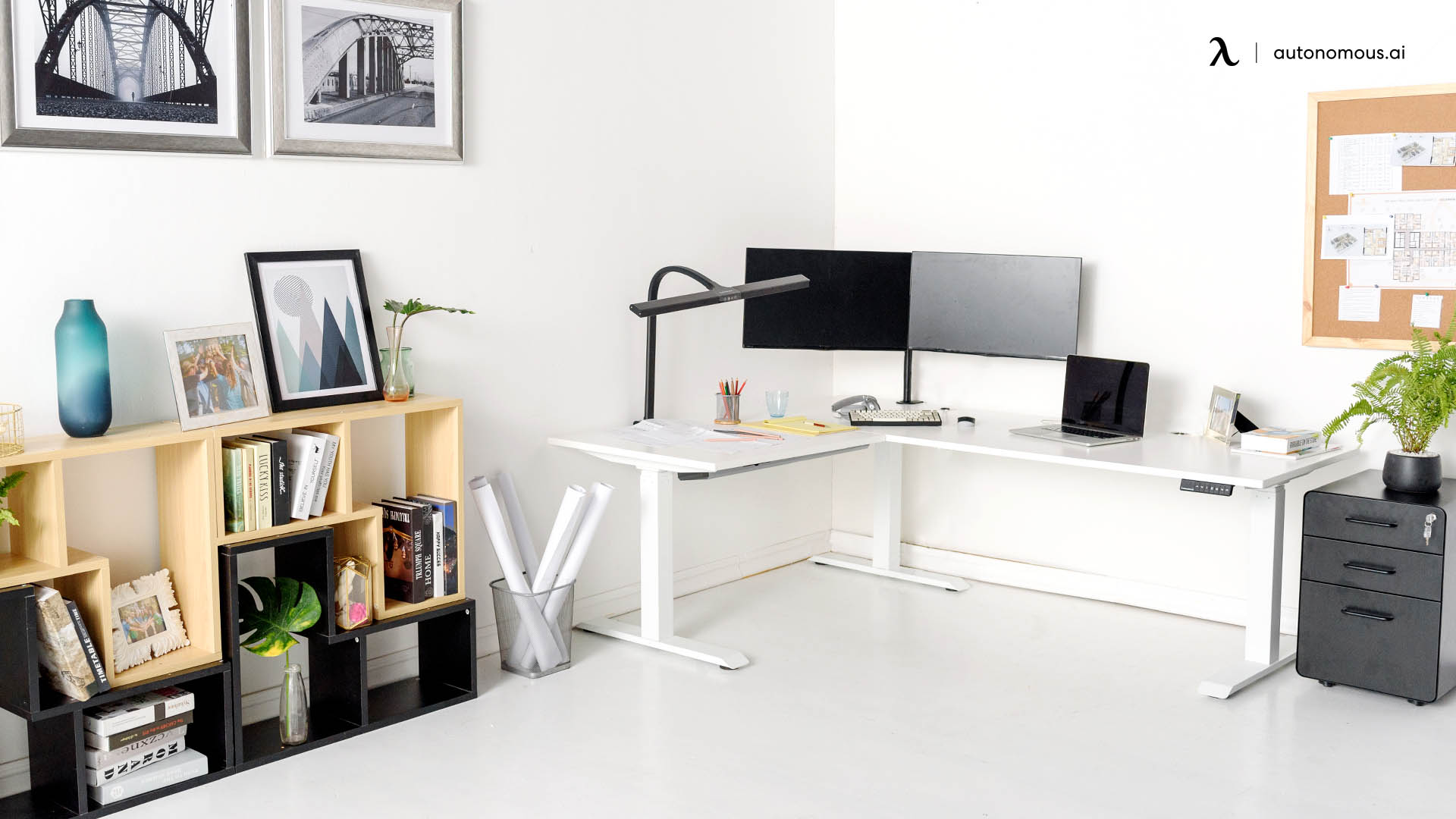 The Autonomous SmartDesk Corner has a modern design with clean lines that go nicely with any environment, and the L section of the desk is an ideal desk setup for students who require additional workspace.
Students may benefit from such a desk as the extra storage space may be used for textbooks and study material.
The SmartDesk Corner expands from 29.5 to 48.5 inches, allowing even tall people to use it comfortably. It also climbs rapidly, at a rate of around 1.5 inches per second.
Because of the crossbeam construction, there is no monitor wobble while typing or gaming, even at maximum extension. Furthermore, the desktop is made of 1-inch thick MDF wood, which means it does not bow over time.
This SmartDesk Corner stretches fast and smoothly, ensuring that nothing on your desk is disturbed. The motor is quiet enough that you can lift the desk while on the phone or in an office setting.
Discounts are offered to students who use the Autonomous student promo code.
2. Autonomous SmartDesk Core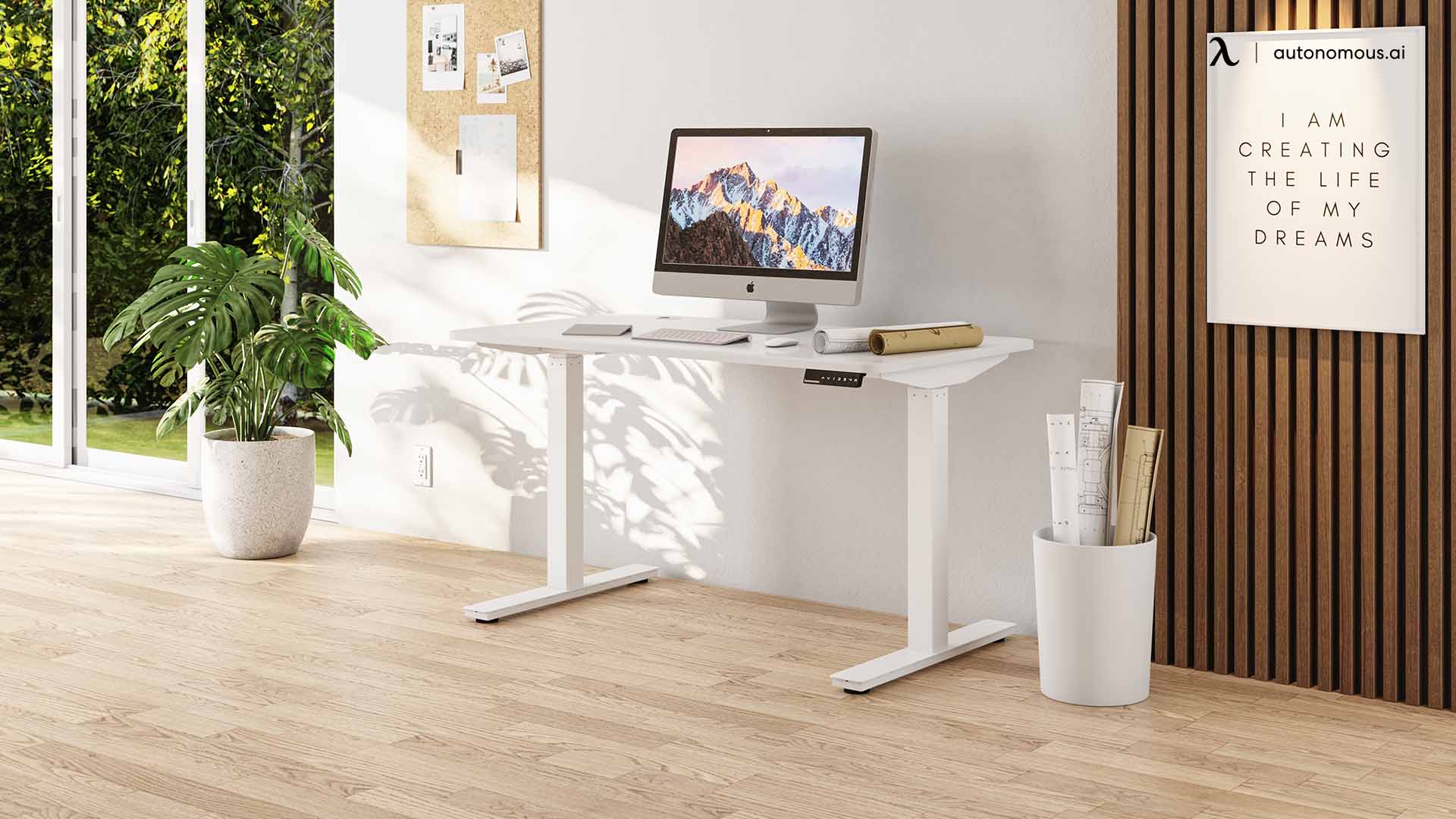 The Autonomous SmartDesk Core is the best study desk pick for many customers when considering the best standing desk for students.
It offers a wide range of heights, which means this desk for students can be used by many types of people. Ideally, it may be kept by teenagers when they move to college.
The SmartDesk Core is adjustable from 29.4 to 48 inches and is ideal for a wide range of bodies. The desk allows you to find your ideal sit-to-stand position.
It features a programmable keyboard for improved convenience and simple controls, and you can save up to four unique heights, and switch between them with ease.
The desk comes with a two-stage lifting column which emphasizes its strong core. At only 50 decibels, it is whisper quiet, and can lift 265 pounds. While carrying its maximum load, it moves 1.1 inches per second.
It is powered by an energy-efficient twin motor and stands on a strong steel frame. UL, BIFMA, and EMC have all given it their seal of approval for strength and safety.
The SmartDesk Junior is a good option by Autonomous for kids up to the age of 13. This junior ergonomic student desk version is a smaller version of the SmartDesk Core but has a backboard and drawer for extra storage space and activities.
3. Coleshome Computer Desk 47
This can be the ideal choice if you are seeking a robust, college student desk, and its surface is waterproof and scratch-resistant medium density fiberboard.
The student computer desk is 47 by 24 inches and should fit into even the tiniest of places. If you still need more room, you can use a C-clamp to hold your monitors in place. The desk's frame is composed of metal and should be able to support 330 pounds.
The directions are simple and easy to follow, so you should be able to put it together in less than 20 minutes. You may adjust the legs of the desk if your floor is uneven.
Many customers who received this student desk for home think it looks modern and clean, and that it is a wonderful value for the money. The only drawback is the lack of a cable management system.
4. Rustic Industrial Computer Desk by Foluban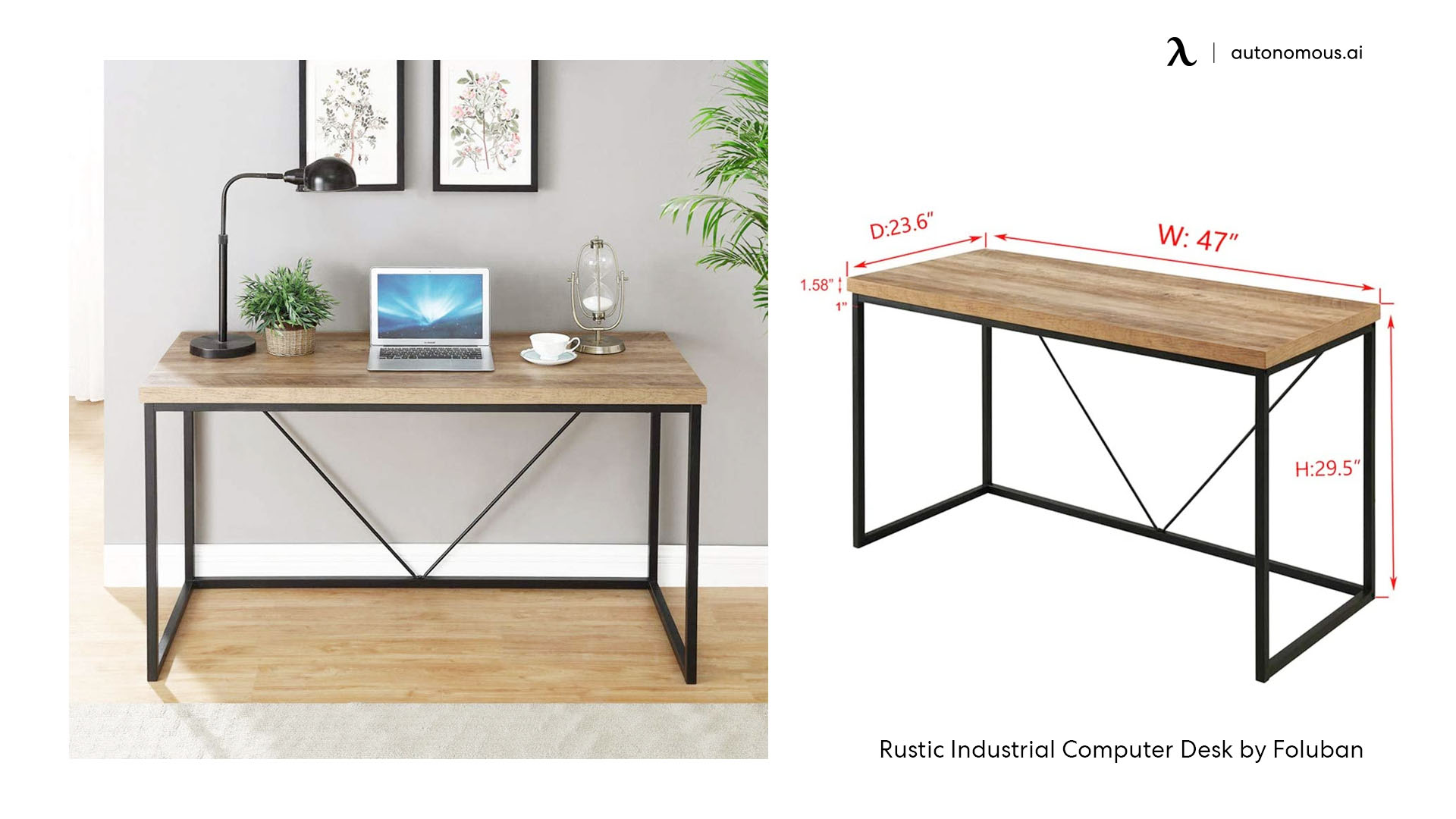 The Foluban computer desk is without a doubt one of the most stylish ergonomic student desks on the market, especially for those with a minimalistic home style.
It is composed of rustic wood and steel, and it is meant to give any room in your house an industrial feel. This is also one of the most durable and resistant tables available.
You get all the tools you need for assembly in addition to the instructions and parts.
Customers appreciate how simple it is to put this desk together, and how sturdy it is. They claim that the desk's size is ideal, and that it can accommodate large dual monitors with ease.
5. Modern L-Shaped Corner Computer Desk from Hago
This L-shaped desk for students can be tucked away in a corner to save room, and it also has a CPU stand, so you never have to leave your computer on the floor. It has a steel frame that can support up to 450 pounds of weight.
Particleboard P2 is also used to make the wooden work platform. P2 is a wood panel with a well-sanded surface, and a lovely powder coat finish. It is a popular choice for the workplace and as a home student desk.
You might need some assistance putting this desk together, but the trick is to wait until the wooden board is on top before tightening any of the screws.
6. Computer Desk with Four Tier Shelves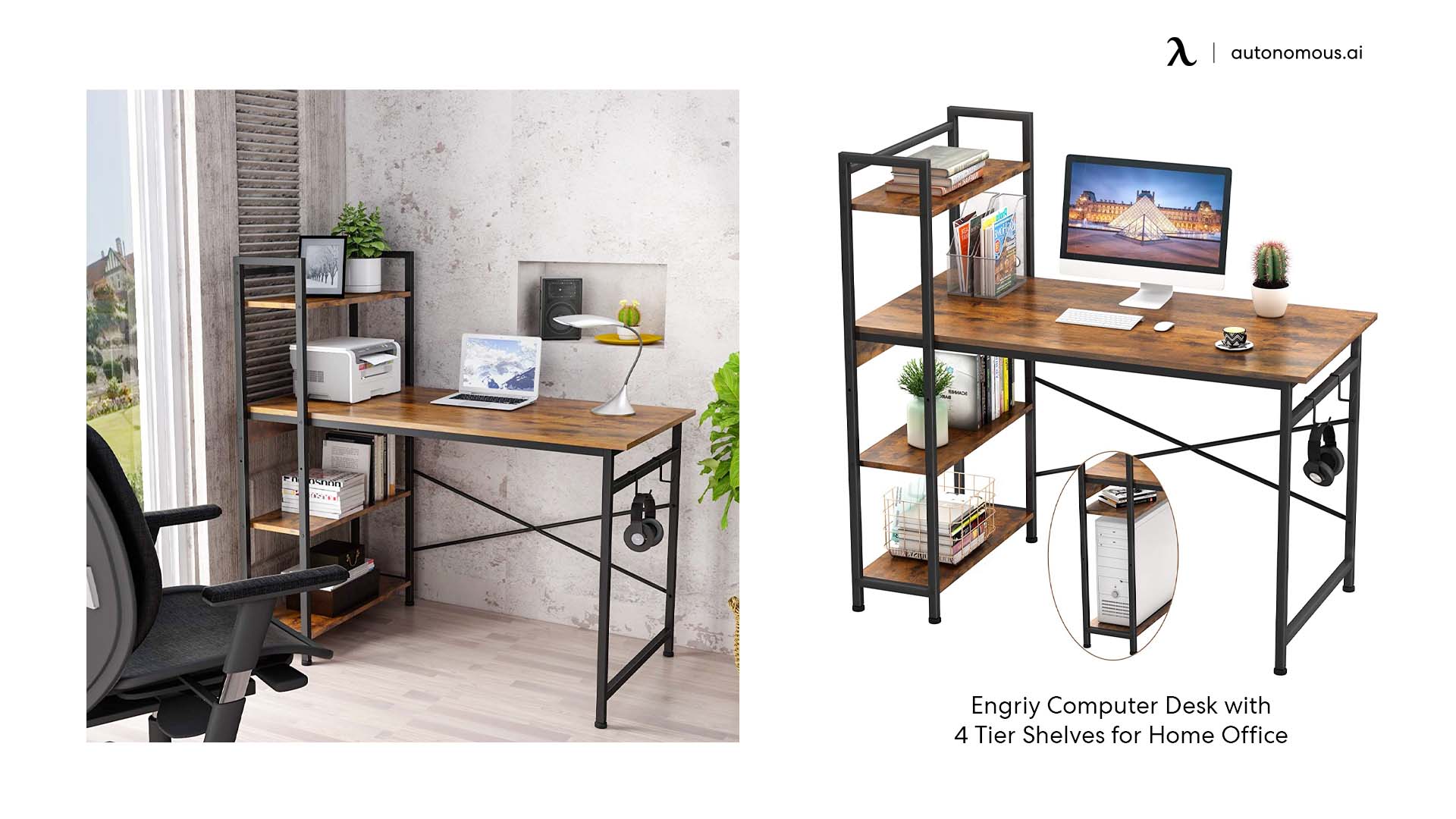 If you need more storage in your study space, this is a great desk for students to have. It has four additional shelves attached to the desk that may be put on either side of the frame.
Although several reviewers said that you shouldn't load the work board over 65 pounds, the tower desk has a steel frame that should hold up to 100 pounds of weight.
When properly installed, the desk is strong and does not shake or wobble. It works just fine on carpets. To get more space for the CPU, some individuals choose to exclude the second shelf from the bottom when assembling it.
7. Computer Office Desk by Need
The Need Computer Desk is ideal for teenagers not only because it is foldable, but also because it is made of robust materials and has a water-resistant surface.
Its connecting rods have a simple double-spring construction that makes folding and unfolding the desk a breeze. This desk for students has a lot of customer reviews, and almost all of them are positive.
The ease of assembly, the sturdiness of the material, and the legroom provided by this desk have all been praised by customers.
Adjustable legs extend up to 2 centimeters and come in handy if you are working on an uneven surface. Keep in mind, however, that the edges are very sharp, especially for toddlers.
8. Study Desk with Adjustable Height from Apexdesk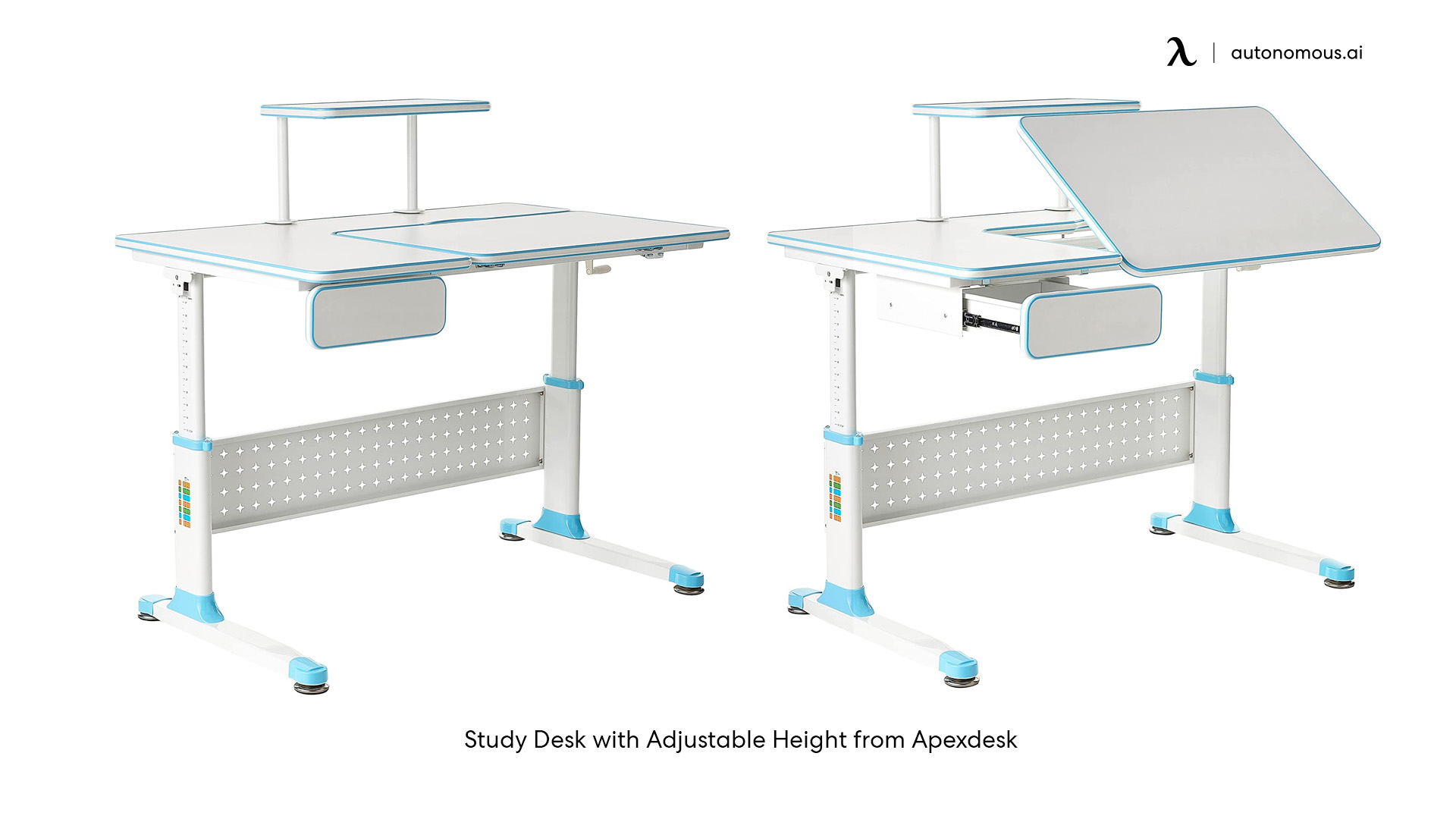 The student computer desk, as well as the chair, are both adjustable. They may be adjusted for height and are ideal for students in high school moving onto college as it may last them many years to come.
A raised shelf, and a split surface that can be tilted up to 75 degrees are included in the workspace.
The tilt is fantastic for ergonomics, but there is one drawback in the design, namely a smooth surface that lacks a blocker to keep books or electronics from sliding off. Some folks use a wrist pad or a foam edge protector.
9. Small Folding Desk Without Assembly
This college student's desk is great for those who don't have a lot of space at home and require a desk that can be folded and stored.
It has an iron frame with a 2-centimeter iron pipe, and a folding mechanism with anti-rust hinges, for further durability, and is also available in seven different colors.
Customers appreciate how light the desk is, and how much legroom it gives. They claim that the foldable desk is a good choice if you do not have a lot of space, and that the pricing is fair for what you get.
However, several buyers claimed to have received the desk with missing screws, and others claimed it was damaged when it arrived.
10. Standing Desk by Flexispot
This is one of the best height-adjustable student desks for home on the market. If you frequently alternate between sitting and standing, the Flexispot is an excellent choice because it can accommodate both.
A two-button controller may be used to make seamless height adjustments, and it engages an electric mechanism that does the job quickly and efficiently.
The assembly is simple, and both the printed instructions and instructional videos are easy to understand.
Customers adore this desk because it provides pain relief. The Flexispot counteracts the consequences of prolonged sitting on your back as a standing desk. This aids in reducing back pain, forward head posture, and other potential issues.
Many individuals agree that this desk for students is well worth the money, and that the pricing is reasonable. There have been no major issues mentioned, and the desk is rather large and strong.
11. SHW 48-Inch Computer Desk for Home Office
The SHW desk for students is ideal for any bedroom, office, or studio, but it may also be used as a trendy kitchen or dining table. It has a steel frame and is made of environmentally friendly particleboard.
Your package includes all the tools you need for assembly, as well as a step-by-step guide on how to put it together. The desk's surface is a uniform black tone that is easy to maintain and complements a minimalistic and modern environment.
It has received good reviews from customers, owing to its ease of assembly, and specific design for tiny areas. It is also a robust student computer desk that's well worth the money.
12. Writing Computer Desk by Cubiker 39-Inch
This minimalist desk is a wonderful alternative to consider if you do not want a large desk with multiple drawers. The Cubiker Writing Desk can be adjusted for better stability on uneven floors and adapts to practically any setting.
Its assembly instructions are simple to follow, and the manufacturer includes all the necessary tools. Customer feedback on this student computer desk is overwhelmingly positive, with most individuals agreeing that it represents exceptional value for money.
Although the producers do not specify a maximum weight capacity, some clients noted that there was no problem holding equipment weighing roughly 110 pounds on it.
13. L-Shaped Corner Desk by Greenforest
The GreenForest Corner Desk is one of the best L-shaped desks for students on the market, with a scratch-resistant, moisture-proof surface made of P2 particleboard.
It is ideal for offices, but it also works nicely in a study as a student computer desk. It can also be used as an L-shaped gaming desk and is ideal for multi-screen setups.
This best study desk is often regarded as remarkable for its price. Many customers like how simple it is to put together.
However, some users claim that the assembly manual is extremely complex, and that they ended up with misaligned pieces, and small gaps between the panels as a result.
14. Tangkula 47.5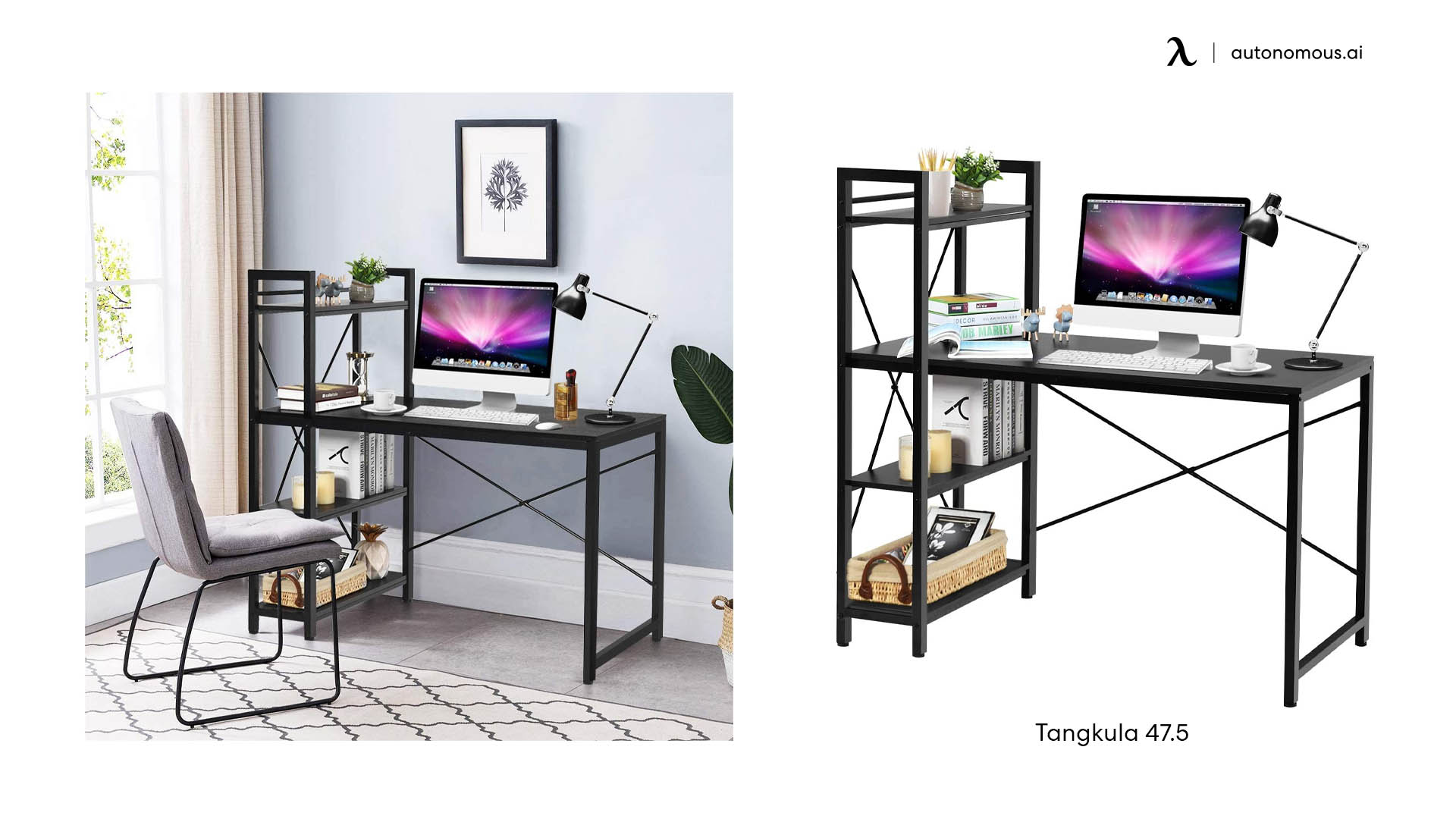 The Tangkula study table is very similar to some tower computer desk designs. It has extra shelves on both sides of the desk that can be positioned.
Its structure is built of iron, and can support up to 250 pounds, and the tabletop is constructed of medium density fiberboard, which is thicker, and more durable than plywood.
This could be an excellent alternative if you are in desperate need of space and want to increase your storage capacity at the same time. Due to the assembly instructions being in Chinese, do not empty the tool bags, as they show you the corresponding numbers.
15. Tangkula Computer Study Desk
The Tangkula study table may appeal to anyone who appreciates the classic antique style of a study desk for students. It consists of a thick medium density fiberboard that is both attractive, and durable.
It has plenty of storage capacity, with four drawers in total. You also get an additional shelf on top, which some users may not like because it reduces the overall depth of the desk while still organizing your area.
Although there is no cable management system, there is a hole in the middle-back of the wooden top where you can plug in your laptop cable. However, this ergonomic student desk is not particularly functional.
Final Thoughts
It might be as simple as a table for your laptop and paperwork, or it could be a fully-fledged workstation with file drawers, and enough space for multiple monitors desk setup.
One thing is certain: any college student may spend a large amount of time behind a desk, regardless of their requirements and desires.
Hey, you have special pricing through your company.
Get exclusive rewards
for your first Autonomous blog subscription.
WRITTEN BYAutonomous
We build office products to help you work smarter.