Smart Products
20+ Best Rolling Standing Desks 2023 Reviews & Ratings

Autonomous
|
Mar 28, 2022
4,943 Views
Are you wondering what rolling desks are? Have you been weighing up your options for a new desk? Well, you are in luck! This article was written for you. 
In this piece, we explore the benefits of a standing desk and review some of the most prominent ones on the market. After this article, you will have enough information to make an intelligent decision when purchasing a rolling desk in 2023.  
This guide will cover the following: 
How rolling portable standing desks work

The kinds of different standing desks with wheels

What the top six roll stand-up desks are

How to select the best one for you 
Without further ado, let us begin. 
20+ Best Rolling Desk Reviews and Ratings
In addition to standing, taking breaks, and even walking, lower back pain is often relieved. The lower back is relieved from pressure when standing, and standing is a more natural position than sitting at a rolling desk and typing. This isn't just a desk that requires constant standing. 
Circulation is another issue that can be addressed by standing at computer desks. It is common for people to experience decreased circulation when sitting at desks or when traveling by plane. Other serious medical conditions are associated with it, such as numbness, pain, and coldness. As a result of standing and moving more rather than sitting all day, you can feel more refreshed and concentrate better.
A stand-up computer desk on wheels should be researched and tested thoroughly. Your situation may not allow you to consider it. You will likely want to test your computer chair to see which one feels most comfortable, offers the most space, and what options you might want to consider.
1. Mount-It! Rolling Desk with Tiltable Desktop
You'll love this compact rolling desk for keeping your work on the move as much as you do. Maple finish makes the desktop moisture resistant and suitable for most laptops. The rolling computer workstation can be adjusted from 26.25" to 37.75" according to your preferences. Melamine, steel, plastic, and particleboard combine to create this product.
2. Mount-It! Rolling Computer Work Station with Monitor Mount
3. Mount-It! Height Adjustable Rolling Stand-up Desk
Whether you need a mobile computer or laptop station for the office, at home, in hospitals, showrooms, classrooms, or anywhere else, this sturdy, mobile standing desk with casters is the perfect solution. There is ample space on the platforms for keyboards, monitors, mouse pads, printers, and PC towers. You can use a monitor or no monitor signifying a more ergonomic height adjustable rolling stand-up desk setup. With casters that roll in every direction, you can easily move the furniture from one room to another.
4. Mount-It! Large Height Adjustable Rolling Stand-up Desk with Monitor Mount
It is ideal for office use, home use, hospitals, showrooms, and classrooms as a portable computer/laptop station. Monitors, keyboards, mouse pads, PC towers, and printers are accommodated on carefully designed platforms. Wheels on the mobile computer cart with monitor mount move in every direction, making it convenient to relocate from room to room. Locking the casters is possible to use the cart, either stationary or mobile.
5. Mount-It! Mobile Cart With Monitor Mount & CPU Holder
With VESA mounting holes, the MI-7948 mobile standing desk on wheels can easily accommodate any monitor up to 32" with a full-sized keyboard tray of 25.7" (W) x 9.6" (D). The twist knob enables you to quickly adjust the keyboard tray's ergonomic typing position to a comfortable, 25.7" x 9.6" size. With the floating CPU holder, you can adjust the height and width to fit almost any desktop computer, and the buckle straps on the height adjustable rolling stand-up desk ensure that your CPU is kept in place.
6. Mount-It! Mobile Standing Desk: Lockable Casters
In either case, it can be used as a bedside table, a laptop presentation table, or for educational purposes. It's easy to set up and great for storing computers and audio/visual equipment. Its smooth spring lift allows you to find your ideal position for maximum comfort and is equipped with lockable casters for convenient mobility.
7. Modernsolid Laptop Cart with Cable Management
It is possible to place cables, chargers, mice, and other computer accessories in the basket under the mobile laptop cart made of steel. This table top is designed with a handle built into the top so you can easily move it around: smooth surface finish, waterproof function, and beautiful surface finish. Roll the desk cart easily from one place to another with its 1.97" castors. Three of the five are lockable to ensure the mobile computer desk stays put.
8. Modernsolid Rolling Computer Cart: Height Adjustable
It is possible to adjust the height of the keyboard mouse tray on the mobile computing cart. You can store cables, chargers, mice, and other computer accessories in the basket at the back of the table. A security key lock can be used to secure chargers or valuable items. While holding on to the sturdy handles on either side of your computing cart, it is easy to maneuver the cart. A rolling table desk cart with 3.94" castors can easily be moved to any location, and two of the four wheels are locked for security.
9. Modernsolid Folding Table: Height-adjustable/h3>
10. Modernsolid Mobile Computing Cart with CPU Holder
Flexible configurations are possible with this mobile computing cart. Make your workspace more comfortable by adjusting the monitor mount, keyboard tray height, and casters that lock. With a twist of the knob at the back, you can independently adjust the monitor, keyboard, and CPU holder's height. Pull the knob on the side to fold the keyboard tray +/-90° to save space. Your viewing position can be adjusted to the most comfortable one, whether sitting or standing. Adjust the safety belt to keep CPUs and UPSs safe and stable.
11.  Trio Supply House Rolling Adjustable Height Laptop Cart
12. Trio Supply House Rolling Adjustable Height Laptop Cart With Storage
13. Trio Supply House Rolling Adjustable Laptop Cart With Storage
14. Trio Supply House Computer Workstation Desk: Woodgrain
15. Trio Supply House Folding Table Laptop Cart: Graphite
16. Trio Supply House Sit to Stand Mobile: Laptop Computer Stand
17.  Tangkula Standing Desk
A combination of affordability, functionality, and durability makes this rolling standing desk a great choice. The rolling desk is constructed from high-quality iron to last a lifetime. The height adjustment is made possible by dual pneumatic rods integrated into the ergonomic adjustable design.
It can be raised to 42 inches and lowered to 27.5 inches, making it suitable for people of all heights. This table has smooth-rolling casters attached to the legs for effortless movement. There are two lockable casters on the rolling computer cart, so you can keep it in place no matter where you place it. 
18.  Vivo Electric Height Adjustable Desk with Dual Platform
Smaller people with limited space in the office will love this ergonomic roll stand-up desk. There is no need to worry about a manual crank system that must be adjusted to adjust the height.
With the press of a button, you can adjust the height. The table can be raised to 49 inches if you are a more significant adult. This dual-platform electric standing desk from Vivo makes it easy to transition from sitting to standing.
19.  Trip Lite Height Adjustable Desk
The price of this standing desk is easily among the highest on the market, but it is definitely worth the money. Four black shelves for additional storage allow the table to be adjusted from 32 to 49 inches, offering additional space and ergonomic features. 
This  rolling desk model is for someone wanting a mobile workstation to move around the house quickly. With a five-year warranty made from solid steel, you can be confident that it will last a lifetime. 
20.  SIDUCAL Mobile Stand-Up Desk
It's a great deal for $89.99 considering its features. A flat surface can be created by tilting two of the desktops or by creating a large flat surface area with the third desktop. With a tilted surface, your keyboard will be perfectly positioned. The slick modern look and manual adjustment make this an excellent choice for various decors.
21. S Stand Up Crank Adjustable Standing Desk
This versatile and spacious desktop will amaze you with all its features. You can leave it flat for simplicity or add desk accessories to make it more ergonomic.  
A range of attachments can be added to this desk, including a pencil drawer, keyboard tray, monitor shelf, etc.  
You can use the hand crank to adjust the height up to 48 inches, so even taller people will like using this mobile computer desk.
Pros
Extensive height span between 30 and 48 inches

Various size and color options are available

154 lbs weight limit 
Cons
High sitting position

Difficult assembly

Manual adjustment (although an automated option is available) 
22. Trip Lite Height Adjustable Rolling Standing Desk
This is easily one of the most expensive standing desks on the market, but it is worth every penny. You will love the extra space provided and the ergonomic features this table offers; it can be adjusted between 32 to 49 inches and includes four black shelves for additional storage space.  
If you want a mobile workstation that can be moved around the home quickly, you should purchase this model. You will be happy to know that it comes with a five-year warranty and is made from solid steel so that it can last forever.  
Pros
Made from durable, high-quality steel

Five-year warranty

Easy assembly 
Cons
Extremely expensive

It may not be suitable for shorter adults

Long shipping time 
23. Height Adjustable Rolling Standing Desk Cart
This model is built to be affordable, and because of that, it is made from lightweight plastic. It is easily one of the cheapest rolling desks on this list, and rightfully so. 
The standing desk can be used anywhere in the home or office and is an excellent option for people who want to sit or stand. Even though the height adjustment is manually operated, you will be happy with how smooth the transition is.  
Pros
Super affordable

Perfect for home or office use

Easy height adjustment  
Cons
Made from lightweight plastic

It doesn't last as long as more prominent models

Limited warranty period 
What Are Rolling Desks?
Many of us work five days or more and spend most of that time sitting while we work; that is a lot of sitting. Have you ever considered how terrible staying in the same position for hours on end is for your health? 
Research has shown a connection between a plethora of health problems and sitting for too long. It may be time to find the correct desk for your work requirements. 
Rolling desks are even better than a traditional standing desk because they allow people to make their work area more mobile and move around freely. The portability and flexibility of a rolling desk is something that every office worker will appreciate.  
There are multiple ways to move around during an otherwise sedentary day, and desks with casters make it easier because they have wheels at the bottoms of their legs.  
If you want a change of scenery, have to attend a virtual work-from-home meeting, need a quiet space to work in, or rearrange your office furniture, it will be much simpler with a setup for a standing desk.  
What Are the Different Types of Rolling Desks?
There are three primary kinds of rolling desks that you can purchase; deciding what is the best one for you is dependent on your requirements and budget.  
1. Rolling Desks That Can't be Adjusted
These tables have a predetermined height that cannot be adjusted. That means you will lack the option of changing to a sitting position, and it may not fit everyone's stature equally. 
This type of mobile computer desk is typically cheaper than adjustable models because of the above statement.  
If this is the way you want to go, ensure that you double-check the standing desk height and make sure it is comfortable for your particular size.  
2. Rolling Desks That Are Manually Adjustable
Adjustable standing desks are the most outstanding choice for ergonomics since they provide a standing and sitting combination. 
These tables will generally be adjustable via a crank or lever. It may take longer to move it to your desired height, and some are more challenging to modify than other models.  
However, these desks on wheels are also relatively affordable and sell for cheaper than the electronically controlled counterparts of the market.  
3. Rolling Desks That Are Electronic Adjustable
This is the most famous type of mobile computer desk because of its ease of use and functionality. 
It takes less effort and time to adjust the height because all you have to do is push a switch. Some tables have programmable buttons to set your particular height needs for sitting and standing.  
How Do Rolling Computer Desks Work?
After the above information, you now understand how a mobile computer desk can be good for your heart, but you may be wondering how they work? 
Rolling computer desks have caster wheels attached to the bottom of the desk legs, and that is where they get their mobility from. It makes these tables easier to move without compromising stability. This can be extremely useful, whether you work at home or in a conventional office space.  
Many models are adjustable to set the height to your desired level, either electronically or manually. This allows you to stand or sit when you want and quickly move the desk around your office or home. 
What to Look for in the Best Rolling Desks
While shopping around for a rolling desk cart, you need to consider the options available. The primary considerations you should look at are mobility and wheels. 
You need to also look for a desk that is within your budget, fits your office or home, and has a unique style. 
If you are planning to adjust the desk, ensure that you don't buy one that doesn't have adjustment features. Another thing to think about is how often you plan to modify it; you may want to purchase electronic options if you want to change height settings regularly.  
You will also want to find one stable enough to hold all your important work documents on top of it. All kinds of rolling desks have weight restrictions, so consider that too. 
Since you want a rolling desk cart, the model's weight is something you should look at. You want to be able to move the rolling desk around without compromising the table's sturdiness. 
Rolling desks need to be stable when you move them, and a crossbar can ensure that the legs are solid, even if you push the desk across bumps or cracks. If you plan on moving the desk far or often, it is good to check if it has a crossbar. 
Another thing to consider is the size of the feet. The bigger the feet, the less likely the table will quickly fall over, especially while moving around the home or office. 
When looking at the rolling ability of a standing desk, one of the most important parts is the wheels. Ensuring that the wheels can be locked is crucial so that the desk doesn't move when you least expect it. In addition, be sure to look at the caster wheel size.  
If you plan to move the desk over bumpy or rough ground, larger wheels will suit that task better. Smaller wheels can be practical but often have a challenging time going over some surfaces; the same may also be true for carpets.  
Video ads for product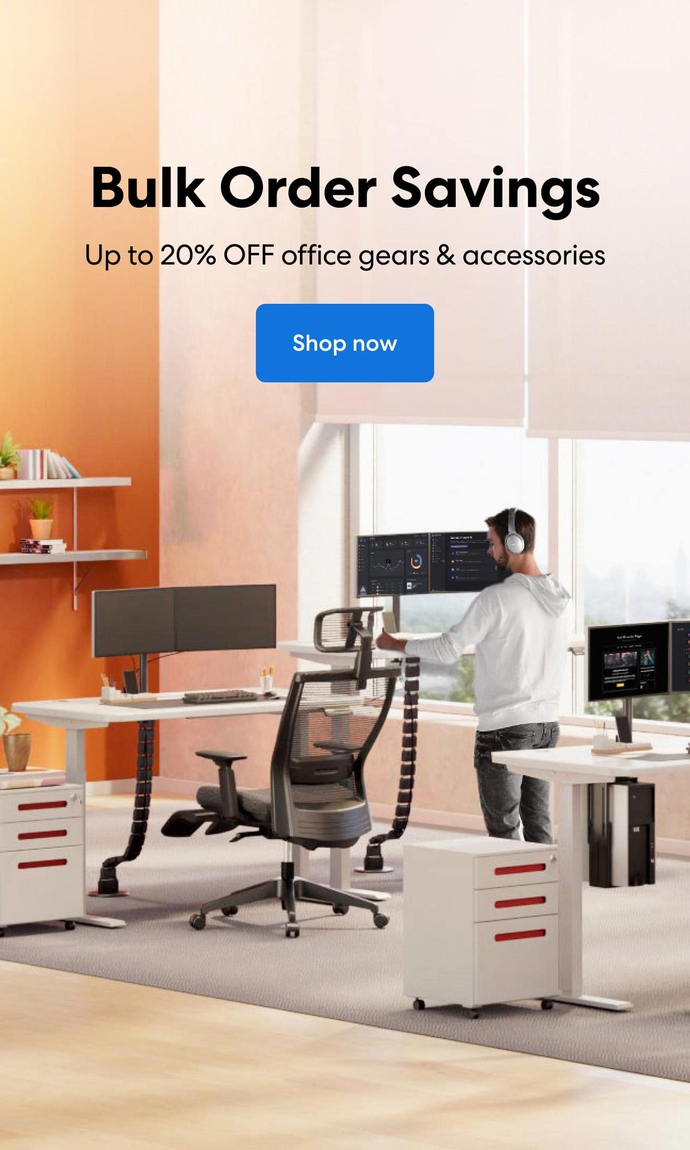 Subcribe newsletter and get $100 OFF.
Receive product updates, special offers, ergo tips, and inspiration form our team.