Black Friday is just around the corner, and if you're in the market for a new office table, you're in for a treat.  
This year, the Black Friday desk deals are hotter than ever, and we've scoured the web to find you the best ones! Our top desk black friday deals will transform your workspace without burning a hole in your wallet. 
Whether you want a modern design, extra storage, or a minimalistic look, there's a Black Friday office desk with your name on it.
Autonomous Home Office Desks - Big Desk Black Friday Deals
This Black Friday, redefine your workspace with unparalleled savings on Autonomous desks, savings of up to $900 OFF. Elevate your work environment with Autonomous, known for its innovative and ergonomic designs that prioritize your comfort and productivity.
Don't miss this exclusive opportunity to transform your workspace and upgrade your desk at an unprecedented price. Act quickly to secure the best discounts on Autonomous desks this Black Friday and create a work setup that inspires efficiency and comfort.
And as a bonus, enjoy a complimentary FREE LED desk lamp with your purchase.
Our Favorite Home Office Desk Choices on Black Friday
Finding the best Black Friday office desk deals doesn't mean you have to break the bank. We chose our top picks with budget-friendliness in mind. Check out the following eight products to find your new workplace desk!   
1. Autonomous SmartDesk Pro  
Do you want to upgrade your workspace with a height-adjustable desk? You're in for a treat with the Autonomous SmartDesk Pro. 
It has five colors, allowing you to choose the one that best compliments your workspace. Enjoy up to 20% off this furniture piece during the Black Friday sale! 
With its height-adjustable feature, this furniture piece caters to different working preferences, promoting a comfortable and ergonomic environment. 
The desk offers four programmable settings. It lets you switch between preferred heights with a single touch. Autonomous products are all about convenience and personalization. 
The SmartDesk Pro operates at a mere 40dB, making it exceptionally quiet. Say goodbye to distracting noises while adjusting your desk height! Also, you can trust it to support your monitor, laptop, and other accessories without a hitch. 
Thanks to the durable steel frame, this desk is built to last. You can count on it to withstand the rigors of daily use, ensuring a long-lasting investment.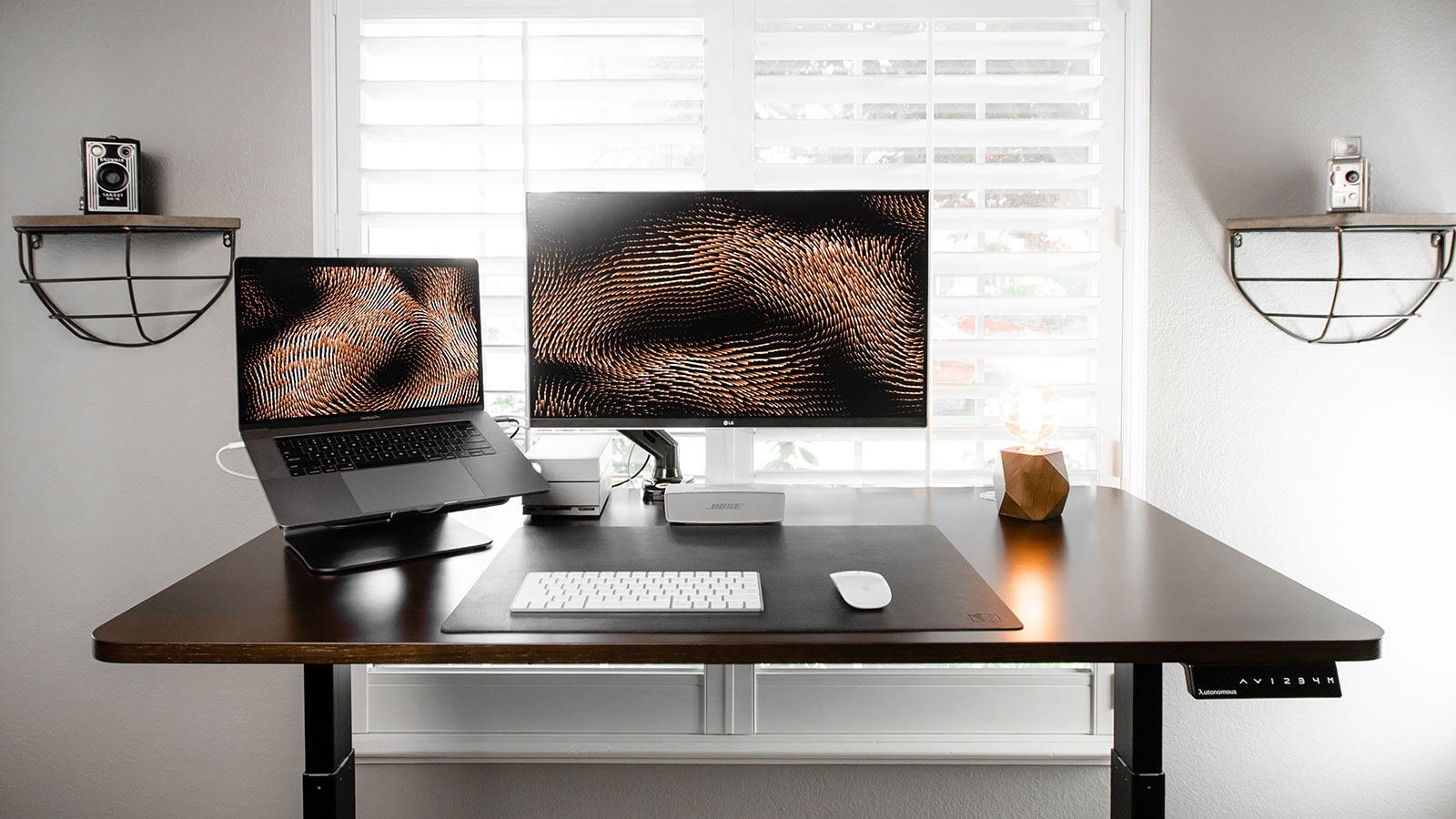 Pros

Cons

Five neutral shades
Time-consuming assembly
Four height presets
Quiet operation
Impressive load capacity
2.Autonomous SmartDesk Core  
The Autonomous SmartDesk Core is here to take your workspace to the next level. Let's take a closer look at this modern, height-adjustable home office desk from Black Friday sales. Like its predecessor, this model also has 20% off of it. Go get it!  
This furniture piece offers multiple height ranges, catering to a variety of preferences. You can find the perfect present for your comfort and productivity. The SmartDesk Core comes with a simple push-button keypad. It's user-friendly and efficient. 
Enjoy the convenience of the memory system, which lets you program and save your preferred settings. There is no need to readjust every time; your desk remembers your perfect height. 
The product features an SPCC steel frame, ensuring durability and stability. This makes it a long-lasting addition to your workspace. 
Adjusting the desk height is also a breeze. The anti-collision technology ensures the process is easy, safe, and uninterrupted.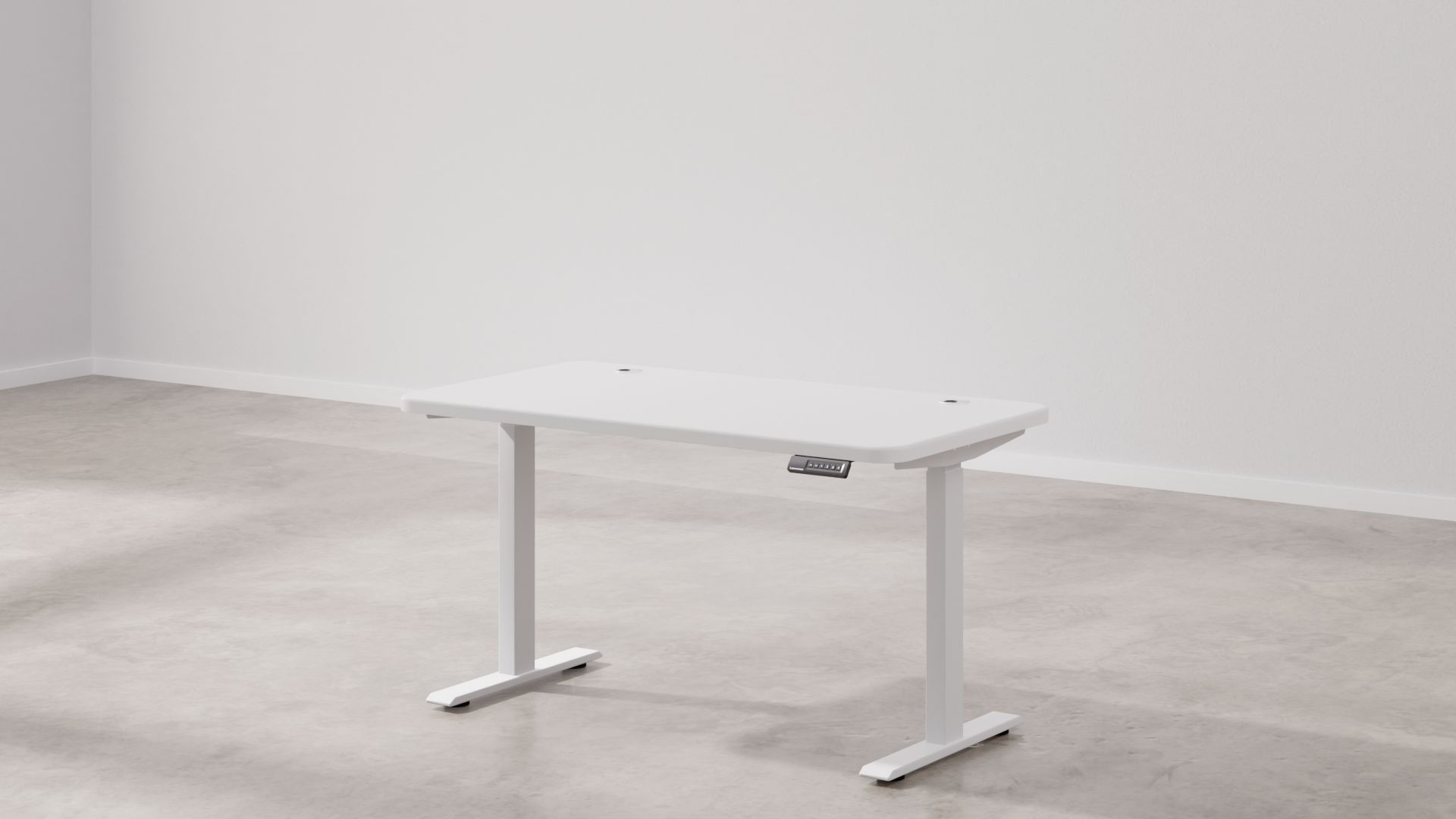 Pros

Cons

Variety of colors
Confusing self-assembly
Memory system
Durable build
User-friendly keypad controls
3. Branch Standing Desk
The Branch Standing desk is famous for its craftsmanship, ensuring quality and aesthetics. It's a piece that combines form and function. This furniture piece boasts a sturdy construction, providing a stable and durable platform that can withstand daily wear and tear.   
Equipped with dual motors, this desk offers seamless and smooth motion during height adjustments. The woodgrain top adds an elegant touch to your workspace, making it a visually appealing addition. 
On top of that, the table has a laminated wood top and a powder-coated steel frame. The high-quality materials contribute to its overall stability and longevity.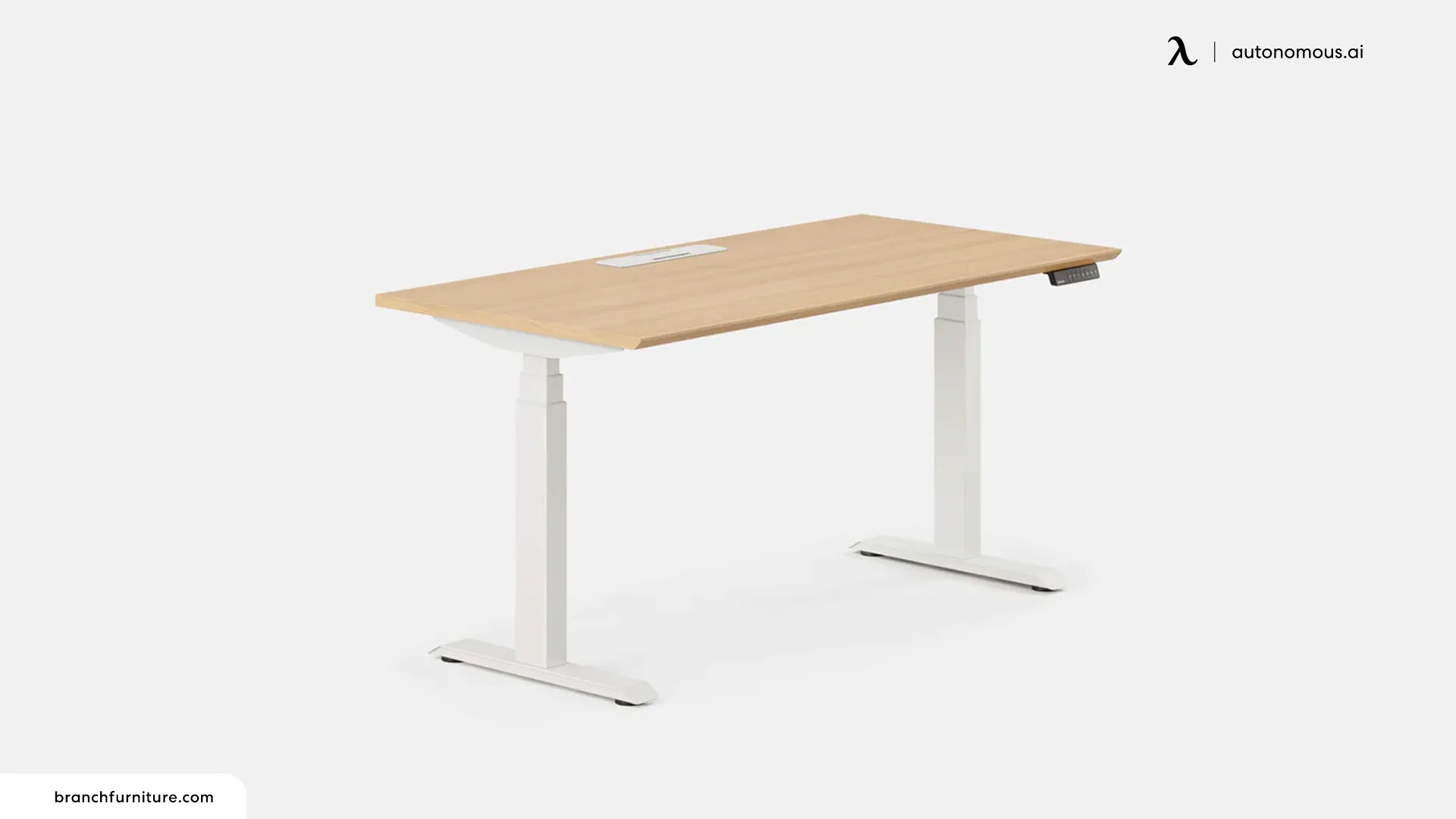 Pros

Cons

Sturdy build
Slightly expensive
Seamless motion
Top-of-the-line materials
Quiet dual motors
4. FEZIBO Mid-century Electric Desk
If you're on the lookout for a contemporary and ergonomic home office desk this Black Friday, the FEZIBO mid-century electric desk is worth exploring. It stands out with its unique black walnut color, filling your workplace with elegance and modernity. 
The alloy steel base provides a sturdy and reliable foundation for your desk. It ensures stability during use. 
Also, the table features three drawers and enough storage space to keep your workspace organized. It's ideal for stowing away office essentials and maintaining a clutter-free environment.  
The electric height adjustment feature is a game-changer. It enables seamless and easy transitions between sitting and standing, promoting a healthier work routine.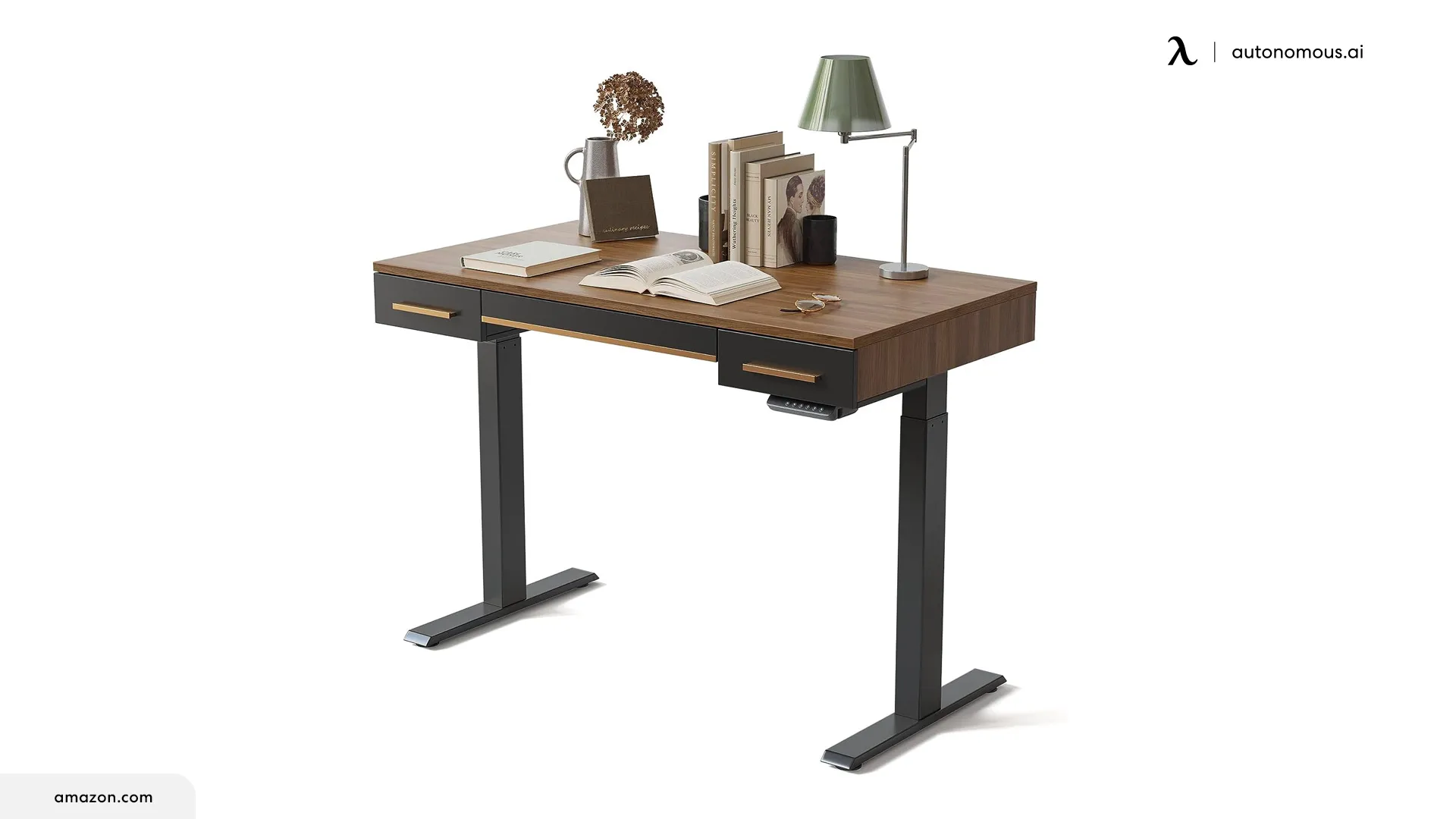 FEZIBO Mid-century Electric Desk
Pros

Cons

Smooth height presets
Comparatively loud motors
Floor-mounted stabilization
Durable alloy steel base
Ergonomic design
5. Homary Modern White Executive Desk
The Homary modern white executive desk is the following product on our list. With its striking white color, gold accent, and spacious design, it's a desk that exudes modern elegance. 
Crafted with stainless steel and MDF plywood, it boasts a blend of quality materials that enhance durability and aesthetics. The smooth surface of this desk makes it easy to clean and maintain. 
While offering a luxurious design and quality materials, the product is on the expensive end of the spectrum. It may not be the best fit for those with a tight budget. Also, it's heavier than previous alternatives.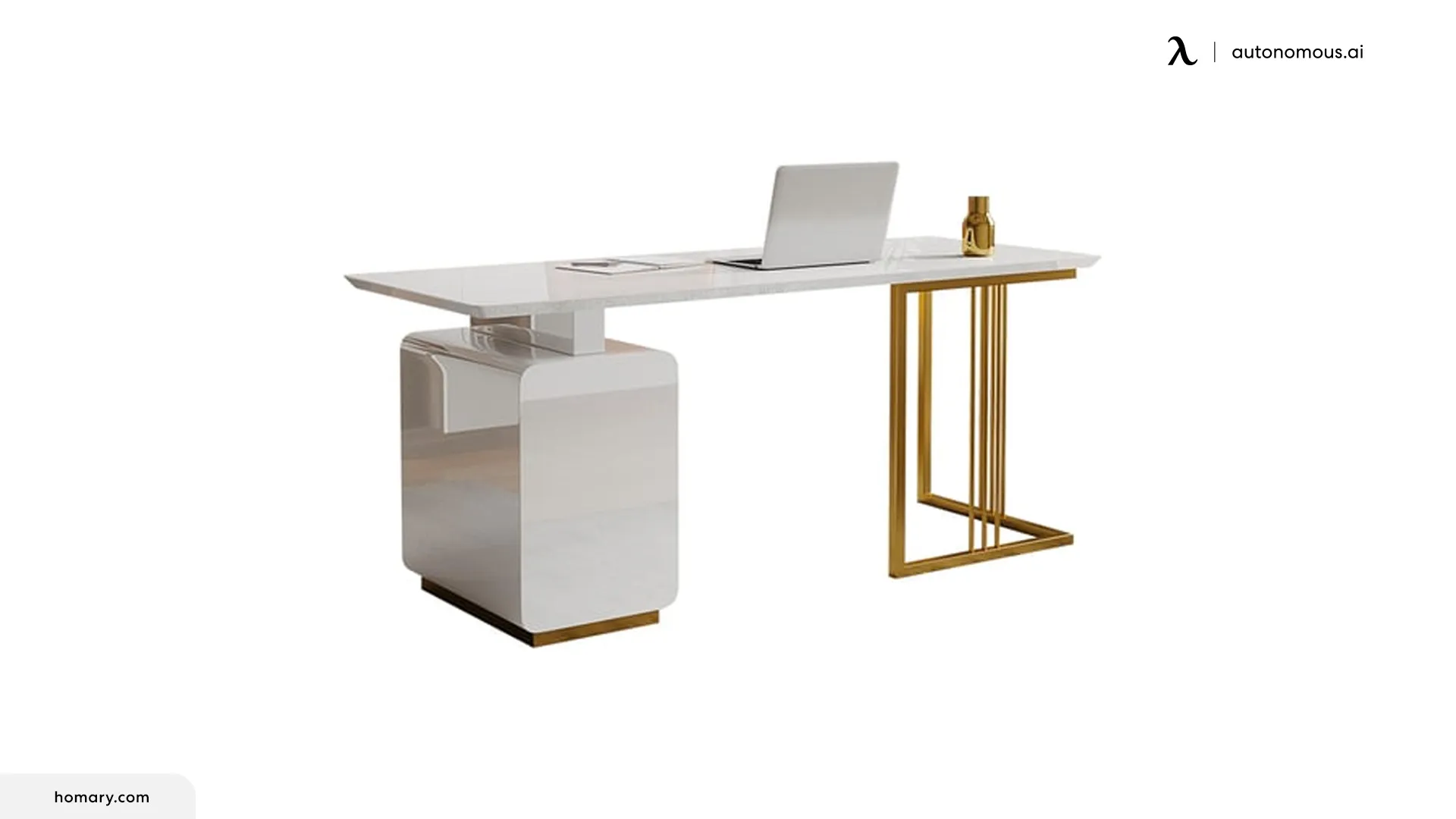 Homary Modern White Executive Desk 
Pros

Cons

Easy to clean
Not budget-friendly
High-quality materials
Three tabletop sizes
Elegant color
6. SHW Large Computer Desk
When it comes to a spacious and functional Black Friday office desk, the SHW large computer desk is a standout choice. It has six different tabletop colors, giving you the freedom to choose the one that best suits your decor. 
The alloy steel base ensures a sturdy and reliable foundation for your desk, providing long-lasting support. 
On the other hand, the engineered wood top offers a modern design. It's also easy to clean, making it visually appealing and practical. 
Use the two cable grommets to organize messy wires. Installation is also hassle-free, making it accessible for those looking for a desk that's easy to set up.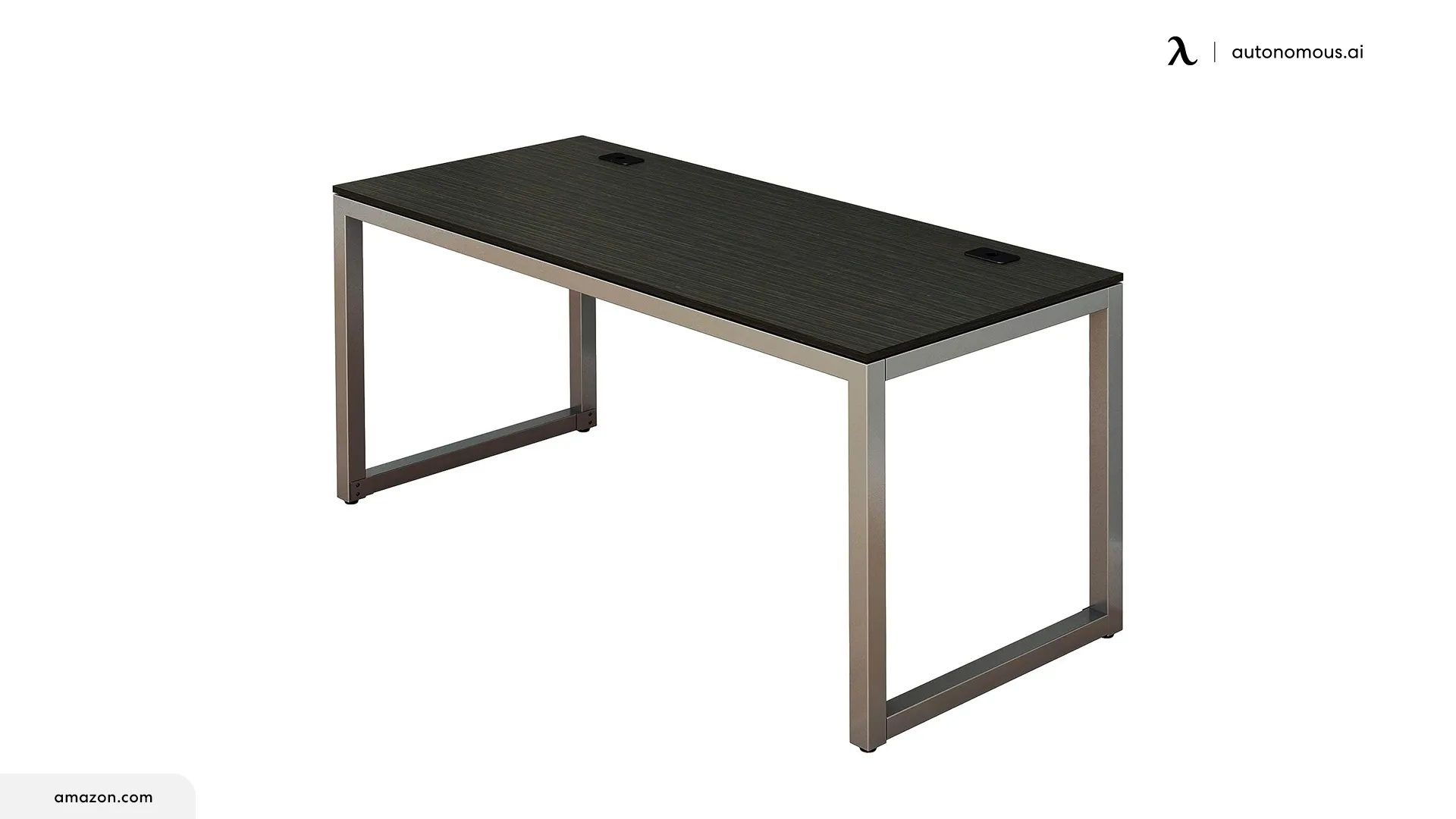 SHW Home Office 55-Inch Large Computer Desk
Pros

Cons

Unique powder-coated frame
Not height adjustable
Two cable grommets
Easy to install
Different color variations
7. Cubiker Computer Desk
Our penultimate product is the versatile and modern Cubiker computer desk. It boasts a modern and sleek design that complements a variety of office styles.  
With one spacious drawer, you have a convenient storage solution for your office essentials, helping to keep your workspace organized. 
The desk also comes with a side storage bag. This offers additional space for keeping important documents, notebooks, or other items within easy reach. 
On top of that, the large surface of this desk provides enough room for working, writing, or using your computer. It lets you spread out and stay productive.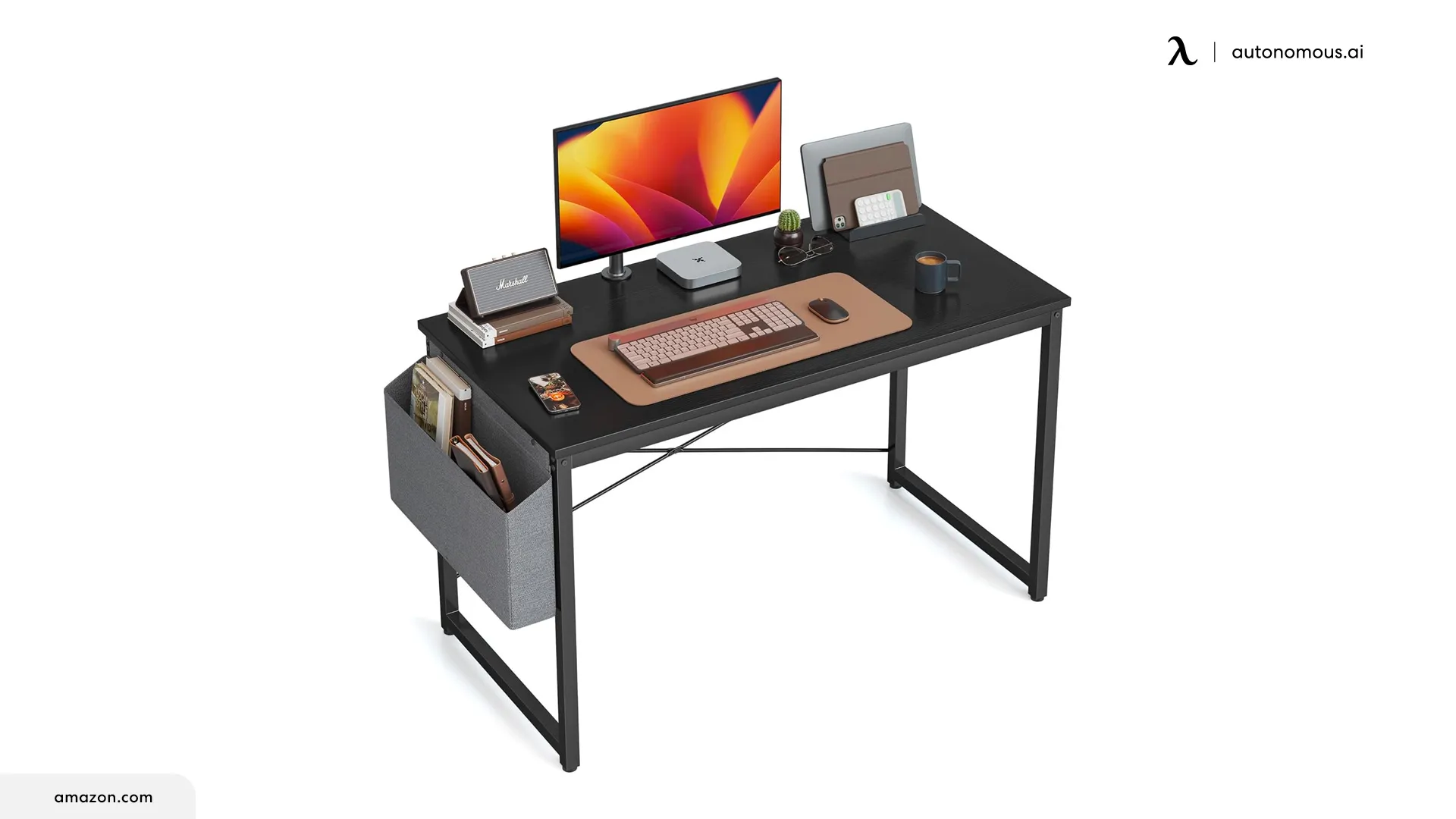 Pros

Cons

Spacious storage drawer
No cable grommets
Solid alloy steel frame
Modern and minimalist design
Durable wood top
8. BON AUGURE Rustic Computer Desk
The BON AUGURE rustic computer desk is the last product in this review, bringing a unique rustic charm to your workspace. It's a chic choice for those who appreciate a classic look. 
Also, the wood grain finish offers a polished appearance, enhancing the product's overall aesthetic. 
This desk has a cable organizer grommet, ensuring phone and PC wires stay neat and out of the way, contributing to a tidier workspace. 
It's essential to note the furniture piece does not offer electric height adjustment options. If these features are your priority, this desk may not be the best fit.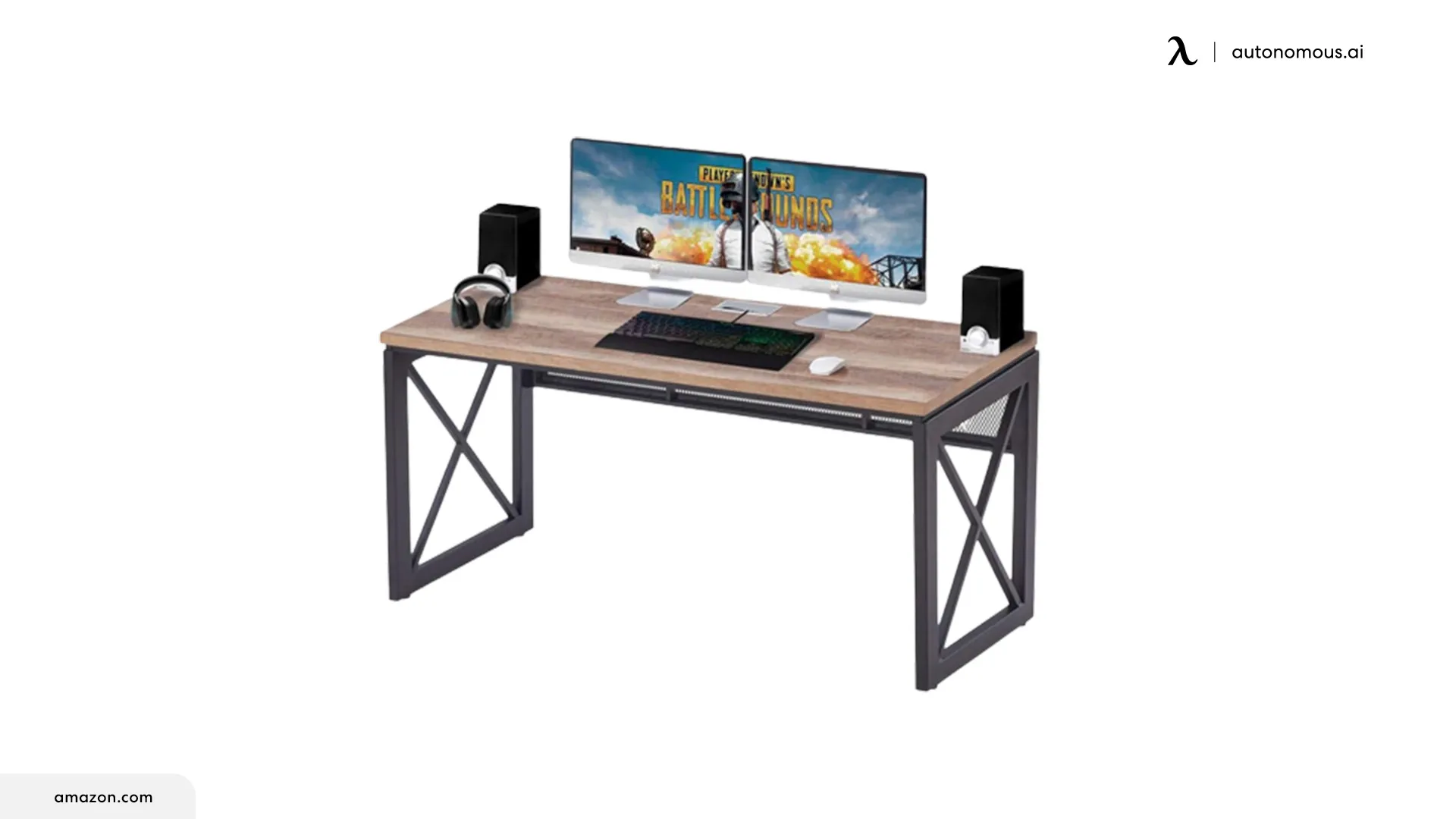 BON AUGURE Industrial Home Office Desks
Pros

Cons

Unique rustic appearance
No height presets
Classic wood grain finish
Spacious desktop
Stable and durable base
Who This Review Is for?
You might wonder if the Black Friday desk deals we're discussing are right for you. Well, let's break it down so you can decide if this review suits your needs.
Home Office Workers
If you're one of the millions of people who have transitioned to working from home, these Black Friday office desk deals are tailor-made for you.  
A comfortable, functional, and stylish Black Friday L-shaped desk can transform your workspace into a productivity hub. You'll find options that fit your space and budget, ensuring you have the perfect setup for your remote work. 
Space-savers
Are you living in a cozy apartment or a small home? Don't worry; these Black Friday desk sales include space-saving solutions. 
Choose between a small standing desk or a smart desk, according to your budget. Our picks can make the most out of limited space without sacrificing functionality. 
Tech Enthusiasts
If you love integrating technology into your workspace and crave a Black Friday computer desk that meets your needs, this review is definitely for you.
Workaholics
Do you suffer from back pain or simply want a more ergonomic workspace? The sit-stand desk in our review below is an excellent choice.  
Its adjustable height options let you switch between sitting and standing, promoting better posture and reducing the strain on your back. We'll cover more about it in the actual product review.  
Budget-conscious Shoppers
Black Friday is all about getting the best deals, and this review is for anyone who wants to snag an incredible bargain.  
We've handpicked the best options, ensuring you get the most value for your money. You're in the right place if you're a savvy shopper on the hunt for an affordable home office desk. 
Features to Consider When Looking for Black Friday Office Desk Deals
As you embark on your quest for the perfect Black Friday office desk deal, it's crucial to consider specific features to ensure you get a product that aligns with your needs.  
Size and Space
The first factor to think about is the size of the desk and the space you have available. Measure your workspace to determine how much room you can dedicate to your new furniture piece. Consider a corner-standing or a compact table to optimize your layout if you're dealing with a limited area. 
Style and Aesthetics
Your desk is a significant part of your workspace. Finding a style that suits your preferences and complements your home decor is essential. Whether you lean toward a modern, minimalistic design or a classic, timeless look, consider the aesthetics of the product.
Storage Solutions
Do you need extra storage for your office essentials? Some desks have built-in drawers, shelves, or cabinets to help you keep your workspace organized. If storage is essential, look for a model with these features.
Connectivity
Tech enthusiasts might appreciate desks with built-in USB ports or wireless charging options. Such features can keep your devices powered and your workspace clutter-free.
Build Quality
The durability and quality of materials are crucial. You want a furniture piece that can withstand the daily wear and tear of work or study. Look for desks made of sturdy materials like hardwood, metal, or quality laminate.
Price and Discounts
Of course, budget is a big factor. While the Black Friday office desk deals are all about savings, consider how much you will spend. Keep an eye out for additional Black Friday discounts that might apply.
Frequently Asked Questions
We know how confusing shopping can be during Black Friday desk sales. The rush can make it overwhelming to choose the right product. This FAQ section can hopefully clear your doubts. 
Is an Office Desk Cheaper on Black Friday?
Yes, Black Friday is known for offering significant discounts and deals on various products, including office desks.  
Many retailers and online stores provide special offers during the Black Friday sale. This makes it an excellent time to buy a table at a more affordable price.
Is Black Friday a Good Time to Buy an Office Desk?
Absolutely! Black Friday is one of the best times of the year to buy an office desk. The discounts and deals during this shopping event can help you save substantial money on your purchase. 
It's an ideal opportunity to find high-quality office desks at a reduced cost. Many online stores, including Autonomous, advertise exciting deals during this time.
Are There Any Alternatives If I Miss the Black Friday Deals on Office Desks?
If you happen to miss the Black Friday deals on office desks, there are other options you can check out.  
One alternative is to look for Cyber Monday deals, which often follow Black Friday and offer similar discounts. Also, some retailers may extend their Black Friday promotions, so it's worth checking for any remaining offers. 
Another option, particularly for bulk orders, is to explore the "Autonomous Bulk Order Program."  
The brand offers this program to accommodate the needs of businesses, offices, and organizations looking to buy multiple office desks. It can be a cost-effective way to furnish your workspace, even if you miss the traditional Black Friday deals. 
Keep an eye on ongoing promotions throughout the holiday season, as retailers often continue to offer deals well into December. 
Final Words
As you search for the best Black Friday office desk deals of 2023, you're in for a fantastic opportunity to upgrade your workspace. The variety of products available, from standing desks to classic designs, ensures something for everyone.  
On top of that, the discounts and promotions during this shopping event can help you save money while investing in a high-quality worktable.
Remember to consider your specific needs, whether ergonomic features, style, or budget, as you browse the options.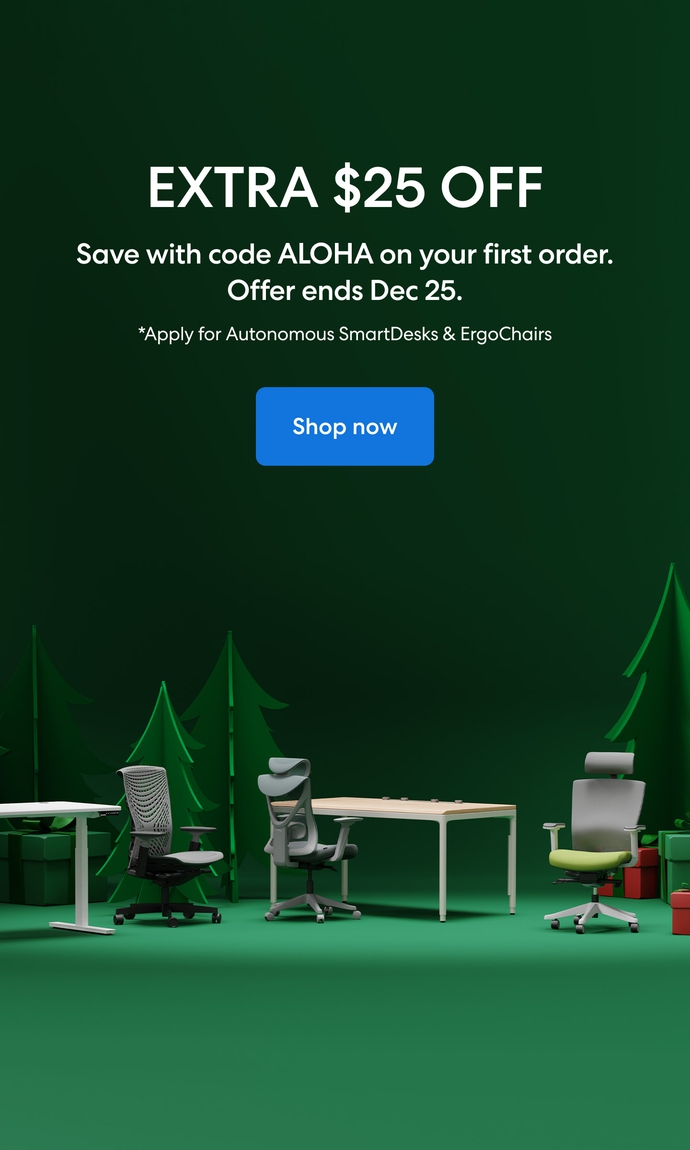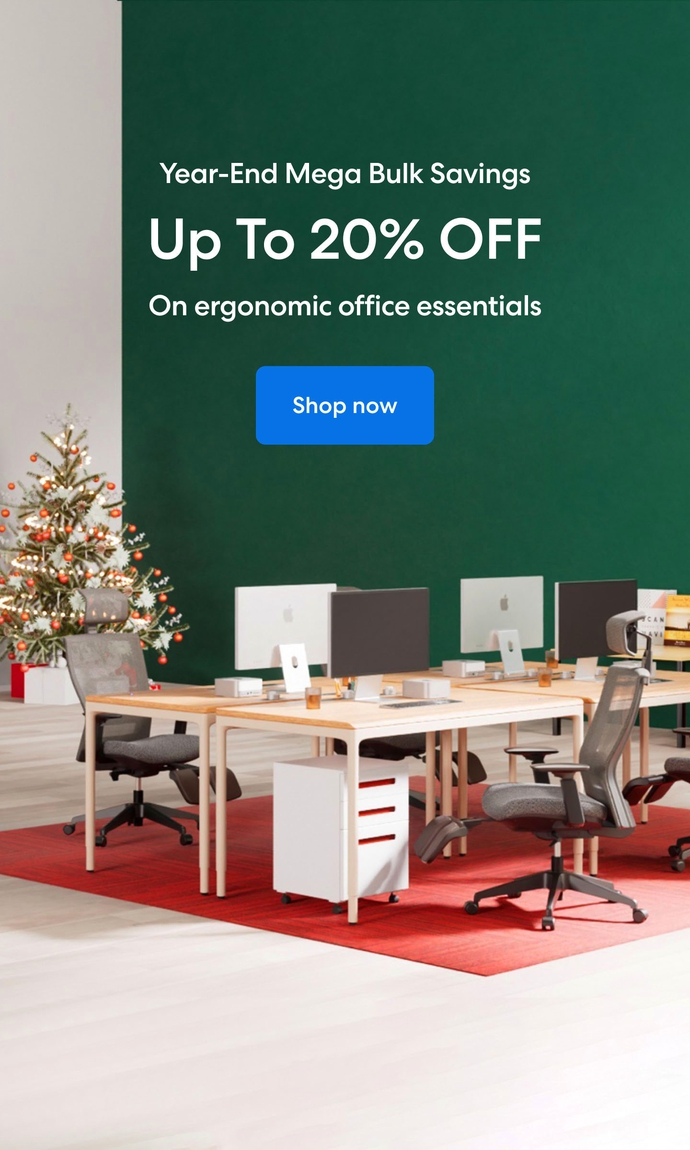 Subcribe newsletter and get $100 OFF.
Receive product updates, special offers, ergo tips, and inspiration form our team.