Smart Products
A Sustainable Choice: Top 10 Oak Desks for Eco-friendly Workspaces

Autonomous
|
Aug 8, 2023
922 Views
Oak desks have revolutionized the work-from-home industry because they're durable, beautiful, and functional. In this article, you'll learn more about them and get different options to pick the ideal model for your workspace.
Why Choosing Oak Desks Benefits the Environment?
Solid oak desks are gaining popularity due to different reasons. Firstly, they're beautiful and can match any office's style.
Secondly, you'll find many affordable models, which is convenient if you're on a budget. However, the most crucial reason so many people get oak computer desks is that they're sustainable.
Oak comes from a hardwood tree that requires a long time to grow, and experts commonly harvest it for its wood. It's one of the best sources to produce furniture because it's renewable and cost-effective.
Since trees absorb carbon dioxide while growing, when people rely on oak furniture, they're preventing the carbon from contributing to greenhouse house emissions.
At the same time, the material is long-lasting, so getting oak wood desks means you'll have furniture pieces that can last a long time by your side. You won't have to replace them in years.
Compared to other materials, experts don't need to process or treat oak very much to make it suitable for a furniture piece. Plus, it doesn't require chemicals or toxic finishes, so the manufacturing process won't harm the environment.
Once your desk's life ends, you can recycle or reuse oak, which is also a fantastic option if you're looking for a sustainable material.
Overall, going for oak work tables is one of the best alternatives if you want a beautiful desk that doesn't harm the environment.
Nonetheless, remember that enjoying the environmental benefits of an oak wood standing desk will also depend on the store you're buying it from. You must trust experts who follow adequate forestry practices and responsible sourcing.
Is an Oak Desk Durable and Sturdy?
Generally, yes, oak tables are sturdy and last a long time. It's why so many experts rely on this type of wood to build different furniture pieces.
Compared to other materials, oak is dense and solid, so it withstands the weight of your objects. It can also support damage from dents, impacts, scratches, etc.
While tables made from softer materials or wood might scratch easily, this won't happen if you get an oak table. You can use it without seeing any signs of wear and tear for a long time.
Furthermore, if you properly take care of your oak desk, it could last decades. Over time, the material will maintain its structural integrity, so you don't need to worry about replacing your table.
Oak desks are also sturdy and durable because the wood resists twisting and warping. Therefore, regardless of the weather, humidity conditions, and temperature, your table will stay the same.
Typically, solid oak desks can carry the weight of your computer and office supplies with no issues. Their structure won't sag or suffer under your items, and you could even put heavy books in there.
Finally, oak computer desks are also durable because you can repair them if they sustain minor damage. You don't need to replace your table. Instead, you could address surface imperfections, dents, or other issues. The piece of furniture will be just as beautiful as before!
You must also remember that the design and quality of your table will also impact whether or not it's durable, regardless of whether you're getting a ladder desk or a traditional model.
When selecting oak office desks, you should only trust reputable stores and manufacturers. Autonomous, for example, is one of the best options. If you buy from the right people, you'll be able to guarantee they're providing you with a long-lasting, trustworthy, high-quality model.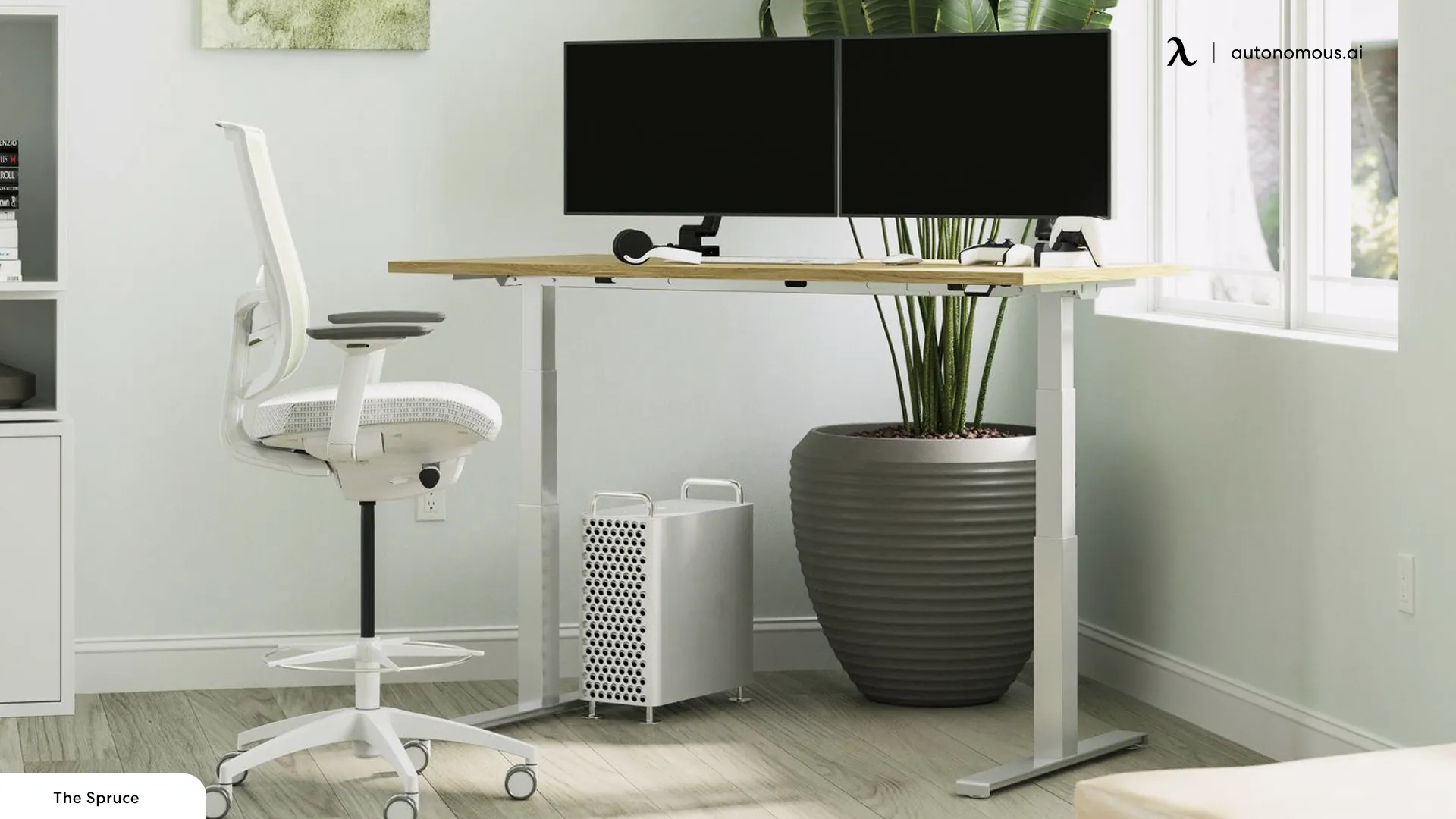 10 Top Oak Desks to Choose From
Now that you know why oak tables are so convenient, you're probably convinced of getting one to enhance your workstation and take it to the next level.
Remote workers need to guarantee they have the right furniture pieces to do their job, and a desk is one of the essentials. If you don't get the perfect table, you'll probably take much longer when getting through your to-dos. Plus, you might feel demotivated and risk suffering different injuries due to maintaining a wrong posture.
An oak desk could completely change your life because it's sturdy, long-lasting, and has a beautiful finish. Therefore, you'll be able to ensure it matches the style of your surroundings.
Nonetheless, there are so many sellers and stores online that choosing the ideal one might take a while. In this section, you'll find the best models to consider, so take a look and evaluate each one to see if they match your needs.
1. Autonomous SmartDesk Chunky Oak
Picking the ideal sit-stand desk requires you to assess your needs, budget, and goals, and think about all the models before choosing the ideal one.
However, Autonomous' SmartDesk makes things more straightforward because it offers the best features you'll find out there.
Autonomous' model is the perfect home office desk if you're looking for something high-quality, durable, and beautiful.
With a handy electric dual motor and a solid steel frame, the desk is one of the best oak desks you'll find because you can adjust it depending on your needs, and it will withstand the weight of all your work supplies.
The table includes four different programmable keypad settings, so you can change its height and angles depending on what you're looking for. At the same time, there are three desktop options, and you can choose the one that fits your workspace.
Lastly, it's available in different colors, so if you love white oak desks, it could also be the ideal model. Since it has a five-year warranty, you don't have to worry about any issues because you can contact the manufacturer and ask for help.
2. Skyline Decor Oak Wood and Black Metal Desk: Height-adjustable
Finding a budget-friendly option might be challenging when it comes to light oak desks, particularly if you want a beautiful and long-lasting table.
However, Skyline Decor has a fantastic alternative: the height-adjustable table. It's one of the best additions to incorporate into your home office furniture because it has a classic design, but it's also sturdy and will last a long time.
With Skyline Decor's option, you will enjoy a beautiful table with a black frame and an oak top. Since you can change its height to fit your needs, you can quickly switch between sitting and standing to ensure your legs don't get tired.
You'll have to assemble the desk once you have it, but it's a straightforward process, and it won't take more than a few minutes.
Finally, Skyline Decor's small standing desk has a beautiful contemporary design, so it'll match any modern office. It has a shelf on either side, which is ideal if you need to store different books, documents, and supplies.
3. Trio Supply House Metal Frame Computer Desk: Sonoma Oak/Black
In many cases, finding the ideal furniture for your workspace can make you feel stressed because you must ensure it fits the available space while also minding your budget and needs.
Trio Supply House's experts understand how frustrating the process can be, which is why they've created the beautiful Sonoma desk. It's a frustration-free piece of furniture that will fit your budget and workspace, while still being efficient and long-lasting.
Although it doesn't look as modern or elegant as some Autonomous models, the Sonoma desk could still be the ideal table to get if you're looking for something more compact.
There are many oak desks out there, but this one features a sturdy structure that will give you all the stability you need while you're working.
In addition, even though you have to assemble it, you won't need any tools, and it'll be ready in a matter of minutes. Lastly, if you want to store it or move it elsewhere, you can quickly fold its legs and take it with you.
4. American Trails Freedom Desk
American Trails offers the best desk models if you're looking for high-quality, trustworthy, and durable items.
Nonetheless, many people look at other options because they want to compare and see which alternative is the best for them. The Freedom Oak Table by American Trails is a fantastic one to check out since it's affordable, sturdy, and durable.
Many solid oak desks feature unique characteristics, but the Freedom takes things to the next level since it has different USB ports to ensure your devices never run out of battery.
5. Palladia Contemporary L-shaped Oak Desk by Sauder
Whether you're finishing your bills after a long week of work or getting started with a new to-do list, you need the right standing desk with storage to help you in the process and allow you to safely put your documents, books, and papers away.
The Palladia L-shaped oak desk could be an ideal option for you if you want something with a classic look and a beautiful finish. Since the table has a spacious surface, you won't need to worry about being able to have all your supplies near you - you just have to organize them near your computer and other devices and start working.
6. Belleze Desk in Rustic Oak
Finding the perfect balance between high-quality crafting and a contemporary design can be a challenge, but not if you get the Belleze desk.
The Belleze is made of high-grade wood, and it has different fantastic features, including a mouse shelf, a slideout keyboard tray, multiple drawers, and a cable management grommet.
It may not be the ideal option if you want your room to look more modern. Nonetheless, if you prefer a classic and elegant look, it could be a fantastic alternative.
7. Sauder Oak Wood Executive Desk
If you're putting together a workspace, you need to make sure it matches your personal preferences. However, many people also want to impress others, such as their coworkers or their families, and having a beautiful desk can help with that.
Sauder's executive desk is an industrial-inspired option. It has numerous drawers and a cubby hole for you to organize your belongings, and its sturdy metal frame is ideal because it means the table will last a long time if you take care of it.
8. Oak Secretary Desk by Crafters and Weavers
Light brown oak desks are not that common, but Crafters and Weavers focuses on providing the best to its clients, so the Secretary table is one of the few models you'll find out there that showcase this wood.
The table has a beautiful finish and various drawers. Therefore, you won't need to worry about storage. Plus, it has the ideal dimensions for compact spaces.
9. Acme Furniture's Oak Desk
Getting a sturdy, durable, and beautiful desk that matches your budget might take a while because you'll have to examine different options.
However, Acme Furniture has a fantastic alternative that might be the one for you: the Gorden oak desk. With two shelves, three drawers, and a beautiful finish, the industrial-style writing table might be the item your workspace needed for you to quickly get through your to-dos.
10. Executive Brown Oak Desk by Homestyles
The last option on this list is much more straightforward than the previous one. Homestyles focuses on functional structures and classic designs, so it could be a better alternative if you don't want something so extravagant.
In this case, you'll get a sturdy oak table with a cottage finish and two drawers. You'll have to assemble it, but the process is quick and effortless.
Final Thoughts
An oak desk could be the ideal addition to your workspace because it'll last years and enhance its appearance.
There are many other options when it comes to desk materials, but oak is popular due to its functionality and versatility. Therefore, now it's time for you to decide which model you want!
Video ads for product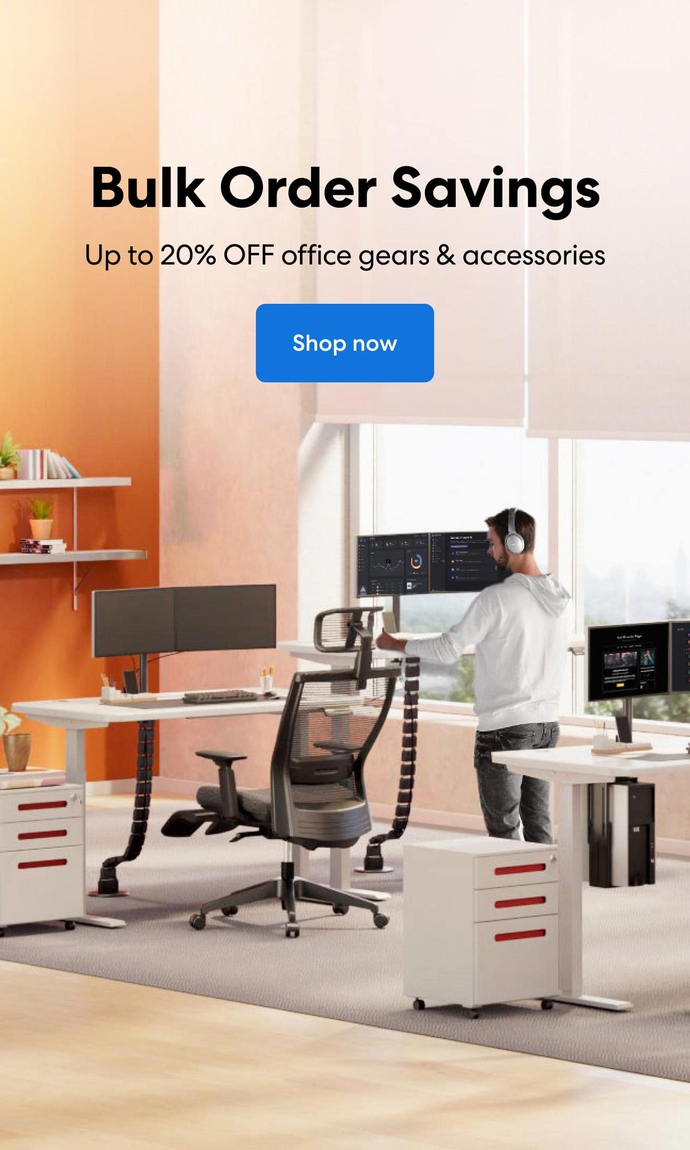 Subcribe newsletter and get $100 OFF.
Receive product updates, special offers, ergo tips, and inspiration form our team.