Smart Products
Top 15 Desks for College Students & How to Choose One

Autonomous
|
Nov 23, 2021
1,502 Views
The days are long gone when desks for college students were nothing but flat pieces of furniture with four legs. Now there are tons of options for desks in the market. Some have ergonomic designs; others function as both desks and storage spaces. 
The best student study desk gets the student through long hours of studying while offering as much comfort as possible. We've assessed the top 15 best student study desks available in today's market to help you decide which one to buy. 
Features to Consider when Buying Desks for College Students
Choosing the best college desk is a serious business. A  study desk allows you to relax and focus on your schoolwork. Here are a few things to consider when choosing a study desk for college students. 
1. Table Size
Table size is important when it comes to choosing a study table for college students. Student desk dimensions are different from that of other types of desks. This is because many student rooms do not have a lot of space. The best college dorm desk ideas are those that afford you enough space to move around when your room is comfortable. Other things to consider when choosing the size of your table include how you intend to use the table now and in the future. 
2. Table Design
There are so many table designs presently available in stores today. This makes it pretty difficult to choose one design. One thing to consider is whether the table's design suits your room's décor. The best college desk setup is one where you consider the style and the material and how it all fits with your room's décor. 
Also, consider whether you'll prefer a study table with drawers and storage shelves or one that just offers a nice clean table for your books and laptops. A desk with drawers helps you to store all your project files, pens, pencils, notebooks, and other study accessories in one place. One without drawers might have you storing all your study materials in storage boxes. Both options are great and the choice depends on individual taste. 
3. Budget for the Desk
Buying furniture should be a one-time investment, so never compromise on quality even when on a budget. Desk chairs for college students are pretty common but remember you're not required to have a chair. If you love to stand while working, you could opt for a home standing desk. This desk offers you the space and comfort to work while standing. 
Top 15 Best Student Desks
When picking out a study desk for college students, here are the top 15 options available in stores today. 
1. Autonomous SmartDesk Core
This adjustable standing desk easily tops the list of the top fifteen best college desks. It comes with several benefits, top of which is its liberal height range. Standing desks also provide health benefits. College students of any height could use the SmartDesk Core comfortably. This is because it adjusts from about 29 inches up to 48 inches. The desk has impressive core strength, being able to carry up to 265 lbs. 
Some of its best features include its rock-solid motorized desk frame, a setting that allows you to program four custom height presets. The desk can be set from a sitting position to a standing position, with a surprisingly noiseless transition process. It comes in options ranging from a nicely finished natural bamboo down to a high-quality MDF wood and is a popular option among college students who want to remain fit while studying. 
2. Autonomous SmartDesk Corner
This corner adjustable desk is a modern and elegant addition to any room. Its sleek L-shaped design gives off minimalist vibes, helping it blend right in with almost all kinds of décor. This design comes in an L-shape, which means it's pretty much easy to fit right into any workspace, making it a great study table for college students. The L-shape also does not take up a lot of space in a room, making it great for college dorms. This desk has an adjustable length of 29.5 to 48.5 inches long. It has an impressive adjusting speed of roughly 1.5 inches per second.  
It has a crossbeam construction which ensures that the desk doesn't wobble even when in use. The autonomous study desk corner is unarguably one of the best student study desks available. 
3. Coavas Foldable Computer Desk in Wood
This is one of the best college computer desks thanks to its impressive functionality. This desk is light enough to allow for easy moving around, yet stable enough that it doesn't wobble when in use. It's loved for its durability and elegant texture. It is also foldable and easily blends in with many kinds of interior décor. When not in use, you can stow your Coavas Foldable desk out of sight. 
One of the best benefits of this desk for college students is that it's multi-purpose. It is not only one of the best college computer desks in the market, but it also serves as a study desk. Others may use it as a dining desk, game table, and flexible foldaway furniture. One can mount it in one room today, disassemble it at the end of the day and mount it in a different room the next day. Its unmatched functionality makes it one of the best desks for college students available today. 
4. Standing Desk by Flexispot
One outstanding feature of this desk is its seamless height control. It's one of those desks that easily allow you to switch between sitting and standing while working. Standing Desk by Flexispot has a two-button control that is used to modify the height of the desk when necessary. This desk could help a user prevent back pain as it offers one the chance to change postures as often as they need to when working. These qualities make the Standing Desk by Flexispot a great desk for college students 
5. Stand Steady Joy Desk
This sturdy study desk is made of tempered glass, and although its height is not adjustable, it comes high enough to comfortably accommodate any student who's not taller than 6 feet. This student study desk is extra steady thanks to the crossbars at the back. It comes with no built-in storage space; however, the desktop is 43 inches wide, and one could store their study materials in storage boxes under the table. This desk comes along with tools that make it easy to assemble within half an hour. 
6. 4NM Folding Computer Desk
One of the best features of this design is how easy they are to fold. It takes only a few seconds to fold and unfold these desks, as they require no assembly at all. They are small-sized and take up very little space in a room, so they're most suited for college students working with limited space. Despite their small-sized, they have a high-quality appearance and are made with a sturdy metal frame and they make the best student desks. These desks are versatile and fit into just about every room, such as the bedroom, home office, living room, etc. They're also functional and can be used as a student study desk, office desk, or computer desk. 
4NM folding computer desks have an iron frame and come with a 2-centimeter iron pipe that gives them better endurance. They're also very lightweight and tall enough to provide sufficient legroom for most users. These desks for college students certainly have earned a spot on the list of best desks for college students. 
7. Prepac Kurv Floating Desk
Most students have enough space in their rooms to fit a regular-sized study table. However, there are a few cases where there's just absolutely no space on the floor to fit a table. In such cases, a Prepac Kurv Floating Desk is always a great alternative. 
These student study desks take up just a little space off the floor and no space at all on the floor. This is because they're mounted low on the wall. Despite having no legs, these desks have open shelves for your notebooks and other study materials. You also have the option of setting it up as a standing desk by mounting it a little higher up on the wall. 
8. Coleshome 47- Inch Computer Desk
This modern, simple style college computer desk is popular in the market today for its durability. It comes with medium-density fiberboards that are water and scratch-resistant. It has a metal frame that can support up to 330 pounds of weight. It also has a small size that can fit into small rooms and spaces. The Coleshome computer desk comes unassembled with an instruction manual that makes it easy to assemble within twenty minutes. 
9. Monarch Hollow-Core Left or Right Facing Corner Desk
The best college computer desks are those that can fit into any type of space. This is because there's always that student in need of more than just a little storage space on their study table. This student can benefit immensely from the Monarch Hollow-Core desk. It comes with a decent amount of storage space that permits the storage of all kinds of documents and other study desk accessories. 
If space is no issue and you have a lot of documents that need to be stored methodically, consider getting this desk. Its elegant design includes two medium-sized storage drawers and one large file drawer. As its name implies, it has a hollow core inside which you find two extended shelves. This study table for college students provides more than enough workspace and storage space for any student. 
10. Hago Modern L-Shaped Desk Corner Computer Desk
This is one of the best student desks for your consideration. L-shaped study desks are loved for their ability to save space. You may tuck the Hago Modern L-shaped desk in a corner of your room if you don't want it taking up a lot of space. This desk features a CPU stand, which is not a feature you find in other similarly priced desks. It has a steel frame and a wood panel and can carry up to 450 pounds in weight. 
This desk may be used in office spaces but it's also one of the best desks for college students available. 
11. Weehom Reversible L-Shaped Desk with Shelves
This desk has so much space; it could carry multiple screens at a time. It's suited for students who also love to game or people who work with more than one screen at a time. Its L-shaped allows one to separate different activities, thereby increasing one's level of concentration. These innovative student study desks have an ergonomic design that makes them easy to fit into a room. However, it has a large surface and some wide shelves so you need to have ample space in your room if you plan to purchase it. 
12. Need Computer Desk
This student study desk comes with connecting rods that have two springs, making them easily foldable. Its flexibility makes it a great fit for any college room. Asides from being functional and flexible, this desk for college students is also durable and has a water-resistant surface. 
13. Apexdesk Elite Series Desk with Adjustable Height
This quiet and stable innovation by Apexdesk is a student favorite. It is loved for its ample work surface which is 60 inches wide.  The top of the desk for college students is made with laminated MDF and comes in six different colors. This study table for college students has a load-bearing capacity of 225 lbs and a very sturdy frame. 
14. Rockpoint Desk
This simple-looking design fits perfectly into small spaces. So college students who do not have ample space love it. Despite its small size, it comes with open shelves, a keyboard tray, and one drawer. This is more than enough space to store one's study materials. This desk comes in five different color options and is one of the best college desks available. 
15. SHW Corner Desk
This college computer desk is another great desk option for small spaces. The desk is 51 inches long on either side and provides just enough space on its surface for not just your computer, but for your study materials as well. It comes with a strong steel frame and a footrest that helps you to relax while studying. It's easy to carry around, weighing just 32 pounds. This means it's just perfect for placing just your computer and study materials. 
Conclusion
Most students spend the best part of their time in college studying. Therefore it's important to have a study desk that is strong and comfortable. This list of top 15 desks for college students is a great place to pick a first-rate study table for college.
Video ads for product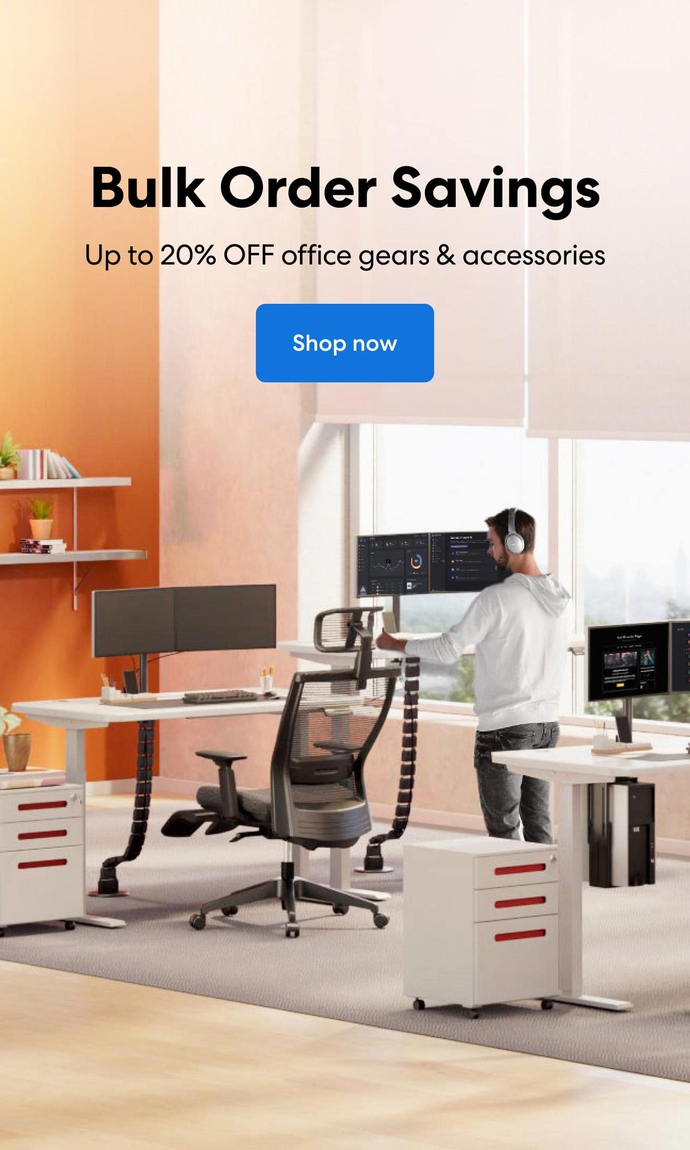 Subcribe newsletter and get $100 OFF.
Receive product updates, special offers, ergo tips, and inspiration form our team.