Work Wellness
Top 20 Fitness Watch Reviews for 2023 & Buying Guide
96 Views
An excellent fitness watch ensures that your workout is logged and tracked, giving you the information you need to reach your fitness objectives. We tested the best fitness and GPS watches to find the best of 2023. If you're looking for the best fitness watch reviews, you came to the right place! 
Many activities, including walking, golfing, and climbing, have different metrics to track. The ideal fitness accessories enhance your exercise routine, record data, and blend in with your lifestyle. 
Beyond our own personal testing, our in-house fitness coach asked his clients and other athletes for their opinions, spent hours reading online reviews, and sought input from other athletes. 
Based on our tests, the following are the top fitness watches, GPS watches, and fitness trackers. We've included a buyer's guide to help you review fitness watches and pick the best one for you! 
The Best Fitness Watch Reviews of 2023
1. MyKronoz ZeTime Hybrid Smartwatch
The MyKronoz ZeTime hybrid smartwatch has a lot of potential, and it fully takes advantage of the digital display. People who want a watch that allows them to read their notifications will find it to be a good option because of the mechanical hands and exceptional battery life. You can read the Fittrack watch reviews to find out more about its features. 
Furthermore, the ZeTime is priced at $200 for the base model, $230 for the Premium, and $250 for the Elite. 
Dimensions
Regular: 1.73'' x 0.5'' x 0.19 lbs
Petite: 1.54'' x 0.49'' x 0.16 lbs
Watch band
Regular: 0.87''
Petite: 0.71''
Color
Black, White
Materials
Watch case: stainless steel
Face: sapphire glass
Band: silicone
Connectivity
Bluetooth BLE 4.2
Display size and resolution
Regular: 1.22'' / 240x240px
Petite: 1.05'' / 240x240px
Sensors
3-axis accelerometer
Optical heart rate sensor
Battery type
Regular: Li-iOn 200 mAh
Petite: Li-iOn 180 mAh
Warranty
1 year
2. Healbe GoBe3 Smart Band
The Healbe GoBe3 is the third generation of the world's first smartwatch that automatically tracks calorie intake, hydration levels, and stress levels. That's not all, though. The Healbe watch also monitors heart rate and sleep cycles. 
Healbe is a well-liked option for a health and fitness tracker for people who want to lose weight, get in shape, get enough sleep, keep tabs on their stress levels, and live a balanced lifestyle. This is the best fitness tracker on the market! 
Dimensions
9.1"L x 1.4"W x 0.5"H x 0.63 lbs
Display
1"L x 1"W
176x176 pixels
8 colors
Backlight
Color
Gray / Burgundy / Yellow
Materials
Lens — Gorilla Glass 2320
Case / Electrodes - ABS plastic
Replaceable strap — Plastic 2500 + Silicone
Warranty
1 year
3. Cubitt CT2 Pro Series 2 Watch
You get everything you need and more from the Cubitt CT2 Pro Series 2 Smartwatch to maintain a healthy lifestyle. This watch is incredibly user-friendly thanks to its premium 1.69" touch screen and integrated Alexa voice control. 
The CT2 Pro Series 2 has 14 various sports modes, like walking, swimming, yoga, etc., and can track your fitness throughout the day by recording your steps, miles traveled, and calories burned. This watch will also track sleep, stress, and blood oxygen levels throughout the day. 
Screen size
1.55'' TFT-LCD Color Screen
Sensor
Kionix Accelerometer, Heart Rate Silicon Lab
Display
Color Display - Full Touch
Materials
2.5D Glass, Stainless Steel Casing, super slim 12mm
Working time
5-10 days, 300mAh
Waterproof
IP68-5ATM
Bluetooth
BLE5.2
Features
14 Sports Modes Tracking
Dynamic Heart Rate Monitoring
Warranty
1 year
4. Cubitt CT4 Smartwatch
With the Cubitt CT4 GPS, you can take your regular workout to the next level. Essentially, you'll be ready to hit the gym with a battery that lasts roughly seven days on a single charge, a built-in GPS tracker, sports tracking settings, and more! You can even choose between various dial styles, to get the most out of your new smartwatch. Carry on reading for more fitness watch reviews. 
Screen size
1.28" TFT-LCD Color Screen
Sensor
Accelerometer Kionix, Heart Rate Silicon Lab
Display
Color Display - Full Touch
Materials
2.5D Glass, Stainless Steel Casing, super slim 12mm
Working time
5-10 days, 300mAh
Waterproof
IP68
Bluetooth
BLE5.0
Features
14 Sports Modes Tracking
Dynamic Heart Rate Monitoring
Warranty
1 year
5. Garmin Forerunner
The Forerunner is clearly the best device for swimming, biking, and running. Garmin is also the second-most popular smartwatch brand, just behind Apple. More than 85% of the runners and triathletes we surveyed use Garmin and strongly suggest one.
One of Garmin's top running and triathlon watches, the Forerunner 745 ($500), is ranked in the middle of the Forerunner 955 and Forerunner 255 price ranges. This is one of the best fitness watches of the year because its design strikes the ideal mix between size, weight, and materials. 
6. Amazfit Band
The retail price for the Band 7 is just around $50. Buyers get sleep monitoring, a heart rate sensor, blood oxygen monitoring, and stress tests. Additionally, users will have access to a wide variety of programs, including both cardio and strength training. 
Amazfit's interface is simple, and the screen is bright and well-made. With a few swipes and taps, anyone who uses a smartphone can get around Amazfit's software. The watch is similarly clean, with a modest rise and a pleasant (albeit slightly short) strap.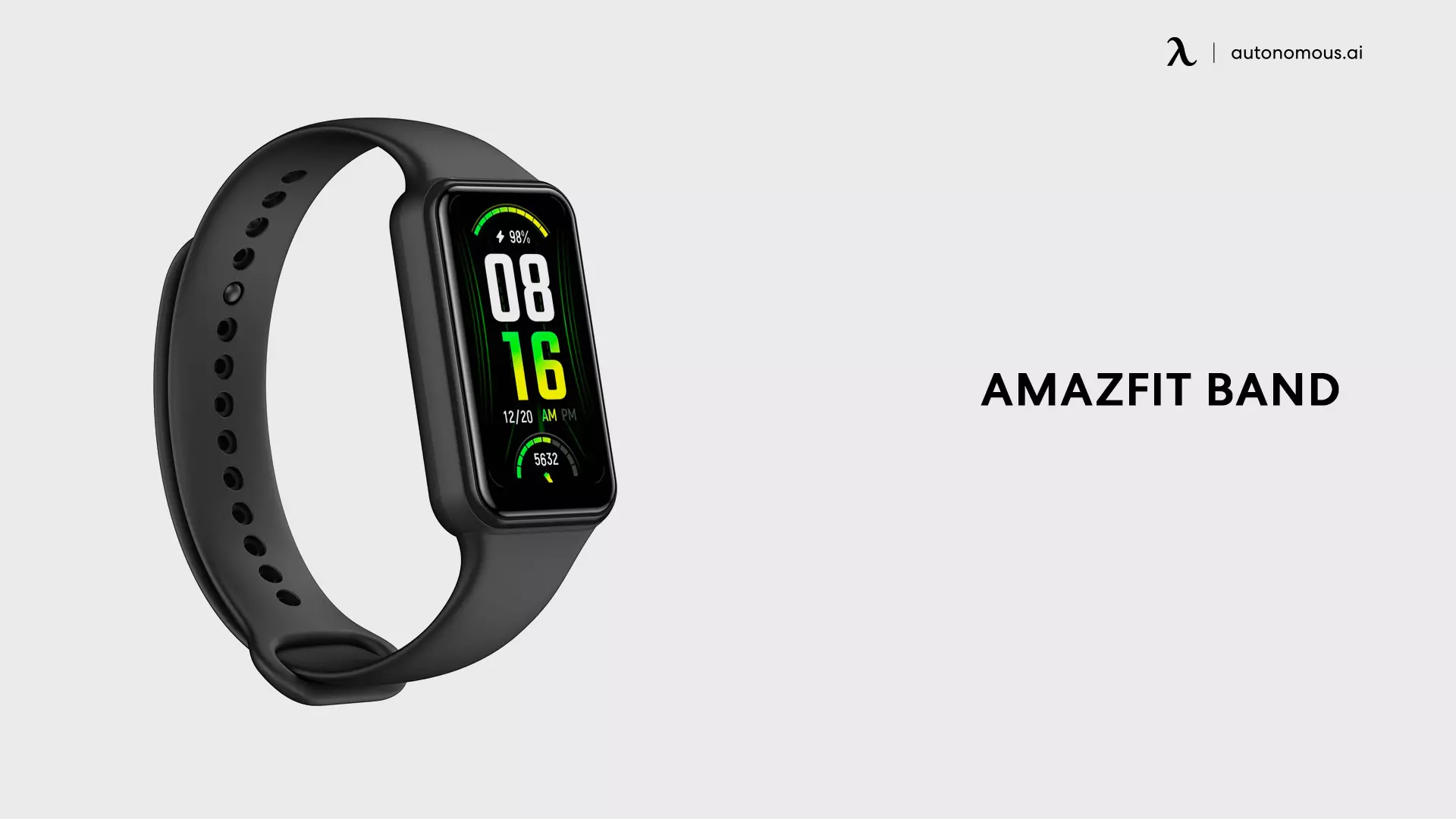 7. Apple Watch Series 7
Apple's health tracking and smartwatch features are its greatest strength. The pulse ox feature, which tracks blood oxygen levels, has been enhanced for the new Series 7 watch ($399). 
This watch's heart rate monitor and ECG can alert you when there are irregular heart rhythms and measure heart rate variability, an indicator of overtraining; this can be a potentially life-saving function. 
8. Fitbit Charge 5
The Charge 5 is the first Fitbit with no buttons. It offers up to seven days' worth of battery life or five hours of continuous GPS operation. 
An optical heart-rate monitor is ideal for 24/7 tracking and provides precise sleep data, heart-rate zones for exercise, and calories burned. It keeps track of your daily steps, calories burned, and active minutes to support data-driven health decisions. This is one of the most affordable options on our fitness watch reviews list.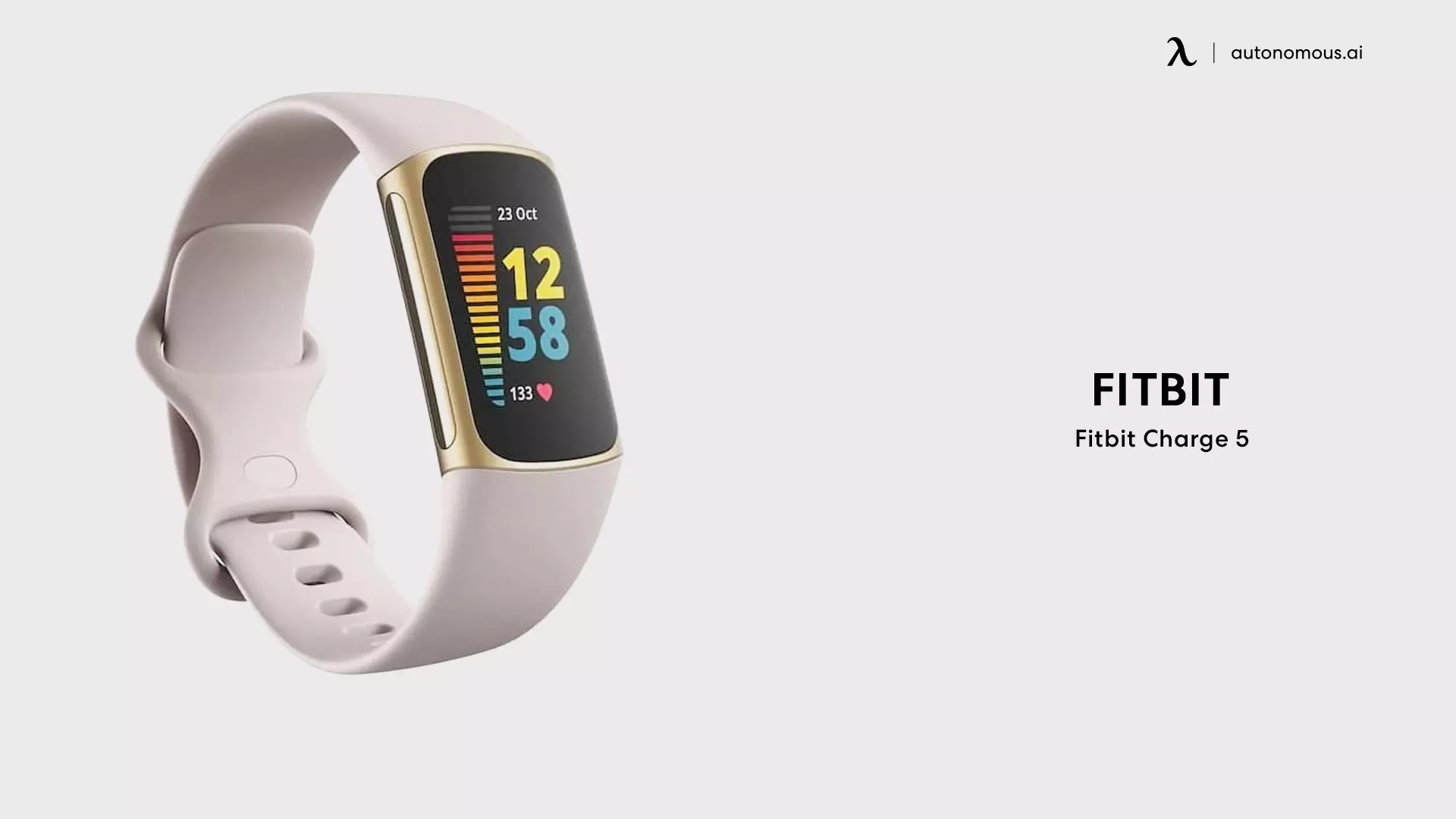 9. Garmin Instinct 2 Solar
You would assume that the Garmin Instinct 2 Solar ($450), with a reception for GPS, GLONASS, and Galileo satellite navigation systems, would soon sprout an antenna array. Along with its compass, barometer, and altimeter features, it also functions as a wrist-mounted information vacuum that we'd bring along on any remote adventure. 
New activity-specific data tracking profiles for activities like snowboarding, climbing, and hunting have been added in the recently upgraded Instinct 2. Also, not to mention the most thrilling change of all: a watch face that uses Garmin's Power Glass, harvests solar energy, and keeps you away from the charging cord for longer. 
10. Suunto 9 Peak Pro
The Suunto 9 Peak Pro ($550) had a significant internal muscle upgrade in late 2022, although it may not appear to have changed much from the outside. Overall, the previous Suunto 9 is no match for the Peak Pro, especially its technology or environmental sustainability. 
Furthermore, Suunto's watch is built entirely of renewable energy and has the smallest carbon footprint of any GPS watch now. It's available at 16.5 lbs.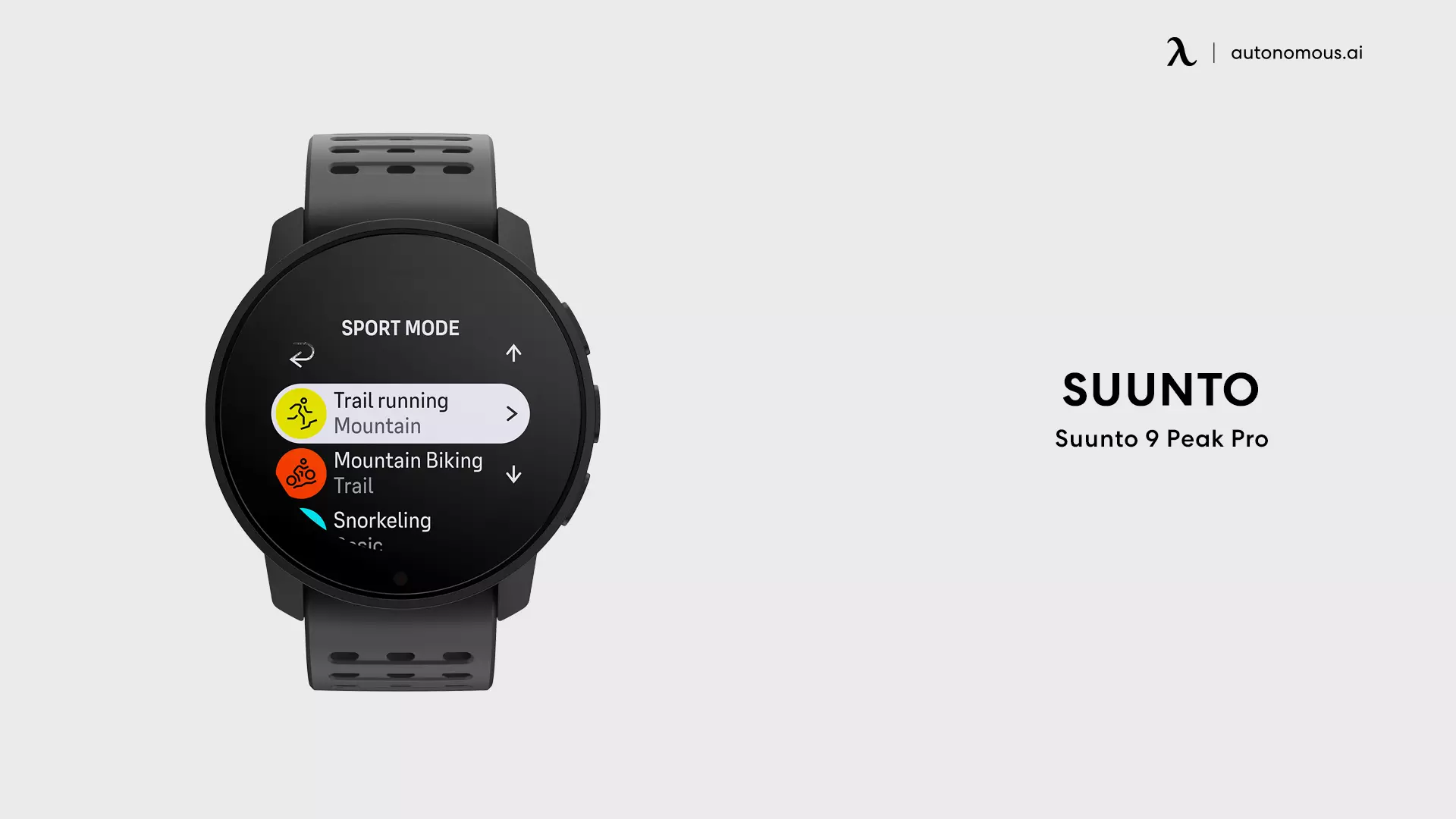 11. Polar Vantage
Even in a market where Garmin dominates, the Vantage V2 ($499) was our top pick for running after testing each watch. Although it doesn't have as many features as most Garmins, the ones it does have—especially heart-rate monitoring—perform exceptionally well. 
The Polar Grit X, Polar's high-end outdoor watch, now has all of its features, including the well-liked Hill Splitter (detailed data for climbs/descents) and FuelWise (reminders for fueling and hydration). 
12. Wahoo ELEMNT RIVAL
Firstly, it's a stylish watch that's light and easy to read. We didn't mind its large size because it was so light. The button action is smooth and crisp. Its features are also mostly targeted at triathletes. 
The touchless transitions and smooth integration with Wahoo's line of bike computers and components are standout features. Wahoo's watch will automatically record and track activity and time once you press the "start" button to start the race. This watch should be kept in a wooden watch case for security.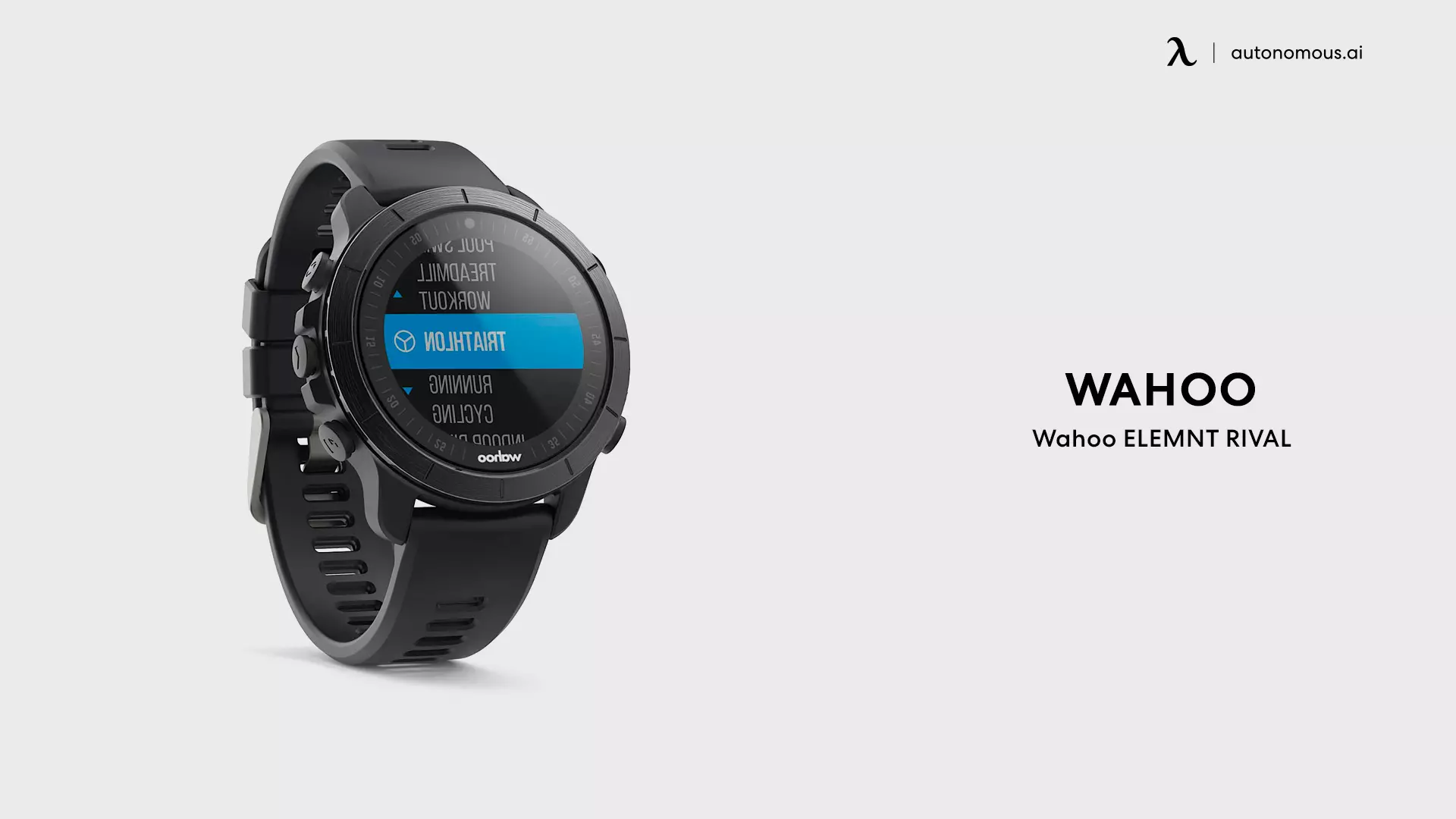 13. Coros Pace 2
Finding a GPS watch with more features in this price range is difficult when looking at various fitness watch reviews. The Coros Pace 2 is a great deal at $200 considering that a line-by-line comparison of features to watches like Garmin, Polar, or Suunto would suggest a $300 price point! You will have to give up a few things in exchange for such an incredible price, but we'll talk more about that later. 
Its most well-supported activity is running, followed by cycling and swimming. The battery life and power numbers are its two main features. Astonishingly, the Pace 2 boasts a GPS runtime of 30 hours, an UltraMax runtime of 60 hours, and a watch life of 20 days. 
14. Garmin Vivoactive
The GPS-enabled fitness tracker and hybrid smartwatch is renowned for its fashionable appearance, superior visibility in direct sunlight, and lengthy battery life. A color touch screen with a tough Corning Gorilla Glass 3 cover and an always-on display option is included in the stylish stainless-steel device. 
It has a soft, textured silicone strap that fits comfortably, and it works with typical quick-release bands.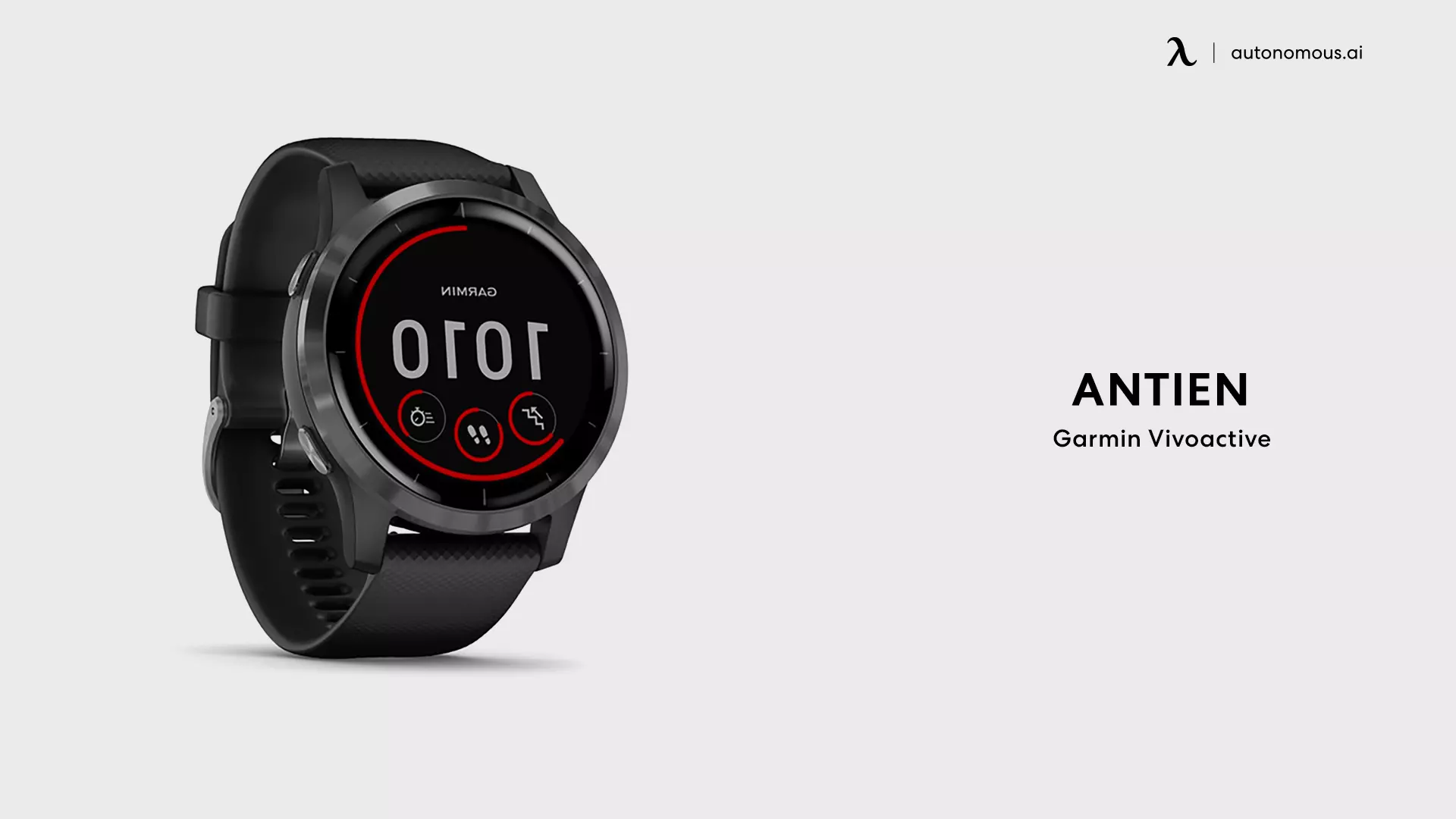 15. Polar Grit X
Because of its tough design and practical outdoor-specific features, the Polar Grit X stands out. It offers all the features you would expect from a multisport GPS watch, including continuous heart rate monitoring, measurements of sleep recovery, and personalized training recommendations.
16. Coros Apex
With normal use, the Coros Apex multisport GPS watch has a battery life of up to 24 days, making it, by far, the most durable model on this list. It operates for a full 24 hours even with the GPS turned on. By turning on UltraMax, a battery-saving mode, you can increase that to 80 hours. 
Outdoor sports including riding, skiing, snowboarding, hiking, running, swimming, and triathlons are all appropriate for the Apex. 
17. Fitbit Versa 3
The Versa line's outstanding fitness and health features, such as guided breathing exercises, continuous heart rate monitoring, and automatic exercise identification, have all been improved in the third-generation model.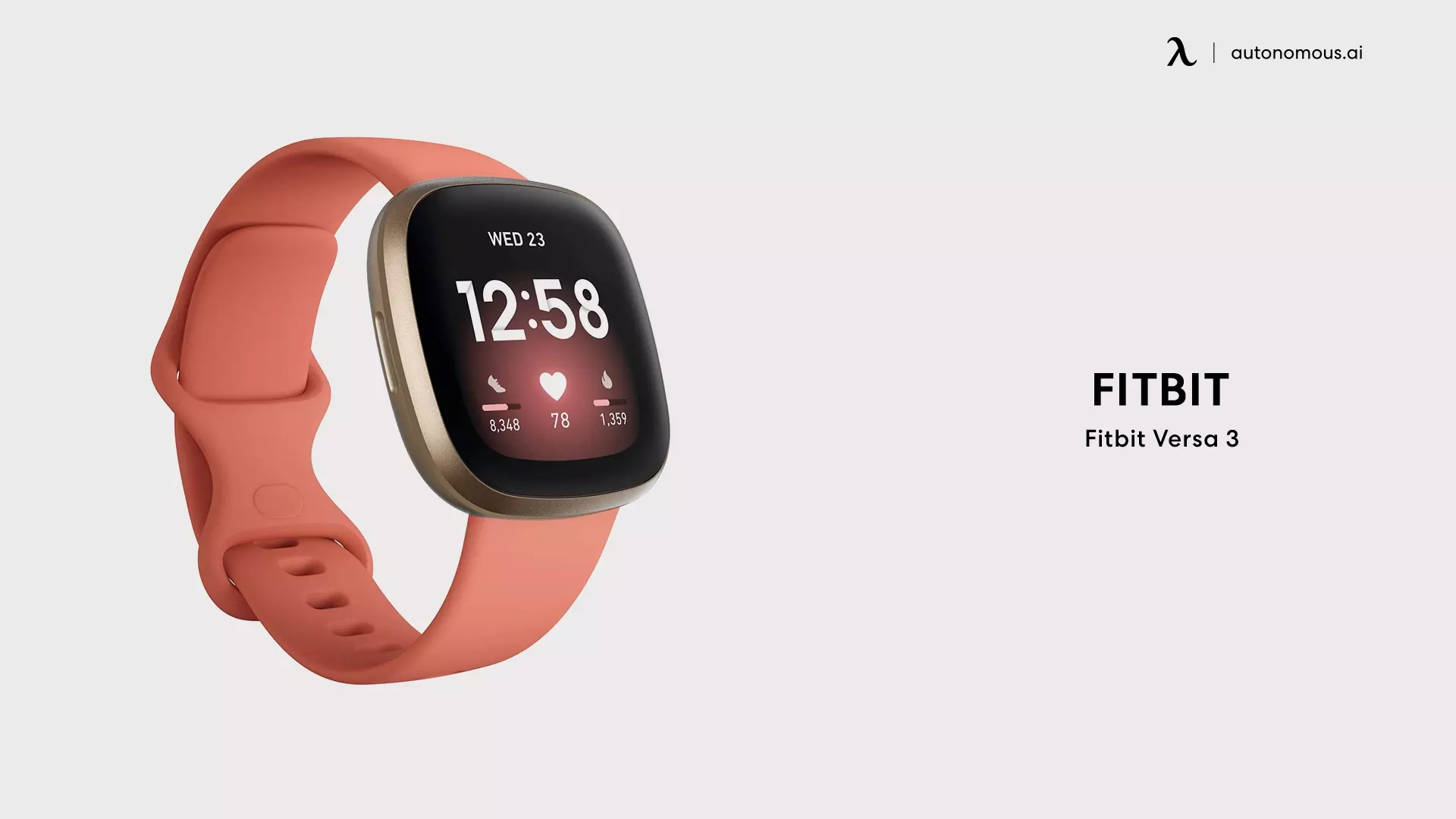 18. Samsung Galaxy Watch 5
Some of the most cutting-edge health-tracking tools we've seen are available on Samsung's smartwatches, including tracking your snoring at night and measuring your body composition using your wrist. You'll see this watch as a top pick on sites for fitness watch reviews. 
19. Garmin Lily
The Garmin Lily fitness tracker and minimal smartwatch combination stands out for its traditional and jewelry-like style, and it's created specifically for ladies. It has a lovely, patterned face, an aluminum or stainless-steel bezel, and a considerably smaller 14mm band than other smartwatch straps, allowing you to use it with other bracelets. 
Furthermore, the Lily is more than just aesthetically pleasing; it also tracks health metrics including steps taken, calories burned, stress levels, heart rate, energy level, respiration, and sleep. 
20. Amazon Halo View
The most affordable choice on this list is the Amazon Halo View, which also provides a lot of value for its price of around $100. It has a week's worth of battery life and measures your heart rate, activity, sleep, skin temperature, and SpO2. Moreover, it's one of the best fitness tracker watches out there.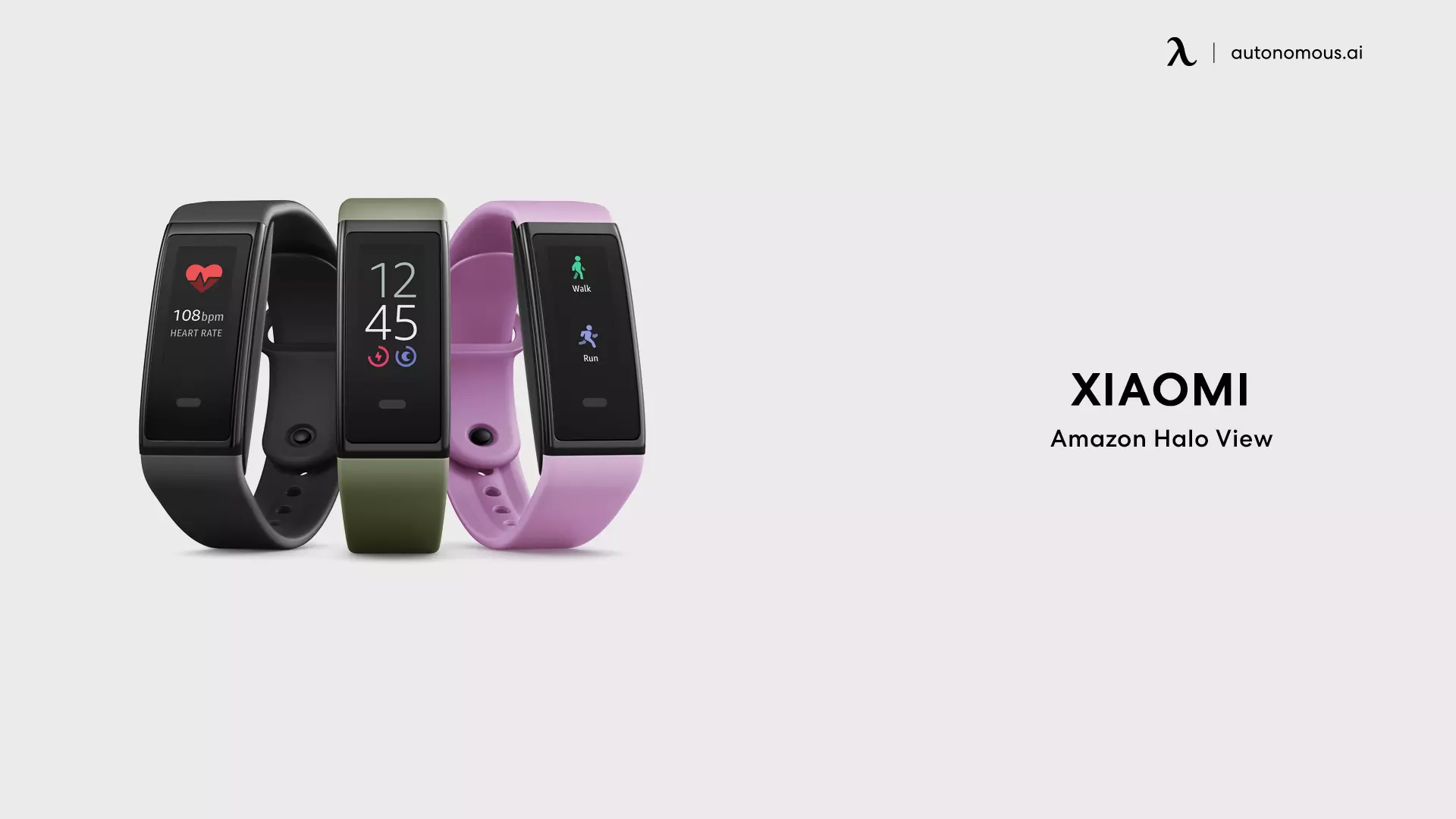 How to Choose the Best Fitness Tracker Watch | Buyer's Guide
Essentially, the market for fitness equipment and watches is huge. Little time and research investment are required to choose the best smart fitness watch for you. We've gathered all the necessary data you'll need to make an informed decision in our helpful how-to guide. Our guide covers every aspect, from GPS precision to battery life. 
Battery Life
The main distinction between smartwatches and GPS watches is this. GPS watches can go from five to 15 days between charges, whereas smartwatches typically need to be recharged every 24 to 48 hours. Due to the addition of solar charging on some of the more expensive versions, these times are constantly increasing. 
Most chargers provide a full charge in about two hours, which is a quick charging period. We would lean toward a GPS watch if you're like us and hate needing to constantly charge your device.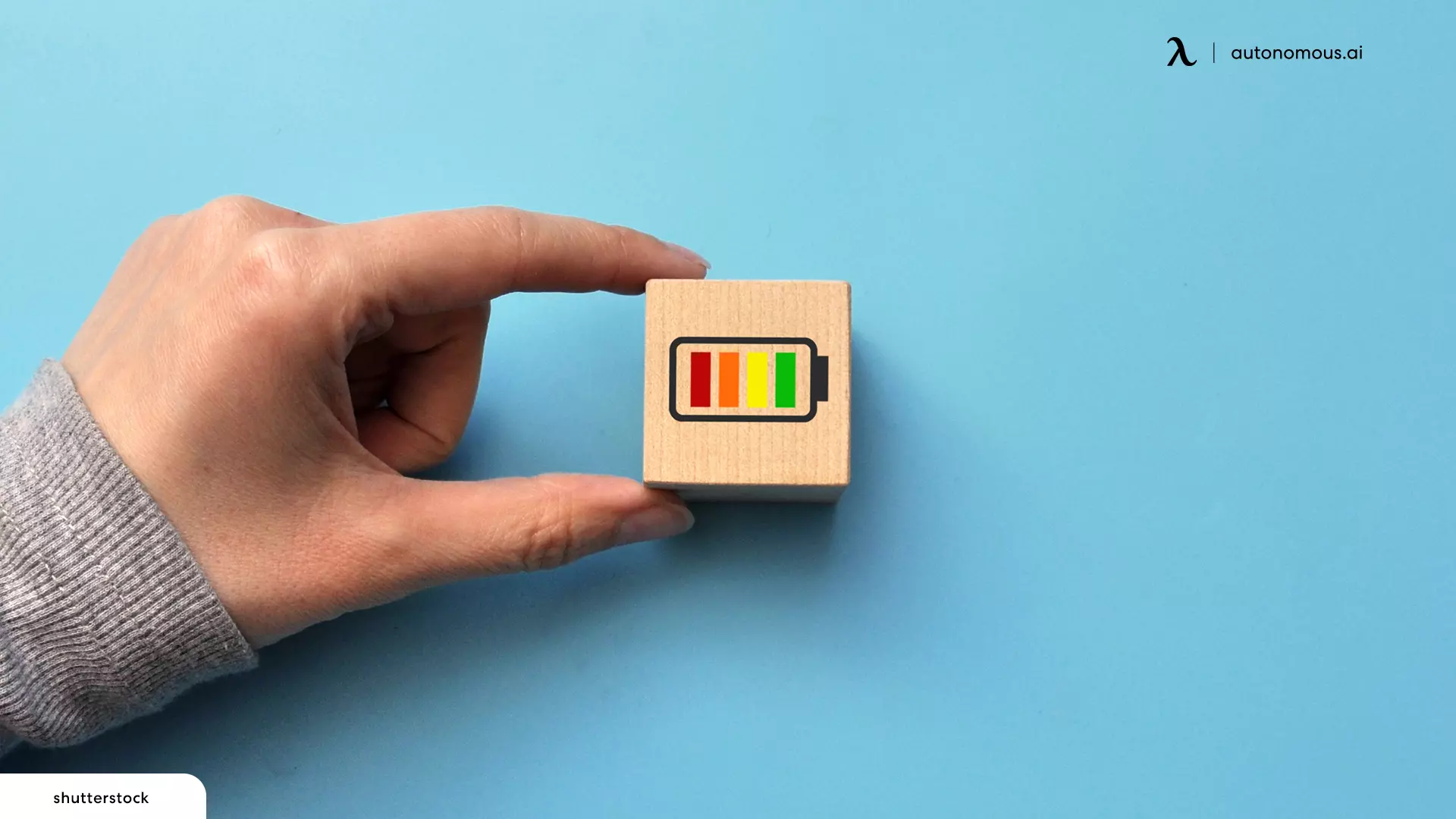 Sport Modes for a Fitness Tracker Watch
Sports such as running, indoor rock climbing, and surfing can be tracked by most fitness watches. We've discovered that watches marketed as "multisport" or "outdoor" are more likely to track the less common activities in greater detail. As a result, the cost of this higher level of functionality is significantly greater. 
Training and Coaching
Since fitness watches have gotten better at tracking health and fitness data, companies have been able to use that data to give guidance on training. 
GPS on a Fitness Tracker Watch
Most GPS systems have an accuracy range of 1% to 3%. All GPS-focused manufacturers (Garmin, Coros, Polar, Suunto, and Wahoo) performed equally well in our tests regarding GPS connection and accuracy. Distance was within a 1-3% margin, and connection times ranged from 10 seconds to a few minutes. 
Size
Due to the large number of functions, outdoor and multisport watches appear to be bigger and heavier than they actually are, making them look unappealing on small wrists. Most manufacturers offer scaled-down variations of their flagship models if you prefer a smaller size.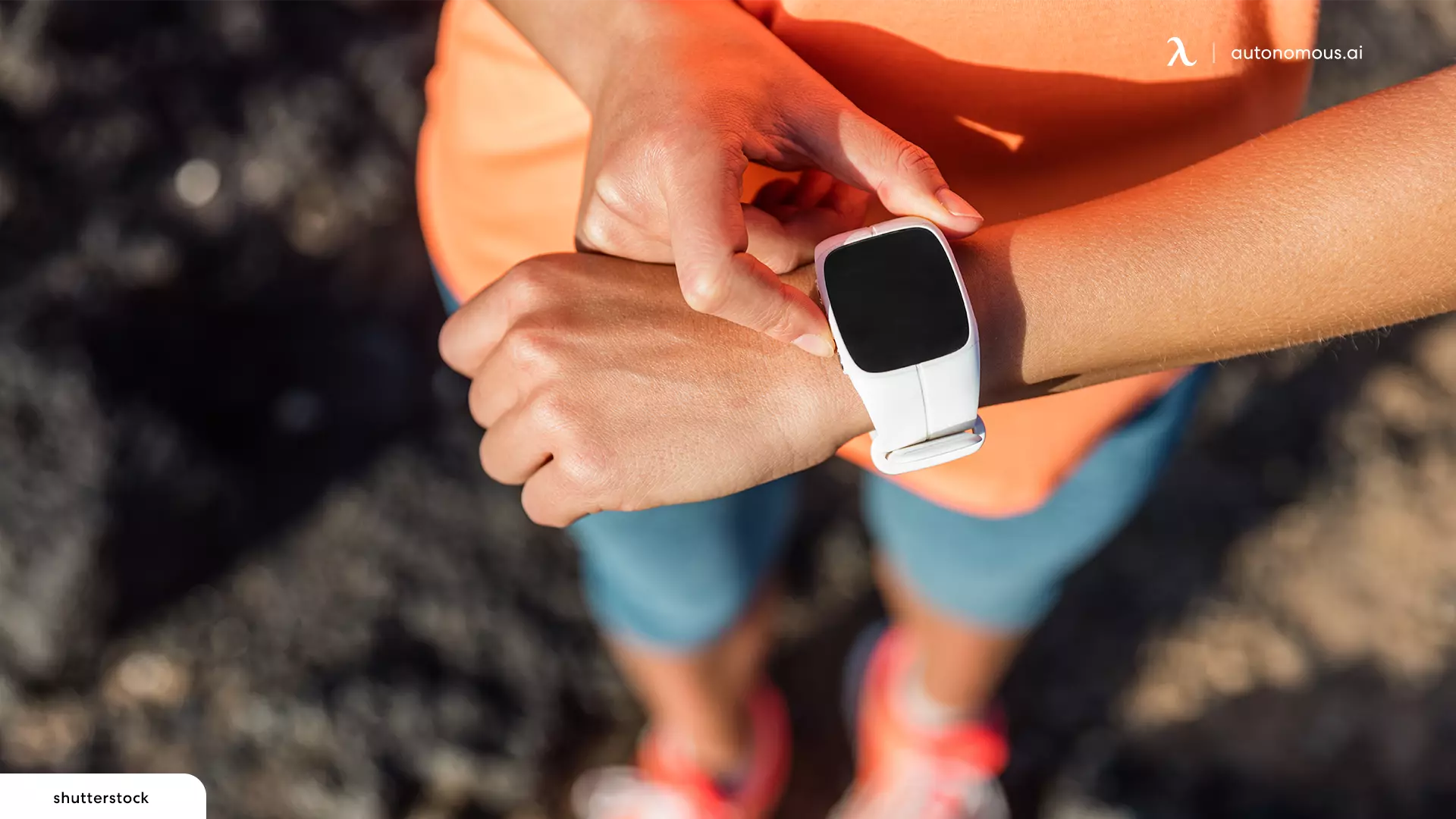 Choose Your Favorite from Our Fitness Watch Reviews!
Wearing a good fitness tracker every day will enable you to develop a complete picture of your health. With this knowledge, you can start to make minor adjustments that will enhance your overall well-being and help you sleep better, lower your resting heart rate, get fitter, and feel better overall. 
Don't be shy to review fitness watches in your own time. We hope you find the best one for your needs!
Keep up with Autonomous news
Stay informed, stay inspired with our new blogs.
WRITTEN BYAutonomous
We build office products to help you work smarter.