Smart Products
Explore Top Furniture Stores in Montgomery, AL: Buying Guide

Autonomous
|
Aug 25, 2023
482 Views
In huge cities, finding the perfect furniture for your office needs has always been challenging. In this comprehensive article, we will help you discover the best furniture stores for all your needs. Whether you're looking to furnish your modern office, find the perfect big and tall office chairs, or add stylish office shelves to your workspace, this article is your ultimate resource.
So, let's dive in and find the best furniture store in Montgomery, Alabama, for you!
The following is a list of furniture stores classified under different types:
1. Online Furniture Retailers
Buying furniture from an internet store has several advantages that make it a desirable choice. The time savings is a major perk. There is no longer any need to waste time traveling to and fro from different shops in search of the best deals on furniture because of the convenience of internet shopping.
Another advantage is the extensive variety of choices available.  One of the best online Montgomery furniture stores delivering in Montgomery is:
Autonomous
Autonomous is a company at the forefront of technological innovation, specializing in developing and producing Autonomous products for various industries. With a vision to redefine the future of work and lifestyle, Autonomous.ai aims to empower individuals and businesses with cutting-edge solutions that enhance productivity, efficiency, and well-being.
The company is renowned for its expertise in designing and manufacturing Autonomous furniture, robotics, and smart office solutions. Autonomous has gained recognition for its commitment to quality, performance, and customer satisfaction. Some notable programs offered are the Autonomous Bulk Order Program, Referral Program, and the Free Office Layout Design Service.
These services offer users control over their workspace ambiance at cheap rates.
2. Discount Furniture Stores
Discount furniture stores offer furniture at lower prices than traditional furniture retailers. These stores typically aim to provide affordable options for individuals looking for office supplies in bulk.
Stores offering discount office furniture in Montgomery, AL often source their products from manufacturers, wholesalers, and distributors to obtain furniture at reduced prices, allowing them to pass on the savings to customers. Some popular discount furniture stores in Montgomery include:
Ollie's Bargain Outlet
At Ollie's, you'll find an ever-changing inventory that caters to your diverse needs. Whether you're searching for holiday decorations, gardening essentials, patio furniture, pool supplies, beach gear, or everyday essentials, our shelves are stocked with an exciting array of merchandise
The Depot Furniture Gallery
With its extensive selection, unparalleled craftsmanship, knowledgeable staff, and inviting atmosphere, it remains a go-to destination for anyone seeking to elevate their living spaces with rustic charm. Whether you are searching for a single statement piece or an entire room ensemble, this store will leave you inspired and fully satisfied with your choices.
3. Contemporary Furniture Stores
Contemporary furniture stores offer furniture and home decor that reflects the current trends and styles of modern design. These stores feature a curated selection of sleek, minimalist, and innovative pieces that cater to individuals who prefer a clean and sophisticated aesthetic.
Contemporary furniture often incorporates elements such as clean lines, minimal ornamentation, and a focus on functionality. Some contemporary furniture stores in Montgomery are:
West Elm
At West Elm, they go beyond aesthetics and focus on the people and stories behind their products. This home furniture store in Montgomery, Al  strongly supports ethical production, worker well-being, and creating a positive economic impact for the communities involved.
One of the standout features of West Elm is its dedication to the original design. Their in-house team creates exclusive collections from their Brooklyn studios that you won't find anywhere else.
Restoration Hardware
RH's retail stores are known for their impressive and immersive experiences. The carefully designed showrooms create an atmosphere inviting customers to envision their homes adorned with RH's exquisite offerings. Each store is meticulously curated to showcase the brand's distinct aesthetic and to provide inspiration for customers seeking to create luxurious and well-appointed living spaces.
4. Custom Furniture Stores
These stores can create custom-made furniture to your exact specifications. Some custom furniture stores in Montgomery include:
A-1 Custom Upholstery
This is another locally owned and operated business that has been in business for over 20 years. They specialize in custom upholstery but offer various other services, such as custom furniture design and repair. Customer satisfaction is at the forefront of their business. Their team strives to provide personalized service, working closely with clients to understand their unique needs and preferences.
From consultation to completion, A-1 Custom Upholstery aims to exceed expectations, delivering furniture restorations that meet and surpass customers' vision.
Clifton Custom Upholstery
This company's commitment is to breathe new life into furniture, allowing it to be cherished for future generations. Through their expert craftsmanship, they aim to honor the integrity of the original design while ensuring its longevity and functionality.
In addition to their restoration services, they provide professional polishing to enhance furniture surfaces' overall appearance and luster. Their team utilizes advanced techniques and high-quality materials to achieve a flawless finish that showcases the beauty of the wood or other materials used in the furniture.
Whether you have a beloved antique piece or a contemporary gem needing attention, this family-owned business is here to provide expert furniture restoration services.
5. Furniture Consignment Stores
These Montgomery furniture stores sell used furniture that has been donated or consigned by individuals. Some popular furniture consignment stores in Montgomery include:
Mom's Flea Market & Consignment
Looking to buy office supplies in Montgomery, Alabama, without breaking the bank? Mom's Flea Market and Consignment is a vibrant retail company operating within the furniture industry. With a small yet dedicated team of 1-5 employees, they can bring a personalized touch to your office.
Headquartered in Millbrook, Alabama, Mom's Flea Market and Consignment is committed to providing a unique shopping experience for its customers. Whether you are a thrifty shopper looking for one-of-a-kind pieces or someone seeking to sell furniture sustainably, Mom's Flea Market and Consignment provide a welcoming environment and personalized service.
Consignment Connection
This consignment store provides a reliable and convenient solution for individuals who wish to sell their furniture safely and hassle-free. With a focus on insulating consignors from online scams, lowball offers, missed appointments, and unfamiliar individuals in their homes, this store offers a secure environment for selling furniture.
Conclusion
No matter your preferences or requirements, Montgomery's top furniture stores have an impressive array of options to suit every taste and budget. Whether you're furnishing a modern office, searching for an ergonomic office chair, or exploring the benefits of a standing desk, this guide has equipped you with the knowledge to make informed choices.
So, go ahead and embark on your furniture-buying journey and transform your office into a space that combines functionality, style, and comfort, ensuring that your work environment fosters creativity, productivity, and overall well-being. Happy furniture shopping!
Video ads for product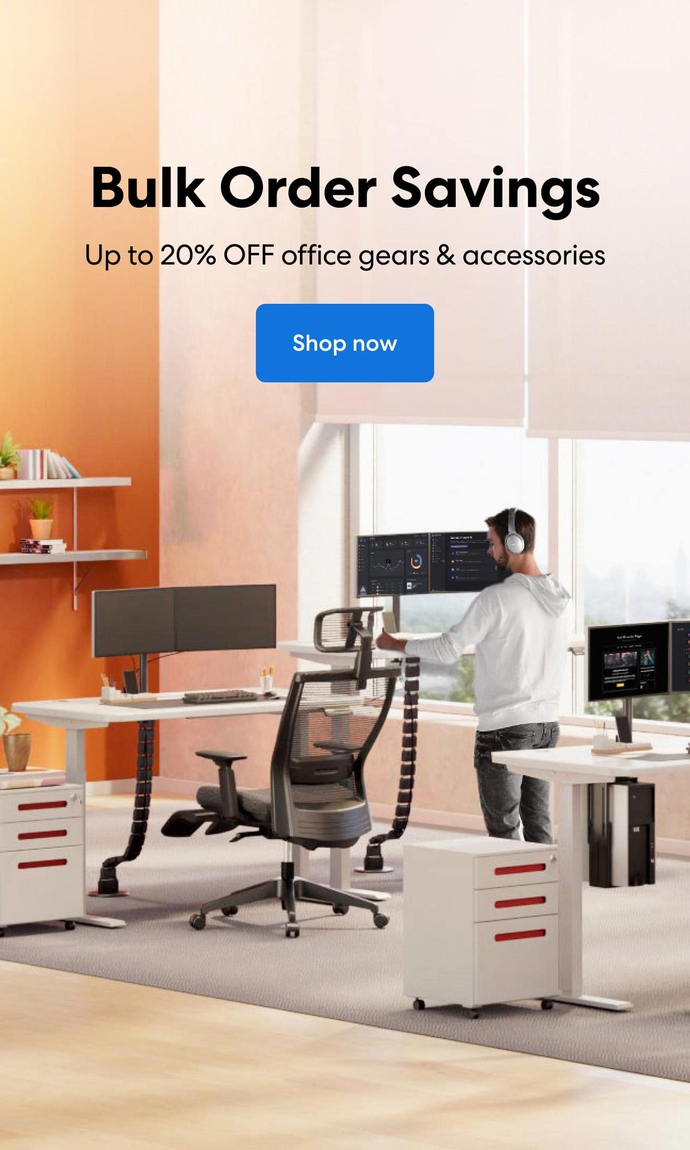 Subcribe newsletter and get $100 OFF.
Receive product updates, special offers, ergo tips, and inspiration form our team.