Workplace Inspiration
25 Pretty But Easy Home Office Shelving Ideas - Top 9 Picks

Autonomous
|
Feb 16, 2023
5,447 Views
A limited office space may not be enough to accommodate all personnel and equipment effectively. Innovative office shelving ideas and interior designs can help you manage everything properly. They enable you to accomplish much without dealing with dispersed books or paperwork. 
Shelves indeed make it simpler for you to arrange your office supplies. Additionally, you can use it to showcase different ornaments to adorn your workspace. 
There are different ways to set up shelves or use alternatives to make use of available space. This article suggests 25 creative ideas for office shelving that will transform your workspace to make it comfortable and stylish.  
You can check out our FinerCrafts store if you need to find anything specific.
25 Interesting Office Shelving Ideas for You
1. Cabinet on Wheels
Use a rolling cart to increase the size of your workplace and store additional pens, paper, and other office items. Try to strive for a unit about the same height as your office or home standing desk. This enables a smoother flow and increases your working surface.  
A moving cabinet next to your desk adds storage and surface area.
2. Include Floating Shelves in Your Style
Floating shelves are excellent additions to your modern office design ideas. You can decide on the thickness, but make sure they are wide with strong lines above your working space.  
Make sure the color of your shelving compliments the color of your desktop and other office equipment for a matching appearance. 
3. Picture Rails Are Great
Picture rails are for people with creative minds, those who prefer changing things up, or simply for craft room ideas. 
This straightforward arrangement of pictures, frames, and other slender objects doesn't only illustrate a tidy and narrow office storage solution. It also makes it simple to switch things up for a new display. 
4. Take Advantage of Every Space with Bespoke Storage
Going the customized way can change the game whether you're functioning with big or tiny office ideas. 
Personalized solutions such as a standing desk or floor-to-ceiling shelving use as much of your walls as possible. They permit complete flexibility and the best possible storage use of the available space.  
Books can be stacked on such shelves, including other storage containers.  
Shelving is a stylish way to use storage in the office when combined with artifacts and works of art. 
5. Create Wall Decor from Storage Units
Combining wall decor with your workplace storage offers a two-for-one solution. 
Shadow boxes contribute to decor designs when mounted on a wall and used as open storage. To add even more impact, pick strangely shaped frames. Use wallpaper at the back of each frame if the office needs a splash of pattern or color. 
6. Take The Shelves as High as You Can
Make use of the area above your desk, and if possible, install some storage close to the ceiling. This is the ideal place for things you don't use every day.  
Additionally, the area won't appear congested since it will be out of sight. 
7. Wall Storage Can Hold Your Devices
Clip-on baskets transform a wire rack into a useful noticeboard over a desk and provide storage for smartphones and tablets.  
However, remember to place your workstation next to a power source to enable your devices to charge while you work. 
8. Try Alcove Shelving with Ladder Desks
A slim ladder-style desk is a great landing office shelving area for laptops or tablets and won't overly protrude into the room. 
Choose a layout with multiple shelves to make room for books and paperwork, including hidden drawers that help you organize little trinkets. 
9. Use Corner Shelves
Consider placing a desk and shelf in the office corner if you're short on space. A small, triangular desk can fit into an empty corner and offer enough room for sitting and working. 
Maintain a clear-desk policy and hide everything when you are done working. Crowded desks will make the workplace appear messy.  
Additionally, a corner shelf will increase storage space for files and other office supplies. 
10.  Create a Pin Board
Here is one of the popular home office shelving ideas. You can prevent clutter in your workspace with clever wall designs, such as a pin board for all your small office items. Use it as your focal point, and add a few wall-mounted pockets with little shelves. 
11.  Free-standing Shelving with Wire and Planks
You can also incorporate office shelf ideas into your workspace with industrial designs. 
One method is to set up free-standing, wire-and-wood-combination shelves. 
However, make sure to pick a material that is strong enough to support a variety of books and other accessories. 
12.  Leveled Office Shelving Ideas
Installing multi level shelves is one of the numerous office shelving ideas that will give your work area a more artistic appearance. 
Because of this, if you work in the creative industry and are passionate about the arts, a shelf arrangement like the one pictured above is appropriate for you. 
You can use it as a book storage and exhibit various ornamental items you own. 
13.  Minimalist Built-in Shelving
Numerous home office bookshelf ideas use minimalist designs. Hues such as black, white, and gray are frequently the focus of this motif. 
Installing many tiers of built-in shelves around a portion of the wall in an L shape will help you conserve space, as seen by the shelf design above. 
Remember to add a ladder to this design to simplify access to the books kept on the top shelf. 
14.  Include a Pull-out Shelf for Printers
Although printers are necessary for offices, they can be somewhat intrusive. The drawback of keeping it in a cabinet is that you must take it out to use it.  
Install a pull-out shelf in a lower cabinet or hidden drawer in your office to resolve both problems! 
15.  Magnetic Strips Can Play a Part
Anything metallic may be stored using magnetic strips, freeing up space on your desktop or in your drawers. Additionally, it gives you quick access to anything you need.  
Use it for storing metal scissors, paper/binder clips, staplers, and rulers! 
16.  Organize Your Cords in A Cable Box
In any office, cords are a necessary evil: You need electricity for your devices to work, but who enjoys the unkempt appearance of a tangle of cords?  
Put your cords in a cable box to prevent them from ruining the aesthetics of your workstation. 
17.  Don't Forget About Coat Racks
Mount a coat rack above your desk to create space for hanging your headphones, cables, and other gadgets you don't want to clutter your desk's surface.  
18.  Hanging Pouches Are Necessary
Contemporary office storage solutions come in different shapes and sizes. They are also easy to hang anywhere you need them.  
You can also create your own using a color scheme that goes with your office's decor. 
Use a desk or desk organizer with pockets for pins, staples, and paper clips. Select a vertical organizer with numerous small pockets. 
Some wall organizers come with hooks, micro-office shelving, and compartments of varying sizes. 
19.  Hang a Handy Wall Unit
When you have a small office space, clever wall storage can help you prevent clutter. A wall-mounted piece of furniture with a flip-down top can be a convenient place to store things and a pop-up desk. 
20.  Wide L-Shaped Shelves
The best option for those seeking office shelving ideas for small offices is to use an L-shaped shelf. This shelf has room for several books as well as some lovely decorations.  
You may also reduce the floor space required with shelves that take up the entire wall, including corners. 
This shelf design complements office furniture such as the EUREKA ERGONOMIC L60 L-shaped Standing Desk. 
21.  Hidden Shelves
Hidden storage units take advantage of the office shelving idea that whatever is not seen is out of mind. You don't even have to properly arrange your office items well with this type of shelf. They are also hidden as a part of other office equipment, making them versatile enough for small spaces. 
22.  Repurpose Containers
Simply clean out your beautiful tin cans after use and utilize them as an economical alternative for home office storage. Obviously, there should be no sharp edges. This office shelving idea is ideal if you unexpectedly find yourself in need of a temporary workplace after never needing to work from home. 
23.  Mount Boxes on the Wall Instead of Shelves
Instead of standard storage above your desk, mount boxes for a new aesthetic (and a little more space). They provide extra room and keep things hidden. Just keep anything you frequently use within easy reach!
24.  Get a Tall Organizer
You don't have to pass up on inventive storage solutions just because you don't want to attach shelves to your walls.  
Try leaning a tall organizer with compartments and pockets against the wall while it is propped up on your desk. 
25.  Utilize Binders
Put your most important documents in binders for easy access in an emergency. You can put them in different categories to know which one to select for a type of document or file. You can then store the binder on any kind of shelf.
Top Office Shelves Options
People love adding shelving units in their workspace because it greatly increases storage space and improves office desk organization. When you have adequate shelving units in your workspace, you put most of your collectibles and office accessories there. This leads to more desk space and less clutter. But how can you use different shelving ideas to design a well-decorated office?
You will need the right office shelf for that purpose. The next thing that comes to anyone's mind is which office storage shelving will be best for their workspace. So, we are here to resolve this query. Below we have discussed the details of the fifteen best office storage shelving units that you may pick to maximize storage and revamp your office. So, let's check them out!
EUREKA ERGONOMIC Glass Door Solid Wood Curio Cabinet: Display Shelf
It is a piece of furniture designed to showcase collectibles or other decorative items. The cabinet features a solid wood frame with glass doors, allowing for easy viewing of the items inside. The shelves are adjustable, allowing you to customize the display to your liking. The cabinet is both functional and aesthetically pleasing, making it a great addition to any home or office.
Maydear Bamboo Bookshelf: 3-tier 10-cube Storage Shelf
It is a office storage shelving unit made of bamboo that features three tiers and ten cubes for storing books, decorative items, or other household items. The shelves are adjustable, allowing for customization of the storage space to fit your needs. The bamboo construction gives the shelf a natural and eco-friendly look, while also making it sturdy and durable. The Maydear Bamboo Bookshelf is a great addition to any home or office, providing functional storage while also adding a stylish touch to your decor.
Skyline Decor Lancashire Brown Wood & Metal: Bookcase
Skyline Decor Bookcase is a stylish and functional piece of furniture designed to store and display your books, decorative items, and other belongings. This office shelf features a rustic industrial style, with a blend of brown wood and metal accents, giving it a unique and modern look. The shelves are made of solid wood and are supported by a metal frame, making the bookcase durable and sturdy. It is available in different sizes, with multiple shelves that provide ample storage space for all your belongings. This office storage shelving is a great choice for those who want to add a touch of industrial style to their home or office while also keeping their space organized and clutter-free.
Maydear Corner Display Shelf with Doors: Bamboo Bookshelf
This is a corner office shelf made of bamboo, designed to maximize space and provide additional storage. It features multiple shelves, including a compartment with doors, allowing you to display your books, decorative items, and other belongings while keeping them organized and hidden from view. The bamboo construction gives the shelf a natural and eco-friendly look, while also making it sturdy and durable. The Maydear Corner Display Shelf with Doors is a great choice for those who want to add functional storage and style to their homes.
Dolores Cane Bookcase by Pottery Barn
Some people like creating an office that features a sleek look. The Dolores Cane Bookcase by Pottery Barn lets you do that efficiently. People with a minimalist desk and chair setup usually go for this shelving unit.
It has a weight capacity of 330 lbs, so you can expect it to be a multi-purpose, heavy-duty shelving unit. It also has two cabinets below the shelves which helps you keep your files organized and avoid clutter. 
Natasha Bookcase by Crate and Barrell
If you are into classical-style furniture pieces, think of going for Crate and Barrel's Natasha Bookcase. It is a solid Pinewood bookcase that experts recommend to people looking for a long-term shelving solution. This tall shelving unit even features two small cabinets below the shelves, which can help people who only have a little under-desk storage.
Staple Shelf by Room & Board
Room & Board's Staple Shelf is a floating shelf that you can drill into your walls. People who do not have enough floor space and are only searching for a small desk shelf go for this aluminum floating shelf which features lightweight parallel ledges with two-tier storage.
Ventura Bookshelf by CB2
Ventura Bookshelf by CB2 is a small shelving unit that can easily fit in a compact workstation. If you find creating more room in a small workspace challenging, you must try this adjustable bookshelf. You can easily adjust the placement of its rack. Even the drawer is removable, which means you can do anything you want to get the best office shelf décor.
LexMod Transmit Bookcase
If you wish to give a mid-century aesthetic look to your home office, try LexMod's Transit Bookcase. Featuring smooth walnut grain veneer, this bookcase consists of three tiers. Its splayed dowel legs add further to the chic look, and you can decorate it further using modern office design ideas. 
Why Should You Organize Your Office Space?
Increases Productivity
A neat, organized desk for office shelving helps increase your efficiency and work ethic, personally and professionally. You'll feel less worried and overwhelmed when completing your everyday responsibilities. This improves your productivity and output at work. 
Helps Reduce Workplace Accidents and Injuries
Cleaning and organizing the shared office space is just as important as keeping each employee's workplace tidy. The upkeep of the office's cleanliness and safety falls on all employees.  
Everyone on the team must follow the guidelines to keep everyone secure and at ease throughout the working day.
Reduces Stress Levels and Produces a Positive Work Environment
Every morning when people awaken, they make their beds for a reason. It's one of the first things you do each day, and crossing it off your to-do list makes you feel accomplished because you know your day has started off well. The same is true for those who keep their offices tidy and well-organized. 
You may lessen stress and even improve your mood while working by designating specific spaces for your sensitive documents. 
Maintaining an orderly workstation makes it simpler for you to locate items precisely when you need them and might aid in your ability to concentrate while working.
Cleanliness Improves Creativity and Increases Thinking Capacity
You'll have more time to commit to finishing your everyday activities and working with your coworkers.  
Work will be faster and more significant because you won't have to spend as much time looking for lost documents or other items.  
Furthermore, you might discover additional time in your schedule to generate fresh suggestions for enhancing business processes and cutting expenditures. This is a great approach to distinguish yourself from your coworkers and wow your supervisor.  
You can accelerate your job advancement by putting more time and effort into working hard and achieving your professional goals.
Organized Office Spaces Contribute to Smooth Business Operations
Most individuals find messy and disorganized workplaces quite uncomfortable, which can negatively affect their ability to execute tasks. 
It might affect their productivity and a general sense of workplace morale. 
Proper Organization Makes a Great Impression on Clients
You might occasionally need to host client meetings on-site, and it's crucial to leave a positive first impression.  
A client that walks into your disorganized office can assume you don't care about their company or the business to try and make a decent first impression.  
Messy workstations with papers and trinkets scattered all over are not a good depiction of a serious organization.  
Your clients will not only have a positive impression of your business after seeing your clean, well-organized, yet attractively decorated office space. They will also believe that you are dependable and trustworthy.
Conclusion
Being surrounded by a chaotic, cluttered, and messy workstation may be disruptive to working efficiently and successfully on your daily chores.  
Cleaning up your workspace is not only beneficial for increasing your focus and work ethic while at the office. It is also crucial for your physical and mental well-being when working. 
The comfort and convenience of you, other staff, and your clients, efficiently using space helps ensure that your office is kept impeccably clean. 
Adding a simple monitor shelf for desk design or a desk riser shelf can help you do this. The office shelving ideas listed in the article should give you a great place to start from.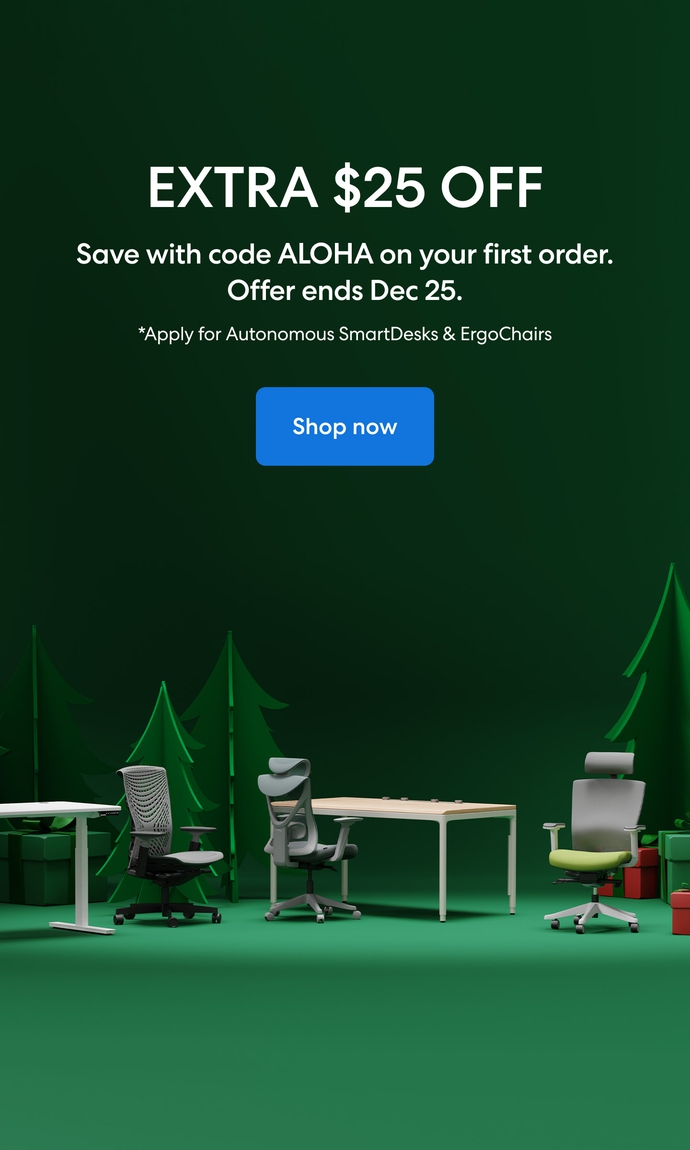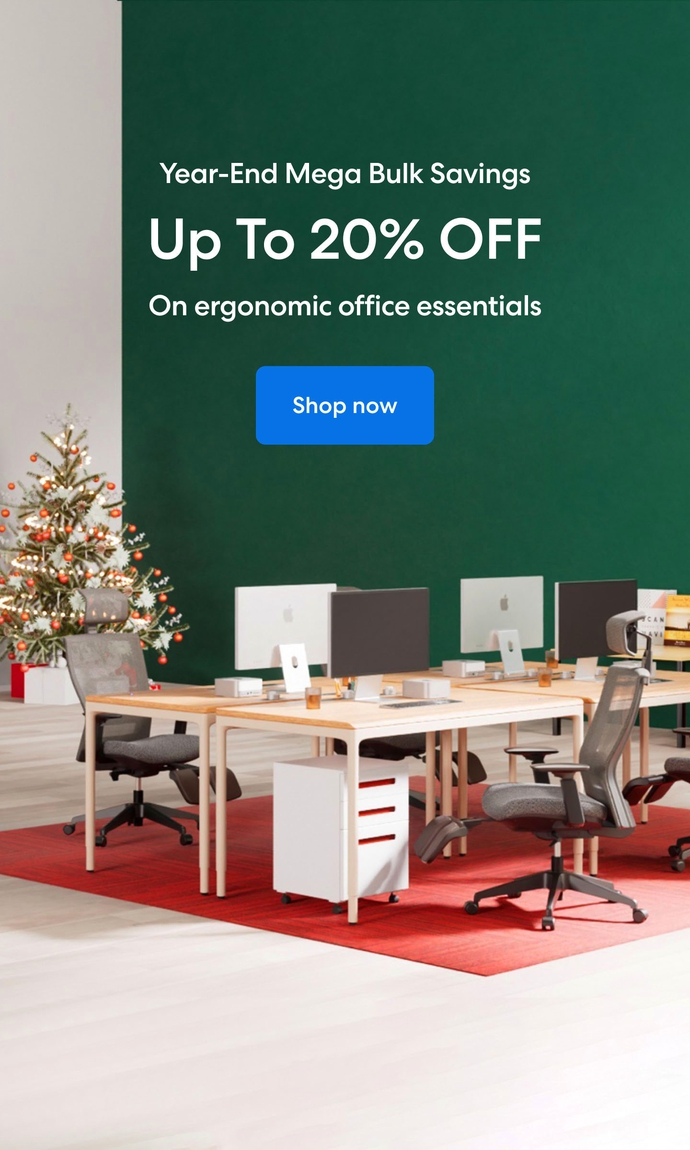 Subcribe newsletter and get $100 OFF.
Receive product updates, special offers, ergo tips, and inspiration form our team.