Your hip joints are where the upper leg bones connect to the body. When you're sitting, one or both of your hips may hurt. This is because when you're sitting, your hip joint bends and bears most of your body weight. 
The location of your hip discomfort can reveal a lot about why you experience hip pain while sitting. Your hip discomfort may be a mild ache or a severe, stabbing pain. Essentially, when you're sitting, the hip joint could also feel stiff or pop a little. 
You might get hip pain when seated at your desk or dining table, while driving, or when lounging on your couch. 
Where Is Your Hip Pain?
Depending on where the pain is situated in your hip, your hip discomfort may suggest one of several problems. 
Hip pain on the outer part of your hip, upper thigh, or outer buttock, while you're sitting, is usually caused by the muscles, ligaments, or tendons in the hip. 
If you experience pain or discomfort on the inside of your hip or groin when you're sitting, it may be a sign of a health problem with the hip bones and joints. 
It may be a sign of a health issue with your hip bones and joints if you experience pain or discomfort on the inside of your hip or groin. 
When you're sitting, your lower back pain may sometimes extend to your hip. This type of discomfort is called "referred pain." 
What Could Be Causing Your Hip Pain When Sitting?
Your hip pain when sitting could be brought on by or induced by various factors. Continue reading this article to see what these causes mean and what you can do to fix them. 
Poor Posture 
When you're seated, hip pain is usually brought on by bad posture or slouching. Your hips may become more stressed if you are sitting incorrectly or without the proper back and hip support. Therefore, you must ensure that you keep your back upright to reduce hip pain while sitting. 
Crossing Your Legs
Even poor sleep posture, such as spending too much time on your side, might put too much pressure on your hip and cause you to have hip pain after sitting. 
Sitting on an Uneven Surface
You can find yourself sitting unevenly if your couch, car seat, or seat cushion is too soft. Your body might even tilt to one side. 
Sitting on an uneven surface or one that is too soft might increase the weight and pressure on one of your hips, resulting in pain when sitting. This commonly happens when you use your laptop or sit in bed to work or watch television. 
Additionally, it can occur if you sit on a floor pillow or on a soft beach. Make sure you're on a level surface to prevent hip pain after sitting. 
Bursitis Arthritis
Another common reason for hip pain from sitting, walking, or standing, is arthritis. Wear and tear on the hip joint's protective cartilage can be brought on by several types of arthritis. Because you have to bend your hip joints when you sit, this leads to hip pain from sitting. 
When you're sitting, arthritis can cause your hip joint to ache and swell. Hip joint arthritis can take various forms: 
Rheumatoid arthritis. This will usually cause pain and inflammation (swelling) in both hip joints, leading to hip pain from sitting. 
Osteoarthritis. One or both hips may have this form of wear-and-tear arthritis. 
Ankylosing spondylitis. While typically affecting the spine, this type of arthritis can also result in hip pain when sitting. 
Psoriatic arthritis. Similar to rheumatoid arthritis, this condition produces swelling and pain in the hip joint, especially after extended periods of sitting. 
Bursitis
Inflammation (swelling) of the bursa, the tiny sacs filled with fluid that serve as shock absorbers in the hip joints, is known as bursitis. The hip joints can get a little tight and uncomfortable when they're injured or inflamed. Bursitis can trigger pain in the outer and back hips when sitting. 
Tendinitis
Long periods of sitting, especially if you are hunched over, can lengthen the tendons in your hips. Tendinitis, or inflammation of the hip tendons, may arise from this. Additionally, tendinitis can cause hip pain when sitting, walking, and lying down. 
Pinched Nerve
Hip discomfort that worsens when you sit down can be caused by a pinched or injured lower back nerve. Your back's sciatic nerve travels through your legs, hips, and buttocks. 
When this nerve is injured or pinched, your hip hurts when sitting. It can cause a sharp pain in your muscles around the buttocks and hips while sitting or lying down. 
Lupus
Similar to rheumatoid arthritis, lupus is an autoimmune condition. When the immune system is out of balance, it targets the joints in the body. Lupus may cause swelling or damage to the hip joint, leading you to experience pain when sitting. 
How to Sit with Hip Pain
Office workers aren't the only ones who can get hip flexor pain from prolonged sitting. Hip discomfort is more likely to affect students who spend their days studying, drivers who put in long hours behind the wheel, and people who travel far for special occasions. 
Here are some other ideas you can attempt to treat hip pain when sitting in addition to choosing the best ergonomic chair and the proper sitting position for hip pain. 
Maintain a Proper Angle
When it comes to prolonged sitting, the hip angle is most crucial. An improper angle will simply worsen the issue, especially for those who experience numerous hip bone-related problems.
The Right Chair
Additionally, when you are completely focused on your work and spend hours in front of a computer, you can accidentally lean in an uncomfortable position. Given that you must be constantly aware of your seating position, this could be a problem. 
It is wise to invest in the best office chair for back pain, as it contains all the right adjustments to achieve this correct posture. 
If it doesn't work, you'll have to buy a piece of thick medium-density foam and cut a few holes for the sitting bones. It seems strange, but it works! 
Keep Moving
According to a study, changing between sitting and standing postures while working efficiently combats several posture and back discomfort disorders. 
This means that the key to preventing your body from becoming physically strained is regular movement. You can practice a few desk stretches to ease any pain and discomfort in your muscles. Then, you will need to buy a standing desk so you can switch between sitting and standing positions. 
Using Heat
Here is another best sitting position for hip pain. Using heat may be the next thing you add to your routine if you have recently learned that your hip pain is something that can be treated and not just something you have to put up with. 
Heat can help the area feel better and reduce the swelling if your hip pain is the result of a poor chair or excessive sitting.
Besides taking preventive measures, you can repeat this process to wave that hip pain a final goodbye. 
Healthy Eating
Healthy eating improves general health and strengthens the immune system. Eating healthy contributes to higher energy levels and better bone health. Being overweight can also cause hip pain when sitting; therefore, maintaining a healthy weight can also be achieved by eating well. 
Best Chairs for Back Pain
There are many reasons for hip pain. Regardless of the reason, if you experience hip pain from sitting, picking a suitable reclining office chair can go a long way in preventing your condition from getting worse. After all, most of us spend roughly half of the day sitting down. 
Below are the best chairs for hip pain: 
1. Autonomous ErgoChair Pro
Some chairs are specifically designed to be office chairs for hip support. These include the ErgoChair Pro and the ErgoChair Plus.
 When you choose an office chair for tailbone pain, you can take advantage of all the unique features it provides to enhance the health of your back and make sure that you stop feeling uncomfortable. 
Dimensions
29"L x 29"W x 46" - 50"H
Seat height

18" - 20"

Materials
Polyester fabric with molded foam interior and durable nylon plastic frame; PU handrest pads
Colors
Cool Gray, Evergreen, All Black
Red Apple, Black & White, Baby Blue
Weight capacity
300 lbs
Warranty
2 years
Feature
Adjustable height, armrest, headrest, backrest, and seat tilt
2. XEUER Ergonomic Office Chair
A computer chair with a mesh back and seat, like the XUER, is a fantastic choice if you often sweat while working. It's one of the best mesh reclining chairs for reducing hip pain when sitting because it has an intelligent lumbar support, a bouncy mesh cover, and a waterfall edge seat. 
Furthermore, it can be difficult to choose a mesh office chair to prevent hip pain. We chose the XUER because it performs well in three important categories, including lumbar support, mesh type, and seat design. 
The lumbar support, which automatically adapts to the user, is the icing on the cake. According to one owner, it is even better than that on the much more expensive Gesture chair. 
With these three factors covered, it isn't surprising that one happy buyer said that his hip pain vanishes after he switched to the XUER. Furthermore, this chair also comes with an adjustable height footrest and cooling chair pad. 
3. Secretlab Titan
Due to its superb build quality and all-around comfort, the Secretlab Titan is one of our favorite gaming seats. The roomy and supportive seat in particular will help people with hip pain. 
This chair's multi-tilt mechanism, which further relaxes your lower back, works great with its supportive seat. 
4. 2xhome Saddle Chair
Essentially, the 2xhome saddle chair makes for a great secondary chair for people with hip pain. The forward-sloping seat, which has been proven to be incredibly useful for the lower back, sets it apart from regular chairs. 
When seated, a saddle chair causes what is known as an open hip angle. Dr. A.C. Mandal claims that this posture helps maintain the lumbar region's natural lordosis, which lessens pressure on the lower back. 
All things considered, we strongly advise using a good saddle chair like the 2xhome in conjunction with a standard ergonomic office chair if you fall within the height range and need additional comfort for your hip and lower back. 
What Should I Look for in an Office Chair for Hip Pain?
The pressure and strain that prolonged sitting places on your hips can be minimized by using an ergonomic office chair that is fitted to your body shape. 
Here are some factors to think about when you buy an ergonomic chair for hip pain: 
Backrest
Given that the hips and the back are so closely connected, experiencing back pain may also eventually lead to hip pain. The backrest should be able to recline and tilt with adjustable tension. Aim for a 135° recline and a synchronous tilt to reduce hip pain when sitting.
Forward Seat Tilt
Ideally, the pelvis should be level or slightly higher than the knees. A chair with a forward seat tilt can help you achieve this.
Seat Design and Cushion
The seat should have a waterfall edge. By doing so, the pressure on the back of the thighs is released, and blood flow to the lower limbs is stimulated. Its cushion should be soft but not saggy. You can also look at getting a memory foam seat cushion for your office chair, if you want maximum comfort. 
Seat Width
If the seat is wide enough, you can sit comfortably. However, if it's too small, your hips will be restricted. On the other hand, if the seat is excessively wide, the armrests will be too far apart for your arms to rest on. 
According to BIFMA, a 19.2" broad seat pan is enough for most people. 
Can a Standing Desk Help with Hip Pain?
Yes, a standing desk allows you to switch between sit and stand positions to alternate the body parts under stress. 
This causes stress to be distributed evenly while working or even while sitting and driving. Since a standing workstation burns more calories, the likelihood of experiencing severe hip and bone pain is greatly reduced. 
Can Prolonged Standing Cause Hip Pain?
The chance of developing pain and discomfort in the feet, shins and calves, knees, thighs, hips, and lower back is increased in those who spend an excessive amount of time on their feet. 
Conclusion
If your hip hurts when sitting, make sure to follow the steps in this article and maybe purchase an office chair for hip pain.
Video ads for product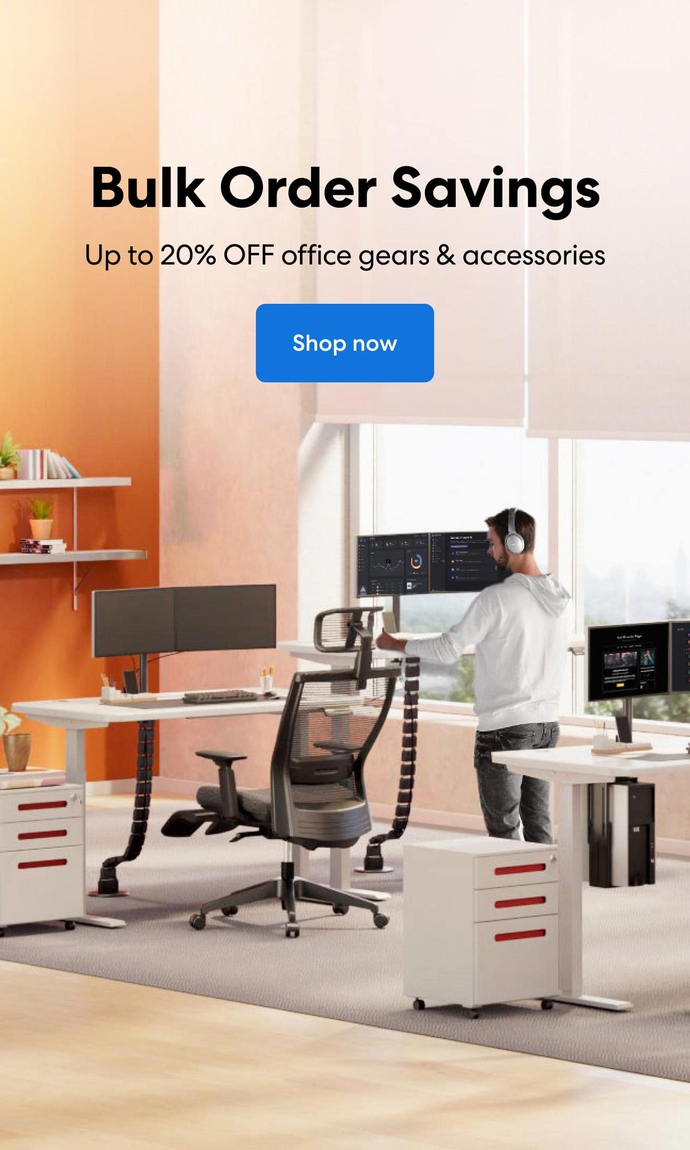 Subcribe newsletter and get $100 OFF.
Receive product updates, special offers, ergo tips, and inspiration form our team.