Cherry profile keycaps are customized keyboards, super comfortable to use, with different levels of each key row to make them perfect for office workers and gamers alike. Keycaps come in a plethora of different designs called keycap profiles. 
A keycap profile refers to the shape of any keyboard and makes it easier for users to make a difference and detect which is the best for their use. Cherry profile is, without a doubt, the go-to for gaming enthusiasts and people who spend extended hours using their computers. The most famous alternative to OEM, the Cherry keycaps, are customized to the client's needs, offering superb performance and increased productivity. 
Even for non-technical users who are not interested in gaming, this exclusive keycap set completely changes the way of work, typing, and the comfort of the palms. The Cherry profile keycaps fit even the best ergonomic keyboard, such as the Matias split mechanical keyboard, making typing even more comfortable and time-efficient. If you have an ErgoTKL split keyboard by Cloud Nine, you'll also find a typing ally in the customized Cherry profile keycaps. In general, any split mechanical keyboard or one-piece keyboard type functions flawlessly with this keycap design. The ones that are still unsure whether this advanced keyboard customization is worth trying can find all the details in the following text.  
What Are Cherry Profile Keycaps?
Cherry profile keycaps are the most comfortable design on the market. They are shorter than the OEM keycaps, but they have a similar structure. Cherry keycaps satisfy all tastes, no matter if used for gaming or typing purposes, mostly because they are comfortable to use. Also, they produce a bassy sound as there is not too much space for the sound to bounce due to the short keycap size. The sculpted keycap set made its place to the topmost used keycaps among gamers. However, they make a perfect addition to any keyboard layout, allowing ultimate typing comfort.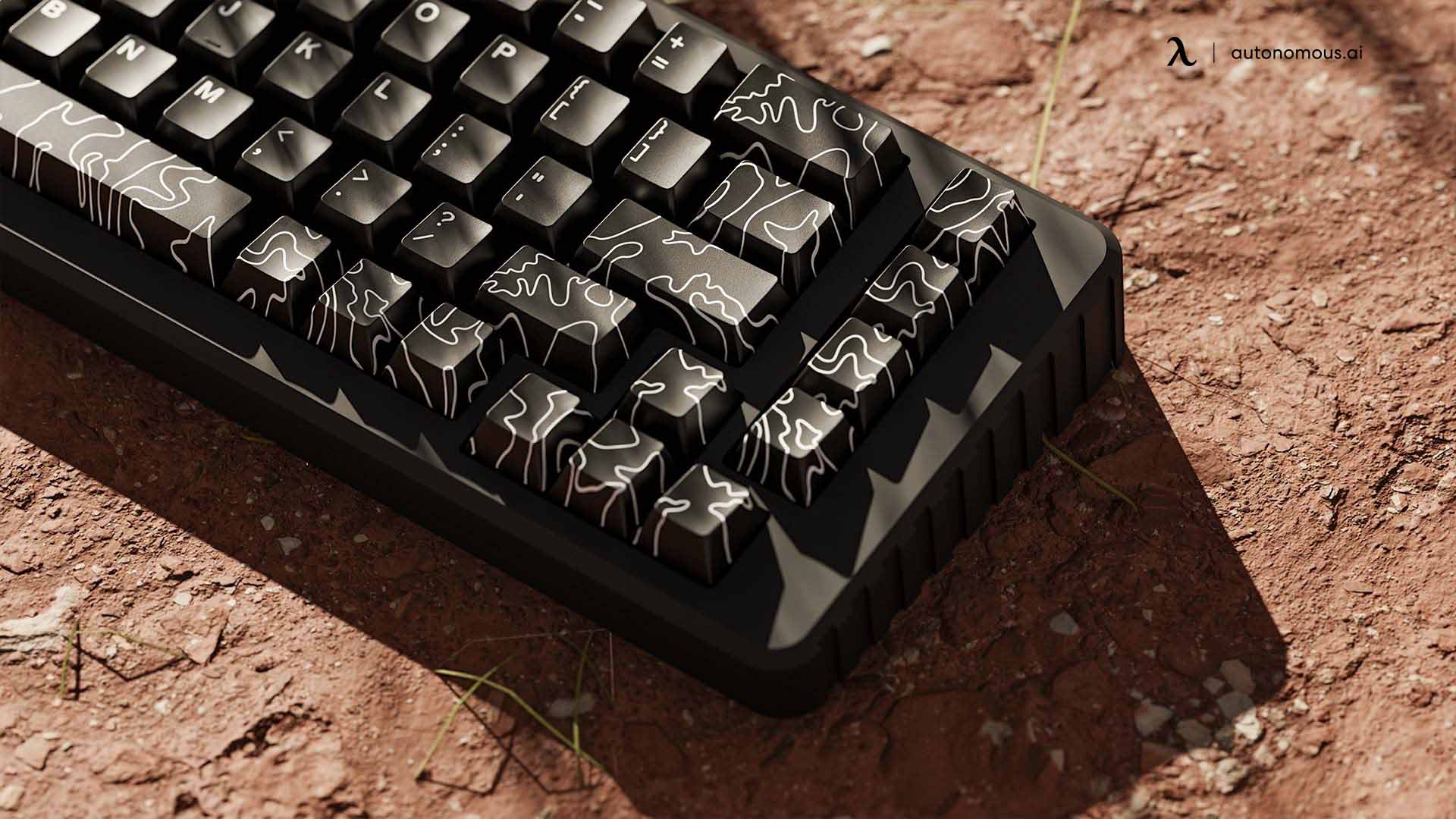 What Is the Difference Between OEM and Cherry Profile?
The main difference between these two profiles is that Cherry's first row is always flatter than OEM's, and it depends if they're certified by the Cherry brand or manufactured by a third party. Another essential difference to mention is the Cherry keycap dimension, which is much smaller than the OEM keycaps.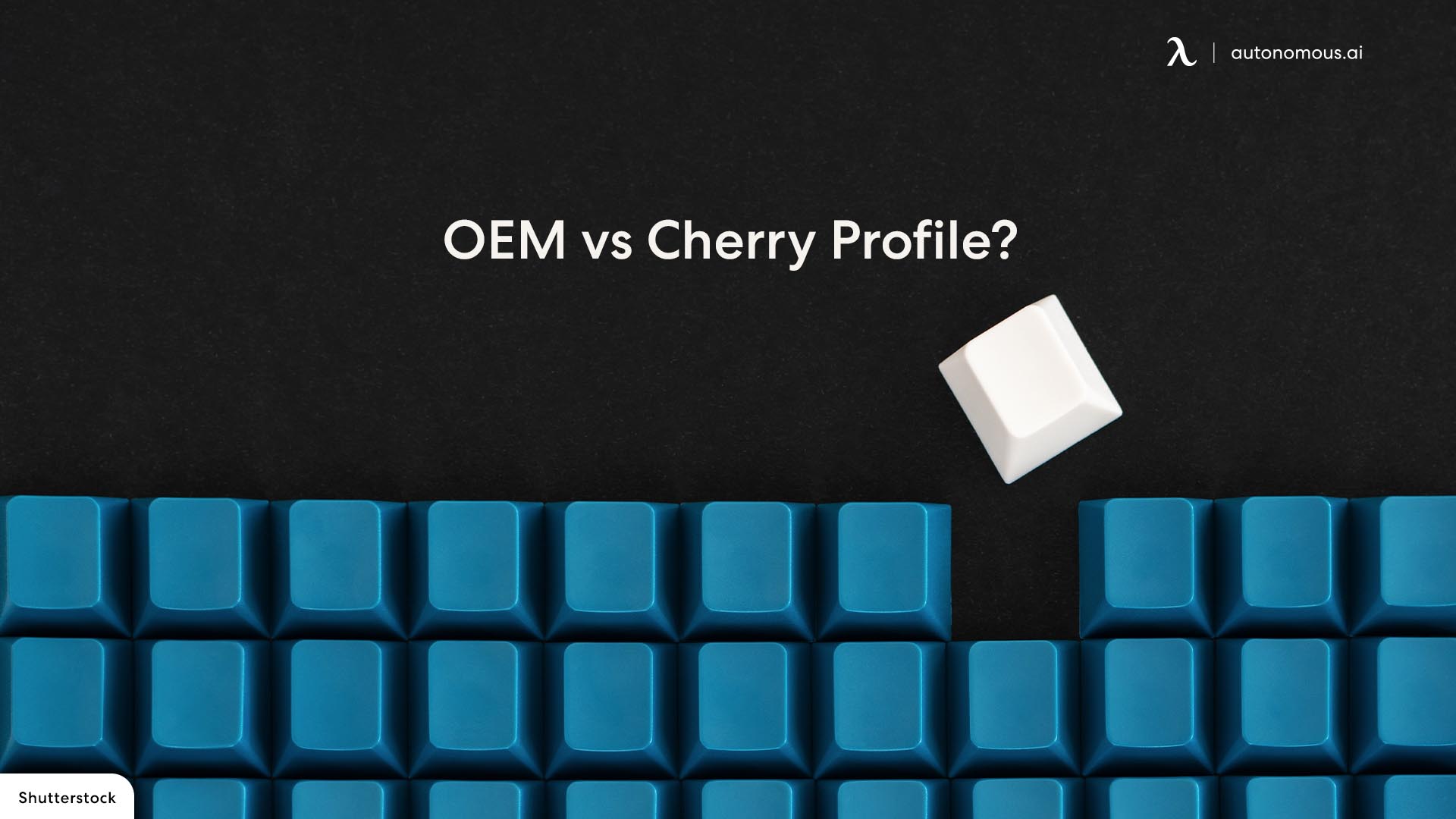 Is Cherry Profile Good for Gaming?
Being shorter than other keycaps, Cherry offers comfortable usage as you need to stretch your fingers less while typing. They have a lower profile feel, making them a perfect choice for gamers, but there's no doubt that anyone can use these superb and advanced keyboard additions.
What Are Cherry MX Profile Keycaps?
Cherry MX profile keycaps are the most accurate key switches you can find on the market. Depending on your taste and needs, the Cherry MX provides a definitive tactile keypress, although they can be a bit slower. MX keycaps are the most used cross-shaped switched stem, and Cherry MX is surely the top choice for gamers and other users who prefer accuracy over speed. In the case of the ones who want to make sure that the key was pressed rather than do it fast and make typing errors, this is the best Cherry keycap series by far.
What Is the LifeSpan of Cherry Keycaps?
Cherry keycaps' life span is around 50,000 keystrokes, making this brand one of the most competitive on the market. If you're a gamer yourself or are trying to become one, you won't make a mistake by purchasing one of the most advanced customized keycap sets.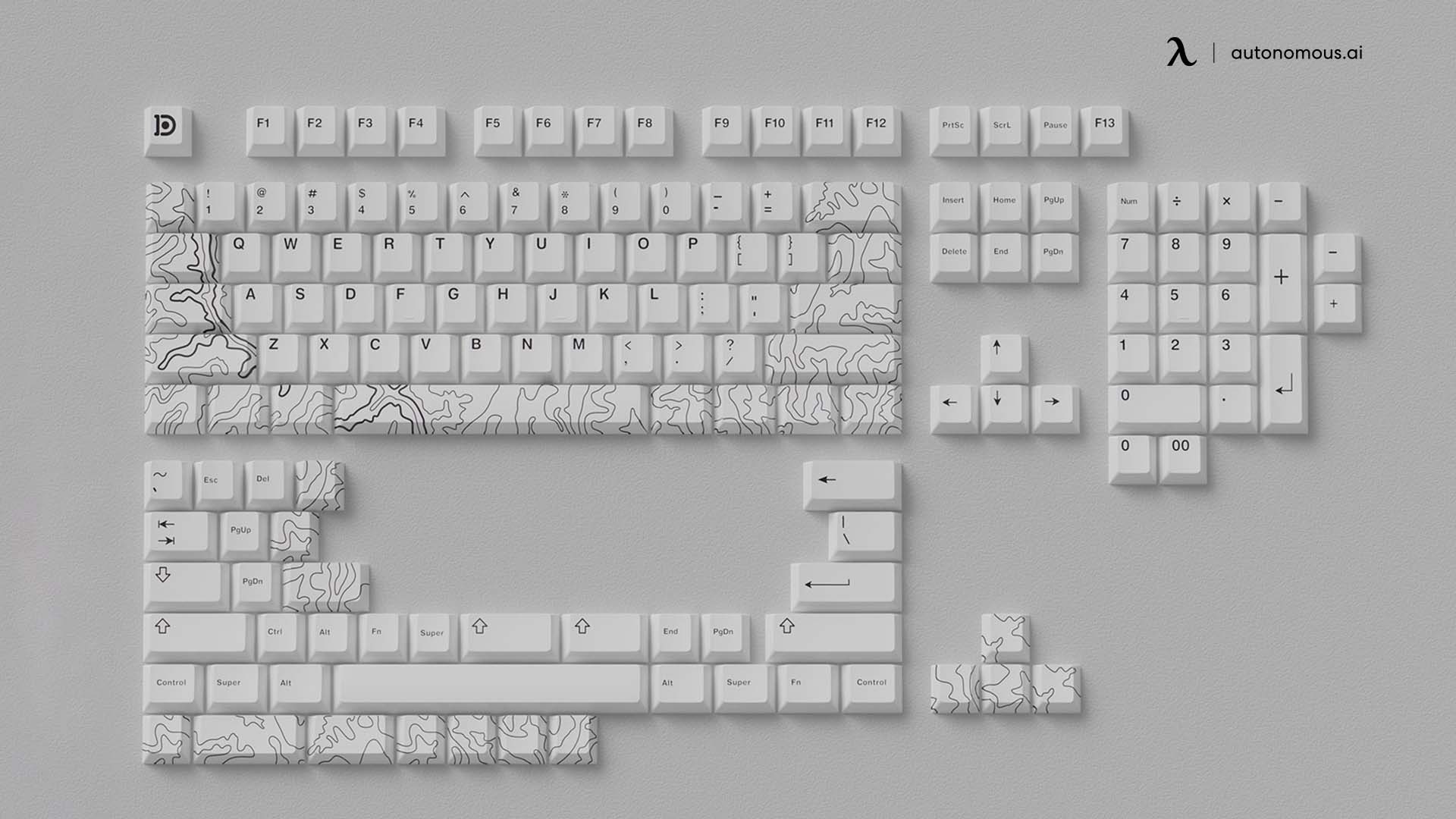 What Are Cherry Profile PBT Keycaps?
Cherry profile PBT keycaps are all keycaps manufactured by this company. PBT refers to the most durable material there is on the market for making keycaps, standing for 'Polybutylene Terephthalate'. All gaming fanatics know that PBT is the crucial thing to look for when shopping for a new keycap set. The reason for this is the extreme durability and extended life span of the keycaps, no matter how much you use them.  
Top Cherry Profile Keycap Brands and Products
We all want to experience a buttery smooth typing experience on our keyboards that allow us to jot down our thoughts on the fly. Cherry profile keycaps are great for ease of typing and comfort. Here are the top Cherry MX keycaps to choose from that provide you with the ideal typing experience.
1. CanyonCaps by Deskr
CanyonCaps by Deskr is an absolute winner among Cherry profile keycaps. Available in black and white, this superb keycap set boasts a unique design of Grand Canyon topography, displaying the variety of elevation levels that help users easily perform the desired commands. 
It's doubtlessly one of the most visually-attractive keycap designs, suitable for Cherry MX Switches and MX style switches. CanyonCaps by Deskr is more than a common keycap set. It's a unique experience with an authentic PBT design resistant to heat and chemicals. These cherry profile keycaps support over 75% of keyboards, and you can purchase the set online on the Autonomous website.
2. Ducky
With one of the largest selections of mechanical gaming keycaps, Ducky has the second spot on our brand list. Its keycaps provide ultimate performance and cheerful designs, improving the visual experience of any gaming or office desk. Among the special edition keycap designs by Ducky, we have selected the following impressive cherry keycaps: 
Ducky Yellow, Cherry MX keycap profile compatible 

Dual Color Pudding Keycaps 

Purple Pudding Shine Through Keycaps 
3. Cherry
Cherry offers top-notch keycaps gamers and writers. High-end technology, fine-tuned tactile, and unseen precision are some of the main traits of this innovative brand that's been the leading keycap manufacturer for a while. Although the cherry profile is adopted by plenty of other superb manufacturers, Cherry is still holding a high spot on the keycap brand list, providing the gaming community with unique designs. Cherry's MX switches are considered the world's most reliable, and they come in different colors, textures, and bouncing sounds.  
4. GK6 by Gizmo Engineering
Compatible with most Cherry MX switches, GK6 is a unique keycap set by Gizmo Engineering, proving one more time that a smooth typing workflow is a must for most of their clients. Customizable and compact, this keycap set is what every long-hour office worker needs to improve their work and typing speed.  
5. Capsmiths
Capsmiths is one more brand on our Cherry profile keycaps list, thanks to its artisan and customized design of different colors. Among its special designs, you can find anything from roses, strawberries, and succulents to cobra, skulls, and ghost keycaps. Although they may not be the best choice for gaming enthusiasts, these keycap sets are the most vibrant on the market, satisfying the taste of thousands of customers.  
6. HK Gaming Dye Sublimation Keycaps
This wireless mechanical keyboard gives you the best typing experience, especially on a tight budget. It has complementary cream-colored keycaps paired with some primary and bold colors, elevating the aesthetic appeal of this set as well.
7. Keychron Q1 Pro
The Keychron Q1 Pro is a simple mini gaming and office work keyboard. It also supports Bluetooth connectivity, making it a wireless keyboard you can carry around. Thanks to its keys' thoughtful placement and feel, the keyboard offers ideal comfort.
8. Keychron V1
The following keyboard is the perfect one for monitor users not looking for wireless options. It is beastly built and consists of hot-swappable switches with amazing-feeling RGB backlights.
9. New Arrial XDA Lotus Keycaps
The New Arrial keyboard with cherry keycaps comes in various keyboard sizes. It features a fantastic pale blue and white design with a hint of red and is very simple in terms of other hardware options.
10. Keychron K3 Version 2
The Keychron K3V2 is the best ergonomic keyboard in terms of options and functionality. These cherry profile keycaps offer you a super comfortable typing experience without many out-of-the-box options that hinder performance.
Pros and Cons of Cherry Profile Keycaps
Pros of Cherry Profile Keycaps
Common Material

- PBT plastic is the most durable and available material for manufacturing keycaps. Cherry profile keycaps are made of this wear-and-tear-proof plastic, making them even more available on the market. 

Low Sound

- Cherry profile keycaps are perfect for silent gaming and work environments as they are designed to emit a bass sound. People who get annoyed by loud keyboards will enjoy the Cherry profile keycaps' low sound. 

Premium Keyboards

- Statistically, all premium keyboard designs tend to use Cherry profile keycaps as they are premium themselves. When purchasing a keyboard, the user must check if it is Cherry profile keycap compatible.  
Cons of Cherry Profile Keycaps
Height

- Some consider it a bummer that the height of Cherry profile keycaps is shorter, while others find it super attractive and easy to operate. It's a user's personal choice whether they prefer short keys or not. 

Price

- The price range of Cherry profile keycaps is always higher than other keycap types. Overall, the reason for this is that most of these keycap sets are customized. Finding replacement parts for when something goes wrong is extremely difficult.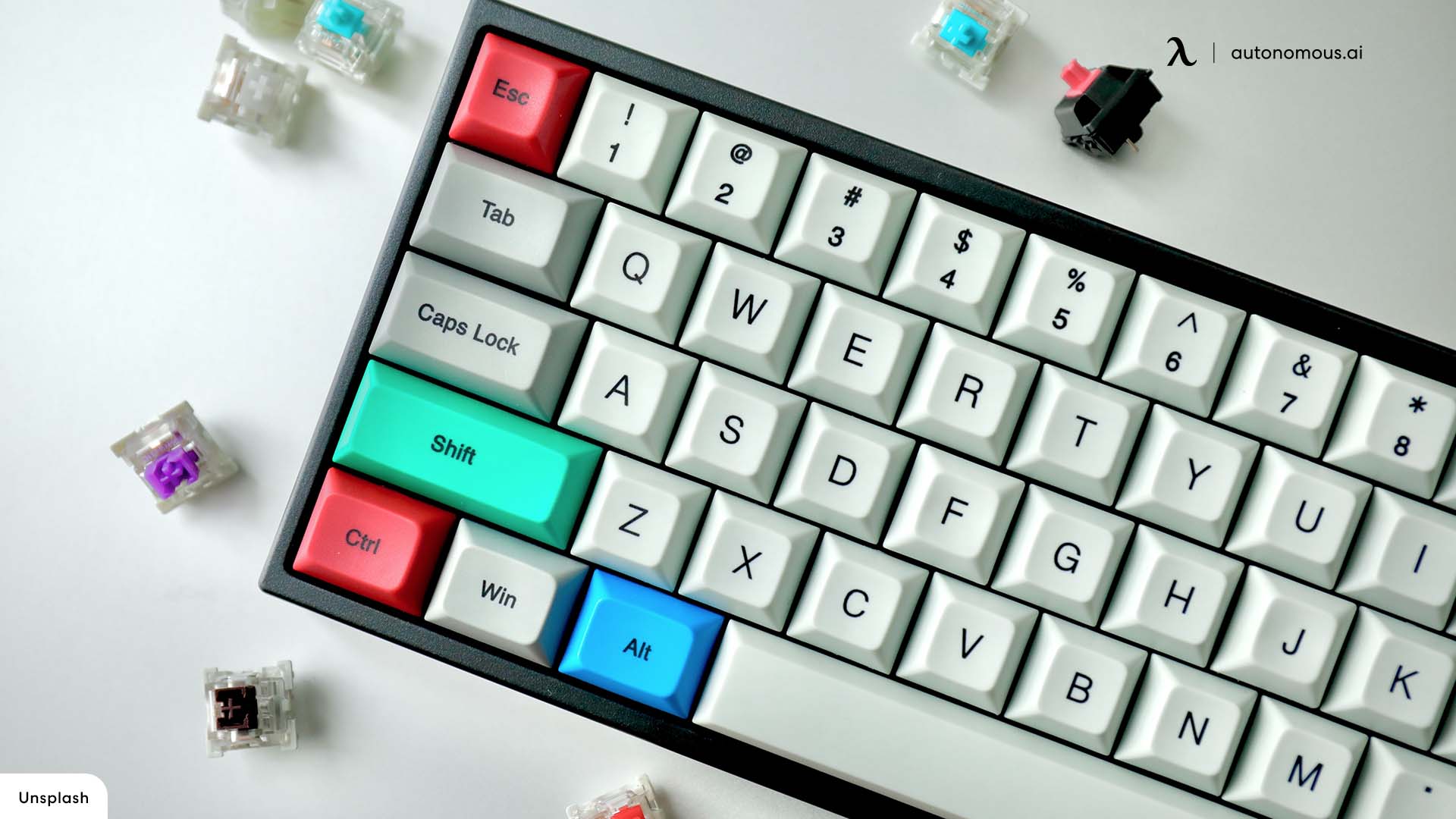 Difference Between Mechanical vs. Membrane Keyboard
When asking the gamer community about mechanical vs. membrane keyboards, you will most likely run into a passionate debate on which one is better. However, it's commonly known that mechanical keyboards are the real deal for gaming purposes. While membrane keyboards are used in laptops and have a unified circuit board underneath that works for all keycaps, the mechanical keyboard has all the keys working separately. Depending on the person you're talking to, you'll hear different preferences and opinions, but if you're planning on using Cherry profile keycaps, you will most certainly need a mechanical keyboard for your gaming arsenal.  
Mechanical Keyboard
It has a mechanism that makes the keys work

When a key is pressed, it touches the mechanism underneath, connecting to the circuit

Even if you press the key with no effort, it will work correctly

It produces sound on clicking

It's more expensive 
Membrane Keyboard
It has a rubber layer that makes the keys work

When a key is pressed, it touches the rubber layer underneath that's connected to the circuit

You need a lot of effort to press a key so the circuit can guess which key you're clicking

It doesn't produce sound on clicking

It's more affordable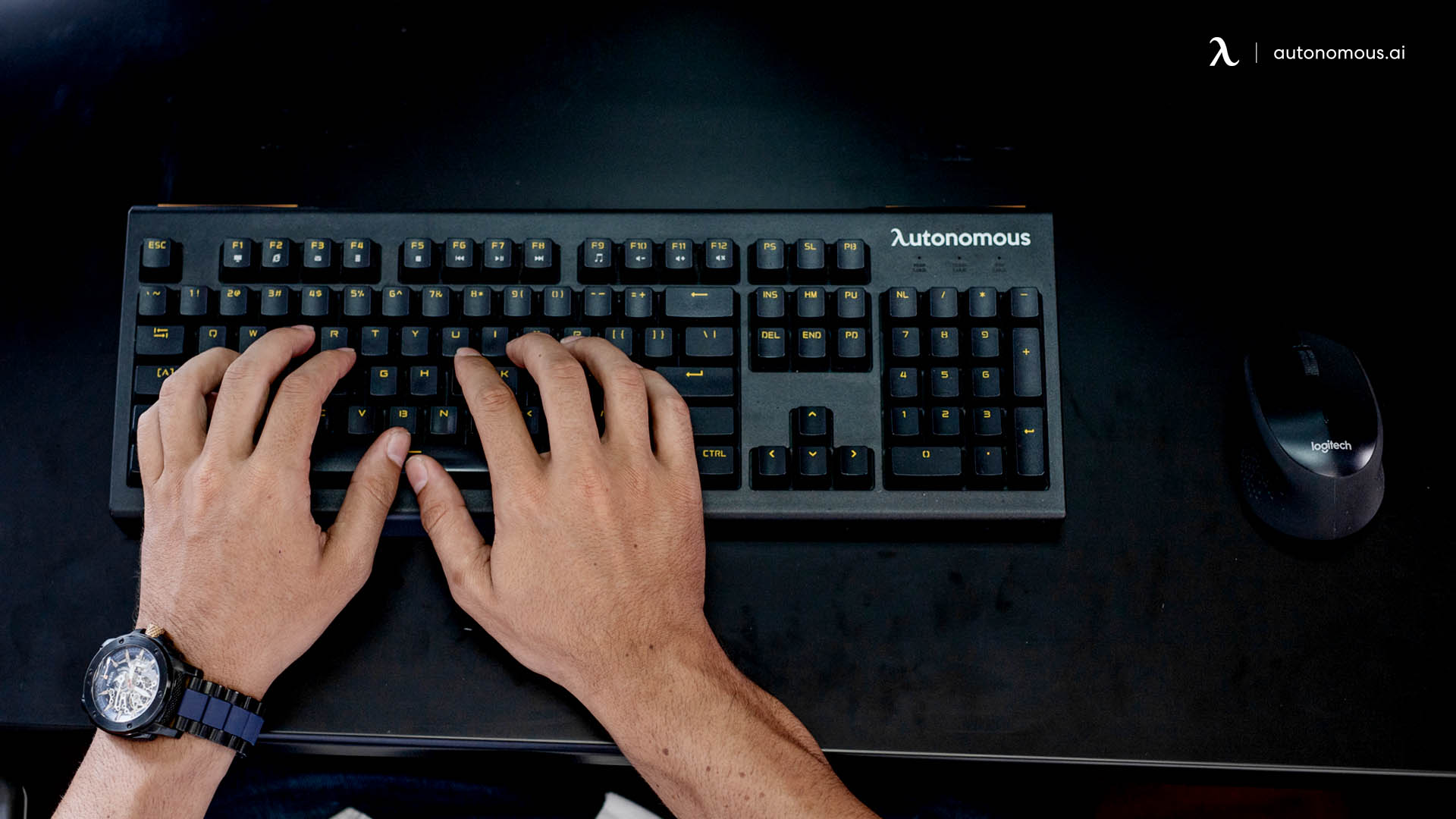 Keyboard Tray for Gaming
If you are a PC gamer, you know how important it is to organize your desk. The best way to do it is to get a special keyboard tray for gaming that will help you improve the keyboard and mouse position while boosting your performance and enjoying ultimate palm comfort for long gaming hours. As you already know, mechanical keyboards are your best bet for gaming, especially if you choose Cherry MX profile keycaps that provide accuracy and are easy to handle. The best keyboard trays for gaming brands include: 
Startech Under Desk

Yescom Under Desk

Vivo Adjustable

KT1 Tray with Negative Tilt

Fellowes Executive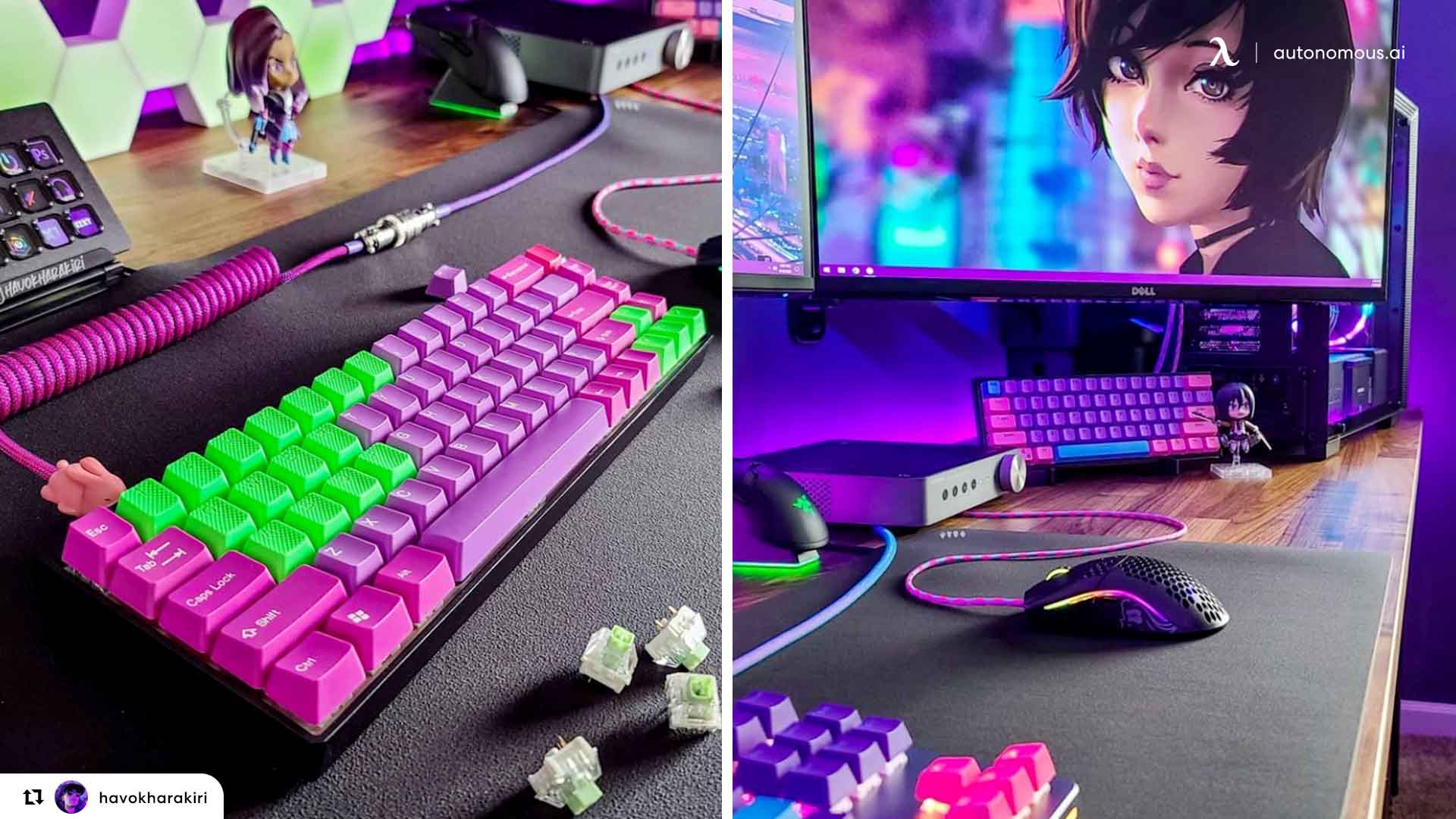 Are Cherry Profile Keycaps The Best Choice for You?
If you prefer the lower profile feel while typing or gaming, Cherry Profile Keycaps are the best choice for you. Less finger stretches while operating with the keys make this profile the favorite among experienced and novice gamers who enjoy sensitive and accurate mechanical keys. If you find yourself in this description, then yes, Cherry profile keycaps are the best choice for you.  
All in all, Cherry profile keycaps are advanced, comfortable, and accurate keys compatible with over 70% of keyboards. Perfect with premium keyboards, this keycap set is a must-have for every typing and gaming professional and everyone who wants to achieve the best results thanks to an accurate mechanical keyboard.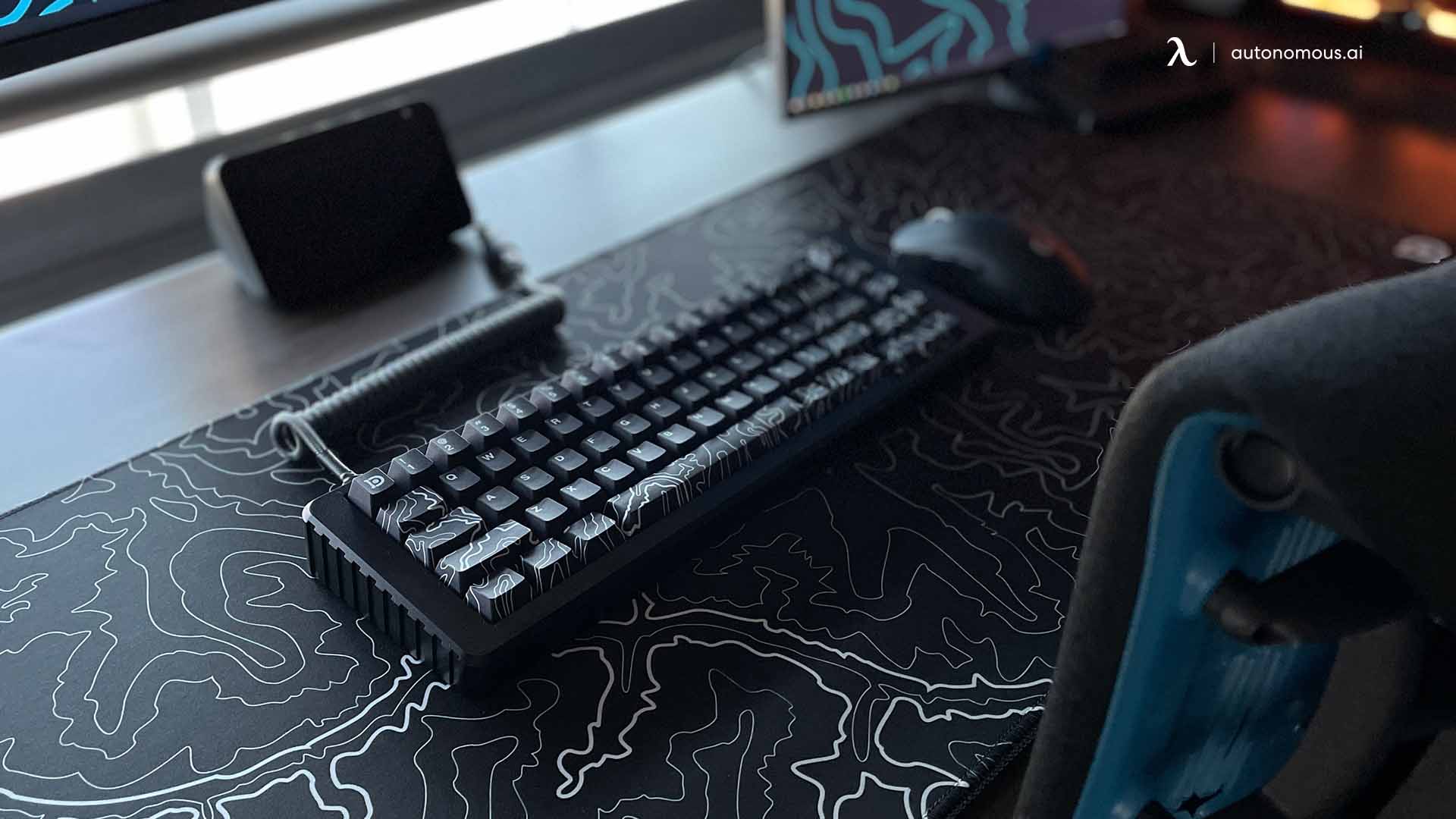 Bottom Line
Autonomous is the number one provider of Cherry profile keycaps, trusted by almost 200,000 customers. Boasting excellent ergonomic office furniture, the company offers a plethora of top-quality accessories for writers and gamers alike. Among the top-selling products of Autonomous is CanyonCaps by Deskr, which you can purchase online right now. 
Don't waste time on lousy keyboards and keycaps with a short life span when you can invest only once and have the best-on-the-market keycap set that lasts over 50,000 keystrokes. 
Explore more wireless mechanical keyboards if this list of cherry profile keycaps is not enough for you pals. Enjoy the impressive canyon topography and make the best out of your gaming or typing experience. 
Cherry profile keycaps are the perfect choice for gaming enthusiasts and natural-born winners. Don't hesitate and order your set today.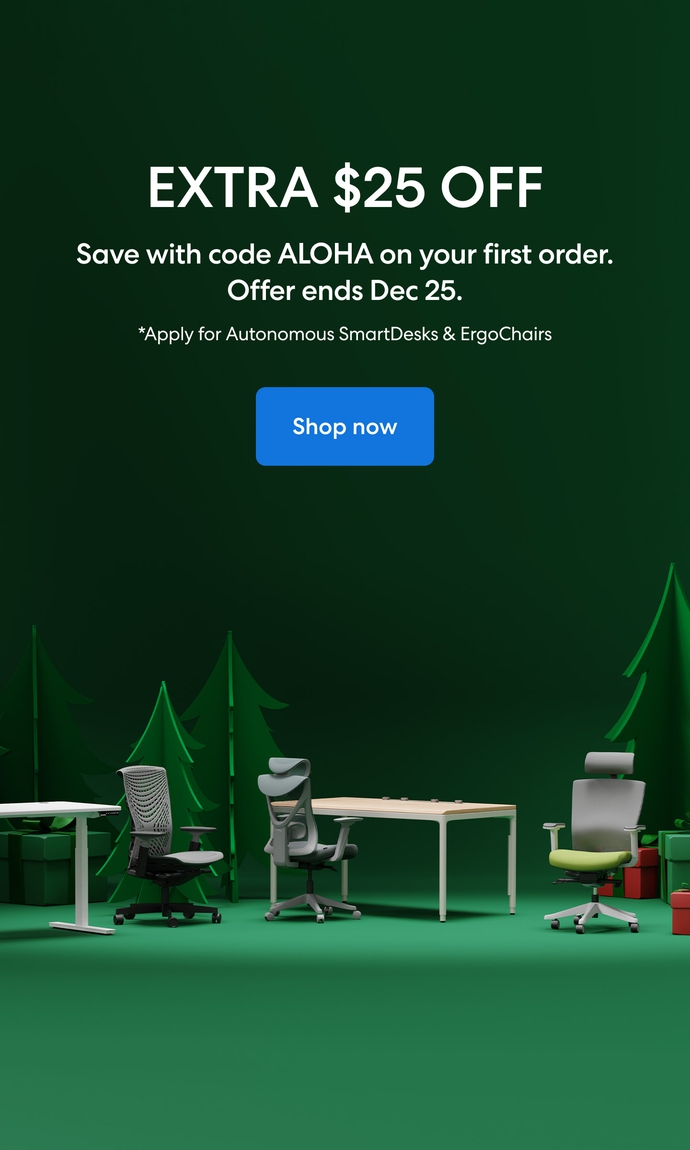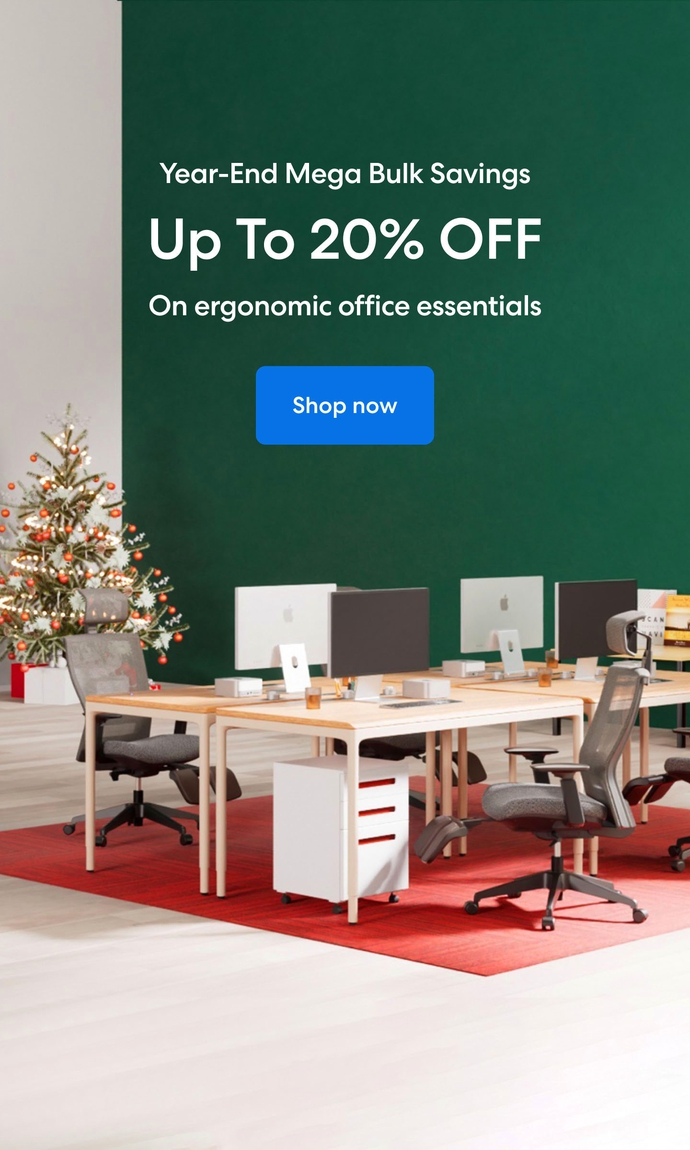 Subcribe newsletter and get $100 OFF.
Receive product updates, special offers, ergo tips, and inspiration form our team.