No office furniture defines a room like a high back office chair. Whether in a conference room or executive office, this seat gives your space an upscale look with a feeling of importance. The seat has a more extended backrest for superior back support. 
The chairs are bulkier and larger but come with various adjustable features for people of all sizes and physiques. A high back seat encourages sitting upright and straight, making it ideal when working for long periods. 
The market is filled with various styles of these chairs from various brands. This makes choosing the best one a bit perplexing. Using our experience, we've made this easier for you with a list of recommendations. 
20 Best High Back Office Chairs in 2022
1. Autonomous ErgoChair Recline
This reclining ergonomic office chair is an excellent solution for getting work done for extended hours. You can lie back and relax with your feet up without leaving your seat. The chair has supportive foam to enhance your comfort. 
It holds up to 250 lbs. with a reclining mesh back and lumbar support. This high back office chair allows adjusting the headrest and leg rest to personalize your work sessions.
2. Autonomous ErgoChair Pro
The ErgoChair Pro from Autonomous is among the best sellers in the market. Its high back seat is fully adjustable and super breathable. You can adjust the armrest, backrest, height, headrest, and seat tilt. 
Enjoy a smooth recline in five positions with comfort from its adjustable lumbar support. The chair holds up to 100 lbs. and has a woven mesh back for optimized airflow. Go green in this high back office chair because of its 100% earth-friendly materials.
3. Autonomous ErgoChair Core
For a computer ergonomic chair that offers satisfying and tailored back support, you can't go wrong with the ErgoChair Core. You can personalize it by adjusting the seat pan, back recline, height, lumbar support, or armrests. 
Its contoured foam guarantees comfort while holding up to 250 lbs. The chair's back with breathable mesh allows appropriate ventilation when sitting for long hours. 
4. Autonomous ErgoChair Plus
You should buy an ergonomic chair for its frameless construction that offers unhindered movement. Make your work more eco-friendly using this seat for work for its earth-friendly Thermo Plastic Elastomer (TPE) material that increases durability by 10 times. 
Its adoptive spinal support ensures that you don't suffer from back pain. You can rest assured that your investment won't go to waste with a five-year warranty.
5. Techni Mobili High Back Executive Office Chair
Invest in this seat to give your space a professional and modern look. This high back office chair blends a traditional pattern with a modern racer visual. Its handy pneumatic lever makes adjusting the height a breeze. 
The chair's TechniFlex Upholstery and padded armrests will enhance your comfort. An adjustable tension knob allows controlling the locking tilt.
6. The Office Oasis Ergonomic Chair: Hardwood Floors Caster
Get this luxury high back chair with arms without breaking the bank. Its roller-blade style casters eliminate scratches on your floor. Using the handy multi-directional adjustment feature, you can personalize your experience thanks to the 10 adjustment options. 
Enhance your overall back and spine health in more than one way thanks to its mesh back and back support. You can work for over eight hours in this high back desk chair without discomfort. 
7. US OFFICE ELEMENTS Ergonomic Office Chair
This wonderful high back chair offers excellent back and neck support. Its breathable mesh will keep you cool for all-day sessions. 
Apart from being easy to assemble, the seat has scratch-free polyurethane wheels to keep your floor in great shape. The high back executive chair has great lumbar support and adjustable height for comfortable experiences. 
8. Duramont Reclining Leather Office Chair: Ergonomic Adjustable Seat
Soft padding backed with a waterfall seat edge makes this unit a great option for any executive. You won't have to worry about pressure on the back or legs to focus on your work. Its flexible reclining angle and retractable footrest will enhance your comfort. 
This high back desk chair is made with bonded leather giving it an elegant look. The heavy metal base with nylon casters allows for moving around steadily. Its one-year warranty guarantees a risk-free purchase. 
9. Logicfox Ergonomic Office Chair: Saddle-shaped Mesh Seat
The saddle-shaped high back chair with arm has highly elastic mesh to comfort the hips and thighs. Its grid-weaving technology makes it more friendly and breathable to the skin. This seat has a durable backrest that tilts back for more comfort. 
You can adjust the 1.2" headrest up or down for better support. Its skin-friendly material alleviates pressure on the neck and head. This chair is certified by the Business and Institutional Furniture Manufacturers Association (BIFMA) to meet safety and durability standards. 
10. Skyline Decor Sonora Modern High: Back Tall Chair
This chair with a gold frame will give your office a luxurious look. It swivels through 360 degrees to back up its superior appearance. The pneumatic gas lift makes adjusting the seat height a breeze.                                                                                                  
You can't go wrong with this contemporary style chair with its padded seat and back that offers all-day comfort. Assembly is a breeze, and its five dual casters ease mobility. The seat's bold and sophisticated look will make it become a statement piece in your office.
11. FinerCrafts The Office Chair: Headrest & Legrest
You need this seat for proper alignment and alleviation of muscle strain to work comfortably and to stay focused. Assembling this chair with a leg rest is quick and easy since it only takes a few minutes, and all tools are included in the package. 
Its retractable leg rest and reclinable mesh back allow changing posture if you want to take a break. It's certainly one of the best ergonomic chair options and comes with a five-year warranty for peace of mind that you're getting your money's worth. 
12. Techni Mobili LUX Ergonomic Executive Chair
This unit comes in gray/white with breathable mesh and an adjustable headrest. Its reclining tilt mechanism has a lock function. You can buy this ergonomic chair for its enhanced comfort, thanks to its adaptable lumbar support and back height. 
Personalizing your experience is seamless, using the pneumatic lever to adjust the height. The chair's heavy-duty aluminum base offers durability backed by a two-year limited warranty. 
13. KERDOM Ergonomic Chair with Additional Footrest
The five support points on this high back chair with arm allow for an individual experience. Its multi-level adjustment allows personalizing the 3D armrests, footrest, height, and recline. This seat has breathable mesh material to keep you cool during long sessions. 
There's also a seat cushion that has a quality sponge for leg pressure relief. Its wheels move 360 degrees smoothly and softly without leaving marks on your wooden floor or carpet. Installing this chair takes only a few minutes. 
14. Logicfox Ergonomic Office Chair: Saddle-shaped Sponge Seat
This saddle office chair has a solid and durable backrest frame. Its back tilt allows leaning more comfortably in three positions. The thick sponge seat minimizes pressure on the legs during long working hours. 
The chair has a 1.2" headrest that you can adjust for better support. Additionally, the 3D armrests are adjustable up and down or rotated 360 degrees. You can bank on the BIFMA certification that the seat meets safety and durability standards. 
15. Skyline Decor Mesh Swivel Chair: Adjustable Arms
The chair's transparent mesh boosts air circulation to keep you cool regardless of the pressure. Its inbuilt lumbar support alleviates back strain and muscle fatigue. Apart from its contemporary look, this chair has a seat padded with upholstery fire-resistant CAL 117 foam. 
Its waterfall design seat alleviates pressure on the legs while the tilt lock mechanism keeps it upright. Adjusting the height through 360 degrees is a breeze using the handy pneumatic lever. 
16. Northread Ergonomic Swivel Mesh Desk Chair: Lumbar Support
This is a great buy when looking for the best office chair for long hours. It has transparent breathable mesh for appropriate air circulation to keep you cool. The seat has inbuilt lumbar support to alleviate muscle fatigue and back strain. 
Its reinforced framework back and stable base guarantee safety and comfort. You can adjust the height, lumbar support, or seat tilt to enjoy a personalized experience when working for extended hours. 
17. KERDOM Ergonomic Chair: Breathable Mesh Cushion
Feel secure and comfortable in this chair with industrial-grade steel and durable casters that won't stain, scratch, or damage your floor. This high back executive chair will glide freely and carefree on your carpet. Its four support points in the back, head, hands, and buttocks guarantee comfort. 
Upgrade your work experience with the seat's breathable back and cushion for extra comfort. Its adjustable tilt angle that goes from 90 to 130 degrees will meet your relaxation needs. 
18. Techni Mobili Executive Mesh Office Chair: Steel Chrome Base
This product is a great option for a seat with mobility and functional support. You can adjust the height using the handy pneumatic adjustment lever. Its five-star steel chrome base is durable and comes with mark-free casters. 
Enjoy personalized experiences using the chair's adjustable headrest, armrest, and lumbar support. This high back executive chair holds up to 250 lbs. and comes with a two-year limited warranty. 
19. Techni Mobili High Back Executive Mesh Office Chair
This blue high office chair has a breathable mesh surface and adjustable lumbar support, headrests, and armrests. The pneumatic lever makes adjustment a breeze, backed with a lock mechanism for tilt tension. 
Its steel chrome base is durable, and the double-wheel nylon casters don't leave marks on your floor. The chair holds up to 250 lbs. and has a two-year warranty to give you good value for money. 
20. KERDOM Ergonomic Chair: Advanced Contoured Seat
If you want to avoid back pain, you'll love this office chair with a headrest. The seat also has breathable mesh and 3D adjustable armrests to enhance your comfort. Its S-shaped back design eliminates any worries about pressure on the lower body.
This ergonomically designed high office chair is suitable for most heights and body types. Its sturdy base ensures safety by limiting shaking. 
Things You Must Consider Before Buying a High Back Chair?
Office seats come in different shapes and sizes. You may be wondering how to choose the best high back desk chairs. Here are the considerations to put in mind. 
Backrest Height
The height of the back is the first consideration before investing in high office chairs. Your ideal seat must offer appropriate back, neck, and head support. Upper back support and shoulders are also crucial for an office chair. A good idea is to go with a back height ranging from 24" to 26" above the seat. 
Purpose of the Chair
How you plan to use the chair is very important to think about before buying. Width is essential when buying for your conference room to determine how many will fit under your table. More aesthetics and fewer adjustments are also necessary for this purpose. 
Looks matter when looking for a chair to fit your professional office. It must also fit your space and keep you comfortable for long hours. Some features include a quality foam seat, padded armrests, and retractable leg rest.
Choice of Upholstery
Office chairs come in leather, mesh, fabric, and fake leather. Mesh seats have limited high back features and are about 24" above the seat. Seats with fabric come in various colors but getting one might have a longer lead time. 
Other office chairs come in genuine or fake leather. You must know how to differentiate the two. Leather options have a professional look and are more suitable in the board, meeting rooms, and executive offices. Quality leather holds up much longer and looks better. 
Fake leather comes at a lower price and mimics quality leather. You save in the short run, but it wears out much faster. 
Neck and Head Support
High chairs have different headrests, including on the neck curve. Ergonomic seats are more adjustable to get the right spot for your neck and head. Some executive seats have pillow-like pads for neck comfort while meeting employees and clients.
Others don't have a pronounced space for the head. These chairs are usually for conferences where occupants aim to accomplish their tasks and leave with less concern for comfort. 
Conclusion
Investing in a high back office chair is a great idea. The seat will boost your comfort and productivity because of the various adjustability features. Before hitting the market, consider our recommendations to make your shopping easier.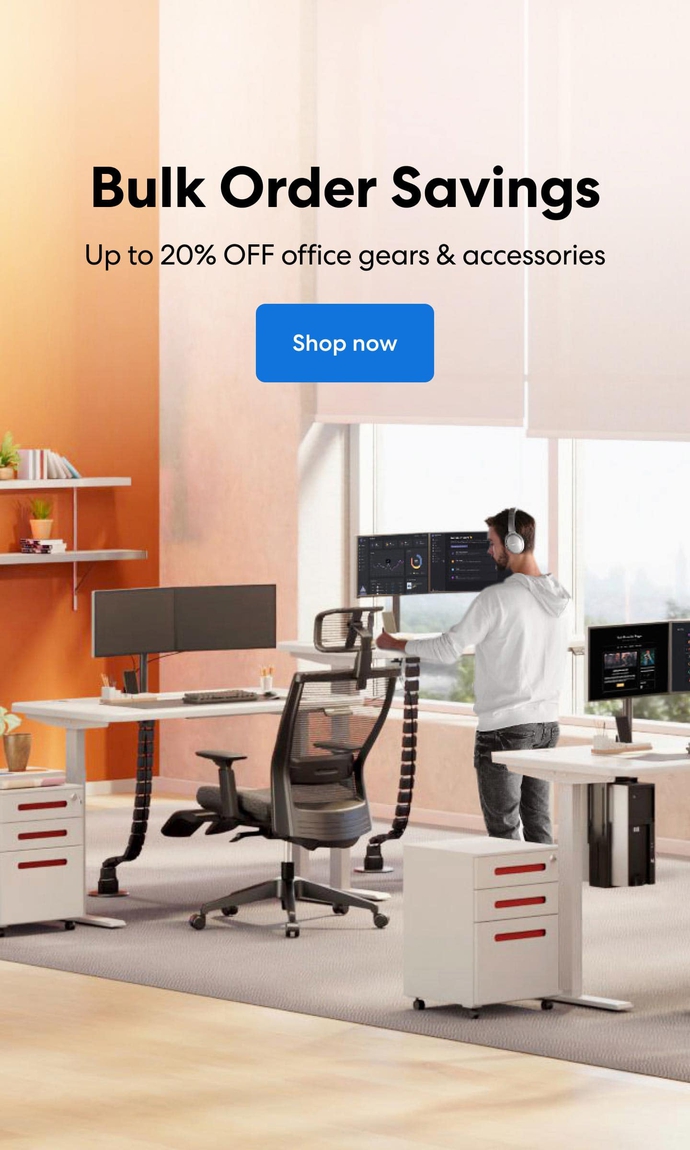 Subcribe newsletter and get $100 OFF.
Receive product updates, special offers, ergo tips, and inspiration form our team.