Workplace Inspiration
Wire Holder Solutions for a Tidy and Tech-savvy Home

Autonomous
|
Aug 22, 2023
657 Views
A wire holder allows you to focus for longer, be more productive, and quickly get things off your to-do list. In this article, you'll learn why and find out about the best alternatives on the market.
Challenges of Cable Management in a Technology-driven Home
Nowadays, most people have multiple devices at home. You probably own a phone, a computer, a router, and maybe a tablet, headphones, speakers, gaming consoles, and additional monitors.
If you work from home, the number of devices you own might increase even more. Unfortunately, it means you also have a lot of cables to organize.
When you don't properly organize your cords, several things can happen. On one hand, you might lose them, and when you need to use one, you'll waste time looking everywhere while trying to find it.
In addition, your space will be full of clutter, which can hinder your productivity and make your motivation drop.
Cable management is not a straightforward process, and you often need time and different alternatives to do it properly, for example, a wall wire holder and some zip ties. However, it's an essential part of working from home because it allows you to stay focused, be more productive, and tick things off your to-do list.
Benefits of Using Wire Holders
Also known as desk clips or cable organizers, wire holders offer many advantages for you to keep your surroundings tidy and focus while you're working.
The first benefit is probably the most obvious one - you'll be able to organize your cables however you want. Therefore, you can prevent them from becoming tangled, and it'll help you ensure your space is clutter-free.
At the same time, having loose cables means you might trip by accident. If you organize them, you'll reduce office hazards.
A wire holder for a desk helps you protect the cables from wear and tear, so they'll last longer, helping you save money because you won't need to replace them.
In most cases, desk wire holder options are easy to install. You won't have to spend much time doing it, and in a matter of minutes, your table will be tidy.
Moreover, wire holders are available in an array of options, so you can choose the one you want depending on your needs.
When your cables are in place, you can quickly find the one you need. Plus, you can rely on wire holders for a wall to separate the cords depending on their purpose, which helps you locate the one you require.
Many wire holders are reusable, so you won't have to worry about replacing the ones you have. Lastly, using them helps you improve the visual appeal of your surroundings because cables won't be lying around everywhere.
Different Types of Wire Holders Available in the Market
When trying to find the ideal wire holder, you'll soon notice there are many different options on the market.
Cable Sleeves
You'll find cable sleeves in stores, which are flexible sheaths to store different cords into a single bundle.
Cable sleeves are not ideal for everyone, but they might be for you if you have thick, long cords to put together in a single place.
Cable Ties
Another option is cable ties, also known as wraps or zip ties. You can use them to securely bundle cords together, and they're also available in various lengths.
Cable Organizer
Whether you have a sit-stand desk or a classic table, you need a cable organizer to keep your surroundings tidy.
Cable Clips
In stores, you'll find, for example, cable clips. They're self-adhesive models that allow you to stick them to your desk, wall, or furniture.
Cable clips are fantastic because you can hold individual wires with them. Furthermore, since they're available in different colors and thickness levels, you can choose the ones you need to match your other desk accessories.
Cable Tray
You could also get a desk cable tray, which is one of the most popular options out there. They typically have different compartments to organize the cords around your table.
Electrical Wire Holder
If you want a fancier alternative, you could get a magnetic or electrical wire holder. With these, you won't need adhesives, and you'll guarantee that the cords stay flat on surfaces. They're ideal if your environment is metal-heavy and you want to organize your belongings and reduce clutter.
Spiral Wraps
Lastly, you might also find cable or spiral wraps, a more straightforward option. They're flexible, and you can insert the cables inside them to keep them tidy. If you want to prevent tangling, they might be the best alternative.
How to Select the Most Suitable Wire Holders
Whether you're looking for wire holders for a wall or choosing an electrical alternative, you must know what to look out for before making your purchase.
There are several factors to consider, especially if you want to avoid spending money unnecessarily. Firstly, determine how many cables you need to organize. Your situation might change depending on that number. Also, address their thickness - do you have long, thick ones, or does your case primarily consist of thin cords?
Generally, go for individual cable clips if you have a few cords. However, if you own multiple devices, you'll probably need either sleeves, organizers, or a combination of different alternatives.
When picking the ideal wire holder, consider ease of installation. If you don't have much time, you should go for more straightforward options, such as ties or trays.
Moreover, think about reusability. In some cases, you might need reusable holders, so you must ensure that you can adjust the one you're getting and personalize it depending on your needs.
Lastly, don't forget your budget. You'll find desk wire holder options at many different prices, so set some money aside and then pick the options that match the amount you have available.
Top 10 Wire Holders You Must Try Out Today
Being a pro at cord management takes time, and you won't be able to do it overnight. You must consider all the factors the previous section mentioned, make a list of options, and then choose your favorite, buy it, and organize your cables.
To make things easier, this article offers the best alternatives on the market. You'll surely find many more if you go online, but the following ones are the most convenient ones considering quality and cost. Take a look!
1. Autonomous Cable Tray
The first alternative is by Autonomous, which is a store that offers numerous products to enhance your productivity at work and improve your overall well-being.
This cord tray is essential to organize cables under a desk, and it's compatible with all Autonomous smart tables. The installation process is quick and straightforward, and you won't need any drilling, so you can get it done in a few minutes.
Autonomous' desk wire holder supports up to 35 lbs, has an anti-rust finish, and is made of solid steel. Therefore, it's a high-quality item that will last a long time, even if you put different heavy cables on it.
| | |
| --- | --- |
| Dimensions | 35.4"L x 6.3"W x 2.5"H |
| Colors | Gray |
| Materials | Steel |
| Weight capacity | 35 lbs |
| Item weight | 4 lbs |
| Warranty | 1 year |
2. Mount-It! Under Desk Cable Tray
With the desk wire holder by Mount-It!, you can hide away all the cables you don't want to see around your table.
It's a convenient item that helps you clean around your desk and guarantees that no cords will make the space look cluttered.
Since it has a minimal look, it can match the style of any office, regardless of whether yours is classic or modern.
The installation process is effortless and quick, and you can either hang it on a crossbar or attach it to your desk.
Lastly, the brand cares about you a lot, so it offers a 10-year warranty in case you have any issues or want to contact customer support.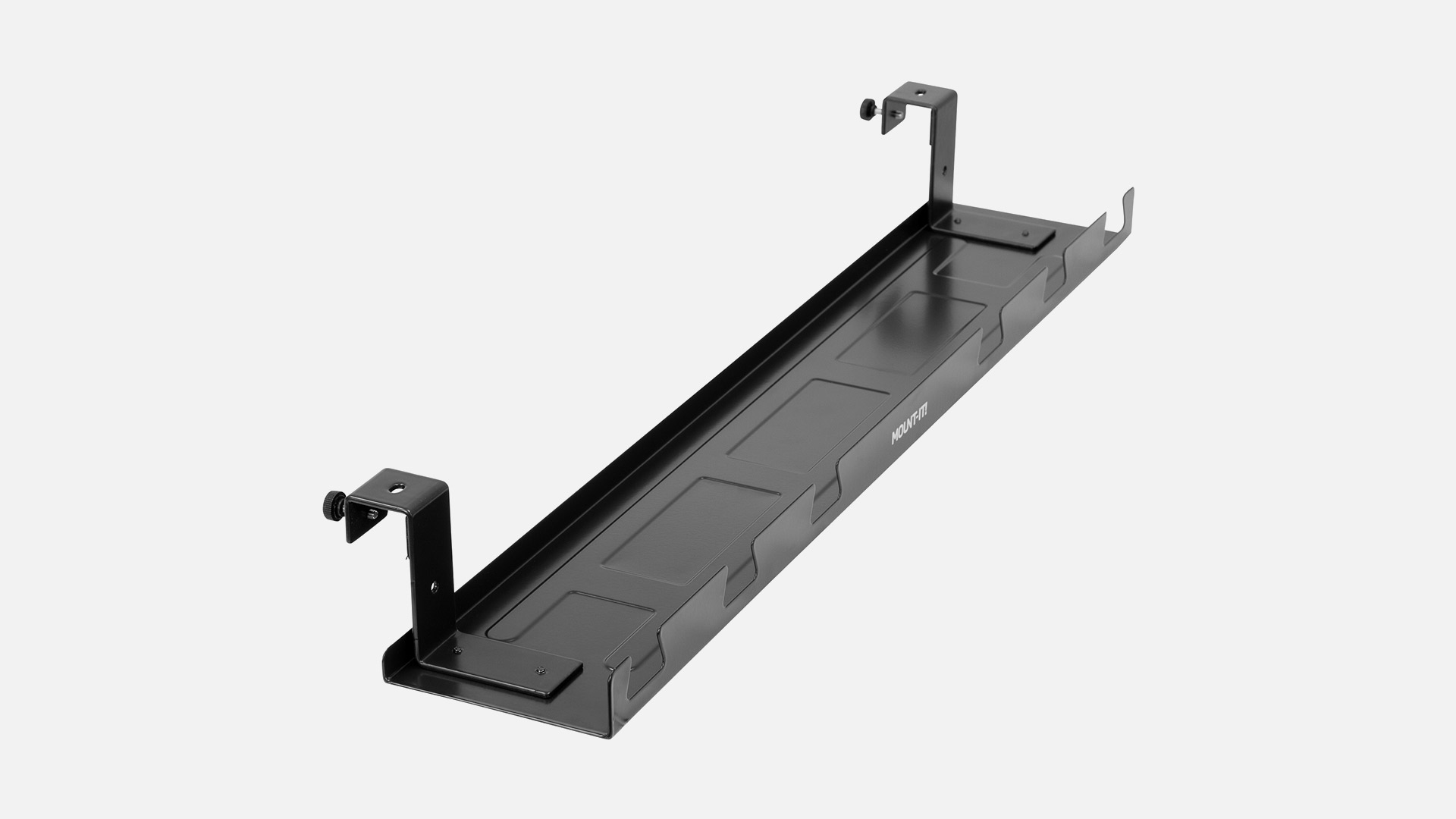 Mount-It! Under Desk Cable Tray
| | |
| --- | --- |
| Dimensions | 23.2 x 4.2 x 2.9 inch |
| Material | High-Grade Steel |
| Features | Hang on the crossbar of a sit-stand desk or attach directly to desktop. |
3. Function101 Cable Blocks Four-pack: Magnetic Cable Management
A cable block wire holder can make your desk look much better because you'll not only keep clutter away but also add a splash of color to your surroundings.
Function101's alternative is available in different colors, so you choose the one you want and match the style of your workspace.
Evidently, this magnetic desk wire holder is very versatile and convenient. You can move it around depending on what you need and adapt it depending on the cables you have to organize.
Finally, you can connect the blocks together and keep your cords neatly aligned on your desktop. It'll look fantastic!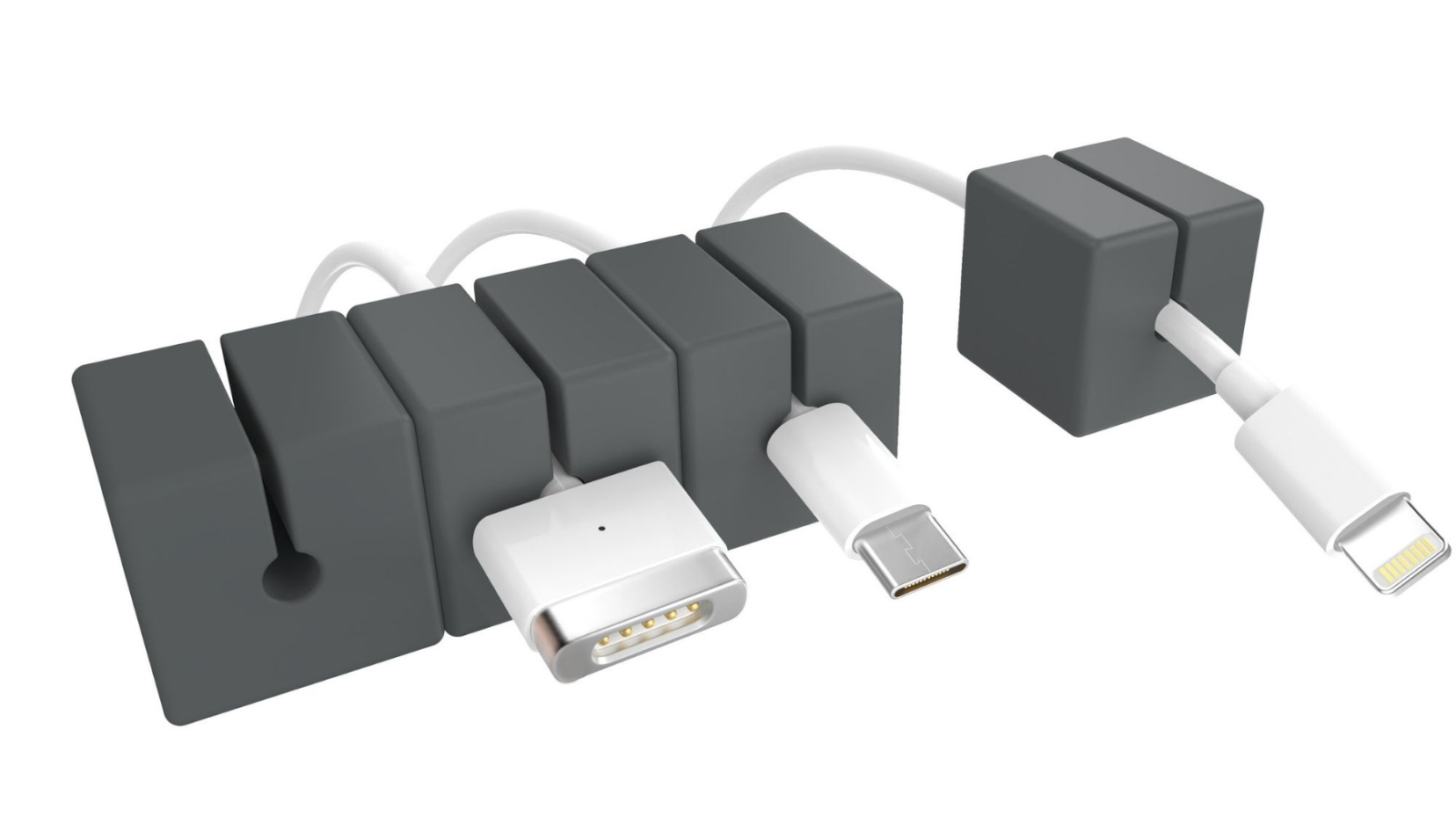 Function101 Cable Blocks - 4 Packs: Magnetic cable management
| | |
| --- | --- |
| Adjustable seat height | 1" x1 " x 4" (each Cable Block) |
| Magnets | Contains Neodymium Magnet on each side |
| QTY Per Box | 4 Cable Blocks Per Box |
| Colors | gray/navy/orange/light blue/pink |
4. Velcro Brand One-wrap Cable Ties
Everyone has different needs. You might require, for example, various options to take care of your gaming desk cable management, while others just want to keep their computer and phone cords tidy.
Nonetheless, the best under-desk cable management alternative is probably not the one that first comes to mind. Instead, it consists of the option that works well for you.
Although they're very straightforward, Velcro cable ties can be convenient, especially if you don't have many cords around your desk.
The ties are reusable, adjustable, and durable, so you won't need to get new ones for a long time. Also, they're inexpensive, which is convenient if you don't want to break the bank.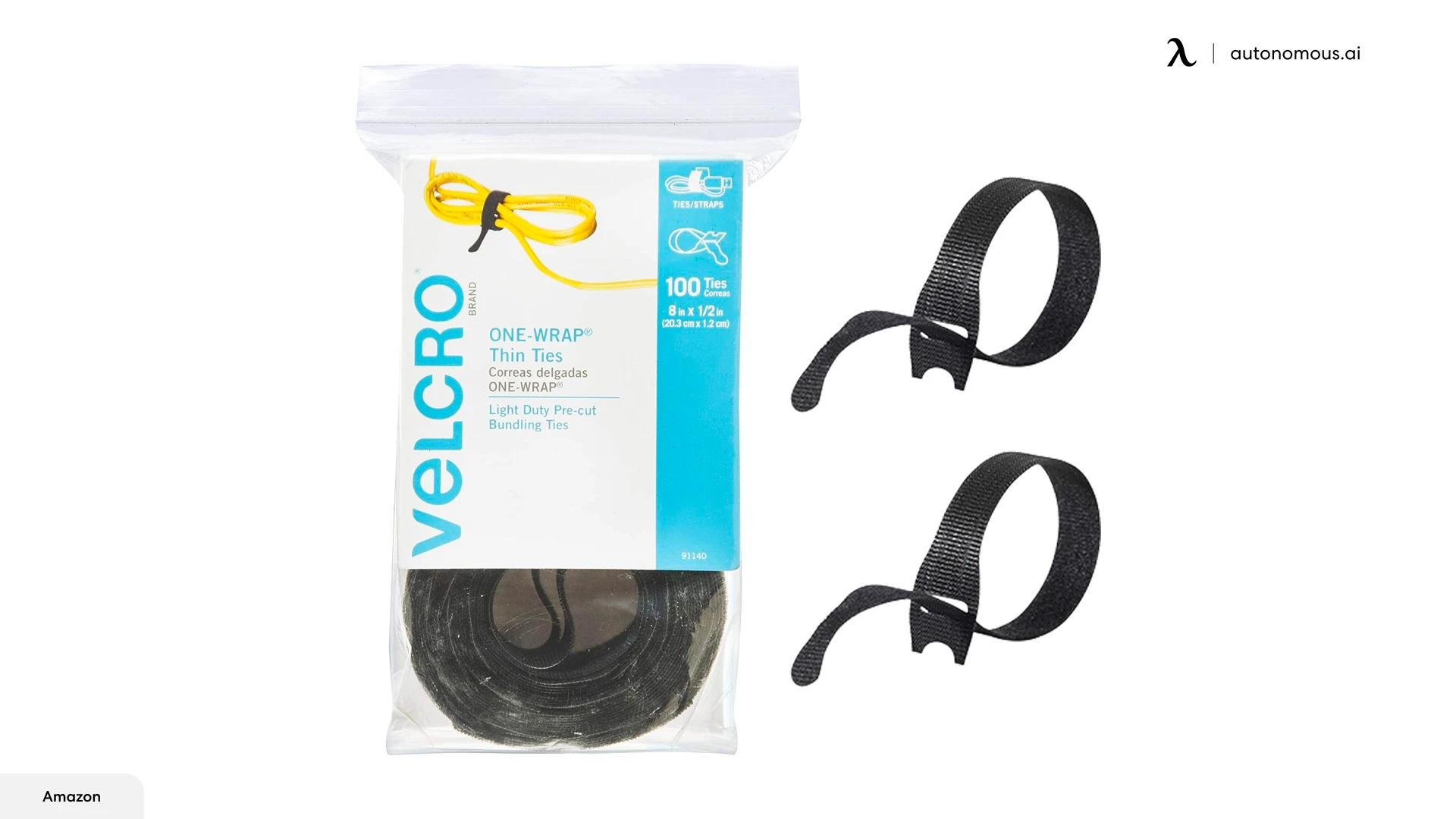 VELCRO Brand ONE-WRAP Cable Ties
| | |
| --- | --- |
| Dimensions | 8" x 1/2" |
| Colors | Black |
| Closure Type | Hook & Loop |
| Number of Pieces | 100 |
5. Pasow Cable Ties Organizer
If you have to wrangle different thick cords, getting a sturdier wire holder might be the best option, and Pasow's model fits that description.
People have said that Pasow's cable ties are very tough compared to other models. Consequently, they're durable and suitable for your thick, heavy cords.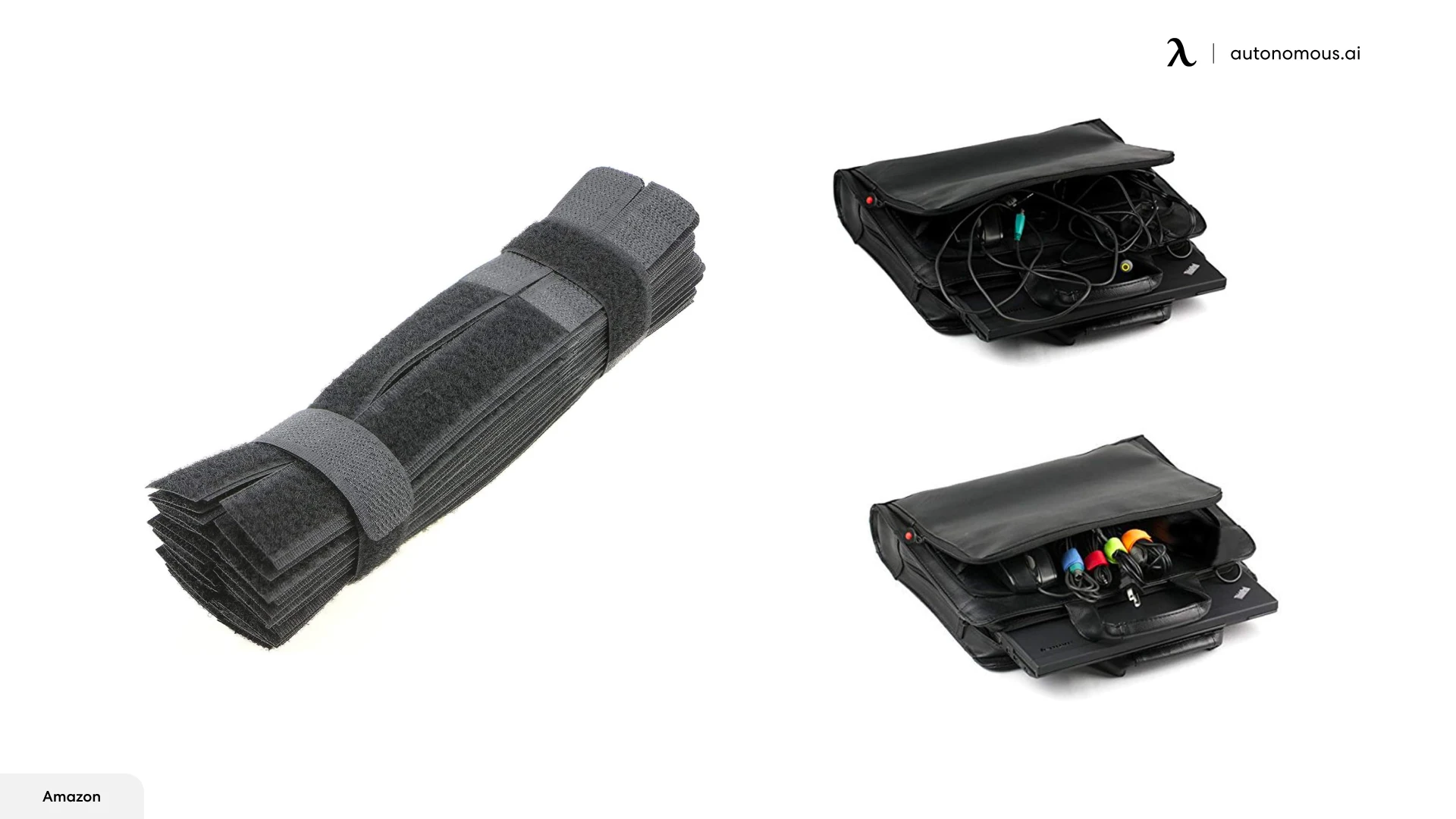 | | |
| --- | --- |
| Dimensions | 7" x 3/4" |
| Colors | Black |
| Material | Nylon |
| Number of Pieces | 50 |
6. Nite Ize's Gear Ties
Having a tidy desk is essential when you work from home. You might know all about monitor cable connector types, ergonomic chairs, and sturdy desks, but if you have cords lying around everywhere, you still won't be as productive as you could be.
Nite Ize offers the ideal solution for you to keep your surroundings neat: colorful and fun gear ties that you can use to organize your loose cables.
Nobody likes to fumble through numerous cords to find the one they need at the moment, and Neat Ize understands that perfectly. You get organizers with a rubber exterior and a steel wire interior, which are ideal for you to classify your cables.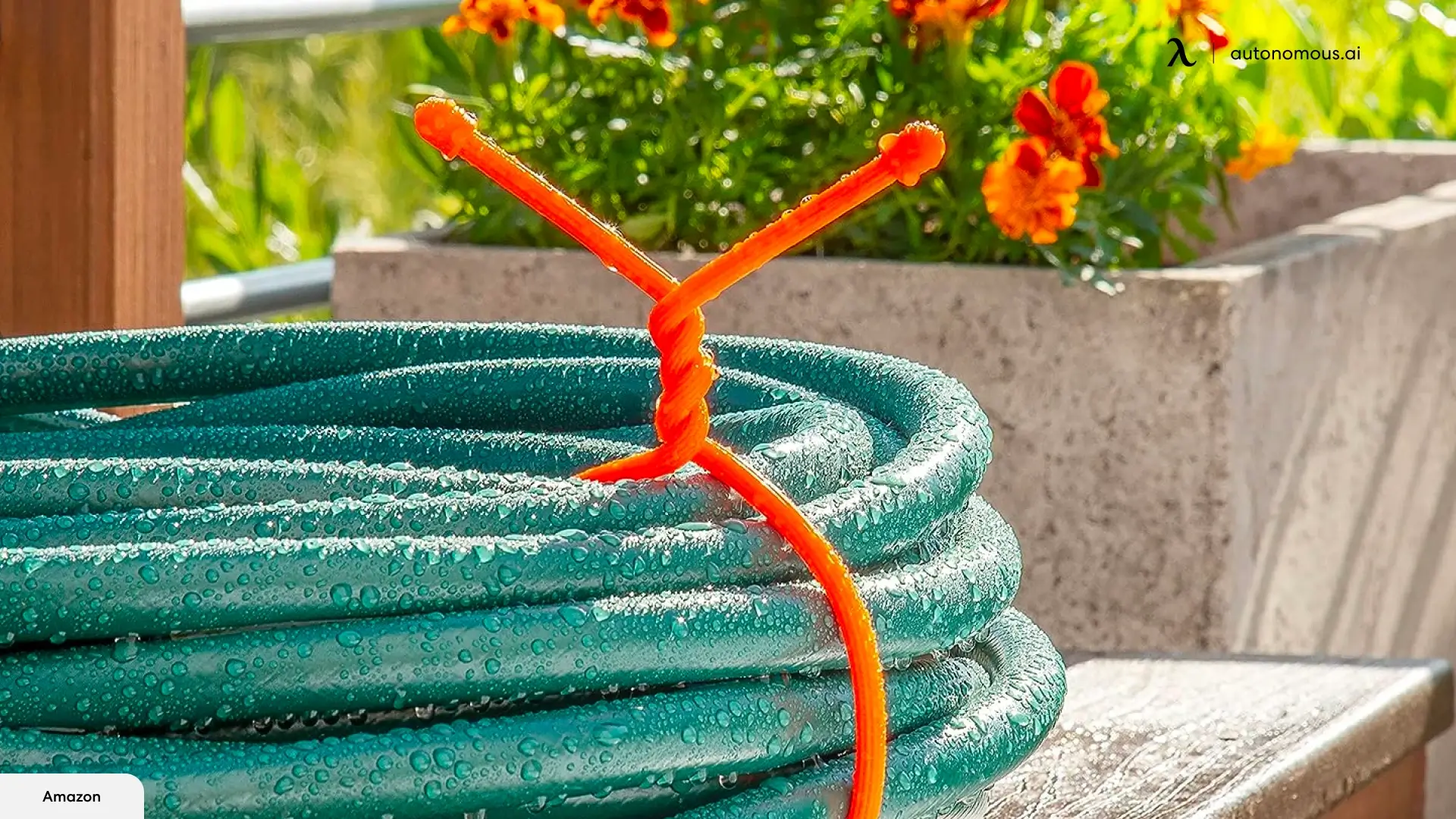 | | |
| --- | --- |
| Dimensions | 0.24" x 0.24" x 24" |
| Colors | Bright Orange |
| Material | Rubber |
| Number of Pieces | 2 |
7. Ruggard EPP-CLL Cable Bag
Some people travel a lot while working, and they often have to move around with their devices and office supplies.
Does that sound like you? If it does, Ruggard's cable bag might change your life. It's a modern, innovative, and functional option that allows you to organize your cables and keep them by your side at all times.
Since the bag has a clear window, you'll be able to quickly identify the cable you need. Moreover, it's weather-resistant, so no worrying about the rain damaging your precious cords - you can focus on working instead because they'll be alright.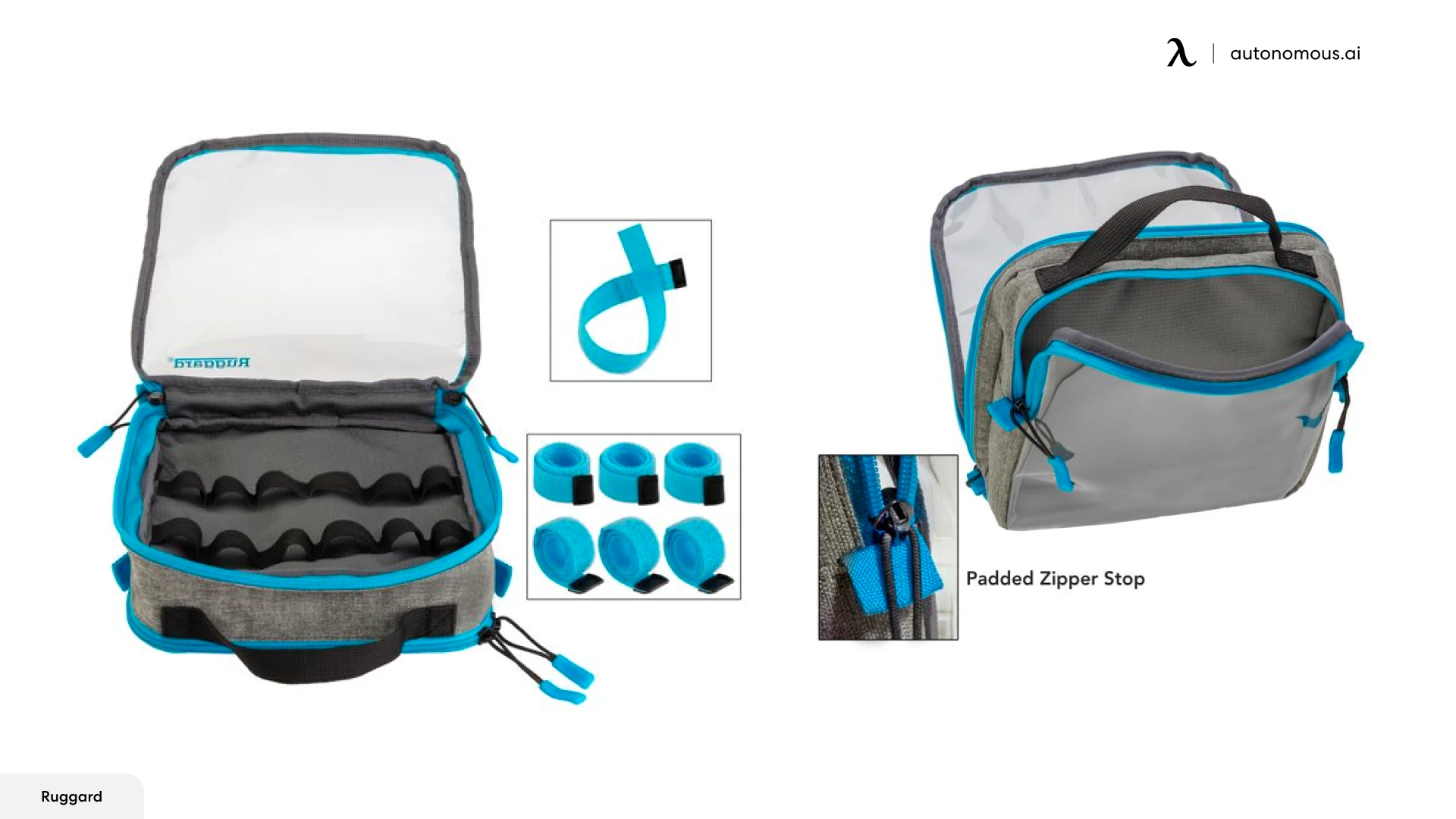 Ruggard EPP-CCL Cable Case
| | |
| --- | --- |
| Large Compartment | 8" × 7.75" × 1.75" |
| Exterior | 8.75" × 8" × 2.7"5" |
| Weight | 7.5 oz |
| Layout | 2 rows and 6 columns |
8. Pearstone Plastic Cable Ties
Although plastic ties may not be the best or fanciest option, they could be the only one if you're on a tight budget.
Pearstone offers durable ties you might want if you're in desperate need to organize your multiple cords.
To take advantage of these ties, you'll have to do some mental gymnastics first. Think about which cables are for which devices, and once you do that, zip them up together.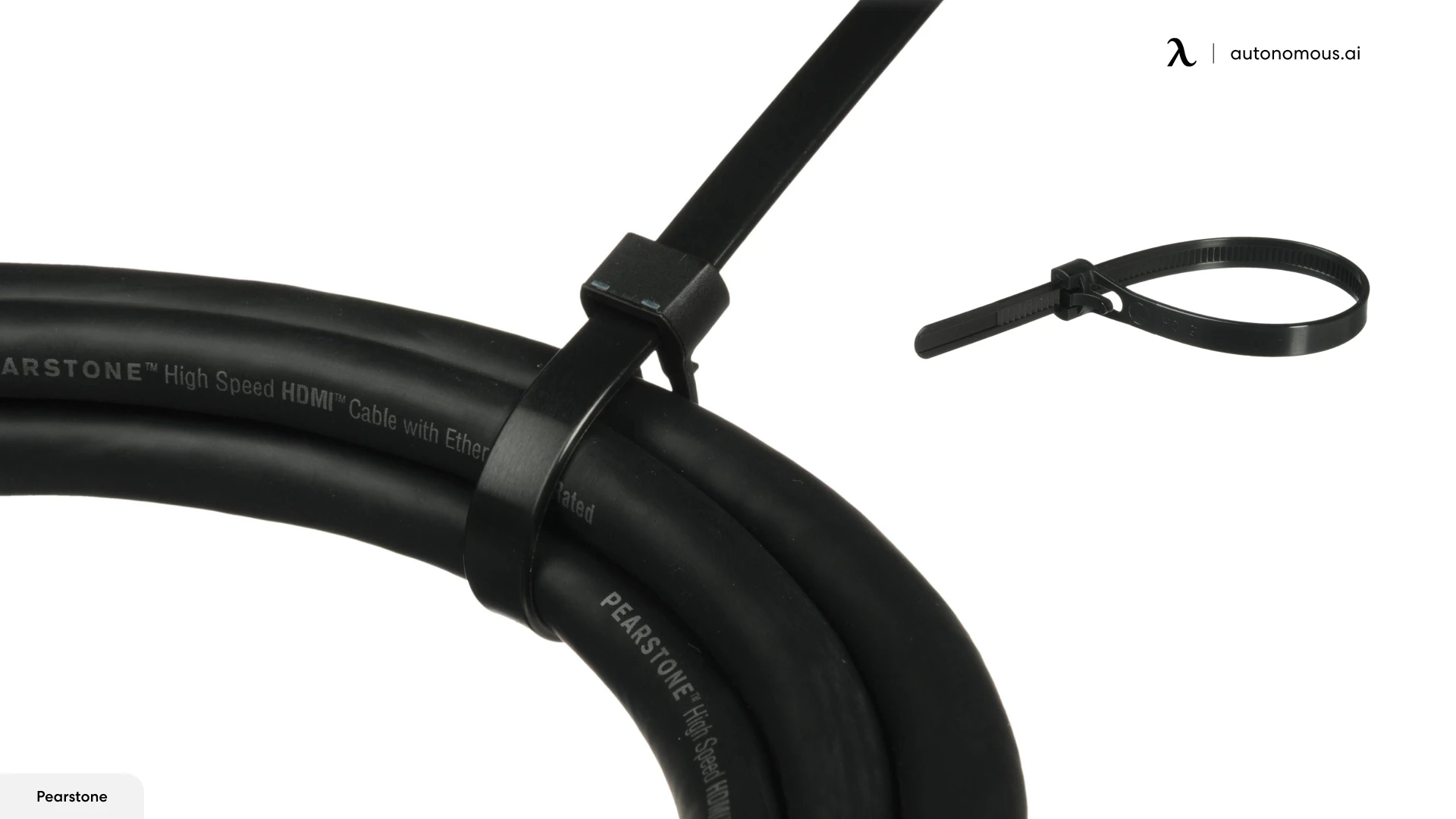 | | |
| --- | --- |
| Dimensions | 8" |
| Colors | Black |
| Material | Reusable Plastic |
| Number of Pieces | 100 |
9. BlueLounge Mini Cable Clips
Unruly cables might frequently slip off your desk, and you can use a wire holder to keep track of them - the one by BlueLounge could be the ideal option for you.
These mini cable clips are available in different colors, they're affordable, durable, and functional. They're particularly useful for thinner cables, so you might want them if you need something to keep your phone and tablet chargers tidy.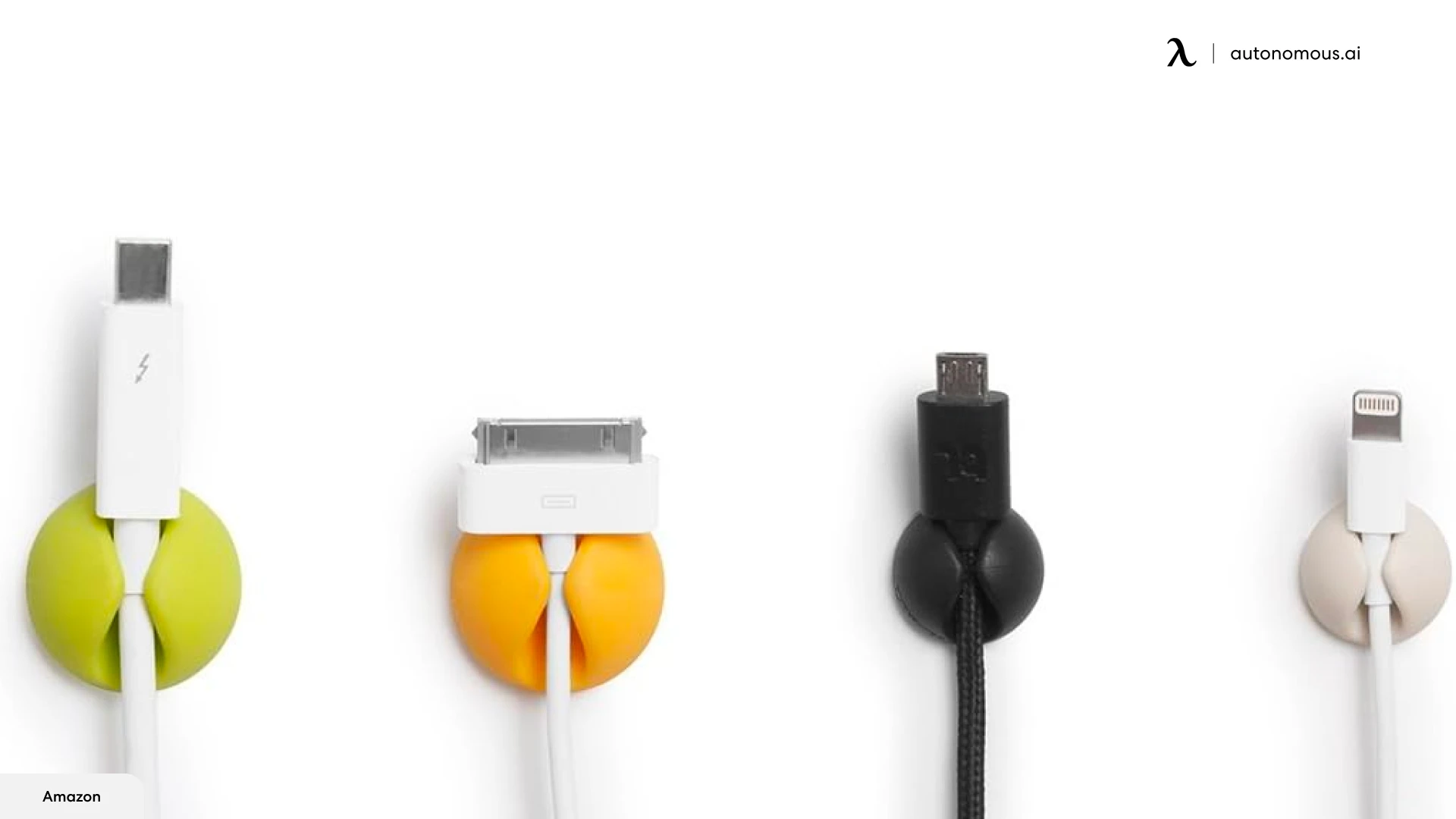 Bluelounge CableDrop Mini
| | |
| --- | --- |
| Dimensions | 4" x 2" x 4" |
| Installation Type | Self-Adhesive |
| Number of Pieces | 9 |
10. TopHome Table Clips Cord Organizer
The last option on the list is by TopHome, which is much fancier than the ones previously mentioned. With TopHome's alternative, you can hold up to six cables.
Moreover, since the desk wire holder is adhesive, you can stick it on the side of your desk. Lastly, it looks fantastic, so it'll enhance the style of your office.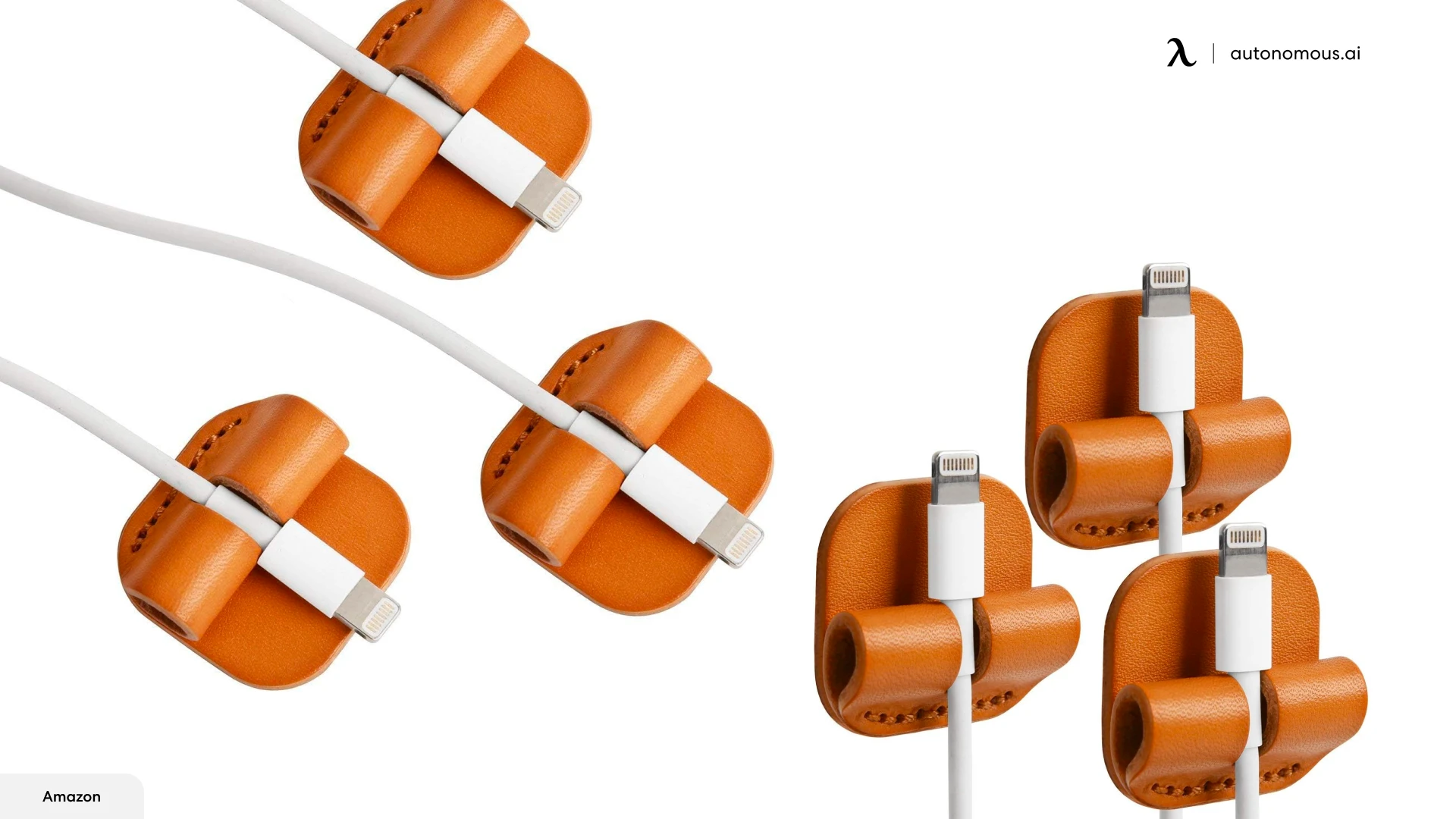 | | |
| --- | --- |
| Color | Orange Yellow |
| Material | Italian leather |
| Number of Pieces | 3 |
Final Thoughts
A cable organizer can change your life because it helps organize your surroundings, thus allowing you to be much more productive. You have different options, so it's time to choose your favorite!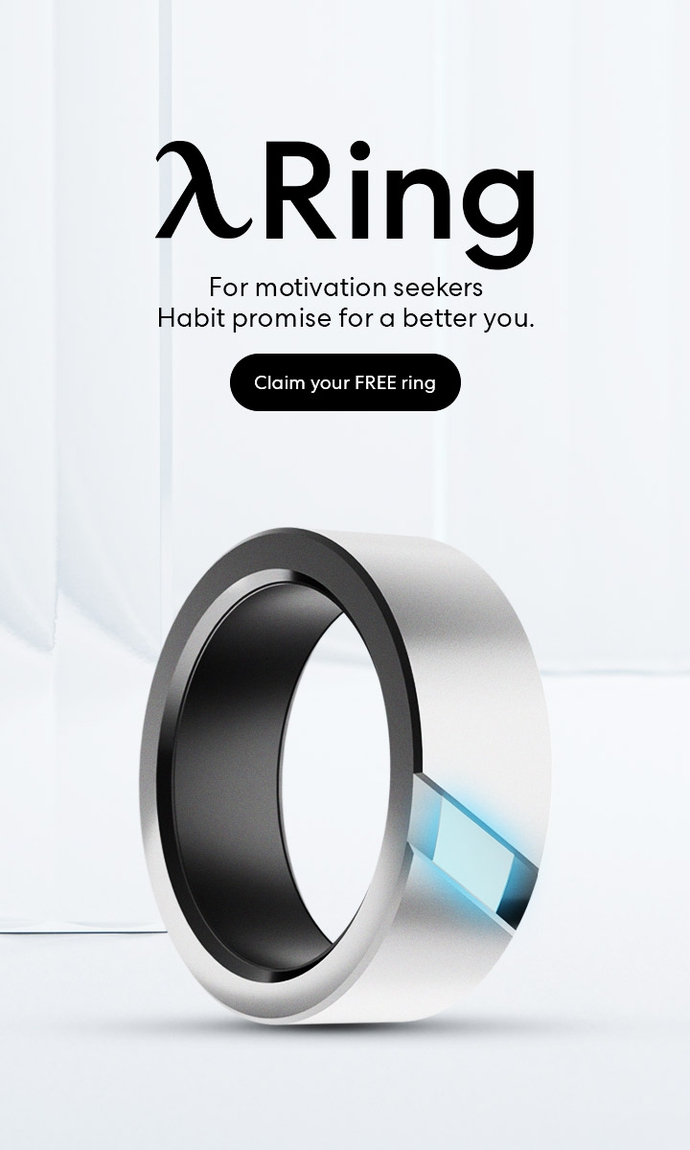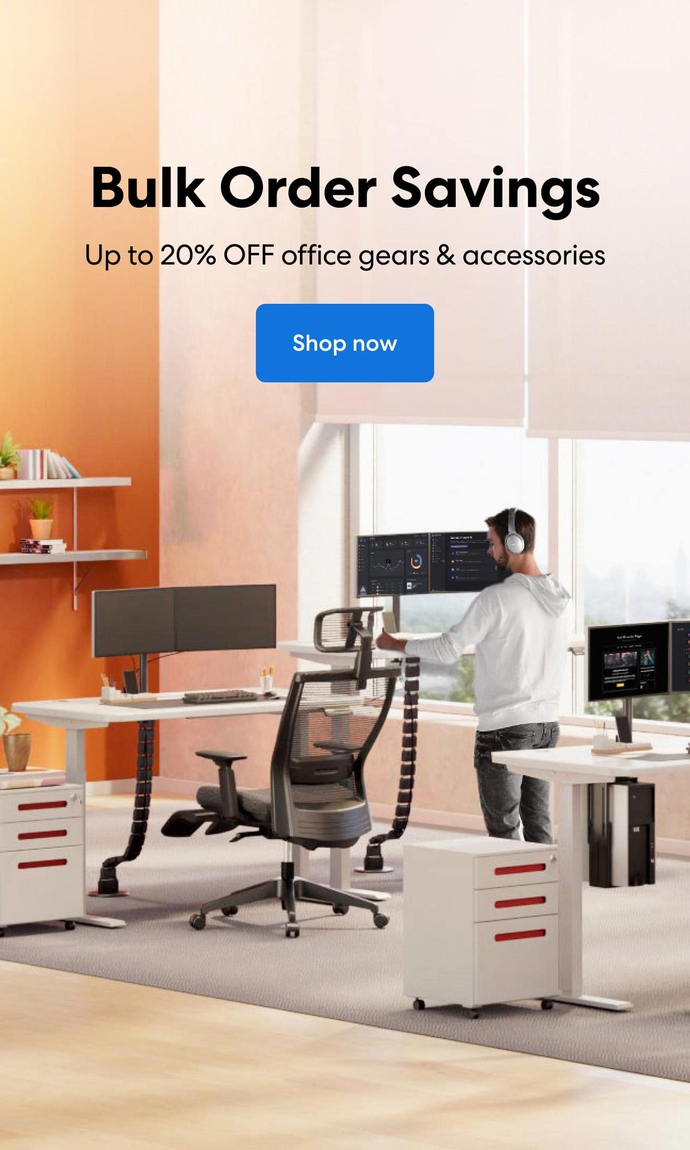 Subcribe newsletter and get $100 OFF.
Receive product updates, special offers, ergo tips, and inspiration form our team.