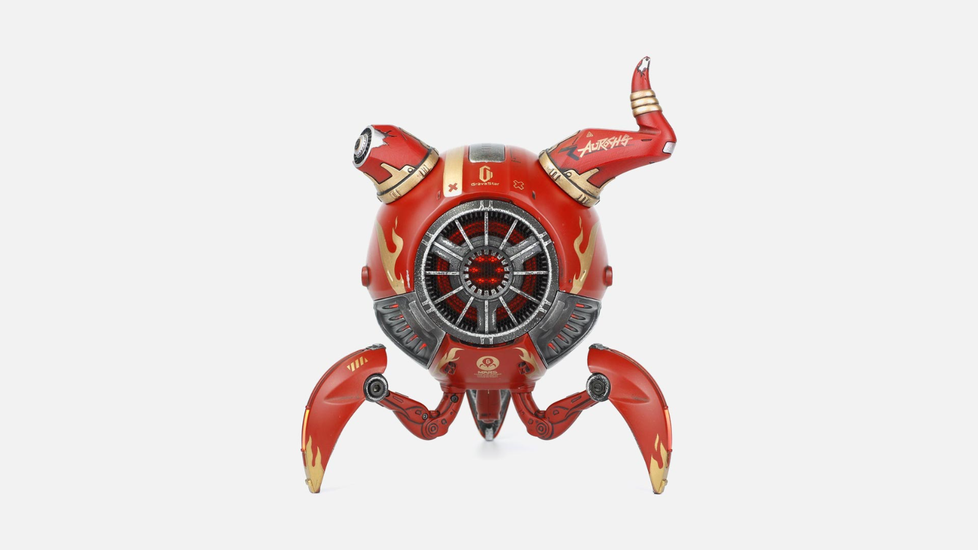 GravaStar Devil Bluetooth Speaker
109 reviews
Visit our store
Color:

Not available

Not available

Not available
Buy now
Add to cart
FREE shipping Dec 07 - Dec 11. FREE 7-day returns.
Sold and shipped by GravaStar
GravaStar Devil Bluetooth Speaker at a glance.
Dual speaker system design with a passive bass radiator delivers seriously massive sound. The Mars Pro Special Edition Aurochs, customizable with detachable horns, adds a bold and fearless edge to any gaming setup.
• Handcrafted finish with unique patterns
• Crafted from zinc alloy
• 20W dual full-range speakers
• 6 RGB Lights with 3 lights modes
• Sensitive touch volume control
• Bluetooth 5.0
• 15-hour battery life
Deep dive into specs
Features
FAQs
Specs
reviews
4.8
Gravastar Mars Pro War Damaged Yellow Bluetooth Speaker – Enhance your audio quality.
If you're a gamer and would like to experience more immersive gameplay, perhaps what you need is the Gravastar Mars Pro War Damaged Bluetooth Speaker. Besides being a potent speaker, it can also serve as an additional piece of decoration in your workstation. An exciting design, potent features and RGB lighting are some of the features you will find in this Bluetooth speaker TWS. This is one of the best gaming setup accessories you can choose if you'd like to build an RGB gaming setup. Its alien-like design will fit perfectly in your battlestation, and it's possible to combine it with diverse aesthetic gaming setups as it includes 6 different options for RGB lighting. Here are all the features that the Gravastar Mars Pro War Damaged Yellow Bluetooth Speaker has in store for you, and why adding it to your workstation can be an excellent idea.
What is an RGB Bluetooth speaker?
An RGB Bluetooth speaker combines the best RGB lighting with Bluetooth sound. This Bluetooth speaker 5.0 allows you to modify its settings easily, thanks to the sensitive-touch volume controls. Furthermore, the Mars Pro War Damaged provides the user with a crispy sound. You will be able to hear everything clearly, even in the highest volume settings. As for the RGB options, you can choose from six different colors. You can choose whatever you think suits best for you at any time. This RGB Bluetooth speaker has a total of 15 hours of playtime. It uses a USB-C to charge and connect to other devices, allowing you to continue enjoying high-quality sounds even if it runs out of battery.
Why you should choose Gravastar Mars Pro Bluetooth speaker
There are multiple reasons why this futuristic Bluetooth speaker can be the perfect addition to your workstation. Besides a futuristic design, it also has several other aspects that make it an excellent choice, regardless of whether you're a gamer or an occasional user.
True Wireless Stereo - High-quality construction: This speaker is equipped with TWS Bluetooth V5.0 technology, allowing you to enjoy high-quality sounds without using cables. The wireless connectivity will not affect the audio quality and will keep providing you an immersive sound experience regardless of what you're doing: gaming, watching a movie or maybe listening to music. Besides providing top-notch audio, this RGB Bluetooth speaker also has a triangular support structure with shock absorption. Thus, it remains in the same position even when its environment is being disturbed. Furthermore, the Gravastar Mars Pro War Damaged Yellow Bluetooth Speaker body is built on high-quality zinc. Its spherical design allows the sound waves to resonate within its structure, enhancing the audio quality in the process. Its handcrafted finish has unique patterns that truly give honor to its title, "War Damaged".
LED touch-sensitive volume controls - Portable design: If you feel the need to modify the volume levels, you can simply touch the sensitive-touch controls. You will feel like you're operating an alien device. Synchronize it with all your devices. As long as your device is compatible with Bluetooth connection (and most devices in today's world are), you will be able to connect it to this RGB Bluetooth speaker. You'll be able to listen to your favorite songs anywhere at any time. Besides all of the features mentioned, it's also worth noting that this speaker has a compact design that makes it very easy to carry and move from one location to another. If you tend to switch places constantly, the Gravastar Mars Pro War Damaged Yellow Bluetooth Speaker is one of the best speakers you can choose.
About Gravastar
Gravastar was founded in 2019. It focuses on providing innovative audio solutions, specifically in the gaming industry. This company is composed of a multidisciplinary team of engineers, artists, gamers and music enthusiasts, ensuring that each device has the highest quality possible for audiophiles. The CEO of the company describes their work as "audio engineering art". Each device designed by Gravastar is handcrafted and has unique details that will match most desk setups. Each audio solution provided by Gravastar is a real work of art. If you enjoy futuristic, sci-fi stuff, you will likely enjoy what this company has in store for you. The Gravastar Mars Pro War Damaged Yellow Bluetooth Speaker looks and sounds like it was taken from a sci-fi movie. Learn here more about its features.