Smart Products
10 Best Ergonomic Massaging Office Chairs in 2023
1,578 Views
When you're slaving away next to your desktop, do you ever encounter back or neck ache? In addition to bad posture, your armchair can be the real source of all your pains. Why not think about getting a massaging office chair instead of immediately replacing it with something more expensive? At your workplace, a decent office ergonomic chair will make you feel less uncomfortable and offer more important health advantages!
We'll look at a few of the best massaging office chairs on the market these days, in the assessments of massage chairs that accompany. You will not need to splurge to get them because they are excellent and efficient while yet being quite reasonably priced.
List of the 10 Best Ergonomic Massaging Office Chairs
If you operate in a formal office atmosphere, a massage chair-equipped workplace would be more appropriate for you. The office chairs listed below are some of our choices for back pain since each one offers something unique.
1. The doctor chair - Harachair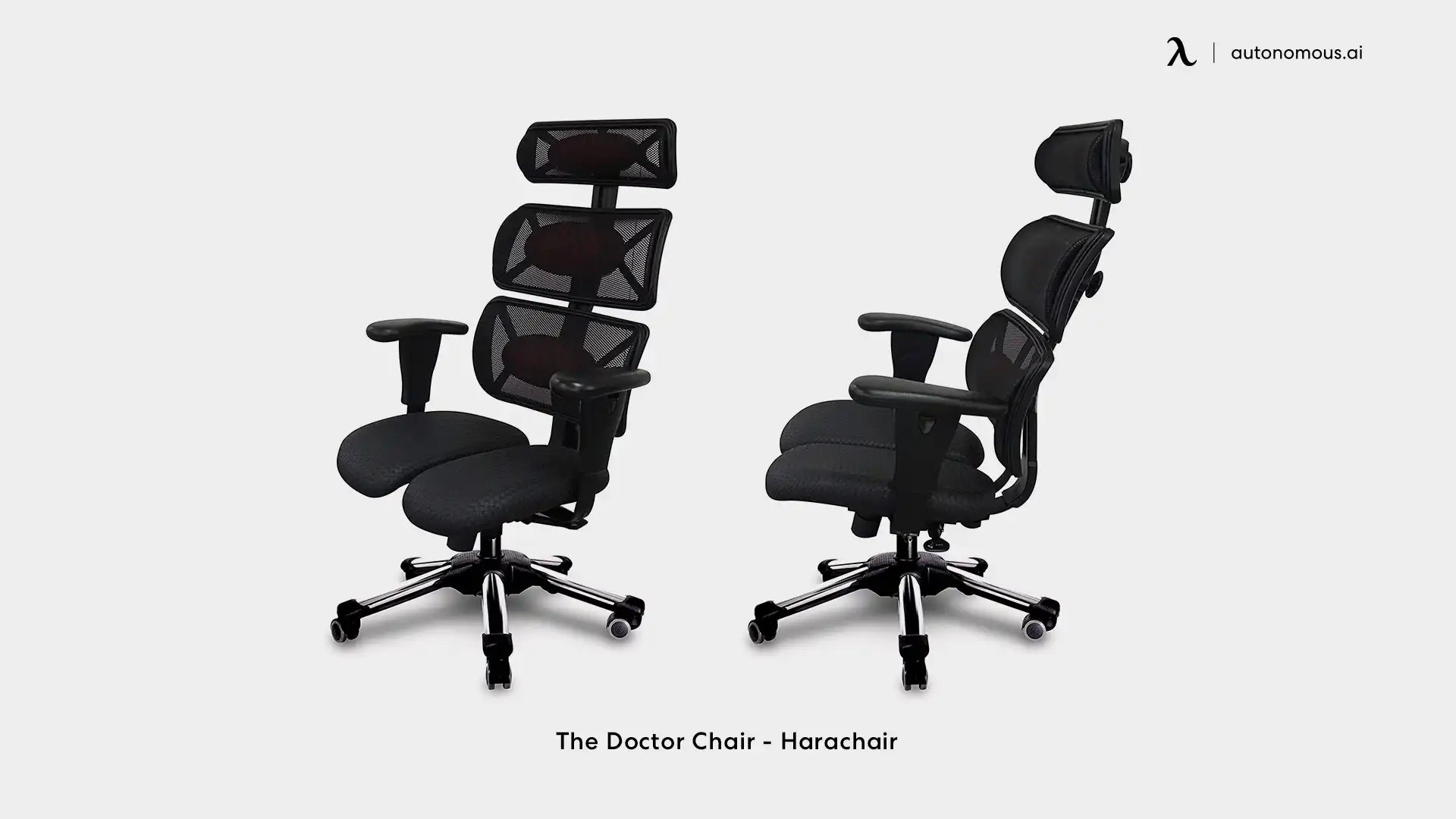 Due to its special back design, this armchair is a diamond in the rough for those who have tailbone pain. The chair is divided into two halves, each of which has a swivel movement. This will let you change the degree of the tilt to fit the form of your hip. The burden on the coccyx is lessened by this feature and the canal in the center. The producers claim that they also lessen pelvic organ blood stagnation and minimize the danger of gastrointestinal diseases including prostatitis as well as urethritis.
2. HOMCOM executive massaging high back office seat
Every detail of this desk chair with heating and massaging mechanisms has been carefully researched and executed to provide the finest possible seating experience. This is the ergonomic armchair to choose if you suffer from lower back discomfort. What we enjoy is how the heated lumbar support and massage features work fully autonomously of each other, with 6 various therapeutic settings given to personalize your own relaxing massage.
3. BestOffice tall office chair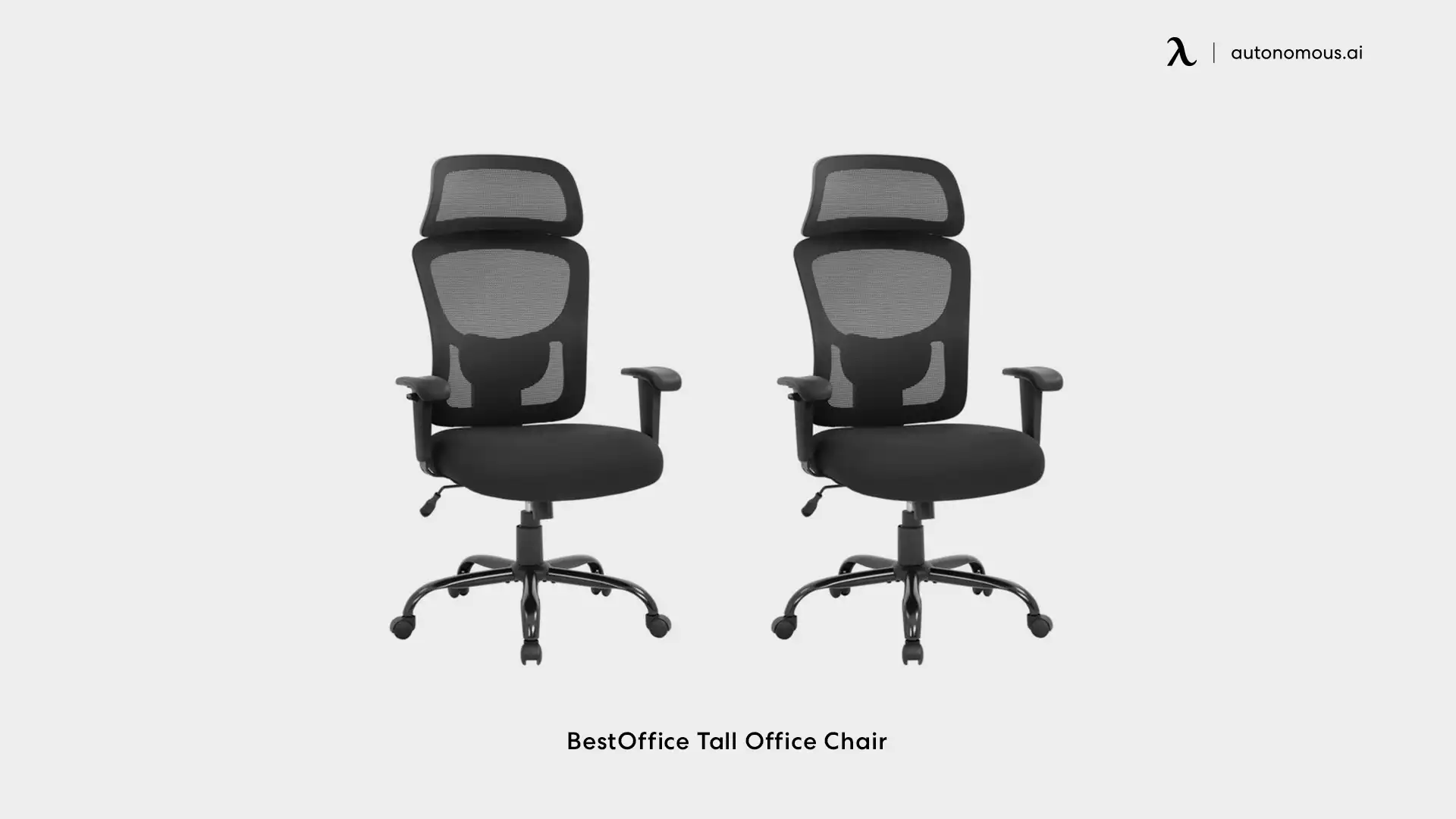 This armchair, of all the ones we've seen already, has the highest load capacity. The weight restriction is not the only perk. The chair is calibrated with a wider seat breadth and back to individuals over normal weight but rather stature so that they may sit comfortably. As we talk about comfort, it features a high backrest that is ergonomically contoured and effectively accommodates the entire body.
4. Office chair with massage function by Esright
Most massaging points are available in this office chair with heat and massage mechanism, seven in all. Being one of the finest office chairs for spine and neck problems, it also has lumbar heating capabilities. The arched armrest provides additional comfort, and the leatherette headrest is cushioned to lessen pressure on the reflex arcs. We like the additional padding and thick foam padding on the seating area, which makes it more pleasant for extended periods of sitting.
5. Executive office chair in leather - OFM Essential Relaxation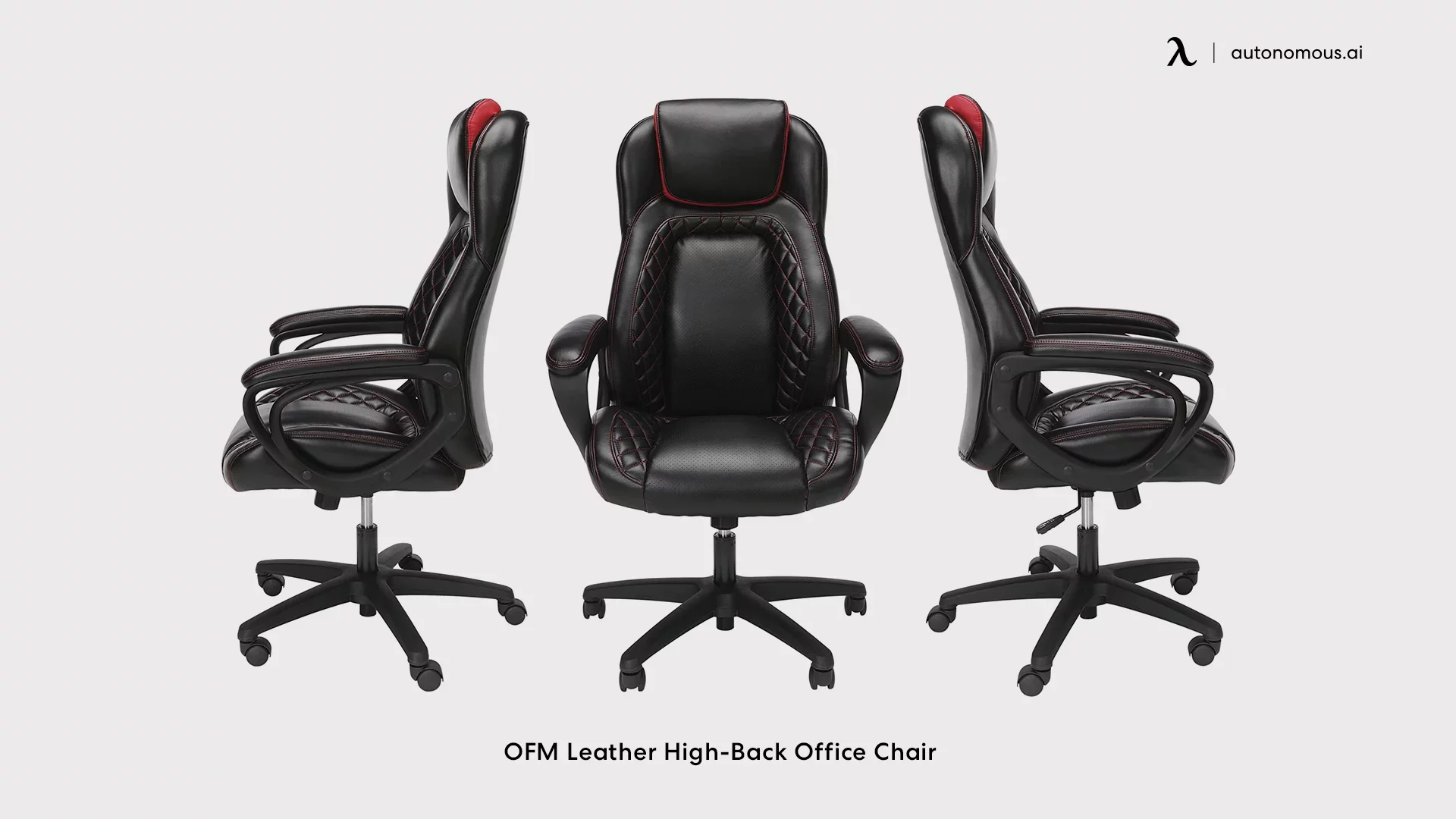 This ergonomic massage office chair makes things easier by including a heated, rolling/kneading customizable full-back massaging system that gives the utmost comfort in relieving muscular pains, contrasting most of its sort where vibrating massage is typically the case. In terms of durability and reliability, this chair satisfies or surpasses industry requirements.
6. Office chair with massage function by Homgrace
The smooth PU leather covering and plush cushioning of its many more costly competitors are included in this chair, though without the higher cost. The executive armchair has a 5-caster base and can be rotated 360 degrees. This chair has six different massage levels, ranging from relaxation and leg movement to soothing back support.
7. Blue Whale gamer seat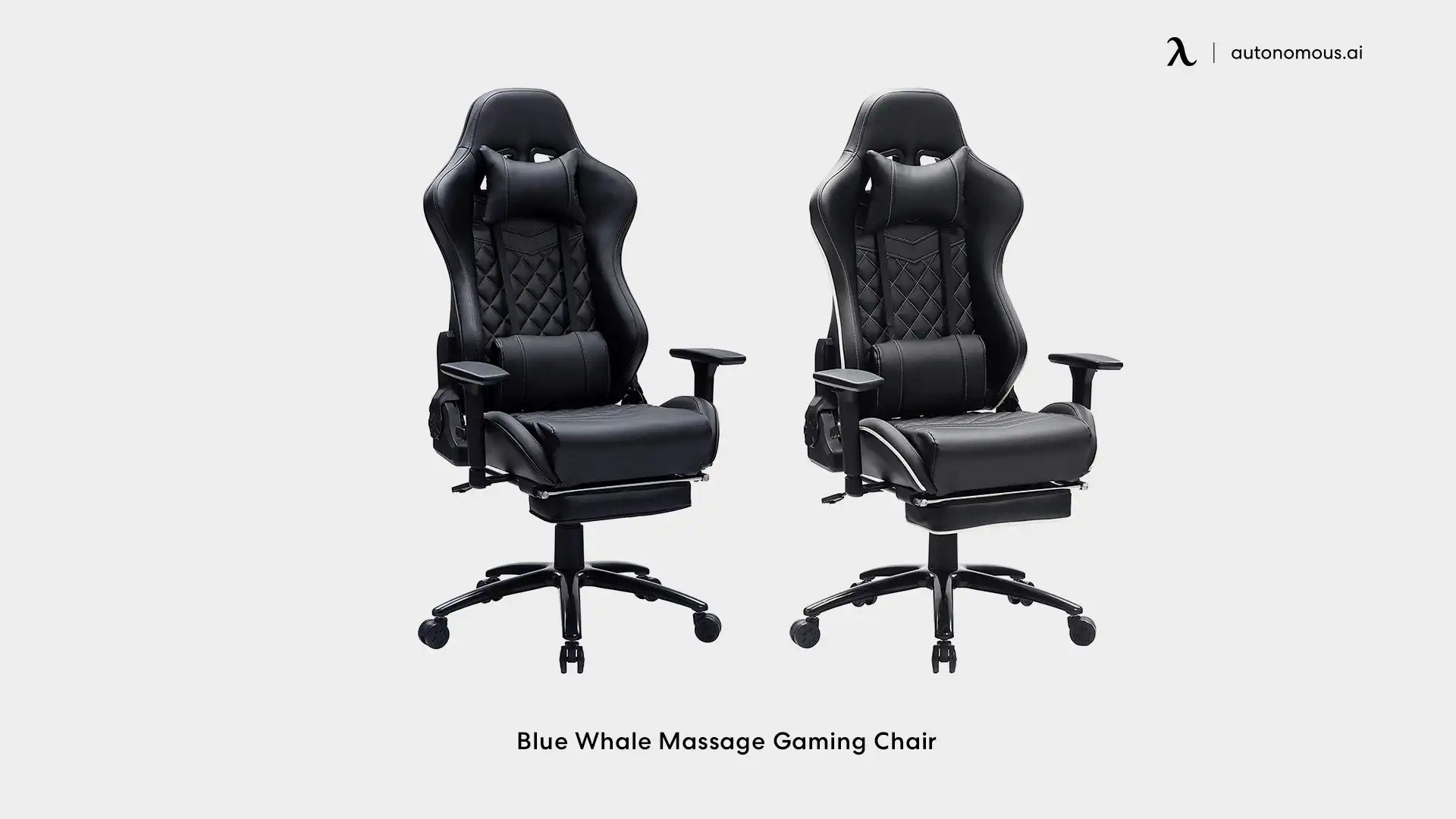 This armchair is reportedly the finest massaging gamer seat ever created, as gamers would undoubtedly know. Our agreement is complete. This seat may be completely customized to your own comfort level thanks to its many adjustable features. The entire chair is customizable, including the elevation, tilt, lumbar compression, backrest, headrest angle, as well as the ErgoActive lumbar support pillow. A lazy reminder feature is also included.
8. Office chair with massage from Killabee
According to our study, this gaming massaging chair has one of the greatest reclining ranges and a removable ErgoFoam adjustable footrest, making it a genuine competitor for white collar workers or hard-core gaming enthusiasts. Given that it has so many convenient functions in one seat, this massage desk chair is a fantastic choice. The finest computer desk seats will have adequate height adjustability as well as excellent back support. One of the nicest office chairs available right now is this model.
9. Office chair with massage feature by Windaze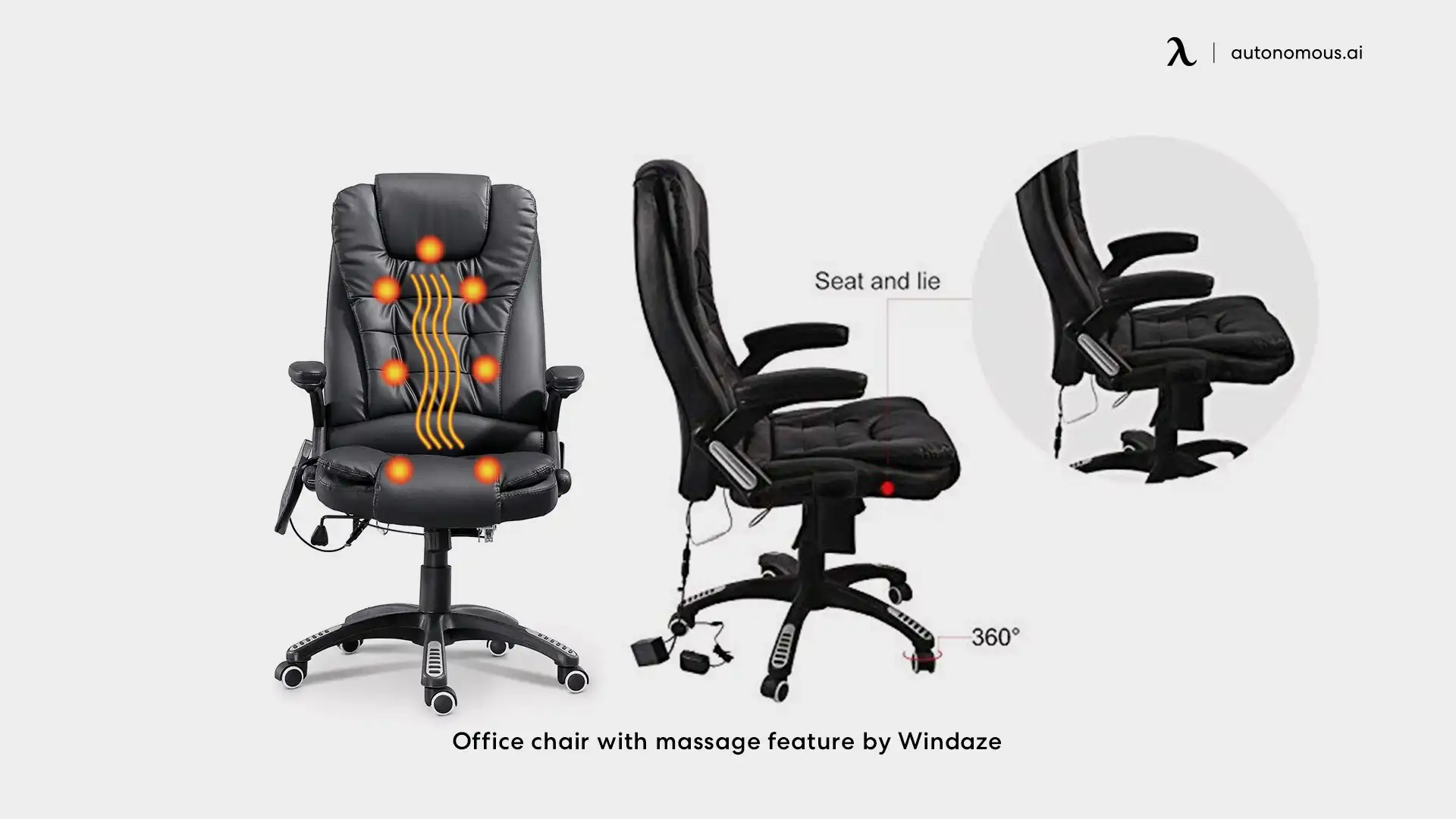 This executive office armchair comes with an ErgoFoam lumbar support pillow. We appreciate that the back support and seat of this massage chair each have six receptors. Additionally, you get the choice to turn on the warmth setting, which operates apart from the massage function. Although this design is the only one available in black, it is a balanced choice that will look fantastic in any environment.
10. Office chair with massage function by Homcom
The traditional executive armchair type is usually a wise choice for those who want a more businesslike appearance. Since this back massage office chair is among the few vibrating executive desk chairs we discovered throughout our study that offered a larger color selection, we prefer this choice from the brand. Its six pulsating massage spots, heat function, as well as remote control with handy storing pocket will convince you that it's among the greatest massage desk chairs as well.
Bottom Up

An excellent method to get through a long day at work is to sit on a massage reclining office chair. We concentrated on the following crucial characteristics while developing our checklist: the materials, adaptability, support, as well as massage functions.
The seats tended to restrict massage functions to the lower spine area, despite the fact that all of the recommendations in our list concentrated on relaxing. Conventional executive office armchairs, by contrast, frequently had a separate heat option and were far more likely to have a generalized massage effect.
Consequently, you should browse the Autonomous site when you desire to purchase office accessories, a massaging office chair or perhaps the greatest ergonomic chair for the money. Anyone may take advantage of the brand's excellent savings that are now available through its employee purchase program.
Hey, you have special pricing through your company.
Get exclusive rewards
for your first Autonomous blog subscription.
WRITTEN BYAutonomous
We build office products to help you work smarter.