Workplace Inspiration
10 Cool Gaming Room Color Schemes in 2022
10,287 Views
A wide variety of ages play online games, including children as well as adults. Some professionals play online games professionally. That's why many homeowners desire to incorporate a gaming area within their home's design. The right gaming room colors can help draw your attention to what you consider most important in a space. Color plays an important role in setting the tone in a room, helping you relax, focus, or get excited.
Several gamers work from home these days, and they complain that it is difficult to play a game in the same chair after spending a lot of time on the computer for work. Having the option of having two different gaming room colors in your gaming room is helpful, especially if your minimal gaming setup doubles as your home office.
10+ Cool Gaming Room Color Schemes
1. Orange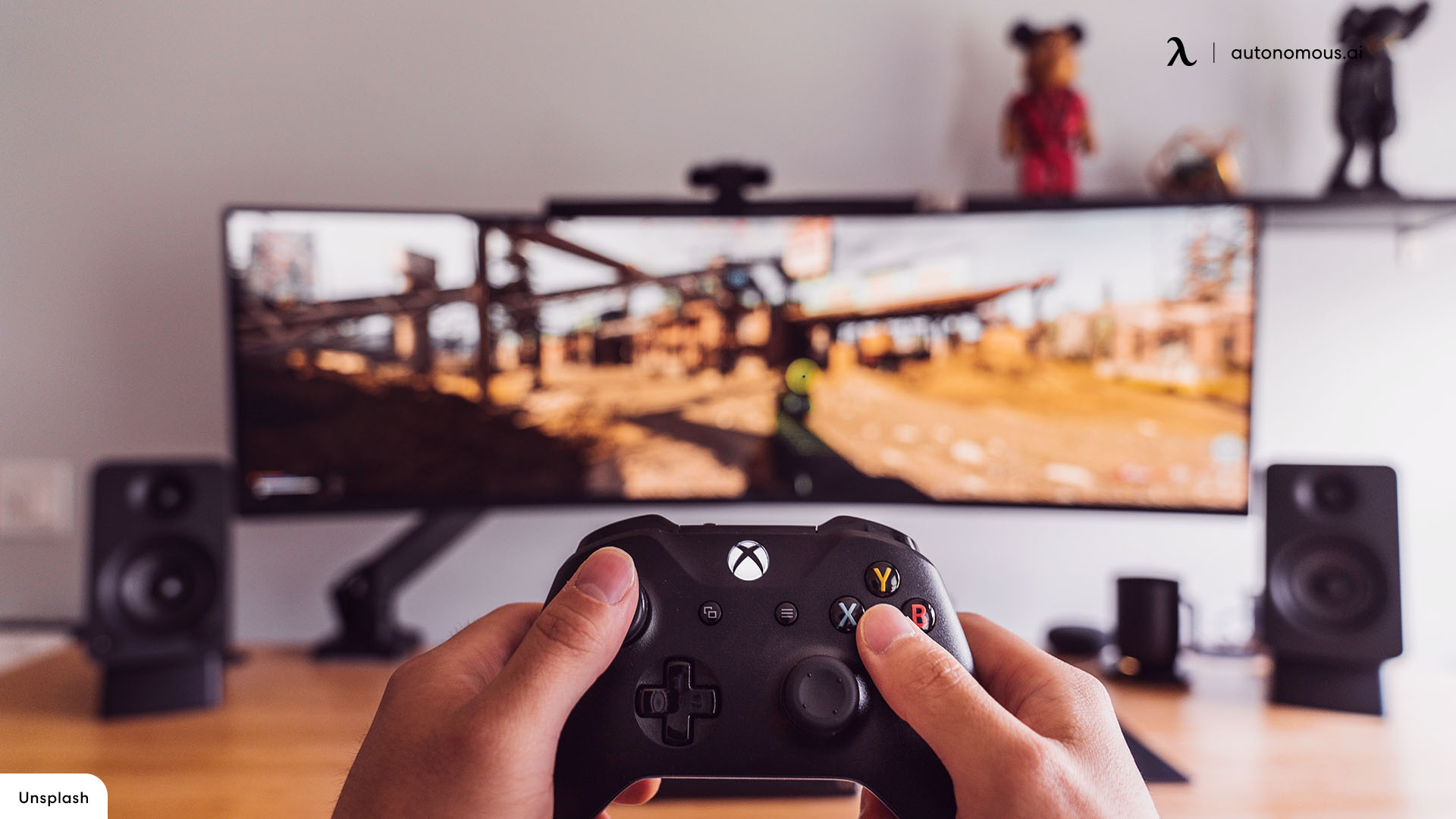 Summer and spring are associated with the color orange, and orange is associated with enthusiasm and joy. Bright orange LED light color makes the gaming environment seem more inviting.
Although it is not as common as other colors in gaming rooms, it is cool and unique. Orange may be eccentric gaming room wall paint ideas, but your use of it can add flair to your aesthetic gaming setup without going overboard. You can pair colors, including orange with black, white, and blue accents.
2. White
It makes the small gaming room look larger and brighter when it is painted white. White is a symbol of purity and cleanliness. You can still play with the wall texture when you have white gaming room wall colors in mind. Choosing a gloss or matt white will reflect less light, whereas a textured white hides dirt the best. Obviously, black goes well with white gaming room paint colors; but you can also pair it with light lavender, pinks, or even a natural palette.
3. Gray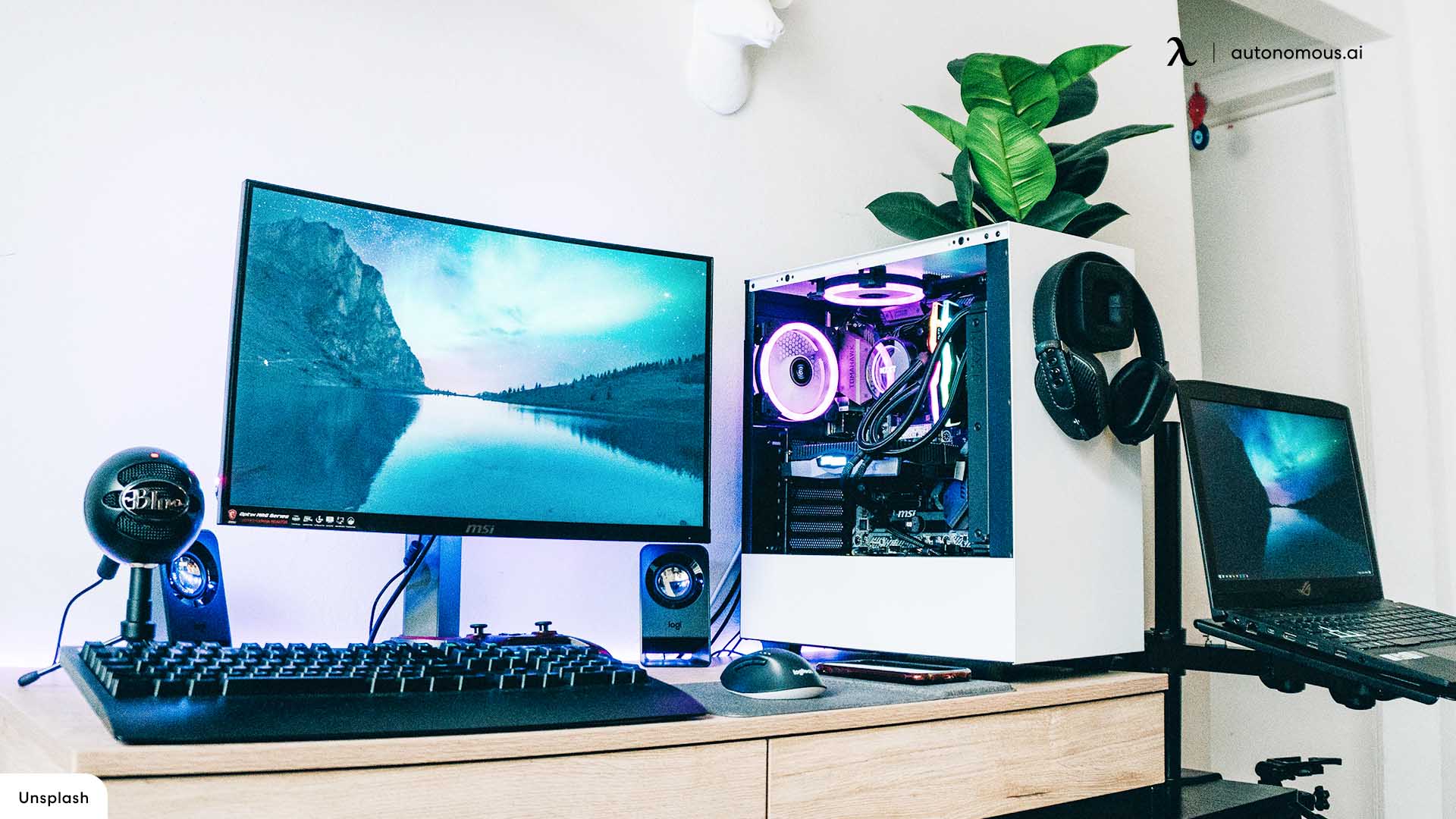 When it comes to color psychology, gray is the best paint color for a gaming room because it's an elegant, neutral, and balanced color. Although it may sound plain, it works with just about any background color of your choice. Try combining gray with white, black, or steel accents, natural wooden accents, or shades of gray.
4. Blue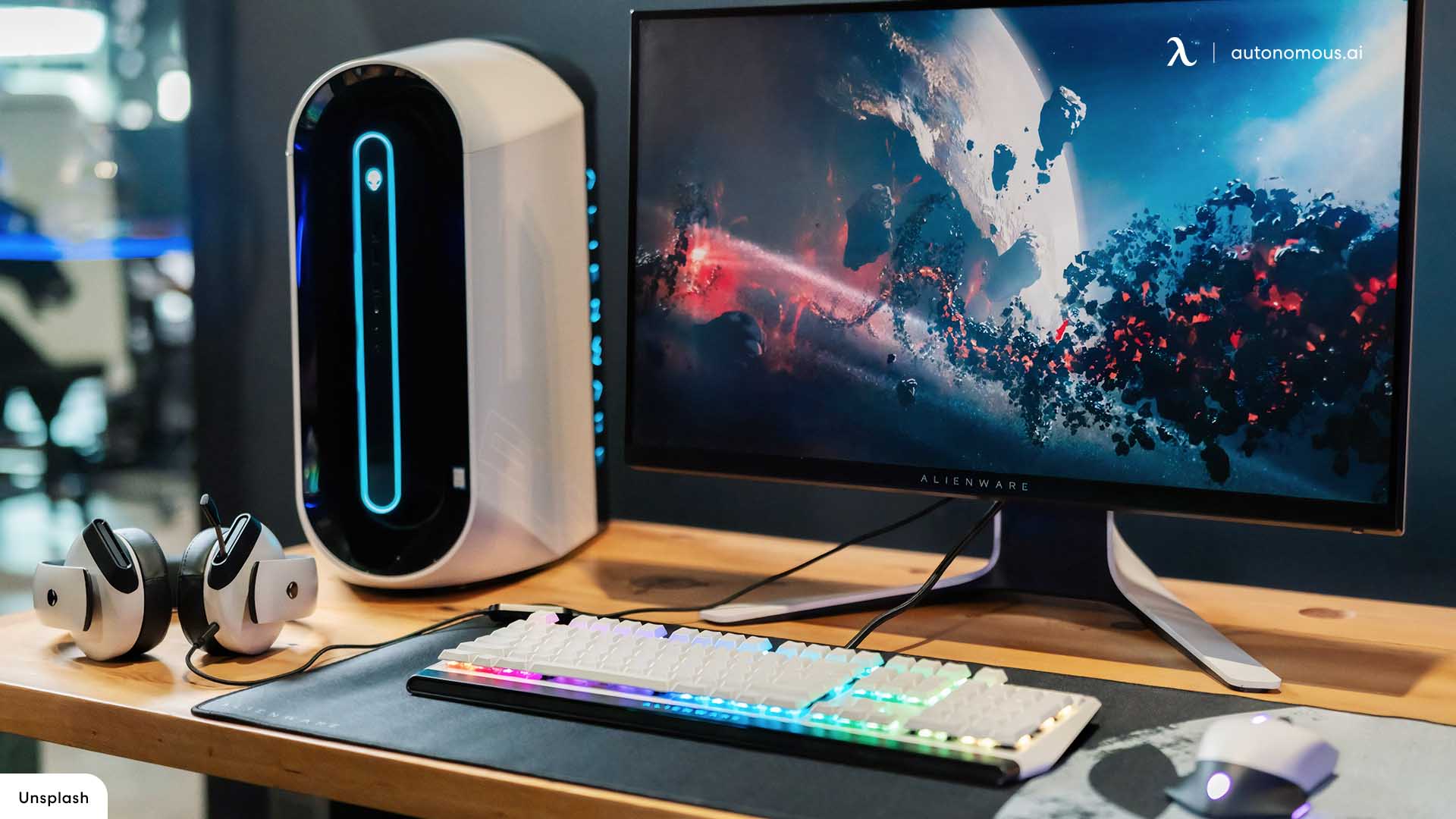 Gaming room colors of blue are associated with coldness, calmness, professionalism, and masculinity. You can easily make it blue instead of having blue walls and ceilings by turning on blue LED lights in a white, gray, or black gaming room. Those Tikor aesthetic dream gaming setup rooms will surely result in a cool result. It's a great color for adding more energy and wildness to a look.
You can pair this lighting effect with lime green, neon blue, grey, or neon pink or blue RGB lighting effects. Playing the right kind of games requires the appropriate lighting in the room, and gaming rooms may benefit from LED strips, overhead lighting, and even disco lights depending on the type of games you are playing.
5. Green
In the minds of many gamers, the green color represents Xbox. Your first choice should be neon green if you have a small gaming room themed after Xbox. If you prefer a more tranquil environment for a home office RGB gaming setup, go with dark greens, teals, turquoises, forest green, lime greens, hunter greens, etc.
It is best to do green in a neon shade, especially when it's done with black. You can, however, use neon green in many different ways. One thing you could do is pair the green with RGB lighting to magnify its effect. Once the green is in place, you can add accents of other colors and shapes.
6. Brown
A black and white gaming room color scheme can include raw wood elements, desk colors, and more plants for a rustic feel. For a home office gaming setting, this color scheme looks cozier but less modern. It is recommended to use a natural brown tone and match it with similar tones.
The aim is to create a simple, comfortable rig that doesn't require dramatic lighting color or objects. When gaming and working in the same area, this tone works best. You can enhance the desk with orange lights to add warmth.
7. Red
Something is exciting, love, lust, anger, and warmth associated with the color red. You should only use red on one wall of the small gamer room not to overpower it, and it would be best to use red on one wall of the room.
Another option would be to have gray, black, or white walls. The options would be gray, black, or white walls. Red works with other vibrant colors, too; think of orange, lighter brown, white too.
8. Black
Getting focused on your games is easier in the black gaming room, which is mysterious, magical, and helps you get lost in your games. By hiding the details, it will make the room appear larger and more enveloping.
Only a dark color scheme has the disadvantage of making the tiny gaming room look and feel even smaller. All of the colors listed above pair well with black, so you can style them however you want.
9. Pink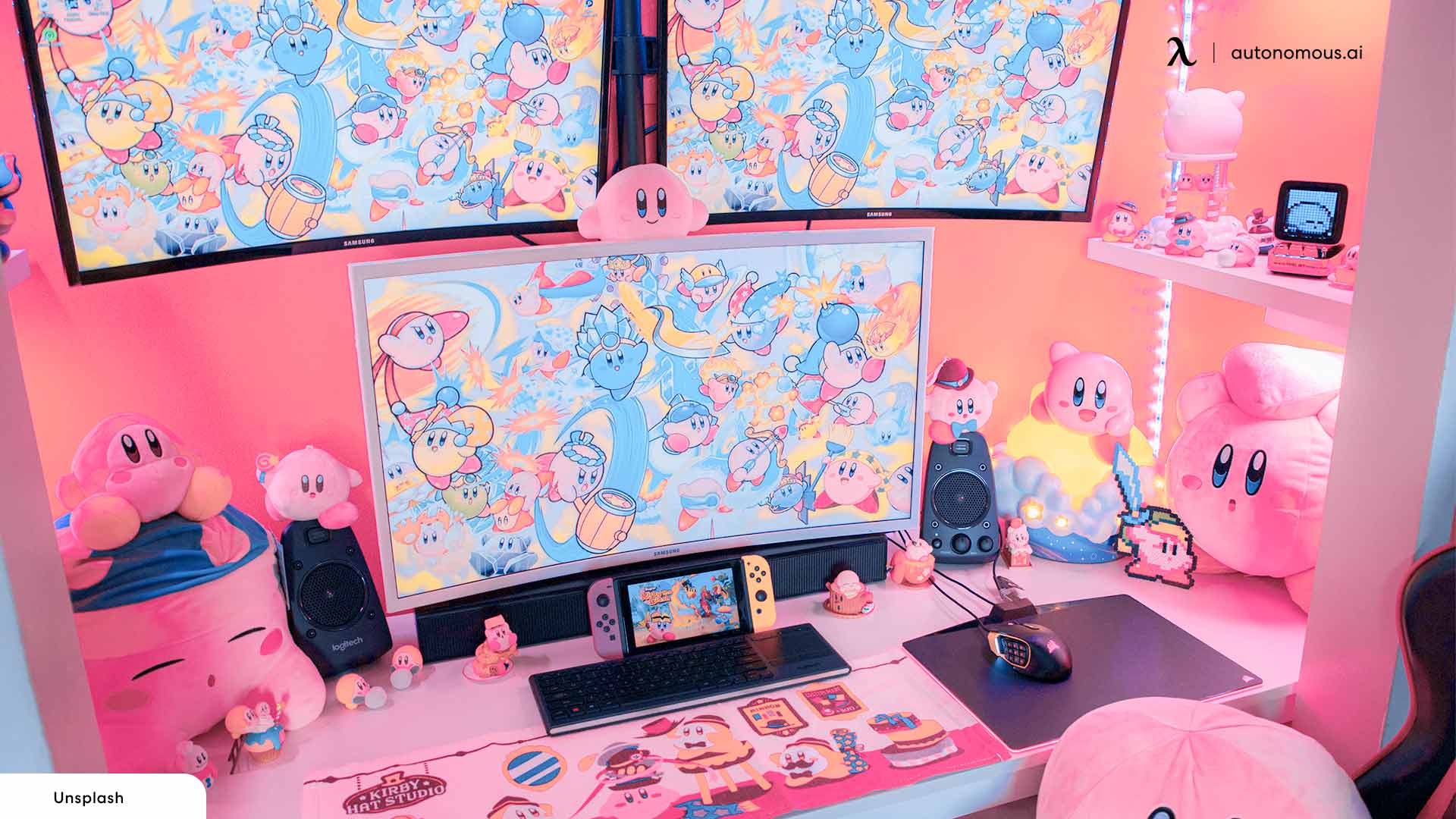 There is something kawaii and cute about the pink gaming room. Tones of white or/and purple colors will work well with the design. Pink furniture, a pink rug, a pink extra-large mouse pad, and a pink bed cover can make the room pinker, even if a pink wall painting is too much.
Don't forget your tapestries, posters, and figures collections. Your Tiktok LED lighting must include all these elements to complete the desired aesthetic. Consider pink on black instead of pink on pink or pink on white if you don't like pink on pink or pink on white. Black and pink as a color scheme for a gaming room look confident, sharp, and stylish.
10. Black & White
There are a lot of gaming accessories available in either white or black, which makes them an easy color scheme to handle. If you want to stay focused while working/gaming, consider having a white gaming room with one black wall next to your monitor or having a white room with all black walls and furniture. If you turn off the 'normal' room lighting and turn on the 'gaming mode' LED lights, you can have a completely different look in a black and white room.
Hey, you have special pricing through your company.
Get exclusive rewards
for your first Autonomous blog subscription.
WRITTEN BYAutonomous
We build office products to help you work smarter.