Workplace Inspiration
Gaming Room Lights Ideas to Upgrade Gaming Area
2,358 Views
Want to have the best gaming experience? Upgrade your gaming area to some of the best gaming room lights for experiences of a lifetime.
Many folks think that having the right type of lights and having an ambiance for gaming is unimportant. If you are an avid gamer, you will certainly disagree with them. You don't want to be gaming in the dark and spoil your eyesight, do you?
Importance of Gaming Room Lights
Gaming lights are important for any gamer to see where they are going. Whether you are playing Mario Kart or Space Wars, having the right lights is a part of the gaming experience. Or if you want to decorate your room with anime gaming setup, RGB theme or kawaii gaming setup, the lighting is really important.  As you select the right type of lights, you help create the right ambiance to go with your games.  Opt from hands-off lighting with voice-controlled commands for the best experience.
Types of Lights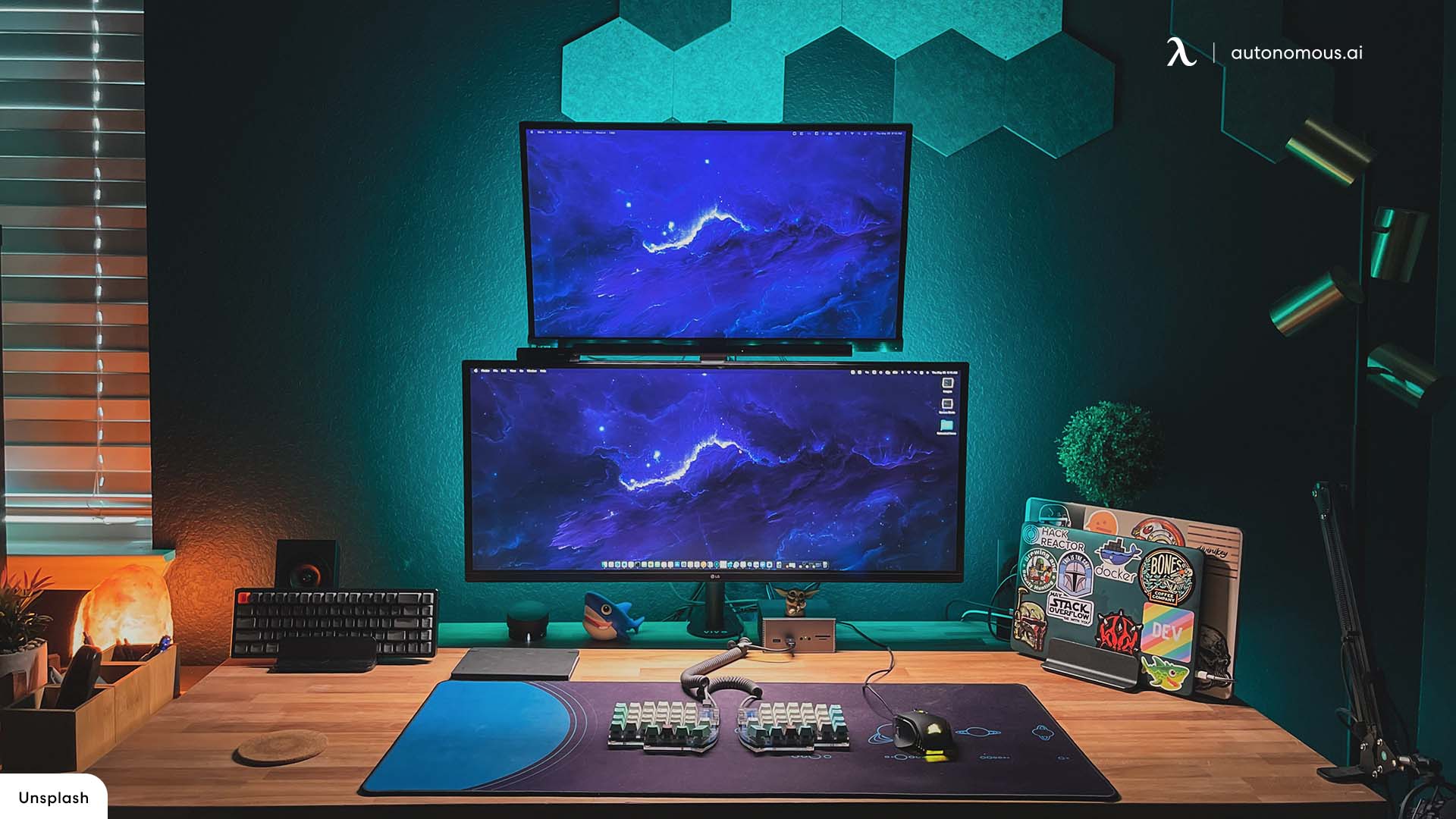 You have a choice of lights to choose from. Use LED lights which are the most common and easily available for shopping online in stores.  Use the projection light for soothing effects and changing scenarios. With so many light options like a spot or alcove lighting, you can highlight various accents of your wall ambiance. Add laser lights to the antiques in your room or create a saber Star Wars theme.
So get ready, and let's get going to explore some of the best ideas for gaming room lights.
Top 7 Ideas for Gaming Room Lights
Here are the best lighting ideas for the gaming room that we recommend.
1. Play into the future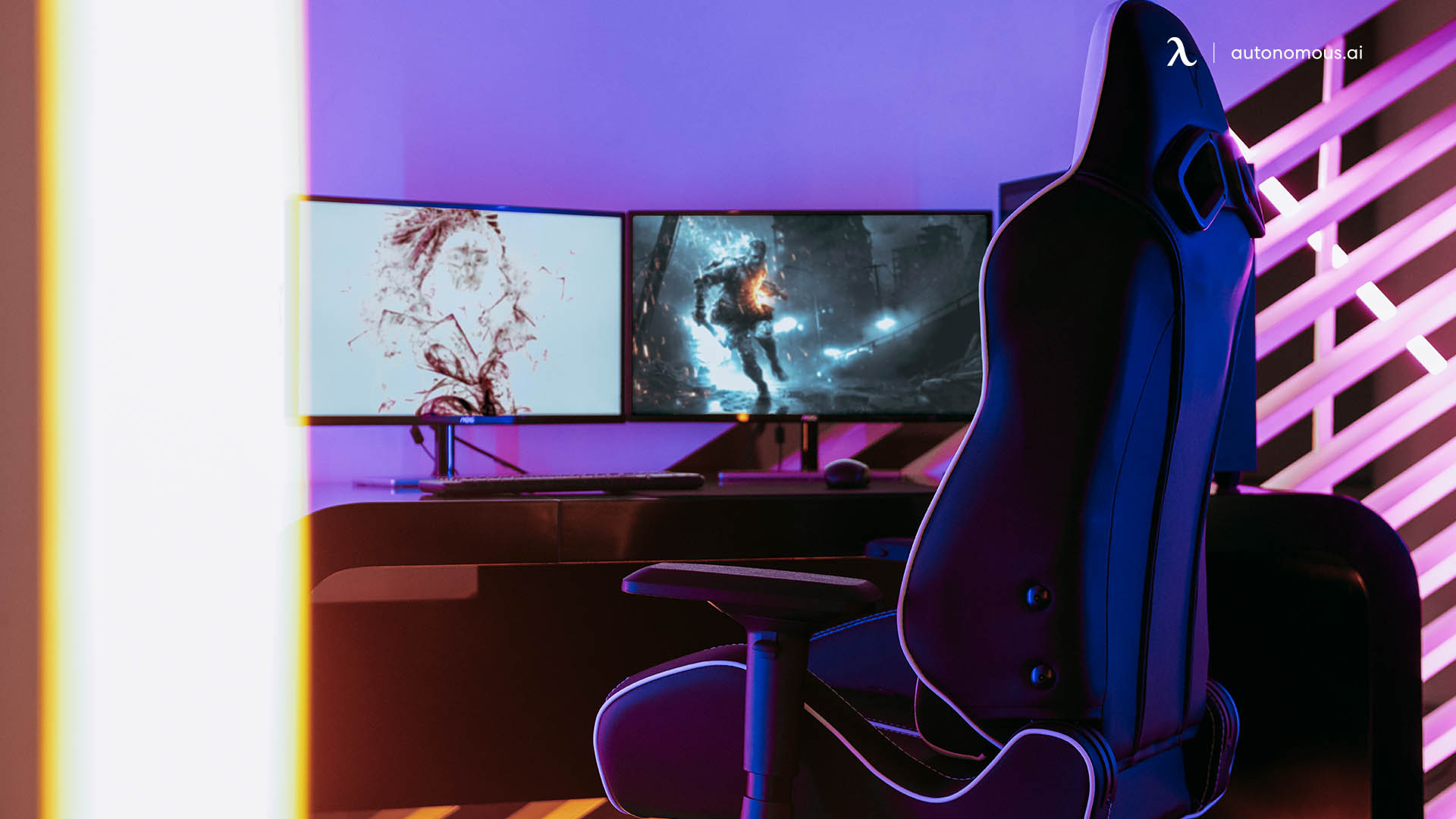 Want to step into the future with Descent: Legends of the Dark or Shards of Infinity? Set up your gaming area with futuristic lighting. How do you do that? Its, easy. Just set up some white lights under your desk and behind the screens and other equipment. Ensure that your room has an ambiance of bluish-white or an orangish black to depict ice age or traveling into space effects.  Dig in your heels before you get on to a ride.  Sit comfortably into the Gaming Chair Special Edition by Vertagear, and tighten your seat belt before you take off on your mission!
2. Starry Night Sky
Here is the starry night sky lights theme for those playing space games or the space wars. Set up your room with tiny little cool lights for the gaming room. Decorate your ceiling or create a dark and artificial nightlife by getting LED lights.  Such LED desk lights can also revolve around the room to give you different galaxies and space to explore.  So now race your warship to another galaxy, or shoot down the enemies. Evade them by escaping into the nightlife.  Or play another round of jungle crossing across the starry nights. You also have the option to play some easy games under the moon-filled evenings.
Don't forget to darken your room or use a black gaming desk setup
3. Awakening the Forces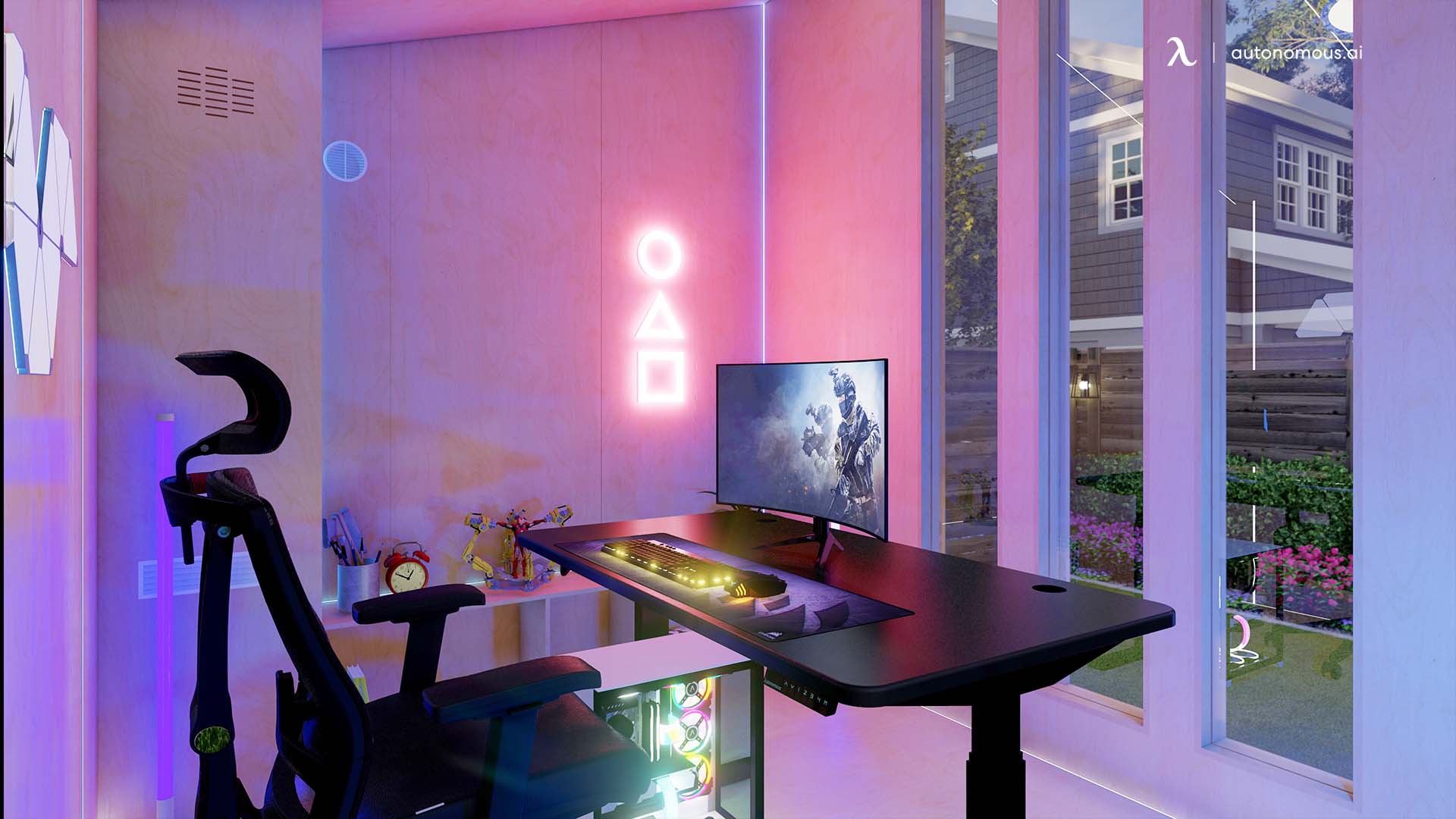 Are you a Star Wars fan? Set up your room with swords in white or light bluish led lights for the gaming room. Hang some posters of Star Wars.  Use a black and green theme around the room.  The idea is to decorate and drape your room in unique lighting for an all saber effect.  Add dashes of green saber lighting to the room with fluorescent effects.  Get small LED bulbs or reflective lights to go under the desk, behind the desk. You could also opt to add it in a series around the border of your desk and other computer parts.  Add figures of Star Wars and some large action figures in the room. Add some music as if you were stepping into the space. Voila! You are ready to launch your spaceship!
If you are a rookie, get yourself a Rookie Gaming PC by Autonomous x Artesian Builds. This PC's brain is an Intel I5 10600K processor, and the motherboard is an ASUS TUF Gaming Z590-Plus Wi-Fi. Woah! Quite a combination.  Hang-on.  Get more power as you discover that the CPU cooler is Deepcool Castle EX240 RGB 240mm, Liquid Cooler.  Use the 16GB DDR4-3200 RAM to power on!
4. Angry Birds
Ready to play an oldie game of Angry Birds? Well, set up your room with large panels of flashy and fluorescent red and oranges. Add dashes of yellow panels with cloth or paper.  Don't forget to add posters that have walls or a set of stones, just like in the Angry Birds movies. Some folks love to add pictures of birds around. Fine-tune the audio with birds fighting and sounds of bricks falling.
For gaming room lights effects, you have a lot of choices from LEDs, cove lighting or thematic background lighting. Add sprinkles of blue, red and orange lighting to the décor. Many folks prefer to add a light dimmer to the red and orange lights for a winning streak.  And you are ready. Go ahead and punch them up!
5. Flashy Room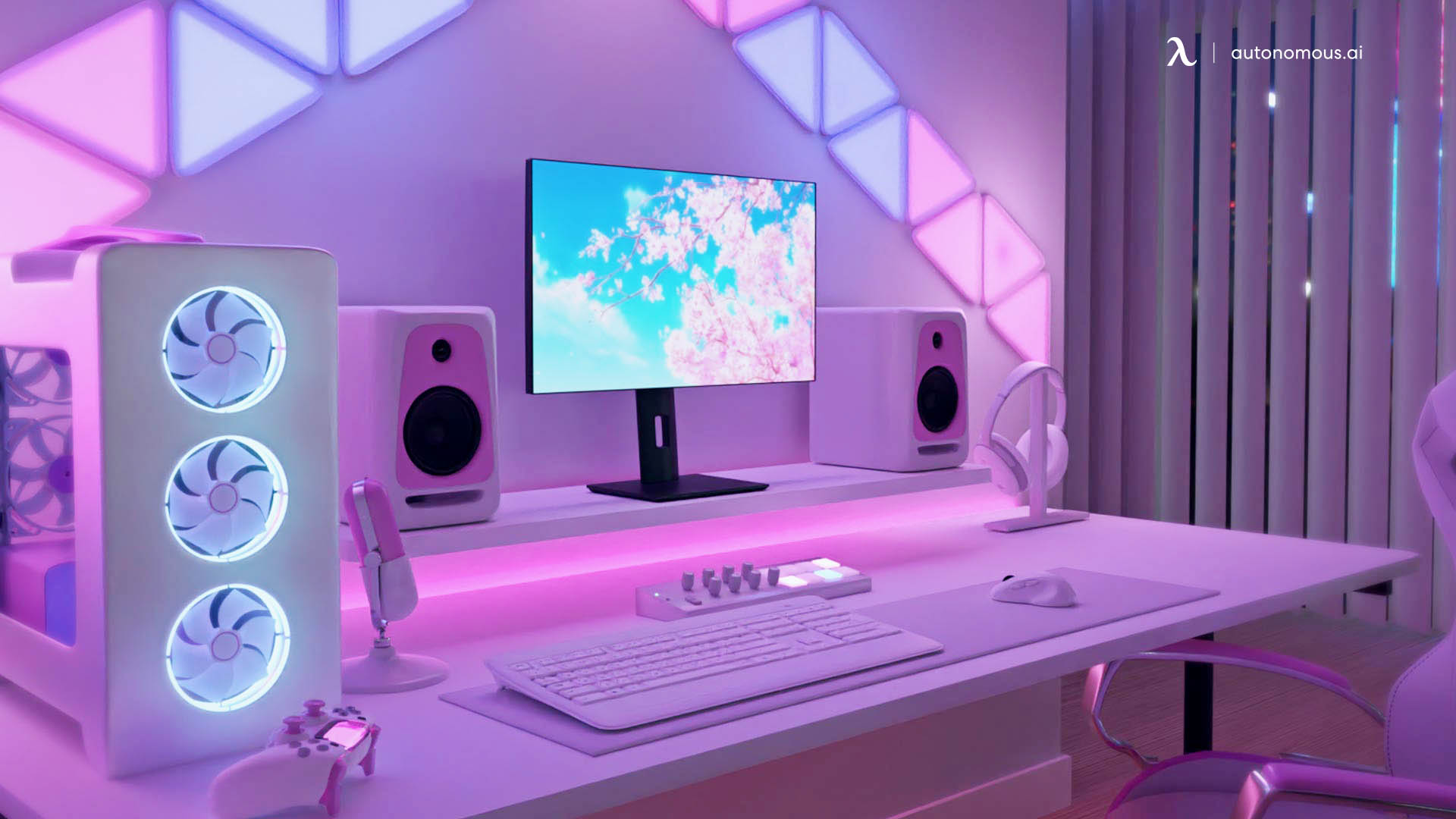 Getting into the past or going scavenging? Use fan lights with a mix of dark-colored lights for that eerie effect of scrawling into a tunnel or getting to the jungle.  Fan lights are a great choice, and the best part is you decide the fan's speed to manage the light effects.  Get into the Amazon rainforest or past the cops between border checkpoints through a tunnel.  Enjoy yourself as you play games making your adrenaline run high.  
Don't miss the favorite and top of the lists, Gaming PC by Autonomous x Artesian Builds.  It offers you one of the best space-optimized PCs and has a sturdy build.  You have a sleek-looking gaming PC with tempered glass on the side and front panels.  It is equipped with an Intel i7 processor and offers you a top-of-the-class RAM size of 32 GB and a 1 TB hard drive. Wow, isn't it?  Equipped with Wi-Fi and eight different adjustable RGB fans, you would have just recreated magic for yourself!
6. Projection Lights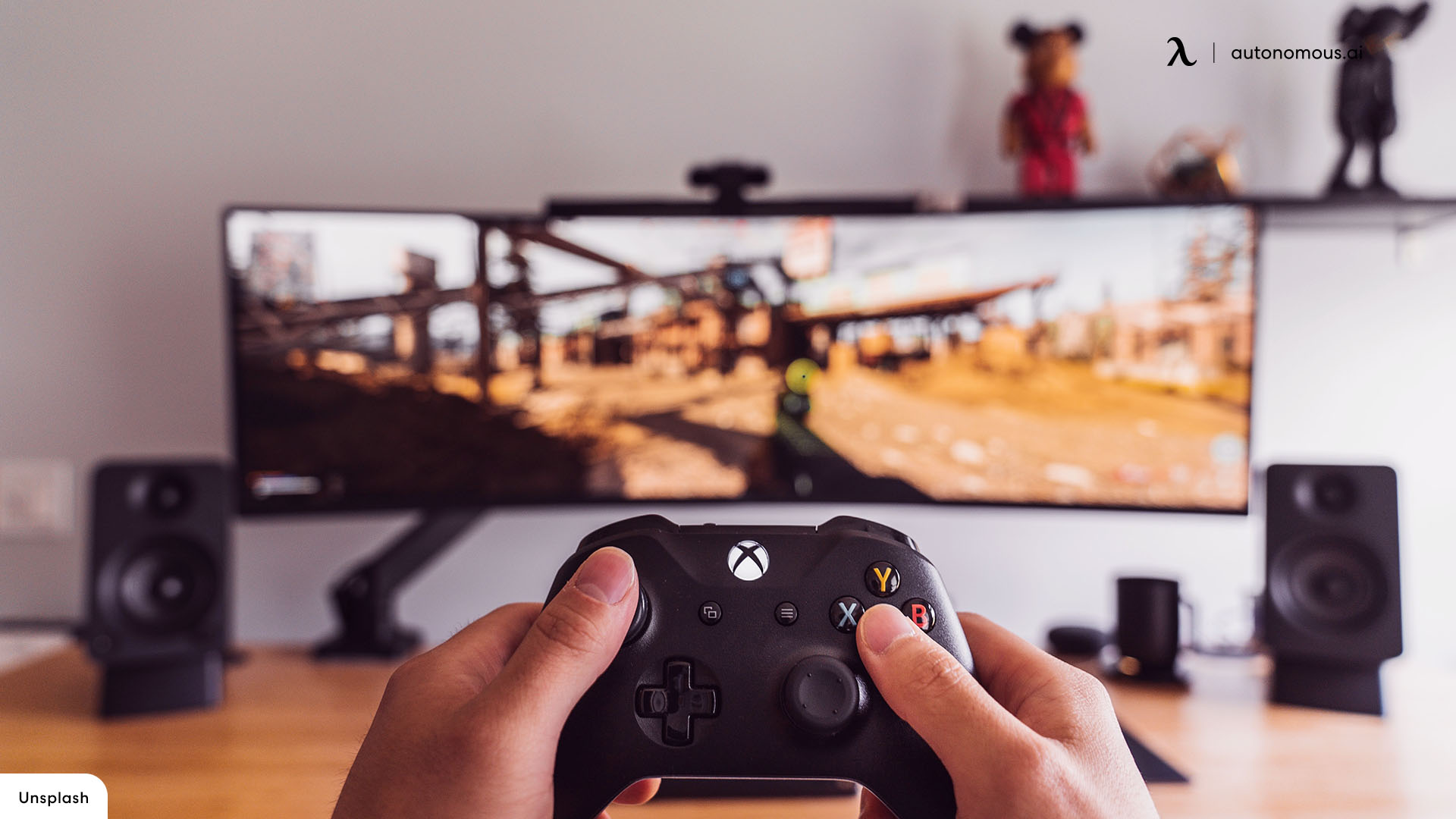 Now use projection lights to light up large PC gaming rooms. These video game ceiling lights are one of the best to project. Else use them to focus on special 'objects d'art' in your room. Set up your room with antiques as you go gold digging into the deep old mines in western Africa or the globe.  Set up a rustic feature with soft and pale-yellow lights.  Set up your room with some old and dry bamboo sticks to resemble the shafts leading to the mine. Use some sheets to create the mountains and have fun.  Don't forget to share the gold with us, being our share of leading you to the right idea!
7. Watery Blue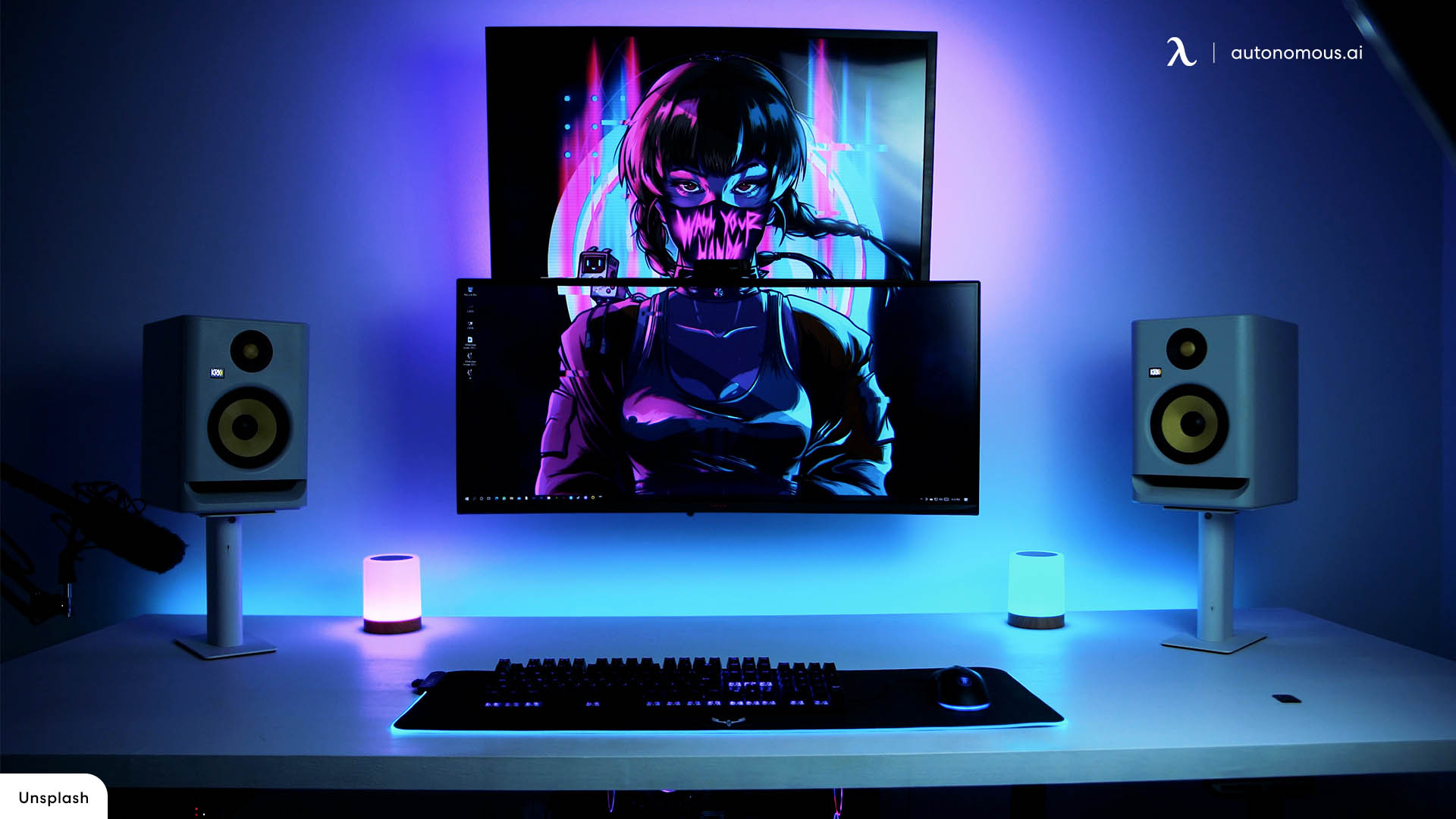 Use a greenish-blue theme in your room with portable LED lights and fanlights to create that underwater ambiance. Deep dive with a diver's suit, going deep into the waters to find the lost treasures of the Titanic or another wrecked ship.  Use projection lights to create the ambiance and effects of a submerged ship as you look around for lost and hidden treasure.  Don't forget to add the sound effects of mushing in deep waters as you go in and out of the ship's holds, following schools of fish. Aha! The pleasure of being a gold-digger is pure fun!
Wrap-up
As you look for a choice of lights, remember the purpose of lighting. Choose from a range of them and create magic for your gaming room. Have fun as you create the right ambiance to play a game. Invite a friend over or play virtually, letting other gamers see the fun with lighting you have created!
Keep up with Autonomous news
Stay informed, stay inspired with our new blogs.
WRITTEN BYAutonomous
We build office products to help you work smarter.