Workplace Inspiration
Amazing Small Gaming Room Ideas 2023
3,914 Views
A gaming room is a place of escape for avid gamers. It is a way to detox and hit the refresh button in their lives, and frankly, the number of people involved in gaming increased substantially over the past two years because what else would one be doing being quarantined in their homes for months? Part of the reason being gaming is a stress killer and a way to relax, and a controlled amount of gaming can do a lot more good than any harm.
Hence it is important to have some fun activity to refresh your mind, and gaming is one of the most common hobbies. But when practiced in an unhealthy way, gaming can be damaging. It can lead to stress mental health issues, and prolonged gaming can also cause physical stress, thus leading to poor posture and back problems. Hence it is important to have a proper set of gaming furniture and small gaming room ideas that work for even the tiniest of spaces.
This article will cover some of the best small room gaming setups in 2022 and highlight the must-have best gaming setup accessories for maximum experience.
Small Space Gaming Setup Ideas for a Modern Gaming Place
A Floating Gaming Setup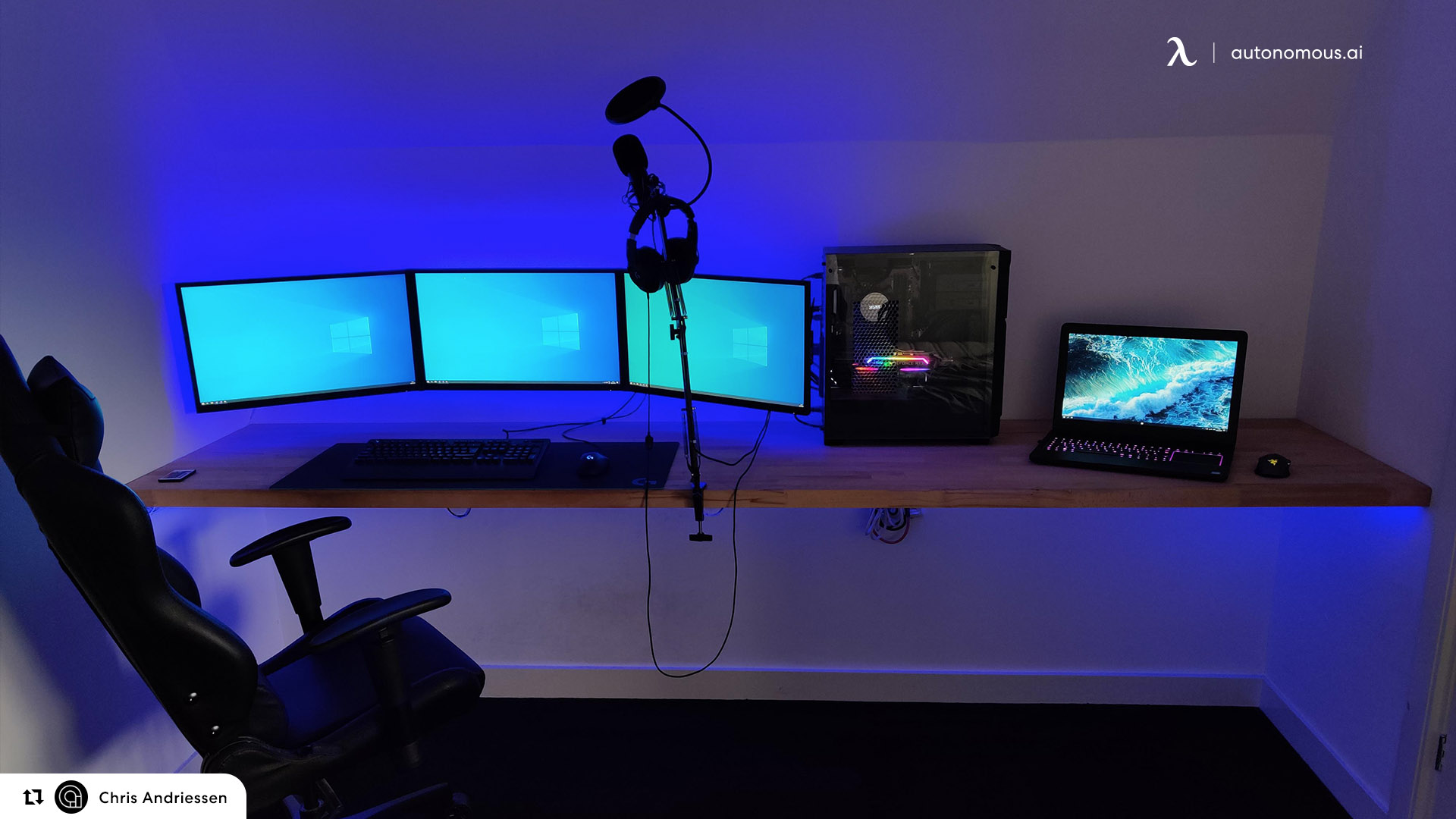 A floating gaming platform will suffice the space you need, especially true and ideal for a gaming setup that has to be made in a small room. Make sure to choose any corner wall that has the least interaction and does not have any furniture. You can then measure the free space and get a readymade gaming platform. The benefits of a floating platform are that it saves space and is also very cheap.
Seating Space
Here is one of the interesting small gaming room ideas for you. Consider including a seating area in your video gaming room design, so you have a place to entertain guests. If you choose a comfortable couch, it can also serve as a bed when you're too sleepy to make it to your bedroom. Blue is a popular choice since it is a soothing color. To make the place more appealing, add a splash of color.
Gaming Essentials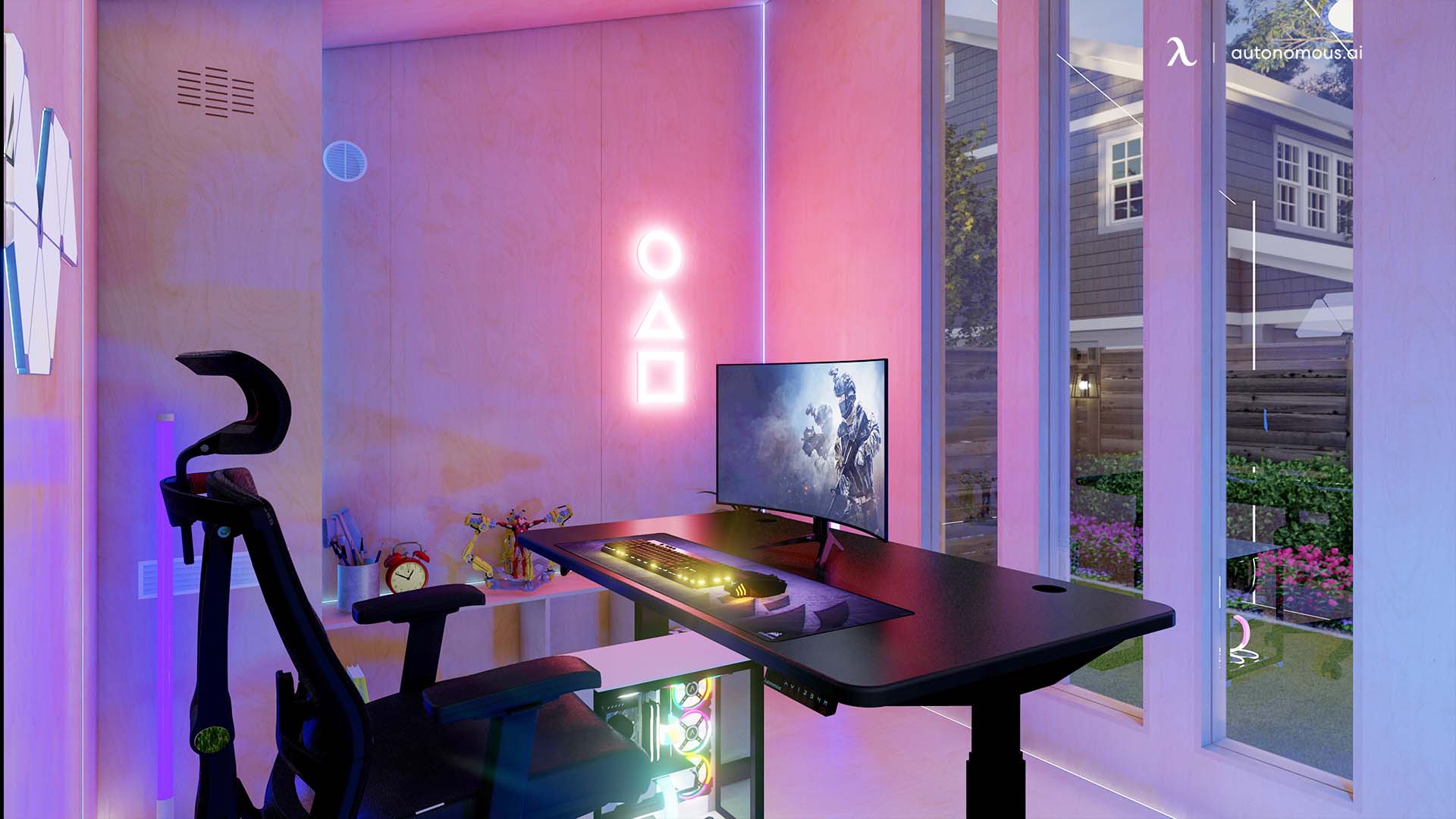 The top need for a small room PC setup, whether for gaming or work to perform well, is to pair it with the right gaming accessories. Since gaming is a whole experience, you can win or break the situation with the right kind of accessories. Here are some suggestions for gaming.
Speakers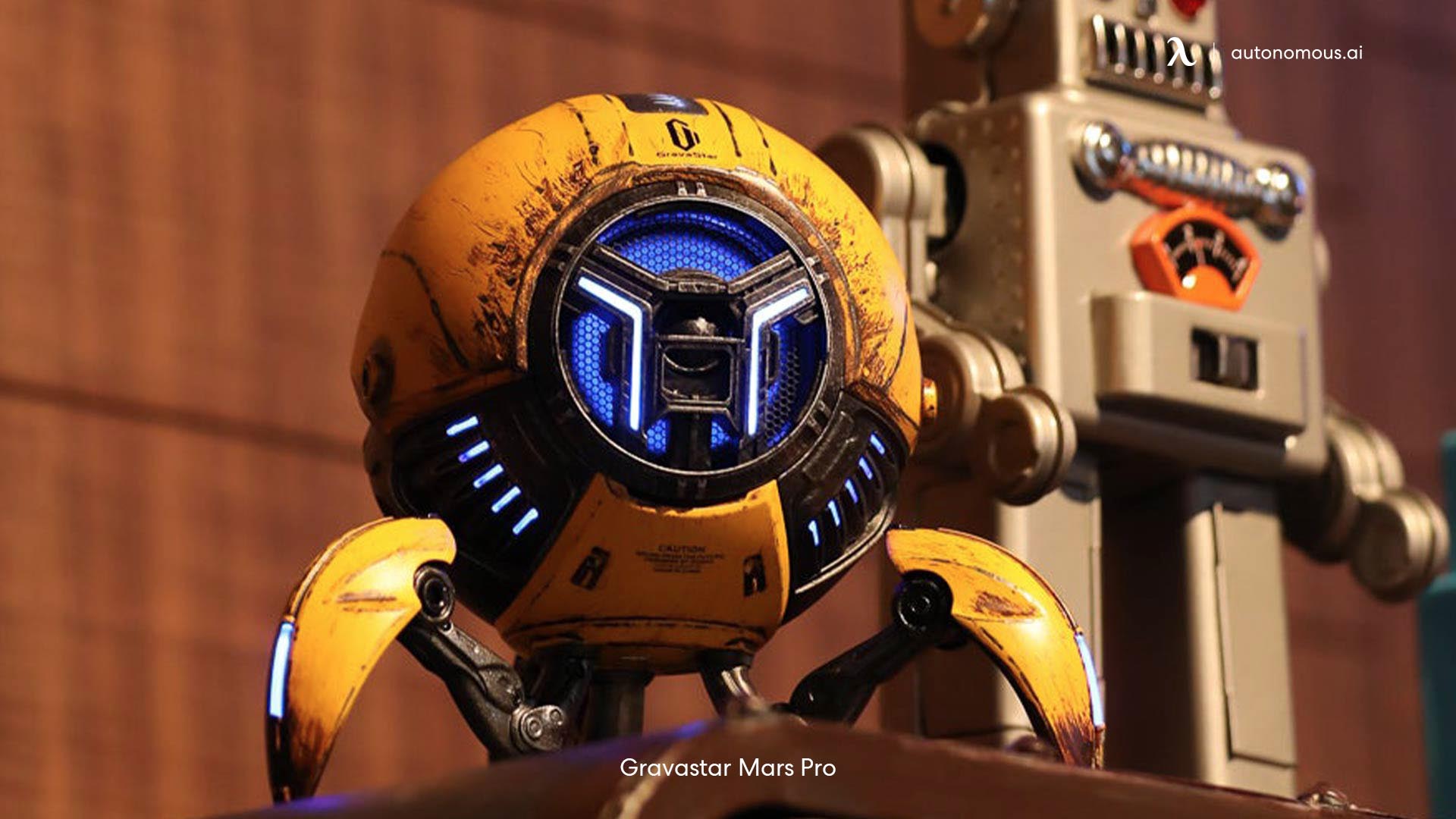 A speaker is just another gaming setup essential since the audio experience plays a vital role in creating an overall vibe. People prefer gaming headsets or speakers, and both provide one of a kind experience. A big speaker setup such as a futuristic Bluetooth speaker or RGB Bluetooth speaker can be a good choice if you have an entire small room dedicated to gaming.
These speakers are specially made to enhance the special gaming sound effects and capture every sound played in the game. For people with more of a limited space means a corner gaming setup, noise-canceling headphones are the right choice.
Lighting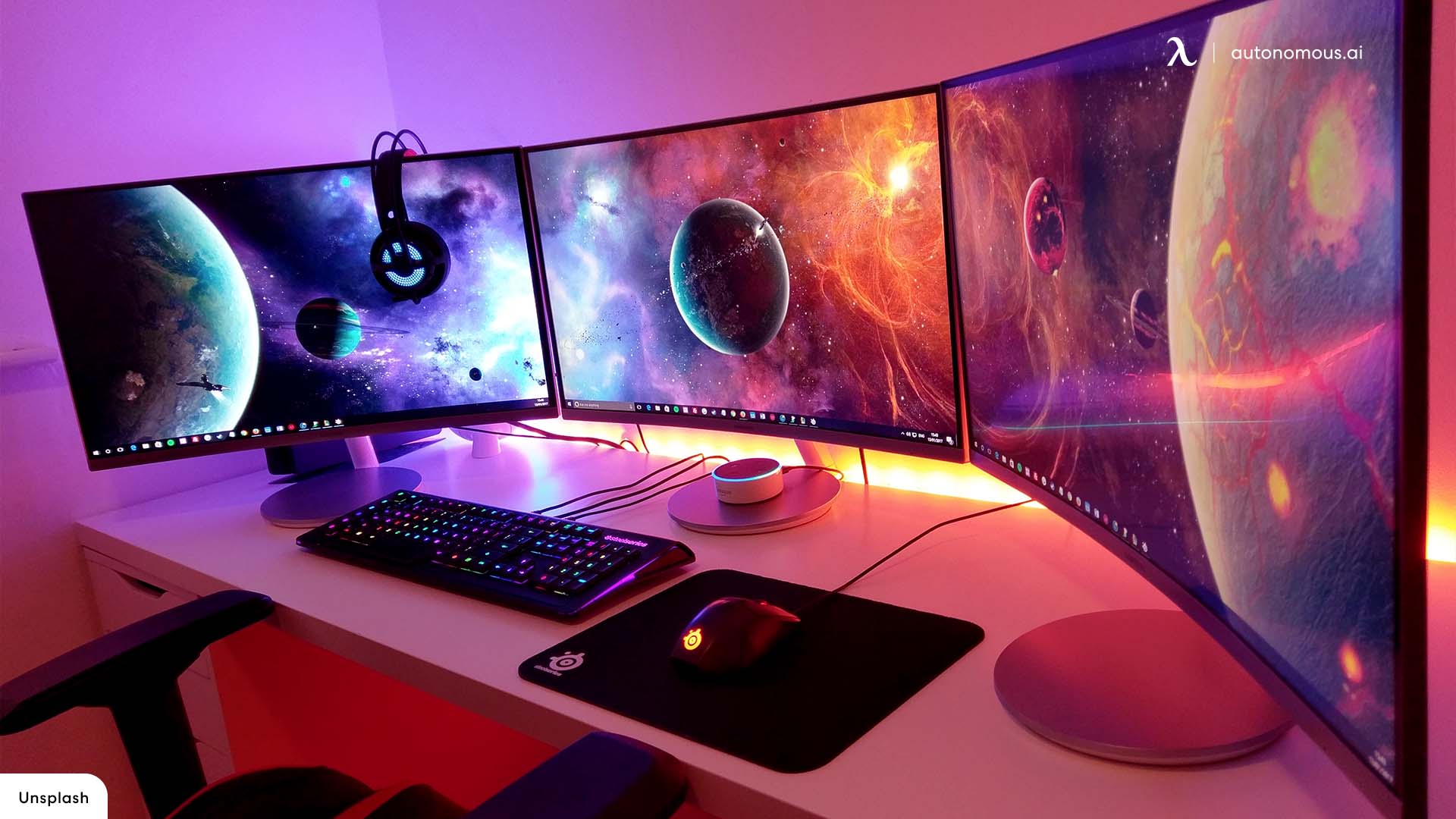 The small gaming room idea is also affected greatly by the choice and type of lighting you have installed. Many people prefer darker themes when it comes to gaming. Hence they are more likely to opt for dim lights. But even though darker themes are ideal, the lighting should be enough to avoid any eye strain and similar eye issues.
Hence, setting up a desk lamp or task lamp is the right solution for small gaming. We recommend the RGB Color Corner Floor Lamp due to its versatility and ability to furnish a gaming setup with the right vibe.
Gaming Chair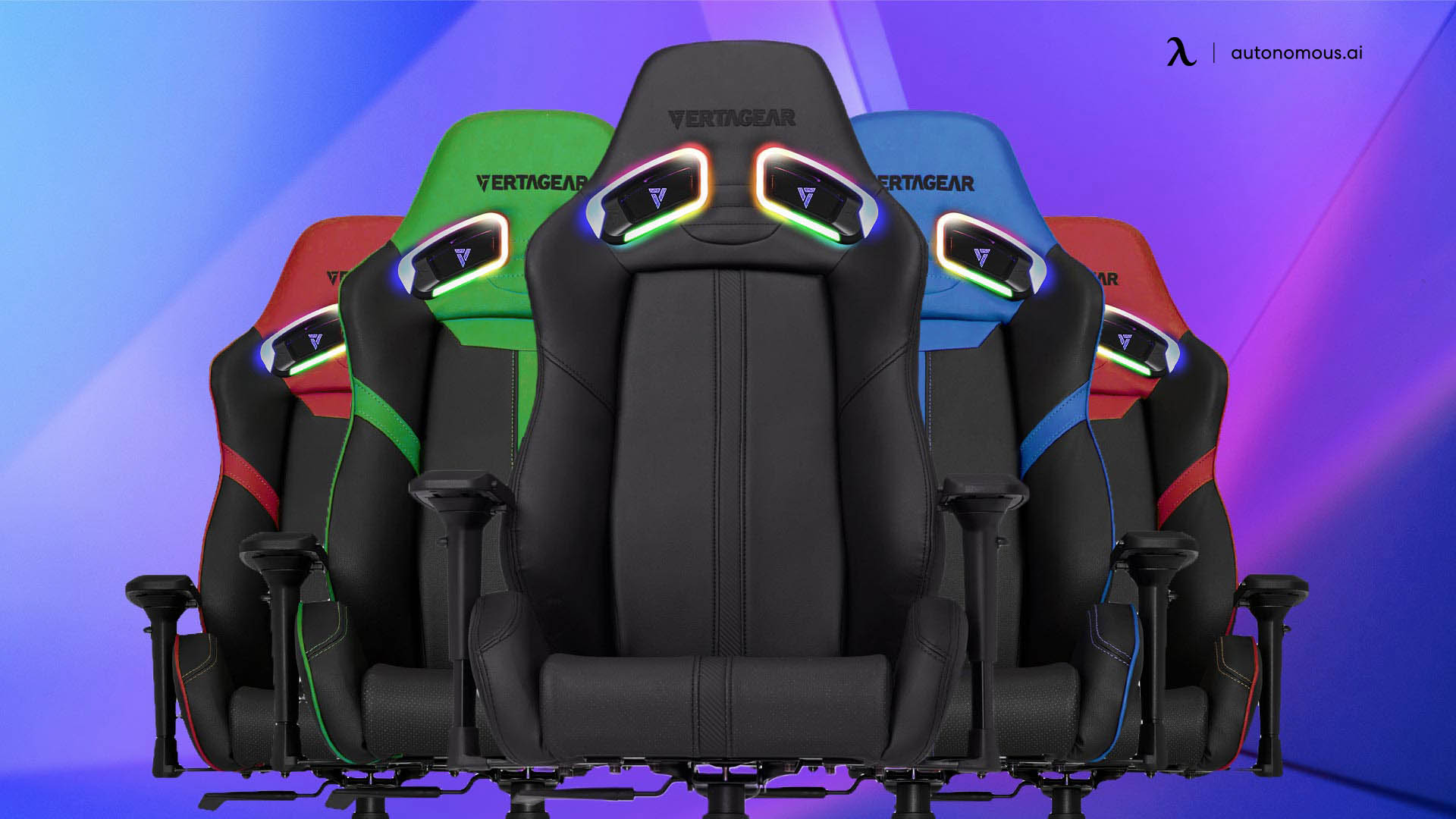 Next comes the perfect gaming chair. People who play games often suffer from back pain, poor posture and similar health issues. A gaming chair is specially designed to sit for hours and prevent musculoskeletal injuries. Thankfully, modern gaming chairs are just plain about ergonomics. They are also designed to keep aesthetics in mind.
The Karnox gaming chair bluish-grey gaming chair is made of PU leather to keep the body under maximum support. The 4D armrest ensures no stress, slouching or any kind of shrugging in the shoulders. The chair is also made up of an aluminum base; hence you can rely on its strength and durability. Another similar and unique gaming chair is the Vertagear gaming chair series which are also popular for their durability and reliability.
Gaming Desk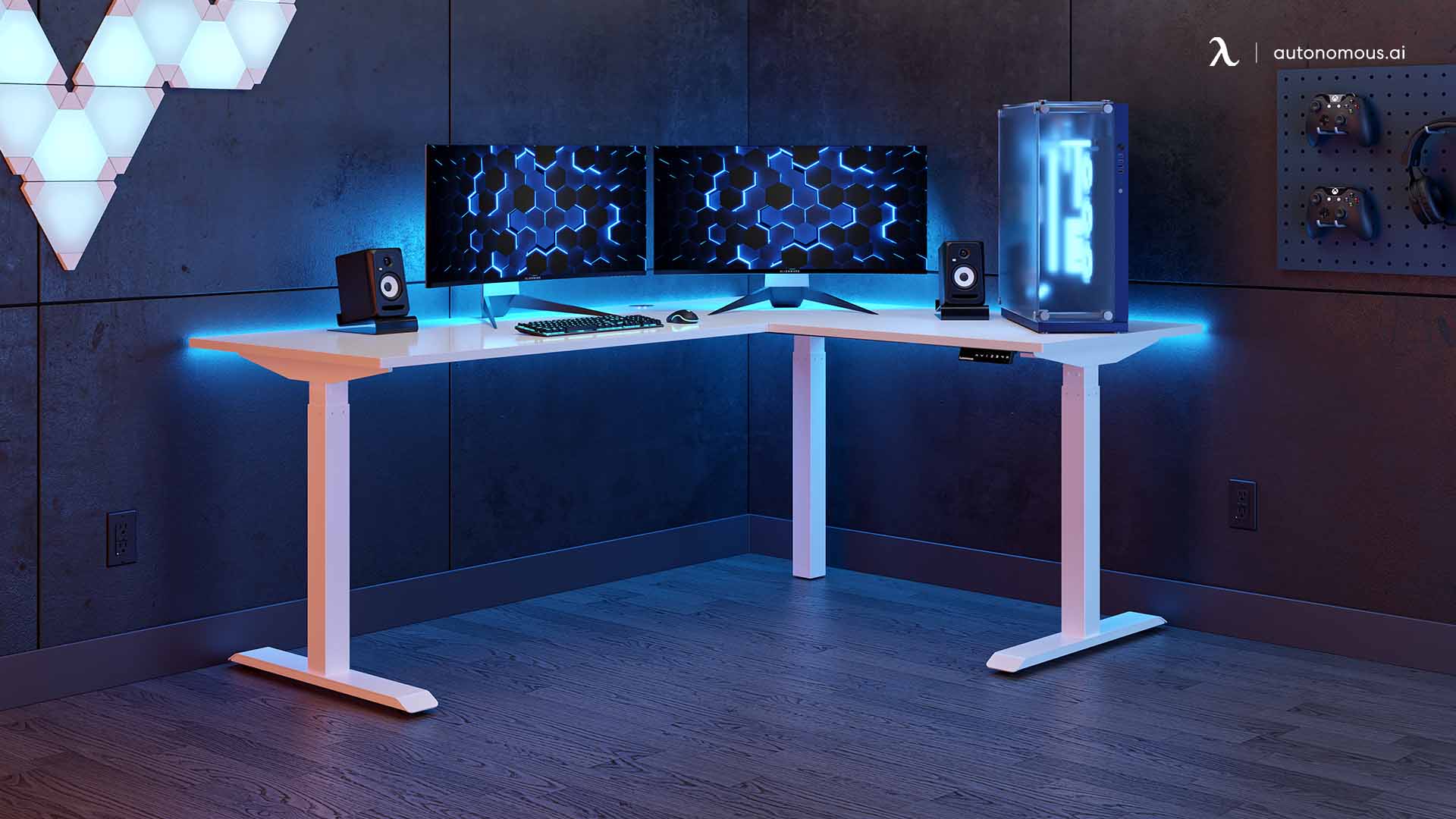 For PC Gamers, a proper gaming desk for your small gaming room ideas is highly important. Gaming desks are different from ordinary desks because they should have enough surface area for all the gaming accessories to reside easily. Gaming desks also should have enough space for free movement of the mouse and a way to manage the huge clutter of cables emerging from the screens.
We recommend the compact gaming desk by Benzara due to its storage options and wide surface area. This gaming desk also has an elevated monitor shelf to play while standing.
Although if you want to top for a more ergonomic option, the SmartDesk Pro is also a suitable choice. Ideal for both work and gaming, this desk setup will provide you with enough space for a multi-monitor setup.
Monitor Setup
A custom gaming pc build provides you the best gaming experience, but it is towards the pricier option. Gaming monitors also come in your budget, and if you want a multi-screen setup, it is wide to get screens that are compatible with each other and don't cost you an arm and a leg each. The Pixio monitor gaming screens are ideal and affordable for a multi-screen gaming setup. They also have an edge-to-edge IPS display so that you won't compromise on the display's quality.
However, one thing to remember, when you are using a multi-monitor screen, make sure your desk has enough space and weight capacity to bear the load. Using a monitor arm to mount the screens at a safe, ergonomic level is wise.
Sum Up
Many people confuse gaming room ideas for a small space with an entire room dedicated to gaming. Since it is not practically possible for each home to have its private gaming room, hence a small dedicated space will do the job right. Having their own gaming space is both refreshing and rewarding, and thus you need a few tips to ensure the space you have chosen is dressed well to create the perfect gaming setup.
Subcribe newsletter and get $100 OFF.
Receive product updates, special offers, ergo tips, and inspiration form our team.
WRITTEN BYAutonomous
We build office products to help you work smarter.