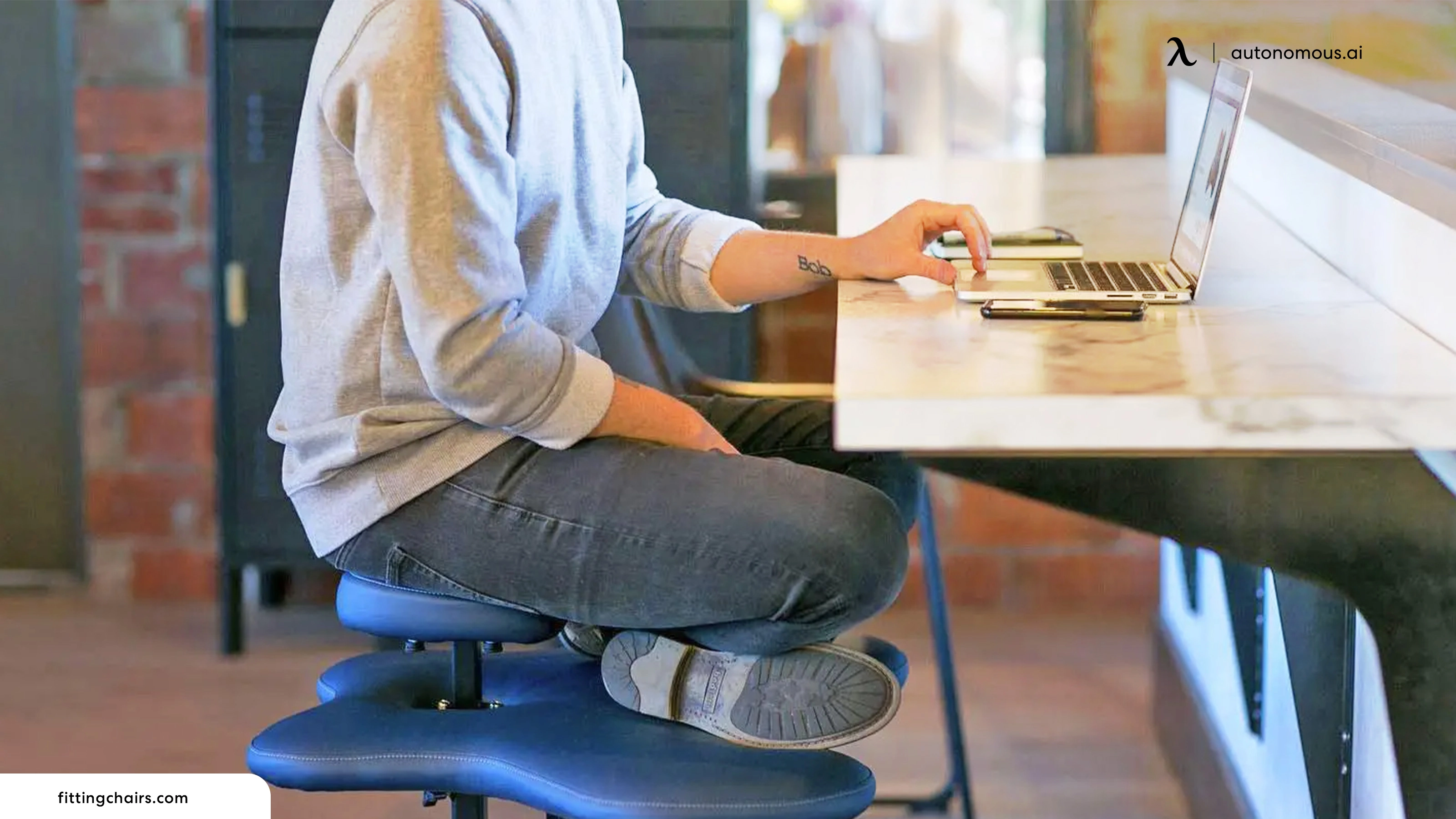 Smart Products
10 Best Cross-Legged Office Chairs - Reviews & Ratings 2023

Laura Turner
|
Oct 23, 2023
28,376 Views
A cross-leg chair may seem like an impossible item to find, as it is hard to believe that a chair was developed specifically for sitting cross-legged. However, they do exist, and many people look forward to including them in their office setup.
A swivel desk chair may seem like the best option for an office. They allow more freedom of movement and are helpful when, for example, you are using a corner desk and need to be in constant touch with both areas. There are tons of situations like this, but what we've described doesn't speak for everyone.
It's a common habit for people to sit cross-legged on a chair. It allows them more comfort and may help them relieve some of the accumulated tension, although it isn't a permanent position. For instance, most people don't sit like this for more than twenty minutes or half an hour.
Is It Bad to Sit Cross-Legged in a Chair?
Sitting cross-legged has been controversial for several years. Many debates are still with this subject, but none of them offer a clear answer.
Before we start reviewing the best office chairs for sitting cross-legged, we must tell you that this isn't the greatest thing you can do. A study performed by the Society of Physical Therapy Science demonstrated that sitting in this position can be prejudicial for the trunk's position, as it directs it towards asymmetry.  Hence, it can result in rigidness for that area, and your lumbar rotation abilities may be diminished due to it.
There has been a long debate on the internet whether sitting while crossing your legs is dangerous for your body. Most people debate that cross-legged sitting doesn't cause them pain while they're working, assuming that it's fine. 
While cross-legged office chair isn't going to cause any immediate damage, it can give you some issues with your legs in the future. 
In essence, cross-legged sitting involves sitting on a chair or floor with your legs bent; that way, your knees point out outwards. Another variation of this activity while sitting is placing one leg on top of the other and crossing to its opposite side. 
If you were going to sit for a few minutes and leave your chair, cross-legged sitting would not be a problem for you. However, the main problem comes when you sit for too long. 
Keep in mind that you're placing an entire leg over the other, causing a significant amount of pressure. Prolonged pressure could cause other issues involving high blood pressure, varicose veins, and bad posture. In short-term scenarios, you may feel your legs go numb after doing cross-legged office chair for too much time. 
To answer the question: "Is sitting cross-legged bad?" It can be if you sit in this position for several hours. Office workers tend to stay on their chairs for many hours a day, increasing the risk of suffering a body injury due to cross-legged sitting.
Top 5 Office Chairs for Cross Legged Sitting
Do you love sitting cross-legged at your desk, but your office chair is killing your back?
If so, you've come to the right place! We've reviewed the best cross-legged office chairs on the market in 2023 so you can find the perfect one for your needs. Our reviews cover everything from features and comfort to price and durability. So whether you're a student, a work-from-home professional, or just someone who loves to sit cross-legged, we've got you covered. Read on to find the best cross-legged office chair for you!
1. Pipersong Cross-Legged Office Chair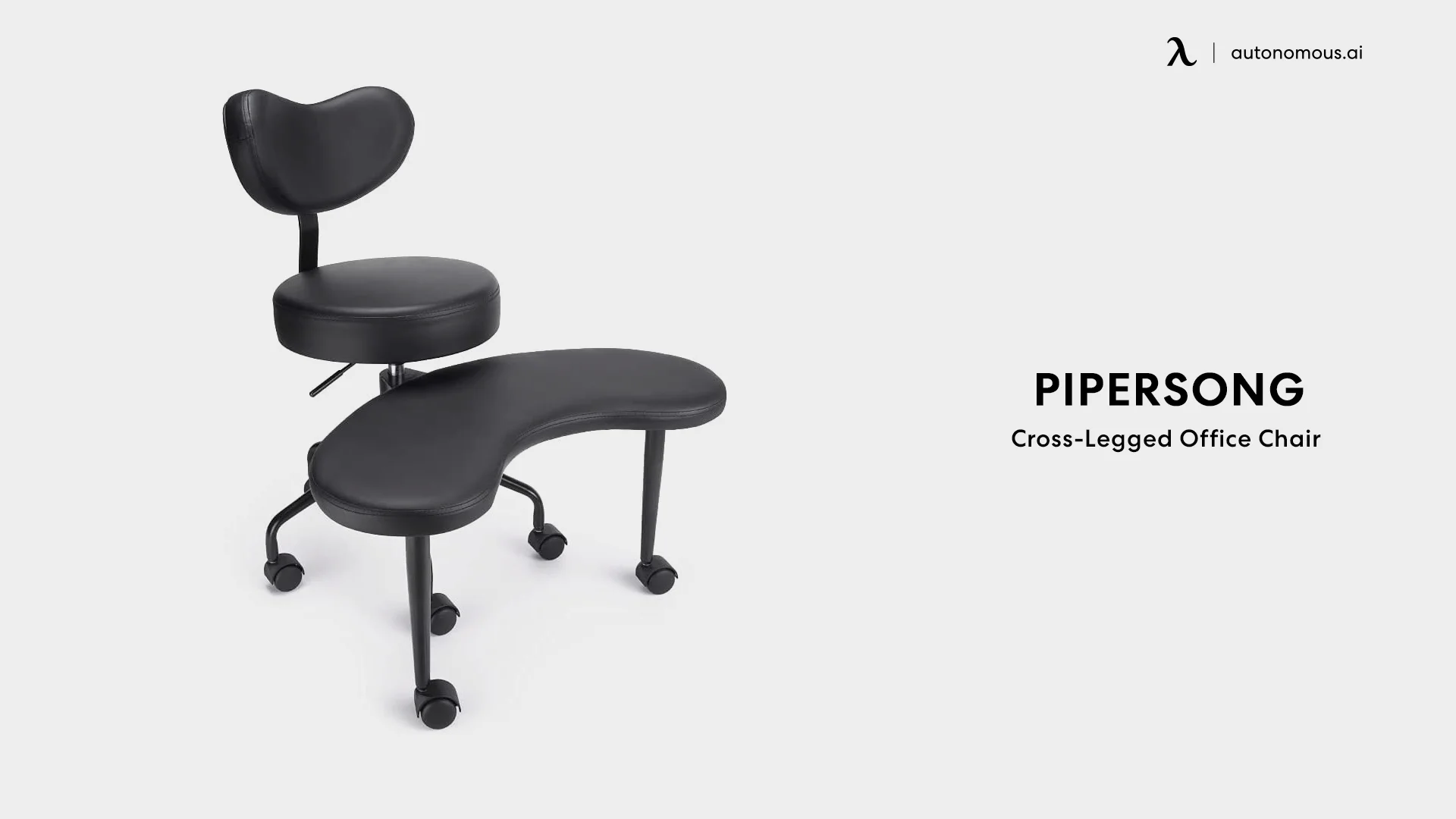 Pipersong Cross-Legged Office Chair
| | |
| --- | --- |
| User Weight | under 200 lbs |
| User Height | 5 to 6.1 inch |
| Desk Height | 29 to 35 inch |
| Suggested Space | 3 x 3 feet |
| Features | 360-degree swivel, flexible seating outlet, crescent-shaped backrest |
Pros

Cons

Best for office use
Relatively more expensive
It provides a comfortable sitting experience
Provides additional lumbar support
Equipped with a raised cushioned platform
Best for yoga
We have had the privilege of thoroughly evaluating the PiperSong Meditation Chair, and it truly captivated us with its remarkable blend of beauty and functionality.
What struck us right away about the PiperSong Meditation Chair was its commitment to convenience and relaxation. It offers unparalleled comfort and support from the moment you sit on it. The padded seat and ergonomically shaped back provided exceptional support for maintaining a healthy posture, alleviating stress on the spine and neck. The cushioning was a perfect balance of softness and firmness, allowing you to find your sweet spot effortlessly. What truly delighted us was the cross-legged office chair's flexibility, enabling easy adjustments to achieve the perfect height and angle for various meditation positions.
The PiperSong Meditation Chair excels in both aesthetics and adaptability. Its modern minimalist design seamlessly complements traditional meditation spaces and contemporary living areas alike. The array of available colors and finishes allows for a personalized touch, making one's meditation space uniquely theirs.
It can be your meditation chair or seamlessly transition into a comfortable office chair for long hours and a stylish addition to your home office. Its lightweight design and compact footprint will make it fit effortlessly within any limited space.
This cross legged desk chair is lauded for its quality materials, emphasizing their enduring resilience even after extensive use. This polyurethane-covered high-density foam cushion is a classic. It was clear that this chair was built to withstand the test of time, confirming its value as a long-term investment.
There is little doubt that the PiperSong Meditation Chair improves comfort and focus during quiet reflection. Its ergonomic construction provides exceptional ease and support, making it ideal for those who struggle with back pain and poor posture. Sitting up straight on this cross legged desk chair and keeping your thoughts clean will help you go further into your mindfulness practice.
Who This Cross-Legged Office Chair Is For
If you're a fan of meditation and want to take your practice to the next level with more comfort and support, the PiperSong meditation office chair is a great investment. It's a chic workplace chair that can double as a reading chair or a place to unwind. Because of its versatility and resilience, it is an excellent option for anyone looking to make a long-term financial commitment to their health.
Aesthetics and practicality come together beautifully in the PiperSong Meditation Chair. It's a great help to those who meditate regularly or who are just looking for a flexible and cozy seat. Its long life and versatility are a tribute to the skill and care that went into making it.
2. Soul Seat - Cross-Legged Office Chair
| | |
| --- | --- |
| Capacity | 352 pounds |
| Primera Materials | 100% Polyurethane Surface, 55% Viscose Rayon, 45% Polyester |
| Ultraleather Pro Materials | 100% Polyurethane Surface, 100% Reinforced Rayon Backing |
| Pendleton Eco-wise wool Materials | 100% Pure virgin Eco-Wise Wool, Cradle to Cradle Certified by MBDC |
| Size | Standard / Large |
Pros

Cons

Ergonomic and durable design
Relatively more expensive
Supports legs and knees
Comfortable sitting experience
Available in various sizes
Auto-adjustable option available
The Soul Seat is a fascinating and adaptable chair that creates a permanent impression on its users.
The Soul Seat distinguishes itself from conventional chairs with its ability to accommodate a plethora of sitting positions, including cross-legged, kneeling, and perching. It boasts a lower platform for your lower limbs and a higher one for your hips and buttocks, cleverly connected by a metal frame that offers personalized adjustments in both height and angle. These platforms are generously cushioned and swathed in sumptuous fabric or faux leather upholstery, ensuring both comfort and resilience.
At the core of the Soul Seat's appeal lies its ergonomic ingenuity. It actively encourages a posture that is not only relaxed but also inherently comfortable, fostering a straight back and eliminating the tendency to hunch over. What sets it apart is its unique emphasis on promoting movement and effortless position changes, resulting in improved blood circulation and enhanced flexibility—a departure from conventional seating that often falls short in terms of health benefits.
The Soul Seat's design is a masterclass in understated elegance, making it a versatile addition to any setting. Its construction incorporates not only plush foam padding but also durable fabric and materials of 10+ kinds and all these materials are of the highest quality that will serve you till the end.
The Soul Seat offers an array of adjustments that empower you to explore various sitting postures, affording the flexibility to cross your legs, kneel gracefully, or perch elegantly as per your preference. You can seamlessly fine-tune the height and angle of the platforms to harmonize with your body's unique contours and inclinations. The choice of enduring and indulgent materials adds to its allure.
The Soul Seat stands as a game-changer for individuals seeking a holistic and health-conscious seating experience. It particularly shines for those who have grappled with discomfort in conventional chairs due to back issues, neck strain, or persistent fatigue. Its appeal extends to individuals who appreciate the flexibility to assume an array of sitting postures, whether for meditation, reading, work, or gaming. With its chic and adaptable design, it harmonizes seamlessly with various settings and purposes.
The Soul Seat introduces a new way of thinking about posture chairs, one that places equal importance on motion and health. Because of its versatility and many uses, it is a welcome addition to many settings. The Soul Seat is an unrivaled option for individuals in need of a cutting-edge, ergonomic, and infinitely adaptable seat.
A Cross legged desk chair like the PiperSong Meditation Chair and the Soul Seat are great alternatives to traditional desk chairs. Both chairs are high-quality, fashionable, and equipped with features that make them perfect for sitting cross-legged.
If you're searching for an office chair for back pain that's made with meditation in mind, the PiperSong Meditation Chair is a great option, while the Soul Seat is a better fit for those who need a multi-purpose seat. In the end, your unique requirements and tastes will determine which cross-legged office chair is ideal for you.
3. Topay Cross-Legged Chair
Topay cross-legged chair is the second most uniquely designed chair in the market. Although its design is a bit like that of Pipersong's variant, it lacks a backrest. It features a 2-level design that lets you sit on your knees while your legs are crossed. Both these platforms are height adjustable. So, you may adjust them as per your discretion and use them as an office chair for a short person.
The good thing is that this chair can hold up to 350lbs, which covers a wide range of weight. We highly recommend this chair to people who often suffer from back and leg pain while sitting for extended hours on a typical office chair. 
Topay Cross-Legged kneeing Chair
| | |
| --- | --- |
| Dimensions | 24 D x 24 W x 20 H inch |
| Special Feature | Rolling |
| Material | Faux Leather |
| Frame Material | Alloy Steel |
| Back Style | Solid Back |
| Maximum Weight Rec. | 350 Pounds |
Pros

Cons

Allows sitting on knees
Lacks a backrest
Height adjustable design
Relatively more expensive
2-level design
Can withstand a weight of 350 pounds
Best for long hours of sitting
4. Tcowoy Ergonomic Criss Cross Office Chair
The Tcoway criss-cross office chair provides additional comfort compared to other chairs because of its 2-level special design. The chair allows you to sit in multiple positions, such as squatting, kneeling, and cross-legged.
The chair is perfect for various uses, such as meditation, yoga, and computer work. You can adjust the height according to your convenience.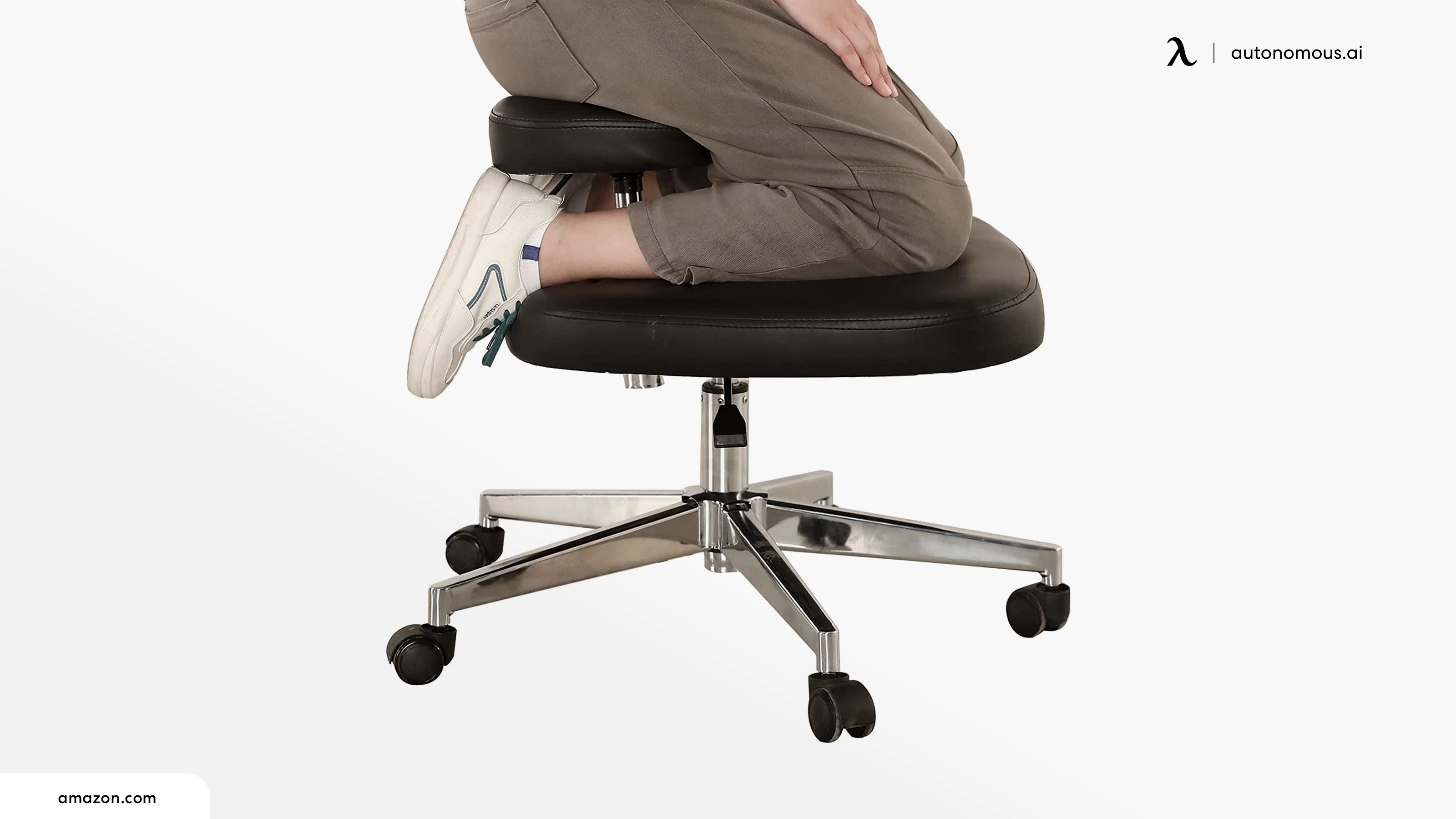 Tcowoy Ergonomic Cross Legged Chair for Office or Home
| | |
| --- | --- |
| Material | PU leather, foam, iron |
| Adjustable Height | The small pad 5.9-8 inches,the large pad 16.9-20.5 inches |
| Weight Capacity | 450 LBS |
| Weight | 22.2 Pounds |
| Dimensions | 25.6 x 21.26 x 29.5 inches |
| Care Instructions | Wipe Clean |
Pros

Cons

Comfortable sitting positions
Only available in white color
Multipurpose usage
Relatively more expensive
Adjustable height
Sturdy and flexible design
Offers ideal comfort
5. H-A Criss Cross Desk Chair for Meditation
H-A criss cross chair is perfect for those who meditate in their mornings. With its adjustable height design and comfortable sitting positions, you can easily meditate and start your mornings with a smile.
The chair has 3.5 inches of thick memory foam and a carefully thought-of ergonomic design. Moreover, it has a strong steel base, making it a durable investment for your workspace or home.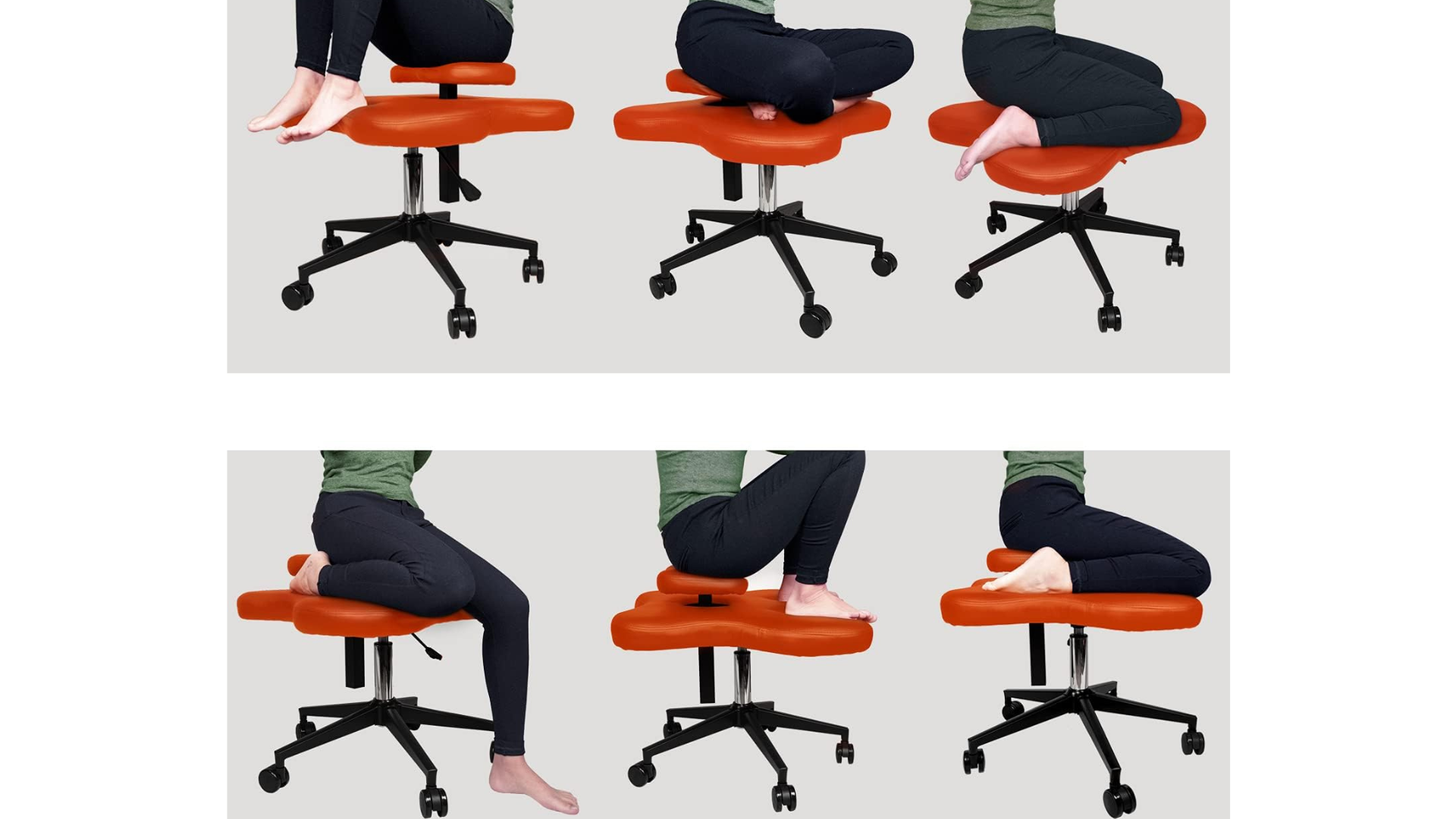 H-A Cross-Legged kneeing Chair for Yoga Lovers
| | |
| --- | --- |
| Material | Faux Leather |
| Color | Orange |
| Weight Capacity | 350 LBS |
| Weight | 32.5 Pounds |
| Dimensions | 20 x 26 x 26 inches |
| Special Feature | Ergonomic, Cushion Availability |
Pros

Cons

Height adjustments available
Lacks a backrest
Allows different sitting positions
Equipped with thick memory foam
Suitable for various uses
Durable and heavy-duty build
5 Best Armless Office Chairs for Criss Cross Sitting
1. EPHEX Fabric Padded Armless Office Chair
If you are in for style and appearance, consider the EPHEX fabric armless chair. This unique office chair comes adorned with a rainbow buckle. The chair is great in releasing pressure off your hips, providing you with a comfortable sitting experience for hours.
It is an ergonomically designed chair made from high-quality materials that will remain by your side for years. This chair can hold a weight of up to 400 pounds.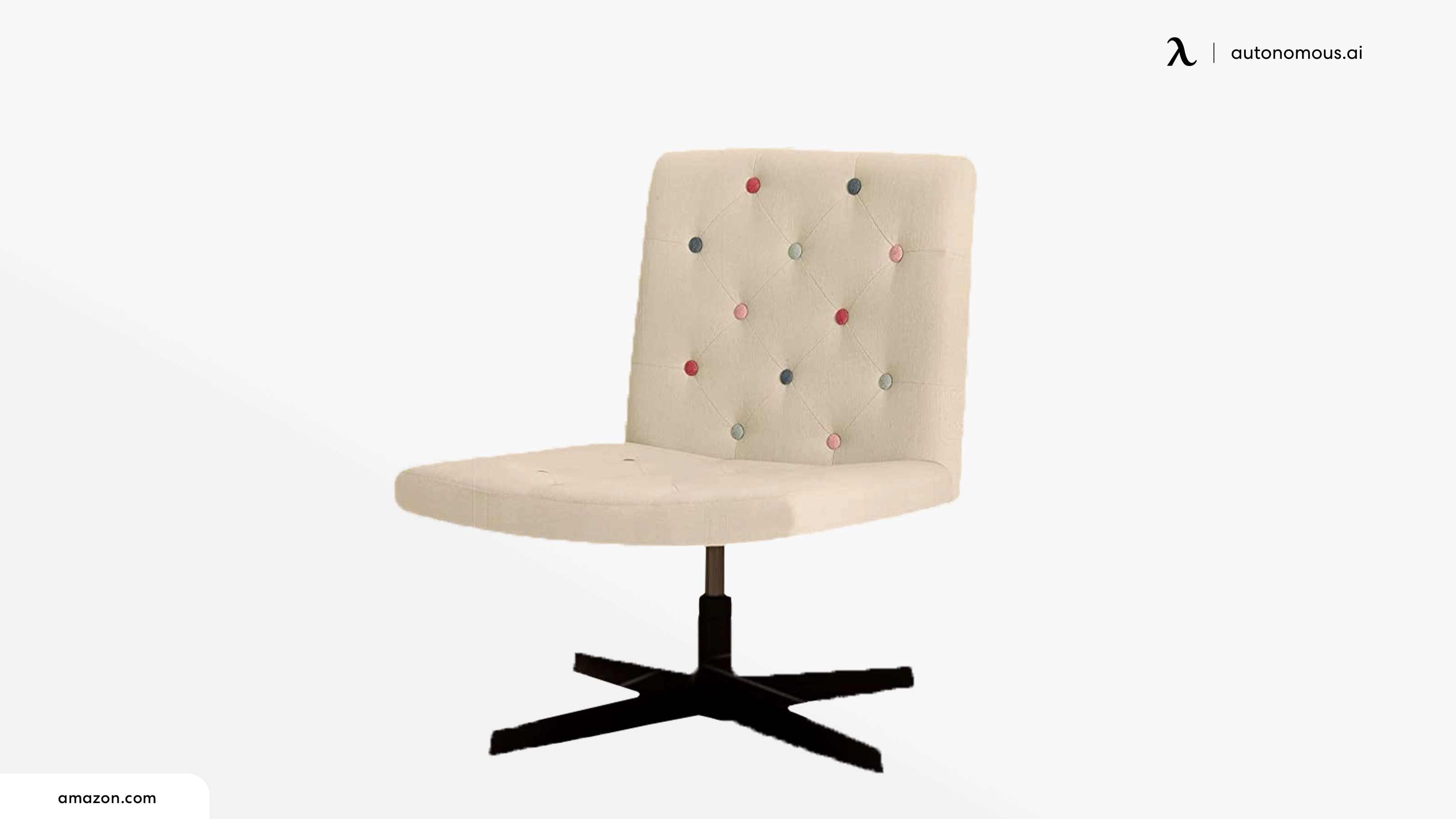 EPHEX Armless Office Chair No Wheels
| | |
| --- | --- |
| Material | Fabric & Metal |
| Color | Creamy Rainbow Button |
| Weight Capacity | 400 LBS |
| Weight | 31.3 Pounds |
| Dimensions | 19 x 25.6 x 39 inches |
| Special Feature | Sit Cross-Legged, Space Saving, Adjustable Chair, Armless Office Chair No Wheels, Swivel |
Pros

Cons

Unique and practical style
Assembly required
Ergonomic design
Manufactured with high-quality materials
Multipurpose use
Space-saving design
2. LEMBERI PU Leather Armless Cross-Legged Office Chair, No Wheels
The LEMBERI PU leather chair allows you to sit comfortably in one place without sliding since it has no wheels. The chair features a curved backrest which offers an ideal level of comfort and releases pressure on the back and hips.
Apart from being a comfortable and soft seat, the seat material is anti-slip, made of rubber that prevents scratching. You can adjust the height on this sit according to your preference. Lastly, the chair doesn't struggle to assemble since it comes with easy assembly instructions.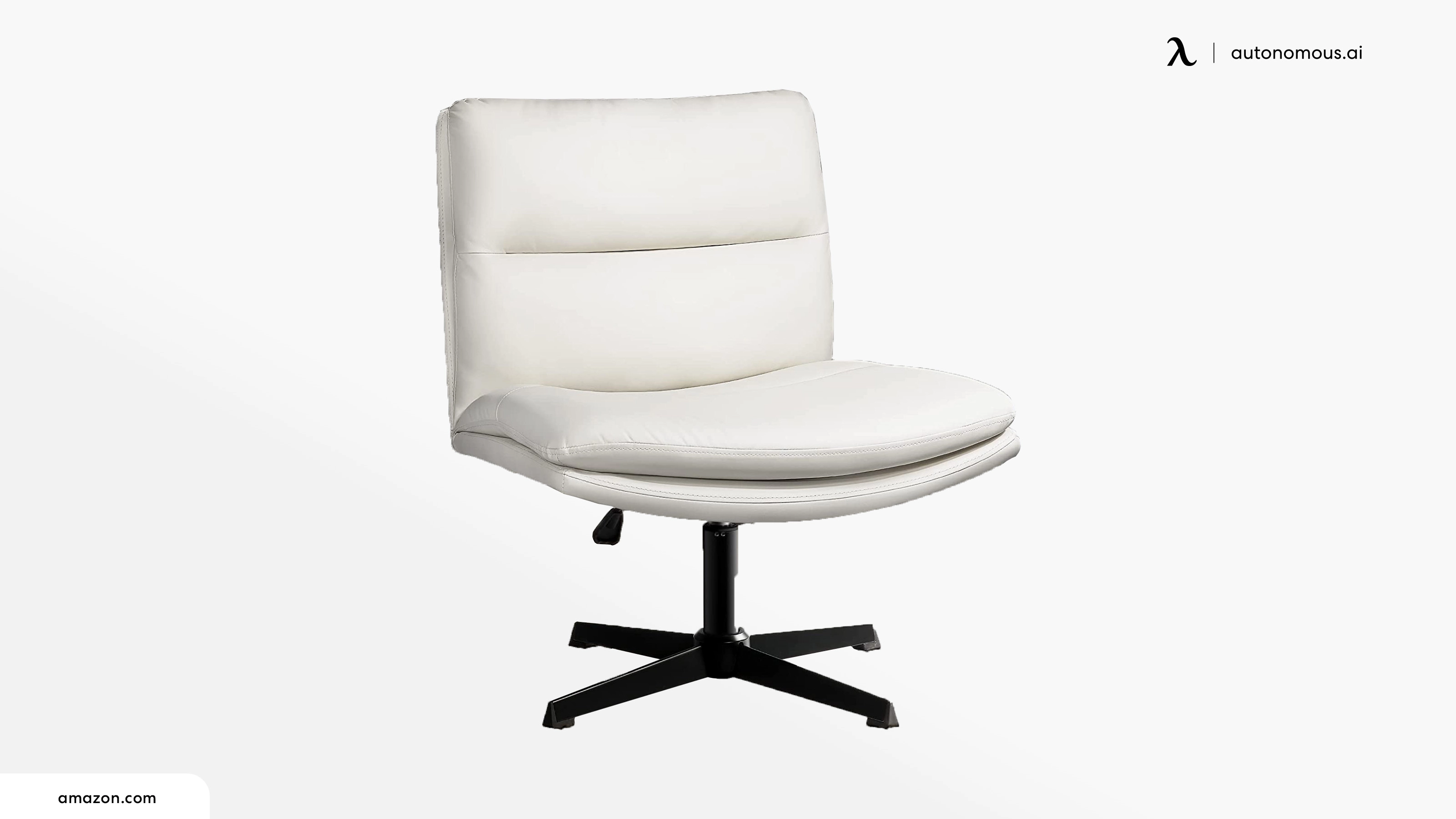 LEMBERI PU Leather Armless Cross-Legged Office Chair, No Wheels
| | |
| --- | --- |
| Material | Faux Leather, Metal |
| Color | White |
| Weight Capacity | 350 LBS |
| Weight | 32 Pounds |
| Dimensions | 17.3 x 25.6 x 36.2 inches |
| Special Feature | Adjustable Height, Rocking, Ergonomic, Widen seat, Seat Lock |
Pros

Cons

Best for homes and offices
Relatively more expensive
Wide and functional design
Soft and comfortable seat
Adjustable height options
Easy to assemble
3. PUKAMI Armless Desk Chair with No Wheels
Next, we have the PUKAMI armless cross-legged office chair, an elegant blend of comfort and functionality. The chair gives you a feeling of a comfortable lounge chair, thanks to its padded seats and comfortable pillow. The chair's base is made from an anti-slip rubber material, which prevents scratching and slipping off hard surfaces.
Moreover, the chair uses high-quality PU leather that is waterproof and easy to clean. The chair can withstand a weight of 350 pounds and works great for various uses.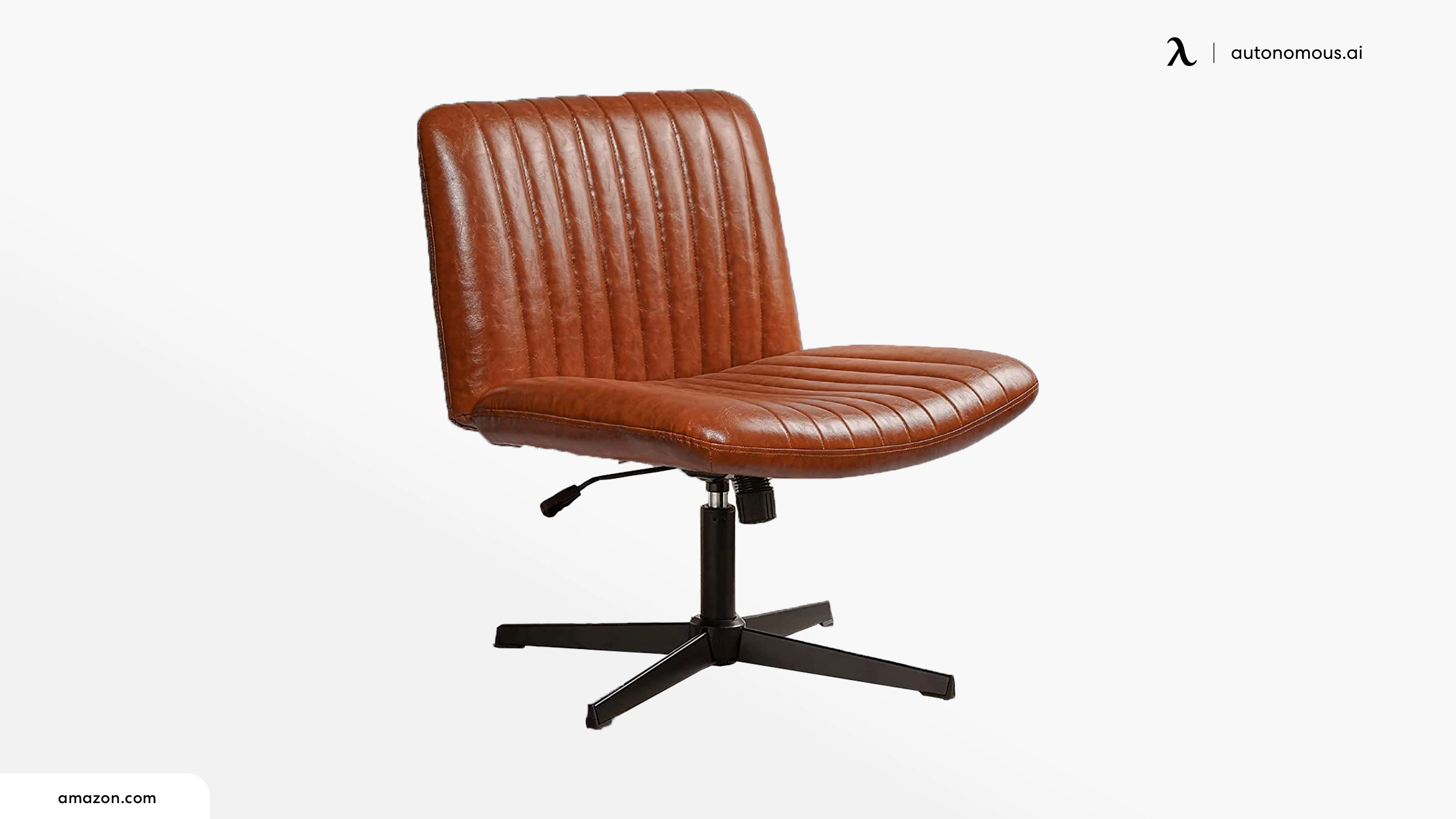 PUKAMI Armless Desk Chair with No Wheels
| | |
| --- | --- |
| Material | Faux linen |
| Weight Capacity | 300 LBS |
| Weight | 25.3 Pounds |
| Dimensions | 20 x 25.2 x 35.8 inches |
| Special Feature | Adjustable Height, Swivel |
Pros

Cons

Elegant and appealing design
Relatively more expensive
It provides an ideal level of comfort
Wide seat with padded backrest
Multifunction usage
Easy to assemble
4. OLIXIS Office Chair Armless Desk Chair with No Wheels
This cross-legged office chair is a great option for those who spend most of their time sitting in a single position. The chair has a comfortable seat and a padded backrest that alleviates physical pain, and it is height adjustable according to your specific needs.
Apart from comfort, the chair is highly functional. It has a 360° swivel and locking mechanism allows you to control the chair at your will. Overall, it is a stylish, sturdy, and comfortable furniture.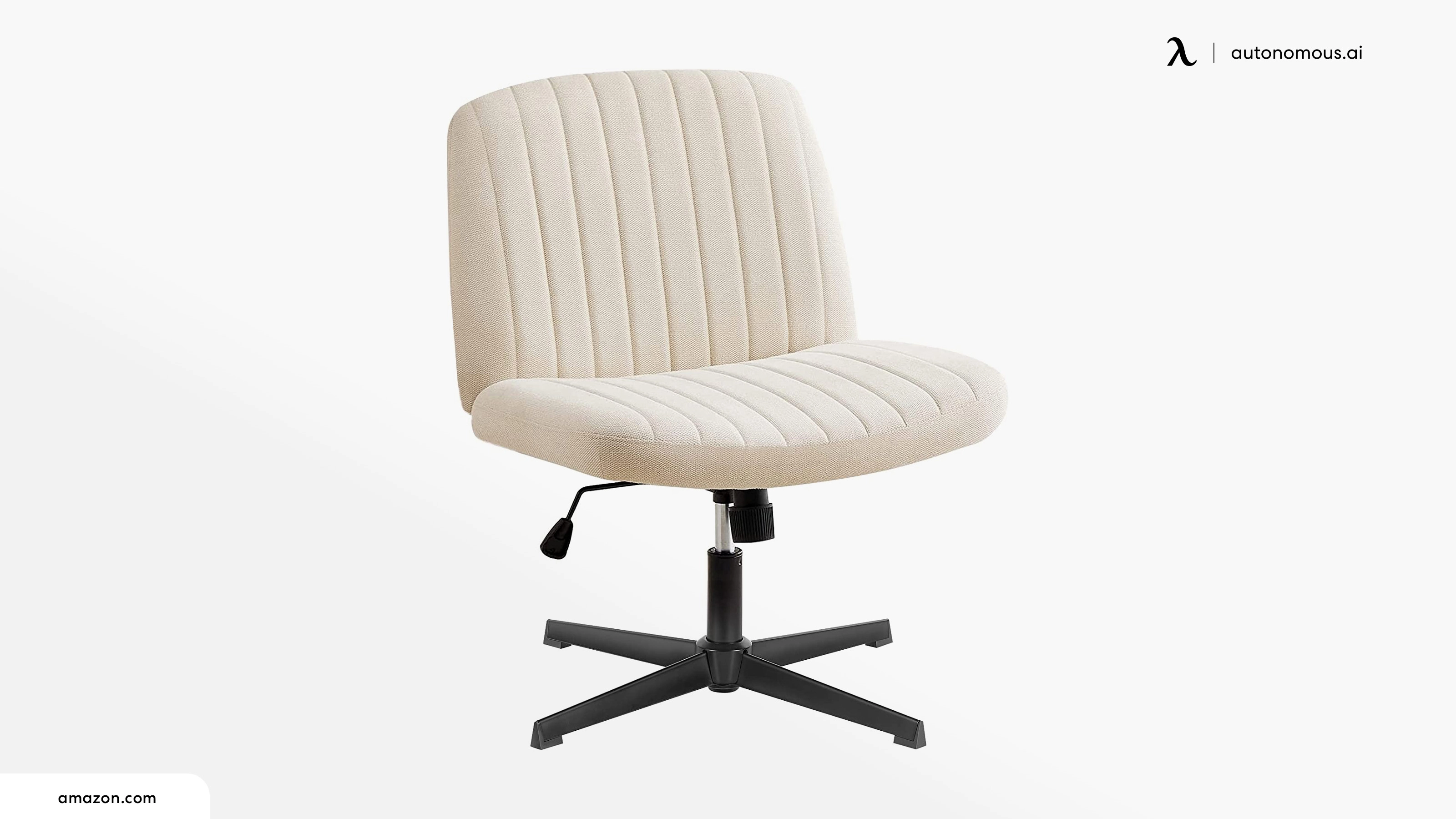 OLIXIS Office Chair Armless Desk Chair with No Wheels
| | |
| --- | --- |
| Material | Arm Rest, Swi, Cushion Availability. Metal Frame |
| Color | Beige |
| Weight Capacity | 300 LBS |
| Weight | 28 Pounds |
| Dimensions | 19 x 26 x 34 inches |
| Brand | OLIXIS |
Pros

Cons

Ergonomic design
Relatively more expensive
Comfortable padding
Height adjustable
Study and stylish
Provides lumbar support
5. WOKEEN Armless Office Desk Chair
If simplicity has a name, it would be WOKEEN armless office chair. This last product on our list is a top pick if you search for comfort without glamor. The chair is equipped with a shell-curved backrest and a thick padding seat, which offers great comfort.
The chair is manufactured using high-quality materials and can withstand a weight of up to 300 pounds. Overall the chair is a great cross-legged option if you are looking for comfort and durability.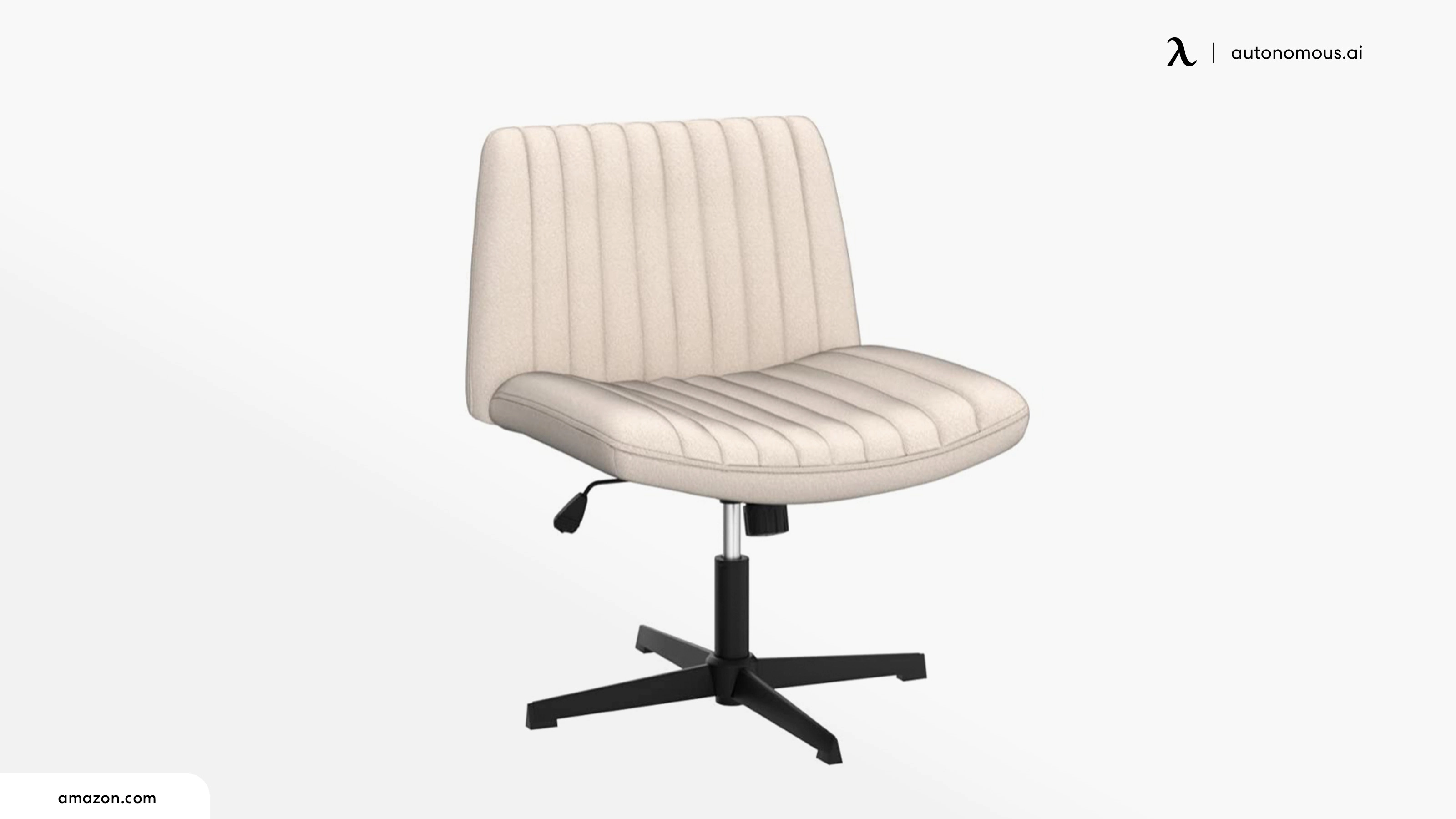 WOKEEN Armless Office Desk Chair
| | |
| --- | --- |
| Material | Polyurethane, Skin friendly fabric |
| Color | Grey |
| Weight Capacity | 400 LBS |
| Weight | 25.4 Pounds |
| Dimensions | 20 x 25.5 x 36 inches |
| Pattern | Solid |
Pros

Cons

Simple and stylish design
Longer sitting can cause sweating
Super comfortable padding
Made from high-quality materials
Easy to assemble
It comes with a money-back guarantee
What to Consider When Buying Cross Legged Office Chair
Now that you are aware of the best cross-legged office chairs in the market, you must be wondering what features we noticed in them to choose them. Certain aspects of a cross-legged office chair make it a suitable choice for your use. We have explained all those features below so that you get a holistic idea about these chairs. 
1. Material
Evaluating the material that is used in designing one's cross-legged chair is one of the first things to do. You must ensure that the chair that you are planning to buy has a sturdy build and is made using durable materials. The durability of the materials in a chair defines how much load they can carry. So, by the rule of thumb, chairs that are made using sturdy materials are more durable.
2. Design
You would have noticed that a criss cross desk chair typically has a unique design. It is supposed to be a 2-level design that provides you with a separate platform for keeping your legs crossed. However, any other chair with a broad seat can be used as a criss cross desk chair, provided it is designed ergonomically. 
3. Users' Feedback
The final aspect that helps you evaluate whether a cross-legged office chair is good for you is the feedback the users give. People who have had first-hand experience with these chairs give honest reviews. That's why we evaluated the reviews and the features that each chair offers to curate our list. We hope you have a complete idea of how you will get the right cross-legged chair for your office.
4. Adjustability
Usually, chairs that feature more adjustable features are better options. Cross legged chairs often lack adjustment in seat height. You must check that the one that you are picking features an adjustable height. If we talk about lumbar support, most cross-legged office chairs do not come with back support because they are designed to keep you upright. However, the ideal cross-legged chairs feature a backrest, too, like the ones we shared above.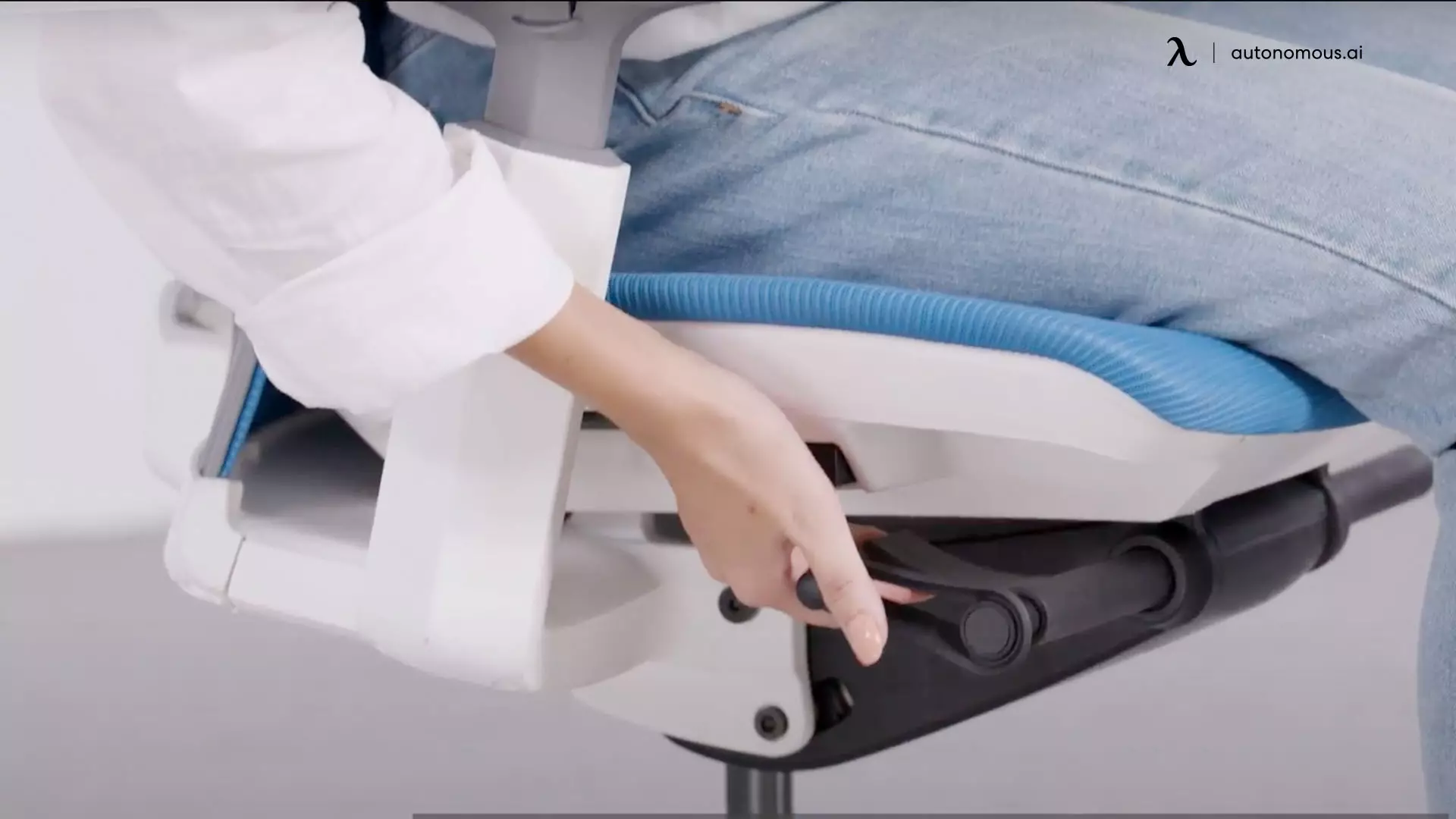 Pros and Cons of Ergonomic Chairs for Cross-Legged Sitting
Pros of Ergonomic Chairs for Cross-Legged Sitting
They promote many safe and healthy sitting postures.
You may sit cross-legged for short periods without jeopardizing your body.
There are several office chair models on the market.
They promote productivity and boost energy levels.
Cons of Ergonomic Chairs for Cross-Legged Sitting
Some models can be too expensive.
They don't solve the cross-legged sitting problem entirely.
FAQ
1. Is sitting cross-legged bad for your back?
We've already talked about this above – and the answer is yes. It does cause stiffness in your trunk and the lower back area. Still, these ailments are evitable (read below to learn how).
2. How do I sit cross-legged on a chair?
There are many ways of sitting cross-legged on a chair; it all depends on how comfortable you'd like to feel.
The first way is to sit on the floor and cross your legs, so your feet are below the knee area. It is the optimal position as it requires less effort and allows you free trunk movement. However, staying in this position for too long may lead to rigidness in your knees.
Another way is to sit as you usually do in a cross-leg chair, then putting one leg above the other. It's far more common in office environments for people to sit like this, and it's less prejudicial than sitting, as we've described above. You can also avoid doing this by acquiring an office chair with a leg rest.
3. Is it healthy to sit cross-legged on the floor?
According to studies, if you sit cross-legged in the incorrect position, you may end up worsening your lumbar pain as it encourages a bad posture. However, you can prevent this from happening if you evade hunching the back while you're sitting in this position. Maintaining a neutral posture while you're sitting cross-legged is helpful towards back pain, and maintaining all the weight in your hips will also prevent the pain from appearing too soon.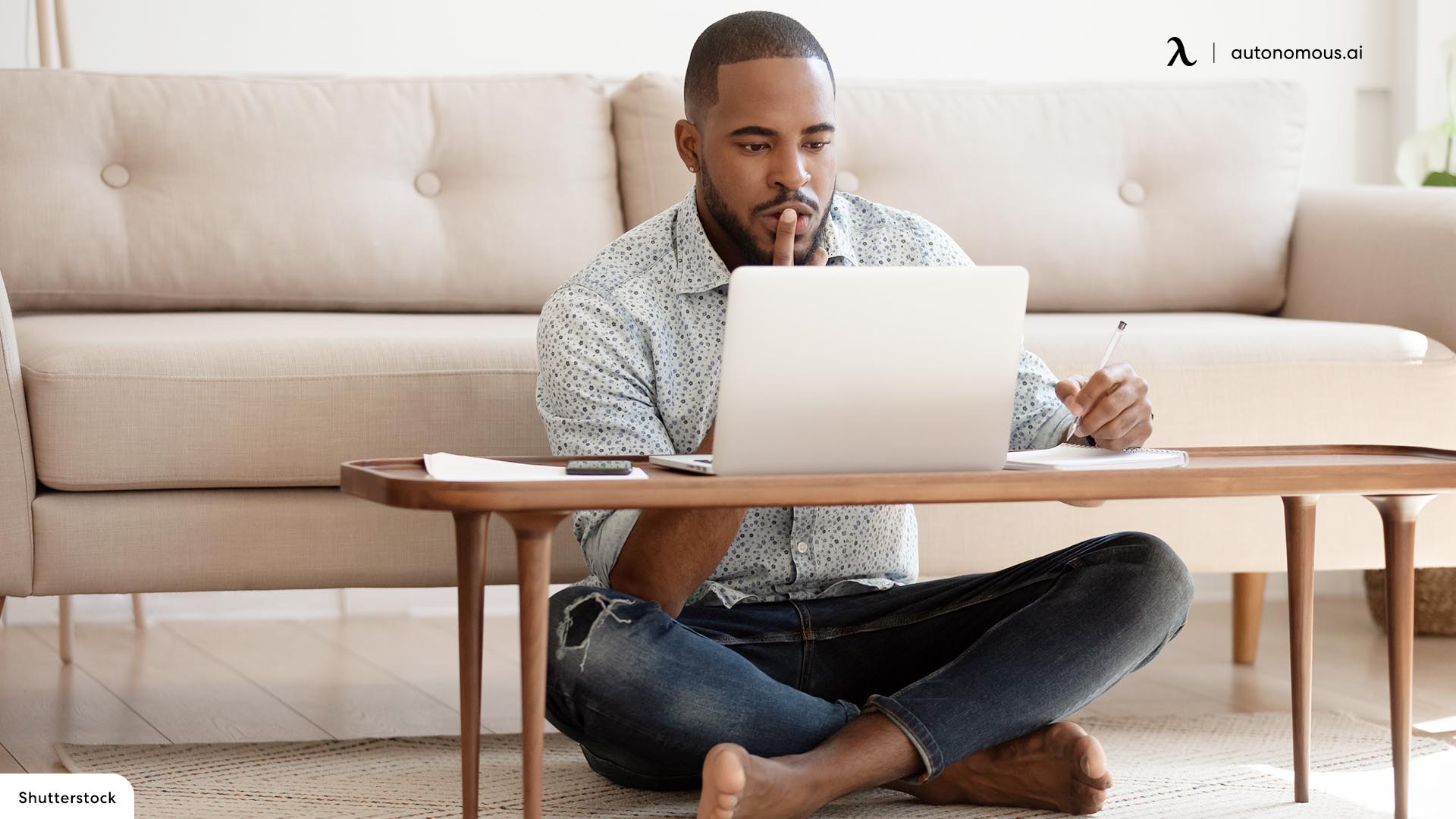 4. Does sitting cross-legged increase blood pressure?
Sitting cross-legged doesn't negatively affect your blood pressure. However, you will experience an increase in your blood pressure when you cross your legs at knee level. It doesn't cause any danger for you, but prevention is the best thing you can do to avoid a bigger problem.
5. Does sitting cross-legged cause sciatica?
Studies say that when you sit cross-legged, you will end up shortening or tightening your piriformis muscles. The situation gets worse if you sit for too long in the same position – and as the piriformis muscles are directly above the sciatic nerve, you may end up compressing it and causing pain.
6. How to Treat Pain Caused by Sitting with Crossed Legs
As mentioned, sitting with crossed legs can lead to stiffness and pain in certain areas, including the trunk and the lower back. It may help you feel comfortable in that little while, but you will experience prejudicial effects in the long term.
Here's what you can do to treat the pain by staying seated with crossed legs for prolonged periods:
Seated leg stretches can help you find some relief without necessarily leaving your workstation. Implementing these exercises into your routine – whether it is before you start working or sporadically throughout the day – can help you feel more comfortable even if you don't tend to sit cross-legged.
It's also worth noting that being physically active is one of the best treatments for relieving the pain caused by being seated for too long in a chair to sit cross legged, regardless of the position.
Office chairs for sitting cross-legged can be the answer to your problem, but you may also find more comfort in an office chair with a leg rest. As we know, these chairs can be quite expensive. You can also purchase the cross-leg chair with leg rest as a separate item.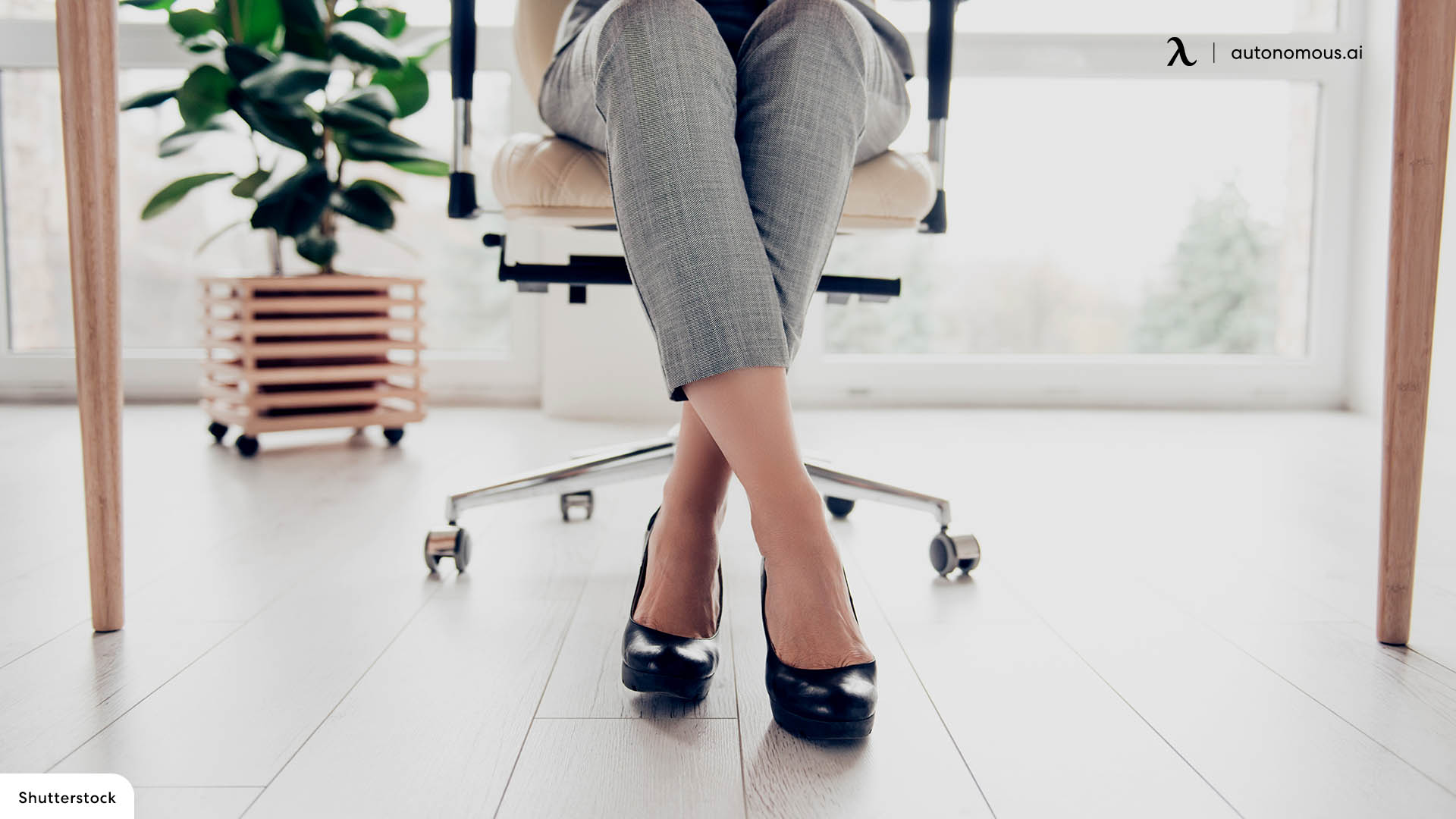 7. Who Can (or cannot) Sit on a Cross-Legged Desk Chair?
Overall, everyone should be able to sit on a cross-legged chair without any problems (as long as they don't keep that position for a long time). However, there may be some people who are at risk of suffering prolonged injuries from sitting this way. 
As mentioned before, cross-legged office chair can cause vein disease over the years; for example, if you have a family history of varicose veins, you must not sit in a cross-legged position if you want to avoid poor circulation or varicose veins in the future.
Below is a list of some other people who shouldn't sit in a cross-legged position if they want to avoid physical injuries: 
Pregnant women.
Smokers.
Diabetics.
Inactive people.
Hypertensive people.
Overweight people. 
Finally, if you're an office worker who spends too much time sitting on an office chair, you may also be at risk of developing vein disease, poor posture, or other ergonomic injuries problems.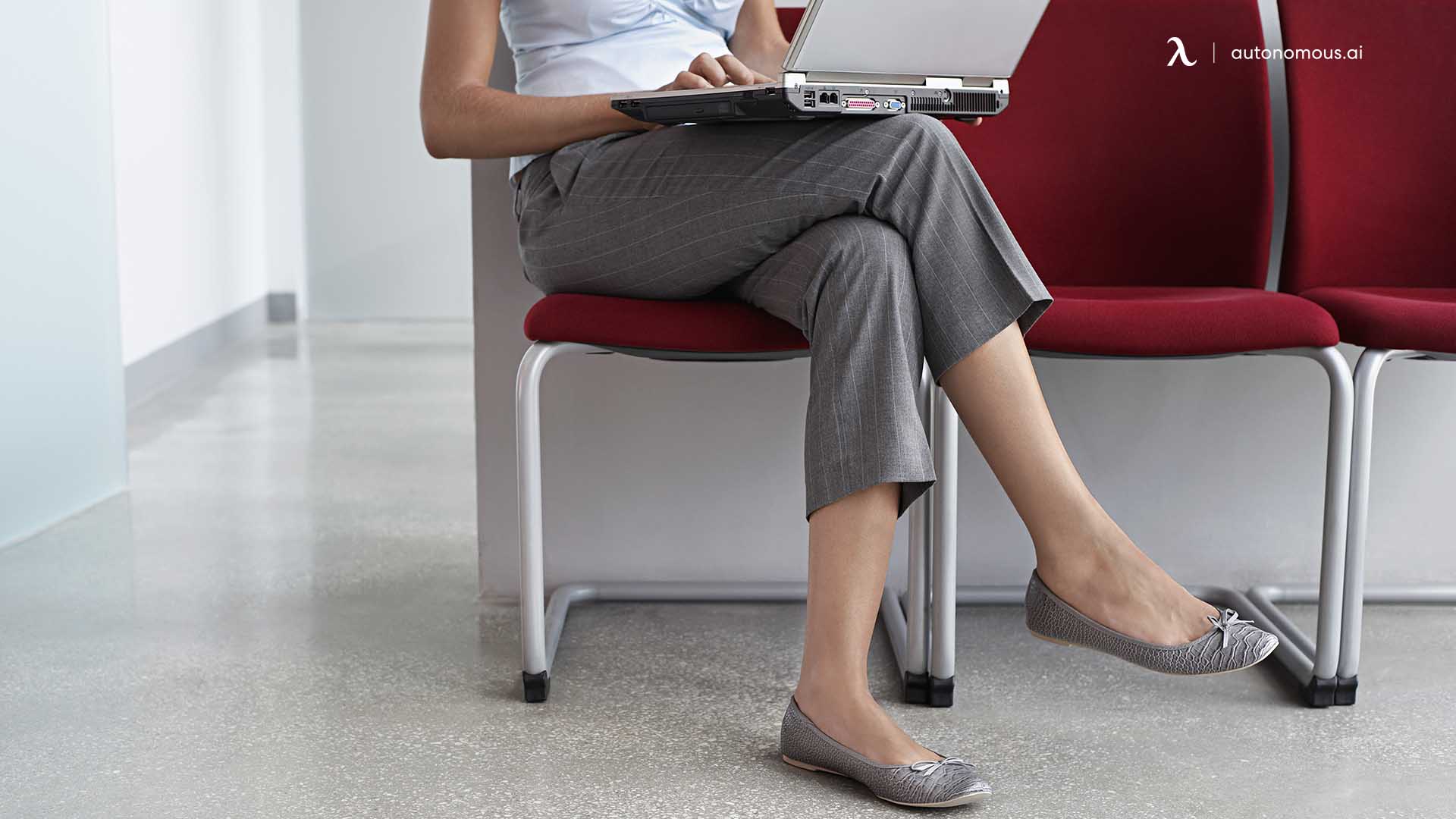 8. What Can You Do to Sit Better?
The first thing you may try right away is to have a better sitting posture. According to ergonomics, the best sitting posture for long periods involves sitting in an upright position, feet flat on the ground; this sitting type is commonly referred to as "ergonomic sitting".
While fixing your posture immediately may seem like the best idea possible, it may not be as easy to keep the position for a long time, leading to slouching or cross-legged sitting again. 
In those cases, the best thing you can do is to purchase a cross-legged chair or ergonomic chair. Keep in mind that sitting cross-legged in an office chair may require your body to adapt to the difference in height, adjust the lumbar support, and more. Getting an office chair you can sit cross-legged on can be a good short-term solution to poor posture.
If you want to take things even further, you may purchase an ergonomic chair with a footrest. These chairs include all the benefits of an ergonomic chair plus a footrest you may use to rest your legs, eliminating the need of crossing your legs to feel more comfortable. 
Keep in mind that sitting cross-legged in an office chair of this kind doesn't remove the risks of cross-legged sitting. Instead, it reduces the risk of suffering any short-term injuries since you're going to promote better posture with these chairs. However, it never hurts to have the best ergonomic chair features at your disposal while you work.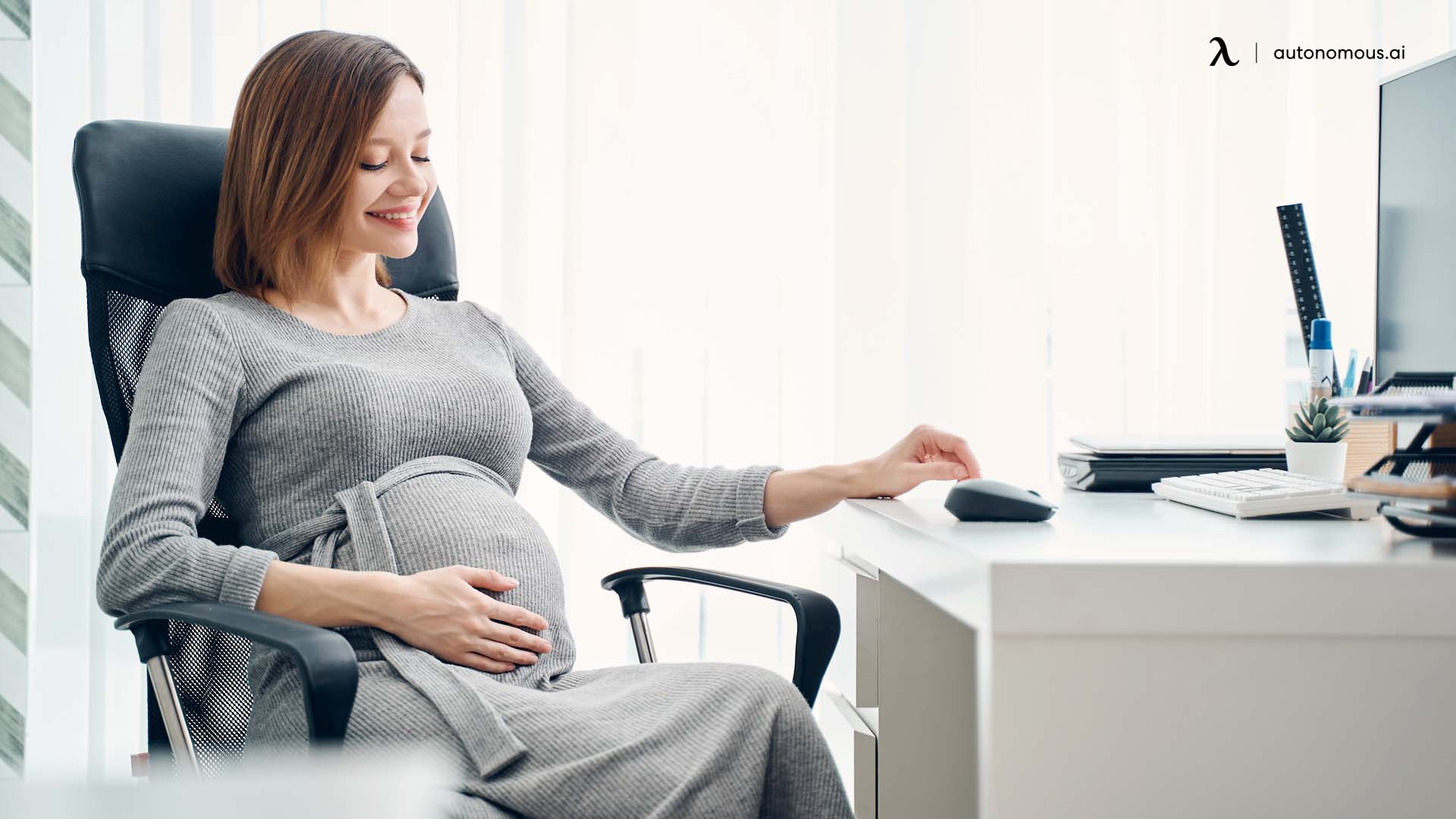 Summary
Many people look forward to buying a cross-legged sitting chair. However, we sit on the floor or in a chair in this position very frequently without knowing if it's doing us any good – besides the comfort we feel during that little while. It is important to look at the sitting habits we have if you don't want to worsen the ailments you already feel daily.
If you cannot avoid sitting cross-legged but would like to continue taking care of your health, what's best is to purchase a criss cross desk chair that helps you maintain your body in a neutral position so you can avoid feeling that stiffness caused by having your legs crossed.
Furthermore, office chairs for sitting cross-legged may also have ergonomic properties that will make you feel comfortable as you continue with your workday. It is important to ensure that we're as comfortable as possible while we're working. Otherwise, we may end up contributing to our workplace stress and anxiety – and as a result, our performance and mindset will become affected.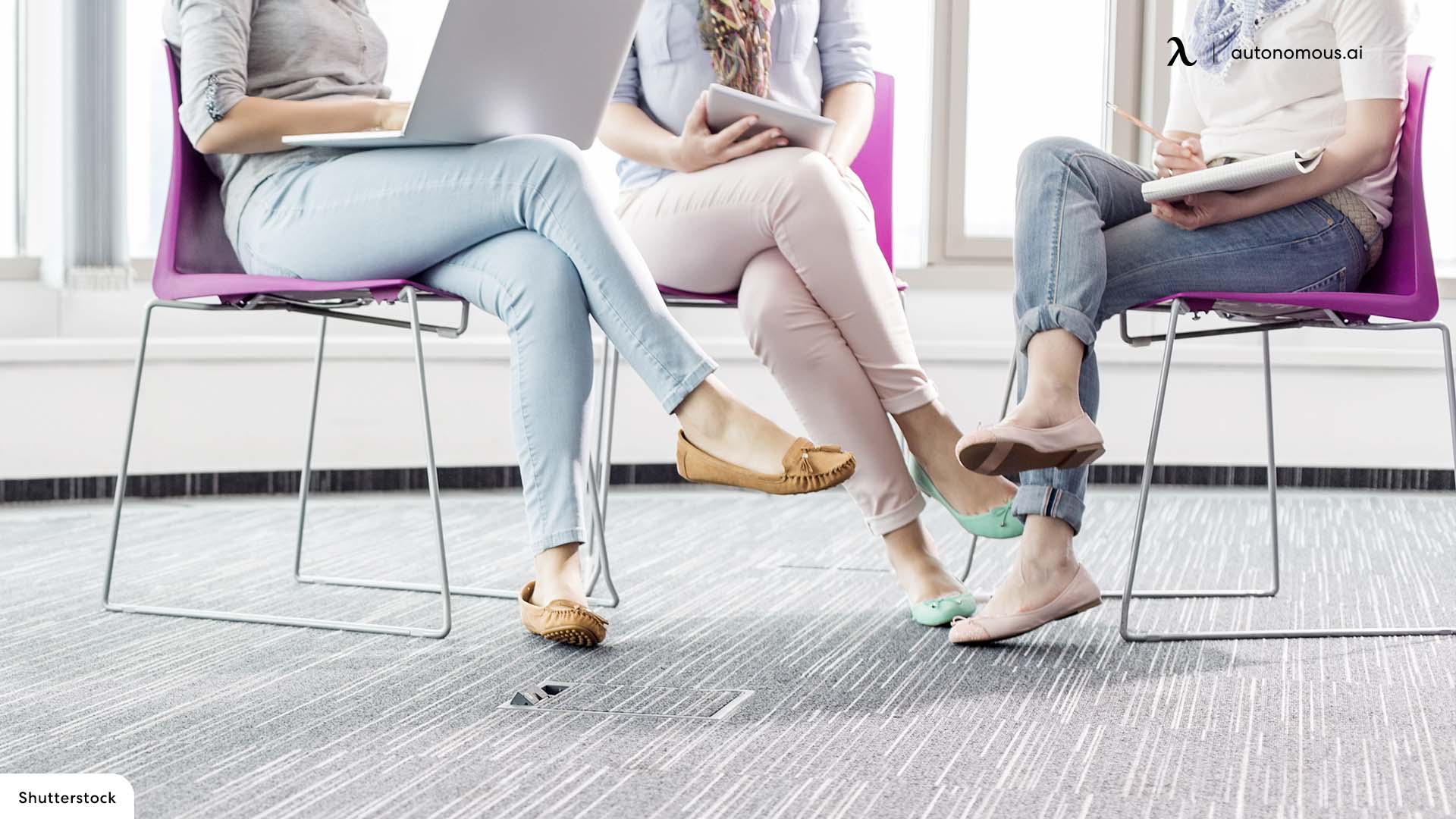 One of these 10 cross-leg chairs will become your greatest companion during your workdays. Select wisely based on your preferences and budget!
Even if cross-legged sitting isn't good for your body in the long term, that doesn't mean you can never do it. In essence, being in any position for a long period can be harmful to your body, so it's vital for you to engage in better sitting habits, such as seated stretching, active sitting, and others. 
Investing in a comfortable and ergonomic office chair is essential for maintaining good health and productivity. A cross-legged office chair is a great option that combines style and comfort while offering the necessary support to prevent back pain. If you want to reduce the stress you may have placed on your spine or legs, consider getting one of these products!
We hope you found our list of the best cross-legged office chairs helpful. Thanks for reading!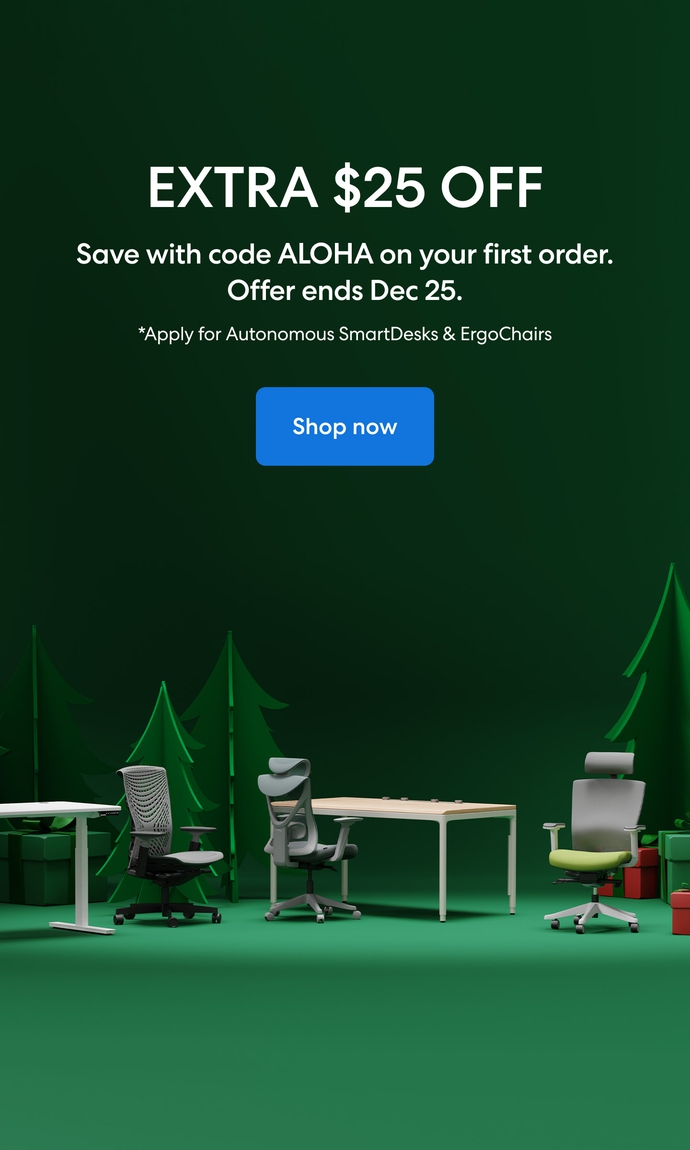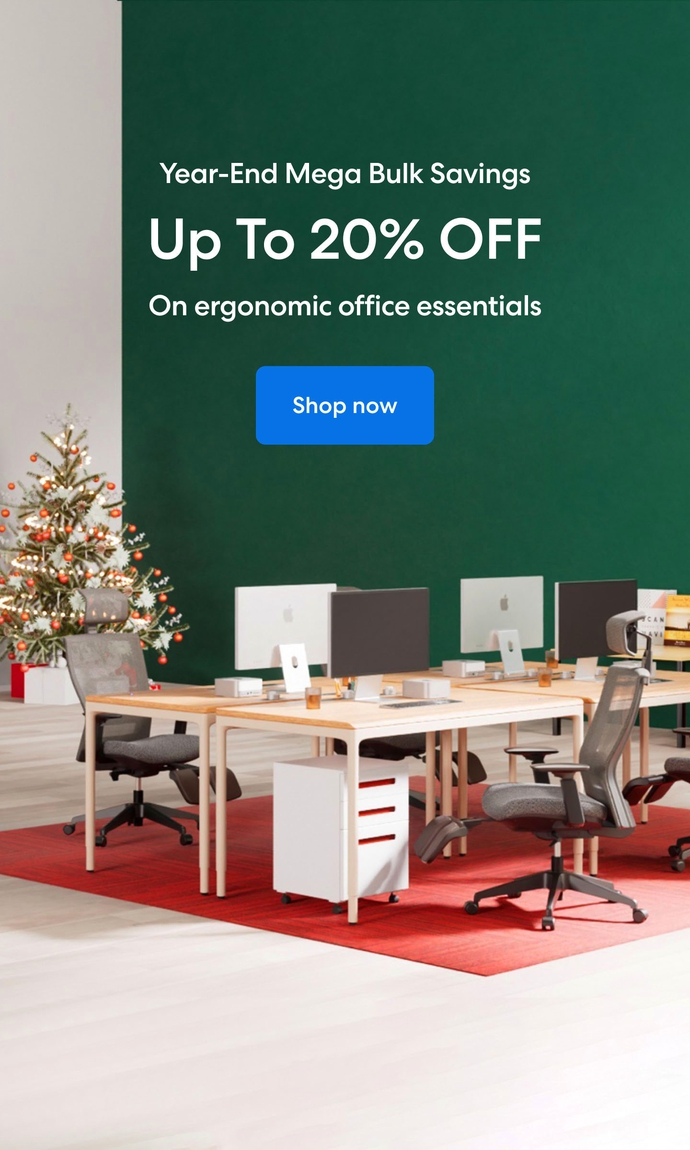 Subcribe newsletter and get $100 OFF.
Receive product updates, special offers, ergo tips, and inspiration form our team.