Our body is always quick to adapt to different working scenarios. Even if we may not notice, we change our posture while sitting dozens of times while we're at work, especially if we do it for several hours.
One of the most common sitting postures is cross-legged. While the safest form of seating would be with your feet flat on the floor, sometimes we don't even notice that we're doing it. In those cases, it's better to buy a cross-legged office chair to prevent your body from suffering long-term damage.
It may seem challenging to find one of these chair types, but thanks to ergonomic chairs, it's easier to find a product with the features we need, including cross-legged sitting. On this page, we're going to take a look at the 10 best office chairs for cross-legged sitting so that you can choose the best one according to your needs.
Is It Bad to Sit Cross-Legged in a Chair?
There has been a long debate on the internet whether sitting while crossing your legs is dangerous for your body. Most people debate that cross-legged sitting doesn't cause them pain while they're working, assuming that it's fine.
While sitting cross-legged in an office chair isn't going to cause any immediate damage, it can give you some issues with your legs in the future.
In essence, cross-legged sitting involves sitting on a chair or floor with your legs bent; that way, your knees point out outwards. Another variation of this activity while sitting is placing one leg on top of the other and crossing to its opposite side.
If you were going to sit for a few minutes and leave your chair, cross-legged sitting would not be a problem for you. However, the main problem comes when you sit for too long.
Keep in mind that you're placing an entire leg over the other, causing a significant amount of pressure. Prolonged pressure could cause other issues involving high blood pressure, varicose veins, and bad posture. In short-term scenarios, you may feel your legs go numb after sitting cross-legged in an office chair for too much time.
To answer the question: "Is sitting cross-legged bad?" It can be if you sit in this position for several hours. Office workers tend to stay on their chairs for many hours a day, increasing the risk of suffering a body injury due to cross-legged sitting.
Who Can (or cannot) Sit on a Desk Chair Cross-Legged?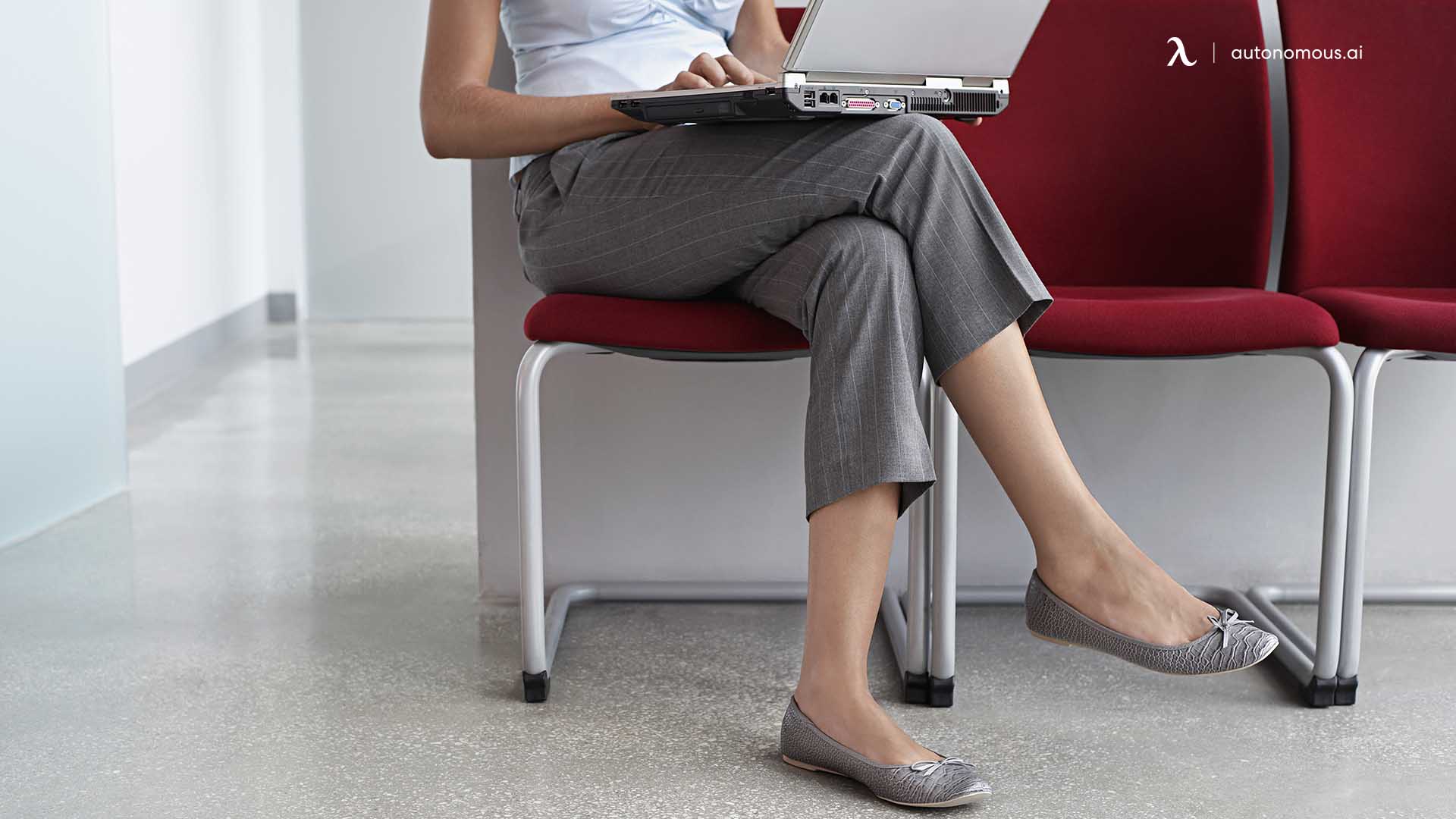 Overall, everyone should be able to sit on a cross-legged office chair without any problems (as long as they don't keep that position for a long time). However, there may be some people who are at risk of suffering prolonged injuries from sitting this way.
As mentioned before, sitting cross-legged in an office chair can cause vein disease over the years; for example, if you have a family history of varicose veins, you must not sit in a cross-legged position if you want to avoid poor circulation or varicose veins in the future.
Below is a list of some other people who shouldn't sit in a cross-legged position if they want to avoid physical injuries:
Pregnant women.

Smokers.

Diabetics.

Inactive people.

Hypertensive people.

Overweight people.
Finally, if you're an office worker who spends too much time sitting on an office chair, you may also be at risk of developing vein disease, poor posture, or other ergonomic injuries problems.
What Can You Do to Sit Better?
The first thing you may try right away is to have a better sitting posture. According to ergonomics, the best sitting posture for long periods involves sitting in an upright position, feet flat on the ground; this sitting type is commonly referred to as "ergonomic sitting."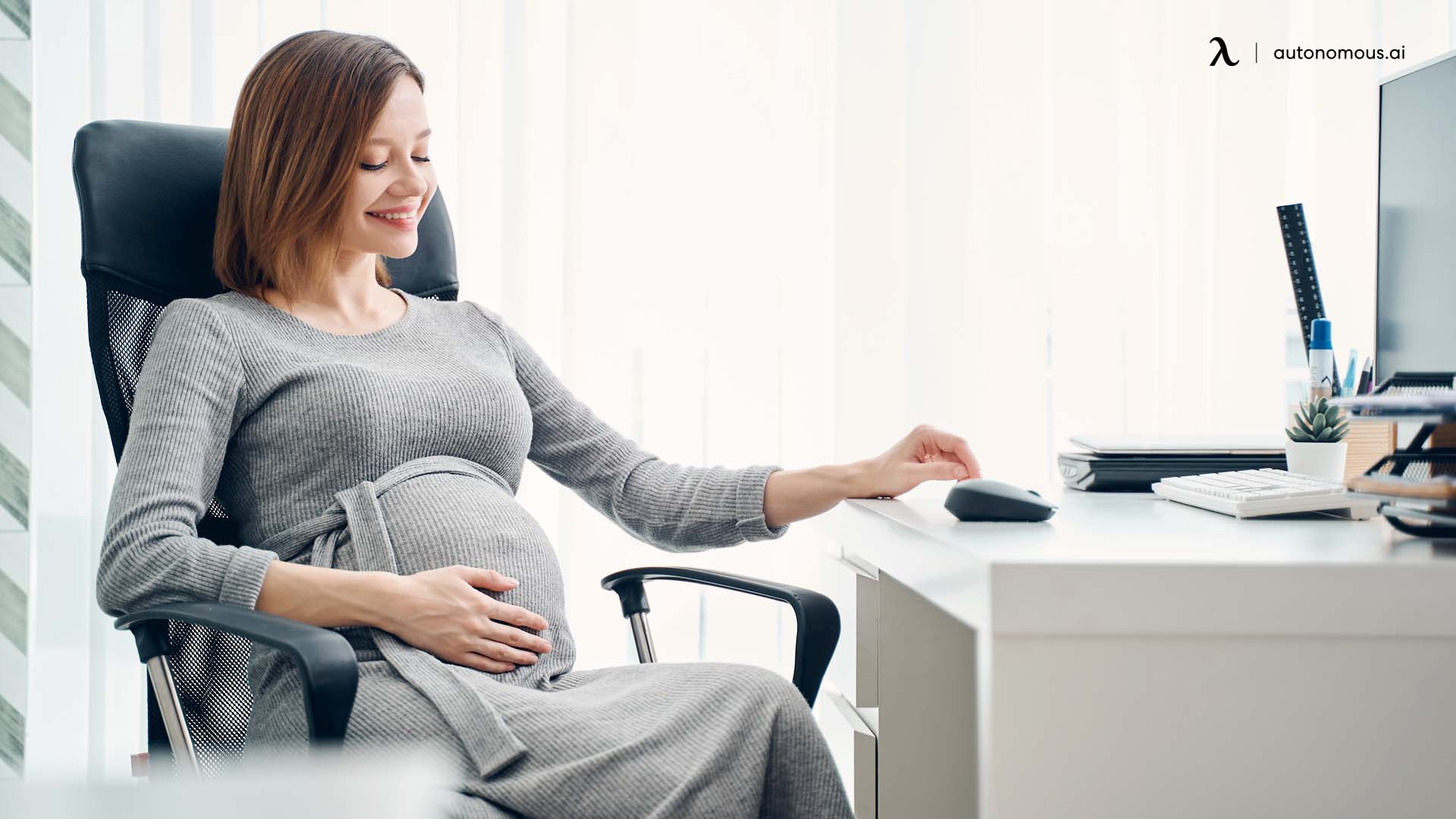 While fixing your posture immediately may seem like the best idea possible, it may not be as easy to keep the position for a long time, leading to slouching or cross-legged sitting again.
In those cases, the best thing you can do is to purchase a cross-legged office chair or ergonomic chair. Keep in mind that sitting cross-legged in an office chair may require your body to adapt to the difference in height, adjust the lumbar support, and more. Getting an office chair you can sit cross-legged on can be a good short-term solution to poor posture.
If you want to take things even further, you may purchase an ergonomic chair with a footrest. These chairs include all the benefits of an ergonomic chair plus a footrest you may use to rest your legs, eliminating the need of crossing your legs to feel more comfortable.
Keep in mind that sitting cross-legged in an office chair of this kind doesn't remove the risks of cross-legged sitting. Instead, it reduces the risk of suffering any short-term injuries since you're going to promote better posture with these chairs. However, it never hurts to have the best ergonomic chair features at your disposal while you work.
Pros and Cons of Ergonomic Chairs for Cross-Legged Sitting
Pros and Cons of Ergonomic Chairs for Cross-Legged Sitting
They promote many safe and healthy sitting postures.
You may sit cross-legged for short periods without jeopardizing your body.
There are several office chair models on the market.
They promote productivity and boost energy levels.
Some models can be too expensive.
They don't solve the cross-legged sitting problem entirely.
10 Best Office Chairs for Cross Legged Sitting
1. ErgoChair Pro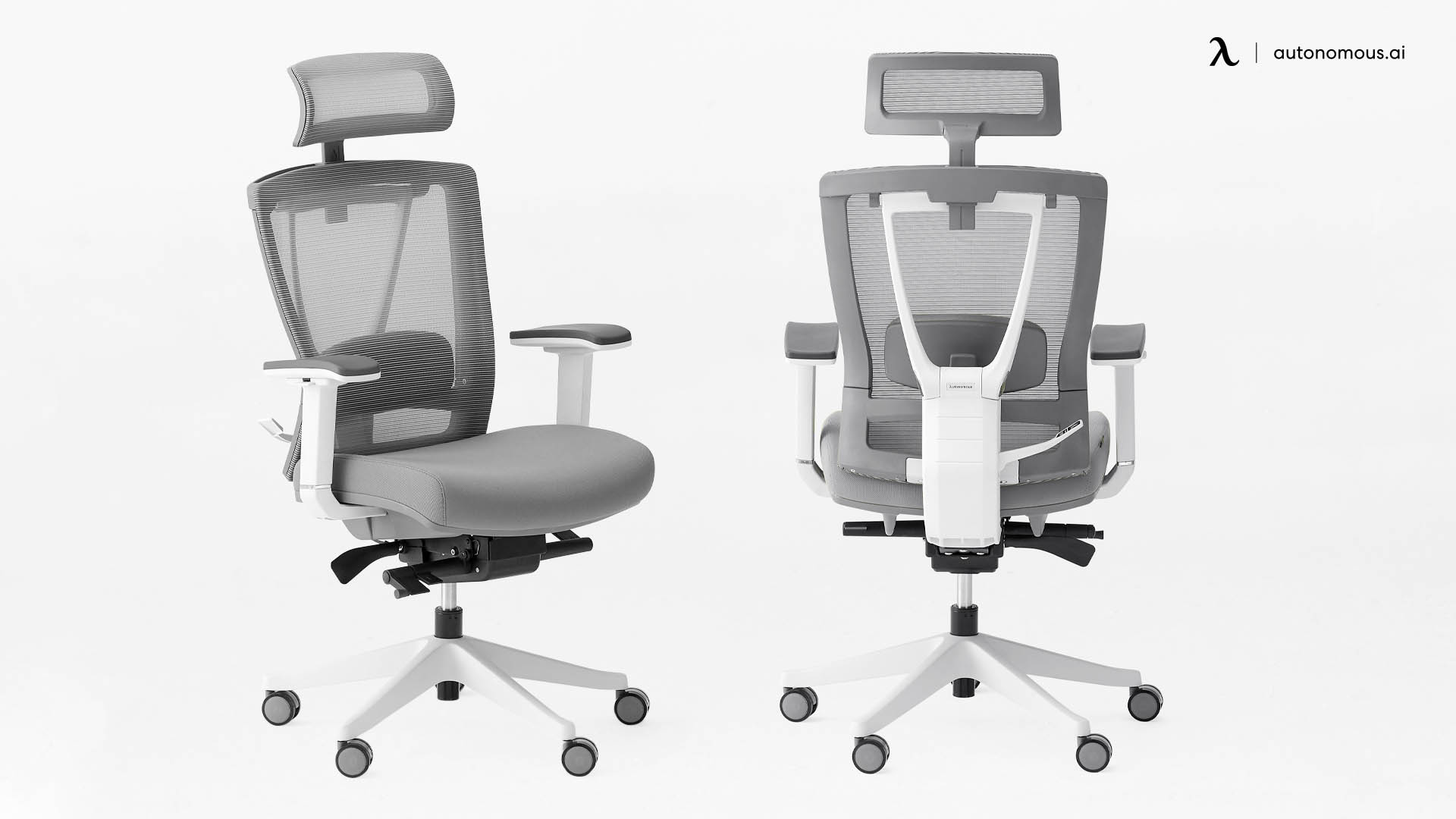 The Autonomous ErgoChair Pro is one of the most user-friendly chairs you can purchase to help with cross-legged sitting. Overall, this cross-legged office chair includes everything you need to achieve the best posture possible while you're at work.
Remember that fixing your posture involves more than just sitting better. If you truly want to engage in better sitting habits, you must buy an ergonomic office chair, and the ErgoChair Pro is the complete package.
This model features adjustable seating, armrest, headrest, seat tilt, and backrest. Additionally, you may choose from five different lockable recline positions, which can help with cross-legged sitting.
2. ErgoChair Pro+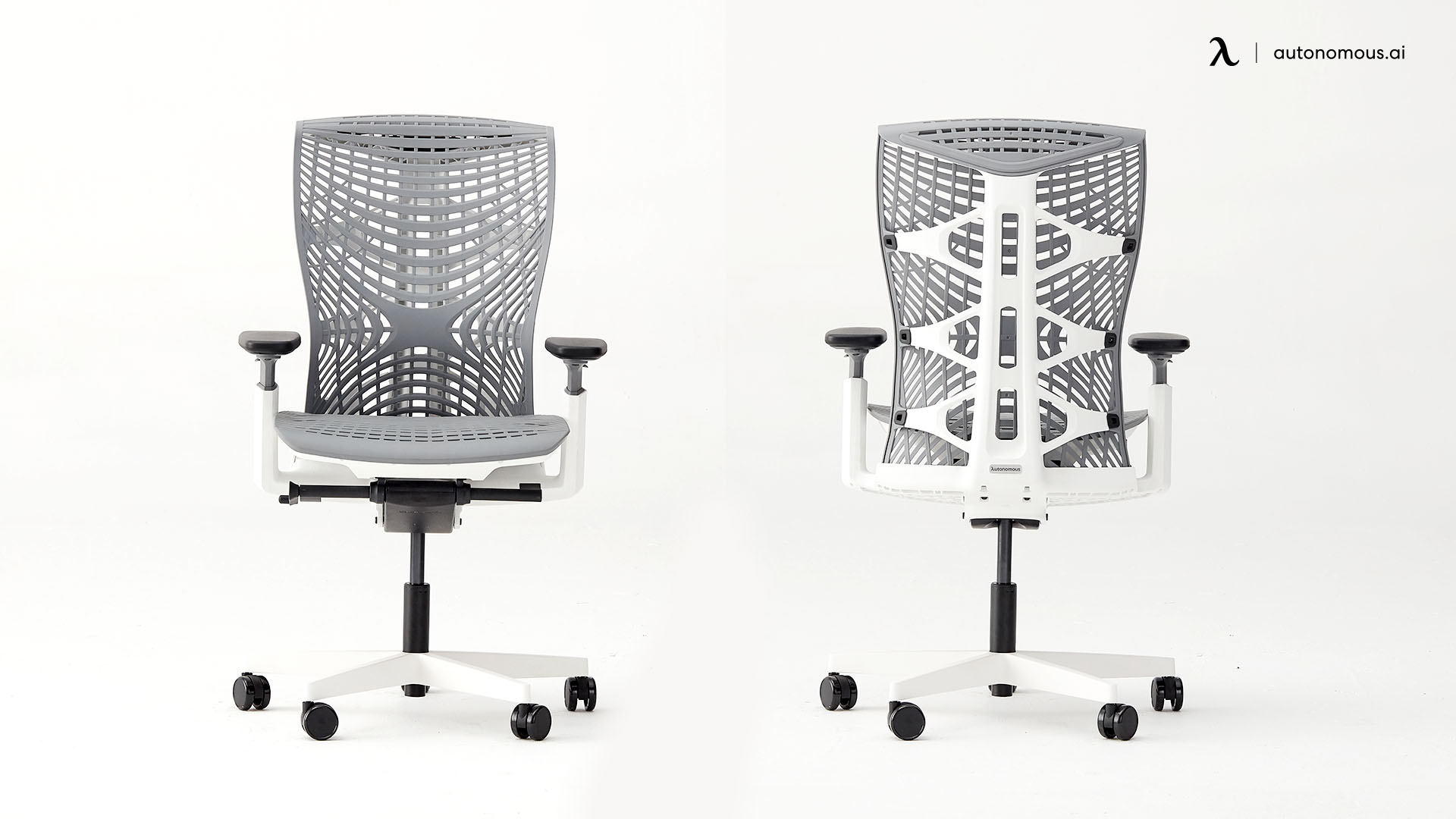 Autonomous ErgoChair Pro+ is for those who want to take their seating experience one step further. This is the most dynamic chair from Autonomous, and it was designed for people who enjoy moving a lot while working.
Aside from all the features that the ErgoChair Pro includes, the Pro+ model also features earth-friendly TPE, adaptive spinal support, breathable mesh fabric, and a weight capacity of up to 300 lbs.
You may also choose from several styles, including black, white, and blue mesh. In essence, the ErgoChair Pro+ can be an appropriate choice if you're looking at prolonged working sessions and you need an excellent cross-legged office chair to work in.
3. ErgoChair Core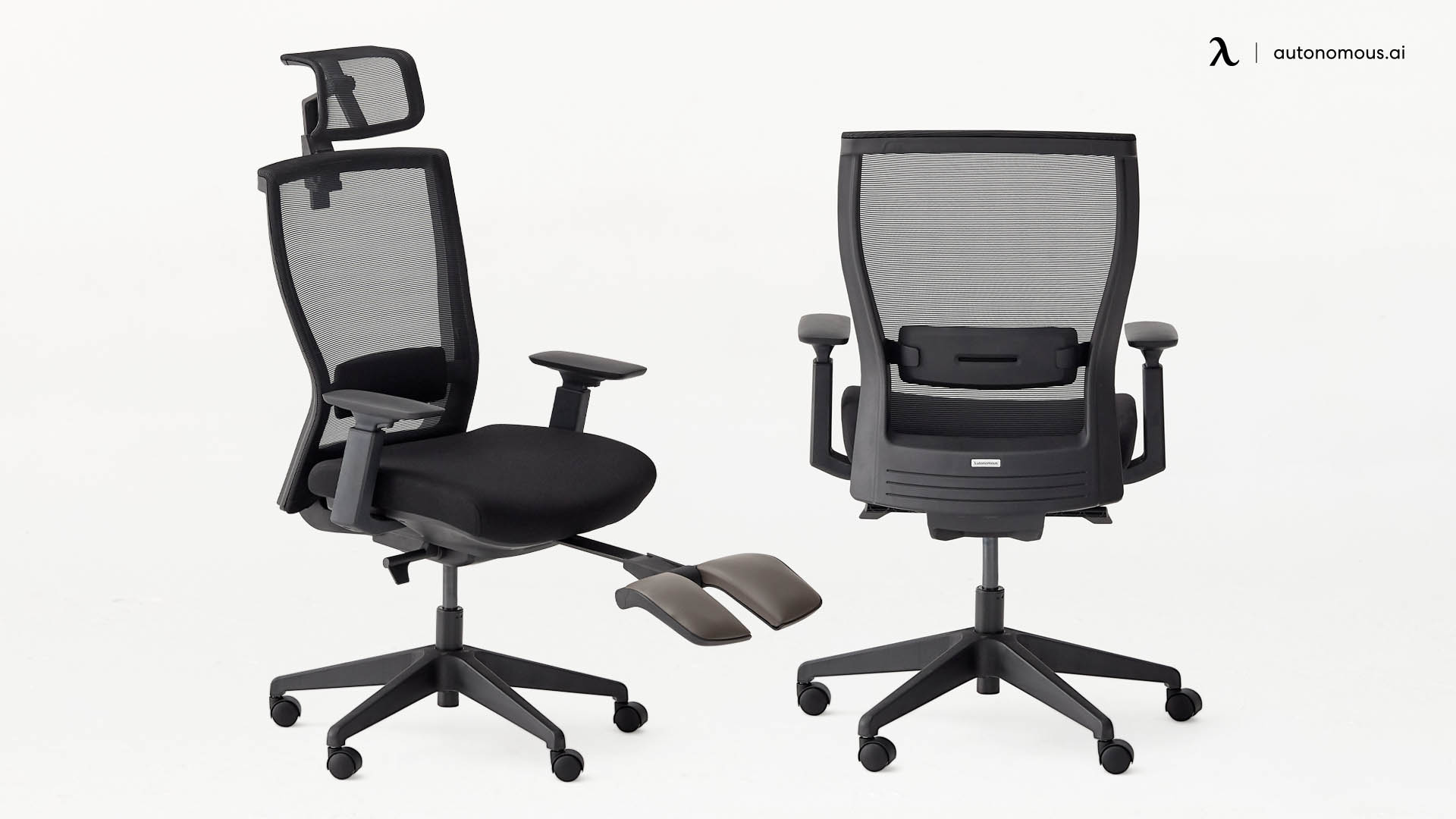 As opposed to the other two chair models mentioned above, the ErgoChair Core keeps your seating experience simple but comfortable. The best thing about the Core model is that it features adjustable height, seat tilt, armrest, and headrest, as well as a retractable leg rest for those who want to avoid sitting on a desk chair cross-legged.
While the ErgoChair Core may not look as stylish as the Pro and Pro+ models, it does the job perfectly. Additionally, it may be a better purchasing option if you're on a budget or don't want to spend as much money on an ergonomic chair.
4. Flash Furniture Hercules Office Chair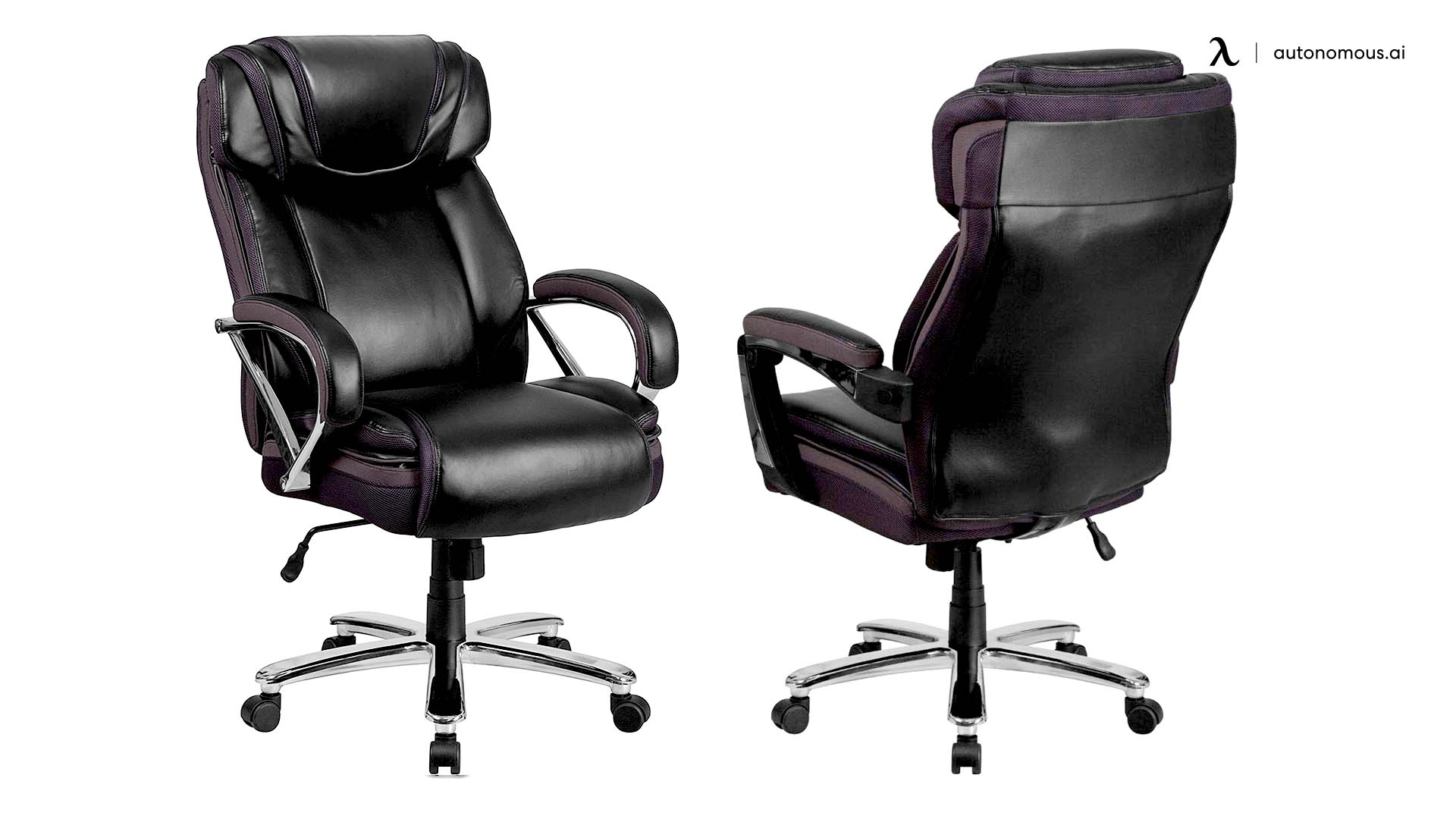 Hercules' office chair doesn't necessarily improve your posture while sitting on it, but it provides a 29-inch-wide seat, which gives you space to cross your legs comfortably. Additionally, its soft paddings allow for more comfort while sitting in any position.
While this cross-legged office chair doesn't include armrests, the absence of these allows your legs to be free while you're at work. If you don't mind the support armrests provide, this may be a good option for you.
5. Xialiuxia Office Chair
This cross-legged office chair allows you to adjust its height for up to four inches, which allows you to sit in any position without placing many risks on your body. However, one of the best things about this model is its modern design made from wood, brown cotton, and plastic.
According to the chair's manufacturers, this chair is great for kneeling, squatting, and cross-legged sitting.
6. OMF Armless Desk Chair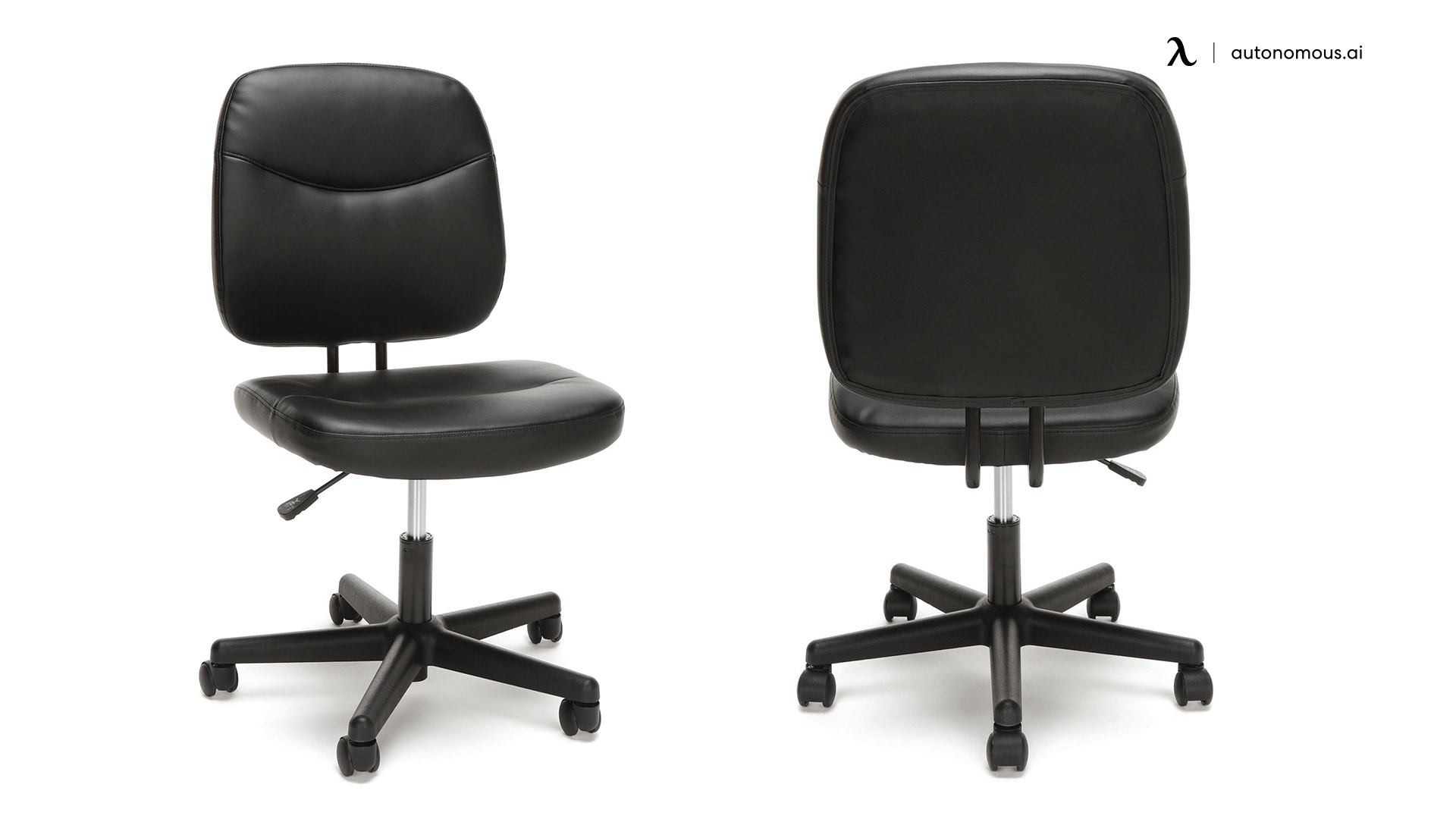 If you don't mind not having armrests while working, the OMF model may be a great office chair you can sit cross-legged in. This is an executive swivel chair that features a SofThread leather seating surface, providing style and comfort.
Additionally, it comes with adjustable seat height and back, allowing for better positioning of your body while working. Keep in mind this is a simple chair, but it's affordable and comes with most of the ergonomic features you need for seating.
Consider buying this desk chair cross-legged if you're looking for a simple and quick alternative for cross-legged sitting.
7. Stone & Beam Nailhead Swivel Office Chair
Here is another office chair you can sit cross-legged in. This office chair has an interesting design that may be attractive for you. In essence, it features polyester lined materials that provide a smooth and pleasant feel to your skin. Thanks to its 28.4-inch-wide seat, you can sit cross-legged without any problems if you do it for short periods.
Another excellent feature about this cross-legged office chair is that it features 360-degree swivel freedom, which is excellent news if you're planning on sitting on a desk cross-legged. However, keep in mind that this chair doesn't have any armrests, which may be bad news for those who want an area where they can place their arms comfortably.
Other than that, this chair has a premium design and feel which can be an excellent touch to your office.
8. Sadie Swivel Mid Back Mesh Task Chair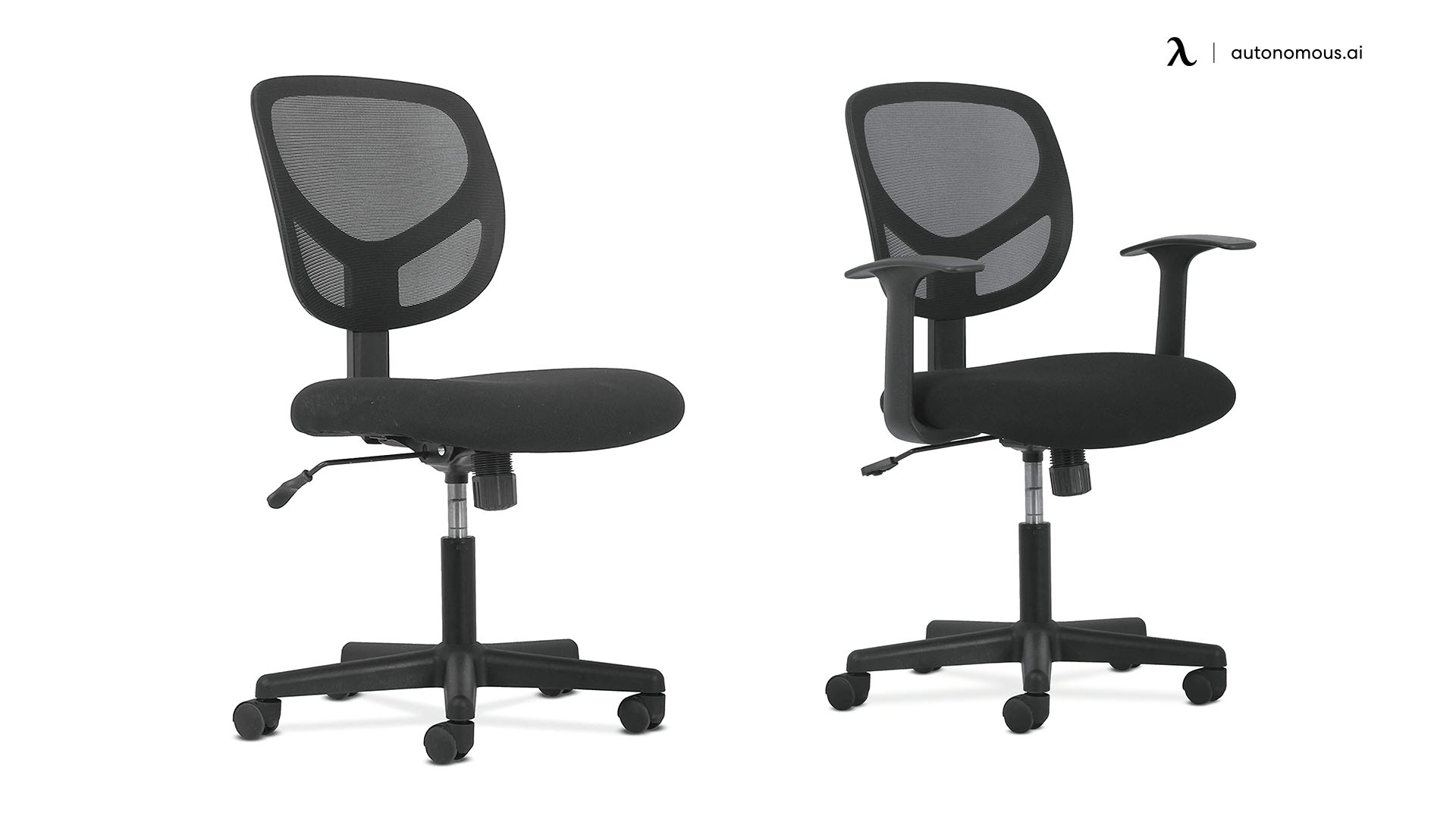 The Sadie Swivel Chair is another affordable office chair you may get if you're looking for a comfortable option for your cross-legged sitting; its strongest area is its breathable backrest, which allows for more comfort for sitting for long periods.
It's important to note that the chair isn't too heavy, meaning it may not be such a good idea to lay back on it while working. If you're planning on sitting cross-legged and upright, this chair can be an excellent choice for you. Otherwise, you may want to look at other options.
9. Soul Seat
The last office chair you can sit cross-legged in is the Soul Seat. The Soul Seat has been around for some time now as an alternative to traditional office chairs. While its design is a bit different from traditional models, it's one of the best items you can take for cross-legged sitting.
This cross-legged office chair features a 31-inch platform where you can support your legs and knees, reducing the pressure you place on your spine. Overall, this chair is an excellent option, although it's highly expensive. If you have the budget for this chair and want to give it a try for cross-legged sitting, you're free to do it!
10. Eurotech Ergohuman High Back Chair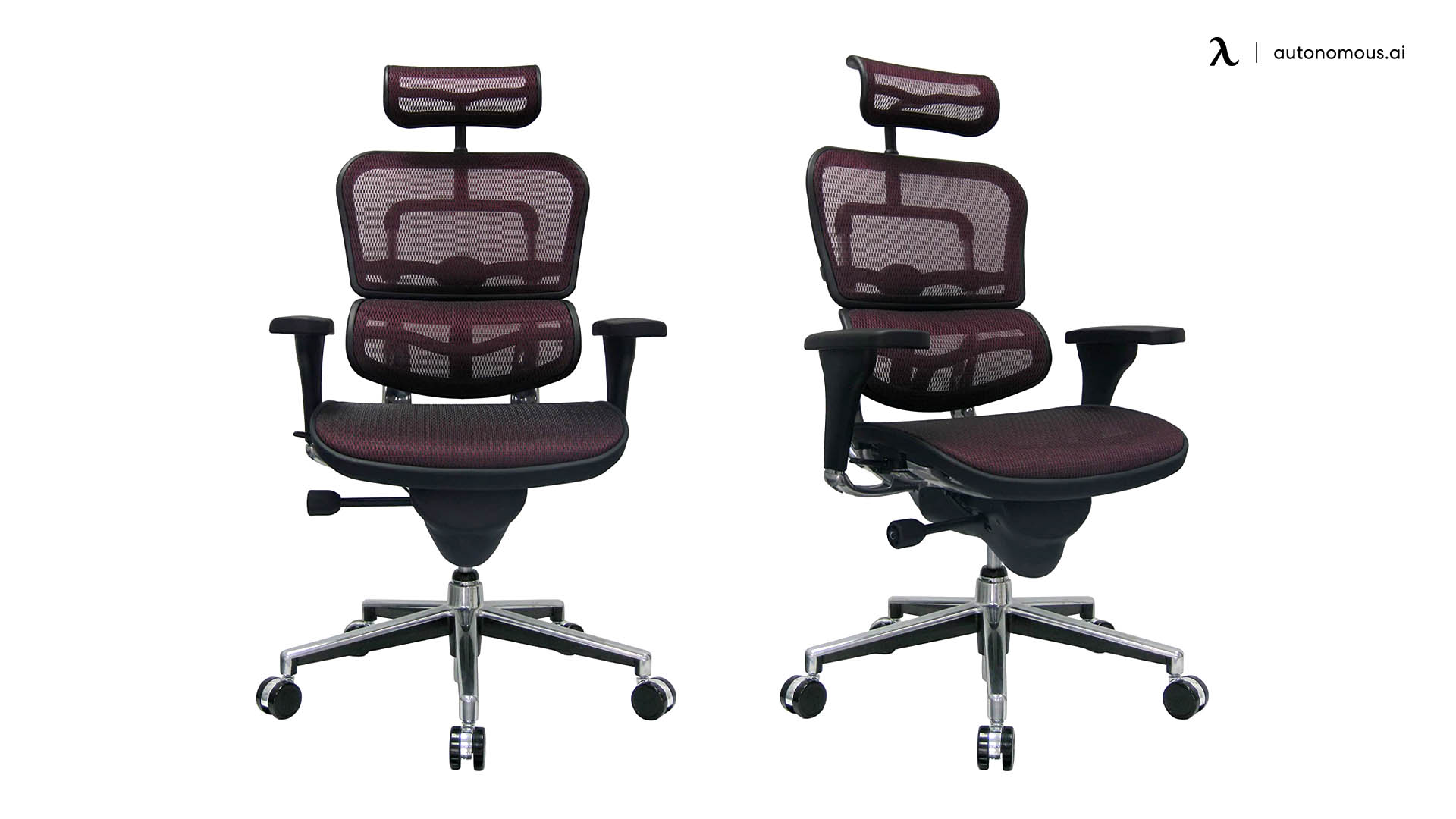 This cross-legged office chair is one of the most complete competitors on this list. It features everything you need to sit in a better position, and it all comes in a stylish design. Overall, you can expect a sliding seat, pneumatic height adjustment, adjustable headrest, and more.
You may sit in any position you consider appropriate since this desk chair cross-legged adapts to how your body positions itself. However, keep in mind its armrests are not adjustable, meaning you can't get them out of the way if you want to sit cross-legged.
Still, the chair's seat is wide enough to allow for cross-legged sitting, so you're not going to have any problems with that.
Conclusion
Even if cross-legged sitting isn't good for your body in the long term, that doesn't mean you can never do it. In essence, being in any position for a long period can be harmful to your body, so it's vital for you to engage in better sitting habits, such as seated stretching, active sitting, and others.
If you want to reduce the stress you may have placed on your spine or legs, consider getting one of these products!
Get exclusive rewards
for your first Autonomous blog subscription.

WRITTEN BYAutonomous
We build office products to help you work smarter.
Coming at You Live from Autonomous' Social Media!
Please fill the information below.
Thank you!