Office desks can become cluttered easily, even if employees do their best to keep them tidy and clean. Still, it isn't a surprise considering the amount of equipment and resources workers often need to complete their tasks.
Clutter can be detrimental to productivity. It creates new sources of distraction, making it harder for employees to perform their work adequately. If you're someone who values tidiness, your mood may worsen as well. Overall, plenty of negative emotions can surface just because of a messy office.
Fortunately, there is an efficient way to resolve this issue, and it starts at the very core of your office's design. You can use a neutral color scheme, storage options, and an office standing desk to create a minimalist office.
A neutral color palette can be an excellent base for a minimalist desk setup. Depending on your choices, your workspace may elicit feelings of tranquility and coziness while remaining sleek. For instance, black is a color that allows other ones to shine. It's also elegant and fits well with any contemporary office.
These characteristics make it a great neutral color choice for an all black standing desk in a minimalist office. For that reason, this article lists the 11 best black standing desk options for this type of design. With an excellent black desk, you can enjoy a minimalist yet modern office with a professional look that is easier to clean and maintain!
What Are the Best Black Standing Desks for a Minimalist Office?
There are numerous desks available, and many of them are suitable for a minimalist office. However, not every option has a black finish available or features good enough to benefit this design. Considering that, here are the 11 best black standing office desk options you can get for your minimalist office:
1. Autonomous SmartDesk Core
This all black standing desk is perfect for a home office. It uses a heavy-duty industrial black frame and a state-of-the-art dual-motor system that can lift 265 lbs, which is more than enough for most essential office equipment. This desk has a generous height range as well that goes from 29.4 inches to 48.
The SmartDesk Core comes with a programmable keypad that allows you to set up four custom height presets. You can glide between your favorite positions, whether they're standing or sitting, with just the touch of a button.  This black electric standing desk makes nearly no noise as it moves, considering it produces barely 45 dB of sound.
Experienced industrial manufacturers fabricated this workstation, making it an incredibly long-lasting standing desk. If you're looking for a black standing desk that can fit any space thanks to its minimal aesthetics, this is the best black office desk for you. It has multiple finishes, but the black one is perfect for every working professional's office.
2. Autonomous SmartDesk Pro
The SmartDesk Pro is a top-class option for a minimalist office or home office. This black stand up desk comes with a solid steel frame with a dual-motor system and electric components that are significantly durable. The motor can lift 300 lbs effortlessly, and it does it in less than 20 seconds from the lowest height, thanks to its 1.3 inches per second lifting speed.
Its height range is enormous, going from 26 inches to 52. At its maximum height, this desk only wobbles up to 0.5 degrees. Like the SmartDesk Core, this one also features a programmable keypad with four custom presets, allowing you to have an uninterrupted workflow.  You can switch between your ideal positions with a single touch using a system that doesn't make more than 40 dB of noise!
People looking for peak performance can't go wrong picking the SmartDesk Pro. This affordable, sleek, and minimalist black electric standing desk can support you for years on end. It sets a new standard for standing desks, and it's perfect for eight-hour workdays.
3. Autonomous SmartDesk Corner
This black corner standing desk gives you all the space you may need for your creativity and every feature required to get your tasks done. It has a robust system that combines an industrial steel frame with a high-quality triple motor system, allowing it to lift 400 lbs with ease. The desk does this almost utterly silently as it only produces 45 dB.
It has a vast height range of 28.5 inches to 47.5 and a significantly low wobble of 0.5 degrees. The length range of its segments is the same, from 42 inches to 71. However, you can switch them around and make them perfectly fit any corner. The desk has four programmable presets, allowing you to save your positions and change them with a touch.
Overall, this black electric standing desk gives you almost double the space compared to most other options. It has a sleek finish and sports the finest materials. The desk finish is scratch-resistant as well, even if you opt for a top that isn't black.
If you're looking for a black minimalist corner desk that can suit any space, this one is a fantastic choice for your workspace that can last you a considerably long time. 
4. NewHeights Elegante XT
This black adjustable height desk has excellent characteristics. A remarkable one, in particular, is its soft collision technology called GyroSense. In summary, it stops the desk's movement and reverses its course before it suffers damages. It does so by sensing its angular velocity, orientation changes, and rotational motion.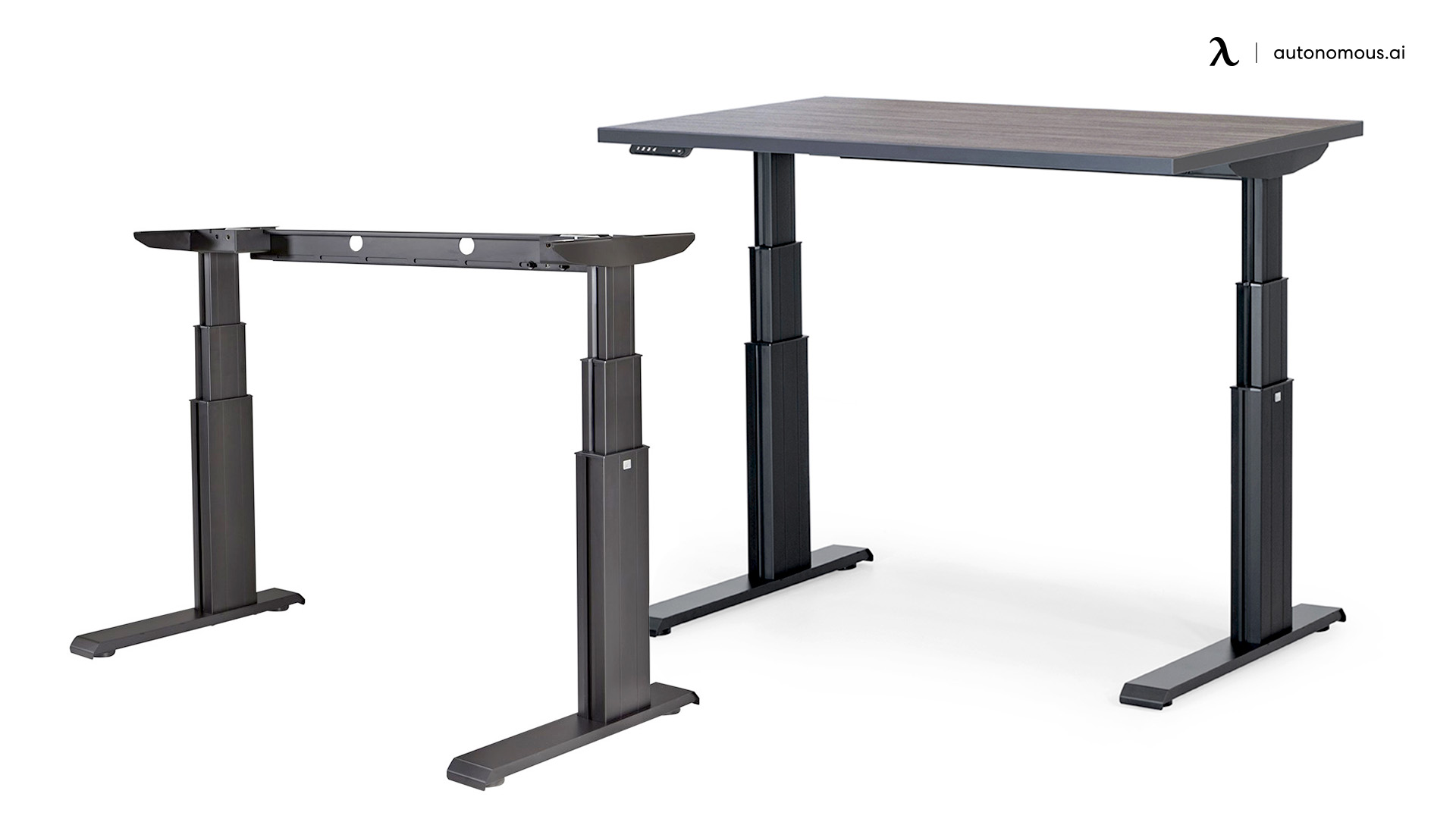 The desk has an extensive range of 24 inches to 51. It has a programmable four-button switch with one-touch memory that you can adjust manually or via Bluetooth with their mobile app. This desk has a lift capacity of 300 pounds for its two-leg frame and 450 for its three-leg one. It rises at 1.5 inches per second, and it's noisier than other options, making around 60 dB.
The Elegante XT has an optional crossbar available, which makes this already stable desk almost immovable. It also features premium German gear, extruded aluminum columns, and high-quality electronics. Overall, it's an excellent black standing desk, but it has a prohibitive price tag.
5. Steelcase Ology
Steelcase designed this desk to support the well-being of workers. It improves workplace physiology by introducing valuable technologies such as the Simple Touch controller. This black adjustable height desk tech allows you to switch desk positions quickly without taking your eyes off from work, and it can remind you to change positions every once in a while with its Active Motion feature.
This black standing desk has an addition that's incredibly useful in minimalist offices: an integrated storage option. It can efficiently shrink your workspace and make it look tidy while having access to the same number of tools and equipment. Other helpful characteristics are its embedded soft edge, which supports your wrists, and the integrated rail, which lets you add lighting and work tools.
The Ology desk has over 200 distinct finishes, including multiple black ones such as black walnut, satin black, and black. Most of them are available in laminate, OLL, veneer, or custom stain. This black stand up desk is expensive, but it's a superb option for minimalist offices due to the sheer number of valuable features it can provide.
6. UPLIFT Standing Desk V2
If you want a black standing office desk that can maximize the productivity and comfort of your minimalist workspace, the UPLIFT desk is more than suitable. It's thoughtfully designed, and it has a plethora of desk accessories that can improve workflow, lighting, and space management.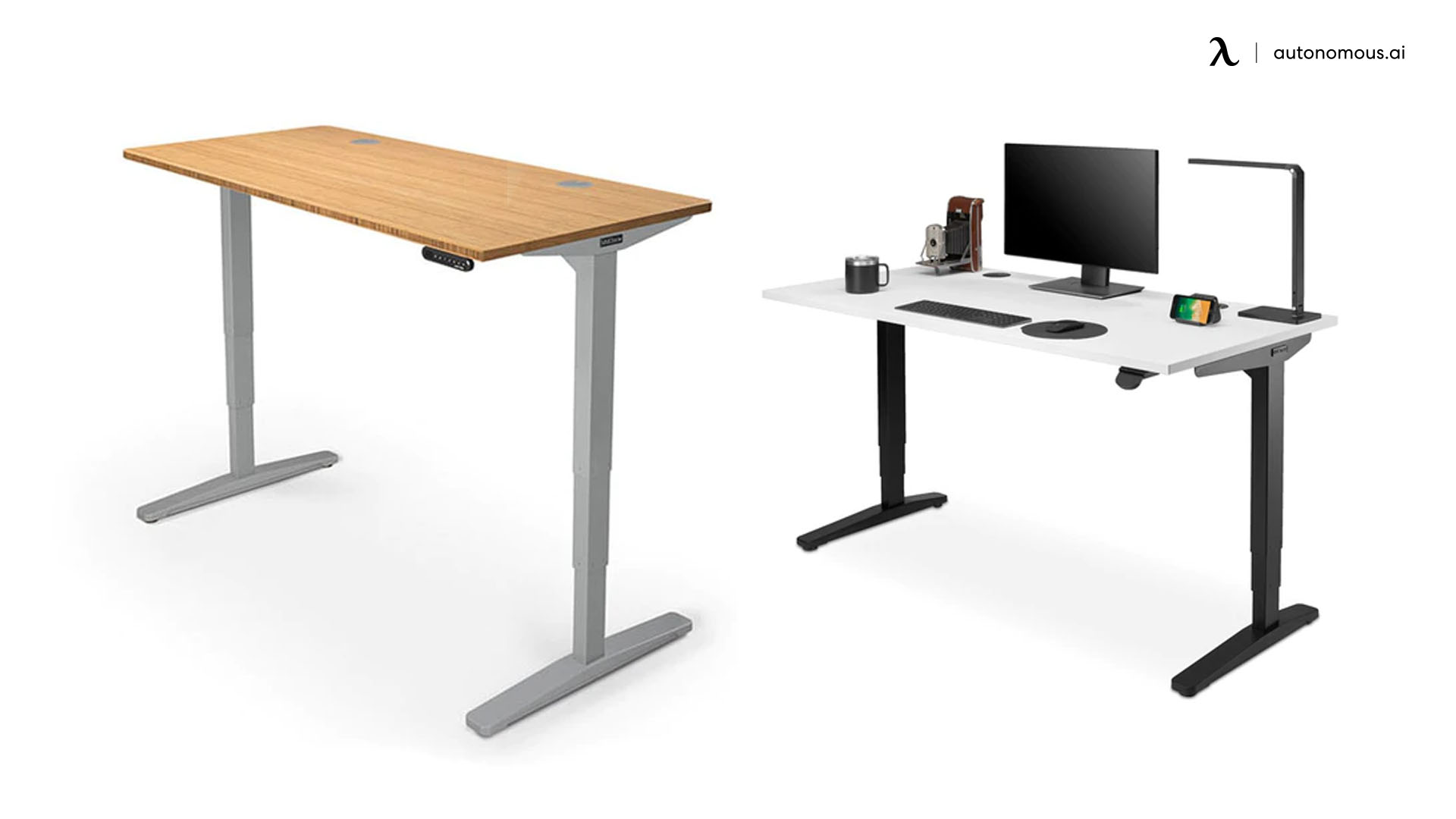 The UPLIFT desk has two models that feature a vertical height range of 25.5 inches. It has a 355 lbs lifting capacity with a whisper-quiet operation noise that doesn't go above 50 dB. This black adjustable height desk has up to four keypad options. The basic one only has essential functionalities, while the other three feature one-touch movement with multiple programmable settings and other useful characteristics.
Regardless of the frame you choose, you can expect an excellent, stable choice of black standing desk for your minimalist office. After all, they only have a few differences. The V2-Commercial desk sits lower, has a sturdy crossbar, and thicker legs than the standard V2. You can choose between a black Greenguard-Gold certified laminate top, which is considerably durable, and a black eco-curve one, which uses recyclable materials.
7. ApexDesk Elite Series Standing Desk with Black Frame
The ApexDesk has seen many improvements over the years since it debuted. It's considerably more stable and runs quieter now. This all black standing desk has a load capacity of 235 pounds, which is on the lower side. However, for a minimalist office, it's more than enough.
Its dual motor lift system has a fast speed of 1.5 inches per second, raising the desk from 29 inches to 49 with a simple button press. The digital controller of this black standing office desk features four customizable presets.
It has a unique structure with a fixed crossbar that's easy to assemble. The desk includes a cable tray that has space for a 12-outlet strip as well. You can add a file cabinet to make it more suitable for a minimalist office. A set of four casters is also available, making this all black standing desk an excellent option for flexible workplaces.
8. iMovR Lander Desk with SteadyType
This black standing desk has a large height range of 26 inches, reaching 50.5 inches, including the tabletop. It travels at 1.6 inches per second and has a weight capacity of 360 lbs. The desk features multiple helpful features like the Bluetooth-enabled mobile app and an intuitive control paddle with a high-resolution LCD.
The SteadyType keyboard tray that this desk has offers the best typing experience possible. You can adjust its angle up to 85 degrees, enabling a natural arm and wrist position while standing. It's also more stable than standard trays, so your monitor doesn't shake as much.
The Lander is significantly easy to use and goes well in most minimalist offices. It has multiple additional features like a caster set, mobile file cabinet, and cable management kits to improve your black desk setup even further.
9. Fully Jarvis EcoTop Standing Desk
The Fully Jarvis EcoTop uses an environmentally friendly, powder-coated MDF tabletop that's water-resistant and durable. Its texture also gives it a subtle organic feel. The result of it is a black stand up desk with a minimalist look that serves as the perfect canvas for your workspace.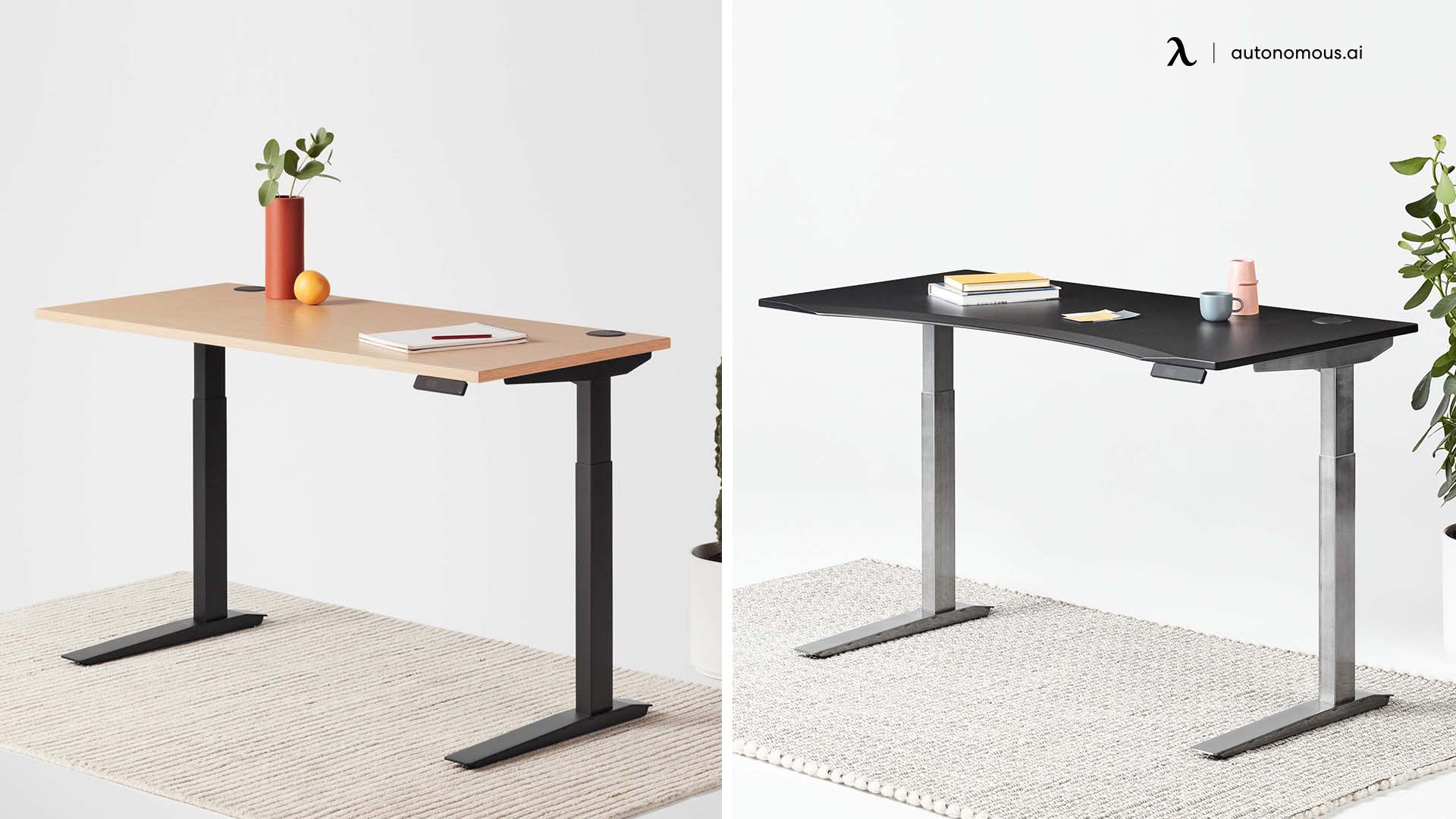 This black adjustable height desk has a lift capacity of 350 lbs with a low operating noise of 50 dB. Its height range depends on the model you pick, with the two-stage and three-stage low frame having 20 inches and the standard three-stage one 25.5.
It has several optional accessories such as cable trays, storage cabinets, and grommets that may improve the minimalist office design. This black standing desk also has a simple paddle handset that raises or lowers the height by pulling or pushing or an optional OLED handset with four programmable presets.
10. SHW Electric Standing Desk
The SHW black electric standing desk is a budget-friendly option for your minimalist office. Compared to other options on this list, it has a lower height range of 28 inches to 46. It has a digital keypad with four presets that's a little harder to use as well. Still, the desk glides smoothly up and down and can support all of your equipment.
11. Flexispot Standing Desk Pro Series EC5
The Flexispot standing desk is highly customizable and has every essential feature standing desks need. It has a durable structure and a dual-motor lifting system that can handle 275 lbs at a rate of 1.4 inches per second.
This black stand up desk switches between positions with a simple button press thanks to its advanced control panel. It has three programmable presets and a reminder system that gives you friendly alerts at the times you set. This all black standing desk is nearly silent as well, with a 50 dB operating noise.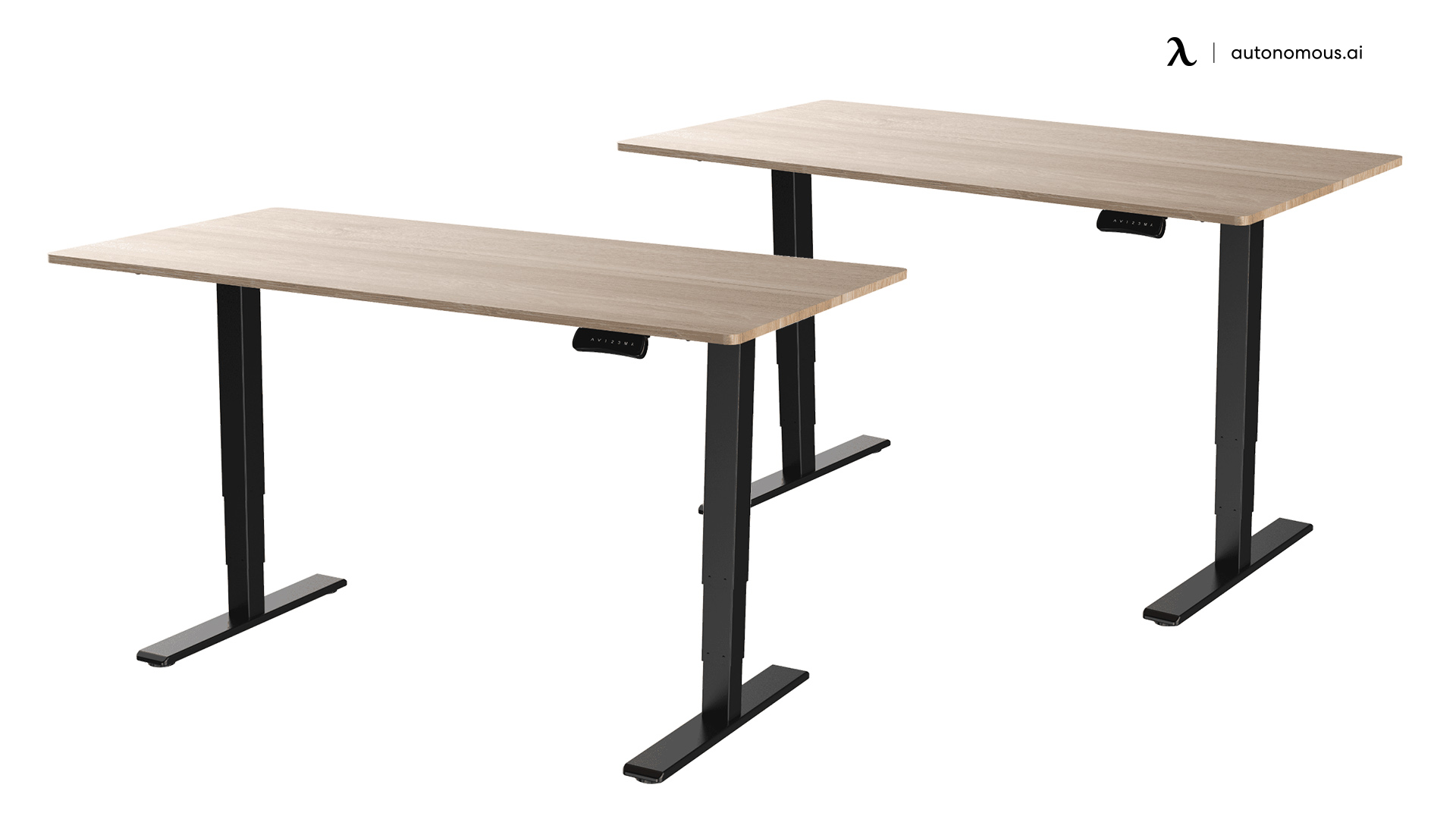 This frame has a high adjustable height of 24.4 inches to 50. Its steel tubing frame can resist scratches and stains and offers maximum stability at the most elevated position. Some additional beneficial characteristics it offers are casters, cable spines, desk drawers, mobile cabinets, power strips, monitor arms, and even a modesty panel. It has two black finishes, and the desk design is excellent for minimalist aesthetics.
The Bottom Line
An all black standing desk is an almost essential feature of every minimalist office design. It's highly contrasting, elegant, and fits well with any contemporary workspace. Every black desk listed in this article is exceptional in its way. Some are expensive, while others are affordable. A couple offers extraordinary features, while others excel in their basic functionalities. Regardless, it's up to you to figure out which one you would like the most for your minimalist office.
Video ads for product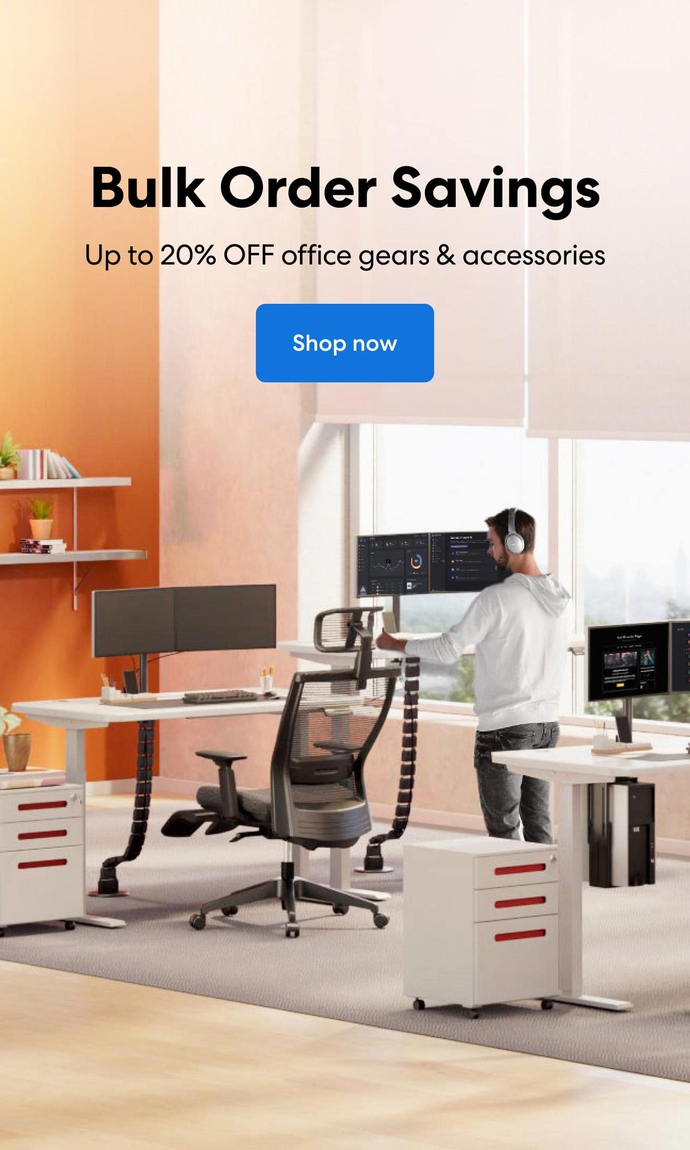 Subcribe newsletter and get $100 OFF.
Receive product updates, special offers, ergo tips, and inspiration form our team.