Workplace Inspiration
12 Popular Shed Color Ideas For Productive Workspaces
Autonomous
 | 
Apr 29, 2022
Are you thinking of rejuvenating your office shed by giving it a pop of new colors this year? Painting your office shed is not just a therapy, but the end results make you admire your shed even more. Even though everyone loves giving a new look to their office shed, most of them are often confused when it comes to picking the right shed color.
There are multiple shed color schemes that might have gone through your mind when you first thought of painting your shed, but it is not necessary that they all were worth a shot. Therefore, having the right knowledge of the trending outdoor shed colors is vital.
Office shed paint colors are often chosen according to the weather and vibe, so people often change to go for the same colors every year. However, if you are trying to do something unique, you should think of some classy color combinations that are popular these days.
We know that you might not be aware of all of them; that's why we have shared the complete list below. So, let's have a look at them.
1. Earthy Tones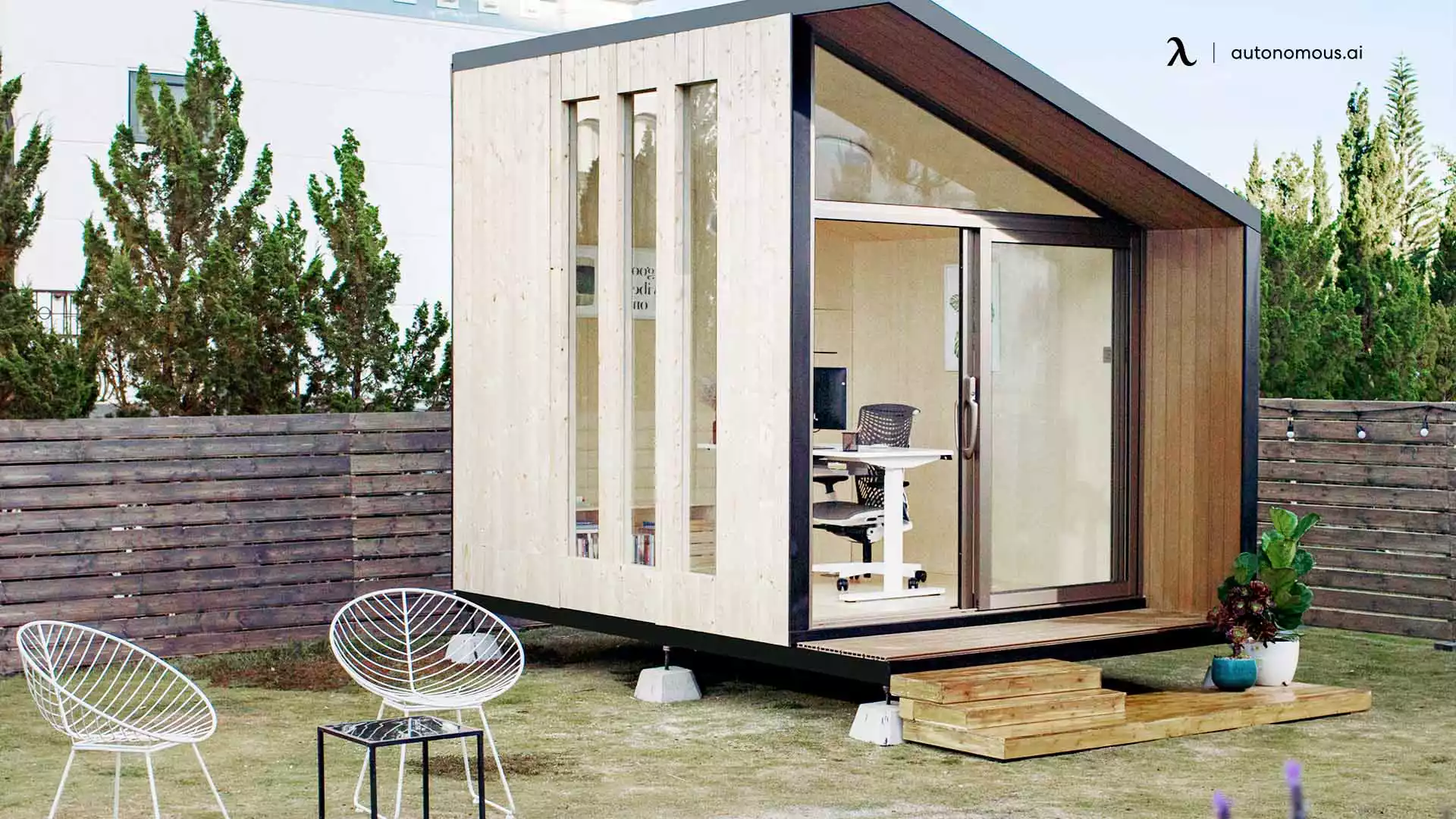 Earthy tones are among the best shades that you can give to your office shed. If you have a wooden pod for the garden and you wish to change the way it looks, you may think of painting it with earthy hues like olive green, sandy nudes, or some clay-toned shades. You can do the same to any office pod's exterior as well as the interior to make it look luxurious and comforting.
2. Gray Green
Gray-green is another exciting shade that you can try to give a new look to your shed. This is one of those shed color options where you can either use gray and green shades distinctly or mix both to create a new look. Since this color combination is very sophisticated and radiates positive vibes, it will be great for a modern backyard studio.
3. Botanical Shades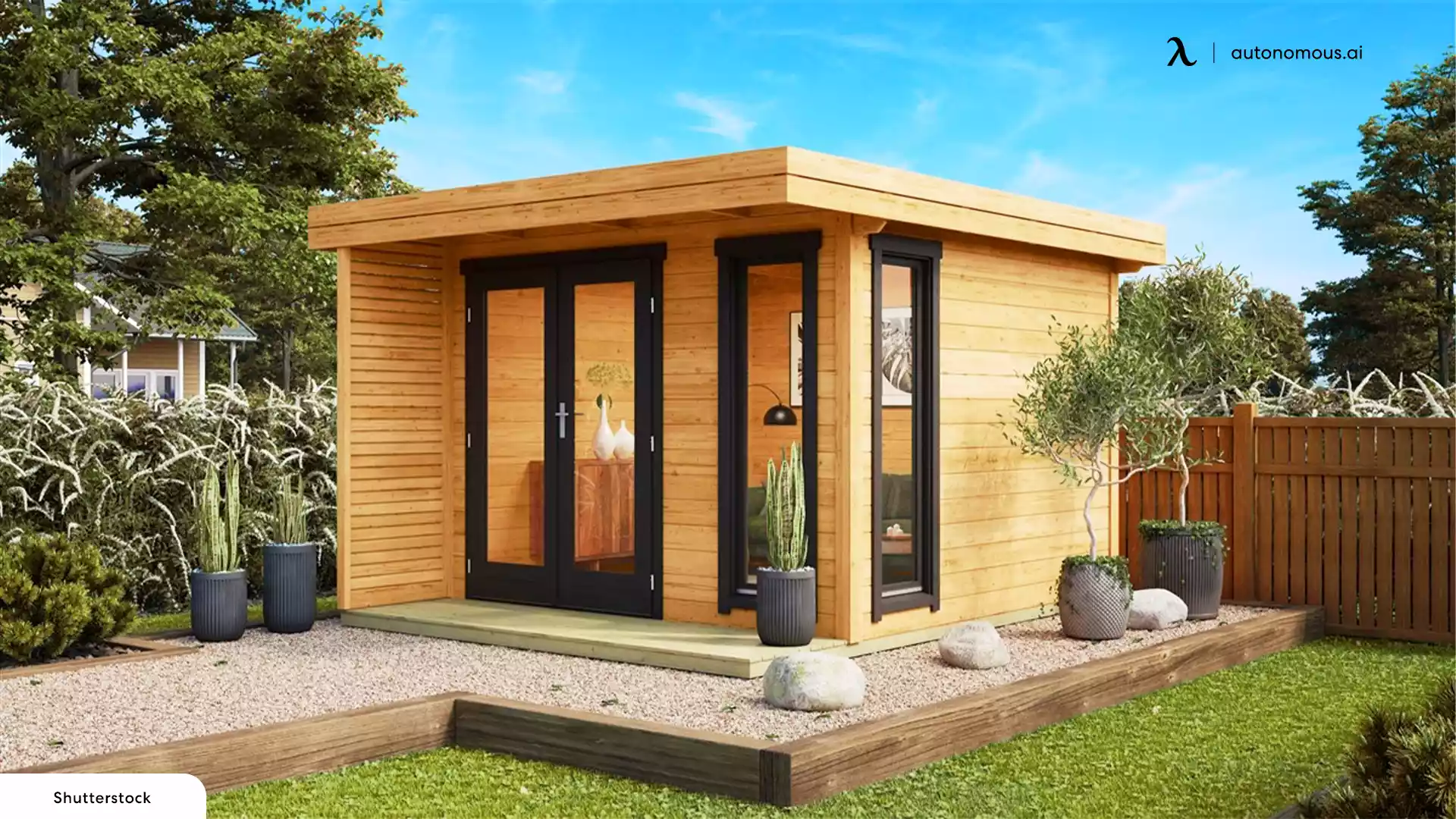 Botanical shades have a soft element in them that adds vibrancy to the shed and compliments the greenery around it. You can think of using this shed color shade if you have a backyard gym where you go to energize and activate yourself. Having a happy tone like that of the botanical shades will radiate positivity and make you feel refreshed.
4. Chartreuse
Chartreuse is a pale-yellow or green-yellow type of shade that looks electrifying and joyful. If you have a small office pod and you wish to make it look more spacious, you should think of going for this shade. You can even consider adding complementary curtains to make it look more amazing.
5. Warm Neutrals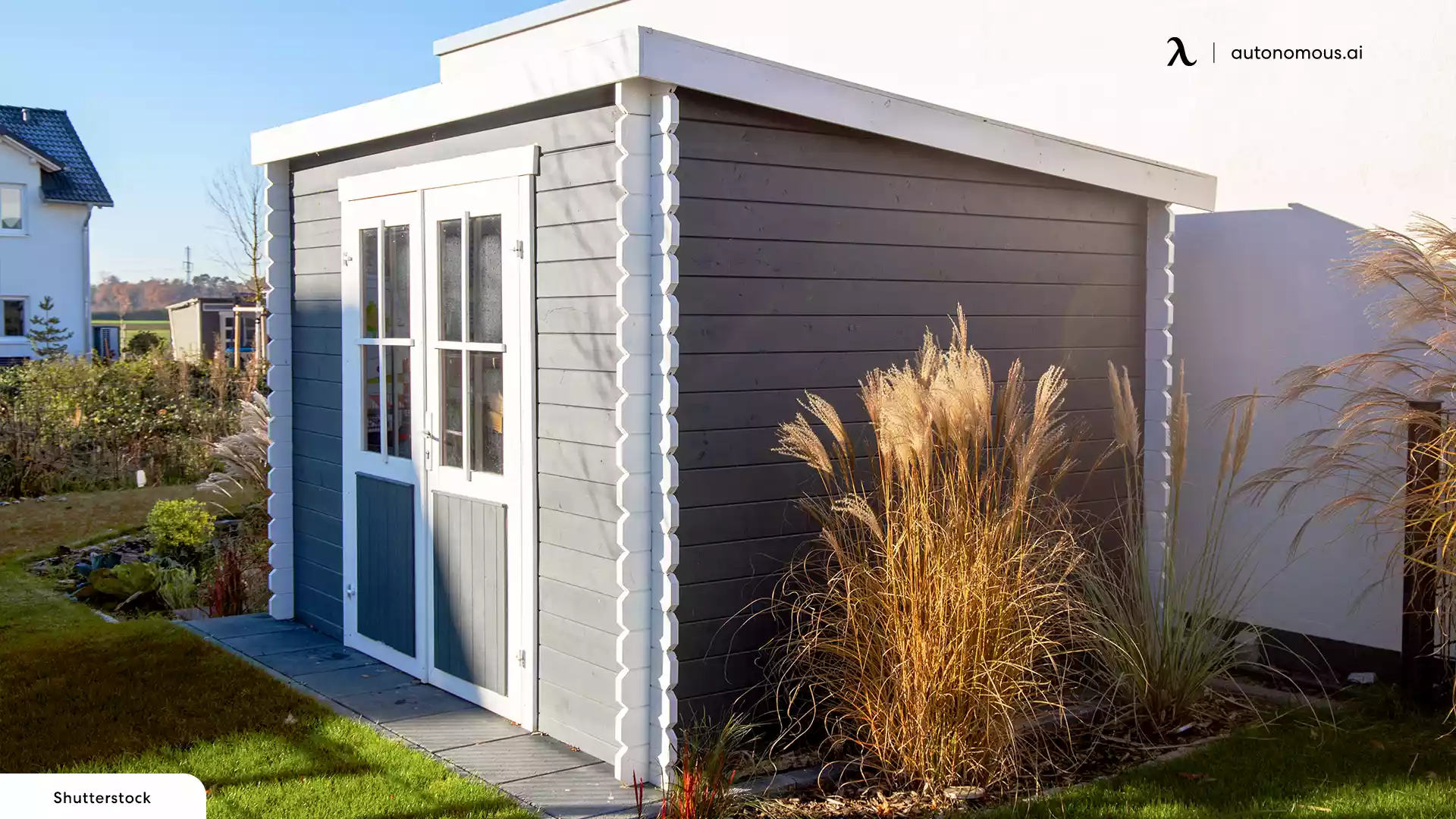 Warm neutrals are a treat for people who are fans of nude colors. Warm neutrals help you bring versatility and warmth to your shed. If you are preparing a shed for winter, you should go for shed color schemes that have warm neutral hues.
Some of the common warm shades include sandy beige that has subtle red undertones or a greige shade that is a combination of beige and gray. The uniqueness of these outdoor shed colors is that they appear brighter in daylight.
6. Citron Shade
Citron shade is a dark lemon color that you might be familiar with if you have seen the Citron fruit. Since this is a bright shade, it looks great in a home gym pod where you wish to add exciting bright hues. Citron shade brightens your shed and makes it look energizing. This shed color is also great for promoting a cheerful workspace, so you can choose it for your office shed too.
7. Deep Aubergine
Deep Aubergine color is a dark purple shade or brownish purple similar to that of eggplant. Since we have talked a lot about bright hues, we should share a dark shade too, like deep aubergine. This shade is great for people who are a fan of dark hues. You may think of blending this shed color in your office pod by using some neutral furnishings and monochromatic design elements.
8. Monochromatic White
White is the best choice if you wish to promote minimalism. The shed color is highly sophisticated and makes your workspace look spacious. However, it is better to ensure that you choose a monochromatic white theme if you are incorporating it in your office shed, as this will make it redefine the way your shed looks.
9. Shades of Aqua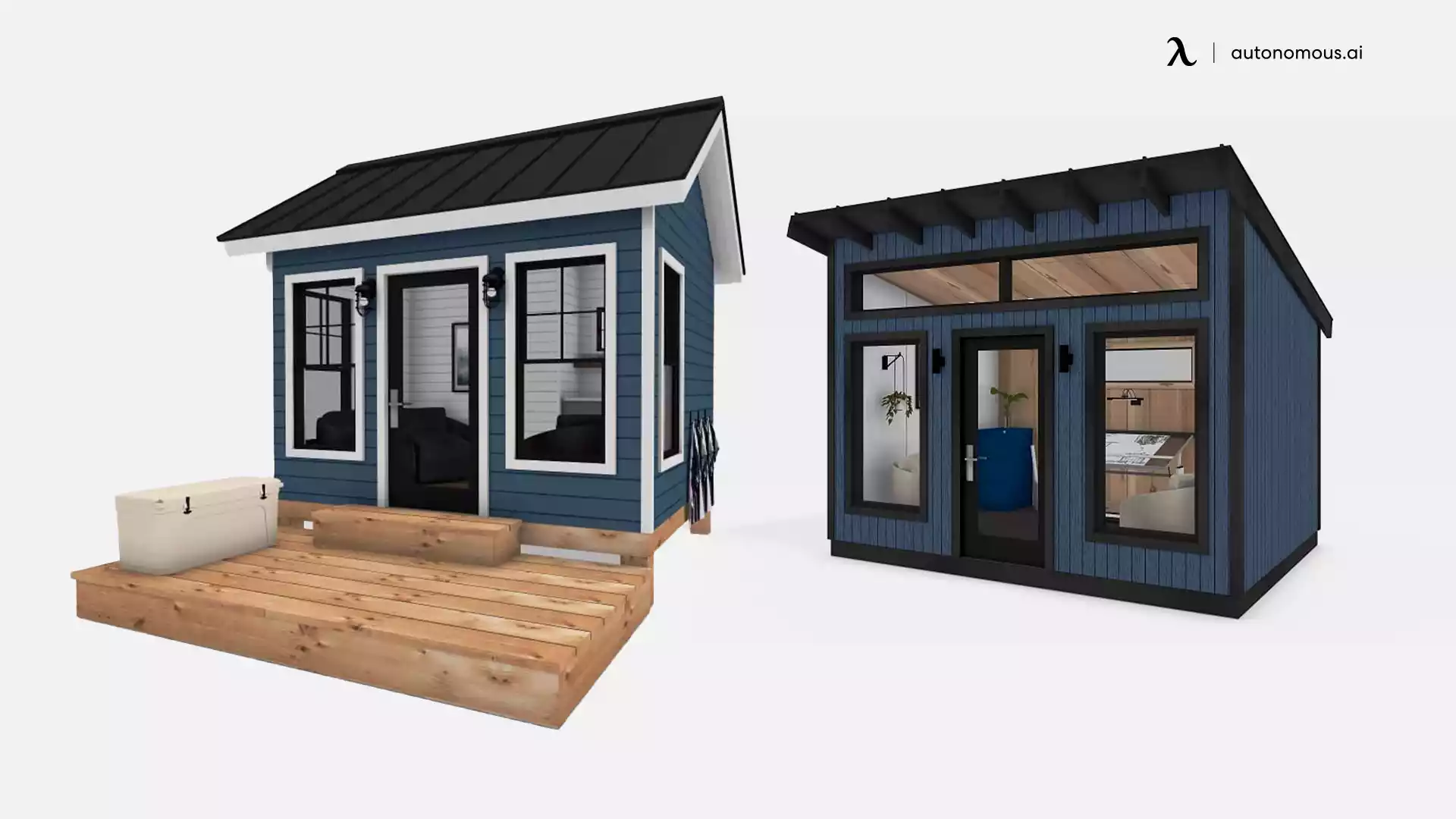 Shades of aqua like the blues, greens, and peacock tones all look amazing in a shed. That's why they are among the top shed color schemes these days. Such a shed color not only helps you add a nice texture to your shed but promotes soft, positive vibes that are great for your productivity.
10. Cool Feather Gray
Cool feather gray is a very popular neutral shed color scheme these days. Being a sophisticated color scheme, it makes your garden office shed look luxurious and spacious. To ensure that you give your shed the best look, you can add some complementary colored curtains and redefine the way your shed looks.
11. Faded Terracotta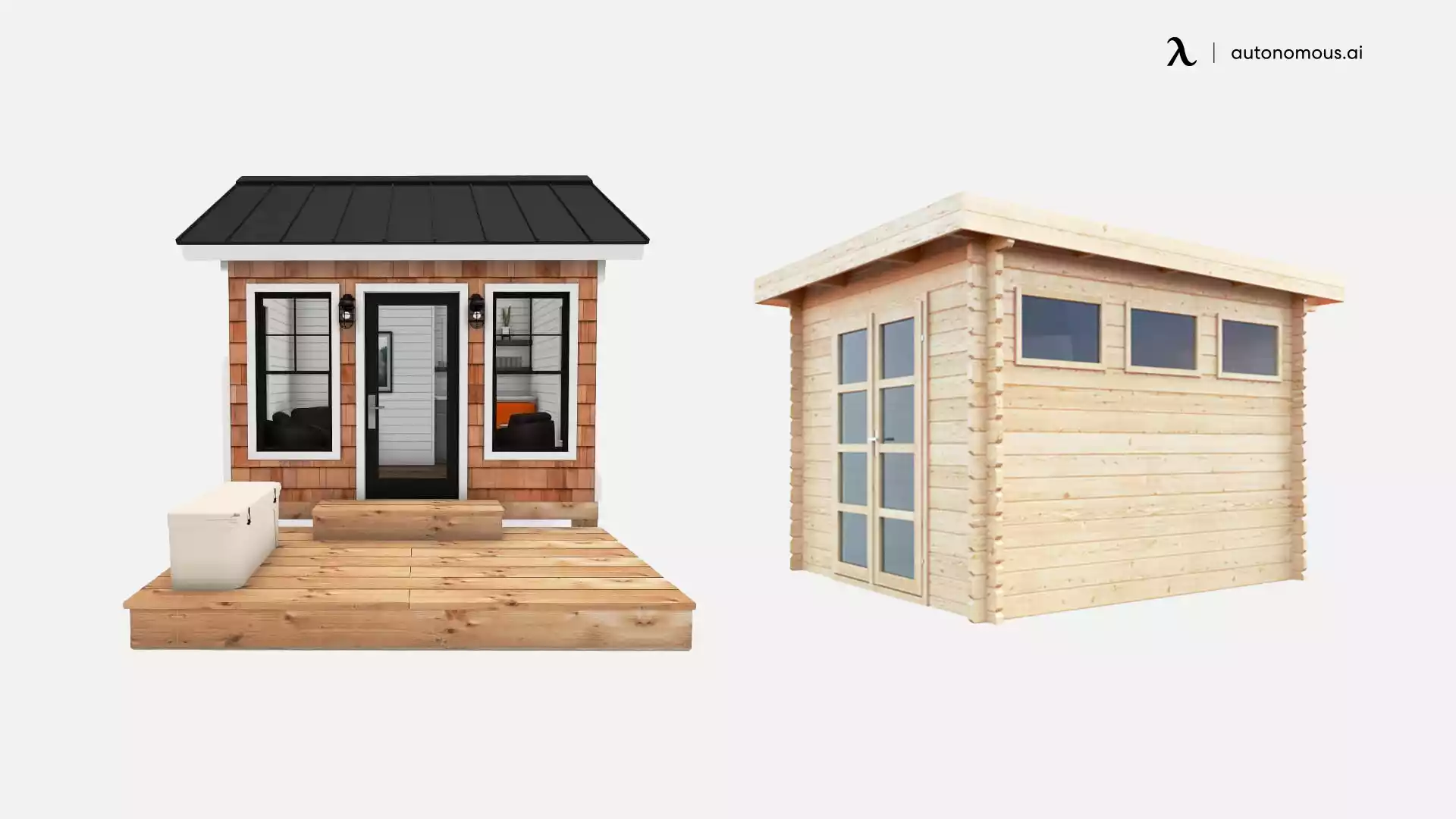 Faded Terracotta is a natural brown-orange color that promotes coziness and warmth. To add a greater definition, you can pair up this color tone with earthy hues or lighter shades like cream, sage green, or even deep browns. Overall, this shed color will be ideal for those people who love to have a calm and peaceful space to work.
12. Muted Palettes
You might have noticed that we gave a fair share of nude colors throughout this article. The reason behind that is they are increasing in popularity these days. Muted palettes like those of limewash finishes and plaster create a textural effect on your walls that looks satisfying and vibrant. Since it blends pretty well in any home office shed, it is considered one of the great shed colors.
Hey, you have special pricing through your company.
Get exclusive rewards
for your first Autonomous blog subscription.
WRITTEN BYAutonomous
We build office products to help you work smarter.
Coming at You Live from Autonomous' Social Media!