Smart Products
The Best Office Chair for a Large Person: Top 24 Picks for 2022
7,375 Views
With roughly 86% of the American workforce spending most of their time sitting down, the importance of a comfortable chair is paramount. Spending hours sitting down may be unavoidable in your line of work, particularly if you work in an office environment. What is avoidable, however, is the subsequent pain and discomfort that can come from an unsuitable chair.
When we think of comfy workplace chairs, the term that comes to mind is "invaluable." It is particularly true if you have some excess weight on your frame. Whether you're working on your finances, completing that company presentation, or evaluating your student's homework, one thing is certain: comfortable, ergonomically designed office chairs for heavy people are essential to completing those duties quickly!
Finding an office chairs for heavy people is even more essential. Even the best ergonomic chair on the market may not be sturdy or strong enough to qualify as a good office chair for fat guys, which is why a little more research is required. Heavy people have a different set of requirements from a chair. To help you choose, we have narrowed down some of the best options, and explained what makes them great.
That is where this article can help! It is the post for anyone who wants to invest their hard-earned income on the best office chair for big guys that would allow them to remain seated for extended periods. Whether you want a chair for work or leisure, we have got you covered!
Essential Features of an Office Chair for an Overweight Person
High weight capacity: Always read the specs to find out if the chair matches your weight.
Supportive backrest: a high-back desk chair is usually the first choice in an office chair for a heavy person.
Long-term comfort: Search for the best office chair for long hours and look at the comfort level. The same attention to comfort should be present in an office chairs for heavy people.
Breathable material: Heavier people tend to overheat more easily, which is why the airflow in their chairs should be optimal.
Lumbar support: A

plus size desk chair should provide a good level of spine support since heavy people often have more back problems.

Sturdy frame: The stronger the frame, the longer your chair is likely to last. You are unlikely to feel comfortable sitting on a flimsy base.
Gaming Chairs vs. Office Chairs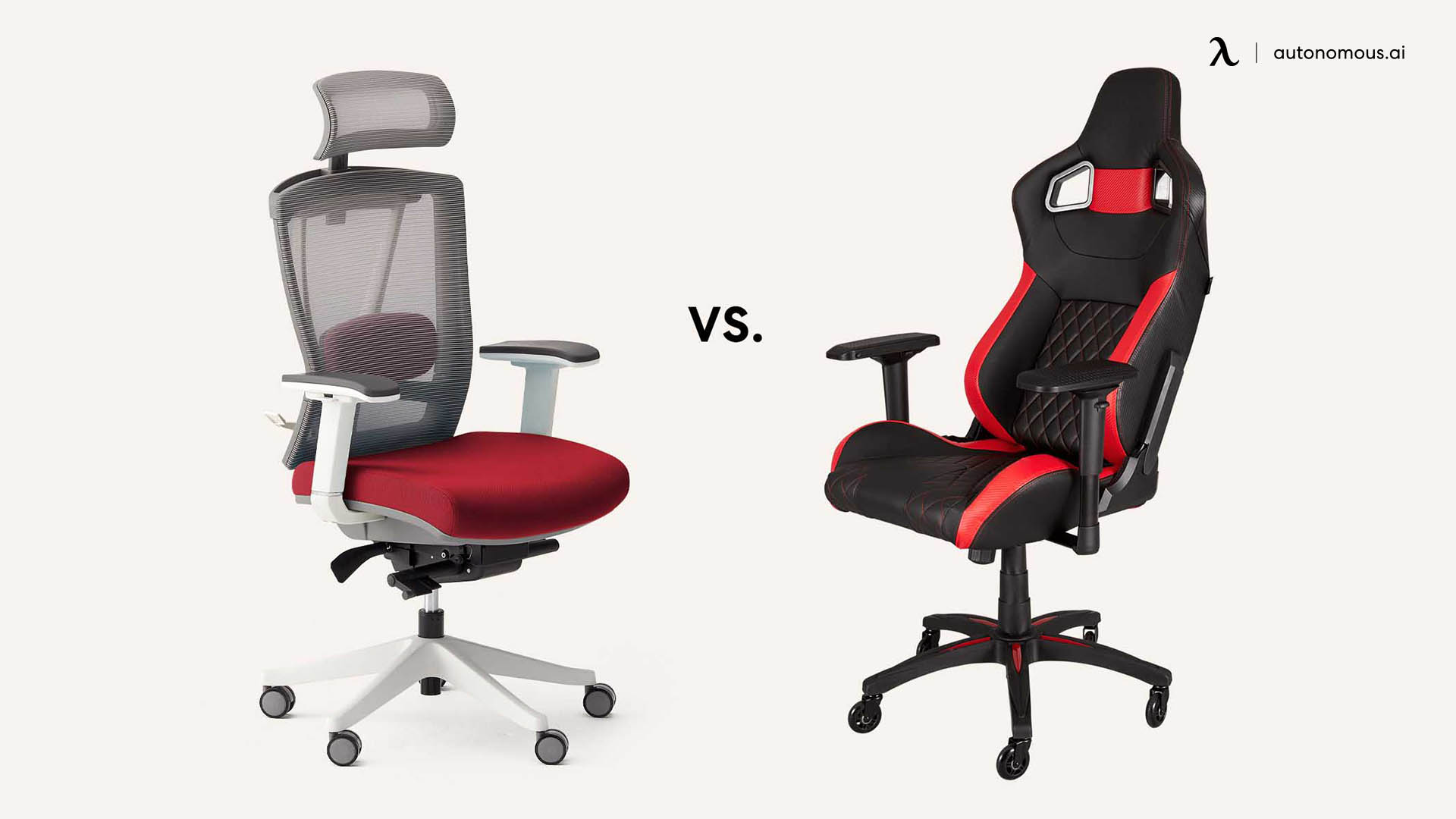 For an overweight person, gaming vs office chair, which one is better? Sometimes, the best office chair for fat guys is actually a gaming chair. Gamers spend many hours sitting down, just like office workers do. Because of this, the chairs they used are designed with the same attention to comfort and support as most ergonomic models. In fact, many gaming chairs have several ergonomic features.
Most gaming chairs also have a high weight capacity and are built with big and tall people in mind. If you are struggling to find an office chair you like, try exploring the gamer world.
Pros and Cons of Gaming Chairs
Pros of Gaming Chairs
The average weight capacity is high.
Cushioning is designed for long-term comfort.
Study frames and high-quality support features.
Often more affordable than ergonomic chairs.
Cons of Gaming Chairs
Not always the right style for an office setting.
Usually do not have reclinable backs.
Not breathable materials.
Pros and Cons of Ergonomic Chairs
Pros of Ergonomic Chairs
Fully adjustable.
Premium posture support.
Sleek designs to fit any workspace.
Cons of Ergonomic Chairs
Most expensive type of chair.
The average weight capacity is lower.
Top 24 Office Chairs for Large People
The perfect chair will maintain your body in an optimal configuration, which will allow you to focus and decrease soreness. Hundreds of gaming seats were examined and evaluated, with support, convenience, and construction flexibility being the most important factors. Here is a rundown of some of the best office chairs for big people and the pros and cons of each.
1. ErgoChair Pro+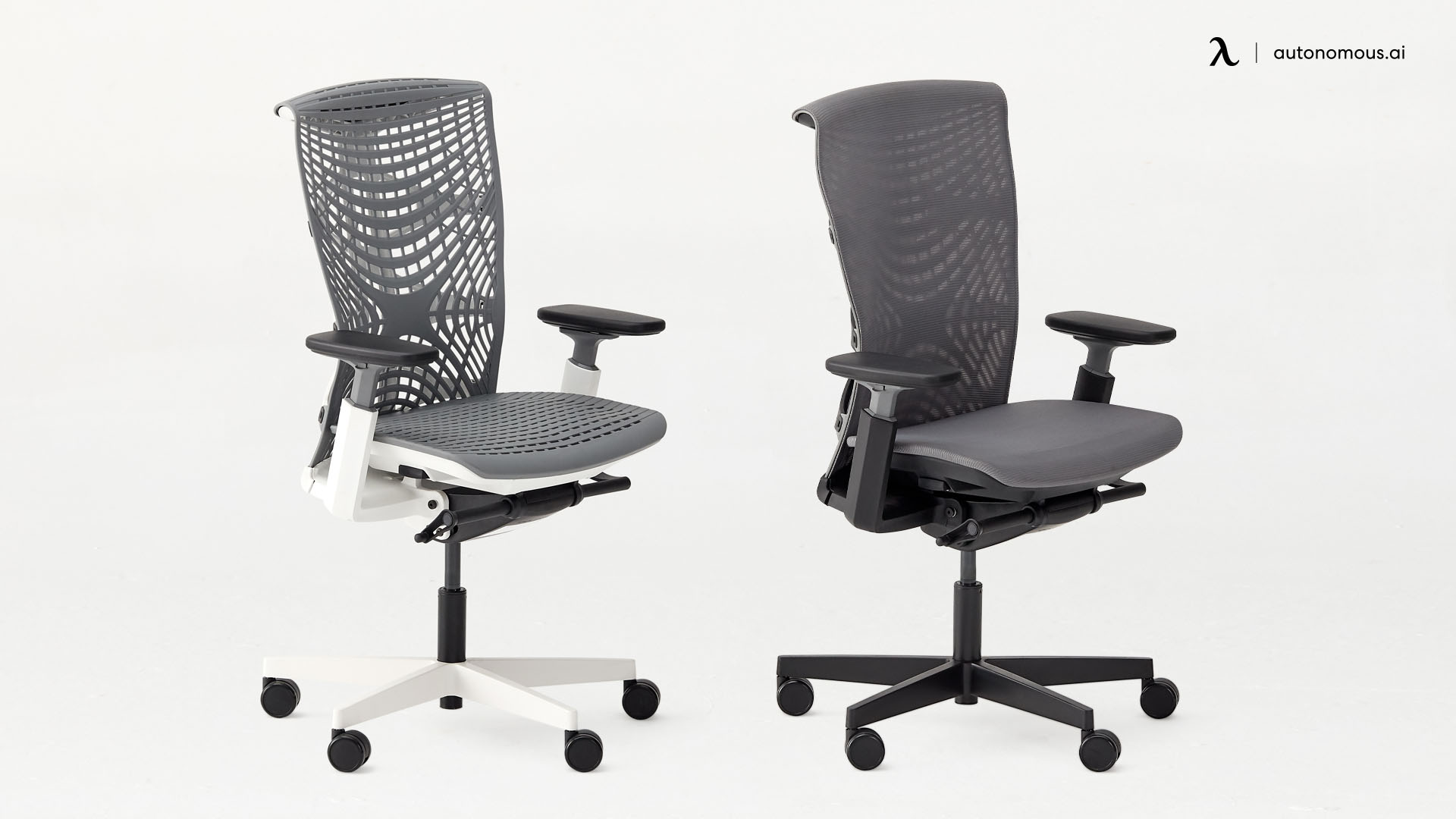 The ErgoChair Pro+ is expertly designed to provide maximum maneuverability. Heavier people often find it more difficult to move around at their desks, and the chair they are using does not help. With 10 times the standard durability of average ergonomic chairs and complete adjustability, this plus size desk chair keeps you feeling comfortable, supported, and unrestricted.
Maximum Weight Capacity: 300 Lbs. / 135 kg
Pro: The back support is extremely breathable and flexible to keep you cool and comfortable.
Con: It does not come with neck support, so is not ideal if you suffer from neck pain.
2. ErgoChair Pro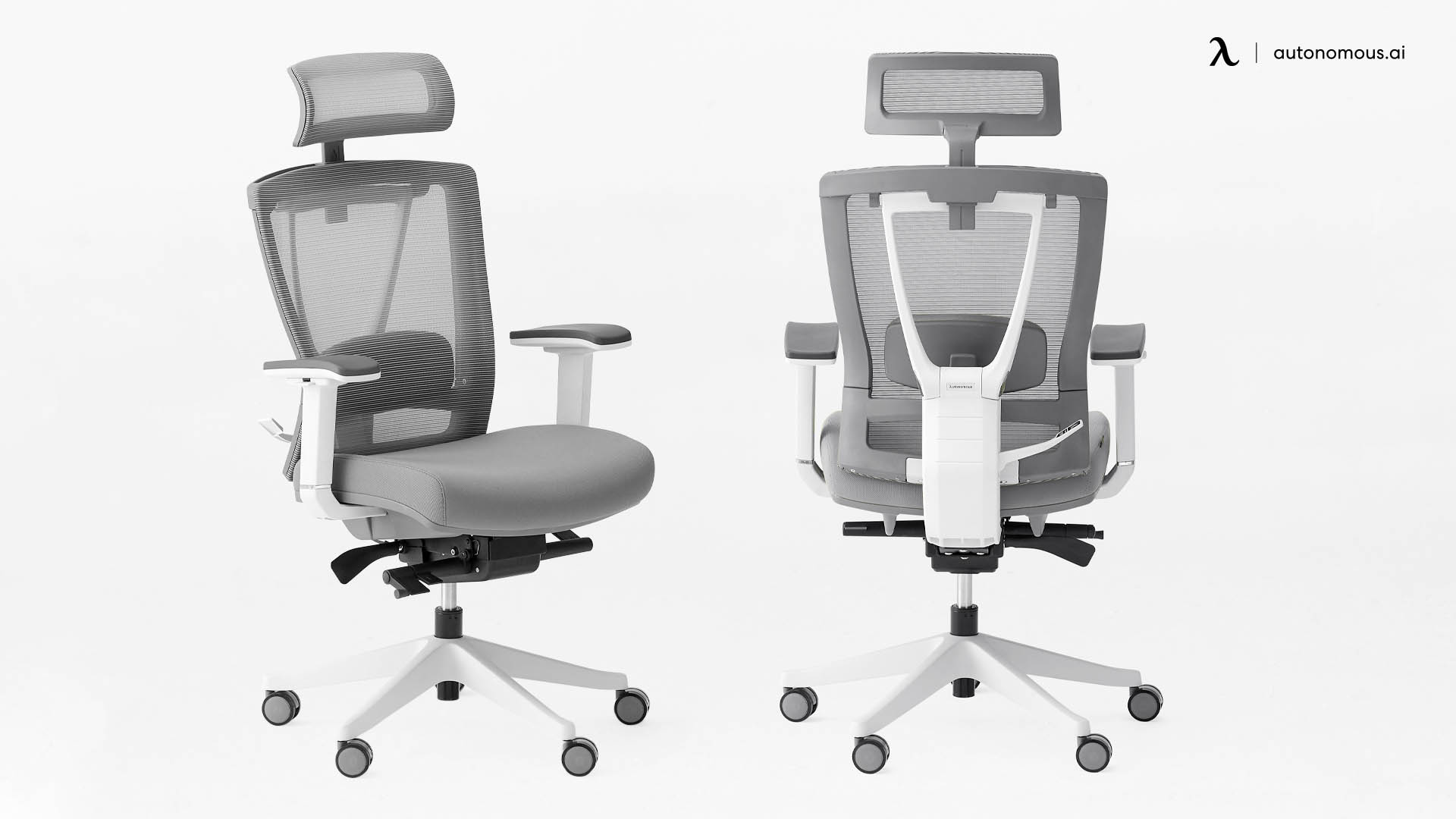 Another best office chairs for heavy people from Autonomous. When you buy ergonomic chair styles, you want them to have it all. Well, the ErgoChair Pro fits that bill. Not only does it come with fully customizable settings, but it also comes with a removable headrest. The ErgoChair Pro is an excellent office chairs for heavy people with back pain or posture issues.
Maximum Weight Capacity: 300 Lbs. / 135 kg
Pro: It comes in six different colors and provides unparalleled posture support.
Con: There are no leg rests on this chair.
3. ErgoChair Recline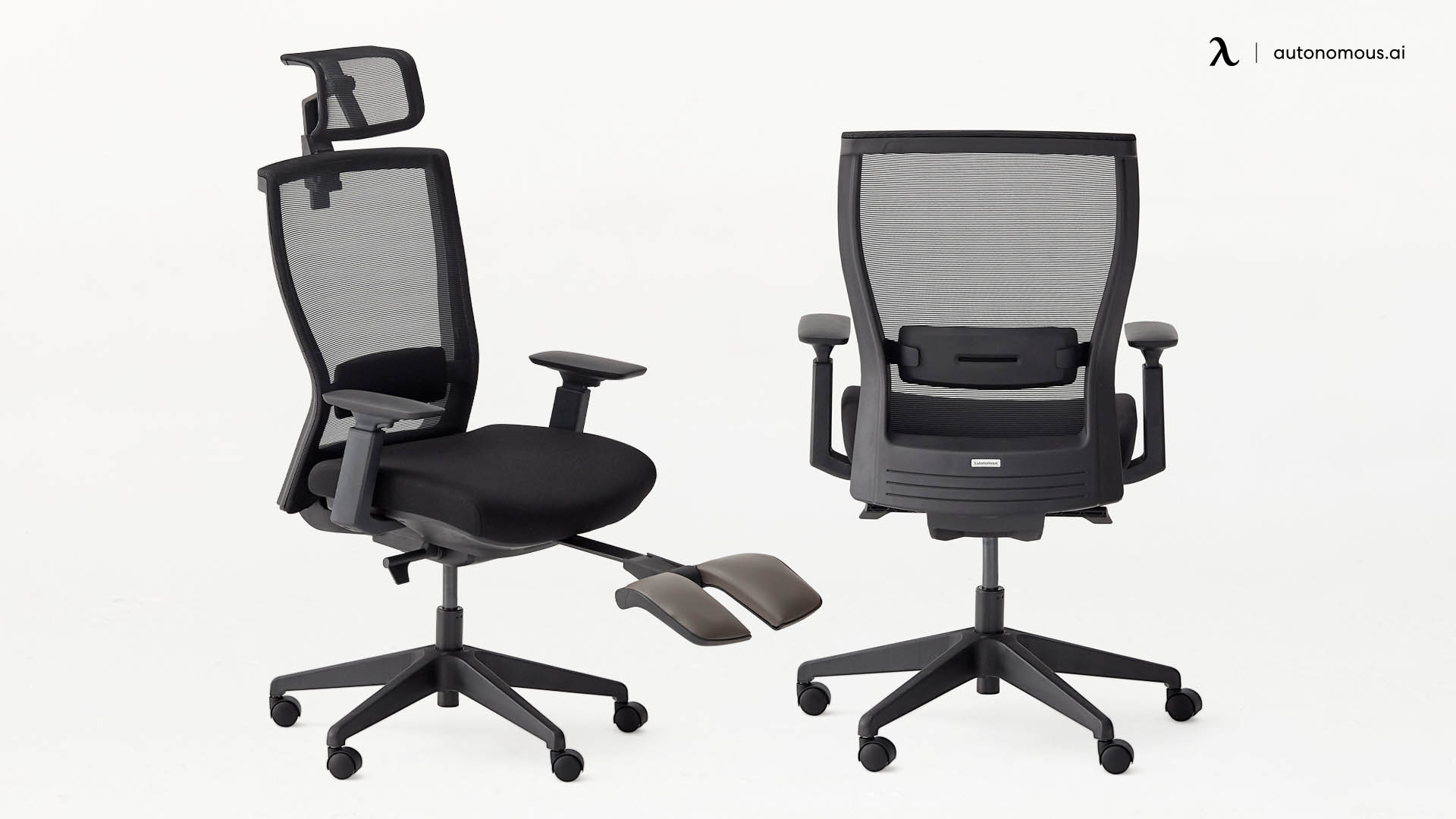 If you are looking for an office chair for a tall person as well as an overweight person, the office chair masterpiece, the ErgoChair Recline, is the one for you. This chair encompasses every aspect of what ergonomic design should be. Feel supported from head to toe with adjustable leg rests, customizable seat setting, reclinable back support, and a removable headrest. All the ErgoChairs have sleek, professional designs, and this one is no different.
Maximum Weight Capacity: 250 Lbs. / 115 kg
Pro: The Core is one of the most affordable chairs in the Autonomous ErgoChair range.
Con: There are only two color options available.
4. Steelcase Leap Plus
They simply do not come much better than the Steelcase Leap Plus. As an office chairs for heavy people, it has everything. The cushioning is perfectly balanced and the ergonomic backrest provides adaptable support. A sturdy frame and highly durable design give the Steelcase Leap Plus a reliable feel for large workers. To top it off, this oversized office chair is available in many color options to suit your preferences.
Maximum Weight Capacity: 500 Lbs. / 226 kg
Pro: The design is stylish and comfortable, and the quality is incomparable.
Con: A hefty price tag makes this an unfriendly option for shoppers on a budget.
5. Ficmax Ergonomic Gaming Chair
Gaming chairs tend to be designed with longevity in mind, which is what makes them good office chairs for heavy people. The Ficmax is a cheaper version of a leading brand and provides most of the same features. Although not one of the best gaming chairs on the market, it is one of the designs that can best cross over to office use. A tall back and excellent cushioning make this a comfortable chair in any setting. It is rated as one of the best office chairs for a heavy person.
Maximum Weight Capacity: 300 Lbs. / 135 kg
Pro: Ficmax is one of the more affordable gaming chairs out there.
Con: It is designed more for an entertainment space than a workspace.
6. Reficcer High Back Chair in Bonded Leather
Leather lovers need to look no further. In our opinion, this is the best leather office chair for a large person. The seat is very padded, and all angles are adjustable. It is a great middle point between a modern ergonomic and classic executive chair.
Maximum Weight Capacity: 400 Lbs. / 180 kg
Pro: Comfort levels with this chair are next-level.
Con: The material is bonded leather rather than pure leather.
7. HON Sadie Big Man Office Chair
One of the best chairs for heavy people made by the HON brands is the Sadie Big and Tall Computer chair. Comfort is always a primary focus in all HON products, and Sadie is no different. The adjustable features are great, although the armrests are not as sturdy as the rest of the chair. Why don't you pick this computer chair for a heavy person now?
Maximum Weight Capacity: 400 Lbs. / 180 kg
Pro: The Sadie is great value for money and one of the lowest price tags on this list.
Con: Although it has good supportive features, the chair is a little dull to look at.
8. Jummico Big and Tall Executive Gaming Chair
The Jummico Executive Gaming Chair is the perfect marriage between gamer support and executive style. Anyone who prefers the shape and comfort of a gaming chair but doesn't want to sit on a racing car seat in their office can find the perfect solution in the Jummico. A wide seat and backrest provide plenty of space and the ergonomic shape provides spinal support.
Maximum Weight Capacity: 300 Lbs. / 135 kg
Pro: Jummico is one of the most classy-looking gaming chairs, perfect for a modern office.
Con: The backrest is not adjustable,
9. Herman Miller Aeron Size C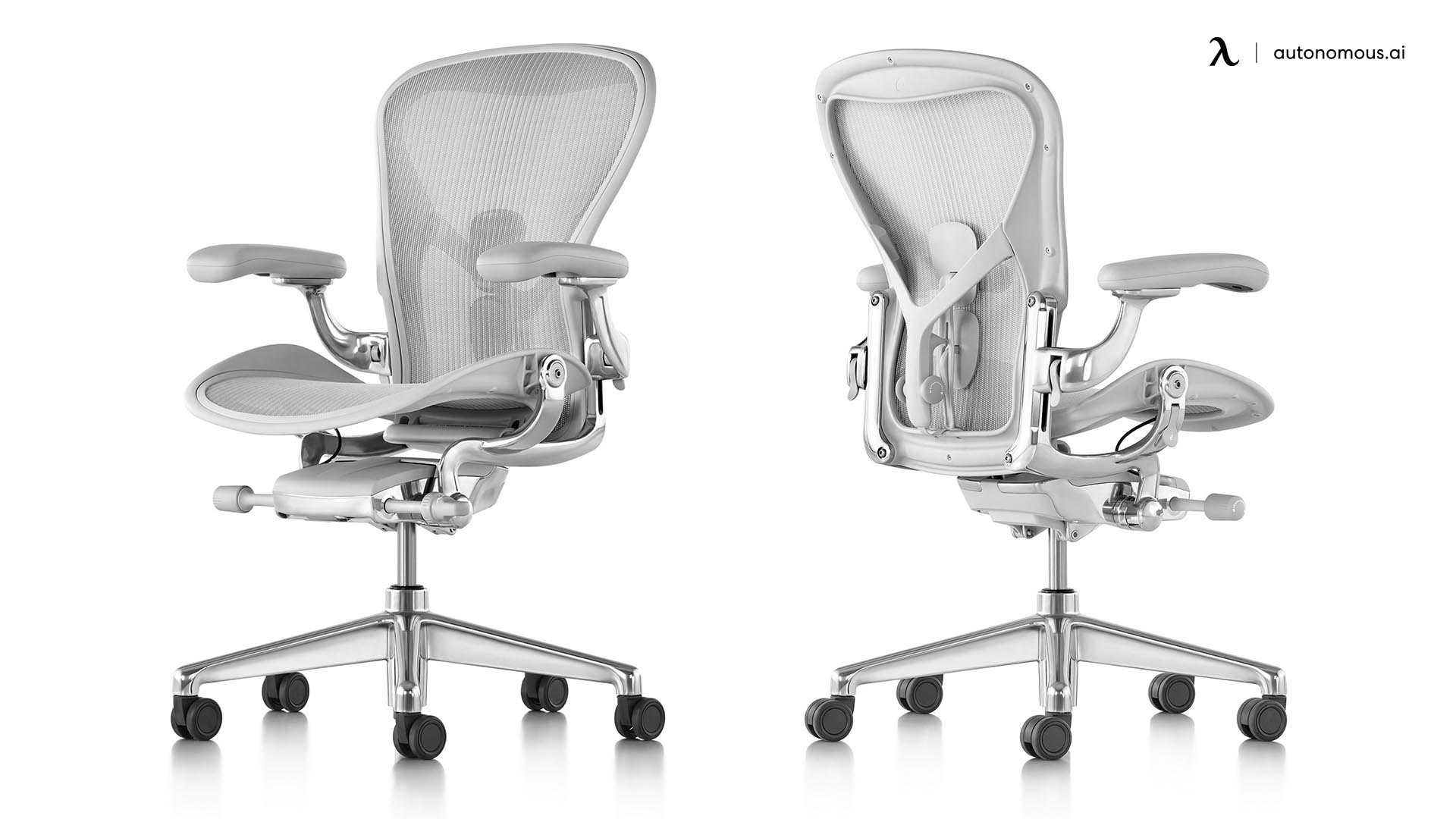 Herman Miller is a brand well-known in the office chair world, and one that frequents the top picks on the office chairs for heavy people list. The Aeron Size C was designed with all the usual features of a Herman Miller chair but with additions aimed specifically at heavier people. The seat size of this computer chair for a heavy person and choice of materials help keep larger workers comfortable throughout the workday, with adjustable armrests and a mesh back.
Maximum Weight Capacity: 350 Lbs. / 160 kg
Pro: Such a lightweight chair (only 39 Lbs.) allows you to move around easily
Con: This is one of the most expensive chairs on the list.
10. Secretlab Titan
Another gaming chair entry, the Secretlab Titan is an attractive oversized office chair. Although created with gamers in mind, the sleek design lends itself to a flexible office space equally well. The 4D armrests are a huge advantage for big and tall people, as they allow more movement and increased stability simultaneously.
Maximum Weight Capacity: 285 Lbs. / 130 kg
Pro: Great spine and arm support make it comfortable over long hours.
Con: The Titan has a lower weight capacity than a lot of other gaming chairs on this list.
11. HON Wave Executive Chair for Big and Tall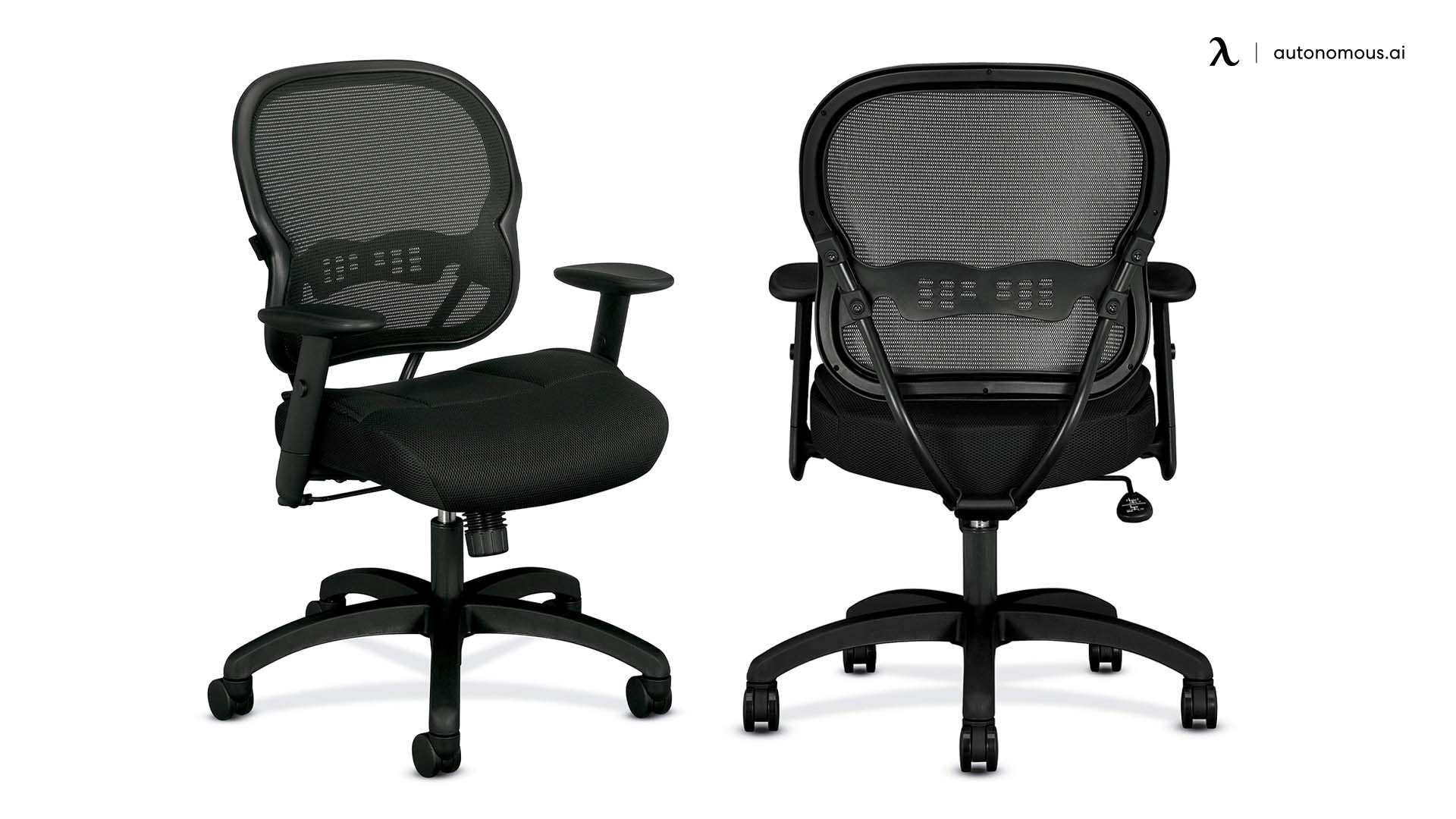 There are few chairs more comfortable than the HON Wave. Although it does not have as many ergonomic features as some of the others on this list, it more than makes up for it. The expertly placed cushioning is the perfect depth and texture. You can sit happily on this office chairs for heavy people on an average workday. If you work for long hours, think about something with more lumbar support.
Maximum Weight Capacity: 450 Lbs. / 204 kg
Pro: HON Wave is all about the cushioning- you could struggle to find a comfier seat.
Con: The wheels are not as sturdy as the rest of the chair, and the lumbar support is lacking
12. Hercules- Flash Furniture Big and Tall Chair
Those who are looking for something simple, sturdy, affordable, and comfortable should consider the Flash Furniture Hercules Chair. Although very different from the others on this list, there is no denying the value of a basic chair with advanced comfort. The low back is preferable to some people who only sit for short seated back stretches at a time. If you need something capable of supporting your weight and that can provide you comfort short term, this is a good option.
Maximum Weight Capacity: 500 Lbs. / 226 kg
Pro: Hercules's Big and Tall chair is one of the most affordable on the list.
Con: This is not an ergonomic chair and is not designed for long hours.
13. Space Seating AirGrid
This office chairs for heavy people is a solid choice and one that is bound to prove durable. The frame is very sturdy and supportive. This mid-height back is preferable to some, although the overall comfort is not as good as some of the others. If your primary concern is a chair you can keep for a while, then the Space Seating AirGrid is an option.
Maximum Weight Capacity: 400 Lbs. / 180 kg
Pro: You can depend on this chair to last a long time.
Con: There are more comfortable options out there.
14. DXRacer Tank Series
DXRacer is one of the most recognizable brands in the gamer chair world. Although more expensive than other gaming chairs on this list, the Tank Series is very impressive and a good choice of an office chairs for heavy people. There is obvious care for attention to detail, and you could comfortably sit for long hours on this chair.
Maximum Weight Capacity: 275 Lbs. / 125 kg
Pro: As a gaming chair, it has an impressive amount of ergonomic features.
Con: The flashy gamer style may not fit in every office environment.
15. Slate Gray Gaming Chair by Karnox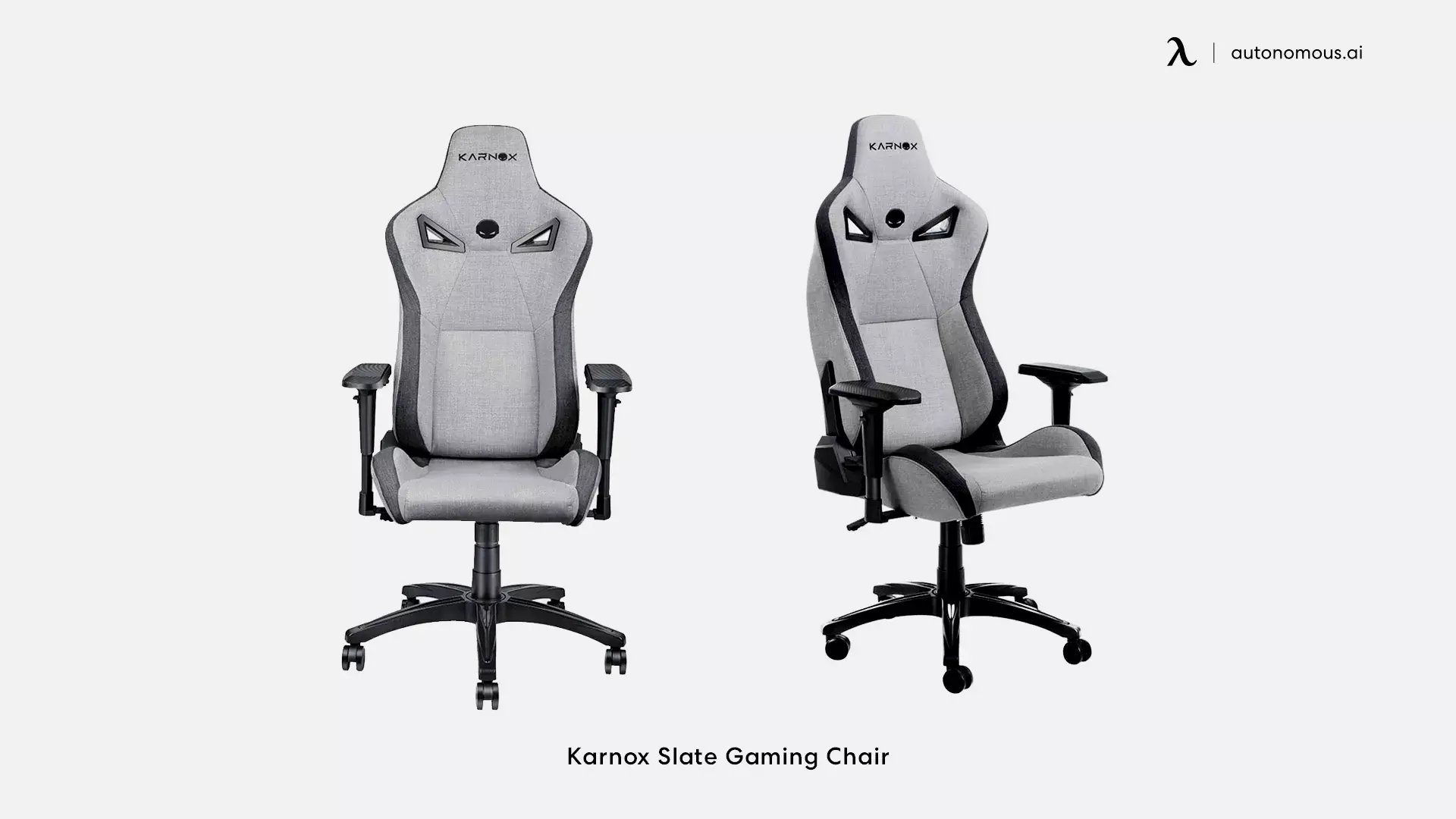 It's a heavily loaded racing gamer chair with an incorporated metal structure and a top-notch gas spring that meets general standards. It has an intense foundation with nylon seamless rolling casters for excellent stability and movement, ensuring the seat's longevity. This breathable gaming chair is covered with an elevated sponge and superior textiles mesh. It's made of carbon fiber and has a race-inspired design, giving you an intense gaming performance. It has a very well seat, backrest, and headrest cushions that support the spine and neck, making long gaming periods more pleasurable.
16. Karnox Legend Bluish Gray Edition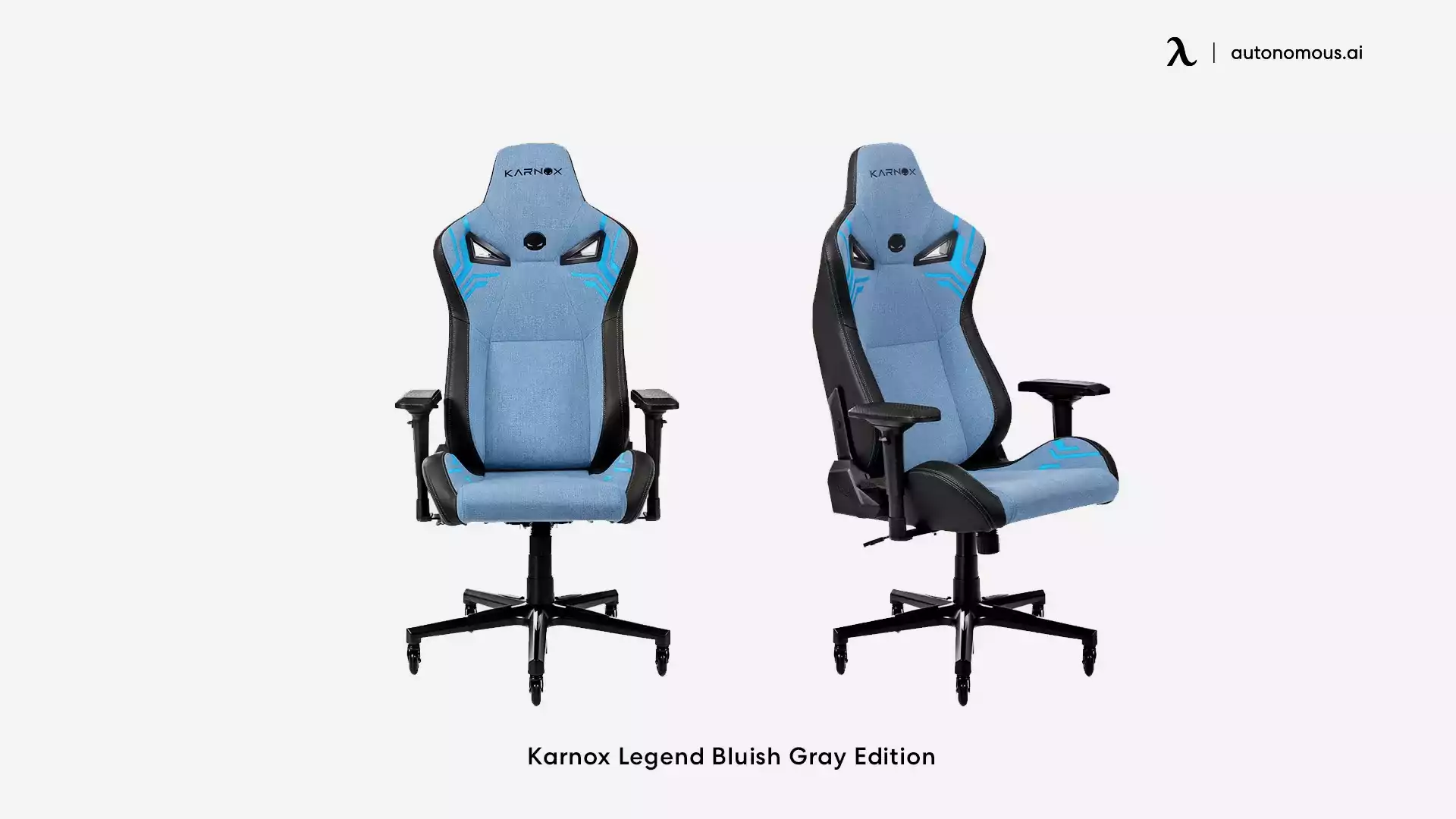 To complement your gaming feelings, this comfortable PC, as well as an oversized office chair, features amazing ergonomics. You will have total control, with the ability to choose from a selection of appealing options and regulate the tempo, brightness, and color of the lighting. The quality of this blue and black gaming chair is likewise outstanding. It has a design pattern that is both stylish and comfortable.
17. Gaming Chair Assassin Ghost Edition by Karnox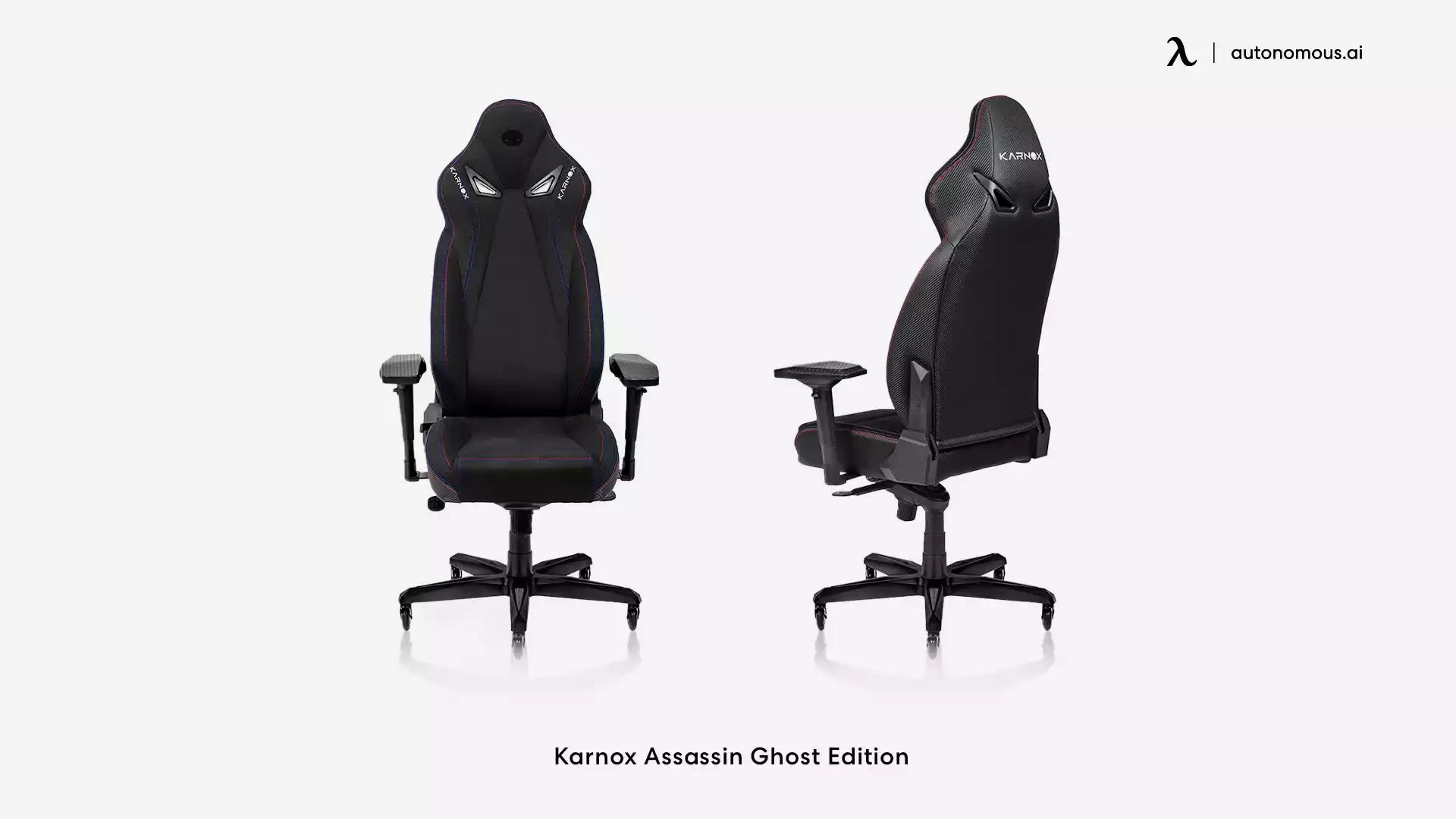 It's a very well-made gaming chair that will suit a wide range of large and tall enthusiasts. The comfortable gaming office chair is designed for taller players, ranging in height from 5'11 to 6'9, and it features a tall back for further comfort. You'll also receive an armchair with a 4D armrest for customizing your arm posture, with an incorporated lumbar rest and adjustable height. The chair also includes a magnetized neck cushion that easily snaps on and off.
18. Leather Gaming Chair by Karnox
This plus-size desk chair comes with neck and lumbar cushions so that you may add additional cushioning to the backrest. The seat's backrest can be fully reclined, and the seat bottom may be tilted back, allowing you to find a comfortable posture between play sessions.
19. Gaming Chair SL4000 by Vertagear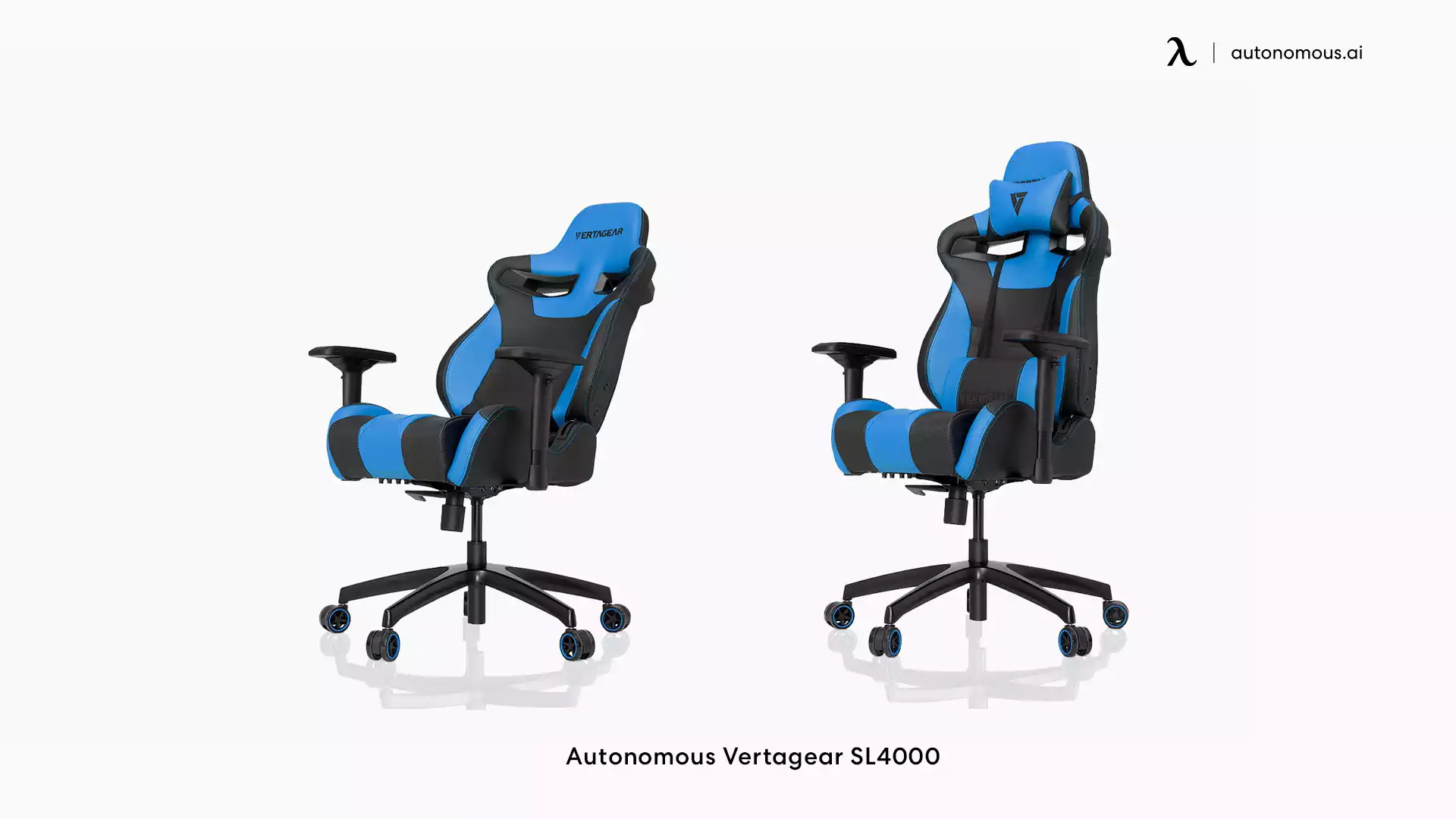 It's difficult to find a cheap black fabric gaming chair that can also serve as a huge and high gaming seat, but this one does the greatest job for the money. Like many of its competitors, it has a steel structure and a stable, five-star foundation, neck, and lumbar cushions.
20. Gladiator - SR Gaming Chair by Karnox
You won't be spending a fortune to get your hands on this ergonomic chair with lumbar support. Beginning with the highly sturdy steel structure and reinforced design, this is a very robust and comfortable office chair for heavy people. A tilt system delivers an extremely durable and heavily loaded gameplay experience. There are two cushions in the line: a head cushion and a back pillow. These are intended to improve the seat's comfort and allow gamers to sit in it for long periods.
21. Gaming Chair Special Edition by Vertagear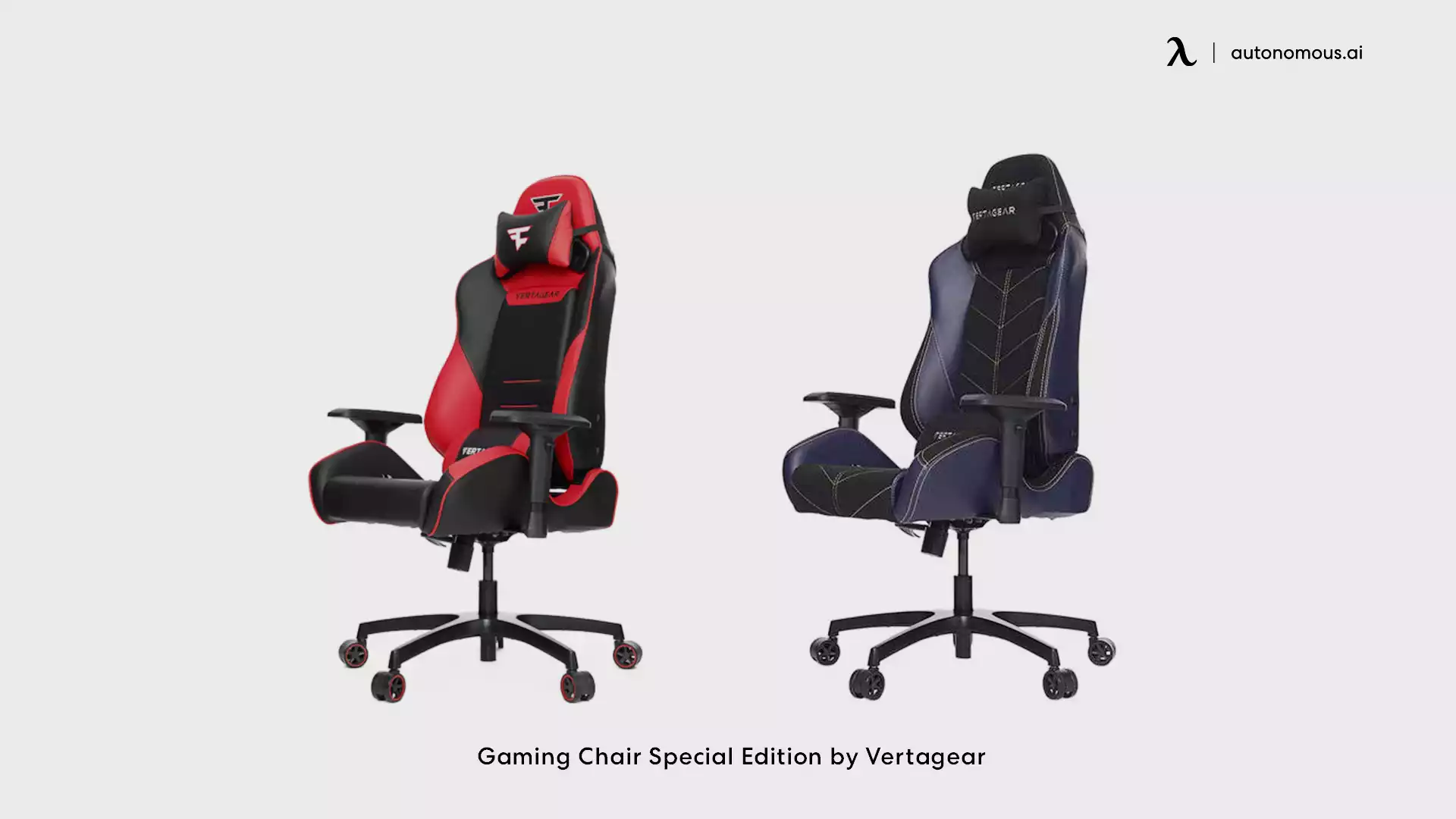 This big man office chair may be utilized in various settings, including offices and rooms. It simply has a luxurious appearance and is constructed of high-quality components. It fits various body forms as a multi-functional chair for big and tall people. This seat's pricing is also fairly reasonable for an armchair that can accommodate huge males – and one which is built of really high-quality elements in all types and sizes.
22. Gaming Chair SL5000 by Vertagear
It's where we start moving up the rankings, with more pricey and higher-quality seats. Even though the first three choices are typically acceptable for large and tall persons, this office chair for heavy people is regarded as "the finest" on the marketplace. Compared to other chairs, the chair's shape looks like it belongs in a better class. Our favorite color combination is Carbon and Black. However, the other colors are all fantastic.
23. Suede Gaming Chair by Karnox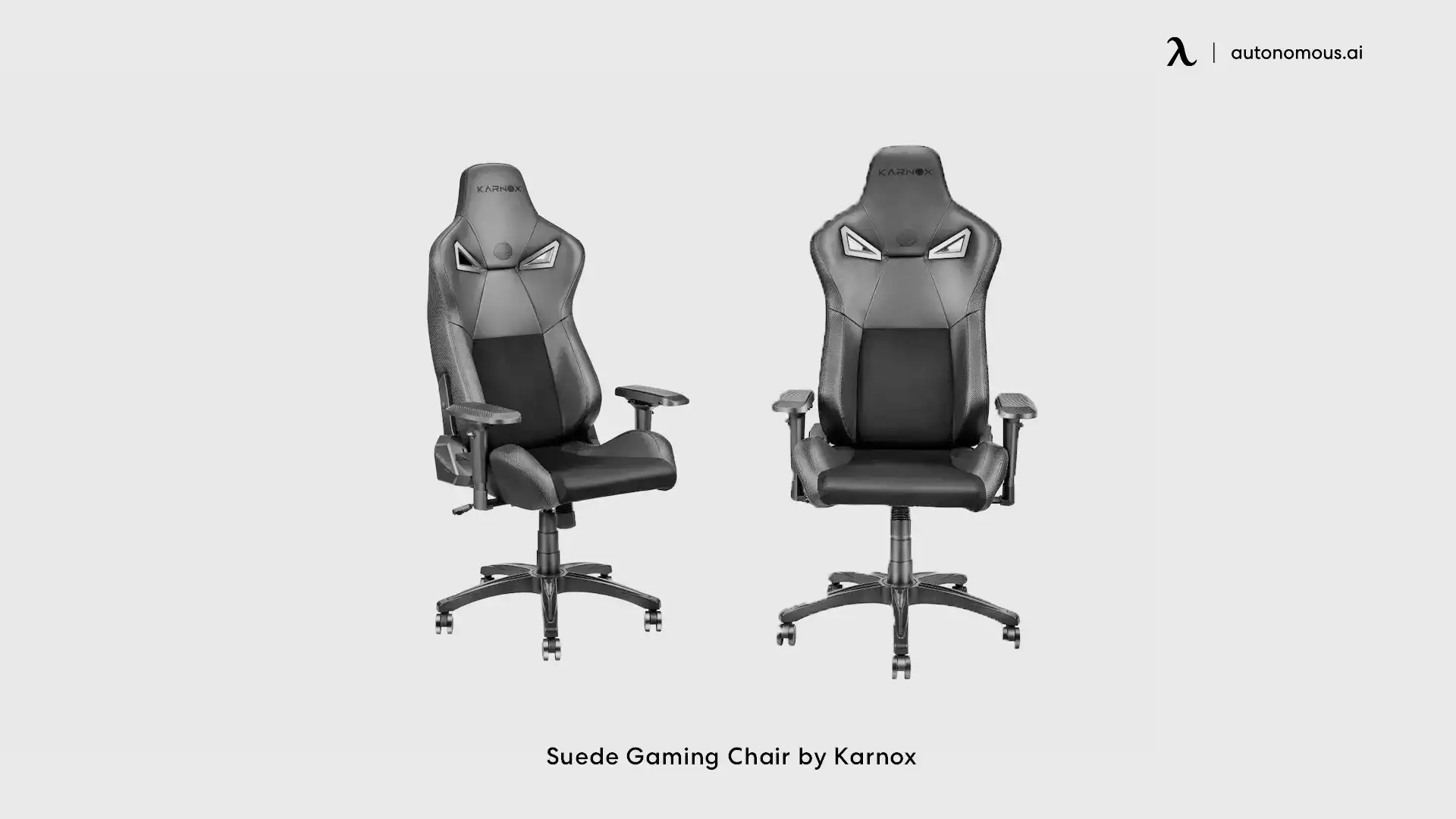 Gamers who spend hours across from their favorite console may enjoy a gaming chair such as this one. This version of an office chair for heavy people will appeal to larger and taller men due to its strong metal frame (which keeps them safe while sitting) and movable backrest, which allows you a variety of options when you're in your favorite gaming seat.
24. Secretlab Titan
This is another well-known model, particularly in the heavy-duty chairs division. It is, nevertheless, a gaming seat that has a greater cost. This office chair for heavy people has lots of separation and security, and it's simple to put together. There seems to be a unique lumbar support mechanism that allows you to adjust the level of assistance by turning a dial on the sides.
Gaming chairs provide several advantages to gamers. They're made for gaming. Therefore, they keep you comfy and assist you in preventing health issues like back discomfort and carpal tunnel syndrome. We compiled a list above of a few of the greatest gaming seats for you all to consider.
Additionally, while a gaming armchair may be more expensive than a standard office seat, it is worthwhile the expenditure for lengthy play sessions or nonstop working days at the pc. You could save money over the long term by eliminating costly medical expenditures later on due to poor alignment caused by poor home furnishings. Because of their strong structure, gaming chairs give superior support for your lower spine.
Summary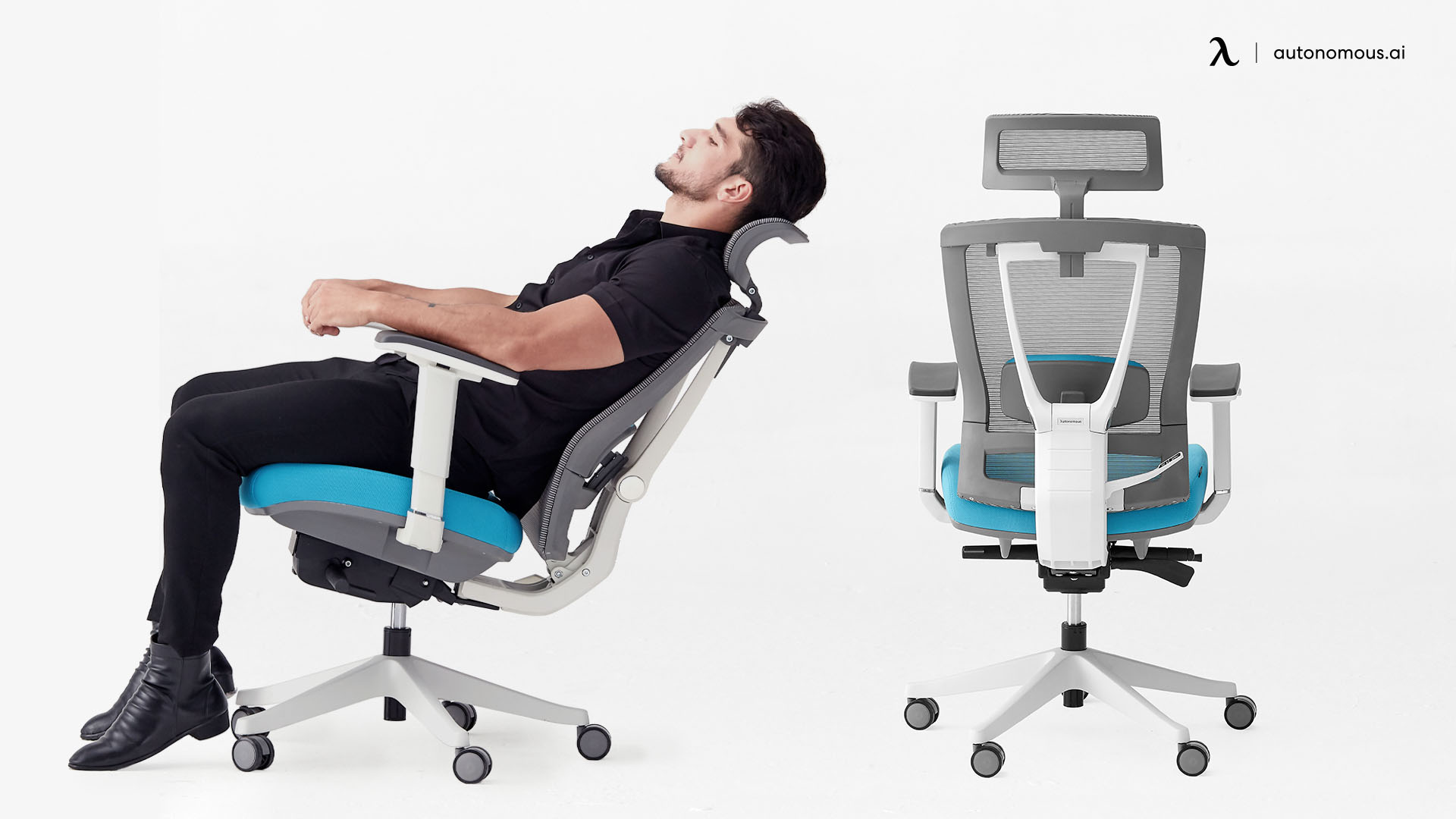 It is easy to find a great office chair for fat guys. Regardless of shape or size, the comfort of the chair you spend long hours sitting on is essential. As you can see, there is an extensive choice of styles available. The best office chairs for heavy people depends on their personal preference, which is why it is essential to do your research.
Never sacrifice your comfort. Not only does a great chair keep you comfortable and look good in your workspace, but it also reduces long-term muscle strain and encourages good posture. Before you pick the best office chair for big guys, make sure it matches all your criteria.
Hey, you have special pricing through your company.
Get exclusive rewards
for your first Autonomous blog subscription.
WRITTEN BYAutonomous
We build office products to help you work smarter.