Smart Products
15 Best Folding Treadmills for Small Spaces at Home & Office
1,420 Views
Investing in the best foldable treadmill can help you become more active, even if you lack space. Squeezing in a few workouts here and there is easy when you have such products with you. In addition, a walkable treadmill is convenient because you only need a little storage space to house the product. Instead, stash it away behind a wardrobe or in the pantry.  
What makes a foldable treadmill more desirable is that it allows you to take the equipment to your office. Many workaholics prefer storing the product under the desk. Pull it out between breaks and take a quick 10-minute jog to keep your body in its best shape!
The 15 Best Foldable Treadmills
Now that you know what features to look out for when investing in such products let's move on to the review section, so you can find the best folding treadmills for your home!  
1. WalkingPad Foldable Walking Treadmill R2
Available in a minimalistic gray color, the first product on this list is the WalkingPad R2 foldable treadmill. This compact model comes with a four-layered body and feet-sensitive speed settings. The automatic product is lightweight and easy to fold up to 180°. You can also connect it to your phone, allowing you to check real-time data.
2. WalkingPad Double-Fold Treadmill X21
The next model is the X21 Double-fold treadmill by the same brand. It comes with a one-touch display and phone holder. The smooth power-finished frame is sleek and modern. You can also fold the handrail on this WalkingPad treadmill if it's not used.
3. WalkingPad Foldable Treadmill A1 PRO
Enjoy tracking your daily progress directly from the WalkingPad app when running on this WalkingPad A1 PRO foldable walking treadmill. The product comes with four layered construction, making it durable and sturdy. It also has a convenient remote control with which you can tweak settings.
4. InMovement Under Desk Treadmill
The best foldable treadmill should allow you to work on your desk and run simultaneously. Luckily for you, this product does exactly that! On top of that, the quiet motor makes it a joy to run on. You can also download the Unsit app and connect it to the equipment to track your progress.
5. RHYTHM FUN Folding Treadmill
This under the desk portable treadmill in silver comes with various speed settings. It also has wheels, allowing users to easily store the product under beds and in tight spaces. In addition, the low and slim profile is an aesthetically pleasing touch to the model.  
6. ZJDU Folding Treadmill
Go with this inclined electric treadmill if you want to burn calories faster. The product comes with convenient buttons, which allow you to tweak settings. On top of that, the wide handrail makes it easier to hold onto the treadmill while running.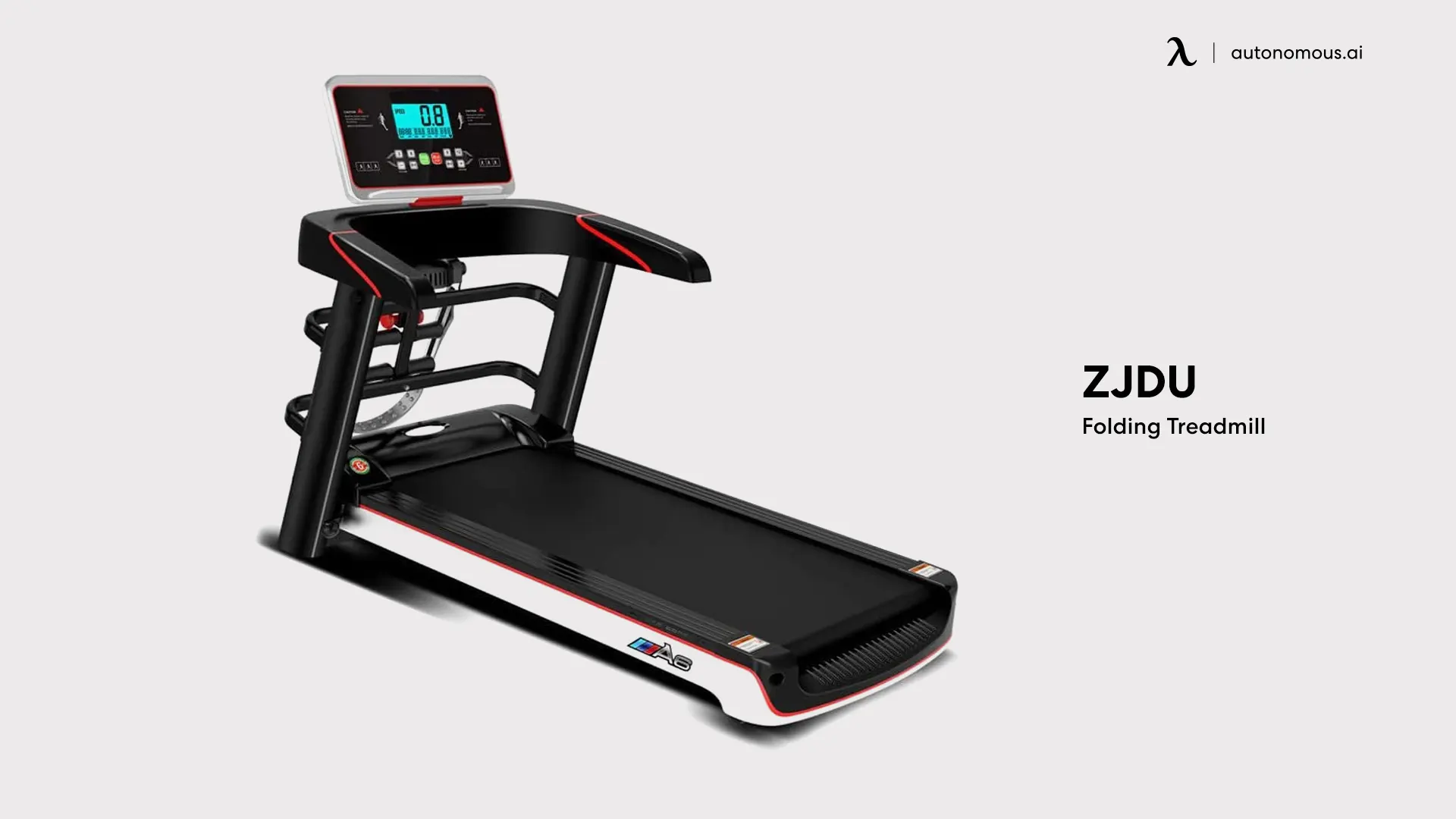 7. SHAREWIN Under Desk Treadmill
This best home folding treadmill comes with 12 fitness settings that you can choose for your routine. In addition, the low-noise motor ensures quietness when running. Similar to the WalkingPad models, you can also control this treadmill with the remote provided in the package.  
8. RHYTHM FUN Smart Remote Treadmill
Another RHYTHM FUN product on this list is this model with a smart remote control. You can turn the product on/off and increase or decrease speed with the remote. In addition, the LED display lets you track your real-time progress.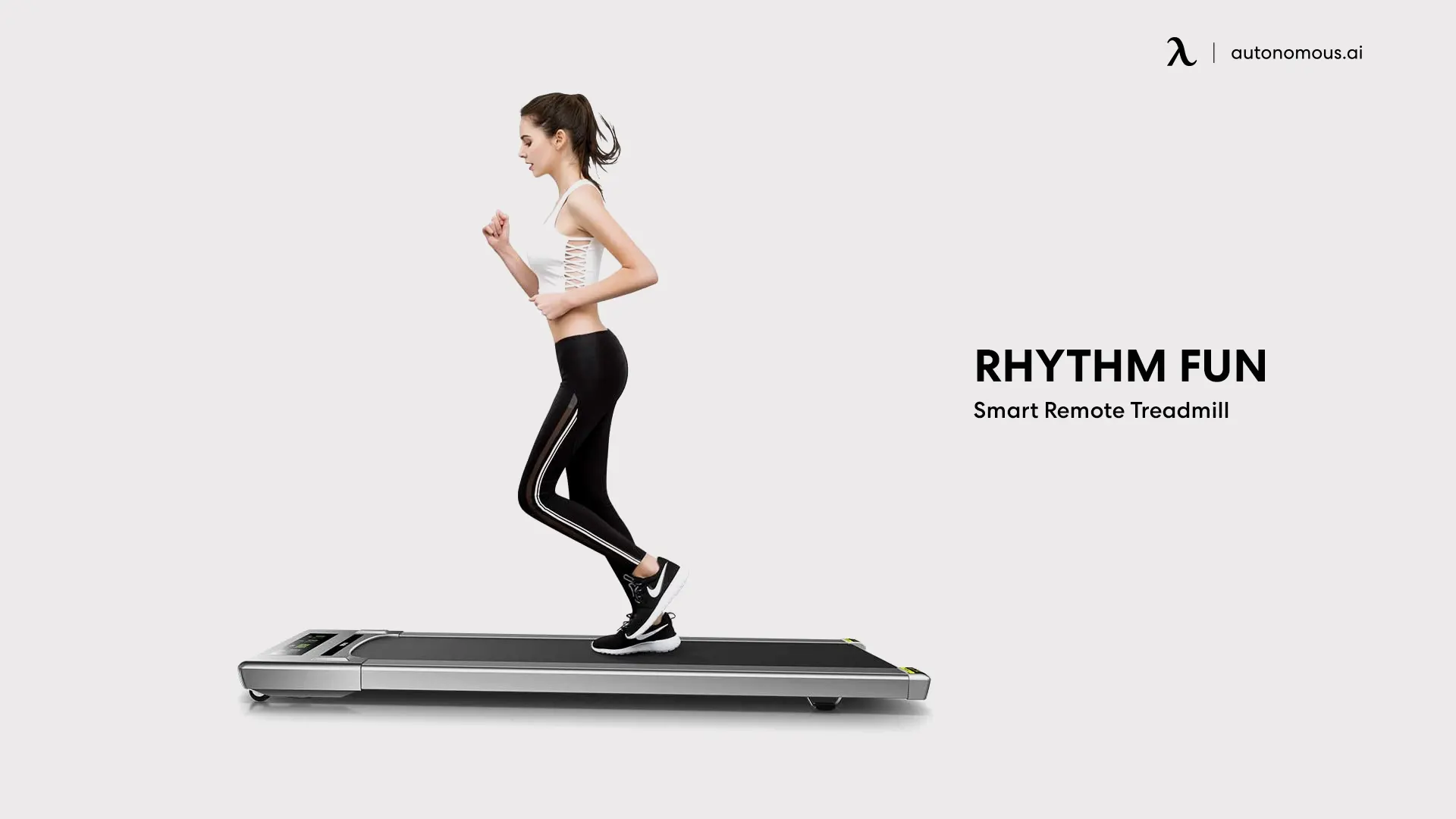 9. YXDFG Smart Walking Folding Treadmill
This low-noise walking foldable treadmill has two-speed modes and a convenient handrail. The LED display shows your real-time speed, calorie deficit, and distance traveled.  
10. Wgwioo Folding Motorized Treadmill
Consider this Wgwioo motorized portable treadmill with an LCD if going to the gym isn't possible. Stay active while working with this best foldable treadmill under your desk. You can easily monitor your heart rate, calorie deficit, distance, and time on the display.
11. Oggo Portable Treadmill
The following product on this list is this compact under-desk treadmill in gray. It has a slim yet sturdy base and an LED display with real-time data. In addition, the low-noise motor ensures quietness, so you can work out even if everyone's sleeping around you!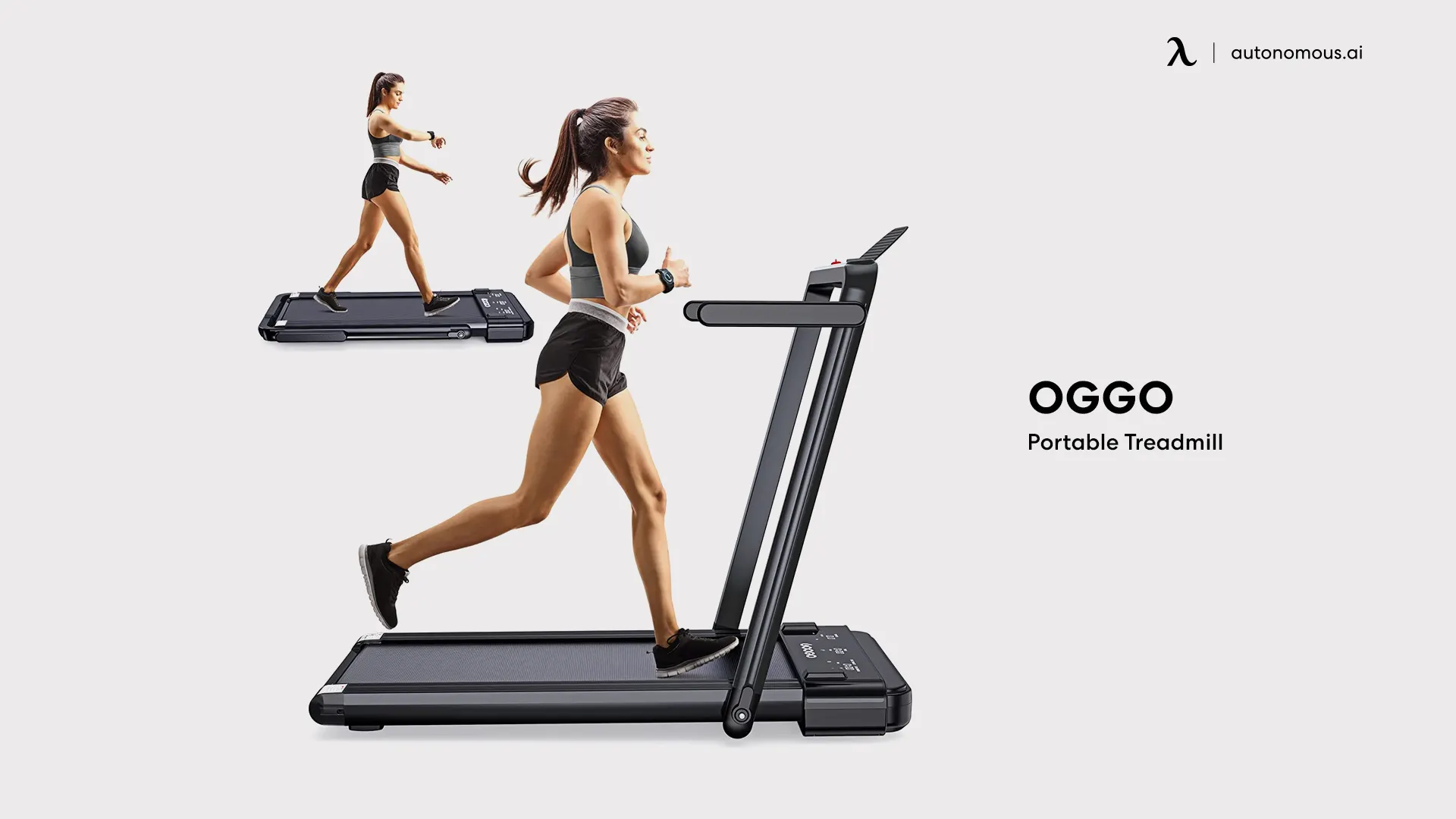 12. CHEFJOY Folding Treadmill
Further down this review is the CHEFJOY foldable curved treadmill. When running on this best foldable treadmill, you can hold onto the convenient handrail. On top of that, the powerful yet quiet 4HP motor lets you increase the speed levels to 7.5mph.  
13. Sunny Health and Fitness Foldable Treadmill
Consider this lightweight, manual foldable treadmill if you want more than a 10° incline on your equipment. The tool is compact, noise-free, and affordable. Track your fitness journey on the bright LCD.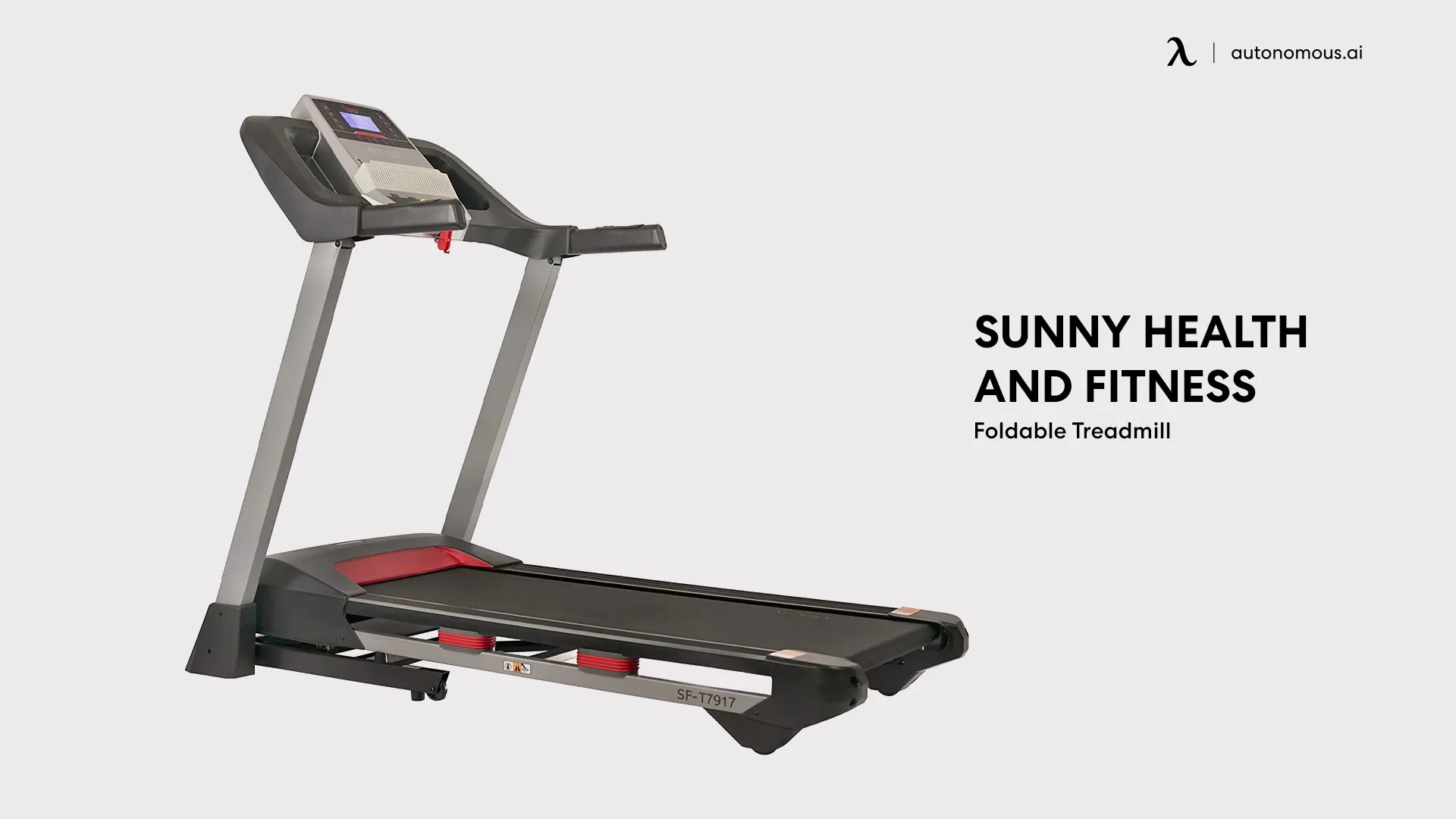 14. Oggo Folding Treadmill
We have yet another Oggo folding treadmill, but this time in bright pink! The product comes with a minimalistic LCD coupled with a quiet motor for a noise-free workout session. The best thing about this product is that it comes pre-assembled, so you can start working out immediately.  
15. FYC Under Desk Treadmill
The last best home folding treadmill we have here is this impressive FYC model in solid white. This product has a multi-functional LED display to monitor your fitness progress. Additionally, users can download the FYC app and control the equipment via Bluetooth.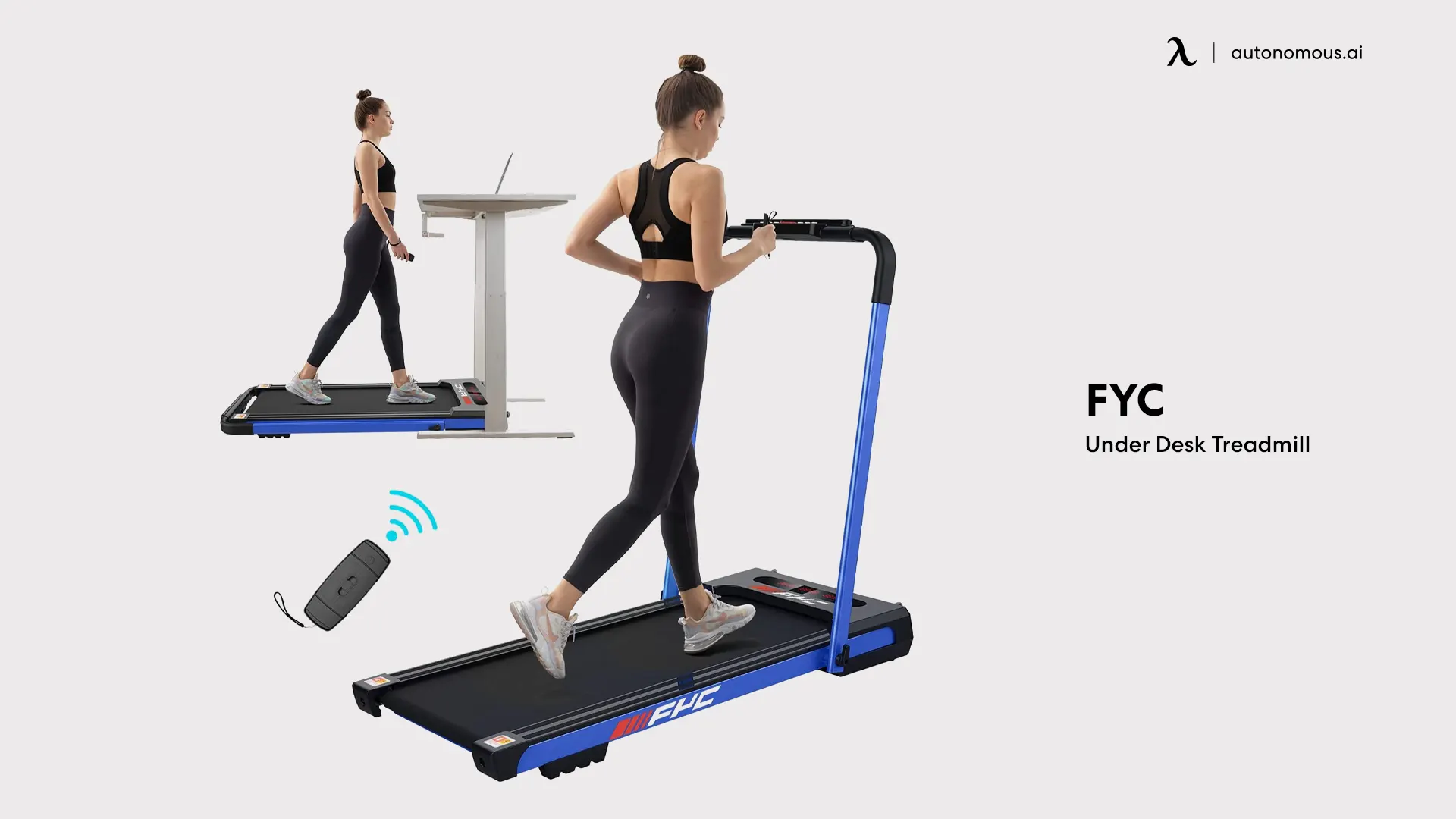 Why Should You Invest in a Foldable Treadmill?
Certified trainers and health professionals worldwide emphasize the need to stay active, even while working. However, it's not easy to always be mobile, especially if your job requires you to sit for long hours. 
However, you can now purchase the best folding treadmills for your home, which makes everything so much easier! Such products are portable, compact, and lightweight. As a result, you can place the treadmill beside your desk and give it a go whenever you feel yourself stiffening.
Even walking for five minutes at 5/mph can give your body the boost it needs for the day. Pair it with drinking lots of water, and you'll become the epitome of good health! 
Here are a few other benefits that foldable treadmills offer: 
Increased Aerobic Activity
It's no surprise that walking burns calories and improves heart conditions. However, doing it at a steady pace on a walkable treadmill is even better. Stay active during long working hours by investing in the best home folding treadmill.  
Experts suggest taking a 10-minute break every day at work to maintain mobility and properly maintain blood circulation. In addition, a portable foldable treadmill is lightweight, so you can take it to your office and keep it under your desk for quick workout sessions.
Lose Pounds
If going to a gym isn't possible for you, why not give foldable hideaway treadmills a shot? This way, you shred off those extra gains and stay productive. In addition, such products are great for those who need more time to travel to gyms and work out.  
Compact and Portable
The most obvious benefit of a foldable treadmill is how small it is. You don't have to worry about housing a piece of massive, heavy equipment. These products are made to be convenient for busy people.  
Many workaholics consider storing these practical tools in their office too! As a result, it's easier for them to go for a run during lunch breaks, even in a professional workspace.  
Most portable folding treadmills come with wheels, making portability and storage a breeze. 
What You Should Look for in a Folding Treadmill?
The best foldable treadmill should be designed to fit small spaces. You want to avoid buying a bulky model, especially if you're shopping for one online. It would be best to keep a few key factors in mind before purchasing any such product, whether offline or online.  
Weight Capacity
It's essential to consider your weight and the product's capacity when investing in any fold-up treadmill. Most portable treadmills are small, supporting users up to a certain weight. You should always check the model's specs before making rash decisions.
Stability
The cheaper a product is, the poorer quality it will be – and that's no exception when it comes to home gym equipment. However, the best foldable treadmill will have a sturdy base and durable frame. It should support your movements without squeaking or showing signs of wear and tear.  
It would be best if you also looked for products that provide proper traction to users. Many treadmills with bad-quality belts force runners to trip and injure themselves. Likewise, running on treadmills that don't have good grip can be dangerous, so always check this feature out.
Modes
Most foldable treadmills are equipped with only one mode, and that's automatic. However, products on the cheaper end can be manual only, so you should definitely keep an eye out for that.  
While manual treadmills aren't an issue, they can be challenging to use, especially if you're under a time constraint. You shouldn't have to spend more than five minutes trying to get a foldable treadmill running, so a manual alternative beats the purpose.  
Compact
The purpose of the best fold-up treadmill out there is to be compact and portable. Purchase one you can store under your desk or behind a bookshelf. Check the size and build of your desired model before investing in it.  
On top of that, you should also look for wheels on the treadmill if you want to store the product under your bed or in tight spaces.  
Do note that such products will only fold partially. Instead, you can expect them to hold a V-shaped form when folded.  
A good quality foldable treadmill should also be lightweight and easy to install (if not pre-assembled).
Speed Settings
Another essential feature to look out for is speed settings. Many portable treadmills have a max speed of 3 mph. While that's not the worst you can get, users should definitely search for models that allow them to go faster.  
Much research recommends running for at least eight minutes straight for the best results, so you should consider treadmills that go up to at least 5 to 7.5 mph.  
Incline
The incline is an essential feature the best foldable treadmill will provide you with. Whether the product is automatic or manual, users should be able to tweak the incline settings.  
Did you know that runners can burn calories up to 10% for every 1% incline on a foldable treadmill? Imagine how many calories you could burn while working at your desk!  
As you can tell, the incline is a critical feature many modern portable treadmills offer, so be sure to look out for that.
Extra Features
It's always nice to find products with additional features, and the same goes for the best folding treadmill. Of course, you'll find many such products equipped with phone and cup holders, towel hooks, and even aux ports for your headphone!  
Frequently Asked Questions
The following section answers the most commonly asked questions consumers have regarding the foldable treadmills in the market.  
How small can a portable treadmill be?
The size of the equipment varies from brand to brand. However, the smallest portable treadmill can be around 72" in length x 24" in width. 
How long should I walk on a portable foldable treadmill at home?
Ideally, users should run on a foldable treadmill for at least 10 minutes a day between work breaks.  
Are foldable treadmills sturdy?
The sturdiness and durability of the treadmill frame depend on the manufacturer. However, you can find many portable treadmills with a solid base, especially from renowned brands such as WalkingPad, or InMovement.
Conclusion
The best foldable treadmill will be the perfect addition to any home or office. However, finding one that caters to all needs is a challenging task. Therefore, looking out for key features before making a purchase is necessary. That way, you can pick the best model out of the lot.  
Here's a quick recap of the factors you need to consider when shopping for the best folding treadmills for your home:  
Weight capacity

Stability

Modes

Compactivity

Speed settings

Incline

Extra features 
Keep these pointers in mind, and you'll be able to find your desired treadmill reasonably easily!
Keep up with Autonomous news
Stay informed, stay inspired with our new blogs.
WRITTEN BYAutonomous
We build office products to help you work smarter.