Workplace Inspiration
17 Small Home Office Ideas That Helps You Utilize Your Space

Autonomous
|
Sep 8, 2020
6,868 Views
If you currently find that you are now working from home or you hope to work remotely through small home office ideas, you may end up regretting it initially. You see, most people who switch from an office to the house struggle to get things done. Usually, this happens because your home is designed for unwinding and relaxing, but now it's a place to be productive and concentrate.
17 ideas for creating a small home office
Creating your own small home office is the first step because they give you ways to think outside the box. Once you do that, you have to commit to a home office in a small space. Focus on what will work well for you without the added hassles of moving all the time. Guest bedrooms, garages, kitchens, and even living rooms can provide you with the right space.
Though you may be taking extra breaks or watching television, this doesn't have to continue when you utilize these 17 small home office ideas:
1. Create a "Zone" is one of the small home office ideas
One of the easiest small home office ideas to handle is to create a zone somewhere in your house. You may not have an extra room with a door, but creating a small home office is easy to do in a living room. You should focus on a desk that fits into the corner and still has style.
This ensures that it is all discreet that matches the existing furniture and your room. Many standing desks come in a variety of colors to assist.
2. Dual purpose
A DIY small home office is a possibility, even if space is hard to find. You may not want to dedicate the entire room to the home office. The small space needs to have some creativity so that you can create many uses for the same area. For example, the end of the hallway can become an office. With the right lighting and a movable desk, you are sure to work hard while you're tucked away from the rest of the house.
Other great small home office ideas can include using the guest bedroom for your home office. As long as no one comes to stay the night, you don't have to move anything. Consider adding shelves and storage files to help everything stay organized. That way, you don't get embarrassed to have a messy desk if someone does end up staying over.
3. Storage wall unit
Above your standing desk, you can easily add some modular shelves. This is going to help you feel more comfortable and have places to put everything. The area may not feel as utilitarian this way because office supplies can be put in pretty boxes.
When creating a small home office, though, make sure you have enough room for the ergonomic chair.
4. Use the bedroom
A home office for a small space isn't easy to handle, but many people can turn their bedroom into one. Most people don't have many things in their bedroom, and it's spacious and large. Of course, you may want to consider an unobtrusive desk to help you. If you regularly need to stand up during the day, try using a standing desk.
5. Change the stairwell
What is to the side of your stairwell as you climb up and down? Chances are, it's full of things you don't need, such as storage or curio cabinets. Consider moving them and create a DIY small home office right to the side of your stairs. You can choose a standing desk that makes it easy to move about, and don't forget a comfortable chair, too. Consider adding a small table to help hold things and some filing or storage cabinets. Unique shelving can add interest to an otherwise dull place.
6. Use the alcove
That tiny spot where the two walls don't seem to meet occurs in almost every house. Creating a small home office is easy when you add a small desk to the mix and have a rolling chair that can be moved. Even if the desk doesn't quite fit, you can still make it work and roll it away when the workday is over.
7. The invisible office
Small home office ideas come from anywhere and everywhere. If you're creative enough, a DIY small home office can look like it is all designed to be there. That way, no one even knows it's an office until you go to work. Those who live alone may find that never happens.
8. The kitchen
A home office for a small space can seem a little odd, and most people don't think of the kitchen as the best place to be. However, you're not going to have to worry about accidentally turning on the television while you should be working. If the space is big enough, you can put a standing desk along one wall.
Small home office ideas are tricky to think about, but it's a fantastic thing to realize you can turn almost any space into an office when you do.
9. Large closet
It may sound strange and is one of the lesser-known small home office ideas, but you could turn it into an office if you have a large closet. Some of them are quite extensive, such as walk-in ones. This means you could set up a desk and a chair. You may stick out a little, but it can easily be shifted to close the doors after the workday.
10. Find dead space
Creating a small home office takes creativity. Any space within your house that is big enough to hold a desk can become an office. Make sure you take the desk measurements first to ensure that it will fit where you want it to go. These are available from the retailer with which you want to shop.
11. The garage
A DIY small home office in a garage is an excellent choice. Just make sure that the garage is cool/warm enough, depending on the weather. Many times, it's easy to convert it into a comfortable place to work. They often have plug-ins so that you can use fans and small heaters.
12. Clean up cables
Of course, you need to make sure that you've managed all of the cables. It's unsightly to see a ton of computer cords here and there, and it can make it look even more cramped. A DIY small home office requires a little extra thought - tuck the wires away around the walls or behind the desk. Consider zip ties or bread clips to keep them untangled. Cable tray organizers are also available for purchase.
13. Color matters
When creating a small home office, think about the color scheme. It should match the surrounding area because those are what you chose for the entire house. If you want to be bold, consider making the space yours by painting it a different color. Make sure those shades are associated with happiness and warmth with a touch of productivity. Having a home office in a small space doesn't mean you can't still feel comfortable and calm.
In fact, chaotic work environments often stem from mix-matched colors and add hostility to the area.
14. Lighting
A DIY small home office should be positioned near windows and sunlight where possible. If you set up in a closet, you may still get some natural light from the bedroom window. However, a hallway can pose a problem. Consider opening other room doors.
Creating a small home office anywhere is possible, but natural sunlight can help you concentrate and relax.
15. Storage/Shelves
When talking about small home office ideas, you've got to think about shelving. They can be used for decorative purposes, but you can also store paperwork on them. If you have books you've got to use while working, they can go there, too. Think of using cute storage boxes to protect everything and make the space look neat and tidy.
16. Ergonomics
Ergonomics best desk accessories setup shouldn't be ignored in your home office with a small space. Focus on the right setup of your computer and keyboard. Make sure that you're sitting up straight while working, too.
Some people prefer to use a standing desk so that they can continue working while standing. There are many benefits of standing while you work, and you're going to burn a few extra calories, too.
17. Boundaries
The last tip for your home office in a small space is to set boundaries with anyone else in the house. Make sure that they know this is your private space, and they shouldn't touch anything. If they must sit there or be there, be respectful of your things.
During work hours, a DIY small home office could be problematic. Other people may need to be there, such as in the living room or kitchen. Ask them to be quiet and not bother you during the day.
What are the advantages and disadvantages of a home office?
Pros:
When you're at the office, you could be less productive because of all the meetings and chitchat in the breakroom.
There is no commute time; you can wake up and start working. This saves a lot of money on gasoline and wear and tear on the vehicle.
You're more comfortable because you can wear pajamas or comfy clothes instead of a suit or skirt.
Most of the time, you can have more flexibility with your work hours. You aren't tied to a desk at an office from 9 to 5. This may allow you to sleep a little later and work late into the day.
Cons:
Though you aren't sucked into idle gossip and long meetings, you have common distractions from your family. Unless they go to work and school outside the home, you may have to set boundaries and rules when you're 'at work.'
You may need to invest in a standing desk to alleviate the pain of sitting all day. You're less likely to walk to lunch from home or go to the break room more often to walk around. This is a great way to get in some movement.
There's a lot less collaboration when you work at home. You can talk on the phone or email coworkers, but you might miss that face-to-face talk.
Small home office ideas FAQs
How should I arrange my furniture in a home office?
If you need a home office that meshes well with its surroundings, consider furniture that complements the area. Generally, standing desks and ergonomic chairs are black or feature natural wood with metal. They work well because you can have a slight utilitarian approach to say 'this space is off-limits' while not breaking the overall aesthetic.
What size should a small office be?
Technically, you want as much space as you need to work and be productive. Though smaller areas can feel cramped, you can make them appear more prominent by adding mirrors and keeping things organized and uncluttered. Generally, people want at least 100 square feet, which is roughly the size of a small bedroom. However, you can get away with considerably less than that when you get creative and think about things carefully.
Is natural light important for small home office ideas?
For most people, seeing the sun makes them feel more comfortable and relaxed. While you don't need to sit in direct sunlight, you may want to be close to a window or have one in the room. In fact, you shouldn't sit in the sunlight. This can cause damage to the equipment and may make you feel too warm or have trouble seeing.
What about my other equipment?
People working from home often require a computer/laptop, keyboard, a second monitor, and a printer. If you must supply your own printer, make sure it is an all-in-one and can handle faxes, copies, etc. This cuts down on how much stuff you have on the desk. Often, a regular-sized standing desk can hold all of these things with a little room left over for odds and ends (pens, paper, etc.)
Conclusion
When it comes to small home office ideas, there are countless options available. If you can fit a desk there, you can turn any space into a home office. It's important to think about this so that you're comfortable and have the tools you need for your job. That way, you keep productivity up and can continue hybrid work from home.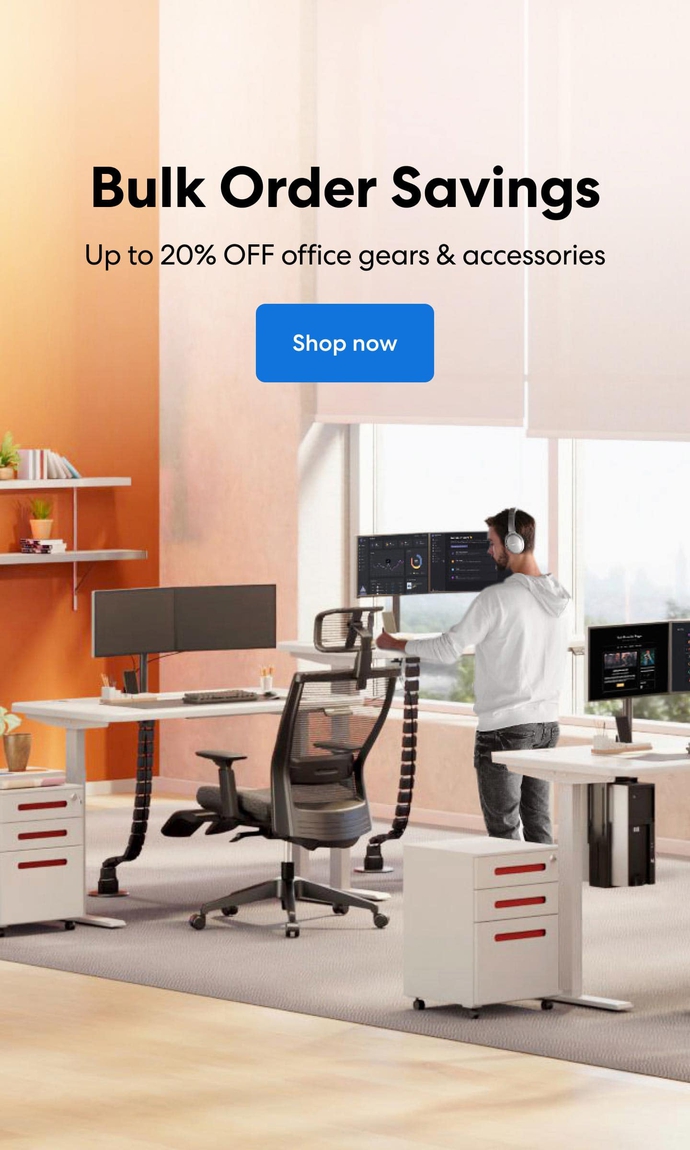 Subcribe newsletter and get $100 OFF.
Receive product updates, special offers, ergo tips, and inspiration form our team.