Smart Products
20 Best Standing Desks on Wheels of 2023
4,121 Views
Thinking about upgrading your office space? If you need a new desk and are interested in learning more about a standing desk on wheels, then you have come to the right place. 
Standing desks have become a popular option in recent years. It is important to note, however, that this trend is not new. Standing desks have been around for a long time. In a Popular Science Magazine issue from 1883, standing desks were promoted as a remedy for indigestion! It wasn't until more recently that these desks started to gain some serious traction in the market. Today, it is estimated that more than 60% of employers provide their employees with the option to use an adjustable desk on wheels. 
What makes standing desks so great? What benefits do they boast that traditional desks do not? These are all questions to consider and aspects we'll explore together in this article. If you are interested in learning more about standing desks for your modern office space and need recommendations based on consumer picks for 2022, we encourage you to keep reading. 
What Is a Standing Desk?
A standing desk is a desk that adjusts so that you can sit or stand throughout the day depending on your needs and preferences. These desks come in a lot of different shapes, sizes, and colors to accommodate various tastes and styles. 
You can purchase a sit-stand desk on wheels, or you can build your own. They have custom kits where you can craft your desktop to add to a base. They also have adjustable desk converters that you can place on top of your traditional desk. These converters provide a platform for your computer monitors and adjust to accommodate different heights. 
Converting a traditional desk to a caster standing desk can be done for minimal cost. If you don't mind spending a bit more, you can purchase a fully assembled standing desk on wheels for a moderate cost. These desks typically range in price from less expensive to very expensive depending on the make, model, and features - for example, you can expect to pay more for an adjustable height table on wheels that is motorized versus one that is not. 
What Are the Advantages of Having a Standing Desk?
Standing desks have become an increasingly popular option in recent years and for good reason. These desks tout many benefits. When compared side-by-side, traditional desks often fall short in many of these regards. Here are a few of the key advantages of using a sit-stand desk on wheels. 
1. Helps to Enhance Your Health
A standing desk on wheels boasts many health benefits. These desks can help improve your core strength and posture. Sitting for long periods can be taxing on your body especially if you do not have an ergonomic workspace. 
Often, we sit slumped over in a chair. Our posture is typically poor. Our circulation is not as good because of sitting in one position for an extended amount of time. There is a lot of pressure on our head, neck, and spine especially if we are not utilizing an ergonomic chair. 
Many of these ailments can be reduced by standing. A sit-stand desk on wheels gives you the ability to stand during the day to help alleviate some of the pressure that traditional desks and long hours may put on your body. 
2. You Feel More Energized
Have you ever felt like sitting for a long period has zapped your energy? When you are sitting in front of your computer screen for long hours trying to get work done, do you often feel fatigued and disengaged? 
One of the perks of using a standing desk on wheels is that you may feel more energized. Standing keeps the blood flowing to your brain and gives you the stimulation you need to stay focused and alert throughout your day. 
3. You Burn More Calories
In addition to feeling more awake and energized during the workday, you may also burn more calories when you use a stand-up desk with wheels. 
Your body naturally burns calories throughout the day due to normal internal functions. Even when your body is at rest, you are still exerting energy. When you are sitting, you burn approximately 140 calories per hour. When you are standing, however, you burn roughly 190 calories per hour. These are just estimations since everyone's body is different but provides a general frame of reference. 
With a stand-up desk, you are also more likely to move around. You may walk away for a bit or shuffle your feet which could add to that calorie burn even more.  
What Are the Disadvantages of Having a Standing Desk?
It wouldn't be fair to note all the advantages of using a standing desk without noting the cons. As with anything, there are a few downsides to consider. This is especially important if you are debating between a traditional desk or a stand-up option for your home office or workplace. 
1. Your Lower Extremities May Feel Sore
Individuals who are not used to standing desks may experience muscle soreness and swelling in the first few days after making the transition from a traditional desk. If you are not used to being on your feet for extended periods, you may find that your lower body is sore. Eventually, this will go away as your body adjusts, but it is something to be mindful of within the first few weeks of using your new castor standing desk. 
2. You May Work Better in a Seated Position
Though they say that standing desks can help increase your energy, productivity, and creativity in the workplace, there is no real scientific evidence to support this claim. It is qualitative data, and everyone is different, so it is hard to distinguish between correlation and causation. 
Since everyone operates a bit differently, some people may find they work better in a seated position. The human brain operates differently when you are seated versus when you are standing. Since standing requires a bit more bodily energy and focus, you may be able to multi-task more efficiently while sitting. 
3. Standing Desks Can be Expensive
While standing desks have certainly become more affordable in recent years, you can still expect to pay a pretty penny for this option. Some standing desks run into the thousands of dollars. The price is going to be largely dependent on the features. 
Before purchasing a standing desk on wheels, it may be worth assessing your needs. This will help you to determine which functions are most necessary to your workflow. There may be features that you can omit to help cut the cost. It may also help to do some research. Assessing the landscape and researching many different options will help you select the best one for your needs and budget.  
Top Recommendations for Standing Desks on Wheels in 2022
Now that we have discussed what a standing desk is and why they have surged in popularity in recent years, let's explore some of the market's top picks for 2022. We've compiled a list of 20 of the best standing desks on wheels for this year to help you get started. 
1. Mount-It! Computer Station on Wheels
This simple but sleek workstation on wheels is an affordable option for those who are looking for a smaller standing desk. With a strong steel frame, this rolling computer workstation provides plenty of space for your computer monitor and accessories. It also features a monitor stand for additional ergonomic support. 
2. Mount-It! Rolling Standing Desk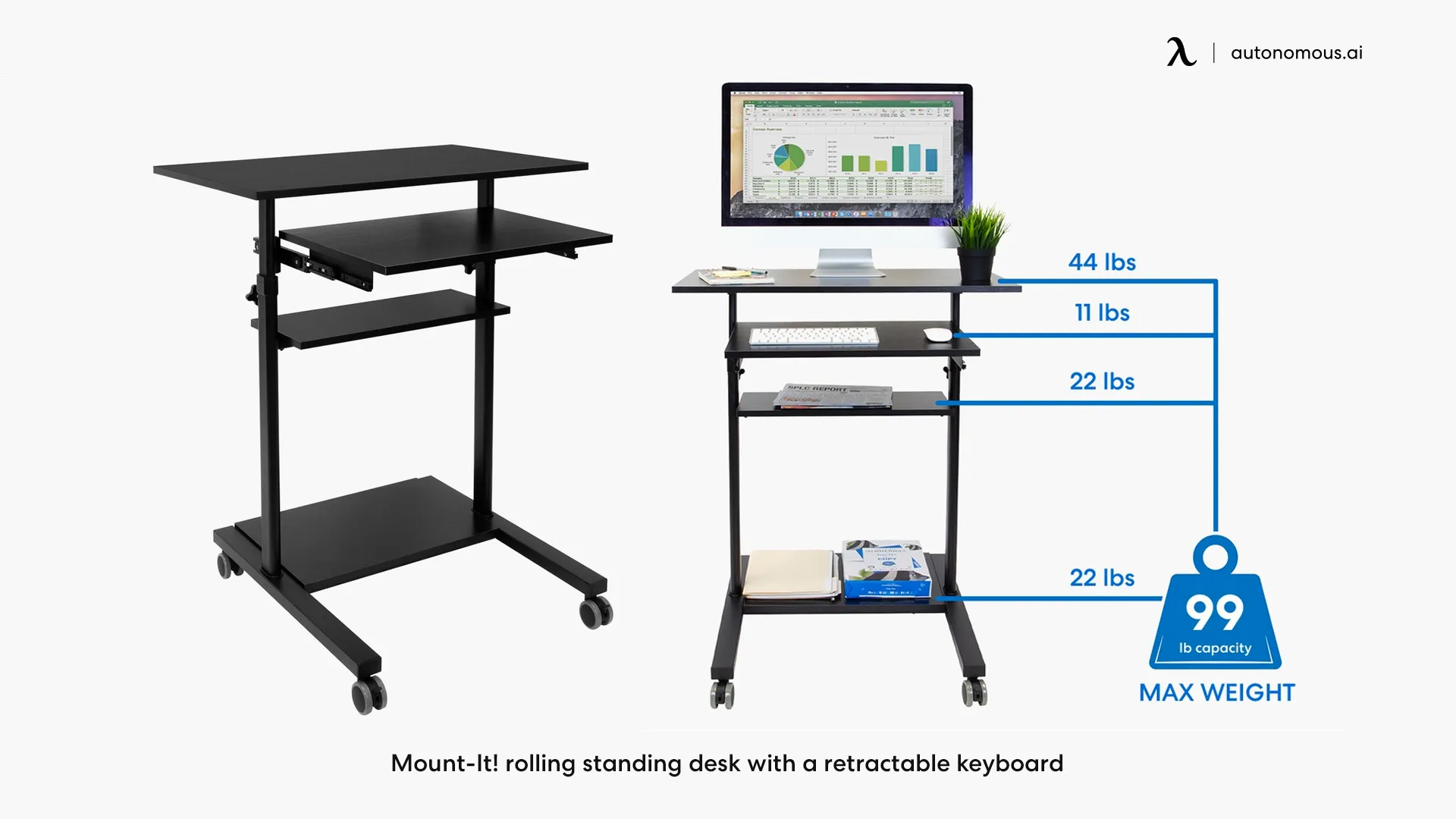 This is another viable standing desk option with a decent price point. It comes with a retractable keyboard and wheels, which makes it easy to move to save on space. This rolling standing desk with retractable keyboard supports up to 99 pounds and comes with a generous warranty. 
3. Mount-It! Electric Standing Desk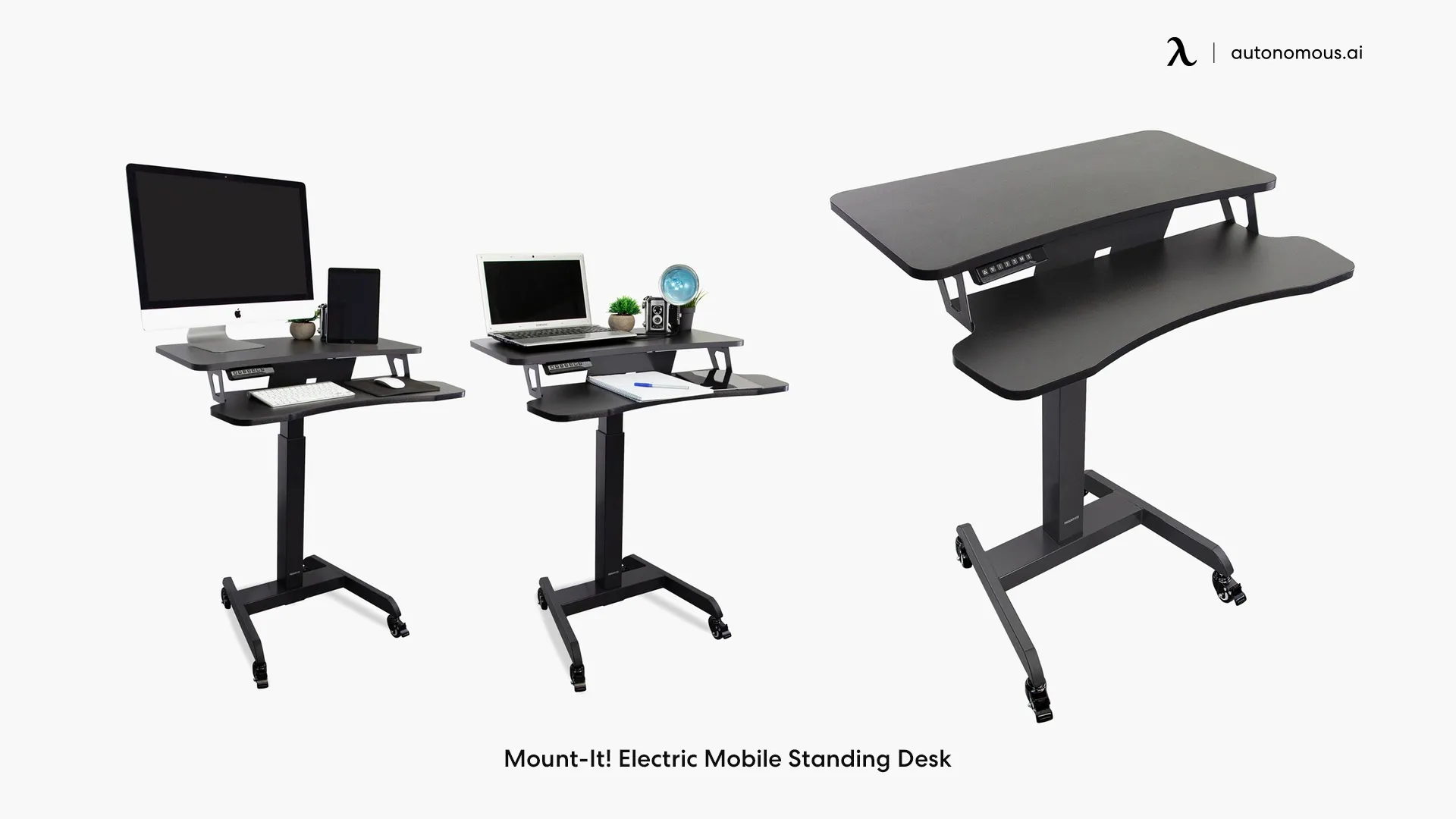 If you are looking for an electric standing desk on wheels to make easy adjustments, this desk is a solid contender. It is affordable and compact which makes it perfect for smaller home office spaces. Furthermore, it comes with an easy-to-use controller so you can adjust the desk height as desired with little to no extra effort. 
4. Mount It! Large Standing Desk
If space permits, you may want to purchase this large standing desk on wheels by Mount It! The 40-inch tabletop and dual computer monitor mounts provide ample space for all your office supplies. The wheels lock in place to provide stability but can be unlocked quickly for easy movement. Additionally, the additional surface below the main desktop provides extra storage space. 
5. Mobile Cart with Monitor Mount
This mobile cart is a great option for those who rely on flexibility and increased movement in their workspace. This adjustable height table on wheels is small but fully functional. It comes with a monitor mount that both tilts and swivels and is compatible with a wide range of computer screens. Offered at a fair price, this may be a good standing desk on wheels to consider. 
6. Mount-It! Large Standing Desk with Dual Monitor Mount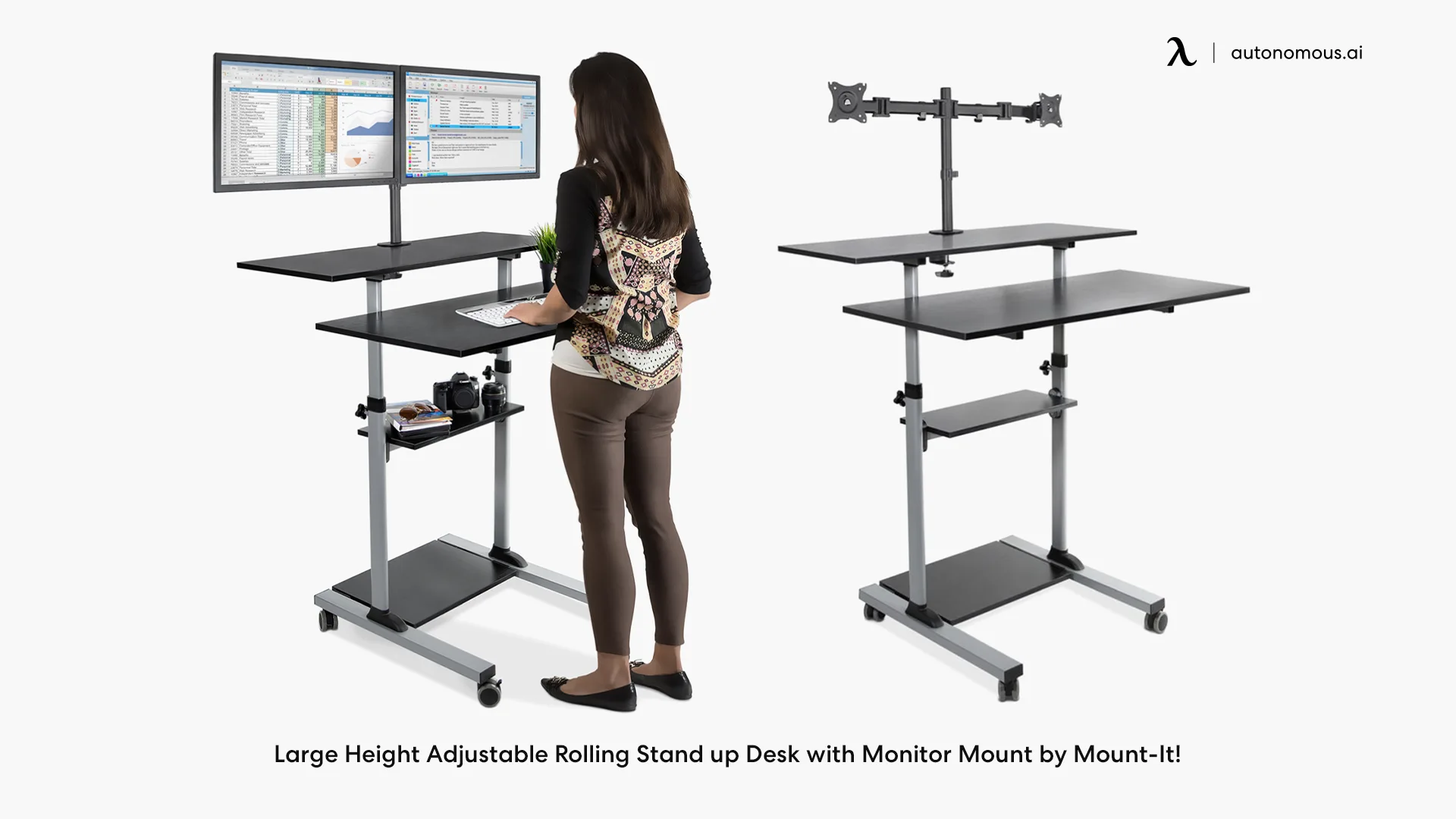 This adjustable height table on wheels features not one, but two monitor mounts which makes it an easy choice for those who utilize more than one monitor. While this desk is more expensive than some of its counterparts, it comes with plenty of storage and is a great option for those who need space, comfort, and functionality all wrapped into one. 
7. RAD Cycle Products Portable Fitness Desk
If you are a fitness enthusiast, this option may pique your interest. With locking wheels, this desk adjusts to a generous height which allows for you to place a stationary bike underneath so you can cycle while you work. 
8. Luxor Stand-Nest Desk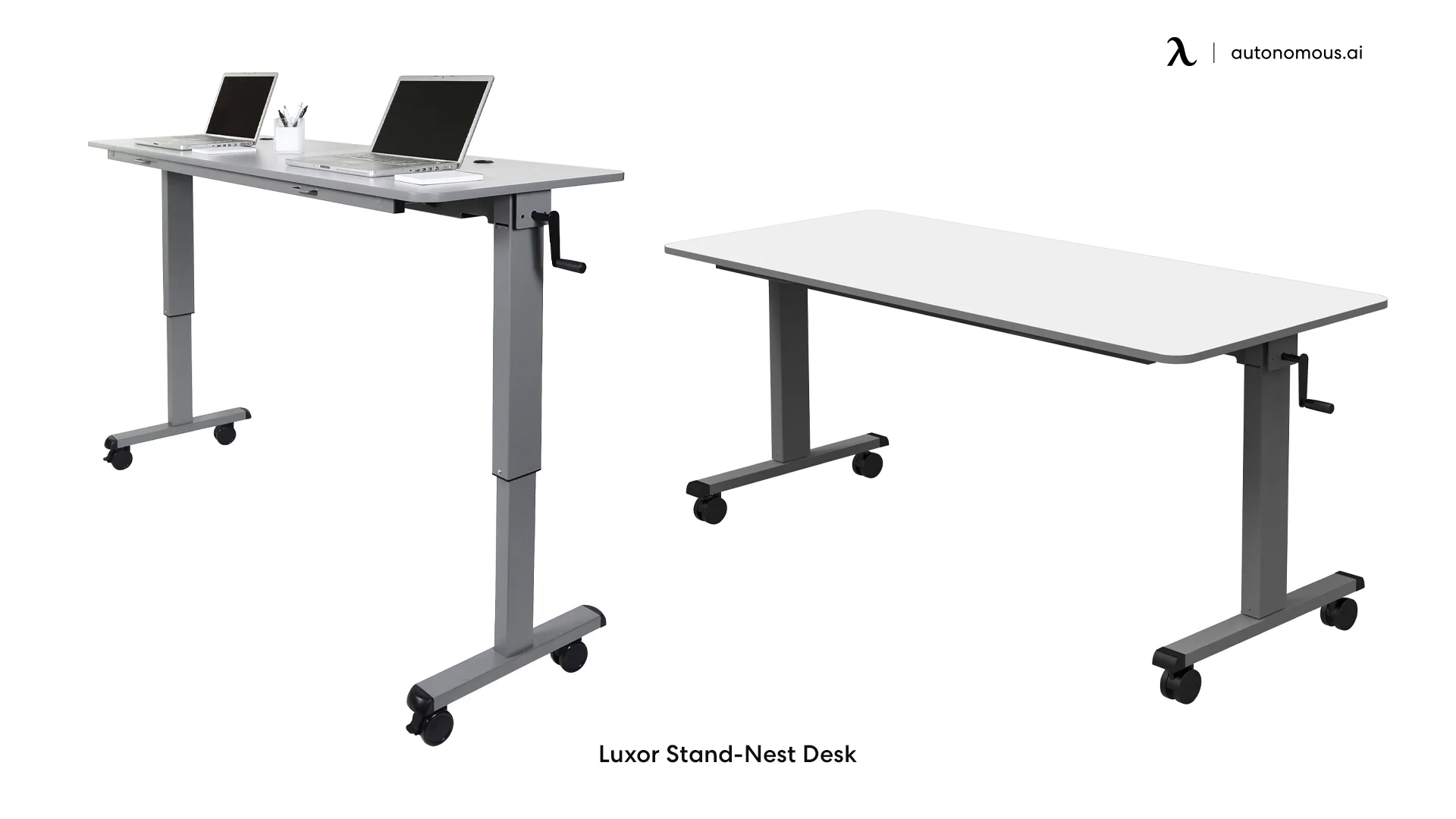 This is an incredible option for your minimalist desk. If you are willing to pay a bit more, this stand-up desk with wheels has a lot to offer. It features plenty of desktop space to put monitors, computer gear, and more. You can also place up to two chairs underneath this desk when it is lower to a seated position. The side crank is unique, and perfect for those looking for a bit of extra flair.   
 9. Flash Furniture Sit and Stand Desk
This stand-up desk with wheels is smaller and comes in white with a silver finish. The pneumatic lever makes it easy to adjust the desk during your workday to sit or stand with ease. This compact desk comes with a reasonable price tag and is a good option for those looking for simplicity and function.
10. Offex Crank Adjustable Desk
This standing desk on wheels is more formal looking with its white steel frame and coated finish. With three-inch locking casters, you can lock the desk for more stability or unlock it to move it around quickly and easily. This desk also features a crank lever. 
11. Sierra Adjustable Desk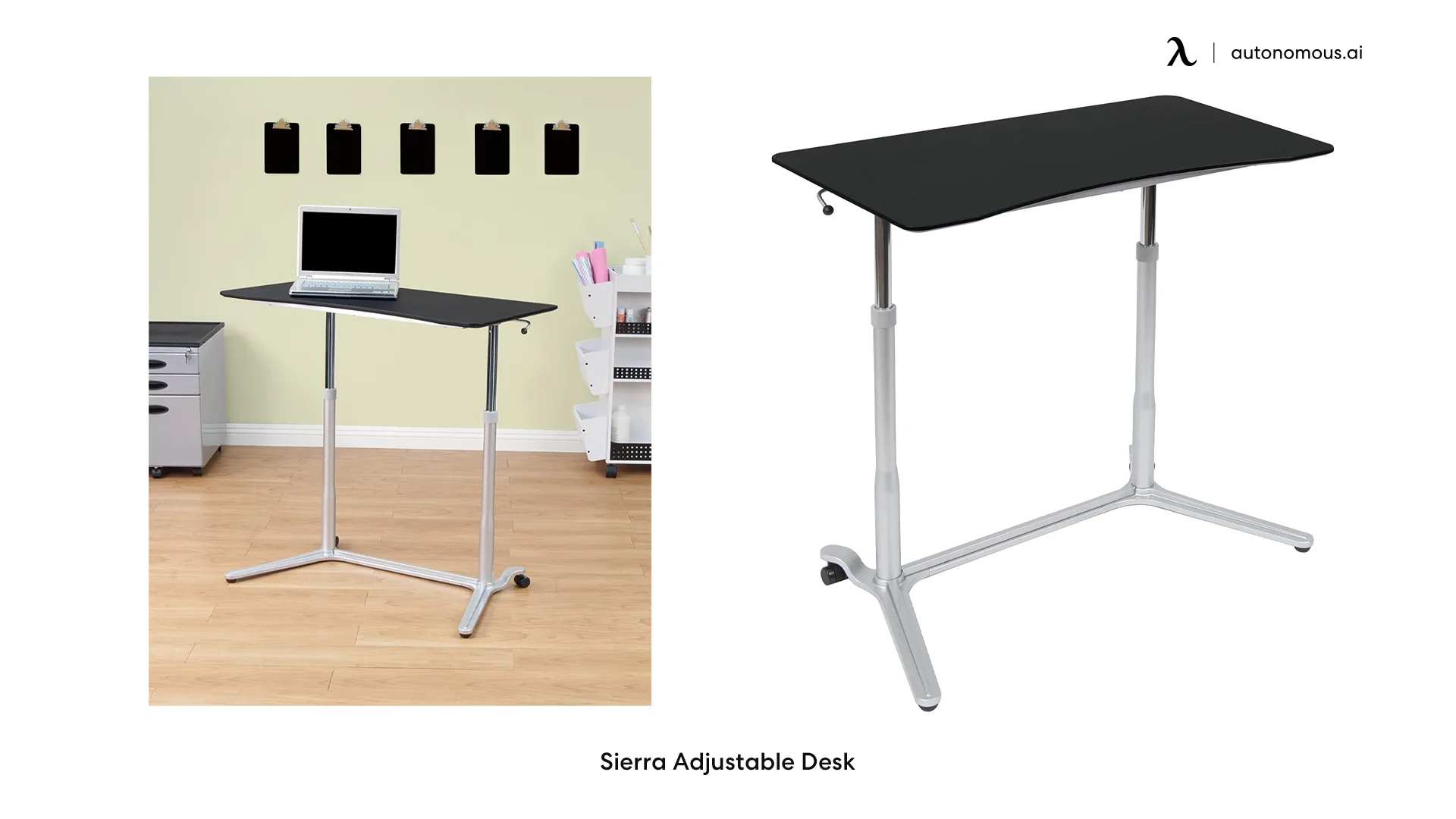 This sit-stand desk with wheels is a nice option for anyone looking for something clean and uncomplicated. With a beautiful cherry finish top and a white base, this desk offers simplicity, durability, and style all in one. 
12. Safco MUV Workstation
If you are looking for something with a bit more storage, this standing desk on wheels may be a good fit for your needs. It comes with two additional lower shelves to store your printer, paper, and other office supplies. 
13. Luxor Standup Desk with Crank
This caster standing desk features a high-speed crank that makes it easy to adjust in a matter of moments with no motor. Though this desk is higher in price, it does offer a generous workspace and wheels for easy movement. 
14. Costway Mobile Standing Desk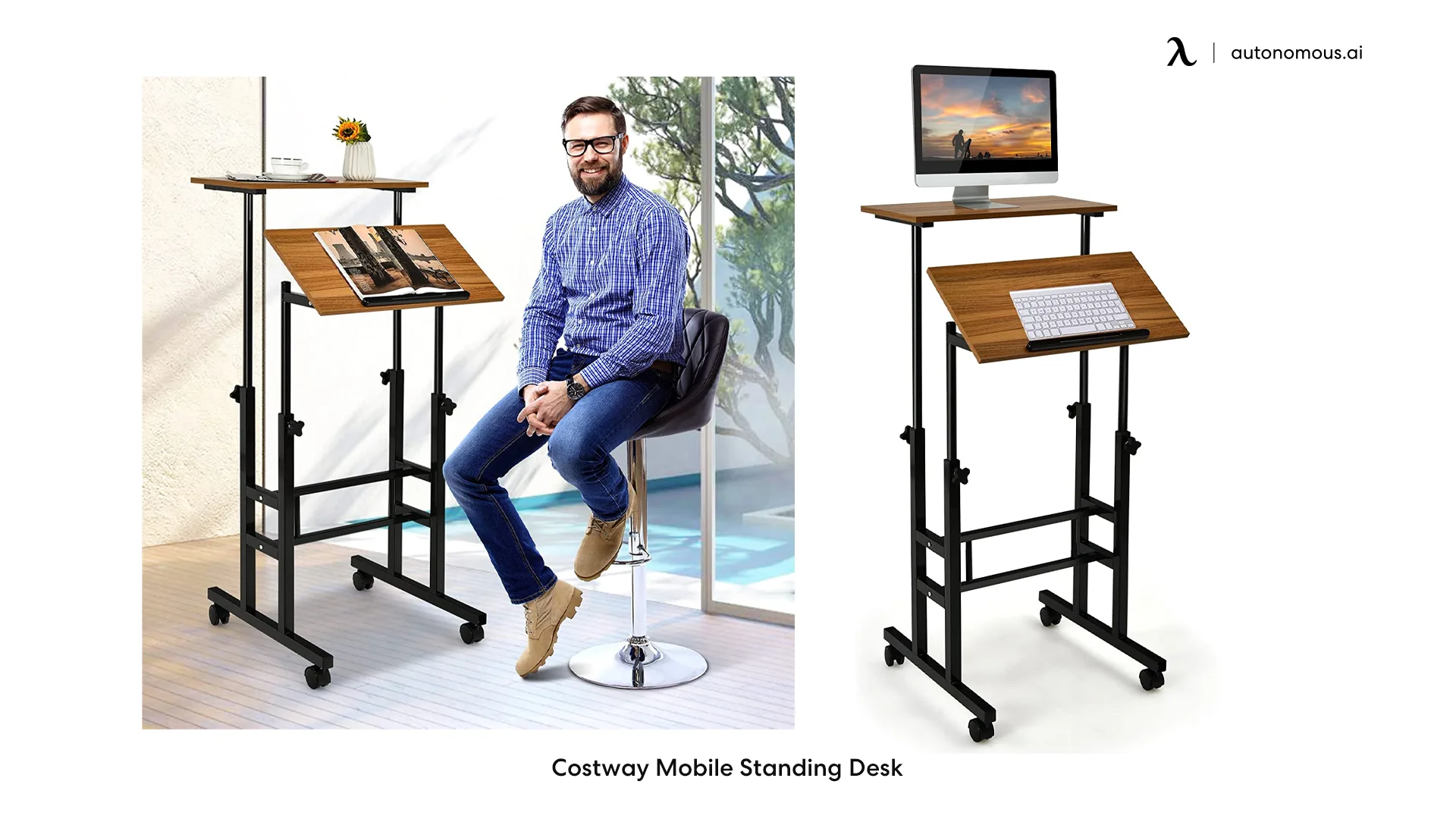 This caster standing desk is a nice option if you are on a limited budget. You get the full functionality of a standing desk at a low price. With a steel base and particular board top, it adjusts up to 40 inches and tilts for maximum comfort. 
15. Safco Standing Desk in Grey and Black
If you want sophisticated but simple, this desk may be a contender. The work surface swivels to provide additional workspace if needed. It can also be nested for a more compact look and is perfect for small home offices. 
16. Luxor Crank Adjustable Sit-Stand Desk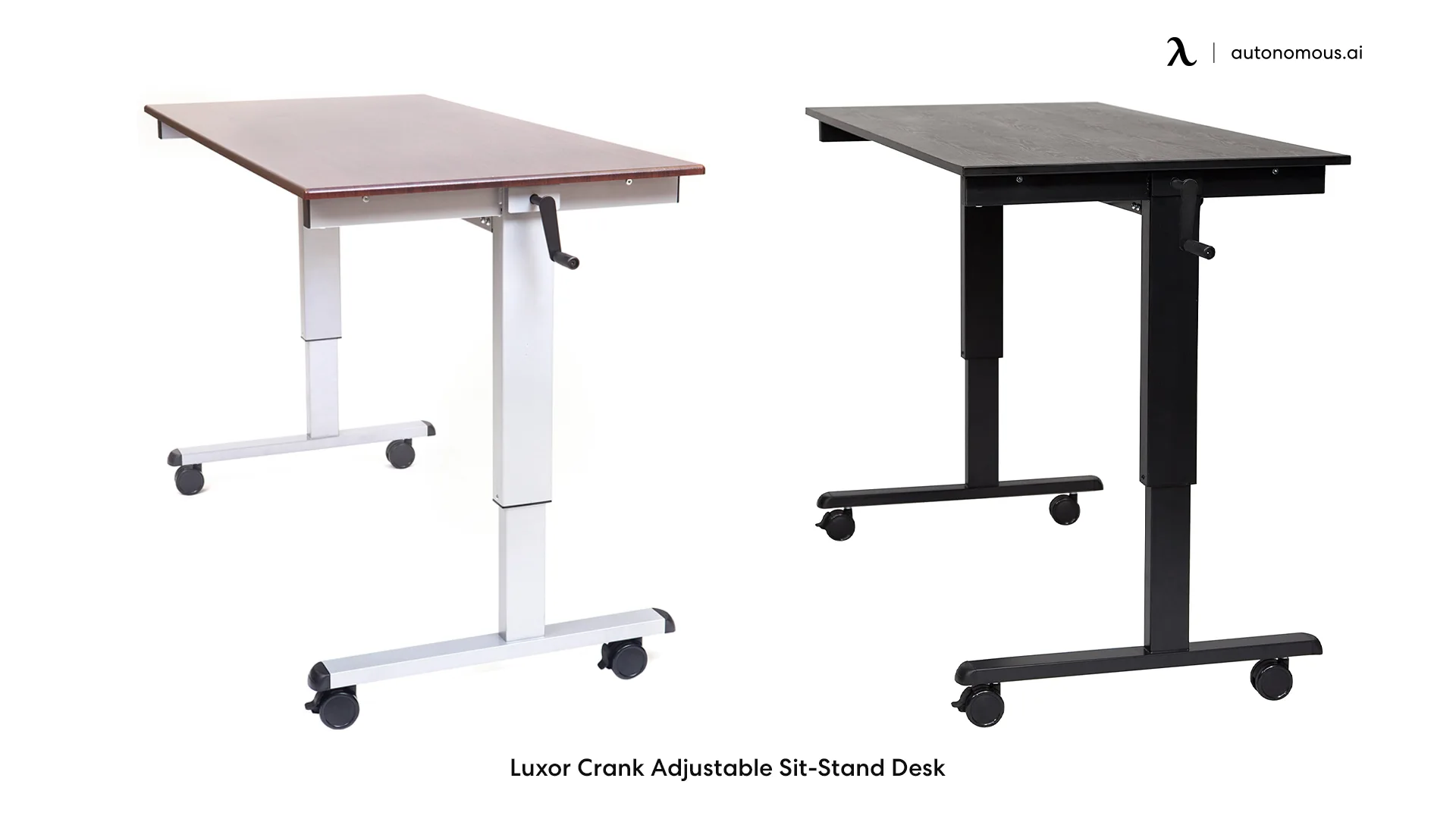 If you have a larger workspace, this desk may fit the bill. Though it is on the higher end of the price range, it features a dark powder coat finish, sturdy steel frame, side crank, and wheels for enhanced mobility. 
17. Flash Furniture Computer Desk
This adjustable desk on wheels is perfect for healthcare workers or others working in similar industries who need form and function over aesthetics. With a gray frame and black finish, this desk features a pneumatic level and ergonomic design for optimal comfort. 
18. 275 Desk with Castors
With its non-scratch surface and steel base, this desk boasts a pneumonic lever that adjusts up to 40-inches quickly and easily. It also has a slot for your phone or tablet and a hole to funnel any cords to keep things tidy. 
19. Luxor Adjustable Lectern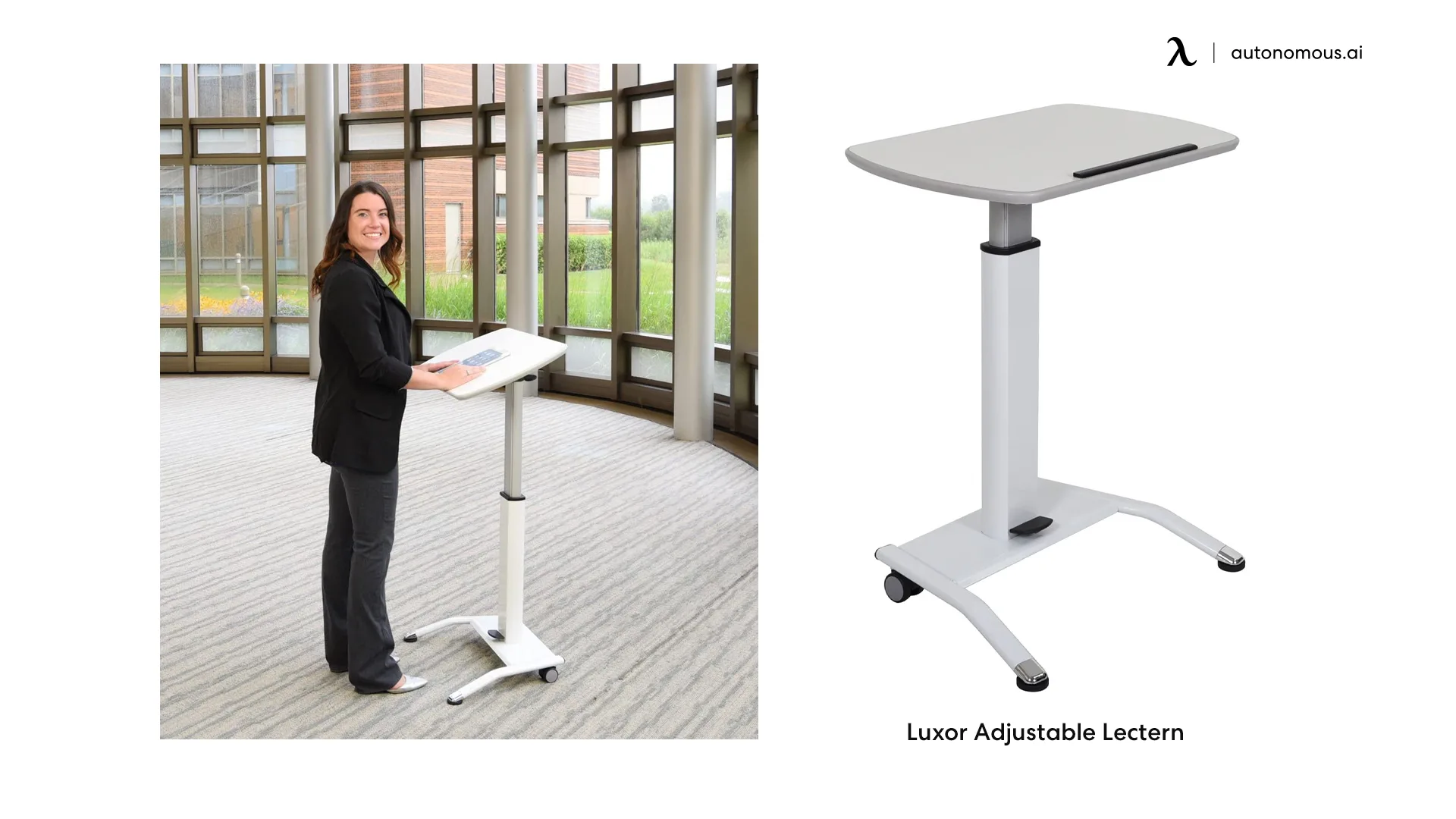 This adjustable desk on wheels is ideal for teachers, professors, and public speakers. It has a pneumatic foot pedal that can be used to raise the desk to a generous height of 42.5 inches. The top tilts and the wheels allow you to move the desk with ease. 
20. Offex Sit-Stand Black Computer Desk
Two pneumatic levers (one on each side) allow you to easily adjust the height of this desk as needed. It boasts back locking casters, a generous tabletop space, and a strong, sturdy contemporary design. 
Final Thoughts
Standing desks can be a great option to consider if you are looking to upgrade your home office space or workplace. These desks come in all shapes, sizes, colors, and styles to best suit your preferences and needs. They also boast many health benefits. 
If you are looking for more mobility, a standing desk with wheels is recommended. These desks afford you the freedom and flexibility to move them as you wish based on your space and workflow. We've highlighted 20 of today's top picks to help you get started.
Subcribe newsletter and get $100 OFF.
Receive product updates, special offers, ergo tips, and inspiration form our team.
WRITTEN BYAutonomous
We build office products to help you work smarter.