Workplace Inspiration
20 Black and White Interior Design Ideas for Your Master Bedroom

Autonomous
|
Jan 24, 2023
668 Views
As homeowners, creating spaces that reflect your style and comfort level is key. When most people hear the words 'interior decoration,' they immediately think of the living room.  
However, the bedroom is where you spend most of your time, so you want it to be as beautiful and comfortable as possible. This is why interior decoration for the primary bedroom is an essential element in creating your dream home. 
Choosing the perfect pieces for the room can be difficult, but one trend that is sure to make a lasting impression is a black and white interior design.  
These colors create a classic, timeless aesthetic that will never go out of style. With a few simple elements, you can have a bedroom that looks straight out of the pages of a high-end magazine. 
How to Select Black and White Pieces for the Master Bedroom
When decorating a bedroom using black and white, it is important to remember the balance between contrasts and colors. 
Add Patterns
You'll want to select pieces that reflect harmony between the black's darkness and the white's brightness. To make the colors stand out, look for interesting patterns and textures to add an extra layer of sophistication. 
A great start is painting your walls white or adding white textured wallpaper. This will give a clean slate to add bold and modern black elements to the design.  
Select Furniture
On the other hand, for the furniture, look for a combination of black and white to create a two-tone look that adds depth to the room. Consider adding a few accent colors, such as vibrant red, deep navy, or light blush to add warmth and texture. 
You can also select items to create depth and personality in the room, such as functional desk lamps or dramatic corner light bars. 
Throw in Artwork
Adding artwork is always a great way to decorate a space. Look for large-scale pieces with black and white interior design motifs to add a striking focal point to your room. To break up an overall dark room, consider adding mirrors in geometric shapes to reflect light and open up the space. 
When you put it all together, your main bedroom should be beautiful, cozy, and truly reflect your unique style. With black-and-white decorating ideas, you can create an elegant yet modern space.  
From wall paints and textiles to matching sets of furniture and artwork, this timeless trend lets you create a space that's truly one of a kind. 
What Makes Black and White Decorating Ideas Unique
When it comes to master bedroom decoration, comfort and style go hand in hand. In this regard, black and white interior design ideas can be an excellent choice for your primary bedroom.  
This style has a striking color combination that can make any room look sophisticated and stylish, creating a beautiful and calming ambiance. Mixing geometric shapes and lines is excellent for a contemporary aesthetic. 
As this is a place where couples can retreat after a busy day and spend some quality time together, the design should be comfortable and inviting enough to feel relaxed and enjoy good conversations together. 
Classy and Timeless
There are a few key reasons why these two monotone shades are perfect for a black-and-white house interior. The combination of such colors creates a classic aesthetic that can easily transition through different decor styles. From contemporary to traditional, you can make this timeless combo your own with a few tweaks in between. 
Bold Statements
On the other hand, the uniformity of black and white allows you to introduce different colors and decor pieces to bring dimension and visual interest to the space. While it's up to you to decide how minimal or bold the black and white has to be, you can decorate as much or as little as you'd like. 
Visually Larger
The negative space that black and white can create helps to make the room seem larger than it is. 
On top of that, a white and black house interior adds modern drama to the room. The powerful contrast inherent in such a design can create a bold statement or provide a perfect backdrop for a tranquil space. It all depends on your personal preference. 
With its unending versatility, this classy combination will always remain an appealing choice for any master bedroom. 
What to Keep in Mind When Choosing a Black and White Interior Design
Black and white interior ideas are classic and timeless, never going out of style. They offer a sophisticated yet simple design concept that works for any bedroom in your home. Whether you prefer a light and airy look or a bold and daring design, there are plenty of ideas to consider when deciding on a black-and-white themed room.
Room Size
To make your job easier, first, consider the overall size of your master bedroom. A black-and-white house interior works best in rooms that have plenty of natural light and very minimal decor.  
Consider the Theme
Decide how you want to balance the two colors. Do you want the black to dominate the design with white accents throughout, or do you want to create a more neutral look by allowing the two colors to blend?  
Consider how the color scheme will complement the other design elements, such as furniture, artwork, accessories, and flooring. 
Choose Furniture
Once you've chosen a general theme, you'll need to decide which furniture and accessories will work best for your white and black house interior. When selecting pieces for a monotone room, choose traditional and contemporary items. 
If you want an office-themed look, opt for a modern standing desk with a sleek office chair. On the other hand, magnificent stand-alone pieces, such as classic armor and dressers, also create a beautiful visual effect in the bedroom. 
A mahogany armchair, carved nightstand, and dresser are perfect for creating a traditional and elegant atmosphere in the room. To add texture to your master bedroom, throw in an extravagant area rug or elegant wallpaper in abstract patterns. 
The 20 Best Black and White Interior Design Ideas
Now that you know why interior decoration is essential for bedrooms and why a black-and-white interior design is the best option, it's time to get planning. With a bit of creativity and a few sophisticated furniture pieces, you'll be able to create a master bedroom that radiates timeless elegance and a serene atmosphere. 
1. Standing Desk
A standing desk is essential for bedrooms of the modern age where people are increasingly looking to work and be productive from the comfort of their homes. Put together such furniture with the perfect combination of an abstract painting for the backdrop.  
Top dimension
Small Top: 43"L x 24"W x 1"H
Classic Top: 53"L x 29"W x 1"H
XL Top: 70.5"L x 30"W x 1"H
Frame dimension
27.5"W x 40" - 73"L
Height range
With top: 26.2" - 52"
Without top: 25.2" - 51"
Materials
Top: Warp-proof, MDF wood, natural Bamboo
Frame: SPCC steel
Colors
Top: White, Black, Walnut, White Oak, Bamboo
Frame: White, Black, Grey
Weight capacity
310 lbs
Warranty
7 years for frame
1 year for top
Top dimension
Small Top: 43"L x 24"W x 1"H
Classic Top: 53"L x 29"W x 1"H
XL Top: 70.5"L x 30"W x 1"H
Frame dimension
27.5"W x 40" - 73"L
Height range
With top: 29.4" - 48"
Without top: 28.4" - 47"
Materials
Top: Warp-proof, MDF wood, natural Bamboo
Frame: SPCC steel
Colors
Top: White, Black, Walnut, White Oak, Bamboo
Frame: White, Black, Grey
Weight capacity
265 lbs
Warranty
5 years for frame
1 year for top
2. Ergonomic Chair
An office chair is practical and ideal for those sitting for long hours. Such pieces often have versatile features, such as headrests and detachable armrests. You can also find models with lumbar pads for spine protection.  
Dimensions
29"L x 29"W x 46" - 50"H
Seat height

18" - 20"

Materials
Polyester fabric with molded foam interior and durable nylon plastic frame; PU handrest pads
Colors
Cool Gray, Evergreen, All Black
Red Apple, Black & White, Baby Blue
Weight capacity
300 lbs
Warranty
2 years
Feature
Adjustable height, armrest, headrest, backrest, and seat tilt
3. Storage Items
Make sure to create enough space in your bedroom. A black and white storage & organizer unit, woven baskets, and box shelves can provide an eye-catching contrast while ensuring that your bedroom looks neat. 
| | |
| --- | --- |
| Dimensions | 15.6"L x 19.7"W x 23.5"H |
| Colors | Red apple, Evergreen, Cool gray, Baby blue |
| Materials | Steel plate |
| Weight capacity | 275 lbs |
| Item weight | 46 lbs |
| Warranty | 1 year |
4. Desk Accessories
Small details play an essential role in creating a unique black-and-white interior. Desk accessories such as a quiet mechanical keyboard or a laptop riser add hints of modernity to the office spaces in a room.  
On the other hand, you can also throw in a pad under the keyboard, making your typing experience much more comfortable. The vegan leather desk mat by Autonomous is a hit among homeowners. 
However, a minimalist desk mat might suit your room décor better if leather isn't your cup of tea.   
Dimensions
Large: 31.5" L x 17.7" W
Medium: 35.4" L x 11.8" W
Small: 24.8" L x 11" W
Materials
Anti-slip, anti-fray edges
Colors
Black
5. Computer Accessories
Add a few practical and modern pieces of technology to the bedroom, such as a laptop, tablet, or home office setup. Many computer accessories are available in black and white to match the theme of the room. 
Dimensions
With stand: 24.17" W x 20.68" H x 7.28" D
Without stand: 24.17" W x 13.95" H x 1.34" D
Front bezel size
24.2" x 0.65"
Display Size
27"
Light Source
ELED Edge
Resolution
2560 x 1440
Frequency
100Hz
Item weight
13.99 lbs
6. Desk Lamps
Whether classic or modern, desk lamps can be arranged to form custom lighting in the room. There are plenty of items available that combine black and white tones. A Lumicharge lamp is the perfect addition to your desk. 
On the other hand, you can also cover more space on the table by opting for an ultra-wide LED desk lamp. This alternative also consumes minimal energy.  
| | |
| --- | --- |
| Dimensions | 31.5"L x 1.8"W x 35.4"H |
| Colors | Black |
| Materials | Die casting Aluminum & Metal |
| Input voltage | AC 100 - 240V 50/60Hz |
| Brightness | 1200 lm |
| Light colors | 3000k, 4000k, 5000k, 6000k |
| Lamp lifetime | 50,000 hours |
| Item weight | 12.56 lbs |
| Warranty | 1 year |
7. Clocks
There's no better way to add a hint of modernity to a room than a clock. An alphabet clock is an excellent addition to any white and black house interior. It's a unique piece that tells the time in intervals – wowing guests every time.  
| | |
| --- | --- |
| Dimensions | 5.9"L x 2.7"W x 5.5"H x 0.3 lbs |
| Colors | Black, Blue, Silver, Yellow |
| Materials | ABS, Acrylic |
| Cord length | 41" |
| Warranty | 1 year |
8. Coffee Table
Another fantastic décor piece you can check out is a statement coffee table. You can go for an all-white or full-black model, but dual-tone pieces are also available.
| | |
| --- | --- |
| Dimensions | 23.23"D x 35.82"W x 17.12"H |
| Colors | Black |
| Materials | Engineered Wood, Metal |
| Warranty | 3 months |
9. Projector
Relax with your plus one after a long day by watching movies through a smart projector. Such an item not only creates a cinema experience in the bedroom but it's a perfect way to unwind and spend quality time with loved ones.  
| | |
| --- | --- |
| Dimensions | 8.67"L x 7.3"W x 3.6"H x 7.5 lbs |
| Resolution | Native 1920 ×1080, 4K supported |
| Lumen | 9800 lumen |
| Warranty | 1 year |
10. Floor Lamp
A butterfly floor lamp is a beautiful piece for any master bedroom. Such equipment projects light in different shades, simultaneously etching hundreds of small butterflies on the walls. The best thing is how sleek the product is. You can place it in a corner as a statement piece as well!
| | |
| --- | --- |
| Assembled height | 76" |
| Lamp width | Φ 17" x 10" H |
| Base dimensions | 14"L x 11"W x 1.5"H |
| Item weight | 128.2 lbs |
| Colors | Black, Brass |
| Materials | Metal & Marble & Fabric |
| Lumen | 800 lm |
| Bulb type | LED 3000K |
| Input voltage & wattage | 110-220V / 60W |
| Warranty | 3 years |
11. Power Outlets
Instead of having cables in a messy pile behind your desk, plug everything into a multifunctional power outlet to keep things tidy.  
Dimensions
8.6"L x 5.7"W x 2.5"H
Colors
Black, White
Outlet specs
12A, 125VAC, 60Hz, 1500W
Weight capacity
26 lbs
Item weight
2 lbs
Features
03 US power socket (Flat prong plug)
02 USB charger socket
71 inches US power cord
Warranty
1 year
12. Cabinets
Consider a matte white filing cabinet if your home office is in the corner of your primary bedroom. Such an item can efficiently store important documents and files in divided compartments without messing up the room.  
| | |
| --- | --- |
| Overall dimensions | 21"L x 16"W x 24"H |
| Utility drawers | 13"W x 18.75"D x 4.5"H |
| File drawer | 13"W x 18.75"D x 11.5"H |
| Materials | Composite wood |
| Warranty | 1 month |
13. Book Rack
Another fantastic item you can add to your master bedroom is a desktop book rack, especially if you're an avid reader. A frame can hold all your favorite novels in place while making your mini library look organized.  
Dimensions
19.7-31.5"L x 7.87"W x 7.87"H
Materials
Bamboo wood
Color
Natural wood color
Size
2 drawers
1 drawer
Warranty
1 year
14. Bookshelf
Go for a large bamboo bookshelf if you have more space in your bedroom. Store all your cherished books and diaries in such furniture, and keep plants on the top of the shelf for a pop of color. 
Dimensions
Overall: 38" H x 43" W x 11" D
Shelf: 10.8"H x 39.8"W x 11.4"D
Colors
Dark Brown, White
Materials
Chromed steel, Engineered wood
Warranty
1 month
15. Air Purifier
An air purifier is a great way to eliminate harmful particles from the atmosphere. Keep your gorgeous black and white interior design clean and unpolluted with such a tool.   
| | |
| --- | --- |
| Dimensions | 13"L x 6.7"W x 21.2"H |
| Item weight | 10.4 lbs |
| Applicable area | 235 - 355 sq ft |
| Power supply | AC 120V 60Hz |
| Rated power | 50W |
| Warranty | 2 years |
16. Headboard
You can work on the luxe factor of your main bedroom by installing a chic headboard or sofa walls. Go for a black-and-white marble effect for the best results. 
17. Rugs
Homeowners can never go wrong with rugs. Whether you want a piece to sink your feet into or a decorative mat that blends in well with the bed – a black and white rug can add depth to any room.  
18. Chandeliers
Overhead chandeliers are perfect if you want to give your black-and-white house interior a luxurious feel. Minimalistic lights work well in spacious rooms too.  
19. Platforms
Go the extra mile and have your contractor add a platform under the bed. This will elevate a section of the room, which automatically creates a statement.  
20. Curtains
The last black and white interior design idea is to throw in custom shades. Go with silk or lace curtains in solid black or white. You can also mix and match the drapes, placing one color after another to create an abstract ambiance.  
Conclusion
Every homeowner dreams of having a master bedroom that is stylish and modern. While many people worry about picking the right colors for the perfect atmosphere, a black and white interior design can provide a timeless look that can be incredibly stunning. 
The key to an elegant black and white bedroom is ensuring the balance and scale of the design. Make sure to consider the size of the area and the accessories when designing the perfect bedroom. Plus, don't be afraid to mix and match your furniture items. 
When all these things come together, they will create a space that is both elegant and relaxing while providing your master bedroom with a sleek and sophisticated look.
Video ads for product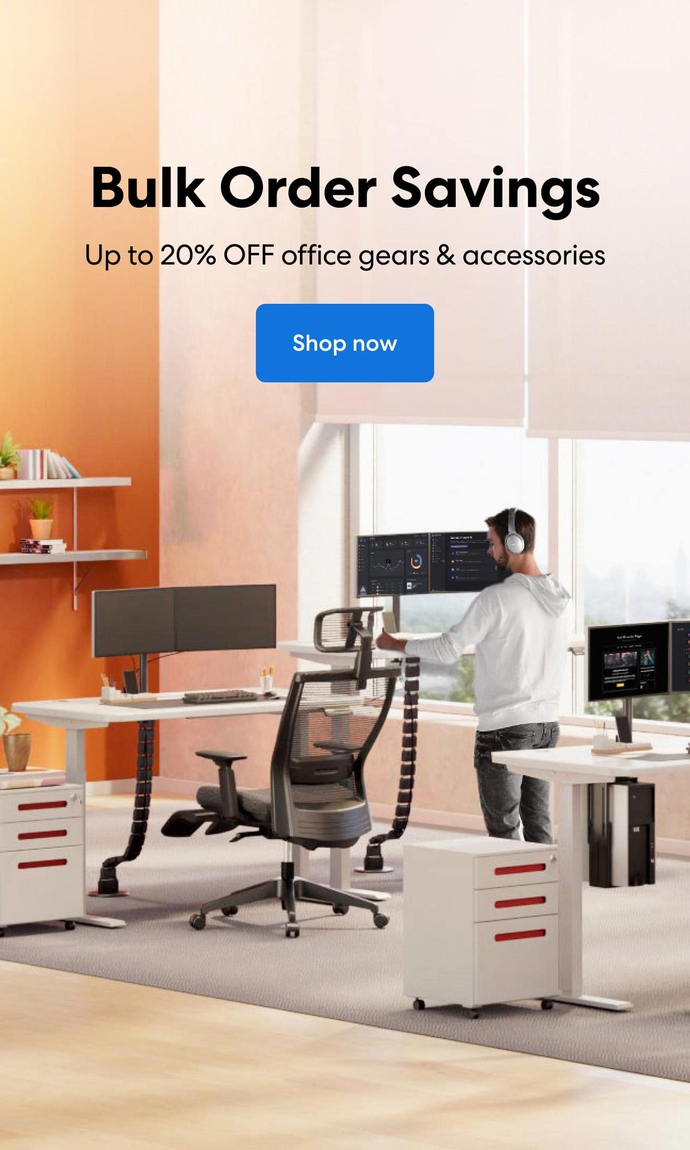 Subcribe newsletter and get $100 OFF.
Receive product updates, special offers, ergo tips, and inspiration form our team.